If you've been reading my blog consistently, you're surely aware of my new-found obsession with my spiralizer and vegetable noodles. Yes, this thing has changed the way I eat, cook and think about food and has totally helped me with some of my personal new years eating goals.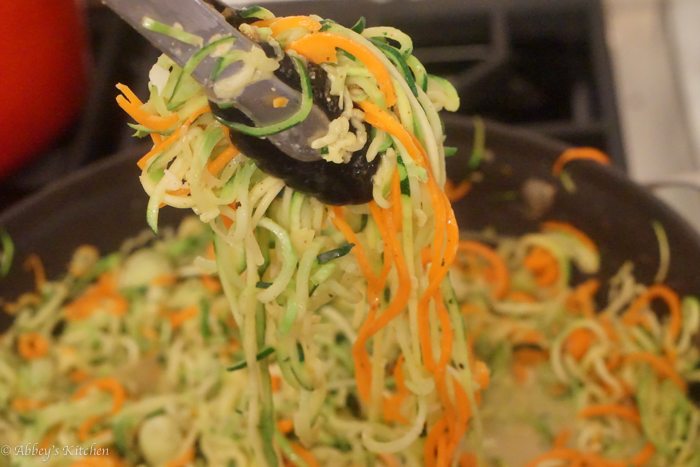 One of those goals is to try to get my personal protein intake up. That's not necessarily a recommendation for everyone, depending on your activity levels, but most of us dietitian's recommend about 1.5-2 g / kg body weight if you're weight training regularly.
Now, while I love protein, I want to just clarify that I do not have anything against carbs and would never (also, could never) go on a low carb diet. But when you're trying to not add calories to your diet while boosting your daily protein, there's really only two other substrates to cut- carbs or fat. I already eat a relatively low fat diet when I'm at home so I don't see the calories coming from there. Carbs on the other hand, man, I'm a self-professed carb queen. Having said that, I love making low carb vegetable noodles like I did in this amazing pasta dish.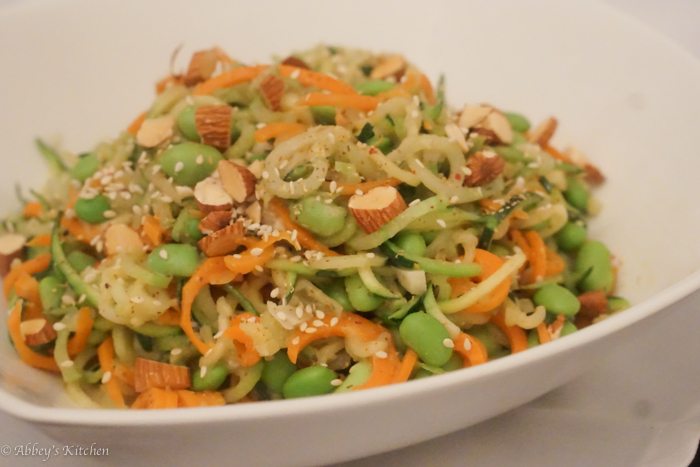 Healthy eating is really all about making compromises and balance, so if I want to insist on having my carb-rich popcorn before bed (I need this!), then I could replace some of the carbs at dinner with extra veggies and protein. This is my little deal with myself. So this new spiralizer tool has come in serious handy for my meals as a way to sneak in extra vegetable noodles (that is, add fibre and vitamins) and trade carb calories for protein calories.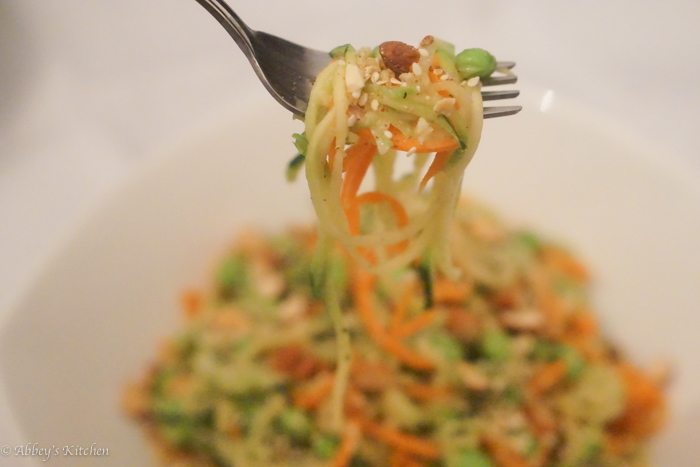 Vegan Vegetable Noodles
I came up with this recipe while playing with different vegetables on the spiralizer and it actually turned out to be completely vegan and gluten free. Alone or with a shrimp or chicken skewer on the side, these vegetable noodles are high in fibre (from all of the veggies and almonds), healthy fats (from the almond butter and coconut milk) and packs a punch of protein from those nuts and edamame.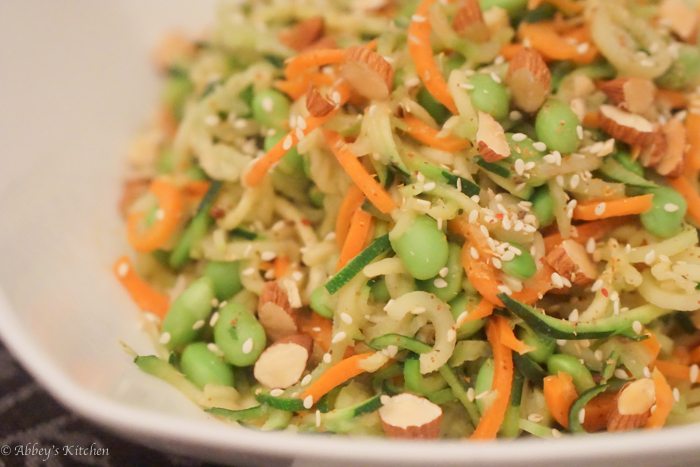 Give these vegetable noodles a try and let me know what you think! If you have a spiralizer, you can also experiment with various other vegetables and let me know what has worked that you've tried. I think this would also be fantastic with sweet potatoes (though they may take a bit more time to cook).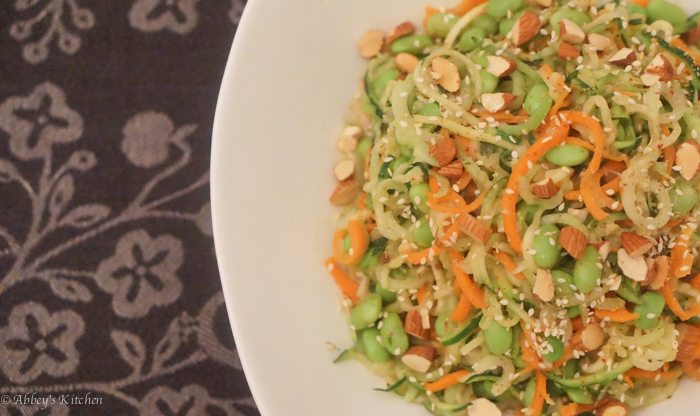 Vegan, Gluten Free and Low Carb Almond Edamame Veggie Noodles
Alone or with a shrimp or chicken skewer on the side, these vegetable noodles are high in fibre, healthy fats and packs a punch of protein from those nuts and edamame.
Ingredients
Noodles
3

zucchini

ends cut off

1

large carrot

peeled with ends cut off

2

stems of broccoli

ends cut off, save the tops for another meal
Sauce
1

tbsp

olive oil

1

clove

garlic

minced

1

tbsp

ginger

minced

2 1/2

tbsp

natural almond butter

1

cup

Lite Coconut milk

2

tsp

tamari

1

tsp

toasted sesame oil

1

tbsp

honey

1 1/2

cups

shelled frozen edamame

Salt and pepper

to taste

3

tbsp

almonds

toasted and crushed

2

tsp

sesame seeds

Sriracha

to taste
Instructions
Noodles
Spiralize the vegetables using the medium noodle shape and set aside in a bowl.
Sauce
Preheat a large skillet over medium high heat and add in the garlic and ginger. Saute for 30 seconds then add in the coconut milk and almond butter. Stir until the almond butter dissolves.

Add in the vegetable noodles, along with the tamari, sesame oil, and honey. Stir on medium heat until until the vegetables soften slightly and the sauce thickens and coats the noodles, about 7-8 minutes.

Stir in the edamame and toss until thawed. Season with salt and pepper to taste.
Assembly
Serve in four bowls, top with crushed almonds and sesame seeds and add a few squirts of sriracha to taste.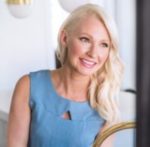 Abbey Sharp is a Registered Dietitian, an avid food writer and blogger, a cookbook author and the founder of Abbey's Kitchen Inc.