These wine poached pears & almond chevre bites are amazing gluten free holiday appetizers that you're guests are going to love!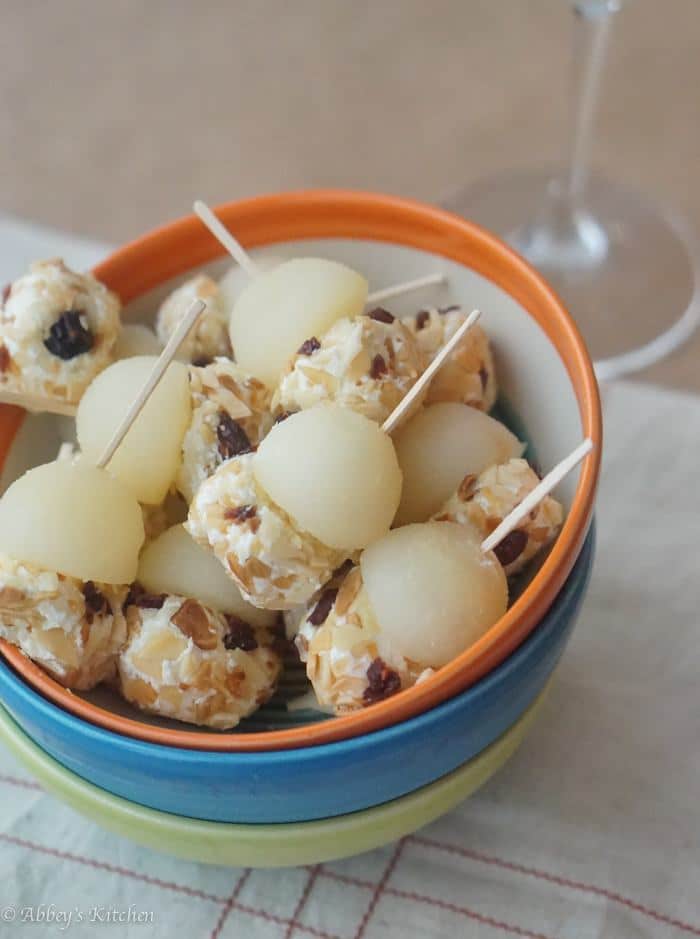 Making Gluten Free Appetizers for the Holidays
I'm a total sucker for a good appetizer and since so many friends have diet restrictions these days, making gluten free appetizers are key. I would happily forgo a full meal and nosh my way through a plate of appies.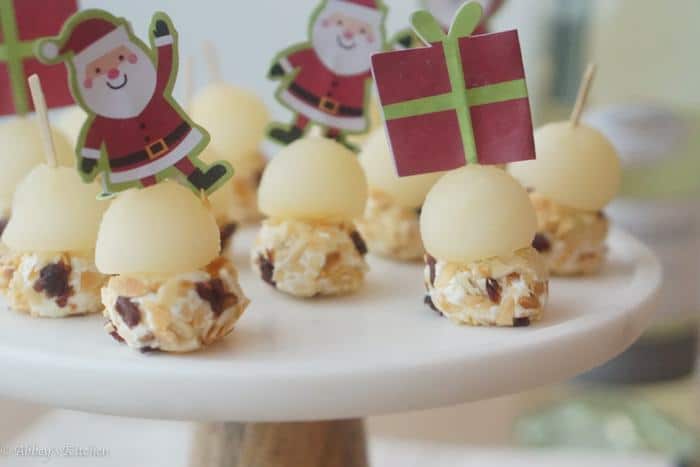 But during the holidays, when things get a bit crazy, the last thing you need to fuss over are small bites. Gluten free appetizers need to be easy to eat AND easy to make, yet still look and taste utterly impressive.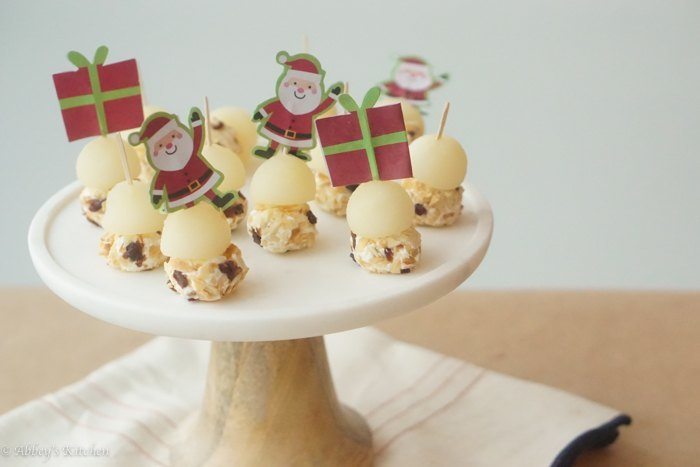 This one- bite gluten free sweet and savoury starter begins with poached pear balls that can easily be done a few days in advance. Just store the wine poached pears in the wine syrup and the flavour will intense.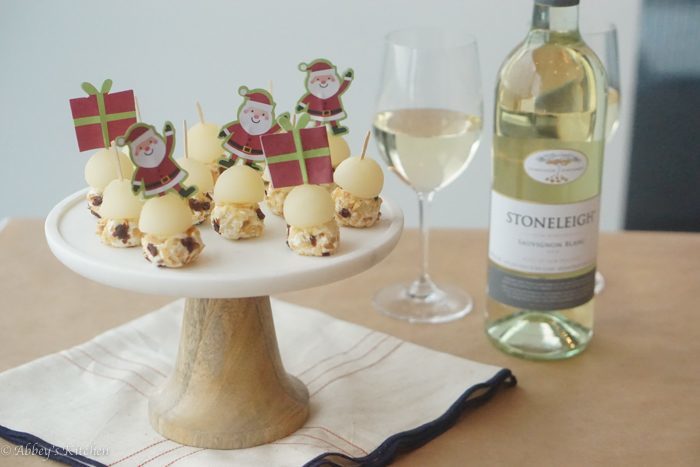 Choosing a Wine for Your Healthy Wine Poached Pears
I like to pair this gluten free recipe with Stoneleigh Sauvignon Blanc because it has a nice level of acidity and yummy melon flavours that I think pair beautifully with floral pear, but that is not so intense it overwhelms the tangy goats cheese.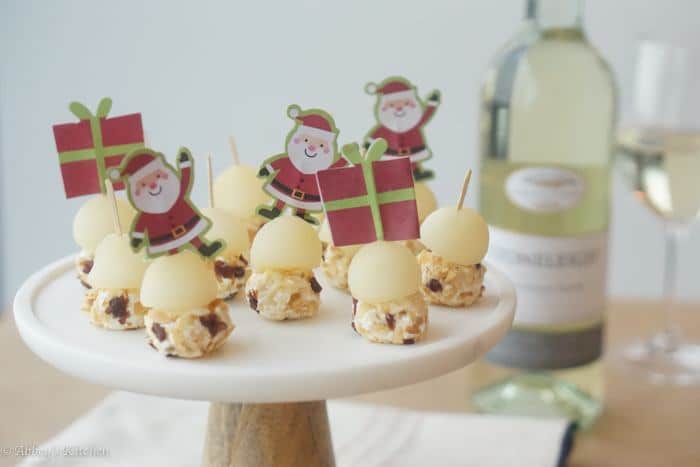 The cheese bit is pretty straight forward- you can even let the kiddies help you with this if you don't mind messy cheese hands. I roll my chevre in a combination of toasted almonds and dried cranberries, but you can substitute your favourite dried fruits and nuts.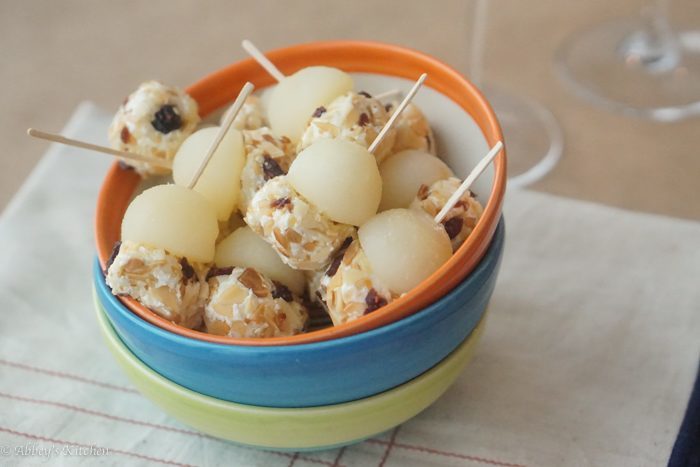 The idea is to get a nice range of flavours, textures and even colours that will look pretty and festive on any holiday platter.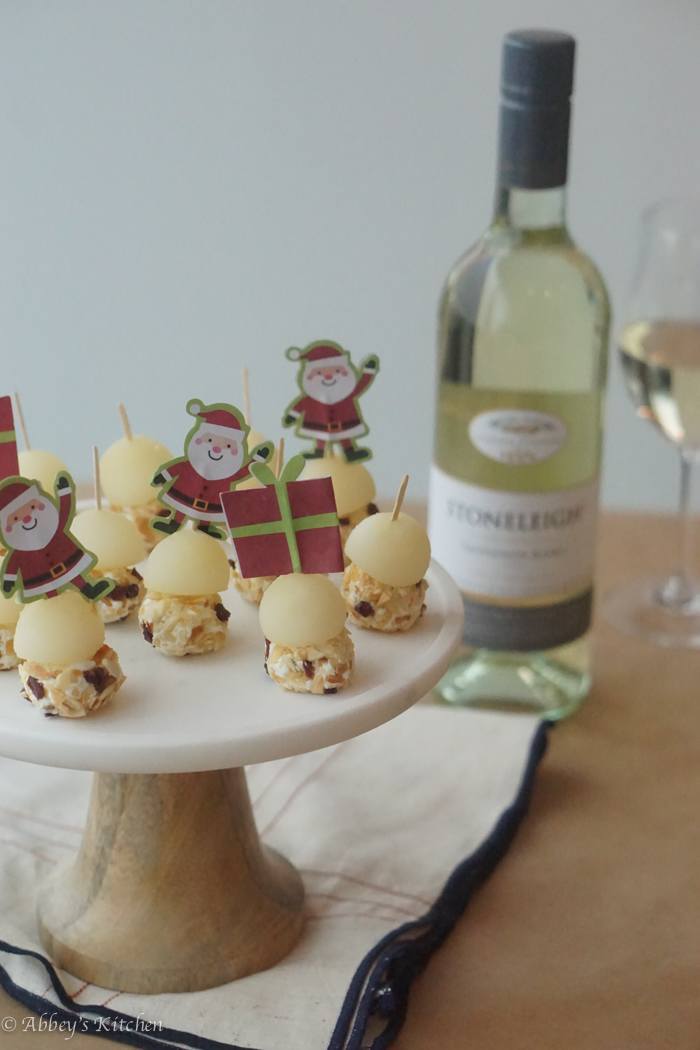 I recommend preparing your chevre balls and wine poached pears ahead of time and storing them in the fridge, and then waiting until shortly before guests arrive to thread these onto skewers. You just don't want the juicy pear to sog up the chevre.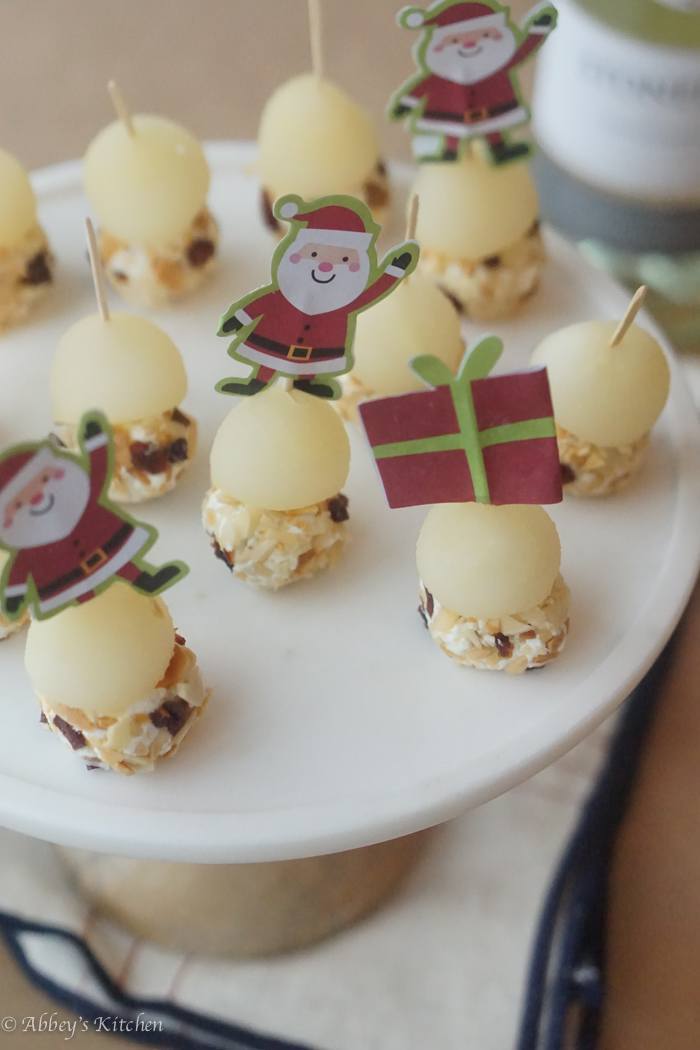 These not only taste absolutely incredible and are totally addictive, but these gluten free appetizers relatively light as well. I used a reduced fat chevre which I find almost identical to the full fat variety, made a lightly sweetened wine syrup for the healthy wine poached pears, and added fibre and protein with the addition of crunchy almonds.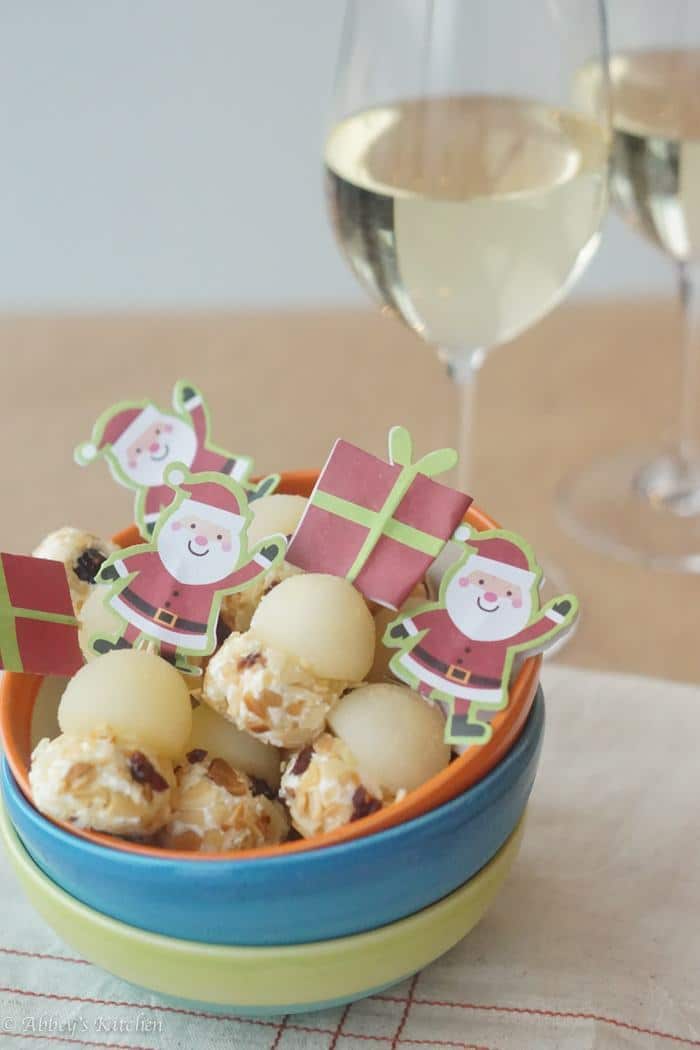 These healthy wine poached pears are totally gluten free and vegetarian, meaning it will please a wide range of guests at your holiday get together.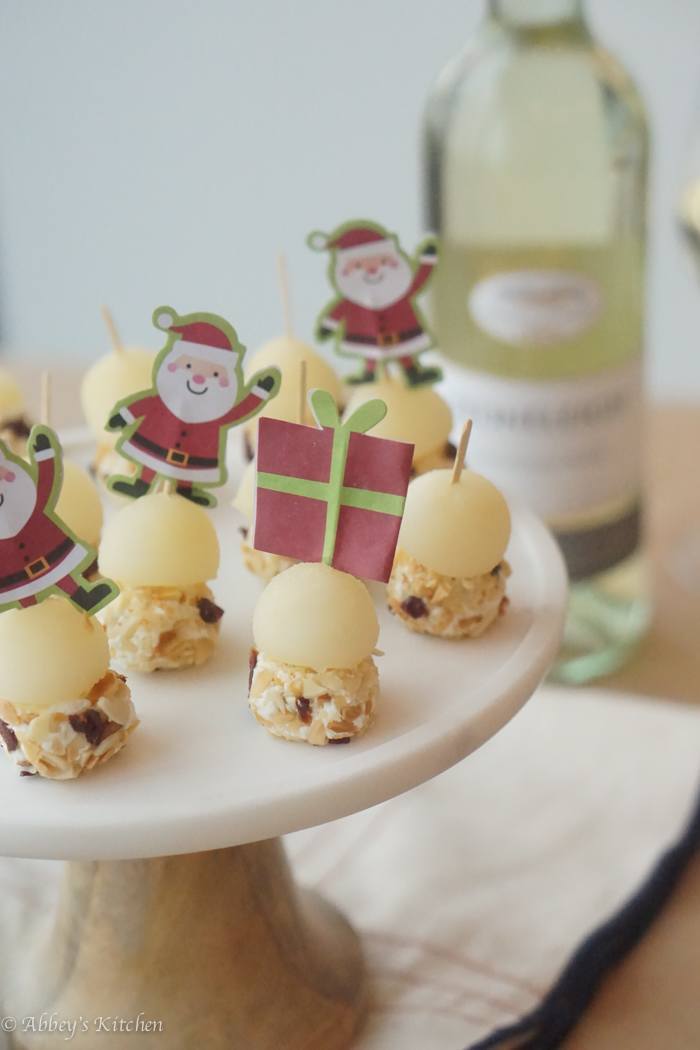 Do you love healthy wine poached pears?  What are some of your easy impressive holiday appetizers? Leave me a message below and I'll try to lighten it up!

Wine Poached Pears & Almond Chevre Holiday Hors D'Oeuvres
These wine poached pears & almond chevre bites are amazing gluten free holiday appetizers that you're guests are going to love!
Ingredients
1

cup

Sauvignon Blanc

1

cup

water

1/4

cup

honey

2

large strips of lemon rind

3

tbsp

lemon juice

3

peppercorns

2

pears

peeled and cut into about 8 balls each using a melon baller

3/4

cup

soft reduced fat chevre

1/4

cup

sliced almonds

toasted and finely minced

1/4

cup

dried cranberries

finely minced
Instructions
Put the Sauvignon Blanc, water, honey, lemon rind, juice, peppercorns, and cinnamon into a small saucepot and bring the mixture to a boil. Once the honey has dissolved, reduce the heat to medium low and add in the pears. Simmer for 3-6 minutes, depending on the softness of your pears until they are slightly softened but not falling apart. Allow them to cool to luke warm in the syrup.

Meanwhile, roll the chevre into 16 balls, about 2 teaspoons of chevre each.

Put the sliced almonds and cranberries together in a shallow dish and roll the chevre into the mixture.

Using a slotted spoon, transfer the pears to a dish and thread one onto a toothpick, going all of the way through. Then add a chevre ball onto the end of the toothpick and transfer to a serving platter or plate. Serve immediately or refrigerate until ready to serve.
Nutrition Facts
Wine Poached Pears & Almond Chevre Holiday Hors D'Oeuvres
Amount Per Serving
Calories 170
* Percent Daily Values are based on a 2000 calorie diet.