Atelier Crenn Opening Remarks
-Owned by Michele Astorian with the highly acclaimed French-born Chef Dominique Crenn leading the kitchen and Juan Contreras in charge of pastry.
-Before opening her Atelier Crenn in 2011, she made culinary history in 1997 as the first female executive chef in Indonesia.
-Atelier Crenn has had two Michelin stars as of October 2012, earning Chef Crenn the title of the first female chef in the United States to receive this accolade.
-The word Atelier means workshop or studio, particularly for an artist or designer. The word is a reference to Dominique's childhood in France and her father, whose artwork is found throughout the restaurant.
Ambiance
-Like a number of Michelin Star restaurants I've visited, the exterior of Atelier Crenn is discreet, understated and simple. You really don't know what you're in store for until you venture inside.
-The minimalistic décor at Atelier Crenn includes a twig-based backlit canopy and light fixtures, simple wooden tables, banquet hall style cushioned chairs and stark white washed walls. Not much to write home about, no, but this will let the food speak for itself. What is noteworthy (and lovely) is the fact that that all of the artwork you see on the walls is Dominique's father's which makes the room (while simple) feel a bit more like home.
-On the Tuesday night we dined, the room was likely only about 1/3rd full, meaning it was relatively quiet in there. Even with a full house, however, I can't say I would expect it to get uncomfortable or loud.
Atelier Crenn Service
-Service throughout the night was professional, and knowledgeable- albeit a little straight. I'm not sure I saw our server crack a smile even once throughout the night, though our food runners and the rest of the staff were a bit less intense. Having said that, all of the elements for fine dining were flawlessly in play. The wines were poured before their accompanying dishes arrived at the table, cutlery and plates were removed promptly after finishing, and I felt the whole meal moved at a good pace. Yes, it was long, probably over 3 hours- but I didn't think there were any painful lags between courses.
-One of my favourite parts of the night was when Chef Dominique herself came out into the dining room to greet the guests and chat about the upcoming Terroir conference in May.
Atelier Crenn Drink
-Atelier Crenn 's  wine list features a wide range of International vintages from all over the globe with a focus on France and California.
-Wine pairings run at $150 a person, the signature menu beverage pairing (available Tuesday-Wednesday) is $95, and a Sommelier's Prestige Pairing is available at $300. You can also opt to split pairings for a supplementary charge of $50.
-Alternatively, wine can be selected a la carte, with about 30 by the glass ($9-45), and bottles running between $40-1850. While my fiancé went with the wine pairings, I started with a classic Kir Royale (Champagne & Crème de Cassis, $25), and moved onto the Rottgenn Knebel Riesling from Mosel Germany ($18).
Atelier Crenn Food
-Crenn's food is described on the website as "Poetic Culinaria"- in other words, it's not just molecular tweezer-plated fare- it's whimsical magical artwork. It is poetry on the plate, if you will.
-There is just one 18-course menu, priced at $220 with the option to add an additional three premium courses for $150 more. When my fiancé heard what was on the supplemental menu (truffles, foie gras, trout roe, Wagyu beef), he insisted we get in. Warning- I wouldn't recommend this if you aren't totally famished. More on this below.
-When you read the tasting menu you're given, you'll know what I mean by poetic. Now, I've read a wide range of menus in my day. Some are just a collection of words and tasting notes. Some are actual descriptions of the main and complimentary flavours. At Atelier Crenn, you actually read a poem. It was fun reading the lines and trying to guess what we might expect to see on the plate.
Spring has come with its cool breeze
I touch the earth and play, in it's cool milky light
Noir sur Noir
Where the broad ocean leans against the Spanish land.
I remember an oceanic feeling
Strolling on the beach, in its whimsically ebullient innocence
Here, the earth proffers its juicy and tangy, chlorophyll gifts
The sea is in me, as strange and mysterious
I revisited my childhood memories, a rebirth of the forest
Nibbling on Brittany seeds
With a twinkle in my eye
Tasting the white luxurious pillow
I take a sip of spring
Watching the beast rest beneath the leaves
Dotting the fragrant flora
A precious token
Spring has come and is full of sweet surprises
Sweetness, bounty, thanks
Spring Has Come with its Cool Breeze: Kir Breton
Apple Cider, Coco-butter, Creme de Cassis
Warning- make absolute sure your mouth is closed when you crack the shell of the delicate candy- the cider is completely liquid and will inevitably gush out. Speaking from experience, of course. All spillage aside, this was an incredible first bite with a balance of sweet, creamy and tart.
I Touch the Earth and Play, In Its Cool Milky Light: Salsify Log, Cauliflower Purée, Almond Crumb, White Chocolate
One of my favourite bites of the night and definitely one of the prettiest as it looked like something from faerie forest. The nutty sweet salsify offered a satisfying al dente bite to compliment the creamy cauliflower purée within, while the white chocolate and almond offered a balanced sweet element to the dish.
Noir sur Noir/ Where the Broad Ocean Leans Against the Spanish Land: Squid, Imberico Lardo and Truffle Broth with Squid Ink Cracker
FX Pichler Gruner Veltliner
Squid
Cracker
A light delicate squid seasoned with an aromatic and salty broth, served alongside an ethereal crispy squid ink cracker.
I Remember an Oceanic Feeling: Shima Aju, Turnips, Fried Turnip Leaves, Pickled Beet Powder
Wakatake Onikoroshi Junmal Daiginjo "Demon Slayer" Sake
Liquid Nitrogen
Sprinkled with a steaming-cold spoonful of pickled beet powder, frozen assumedly by liquid nitrogen. I really loved this dish as the colours, flavours and textures were so perfectly balanced and beautiful. The bright acidity of the pickled beet powder and pungency of the turnip made for a lovely counterpoint to the oily fish and the mighty fried greens.
Strolling on the Beach, in its Whimsically Ebullient Innocence/ Here, the Earth Proffers its Juicy and Tangy, Chlorophyll Gifts: Alaskan King Crab, Fennel, Grapefruit with Lemon Tarragon Sorbet
Piero Mancini Vermentino di Gallura Sardinia Italy
Crab
Sorbet
A refreshing Spring themed bite with a verdant sorbet alongside a juicy bite of sweet crab and fragrant produce. The colours alone we're inviting while the fresh seasonal flavours really drove this home.
Supplementary Course- Trout with Buttermilk Sauce and Pickled Apple with Trout Roe and Sunchoke Custard
Knebel Mosel Riesling
Roe
Trout with Buttermilk and Apple
If you love roe then his will surely be a real treat. It took the mild sweetness of the trout flesh, the tangy light buttermilk sauce, the bright green apple and the creamy sunchoke custard to temper the powerfully salty pop of those tight trout roe. Definitely a decadent plate!
The Sea is In Me, as Strange and Mysterious: Scallop with Pear, Black Sesame, Sea Cucumber Broth
Domaine Duseigneur Rose: Grenache Cinsault
The tender sweet scallop was a pleasant accompaniment to the mildly fishy broth, with the pungent black sesame and sweet pear balancing everything out. I also loved the romantic presentation within the shell, allowing one to slurp this back if they should please.
Supplementary Course- Foie Gras with Vegetable Ash and Endive Marmalade
When I saw this supplemental course arrive, I started to really regret not just splitting the added dishes with my fiancé. No one needs to eat this much foie gras on a single plate. Having said that, it was perfectly unapologetically good, its richness balanced by the savoury ash and the concentrated sweet-tangy-bitter flavour of the marmalade. Honestly, who am I to complain?
I Revisied My Childhood Memories, a Rebirth of the Forest: Duck Egg, Duck Liver Pate and Porcini Broth with Brioche
Gageleer Sweet Gale Ale Belgium
Broth
Brioche
After a whole plate of foie, I really needed something light and cleansing to purge my palate of the fat. And while I did love the luscious custard-like texture of the egg, I found the porcini broth overwhelmingly salty. But thank goodness for the angelic brioche on the side, which helped neutralize the otherwise loud flavours in the bowl.
Nibbling on Brittany Seeds with a Twinkle in my Eye, Tasting the White Luxurious Pillow: Bone Marrow, Oestra Caviar, Fried Shallots and Smoked Creme Fraiche with Buckwheat Cracker
Domaine Pierre Gelin Bourgogne Pinot Noir
Let's not kid ourselves- bone marrow and caviar are massive treats on their own and this was no-doubt a well-balanced dish. But in the context of the menu progression, I was a bit tapped out on salty fish eggs and big slabs of fat. Having said that, I loved the whimsical presentation of the little marrow log adorned with the salty pop of caviar and crispy sweet shallots. Despite being full and my palate a bit exhausted, I couldn't help but fall in love with the slight smokiness of the tangy creme fraiche and the light earthy crackers. A solid dish, I just wish I could have had it and each of the other overly decadent ones on their own to fully appreciate their splendour.
I Taste a Sip of Spring: Consomme
Admittedly, I can't remember details other than that this broth was slightly sweet, hearty and comforting.
Watching the Beast Rest Beneath the Leaves: Squab with Huckleberry Fruit Leather, Mustard Seeds and Beet Powder
Carlisle Zinfandel Russian River Valley
This was definitely one of my favourite dishes of the night as I love the light chewy texture of savoury leather, and the classic pairing of game with wild berries. A flawlessly composed plate.
Supplementary Course: Wagyu Beef with Parsnip Purée, Caramelized Onion, Black Truffle w Truffle Armagnac
Armagnac
Beef
I loved the contrast of the savoury umami rich truffles and fatty beef with the sweet parsnips and supple onions. The truffle armagnac was holy-moly-strong- but maybe necessary to help us push our bloated bellies through to desserts.
Dotting the Fragrant Flora/ A Precious Token: Salad Meringue with Carrot Jerky and Candied Citrus
Salad Meringue
Carrot Jerky
Oy, I loved this. Here, the acidity in the meringue stood in for an acidic vinaigrette that dissolved in the mouth to dress the delicate greens. Oh man, and the carrot jerky? Genius. This is a multistep process you can watch on YouTube but in my mouth, it was gone in mere seconds.
Spring Has Come and is Full of Sweet Surprises: Aloe Vera
Consomme, Poached in Verjus, Frozen and Shaved
Here, pastry chef Juan Contreras took the household first aid staple to multiple directions- a simple juice, a gel-like texture and a finely shaved ice. Fitting for the presentation, we were also encouraged to slurp down the remnants like an oyster. Now if only I was able to have this between two of the heart-stopping courses, I would have probably been able to eat twice the portions.
Pineapple, Basil Seeds, Blue Green Algae
I was a bit apprehensive when my fiancé (an avid aquarium owner and grower) told me that this was the same stuff that grew in his tank when he hadn't cleaned it, changed the water or kept it cool enough. Thankfully, it ended up being insanely delicious with the combination of sweet tropical pineapple juice and tangy crunchy basil seeds. Throw a little vodka in that and I'd call it a great party.
Nori and Masha Wafers
An addictive sweet-salty combination with the earthy macha, the sweet crisp candy and the savoury flecks of seaweed.
The Sea
Coconut Sorbet Mussel, Yuzu Citrus Curd, Matcha Puree, Bubbles of Sake and Yuzu, Dried Seaweed from Green Algae, Nori and Tea Almond Dacquoise
Jurancon Clos Guirouilh
Hands down my favourite dish of the day, both for presentation and for flavour. My mind was blown as I ravaged every corner of this beautiful bowl (which actually looked like a dinosaur egg). The aromatic coconut sorbet, the tart yuzu curd, the fragrant matcha, and the savoury nutty dacquois. I handed over my (very) empty bowl in complete awe of Chef Juan.
Sweetness, Bounty, Thanks: Mignardises
Candies
Chocolates
Chocolate box with poem
A sweet little selection of treats that certainly left a lasting impression. The wooden platter had been misted with the scent of pine, sending a refreshing wave of summer camping memories my way. I especially loved the angelic marshmallow in that spread.
Meanwhile, a beautiful wooden box was adorned with a heartfelt poem by Chef Crenn about her and her father. It made the treats inside (especially the black truffle macaron) taste even better.  I know that's hard to believe.
Take-Home Chocolate Bar
Finally a stunning take-away chocolate bar that was wrapped almost too pretty to open up (though you'll want to because it was just as beautiful on the palate as to the eyes!)
Atelier Crenn Closing Remarks
-For two tasting menus, two supplemented menus, one wine pairing and two glasses of wine, the bill came to around $1340 US including tax and an included 20% service fee. Yikes! That's one hell of a bill and while not our most expensive (that goes to Fat Duck) it felt like a bigger shock because I didn't do pairings, the pairings weren't crazy old world bottles, and this wasn't London or Paris. But j can't complain about that. We chose to add the $150 supplements when we were asked at the start of the mea. In retrospect, I wouldn't have ordered two supplements (if I even ordered one) because it was just too much food and (more specifically) too much rich food. If it had have been a special occasion and if I had never had Wagyu beef, truffles, trout roe, or foie gras, it might be a must-have. But this isn't my first rodeo and I eat more of that stuff then I'm proud to admit to. So here's your warning. If you're starving and want to really treat yourself, do it. Splurge. But if you have a normal appetite, I say save the money and do an additional Michelin star meal in this amazing city.
-Otherwise I have nothing much to complain about from Atelier Crenn. Chef Crenn and her pastry chef, Juan Contreras are absolute geniuses. I would happily return in a heartbeat and cannot wait to see what Dominique discusses at the upcoming Terroir conference.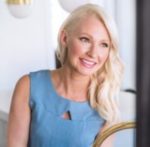 Abbey Sharp is a Registered Dietitian, an avid food writer and blogger, a cookbook author and the founder of Abbey's Kitchen Inc.