Opening Remarks:
-Having opened in October of 2012, Toronto is the latest addition of celebrity chef Daniel Boulud's 14 establishments and 1 of 3 with the Café Boulud brand (the other two are in NYC and Palm Beach)
-Located in the upscale Four Seasons hotel, the restaurant aims to differentiate itself from Boulud's celebrated 3-Michelin Star New York Daniel with a relatively more affordable, comfortable and playful setting for dining well.
-Living in the area, I have eaten in the downstairs casual D-Bar more times than I care to admit but only had one full meal at the restaurant once.  Considering this was just a mere few weeks after the restaurant opened its doors, and knowing Daniel himself had been in to oversee things several times since then, I was really looking forward to seeing how operations had been tweaked and tightened.
Ambiance:
-As you make your way up the floating staircase to the second floor, it's hard not to be drawn towards the rich dark wood wall and patterned metallic overlay decal at the receptionists booth at the door.
-While it's easy to assume a high-end hotel chain would come across as contrived, cold, exclusive and high-brow, Café Boulud communicates an all around different vibe.  Inside, the décor is cheeky, whimsical and glam. The walls and pillars are lined with a textured bronze paint, with spot lights drawing attention to the colourful art.  Pop-up portraits by Mr. Brainwash feature iconic celebrities like Bob Marley, Madonna, Marilyn and Albert Einstein, while stunning blown glass pieces by David Calles, David Thai and Sue Rankin breath life into every nook and cranny. Think they would notice if I snuck out with one of those bad boys lodged in my purse?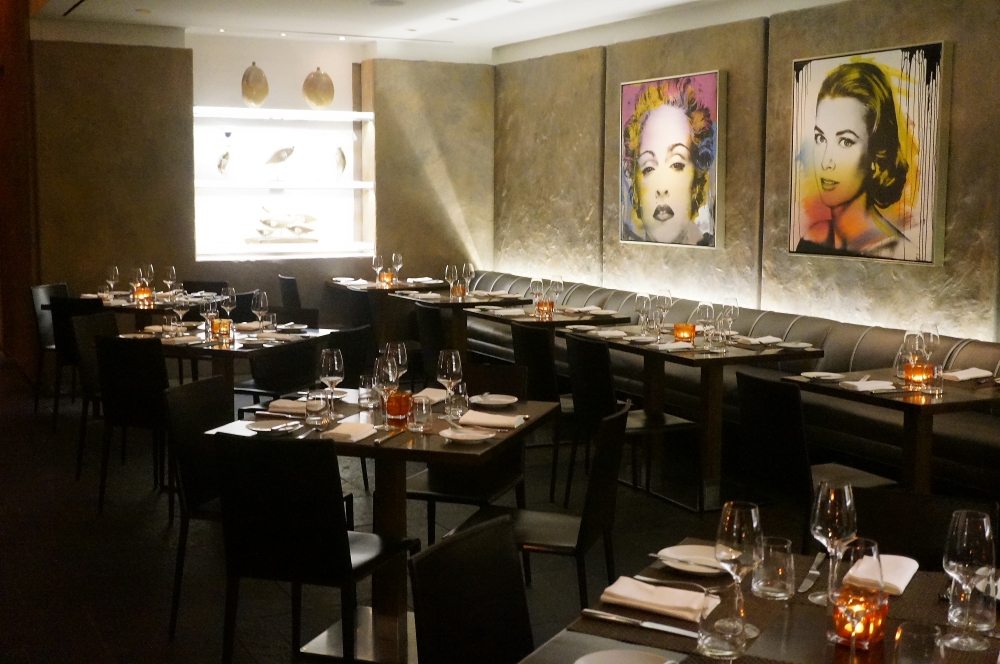 -Tables are a mixture of sleek dark wood or textured transluscent blue glass, complimented beautifully with flawless leather banquettes, simple swivel chairs and plush velvet love seats.
– The demographic in the room is fairly mixed. There are probably a few tourist families staying in the hotel for the weekend, along with a number of couples of all age groups- a few in the mid 20s-40s and a few more in the 50 range. And don't worry about dressing up. Sure, I spotted a few suit jackets in the older crowd, but for the most part, comfortable chic seems to be the most popular look.
– In line with my usual Palm Beach Café Boulud experience, the noise level is set at a gentle hum and totally tolerable for all guests. You know you're not in the West End when you can actually here your dining companion speak.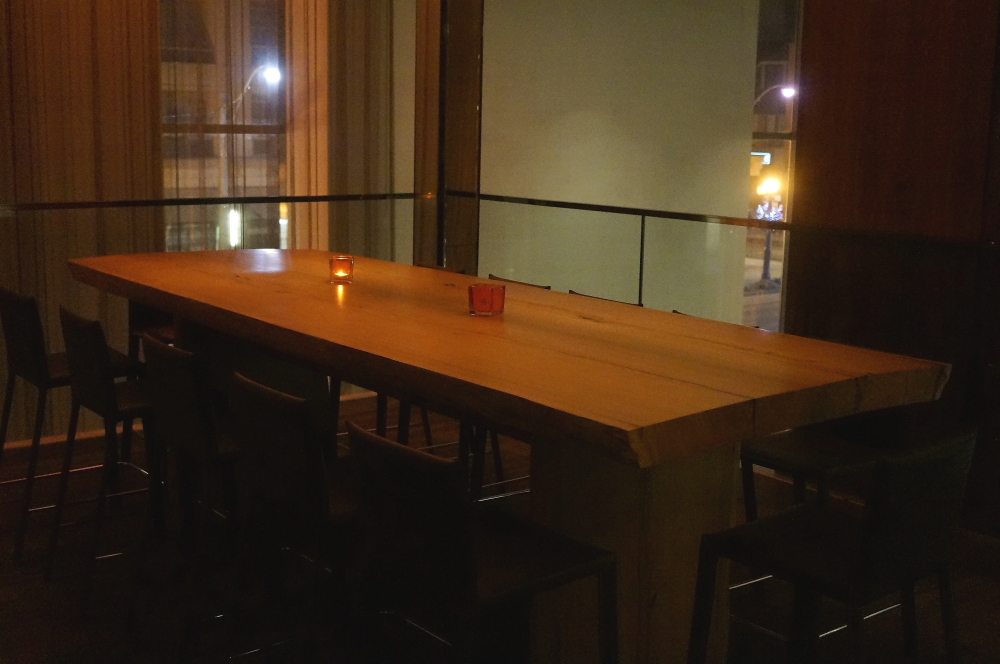 Service:
-The service, as expected, has significantly improved from my first meal upstairs, and is now much more in line with the typical Boulud experience. Our server, while perhaps not as personable and energetic as we're used to in restaurants downtown, certainly ticked all the boxes when it came to the how-tos of fine dining. Water glasses were consistently refilled, cutlery were replenished and carefully reset after each course, bread appeared and disappeared exactly when it should, and menu items were described in detail.
-What, or perhaps, I should say, who I was most impressed with was the Sommelier/ Maitre d'Hotel, Jordan Alessi. With a bit of a slower Sunday pace in service, Jordan had some time to essentially oversee an informal private wine appreciation class for us.  First, we did a little comparison of an Ontario and California white (I liked the Ontario, he liked the Cali- but he is biased and claims to always hate VQA). We also got a thorough climate-based explanation on exactly why they differ. Second, we got to learn about the role of Botrytis Cinerea (the noble rot) in providing the distinctive flavour of our favourite dessert wine, Sauternes.  And last, he let us smell and sample a corked bottle of wine so we'd be able to potentially identify if and when it happened to us at home.  I recognize that this type of attention may not necessarily be possible on a super slammed Friday or Saturday night, but it's refreshing to know the staff value client interaction and education.
-The meal moved at a leisurely but evenly timed pace, about 2 hours total give or take for the 5 course meal.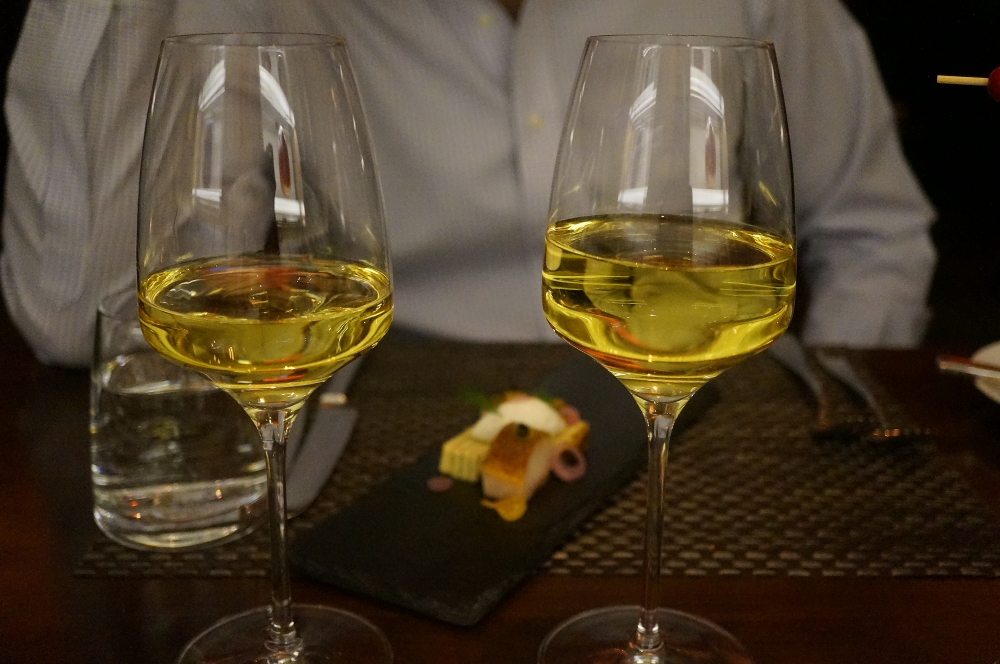 Our little taste testing…
Drink:
-As expected from such a prestigious family of restaurants, Wine Director, Drew Walker has compiled a fairly substantial wine list. There are 30 pages of wines to peruse, diligently organized by global region and ranging in price from $60-$15,000 with 18 available by the glass ($15-29).
– The cocktail menu (which I've sipped my way through multiple times downstairs at D-Bar) is sexy and intriguing. Divided into Handcrafted Cocktails (unique Boulud originals with ingredients like cranberry shrub, sriacha salt rim, cucumber water and saffron syrup), Vintage with a Twist (updated classics like Mojito's with wild berry rum, or a spicy take on the Dark & Stormy with hot pepper rum and pear juice), and a handful of Sparkling Cocktails (Prosecco based drinks).
Queen B ($18)
Proscecco, Elderflower Liquor, Blueberry Juice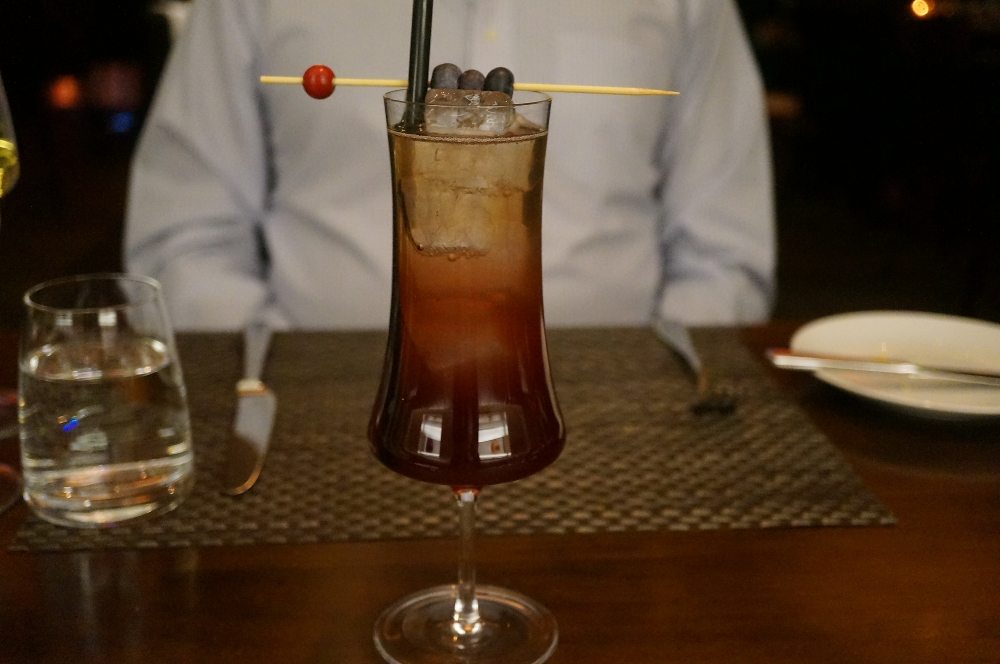 Yorkville Affair ($17)
Wild Flower Gin, Rose Petals, Elderflower Liquor, White Cranberry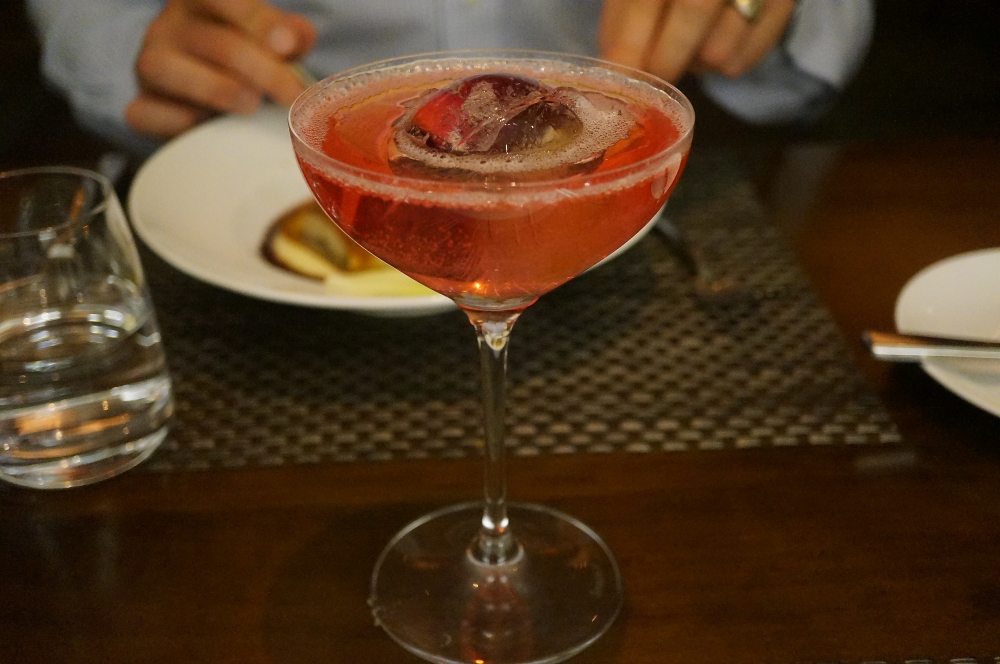 2007 Castelnau de Suduiraut, Sauternes ($77 for bottle)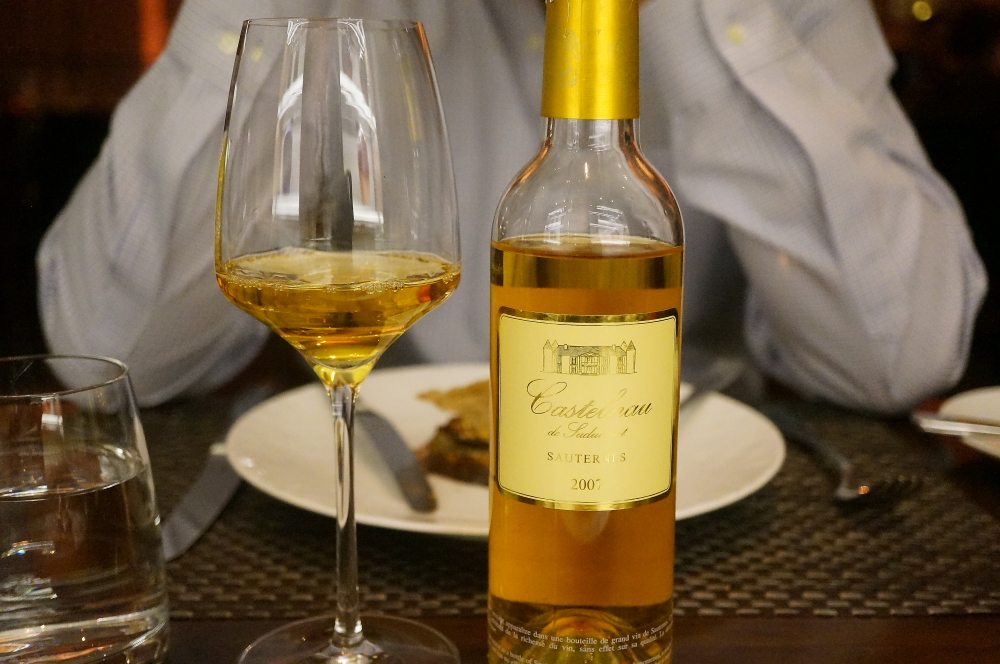 Decaf Cappuccino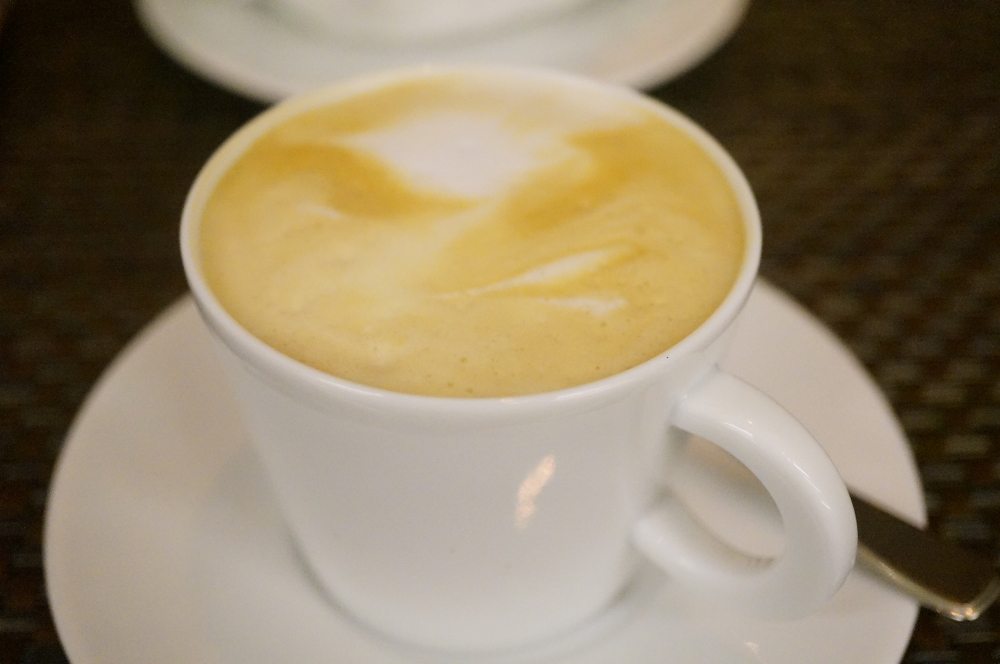 While my partner opted for a well paired Chardonnay and Cab Sauvignon for the lighter and heavier courses, respectively, I of course decided to stick to the cocktail list. There were just so many solid options for me to choose!  While both drinks I tasted were delicious and beautifully presented, the Queen B was the surprising winner- surprising because I find sparkling wine cocktails hit or miss. This one was a clear hit. I loved the floral flavour of the elderflower liquor offset by the gentle bubbles of the proscecco and the brightness of the blueberry juice.  In the Yorkville, that floral aroma was played up even more with the addition of the fragrant rose petals and the wild flower gin.  Definitely less sweet than the bubbly, but incredibly easy to drink.  And since it's hard to turn the other way when Sauternes is on offer, we paired the luxurious liquid gold with our foie gras and dessert and then capped everything off with a perfectly frothy cappuccino to end the night. Perfection.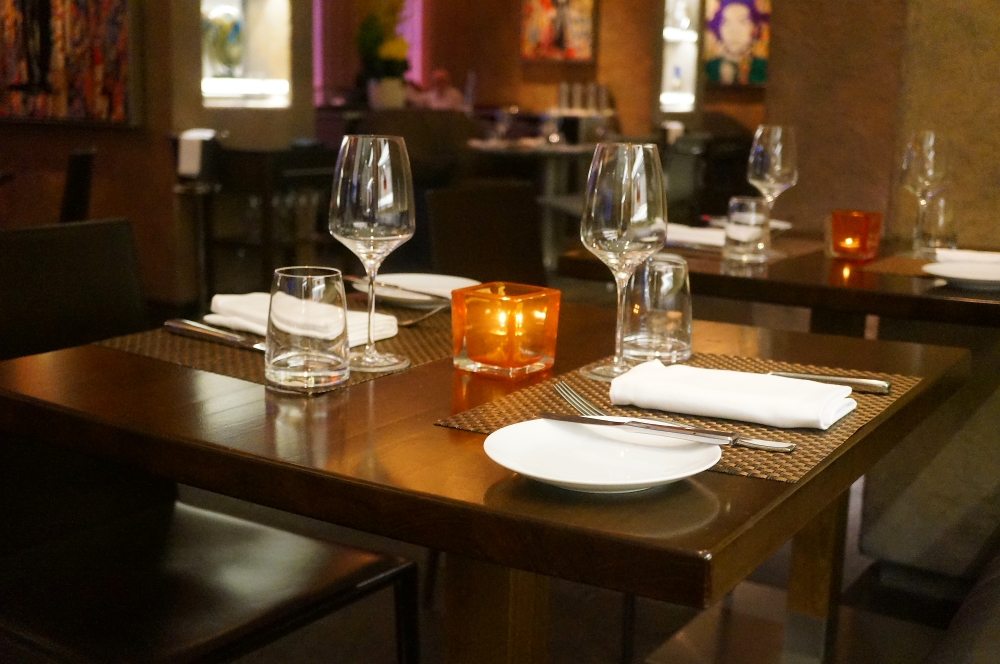 Food:
-The menu is an ongoing collaboration between Daniel Boulud himself and Chef de Cuisine, Tyler Shedden (previously of Daniel's private dining room).
-The menu is divided simply into Appetizers, Main, Market Specials and Desserts, with a nice range of proteins represented with seasonality given the highest respect.
-Chef Shedden also offers two Chef's Degustation options available as a Five Course ($95) or Seven Course ($120) meal, so we opted for the former and let the dishes surprise.
Bread with Salted Butter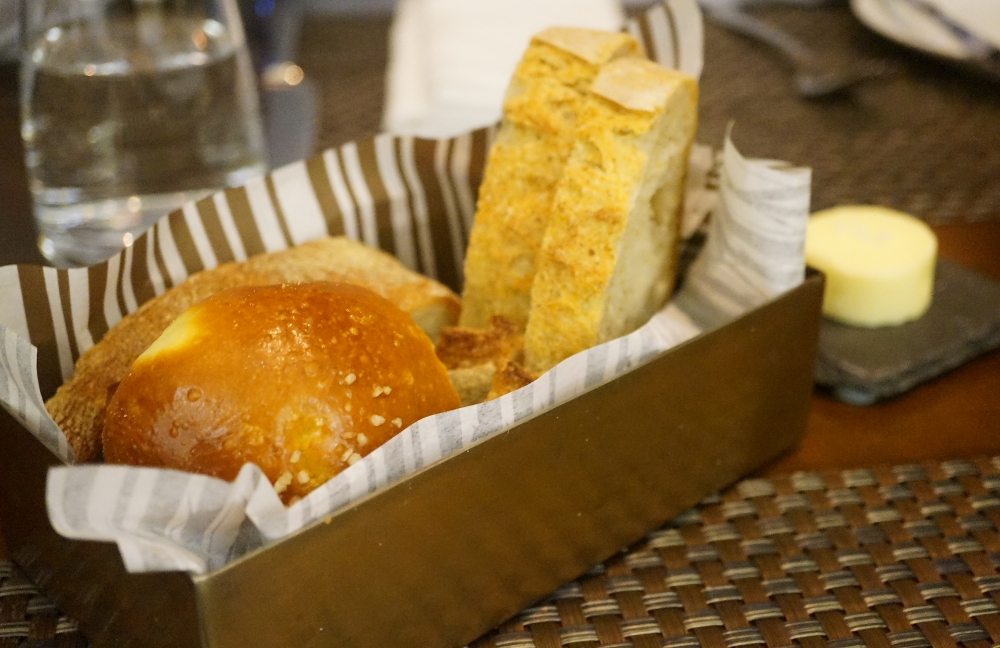 A delicious selection of carby goodies- my favourite being the rich and buttery salt crusted brioche.
Comte Cheese & Esplette Pepper Gougeres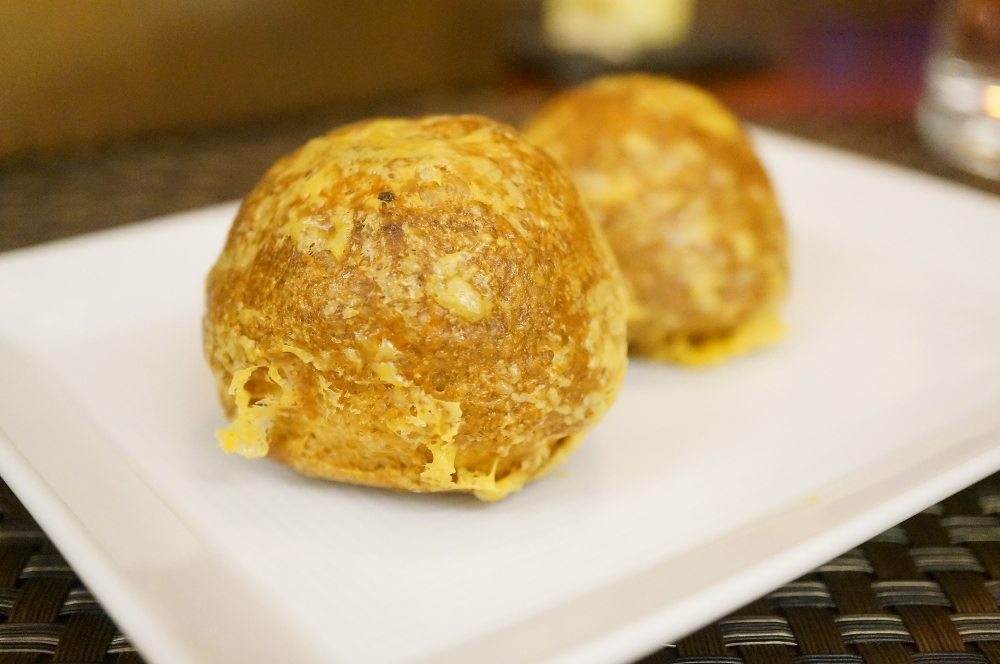 I would have preferred if it was served warm and freshly made, as it was a little drier than it should have been (puff pastry stales so fast). However, the rich salty cheese flavour still made it a worth-while bite.
Nova Scotia Lobster Salad
Green Apple and Poppy Seed Jelly, Celeriac, Grainy Mustard, Pomegranate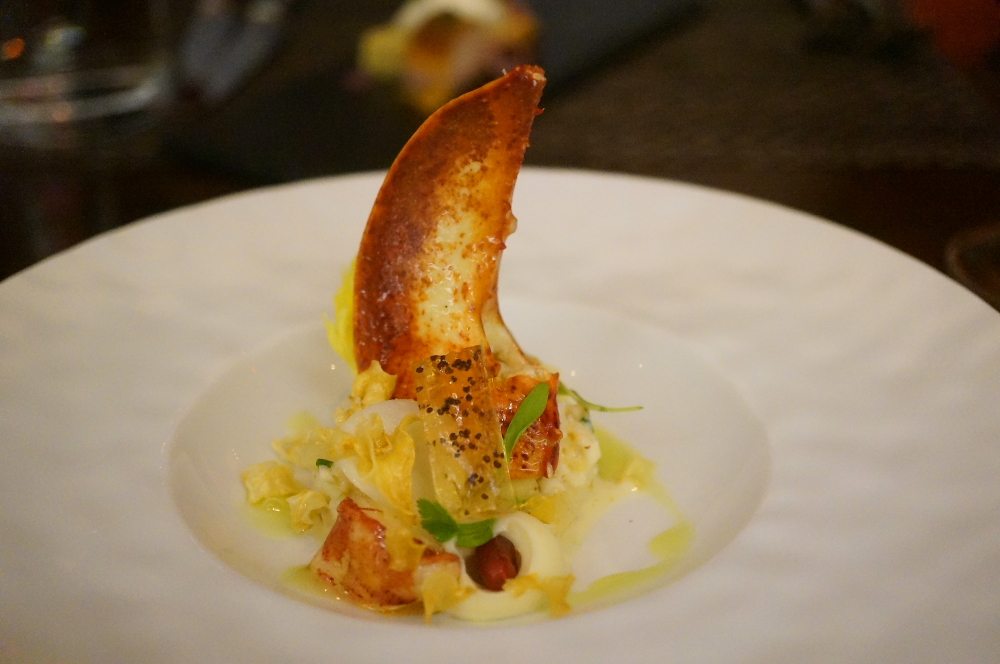 Simple, but wonderfully refreshing. The creamy and spicy mustard celeriac and lobster salad was given a sweet and tangy kick from the jiggly green apple jelly and the pop of the pomegranate arils. This is the kind of salad I would order any day of the week.
Smoked Sturgeon
Potato Millefeuilles, Pickled Red Onions, Horseradish, Crème Fraiche, Osetra Caviar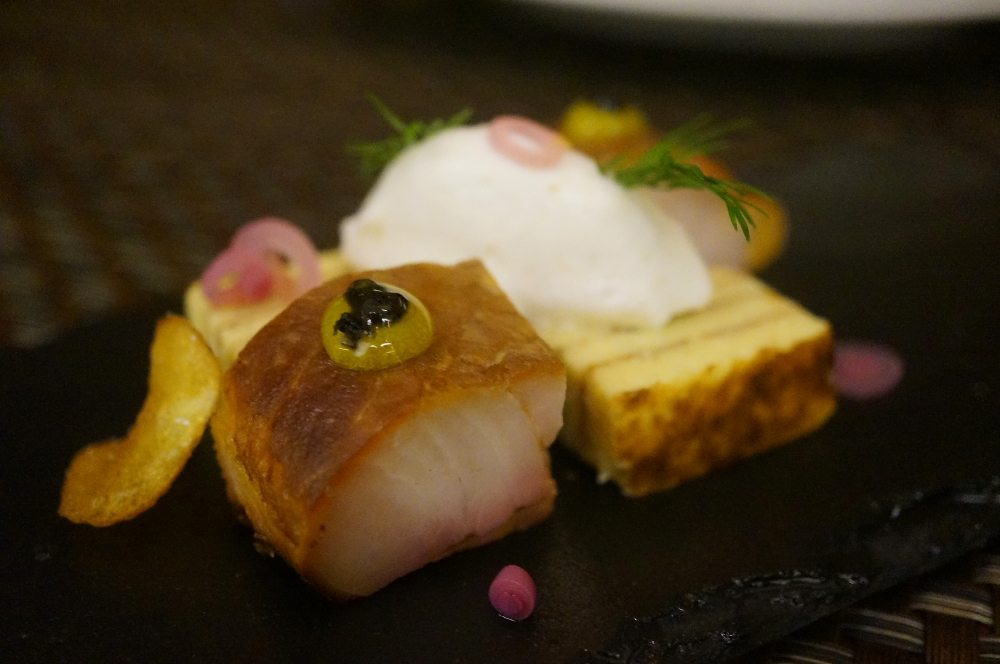 Richly savoury but beautifully well balanced. I loved combination of the dense rich fish with the spicy horseradish, the salty caviar, and the tangy onions and crème fraiche- so many bold flavours tempered down with the mild potatoes. I was also particularly impressed with the millefeuilles, which were so expertly sliced and stacked that it was almost hard to believe it wasn't just a whole piece of fluffy potato.  A stunning plate.
Seared Foie Gras
Medjool Dates, Wild Quebec Honey, Hazelnut Spice, Bulgur Wheat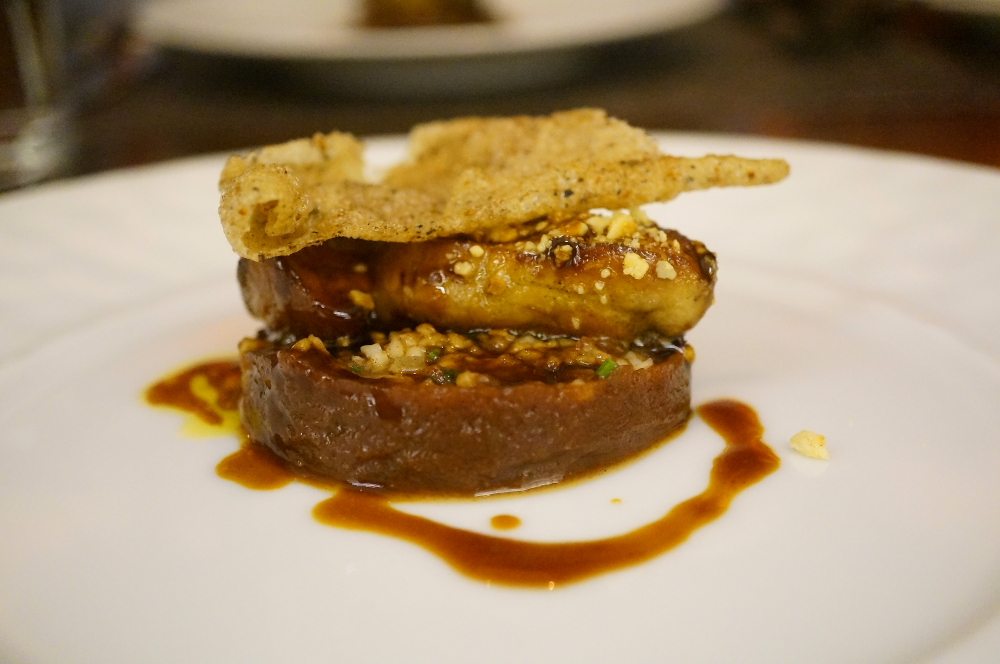 The hands-down favourite dish of the night. Oh boy. The citrus-scented honey glazed sticky medjool dates created the bed for a generous lobe of the queen of all cuisine- that sexy foie. And as fabulous as that foie gras was on its own, it was the textural contrast of the aromatic crushed hazelnuts, the toothsome grains, and the light tapioca crisp that really drove its satiny texture home. Absolute heaven.
Potato Wrapped Sea Bass
Pommes Puree, Glazed Leeks, Watercress, Sauce Meurette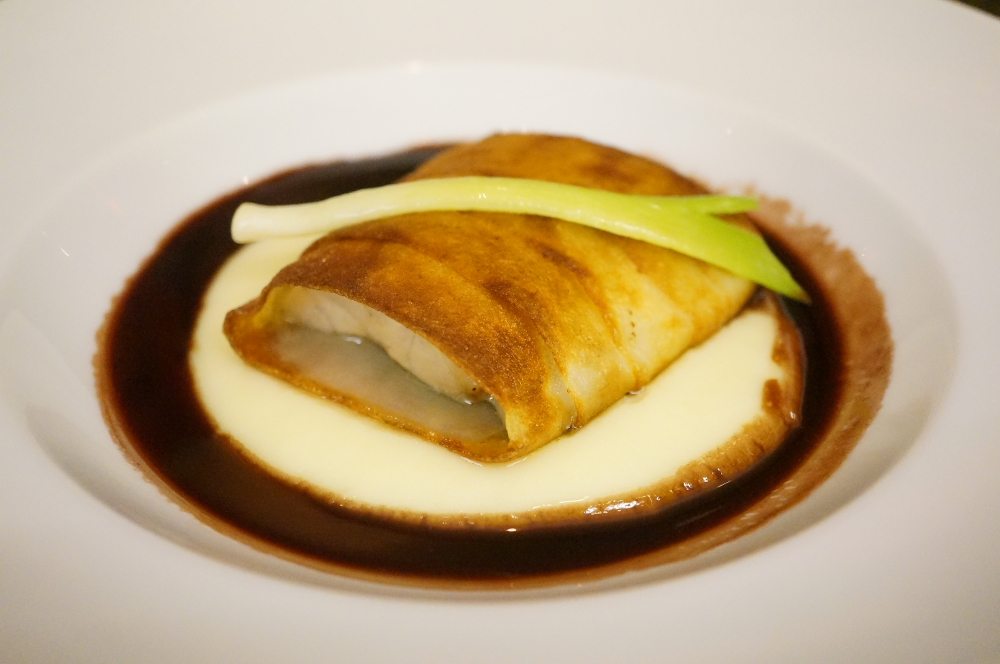 The flaky and impossibly moist flesh contrasted brilliantly with the light and crispy potato-chip coat. I also loved the double play of starch with the mild satiny pommes puree to juxtapose the concentrated red wine jus.
Coal Fired Atlantic Mackerel
German Butter Potatoes, Grainy Mustard, Radish & Scallion "Tabbouleh", Quail Egg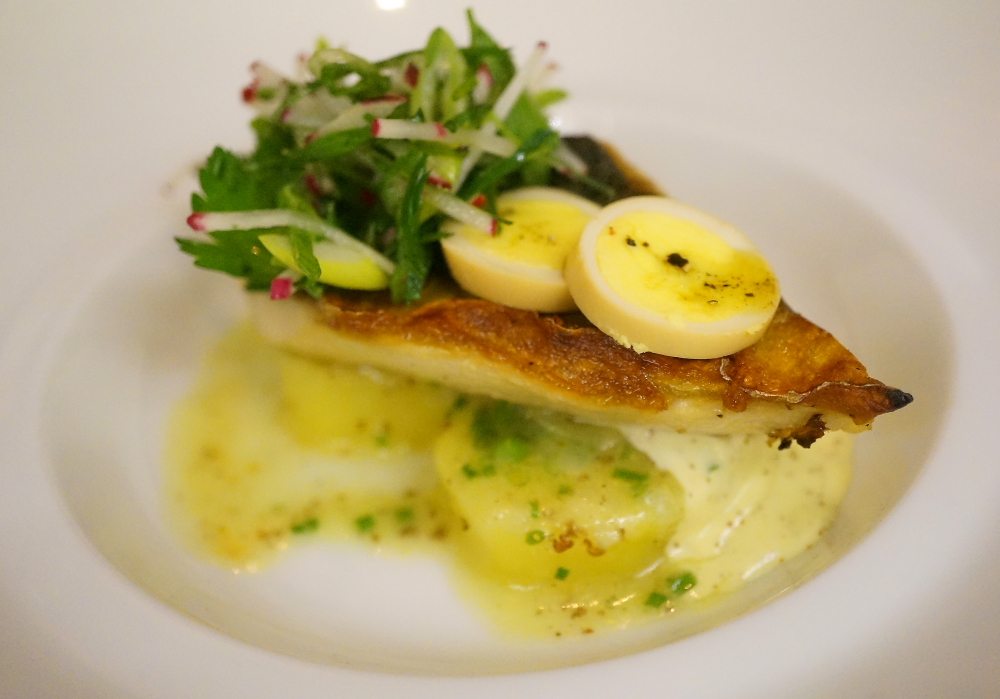 This dish had a very similar feel and flavour profile as the previous Sturgeon plate. The rich fatty fish paired up nicely with spicy-bitter mustard and played off the mild buttery texture of the cooked potatoes. This one even got an extra hit of lusciousness from the creamy yolk of the sliced quail egg.
Ontario Venison Loin
Honey Poached Quince, Chestnuts, Chanterelles, Parsley Root Puree, Warm Grains, Braised Cabbage, Natural Jus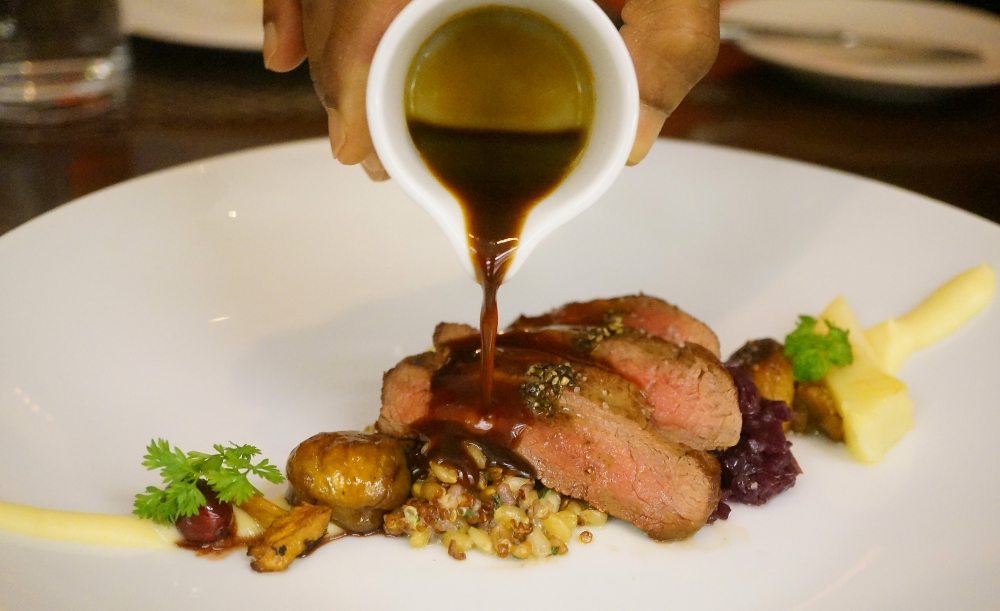 The venison was perfectly cooked and seasoned, with its gaminess enhanced by the woodsy chestnuts, grains and the umami-rich chanterelles, and contrasted by the satiny root puree, the tangy cabbage and the sweet fruit. A beautifully composed dish.
Beef Tenderloin
Pomme Puree, Creamed Spinach, Bone Marrow, Onion Rings, Bordelaise Jus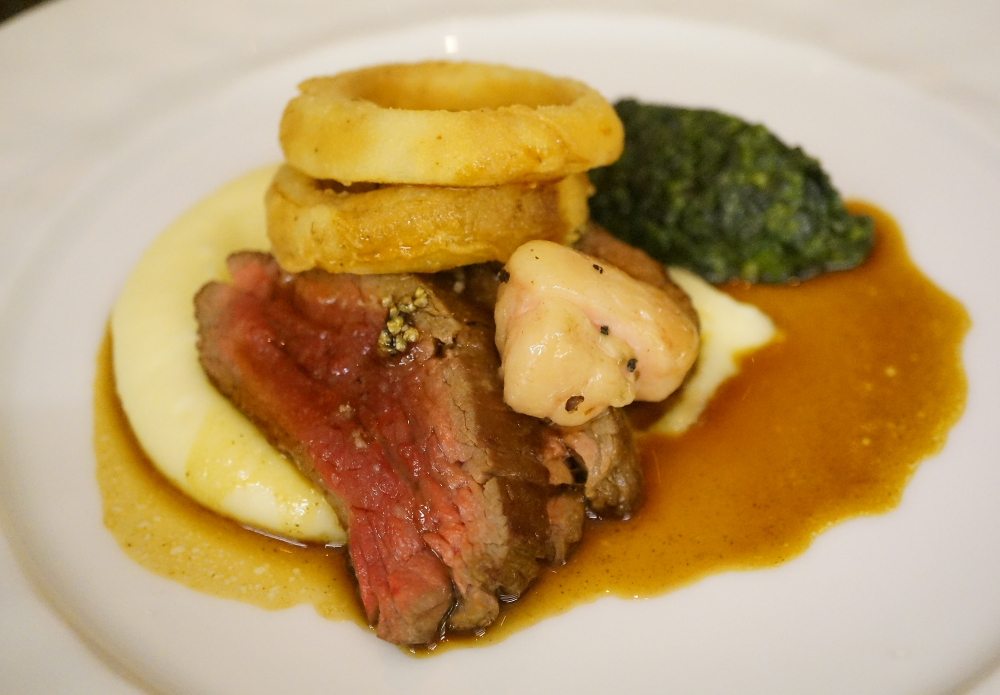 Simple and classic, but very well done. Like the aforementioned venison, the beef had a lovely seared crust and blushing pink centre that just lapped up flavour from the rich bordelaise jus on the plate. And as if silky mashed potatoes, creamy spinach and crispy fried onion rings weren't indulgent enough, a few nuggets of melting bone marrow made a welcomed appearance on the plate. A perfect little portion of naughtiness.
Warm Chocolate Coulant
Liquid Caramel, Fleur de Sel, Caramelized Milk Ice Cream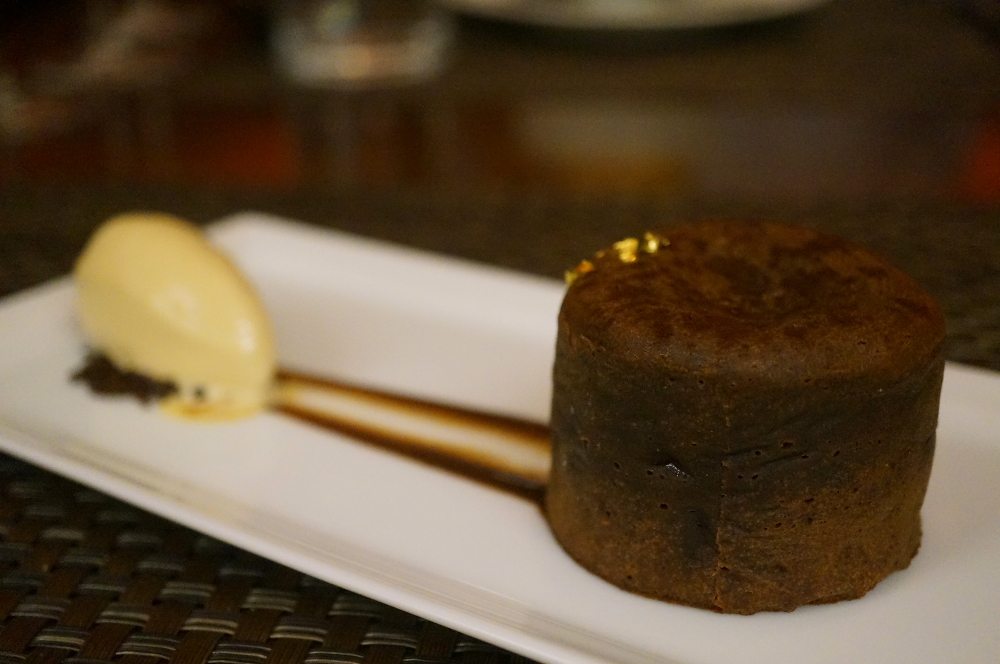 I've had this dessert a few times downstairs in the D-Bar so obviously it was a good way to end the night. The cake had a chewy brownie-like crust exterior that when cracked, revealed a stream of bitter-sweet caramel. Balanced out with a hint of good salt and a quenelle of delicately sweetened ice cream, this dessert deserves a spot on every chocolate lovers must-eat list.
Grapefruit Givré
Sesame Halva, Rose Loukoum, Grapefruit Sorbet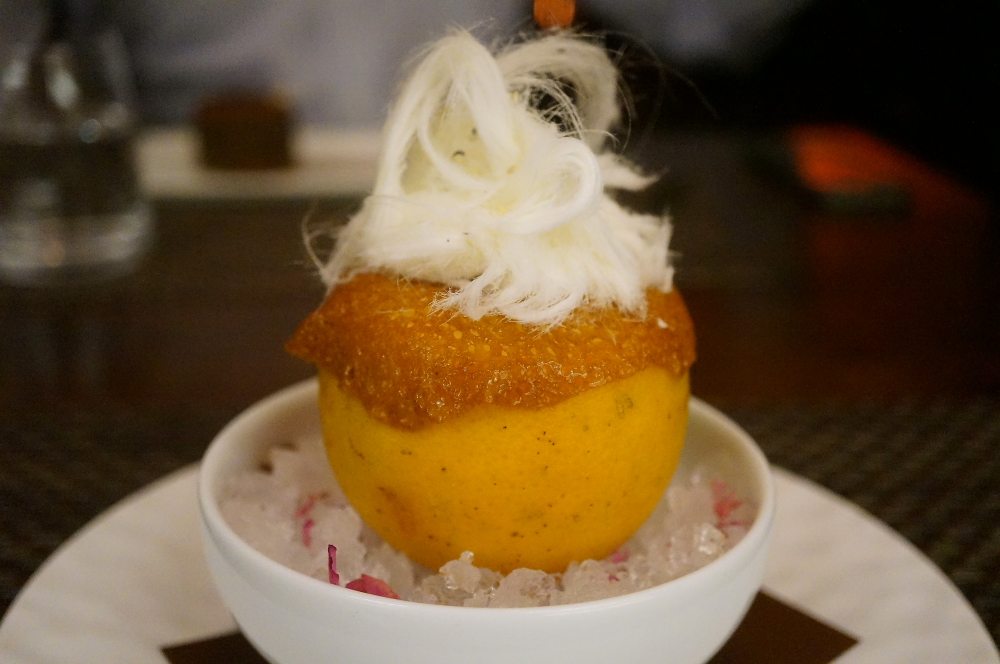 Invented by New York's Bar Boulud pastry chef, Ghaya Oliveira, and named Toronto Life's Must-Try dessert, this treat has been on the menu since day one. One bite, and you'll understand why. The frozen grapefruit shell is refilled with bitter grapefruit sorbet, fresh juicy citrus segments and rose flavoured Turkish delight and then topped with a warm sesame tuile and cotton-candy like threads of halvah.  It's a perfect example of successfully playing with temperature, texture, and flavour, and then presenting it in a whimsical, playful and happily unusual package.
Lemon Madeleines
A Boulud classic- golden and crisp on the outside, and fluffy and warm within. It's hard not to eat the entire bowl while nursing a dessert wine or coffee.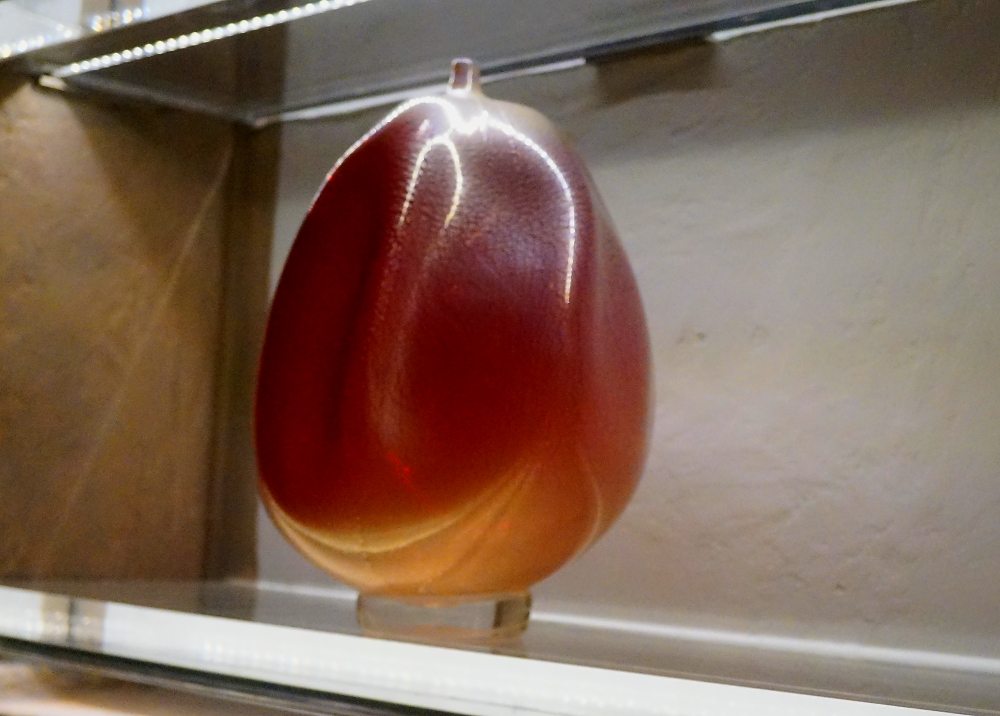 Closing Remarks:
-For two 5 course tasting menus, 2 glasses of wine, 2 cocktails, 1 bottle of sauternes and a cappuccino, the bill came to about $440 including tax and tip.  Is this a good pick for cheap date night? Obviously not. But our palates wouldn't appreciate tasting menus if we had them every day (nor would our pants). Considering we made our way through a fair bit of booze, and had a fabulous high-class meal, I think the price is on par with restaurants of similar style. The initial sticker shock is simply a product of the fact that we Torontonians don't have a whole lot of fine dining restaurants, so our point of price reference is naturally lower. But after meals in France, London, Italy, Palm Beach, New York, Chicago and more, $400 isn't a completely outrageous number for a special meal out-especially one with a full bottle of dessert wine.
-Overall, I would recommend Café Boulud for those looking for that special occasion meal in the city, especially if you don't want to take any risks on a so-so meal. The Boulud standards for service, food and drink are fairly consistent and high, so I would feel quite safe taking family there for a solid meal.
-And for those looking for a more casual, affordable option with similarly good quality and care, check out the D Bar downstairs for their easy going menu and specials. They actually do a really fun $25 Burger and Bloody Mary special on Sundays from 11 -3:30 PM, or their Charcuterie night for $30 (with wine pairings) the last Monday of every month.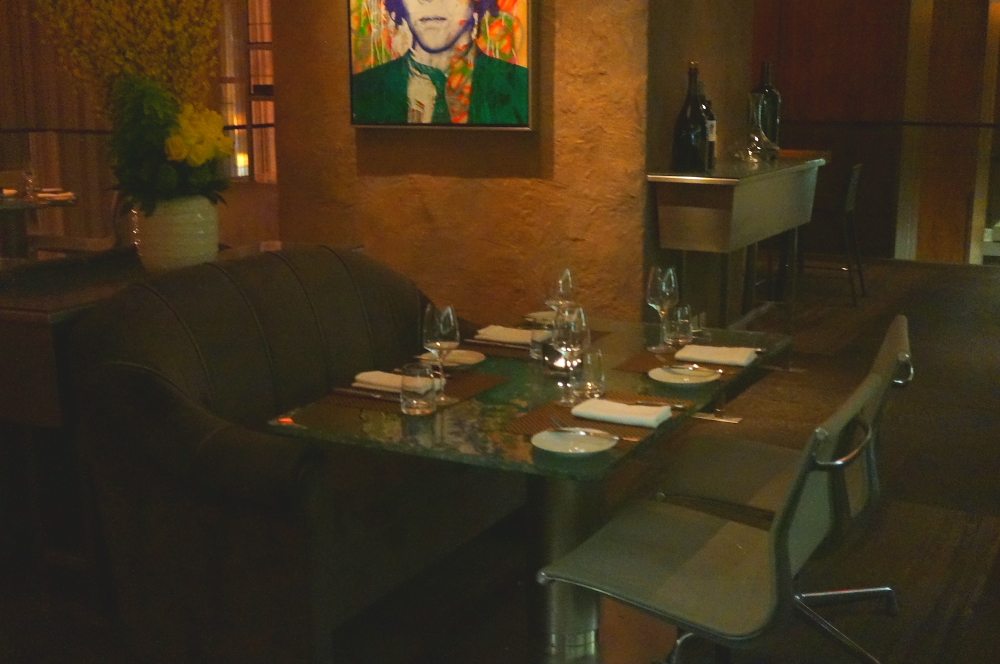 Disclaimer: The food in this meal was complimentary, however, as always, all opinions are my own.