Cava Opening Remarks
-With almost a decade under its belt, many consider Cava to be the progenitor of our city's current obsession with Spanish shareable cuisine.
-When it opened 9 years ago, Cava was owned and operated by Chef Chris McDonald, but last winter, he passed the torch to his former partner, Chef Doug Penfold and Front of House manager, Niall McCotter.
-It's almost embarrassing that it's taken me so long to visit this Toronto culinary landmark. It didn't strike me as urgent until I helped judge the annual Groundhog Day Charcuterie competition when the classic space, incredible service, and the tempting menu all brought me back to my recent adventures in Spain. It was time to book off the time and go.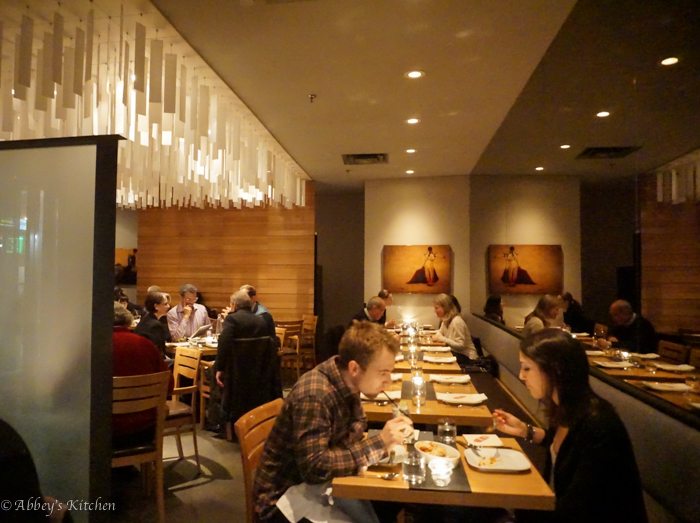 Cava Ambiance
-Located just north of St.Clair on Yonge, a Spanish oasis is unexpectedly hidden in a mid-town strip mall. Just look for the Bruno's and sushi place, and venture deeper inside.
-The intimate 56-seat Cava dining room is cozy, casual and unpretentious. When you walk in the door, you're eyes are likely to be drawn towards the well-stocked bar where you'll see more wine bottles then trendy bourbon or gin (though, they have that too!)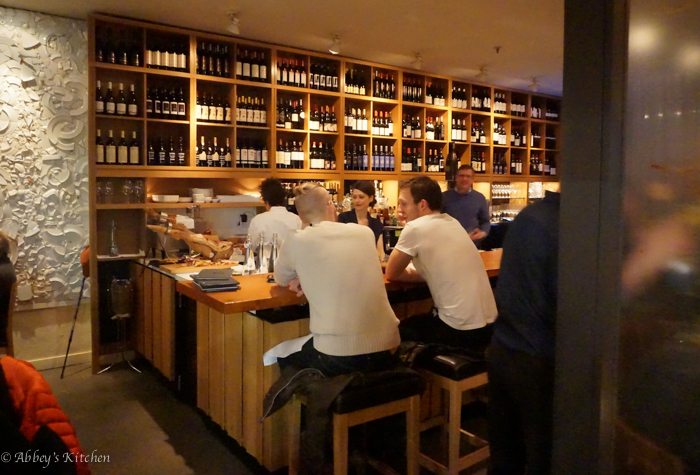 -Seating at Cava is a combination of banquette style tables and square wooden four-tops with simple matching chairs. There's nothing trendy, or edgy about the space, and let me tell you- that felt like a bit of a relief. Sometimes there are just so many exposed filament bulbs, reclaimed brick walls, and vintage picture frames a food blogger can handle. Sometimes, it's refreshing to just feel like you're in a nice, well-kept dining room.
-Likewise, noise level wasn't at all intrusive or overwhelming. Actually, we spent most of the night chatting up a storm with our neighbours about where they should take their next holiday. Of course, we convinced them to check out San Sebastian, and spent at least an hour showing them photos on our phone. Apparently, we should start a travel agency.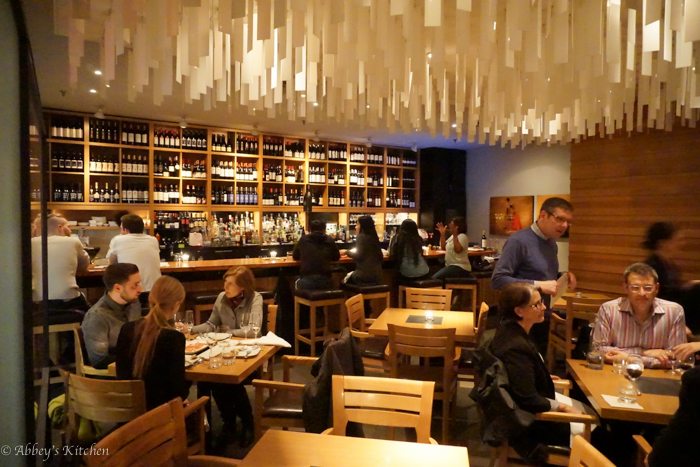 Cava Service
-Service at Cava was incredibly friendly, accommodating, professional and timely. Water glasses were consistently refilled, wine came almost immediately after ordering, and the meal moved at a nice pace- about 1 1/2 hours (before we got into the chatting).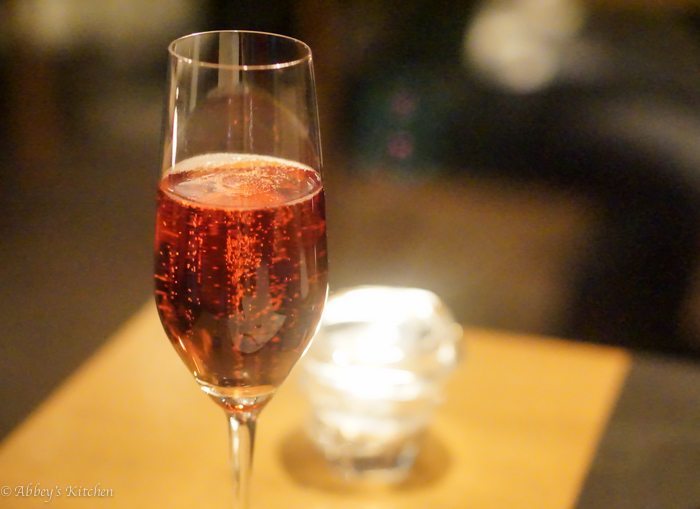 Cava Drink
-Much like in Spain itself (where the only cocktail I ever saw people drink were G&Ts), the focus here is on wine and sherry. They offer a very reasonably priced International list of over 200 bottles, and almost 20 (mainly Spanish) options by the glass ($11-15).
-We kicked off the meal appropriately with a Rose Cava, and then moved onto a glass of red and and white. I went for a sprightly 2014 Bizkaiko Txakolina ($14), and my fiancé did a 2008 Rioja Red ($15)- both were beautifully aligned with our tastes. We also were surprised when Niall brought us some sweet wine to enjoy with dessert from their extensive list of digestifs and sweet wines.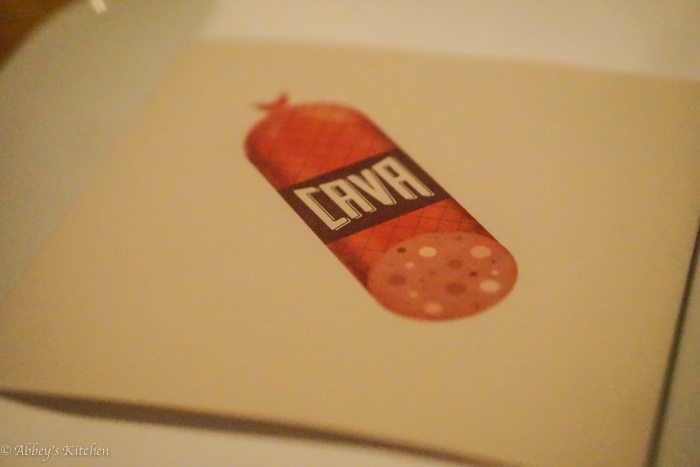 -Inspired by the Iberian Peninsula, Chef Doug at Cava follows a "nose-to-tail" philosophy with attention given to sustainable and ethnical ingredients.
-The Cava menu features a range of pinxtos that look like a serious upgrade from the questionable bites I ate at one in the morning in San Sebastian.  There are also a variety of other sharable plates like Jamon Iberico, croquettes, papa fritas and chicken liver and foie gras mousse. Larger plates represent a nice variety of proteins- from roasted Sablefish, to Venison, to Paella with a variety of seafood- it was going to be hard to choose. And that's why some people just opt not to as they also have an option where you can let the kitchen cook for you, staying within the parameters of your budget and tastes.
Pintxo of Valdeon with Sherry-Roasted Figs ($4)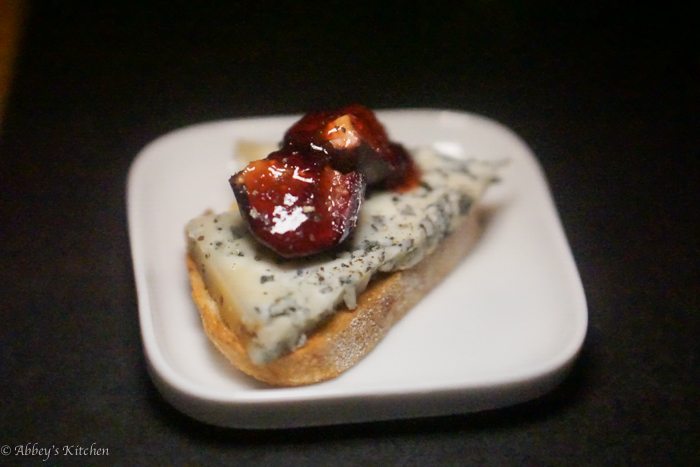 I'm currently obsessed with figs so this was a no brainer. Pungent Spanish cheese + sweet sticky caramelized figs = heaven in a single bite.
Croqueta of Jamon with Caper-Sultana Sauce ($4)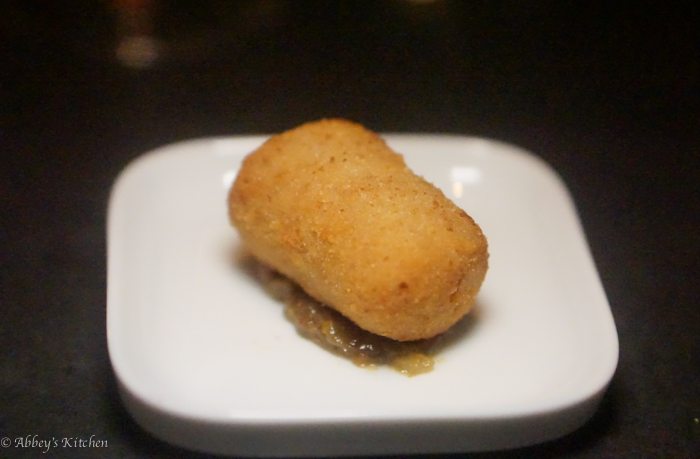 At this point in my eating career (especially after my trip to Spain), I've eaten my fair share of croquettes, and Cava's didn't disappoint. Biting in yielded a gush of luscious cheesy filling, while the sweet-briny sauce really helped to cut the fat.
Ceviche of Sea Bream with Persimmon, Escarole and Corn Nut ($18)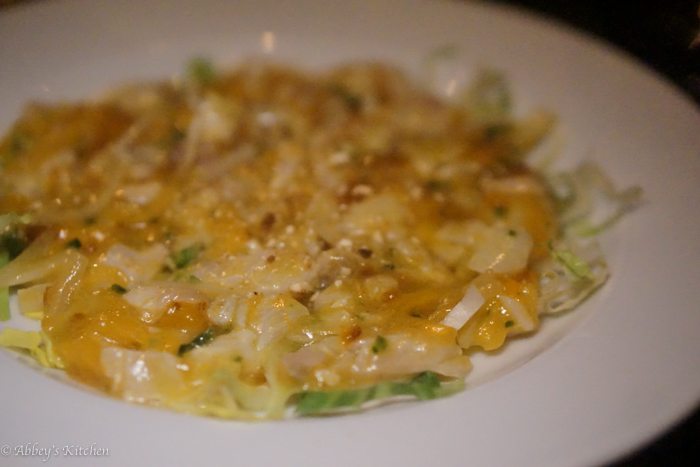 What a fun and unusual take on ceviche! While I may have taken the acid down a touch (it was pretty powerful), the jammy sweetness of the persimmon and the mild white fish definitely helped to balance things out. Also, corn nuts should just go on anything. I am obsessed with their addictive salty crunch, and it really added some contrasting texture in this dish.
Chicken Liver and Foie Gras Mousse ($13)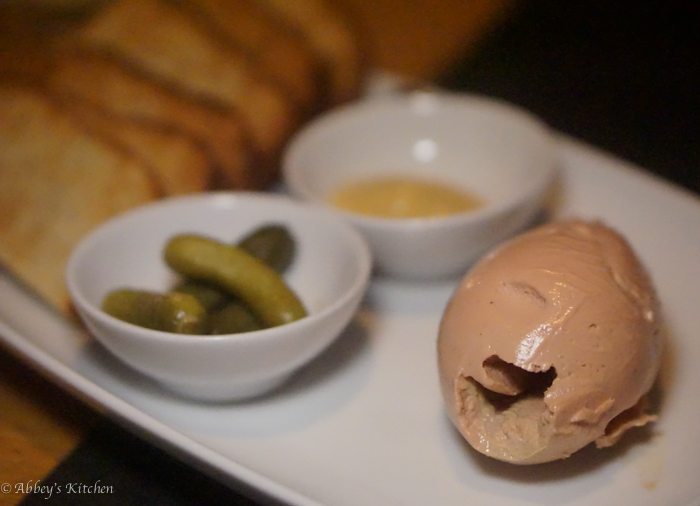 Okay, so just look at this and tell me you wouldn't be a little bit nervous seeing a quenelle of fatty liver that large land in front of you (PS: I must know- what kind of massive spoon would be able to produce a quenelle that large?!) Well, after we got over our initial state of shock and dug in, my fiancé and I both looked at each other with a big "we're in trouble" expression. Yep, we ate the whole thing- and at $13 it was an incredible steal. Silky, unctuous, perfectly seasoned mousse, served simply with crisp bread, mustard and cornichons. Diet starts tomorrow.
Roast Brussels Sprouts with Black Garlic ($8.95)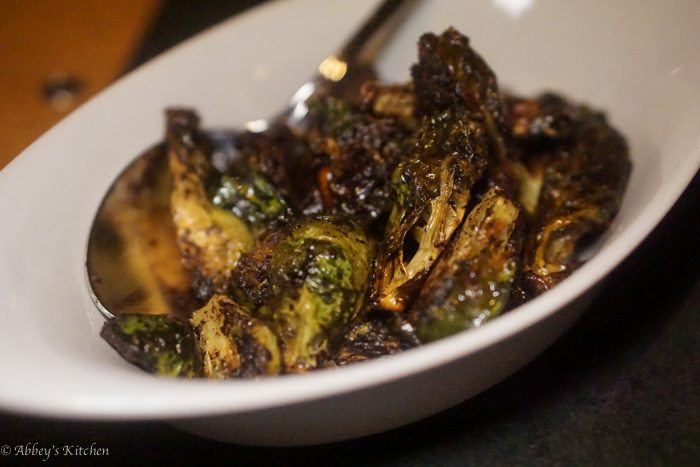 This was actually my favourite dish of the night, so much so, that I wish I had ordered two of them! Wickedly crispy sprouts coated in a sweet black garlic sauce that was so crazy addictive, you would think they were potato chips.
Stewed Octopus Tamal with Mojo Sauce (Special)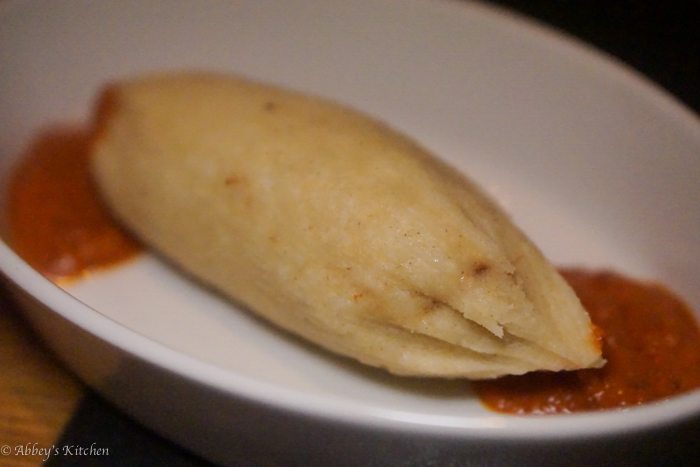 This was a special for the night and was definitely exciting for me because a) I love octopus and b) I lovvvvvvve tamales. Tamales are one of my all time favourite comfort foods, I think because masa reminds me of cream of wheat, which reminds me of being a child because that was probably one of the main staples of my diet. Well, this was not your grandpa's cream of wheat. The masa was nicely seasoned and loaded with a treasure trove of tender stewed octopus, and then served up with a fiery mojo sauce. Yum, yum and yum.
Churros con Chocolate ($8)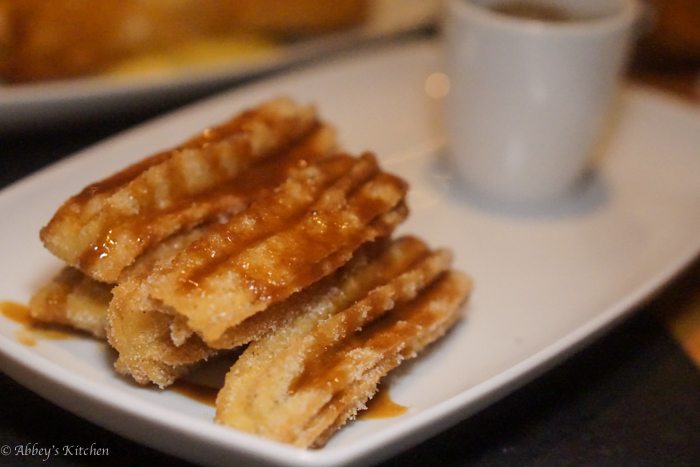 The classic Spanish treat (or breakfast pastry for me, I admittedly ate one every morning with my cappuccino in Spain). Now, churros are tricky little buggers. Sometimes they're overcooked and you miss that marshmallowy centre, and sometimes you're stuck eating sad pale dough. Not Cava's though, folks. These babies had the best of all worlds plus a triple wammy of indulgence with the cinnamon sugar + dark chocolate dip + cajeta. Winner right here.
Banana & Apricot Strudel ($11)
Lime Curd & Coconut Ice Cream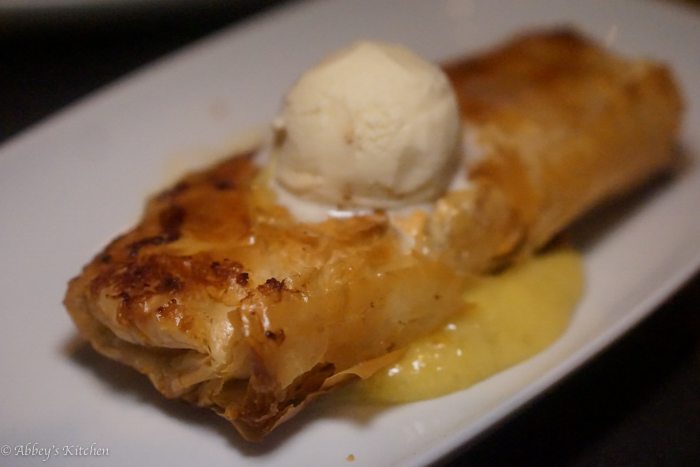 Okay, so admittedly, I'm not sure how this fits into the Spanish theme, but honestly, who really gives a damn? It was massive and I ate it all because it was just that good. Anyone who has eaten breakfast or dessert with me knows about my unfailing love for anything banana- even if I was stuffed to the brim, I would have ordered this dessert. And let me tell you, it did not disappoint. The generously portioned filling was a fruity concoction of sweet ripe bananas and aromatic apricots which contrasted beautifully with the bright lime curd and nutty ice cream. Meanwhile, all those layers of crispy golden phyllo? Absolute perfection. Go to Cava any day of the week and order this baby now.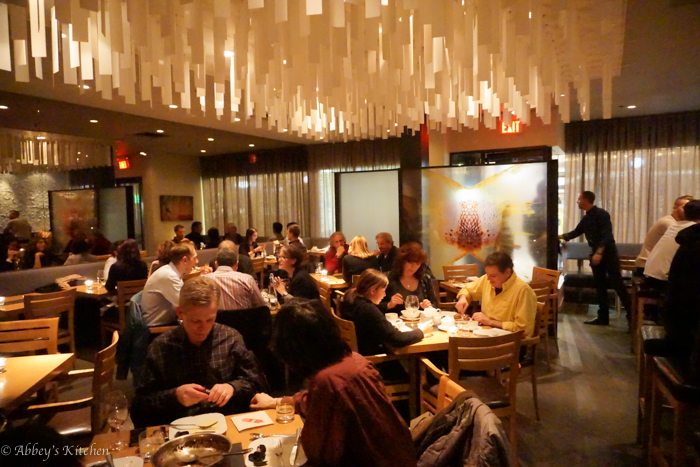 Cava Closing Remarks
-I'll be totally honest, I was so busy chatting with our neighbours, I forgot to look at the bill, but I do feel that the prices were reasonable for the portions served. No, it's not cheap eats, but like I said earlier, $13 for a massive plate of foie gras and chicken liver? One person could eat that as a meal and call it a day. (Side note:  I do not condone eating all that liver on your own!!)
-In conclusion, I am so happy I finally had a chance to make it out to Cava – the food was great, the service was top notch and the atmosphere was comfortable and inviting. I also may have heard whispers of some new Cava-related openings in the near future so keep your eyes on my blog for more information on that! For more information on Cava, check out their website here.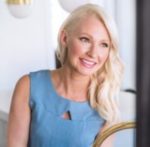 Abbey Sharp is a Registered Dietitian, an avid food writer and blogger, a cookbook author and the founder of Abbey's Kitchen Inc.