Opening Remarks:
-The Dock Ellis opened in December of 2013 by Alain Pitout, Callum Woods and Andrew Kaiser, the owner of the Emmet Ray on College.
-The name, The Dock Ellis, pays homage to the star pitcher who supposedly was high on acid when he threw an infamous no-hitter in the 70s. I'm not sure what the significance is in the context of the bar (other than the sports reference), but I guess it makes for a pretty good story.
-While technically a "sports bar", the Dock Ellis isn't your typical watering hole where stale beer flows free and you fill your booze-ridden belly with frozen chicken wings and pre-cut fries. Rather, this feels like a space where foodies can watch the game, and sports enthusiasts can enjoy solid eats.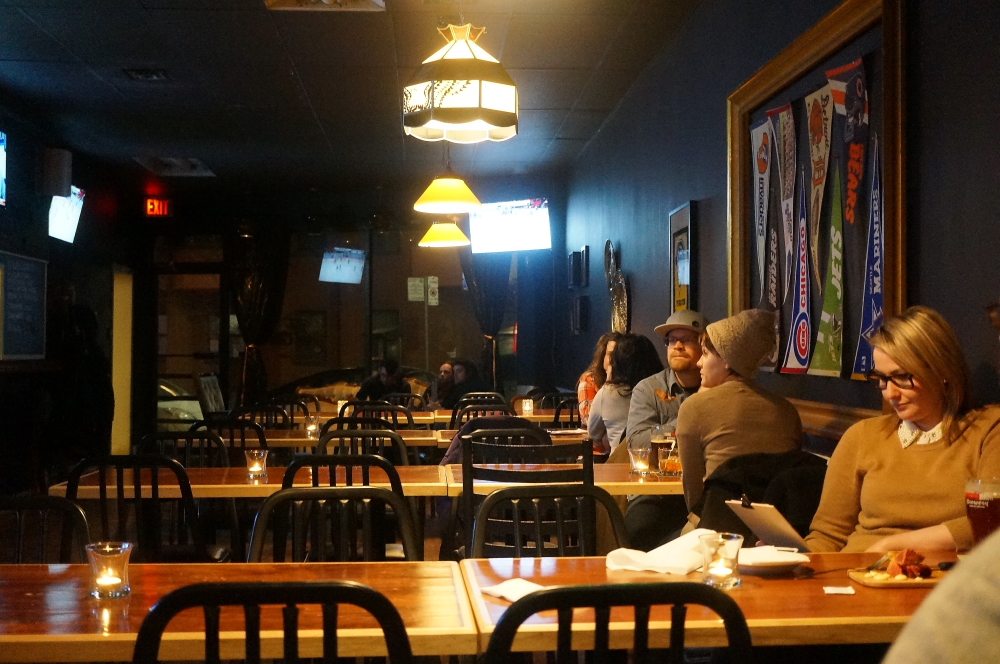 Ambiance:
-Occupying the old Red Cherry sports bar in Little Portugal, the Dock Ellis draws in sports fans with 9 sized flat screen TVs lining the wall above the peek-a-boo cut-out kitchen.
-The rest of the space follows theme with an eclectic sports-centric décor. The eggplant purple walls are lit by mis-matched lamps and adorned with sports memorabilia, and old newspaper clippings referencing the real Dock Ellis legend.
-When you first walk in you're greeted by a set of velour-lined couches, comfy chairs and a low coffee table, a lounge space ideal for drinking, chatting and watching the game.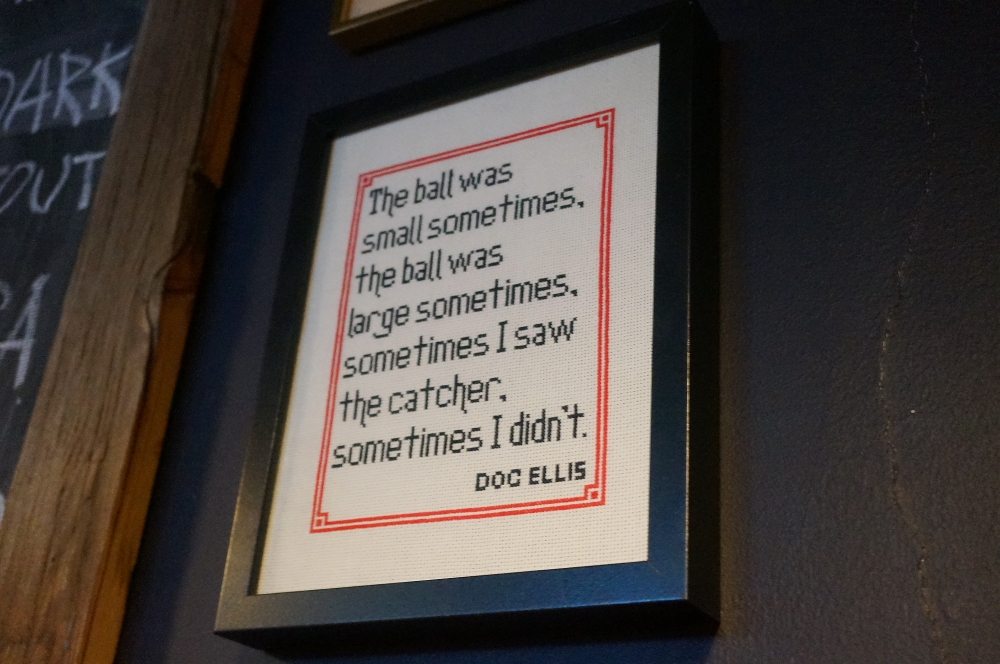 -The dining room is set up with rows of simple communal tables leading the way towards the game room at the back. I'm admittedly terrible at all bar-sports (wait-sports? Are foosball, shuffleboard and pool considered sports? Anyone?). Alas, I still want to try my hand at least one of the games.  Let's just say I reduced my change load quite a bit that night considering a game of Mortal Combat costs a 1990s-approved 25 cents.
-When we first arrived a little after 8 PM, we were one of about 3 other couples in the room, but by 10 PM the place was completely full. Thankfully, even when they were busy, the noise level was always quite conducive to a chilled out drinking vibe.
– The demographic was likely mainly around the 25-40 year old mark and assumedly more of a neighbourhood crowd than the die-hard jock type you see downtown. It definitely has that "everybody knows your name" kind of quality, which I often long for living in Yorkville proper.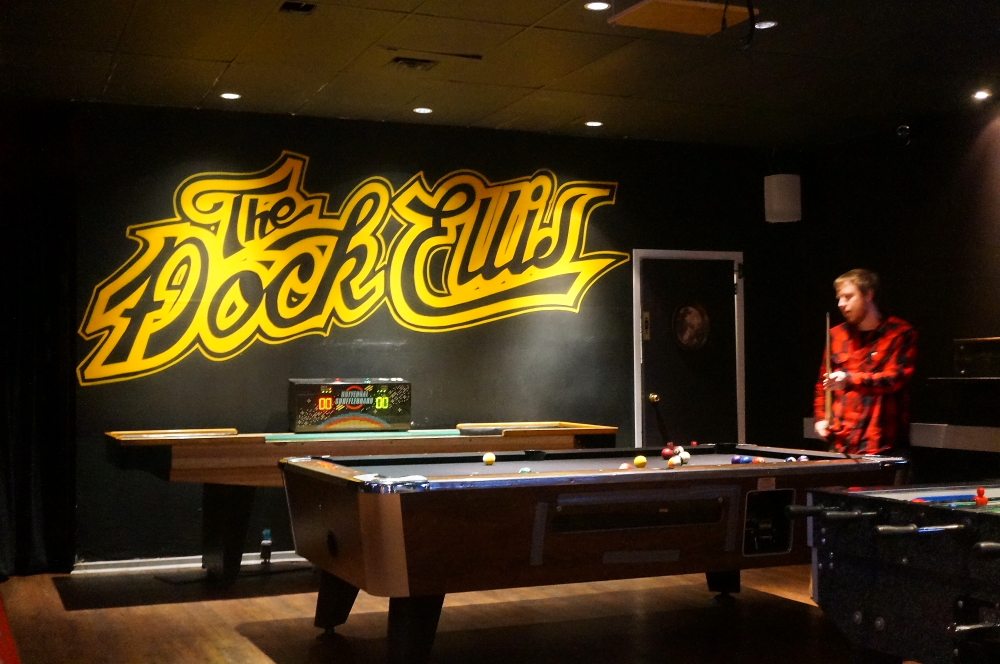 Service:
-Much like the atmosphere, service throughout the night was friendly, chill and personable. Our server spent amble time just chatting with us about the menu and we shared a moment of dismay over a recent sexist TV ad.  Fellow feminist foodies, you probably know what I'm referring to.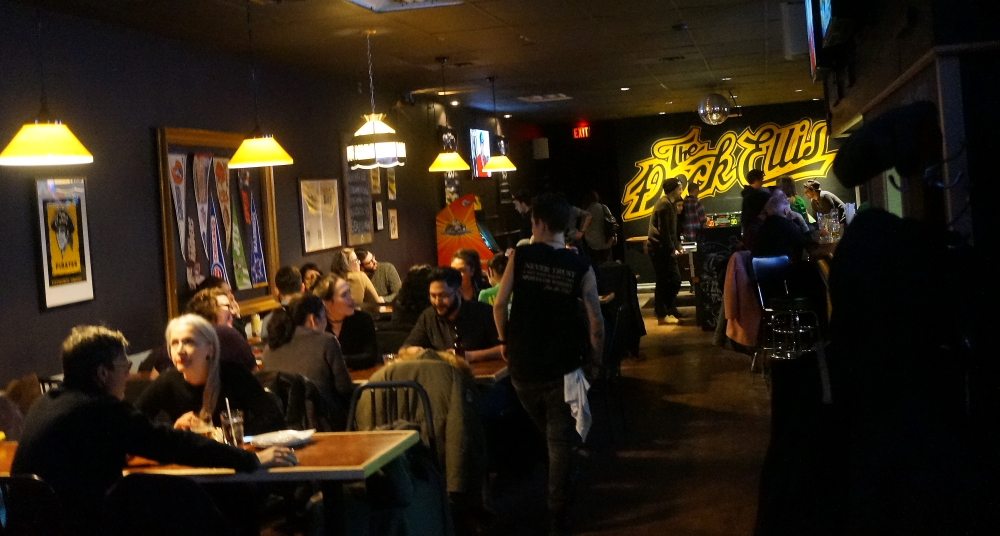 -Cutlery and side plates were delivered and replenished when soiled, and we were offered drinks gently without feeling upsold or pushed. This is a big plus for me, as there is nothing I hate more than feeling resentment from servers over how much I decide to drink.
-The food was ordered in stages as the kitchen was very efficient in pumping it out, and the entire meal took about 1 hour and 40 minutes.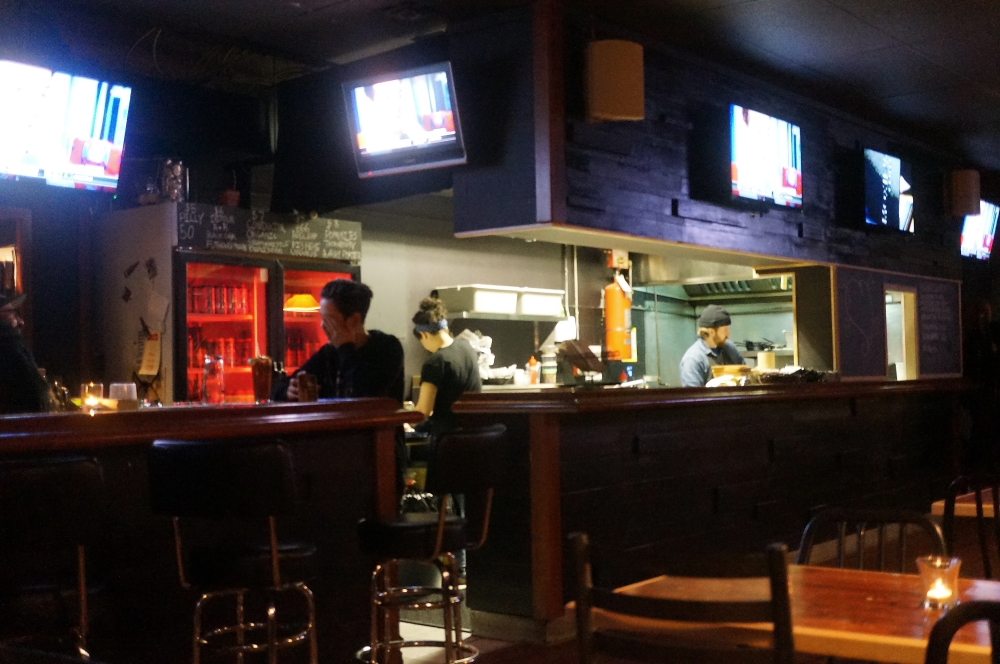 Drink:
-In keeping with the sports bar theme, the drink menu is predominantly craft beer with 8 options on tap ($6.5-7.50), 8 Tall Boys ($5-7) and another 5 available in bottles ($5-6).  In addition to the already unique list, there is a board of rotating brew features that are typical finds in other sports bars.
-They also offer a basic bar rail and off-the-menu cocktails, as well as 4 local wines by the glass ($8-10) or bottle ($40-50).
Amsterdam Boneshaker IPA ($6.60)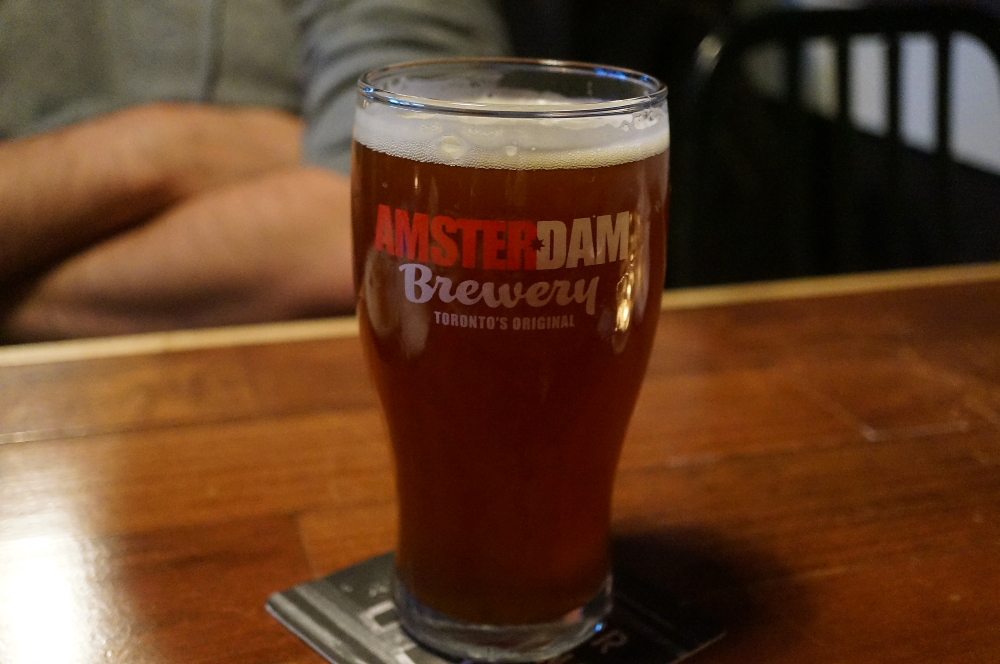 A popular pick at our table.
Walter's Caesar ($7.50)
Caesars are always good but a Walters-based Caesar is a real treat. I love Walter's fresh and bright flavour and its slightly pulpy consistency, especially with the Dock Ellis' generous hit of heat.   Also, since when is a cocktail $7.50? Most Caesars in this city are at least $12!
Food:
-Chef Trish Gill (formerly Sous-Chef of Beast) has dreamt up a menu of inexpensive bar snacks with an upscale twist. Imagine the regular suspects- nachos, wings, sandwiches, and fried foodstuffs- but given some unexpected culinary upgrades.  For example, rather than a basket of frozen McCain superfries, Gill is serving up fried goodies like house made Tater-Tots or Fried Beets.  Regular store-bought tortilla chips in a platter of nachos get reimagined with wonton chips. And your processed Grilled Cheese got a kick in the pants with a jalapeno popper filling and two slices of the celebrated OMG bread.
-Divided into Bar Snacks, Big Snacks and Sandwiches-some may argue that the most impressive thing about this place is the price. Nothing is offered over $10. A-maz-ing. It's also very shareable, meaning you can casually nosh and order as your party's appetite grows.
Fried Beets, Spiced Pepitas, Citrus Aioli ($5)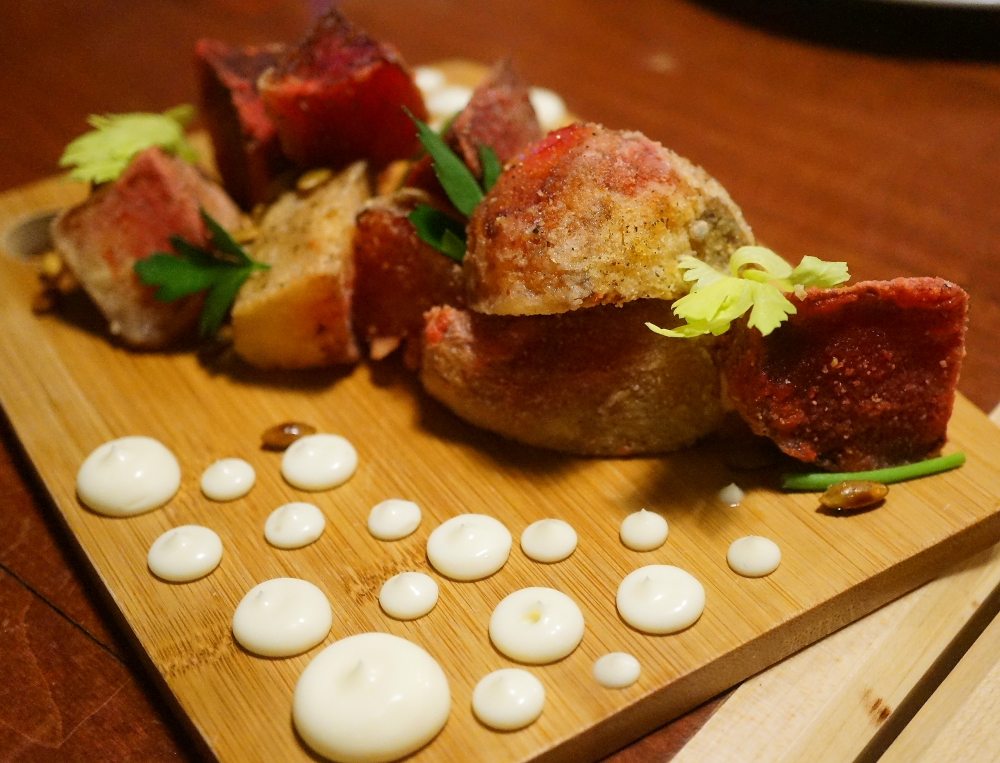 Deliciously good. The colourful beets were perfectly juicy and tender within with a delicate but satisfying crispy texture outside. I also loved the counterbalance of the sweetness of the beets with the tangy aioli and nutty crunch of the seeds.
Sweet Potato Stuffed Cornbread, Waylon's Bacon Dressing ($5)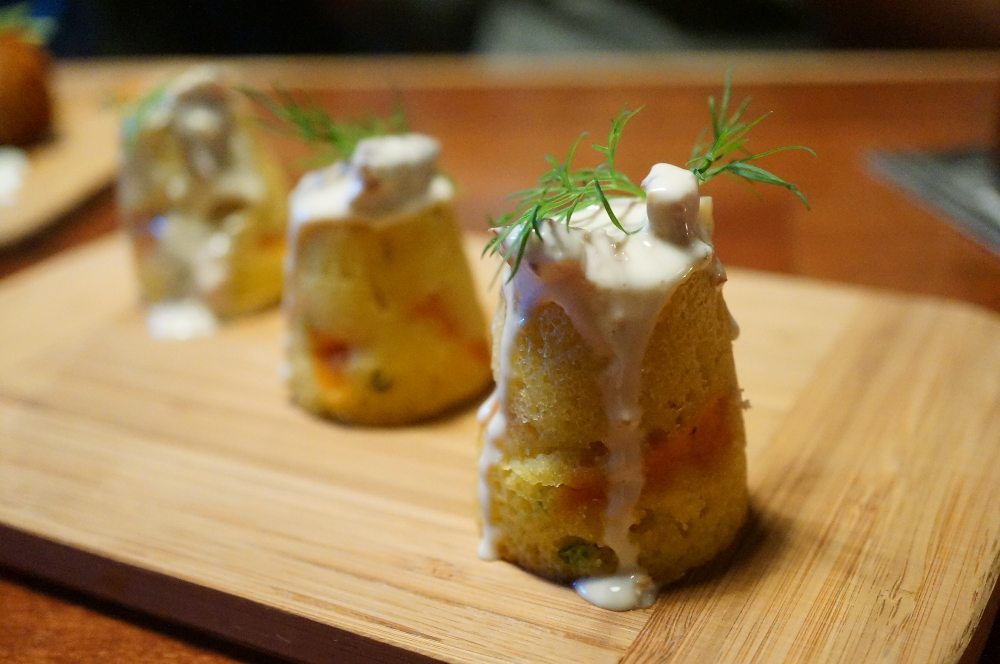 One of my favourite bites of the day. While cornbread is often dry, this version had an extra level of moisture from the luscious whipped sweet potatoes, while its sweetness was balanced out with the drizzle of salty pork. Yum.
Dill Pickled Eggs, Smokey Pigs' Ears ($5)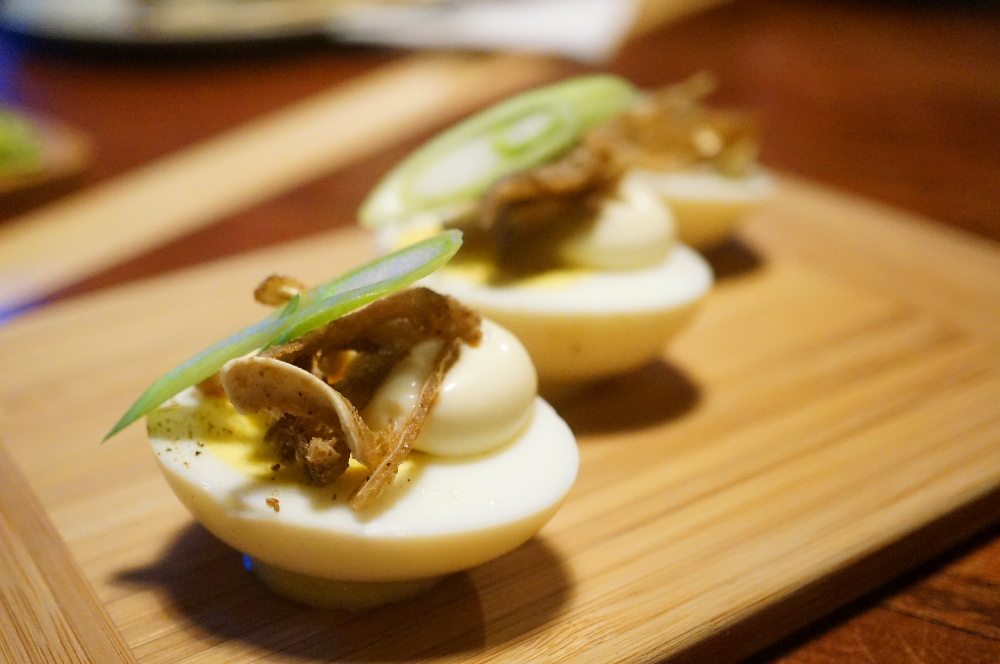 Sometimes pickled eggs can feel too one-note but these had a nice balance of creamy fatty yolk, tangy aioli and crispy salty fried pig. Retro bar food revisited and done really well.
Sausage Roll, Plum Ketchup ($5)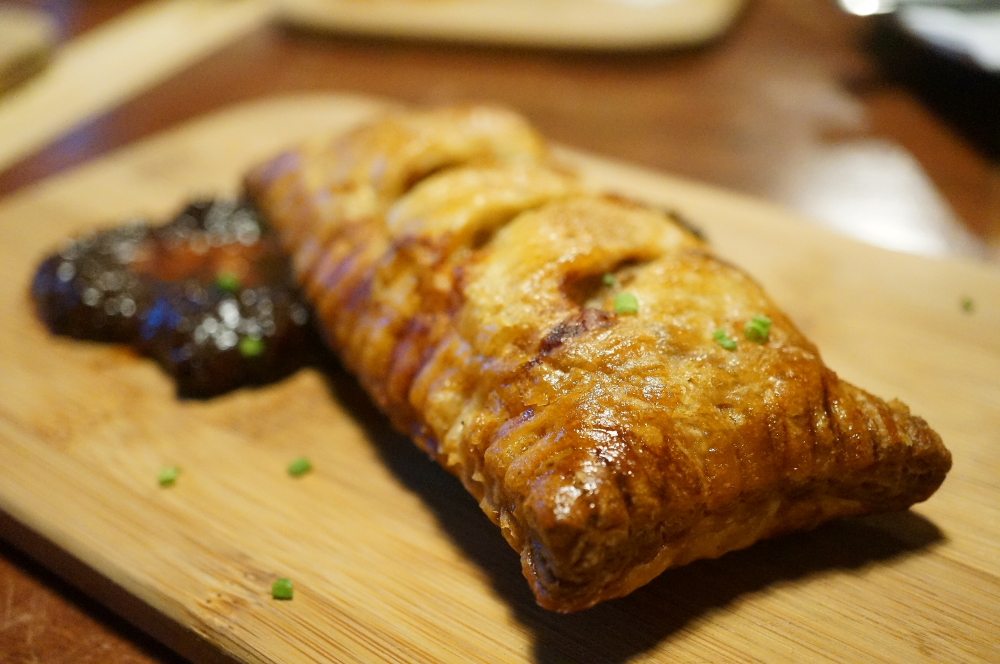 These were nothing like the humdrum frozen sausage rolls I grew up with at family get togethers. With its flaky buttery pastry and spiced moist meat mixture, this felt a bit more like a hand-held tourtiere than a roll. Call it whatever you want, just give it a good smear through than sweet and tangy plum sauce and bring it to me.
Rye Whiskey & Maple Crackerjack ($5)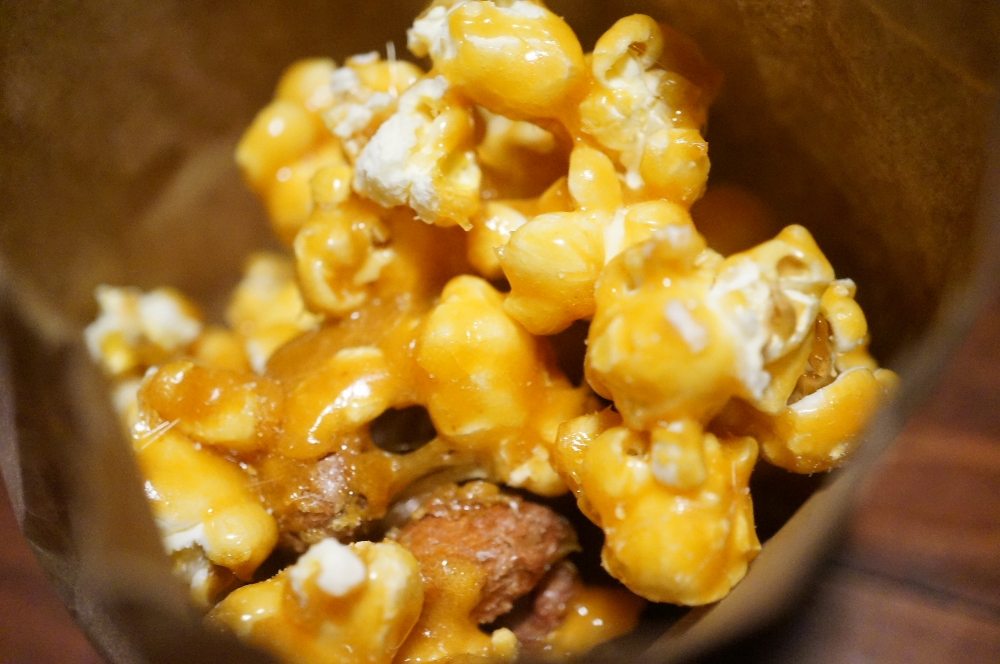 Honestly, I know this is so simple because I make it all the time, but they got the popcorn/nut/caramel ratio right. I like when there is a clear excess of caramel to the popcorn, and these clusters were brimming with the chewy sweet stuff. I meant to ask for a second (or third) bag to take home- it was just so good.
Tete-r-Tots, Crème Fraiche, Diablos Fuego ($5)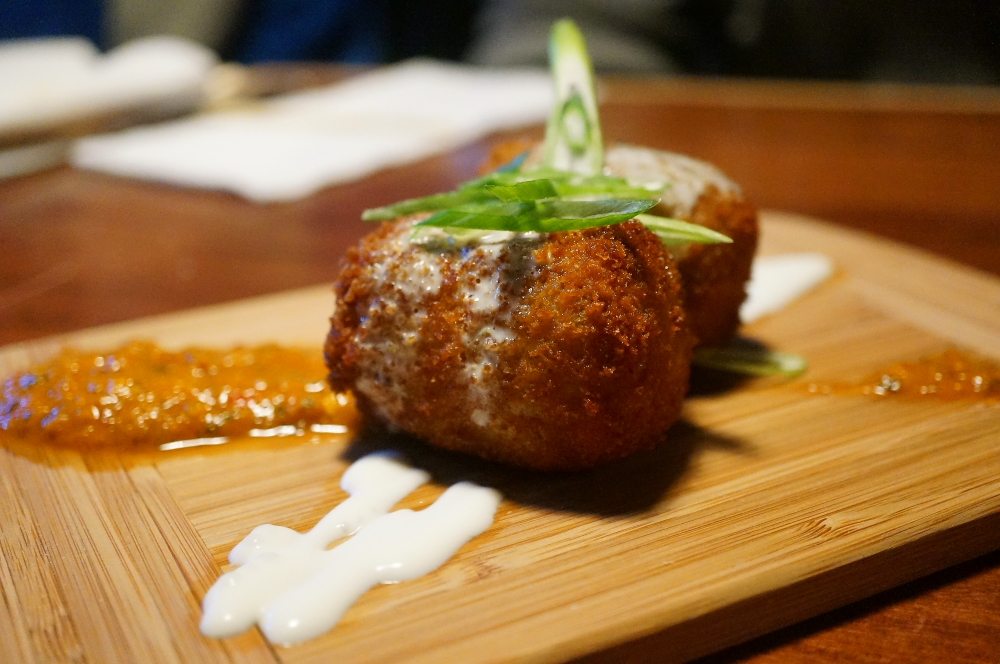 Stuffed with tender pulled pork, this dish turned out way better than I expected it to be. The filling was meaty, salty, sweet and tender to juxtapose the crispy golden exterior outside, while the Diablos Fuego (my personal favourite hot sauce) stood in with enough acid and heat to cut the fat. A definite must order.
Wonton Nachos, House Chorizo, Salsa, Cheese Sauce, Pickled Jalapenos, Crema ($10)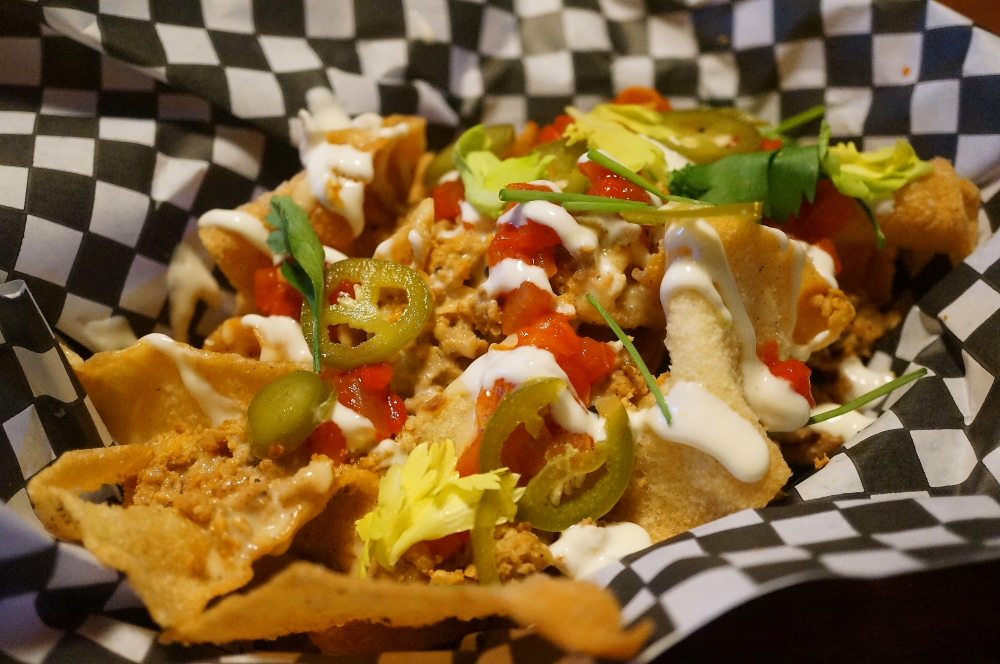 Now, I have eaten  a lot of nachos in my lifetime and have seen a lot of creative takes. But the wonton wrapper standing in for a corn chip? Bloody genius. These chips were evenly seasoned, light as air, and had a delicate sweetness that took the classic bar food to a whole other guilty-pleasure level. You cannot come here without ordering these nachos.
Confit Roster Wings with Smokey BBQ sauce ($10)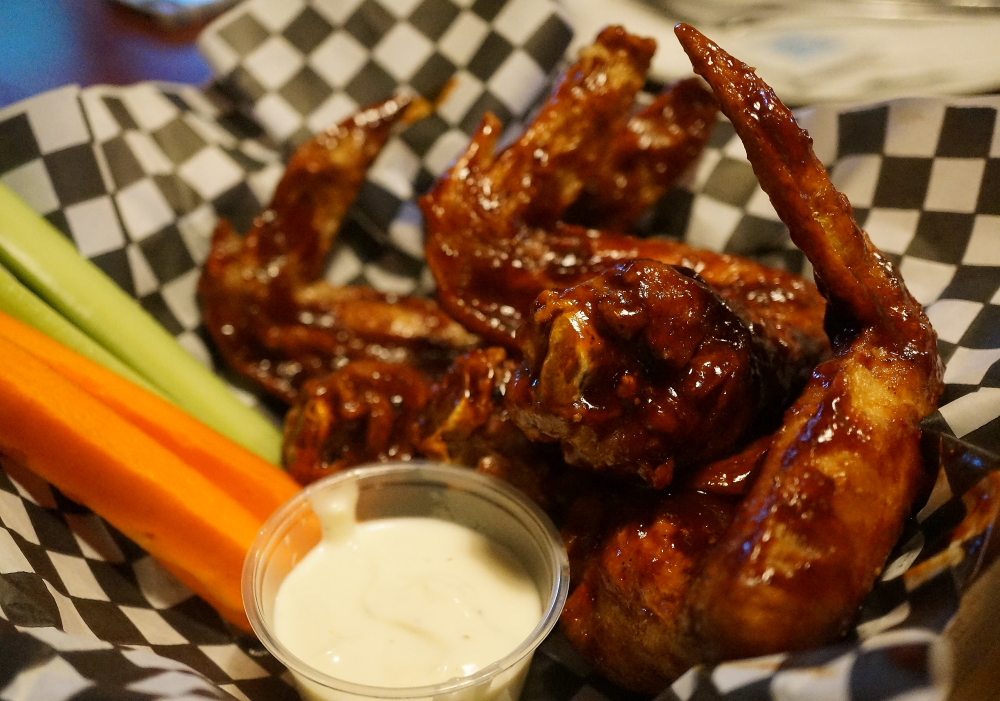 Obviously, these are not your average bar wings. These are bad ass meaty mommas that take that wet nap to places it's never seen before. Put on the bib if you're skiddish- things are about to get deliciously messy.
Lime Pot de Crème with Sailor Jerry Rum Caramel Sauce & Shortbread ($5 x 2)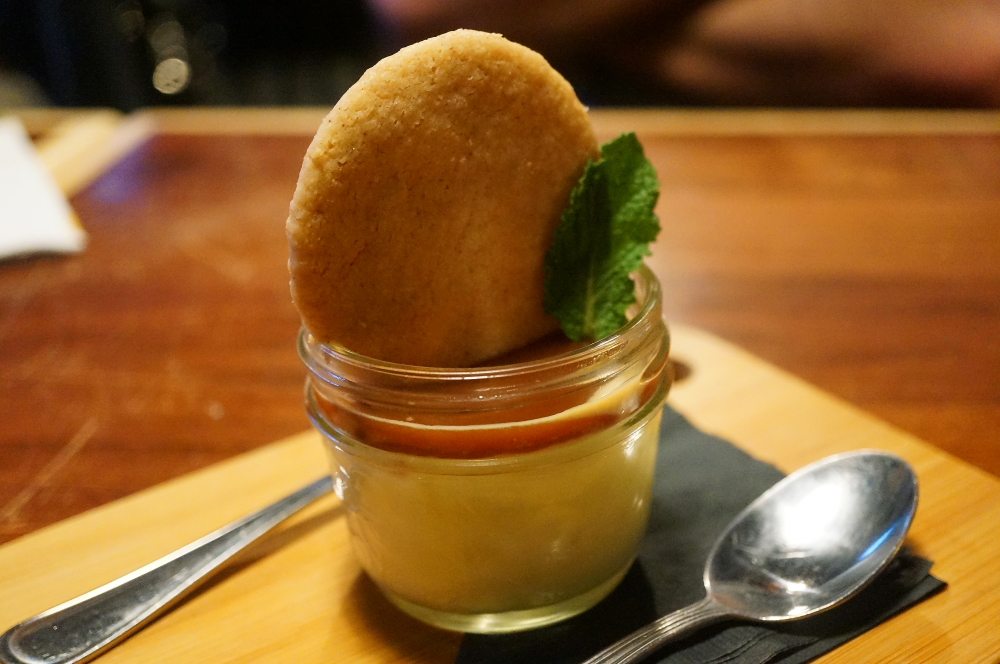 I loved the combination of the tangy custard and the bitter sweet caramel, especially with the textural contrast of the buttery cookie. My only criticism is that it was a bit difficult to push a spoon through the caramel to retrieve some of the luscious cream below without almost peeling the sticky layer of sweetness off in one go. It just took a little finagling to get it evenly on my spoon (and yes, I maybe had to put a few fingers in the pot to help things out)- but it was definitely worth the sticky fingers.
Closing Remarks:
-For 8 "snacks", 2 "big snacks" and 3 drinks (enough to generously feed 3), the bill came to $95 including tax and tip- seriously, it doesn't get much better value than that.
-Sure, the Dock Ellis may predominantly attract the casual drinking, chilling and/or sports watching crowd- but it would be a shame to overlook it's greatest charm- the really good food served at really reasonable prices.  So if you're looking for somewhere to watch a game, play a round of pool over drinks with a group of friends, or grab a casual bite in the west end, then I would recommend putting the Dock Ellis high up on your list.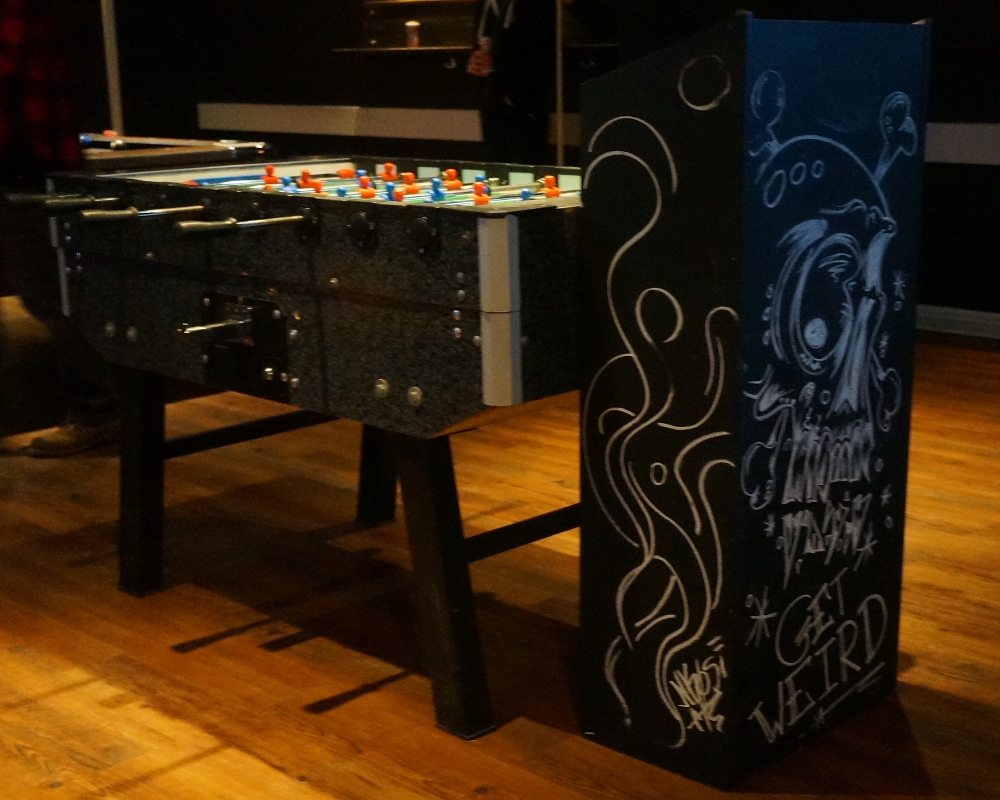 Updated on May 8th, 2019