Farmer's Daughter Opening Remarks:
-I visited Darcy MacDonell's super popular Farmhouse Tavern two years ago and absolutely fell in love with it's rustic, cozy charm. Since then, it's become known as one of Toronto's hottest dining destinations (and at Dupont and Dundas W. it really is quite a destination for mid-town dwellers like me). Alas, I still sometimes dream about the beef cheek poutine we devoured like ill-mannered barn animals all those many months back (see all the foodporn details here). So when I heard Darcy was opening up a pescatarian offspring establishment, I was looking forward to checking it out.
-Shortly after, I had the pleasure of meeting his new Executive Chef, Leonie "Lee" Lilla (previously of The Libertine, Momofuku Daisho, and Rodneys) at an impromptu art and food experiment with Toronto's top chefs. They also happened to all be women which meant there was plenty of great conversation to go around. Check out our delicious shenanigans here.
-Since opening in April of this year, they have received a solid level of diner praise, as well as the #2 spot Toronto Life's Top Five Brunch guide.
Ambiance:
-After falling in love with the cottage country vibe of the original west-end Farmhouse, I was admittedly expecting a similar décor. Nope. Apparently his daughter has a more young, clean and modern style with elements of East Coast charm and old-school schoolhouse swirled into the works.
-Out are the antique hunting paraphernalia, mismatched dining ware and rustic chalkboards, and in are stark white-washed and black tiled walls, a sleek shiny bar, a cheeky cafeteria style menu (with movable letters) and a white board to describe the available wines behind the bar.
-Seating for about 40 is a combination of tables and bar stools with another 40 on the patio during the warmer months.
-While I can't admittedly call it "farm" like (and maybe I shouldn't even be thinking that way), the room definitely felt very comfortable and quaint. The noise level in particular really helped craft an ambiance as cool, inviting and calm, as (unlike most west-end gems), I never felt I had to raise my voice to be heard.  I may be an old cranky woman stuck in a late-20s bod, but this to me is key.
Service:
-We sat at the exclusive chef's rail overlooking Leonie and her two sous'- a nice spot if you like to ask questions and watch the show. As previously suggested, it's a small intimate space so at times we were served by the bartender, Darcy, Lee and the other chefs- regardless, it was always friendly, informed and attentive.
-Water glasses were refilled, side plates and cutlery were replenished, and the meal moved at a perfectly comfortable pace. One dish at a time with a few minutes in between. The whole meal from start to finish was about 1 hour and 45 minutes – exactly how I like to weekend dine. I'm sure during brunch this could be significantly trimmed up, but for a Friday date night it felt expertly timed.
Drink:
-As previously alluded, the white board drink menu was a playful addition to the overall vibe. Without any paper menus, each of the available wines were displayed on shelves behind the bar with arrows pointing to their names and associated prices. I would say there is a nice balance of International and VQA options with about a dozen available by glass ($9-14). Beer is kept fairly simple with Beaus on tap, while there are four seasonal cocktails to peruse ($11-13).  I admittedly was tempted by all of them, so I opted to stick with the hard booze- take a peak!
Pommander ($12)
Bourbon, Orange Bitters, Pineapple, Cointreau, Lemonade, Spiced Simple Syrup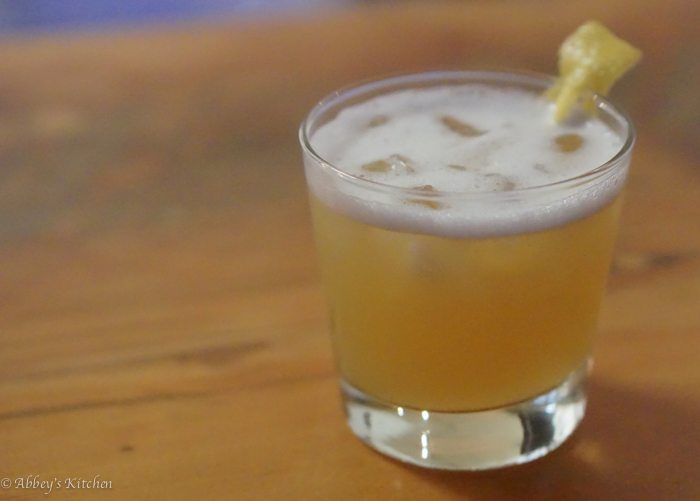 Smooth and well balanced with the smoky bourbon being balanced out by the tangy lemon, sweet pineapple, mildly bitter orange and the warm baking spices in the simple syrup. An easy drinking, people pleasing cocktail.
Buy Me Roses ($13)
Dillons Rose Gin, Thyme Syrup, Lemon and Tonic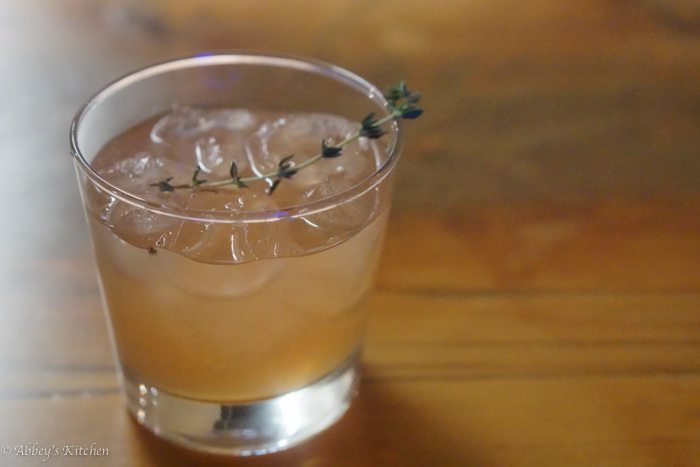 Oh man, this went down too quick. I love Dillons any way you wanna give it to me, but the rose gin is really something special. Super aromatic without tasting like your grandmother's underwear drawer with fantastic herbaceous quality from the thyme.
Autumn Sweater ($11)
Rum, Ginger Syrup, Cinnamon, Pineapple, Lemon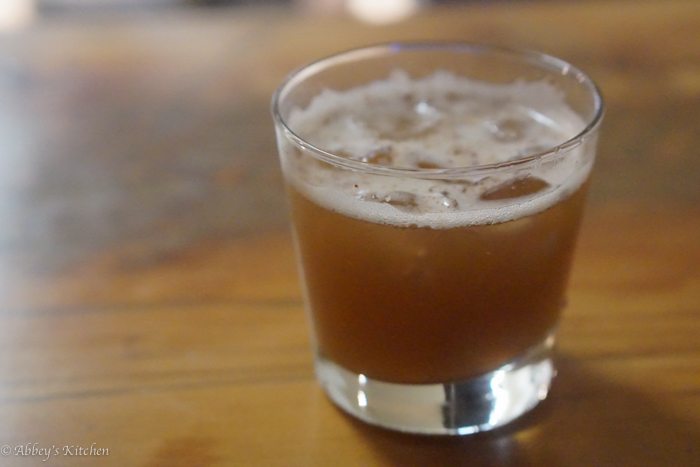 An appropriately named drink- the cozy aroma of cinnamon paired nicely with the sweet rum, and zippy ginger on that drizzly Autumn night.
Farmer's Daughter Food:
– Like the schoolhouse whiteboard bar menu, there are no laminated food menus with waning poetic menu descriptions or tasting notes. Rather, the movable letters give you one or two words, and the rest is up to your server to describe. So if you like lobster, you can ask about the lobster and go from there. Don't worry- there are only about a dozen items, so you won't feel embarrassed to ask your server to walk you through each one.
-Unlike Farmhouse Tavern, which boasts a relatively meat-heavy menu, Chef Lilla has brought the focus to fish. Of the 11 savoury food items, half of them are seafood based, the remainder being vegetarian, pork and beef.
-Oyster lovers should come by during their #CivilizedSundays brunch which starts at 10:30 AM with buck-a-shuck oysters from 3-4:45 PM
-And if you're all about the #TBT, check out Farmer's Daughter's Throwback Thursdays with a bottle of wine for $30 and a 3 Course Dinner for $30.
Fried Shrimp ($11)
Buttermilk Herb Powder and Bourbon Cocktail Sauce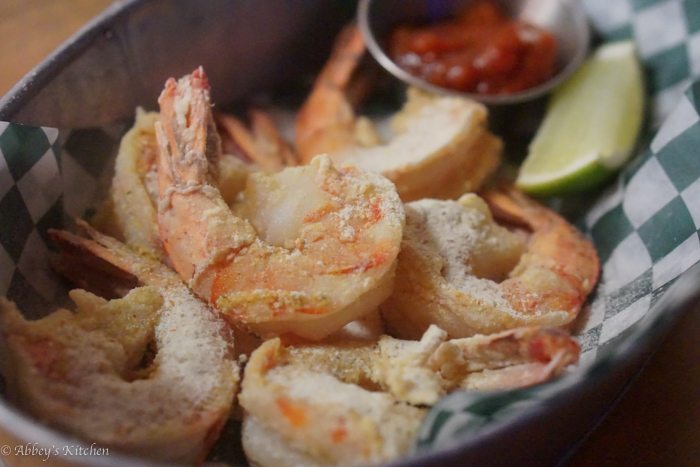 This is not your sports bar fried shrimp. These babies were dusted in a tangy herbaceous powder that didn't interfere with the wicked crunch of the perfectly cooked shrimp and the kick of bright tomato flavour in the boozy sauce.
Pan Roast ($9)
Housemade Walnut Bread Toast with Shucked Oyster, and Lobster Bisque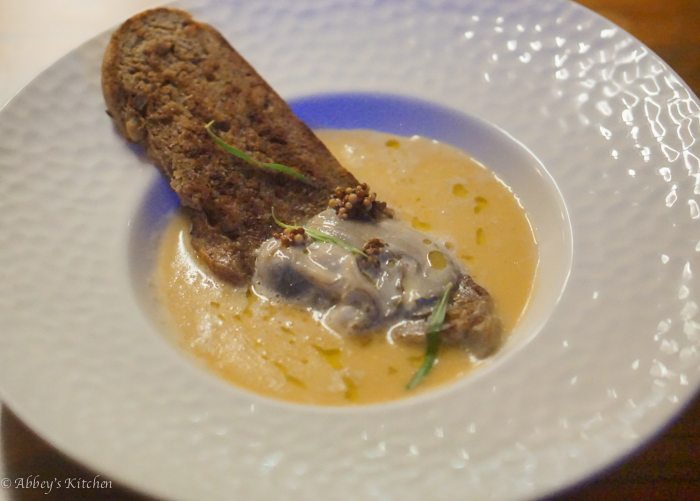 Talk about comfort food. I could have eaten an entire loaf of this humble hearty bread that managed to hold up to the dreamy sweet bisque. Paired with a few meaty juicy oysters for salinity and fresh flavour, and I easily could have slurped down another bowl.
Pierogies ($10)
Rye Dough, Prosciutto, King Mushrooms and Braised Cabbage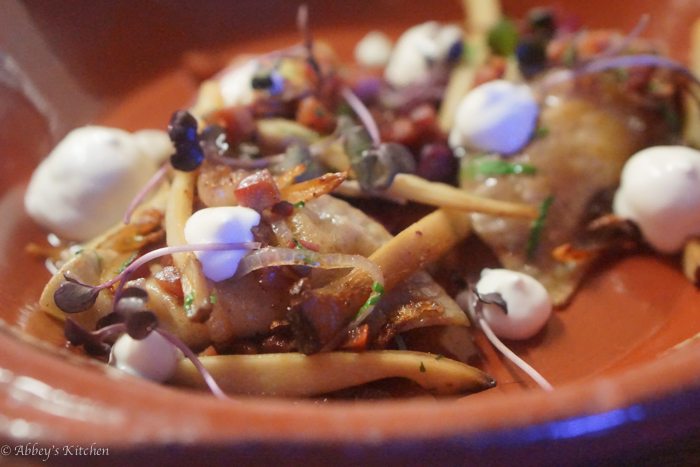 I don't think I've met many pierogies that I haven't liked, but Leonie's version really hit it home. The nutty chewy rye dumpling dough was delicious in its own right, but was addictive with the salty prosciutto, meaty mushrooms and sweet braised cabbage. They may not be one of Daughter's feature seafood dishes, but something tells me these babies are on the menu to stay (let's hope so, at least).
Octopus ($20)
Tomato Sauce, Squid Ink Linguine, Pork Belly, Tomato Foam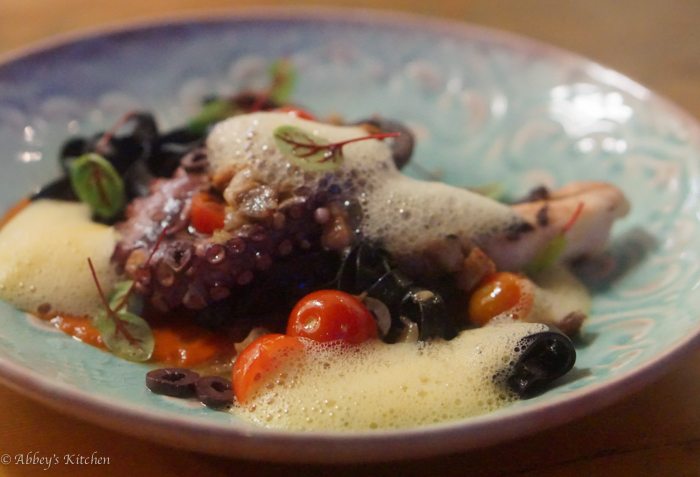 A well-cooked plate of octopus often seems to be a big ask, but Chef Lilla did not disappoint. Impressively tender thick tentacles lay upon a bed of al dente briny pasta, with little bits of salty crisp pork and a bright tomato sauce to drive the Mediterranean flavour home. I thought my partner was going to lick the plate, which annoyed me because I was hoping he'd leave that job for me.
Crab Cakes ($21)
Quinoa Crusted, GaspéSnow Crab, Pickled Mushrooms, Arugula with Lemon Vinaigrette, Arugula Mayo, Fried Capers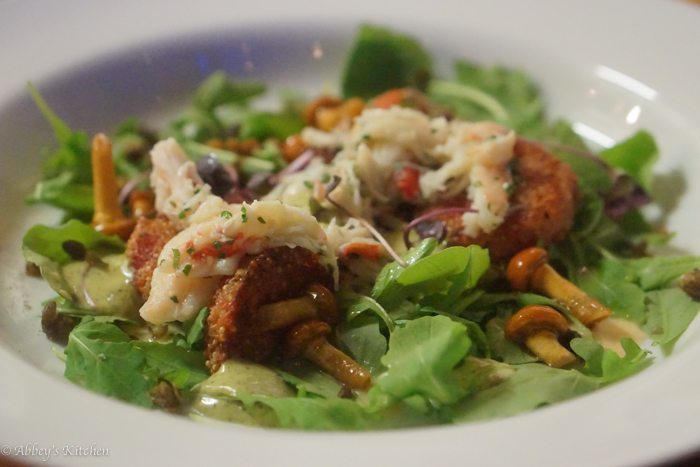 This was probably my personal favourite of the seafood mains because I'm a sucker for good snow crab. The cakes were crusted in crispy quinoa that lent a crackly popping sensation with each bite and created a stark juxtaposition with the generous portion of crab meat inside. As if that wasn't enough of the celebrated shellfish for 'ya, the crispy cakes were topped with mounds of sweet snow crab balanced out by the supple pickled mushrooms, tangy mayo and O-M-G food-gasm fried capers. Lee said that she has a theory that if you wrap fried capers in bacon, you can travel through time. After that dish, I think I could confidently invest in her scientific theory.
Lobster ($21)
Risotto, Lobster Mushroom Powder, Mushrooms, Pickled Butternut Squash and Puree
If you want the ultimate in luxurious comfort food, go straight to this main here. Expertly al dente creamy rice and fresh sweet lobster loaded with rich umami flavour from the mushrooms. What really made this unique,  however, was the pickled and pureed squash that complimented the sweetness of the shellfish beautifully and helped to temper the unctuous quality of the rice. I was super full when we found ourselves here, but you can bet your boots I polished this off.
Poached Pear ($6)
Red Wine, Parsley Root Ice Cream, Red Wine Reduction, Swiss Meringue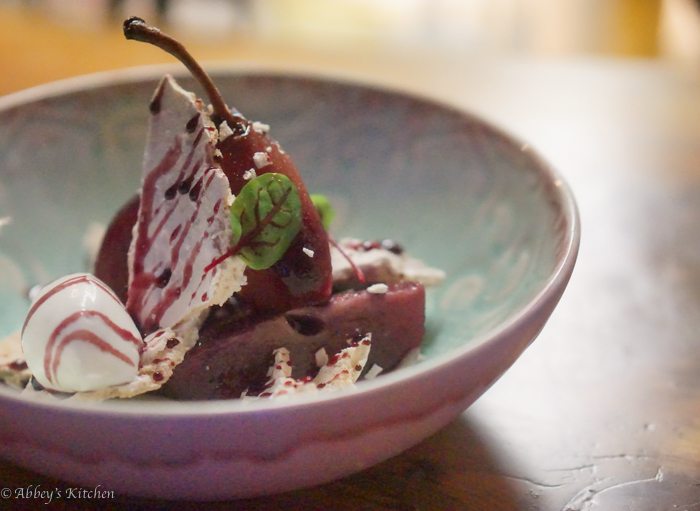 Bold red wine flavour permeated through the poached pear that offered enough resistence to offer a crisp textural contrast with the creamy ice cream and crisp meringue. With the boozy bath and reduction and the semi-savoury vegetable frozen accompaniment, this was a not-too-sweet end to a fantastic meal.
Twinkie ($6)
Salted Caramel, Bruleed Apple, Marshmallow Filling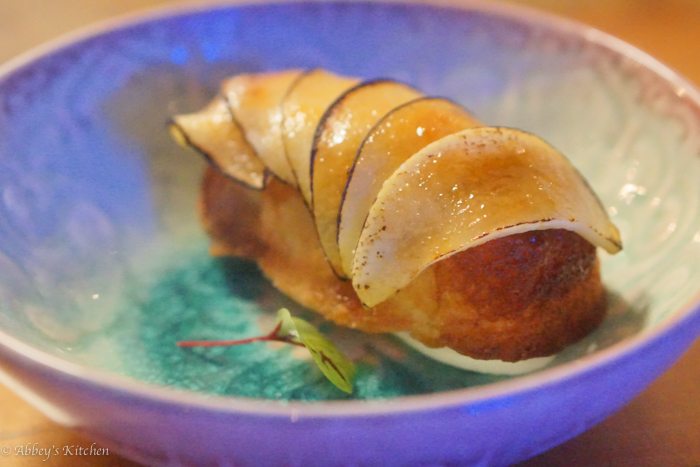 In contrast, the twinkie is for the dessert-die hards who like a little playful spunk in their sweets. Behold, an upscale twinkie. I loved the bruleed apple shavings that offered a crunchy caramel layer against the pillowy cake, but also gave that "toasty" note to the marshmallow cream within. A genius idea if you ask me.
Farmer's Daughter Closing Remarks:
-In conclusion, I was thoroughly impressed with my meal at Farmer's Daughter and I was left bewildered why I don't hear more about it in my foodie circle of friends. Seriously, this was one of my most memorable meals I've had in the city in the last few months where I felt every dish was creatively imagined, expertly executed and just all around tasted really good. I definitely ate a lot but I didn't walk out feeling grossly weighed down which to me speaks volume of the quality of ingredients going on. When you deliver big bold flavours like Chef Lilla absolutely did, you don't need an exorbitant amount of butter or salt to fill the gaps.
-I would highly recommend Farmer's Daughter to friends looking for a seafood-centric meal, or really just anyone who wants a fantastic meal at a reasonable price in the west end. It's not a large place so I'm not sure it would be the ideal spot for a large group, but it's a comfortable inviting joint to meet a few friends or a casual date. I also would love to come out for brunch one day as I hear the fried frog legs and waffle is pretty rad.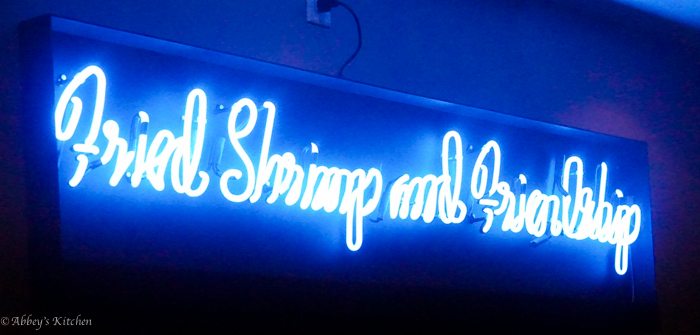 Have you checked out the Farmer's Daughter? If so, what was your favourite dish?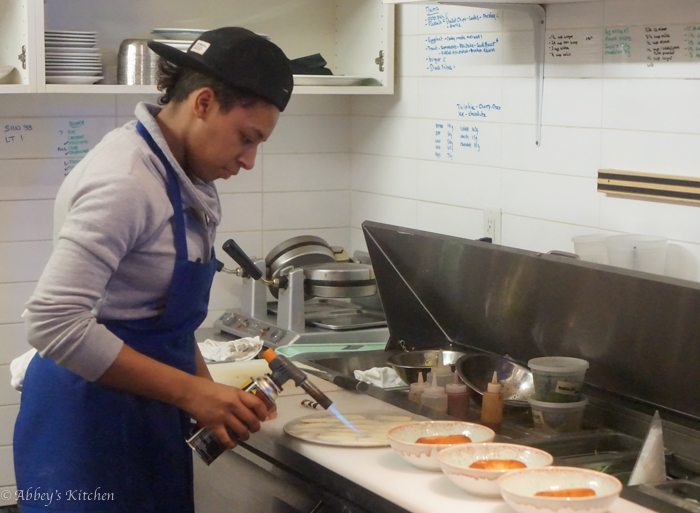 Disclaimer: The preceding meal ended up to be complimentary, however, as always, all opinions are genuine- this meal really was fantastic and I was thoroughly impressed. Go!