Opening Remarks:
-Gatlin's BBQ has long been considered one of the top places for Texas BBQ in Houston.
-Before opening the little smoke shack, Greg Gatlin and his parents had been BBQing for catering gigs, and even before that, at every family function and holiday.
-In June 2010, the family opened up shop in the Heights community and has become a Texas staple ever since.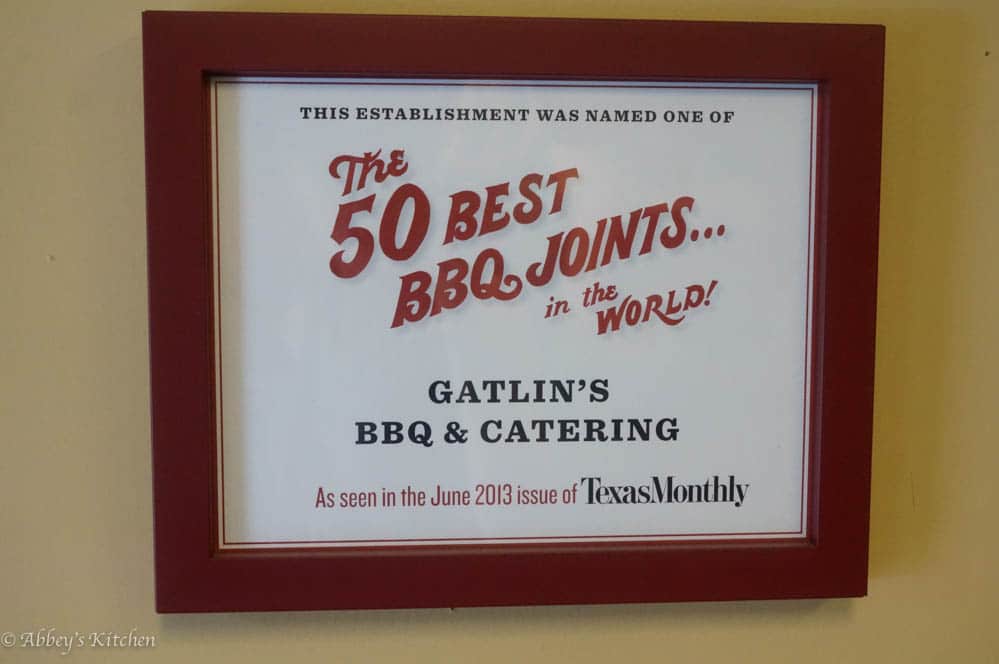 Ambiance:
-Out back hosts Gatlin's custom built steel pit smoker that holds about 30 briskets on top.
-The outside is an unassuming mini shack outfitted with a simple wood sign above the door, a few spaces to park and a covered outdoor seating area with about 6 or so picnic tables.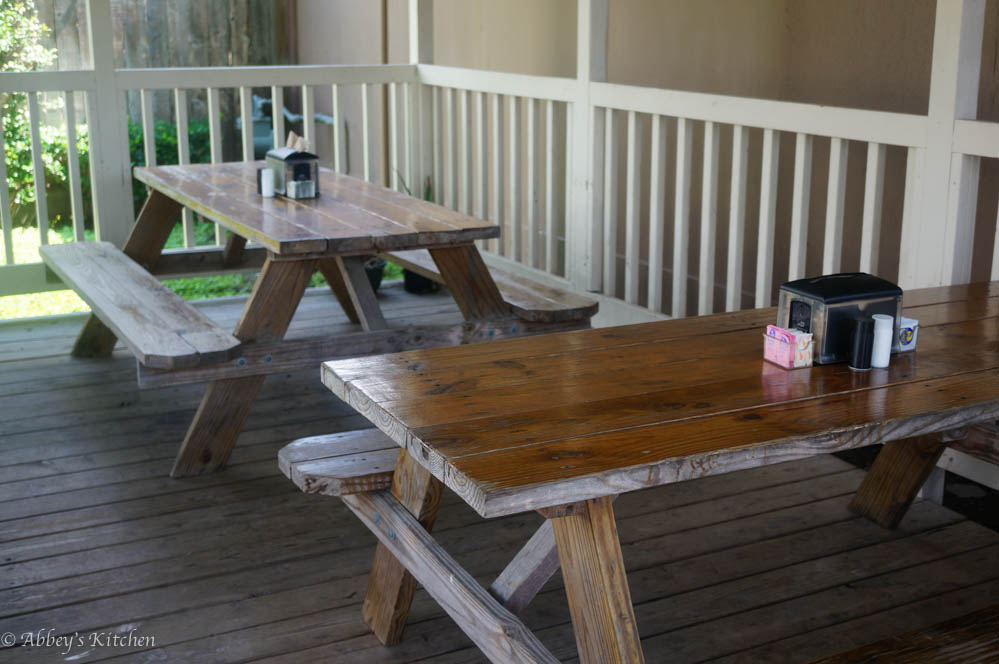 -Inside, you're talking about a small counter for ordering, a chalkboard menu, a peek-a-boo window into the kitchen and a few seats and tables. The best detail in the room is the hand-painted mural of Jesus holding a Gatlin's BBQ shack in his absolutely massive hands. I guess Jesus is capable of anything though. There are also a couple coolers filled with Housemade Peach tea and lemonade for serving yourself.
-Speaking of lemonade, pour yourself a drink into a styrofoam cups, and have your meals brought to you on plastic plates served with plastic cutlery. This is the real test of tender meat, as it's never an easy task to cut something tough when you're dealing with a flimsy fork.
Service:
-We arrived 5 minutes before opening (11 AM) to an already growing line filled with hungry and excited locals ready for lunch. At about 11:10 AM, the front door swung open and Mary Gatlin, Greg Gatlin's mom, exclaimed, "we're ready, come on in!"  Of course, now the line  began to snake inside.
-The way it works at Gatlin's is that you order your food with Mary who greets each customer with a smile and Southern charm, calling everyone "baby" in her Southern drawl.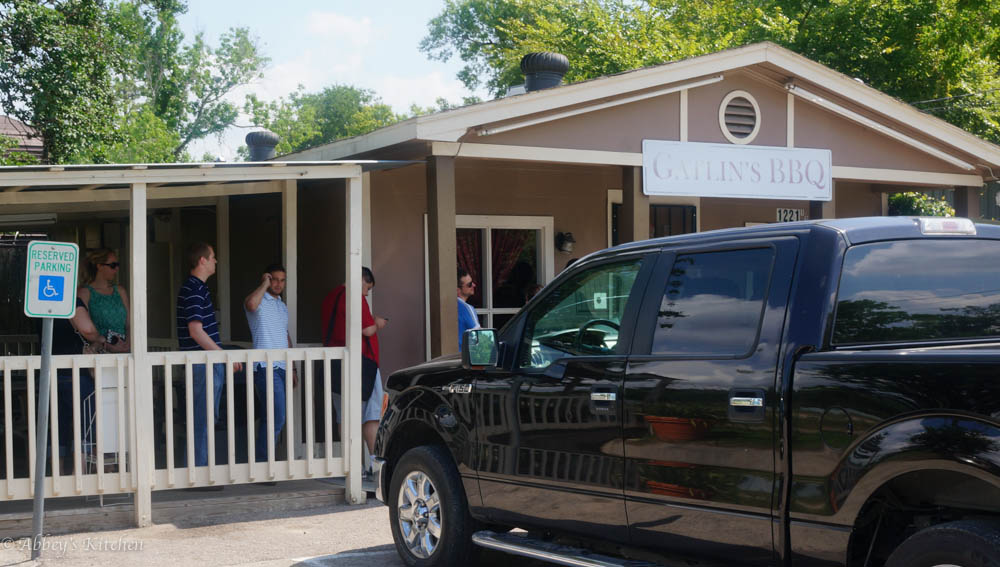 -You then grab your drink and cutlery and head outside where her food runner comes out with a tray of food, calls a number and delivers your meal. We were about the 7th or so person in line, and our meal took about 10 minutes after ordering to get. By that time, there was a small crowd waiting for a spot on the picnic benches, but everyone was so friendly we were happy to share.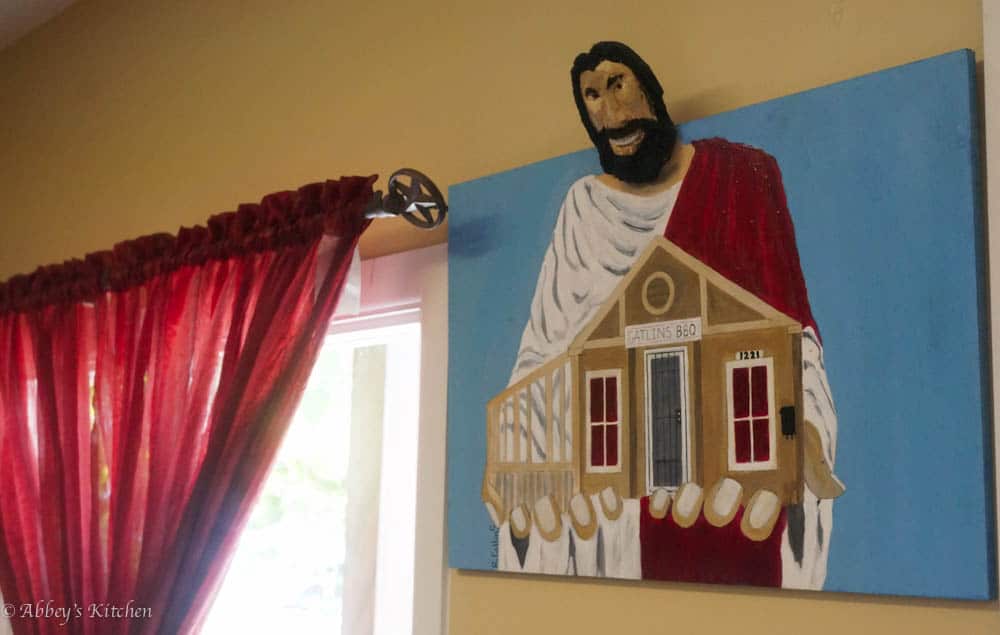 Drink:
-Drinks are pretty much your choice of bottled pop ($2.00), lemonade, sweet tea, unsweetened tea and peach tea ($1.50), the latter two of which we tried and loved.  If you order a fountain drink, you receive a cup filled with ice that you pour the tea over and are welcome to free refills as you please. However, just be aware that the tea in the canisters is actually hot and the ice is the key to cooling it down.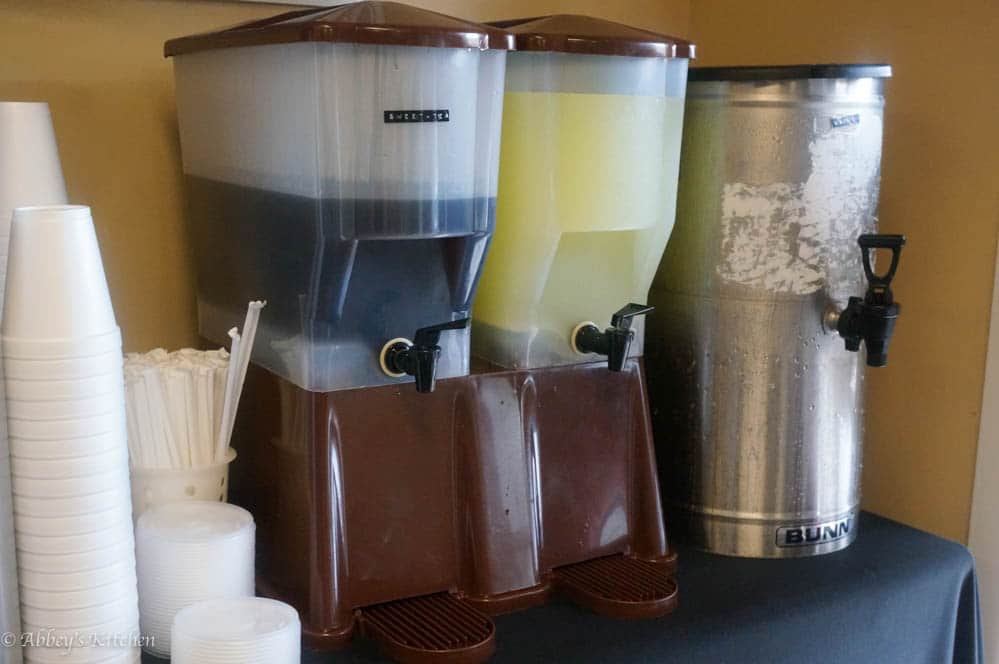 Food:
-The brisket is the big specialty at Gatlins. First, it's rubbed with their special mixture and then smoked for 12 hours at 250 F over hickory wood.
-The menu has supposedly been a joint venture between Greg and his parents, so a lot of his mom's and dad's classic recipes have made their way to diners mouths.
-The menu is divided into Sandwiches, Entrees (pick your side!), Texas Baked Potatoes, Meat by the Pound and Desserts with a wide range of proteins available (brisket, chicken, pork, sausage, ribs and turkey).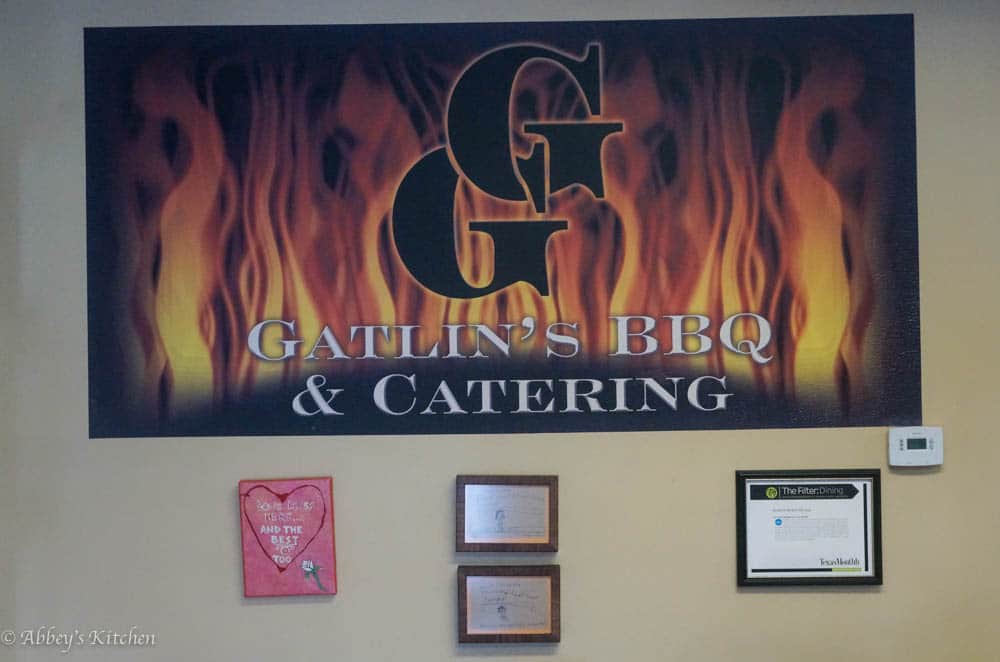 -What I have learned is that Eastern Texas BBQ (to which Houston is known for) is just as much about pork as it is beef (unlike Central Texas which is really a beef-centric space). They also usually rely on a sweet tomato-based sauce, which is always my preference with BBQ anywhere I go.
-I opted for two platter plates each with two meats and two sides (and sliced bread on the side) priced at $12.95 each. We also got a side of coleslaw because they accidently gave us both potato salad, and a banana pudding ($3.95) for dessert.  Here's a breakdown of what I thought.
Pulled Pork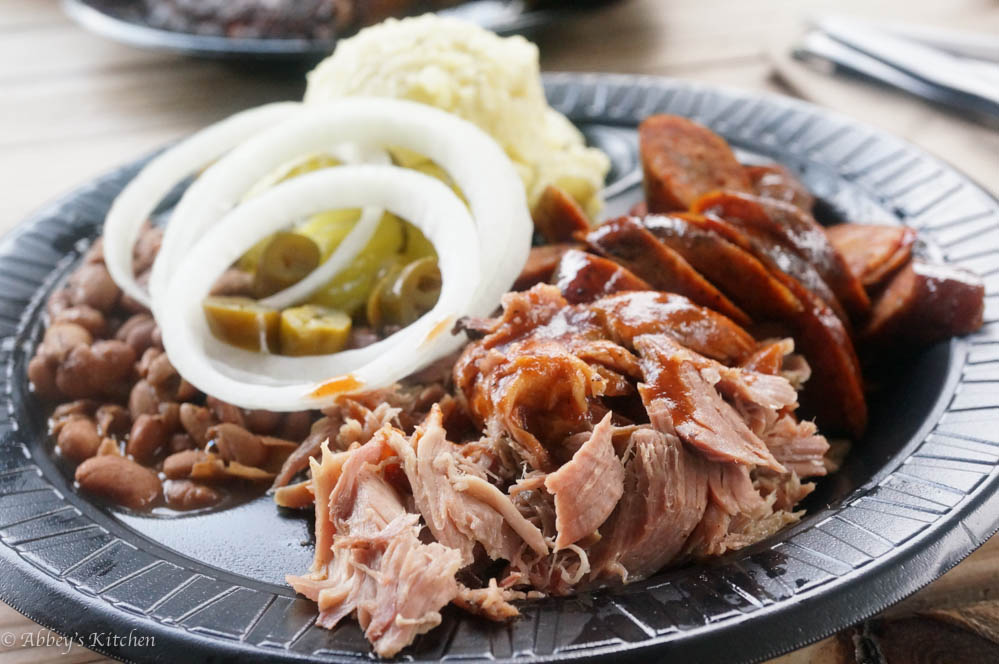 Probably my favourite of the meats, but then again pulled pork is always my go-to Q. Here it had a really satisfying level of smoke, was cooked blessedly tender yet not shredded too fine, and was decadently juicy without any grizzle or unwanted fat. I should also mention that Gatlin's BBQ sauce (which came on the pork, but also on the side for dipping) was totally my style. It wasn't gloopy or thick, but rather had a perfect balance of heat, sweet and acid. I could put that sh*t on everything.
Spicy Sausage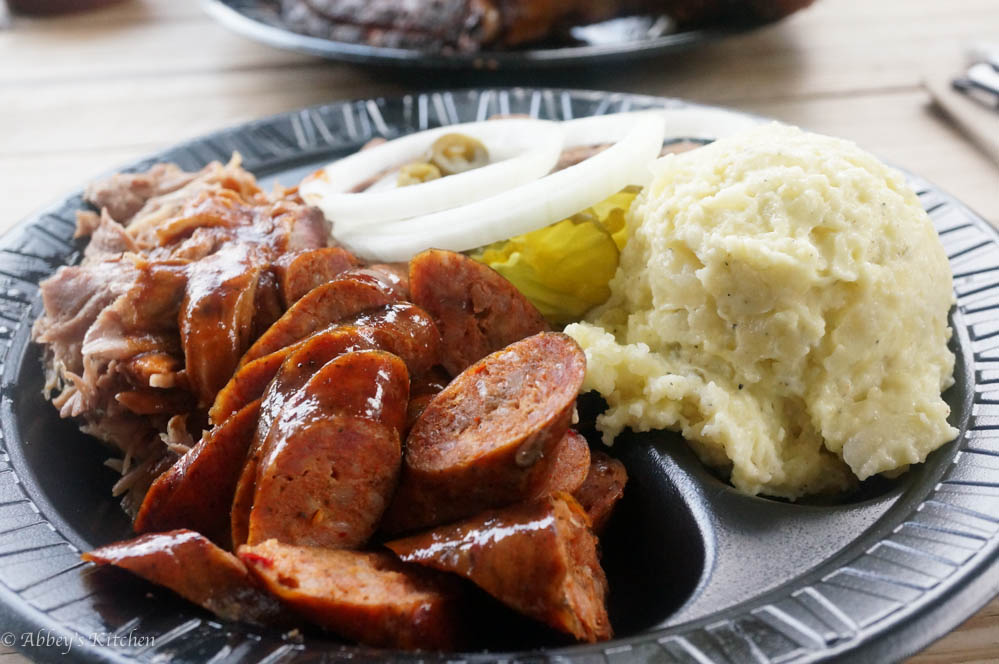 Great snappy casing, super juicy meat, and a solid level of heat to balance the sweet sauce. Loved it.
St Louis Ribs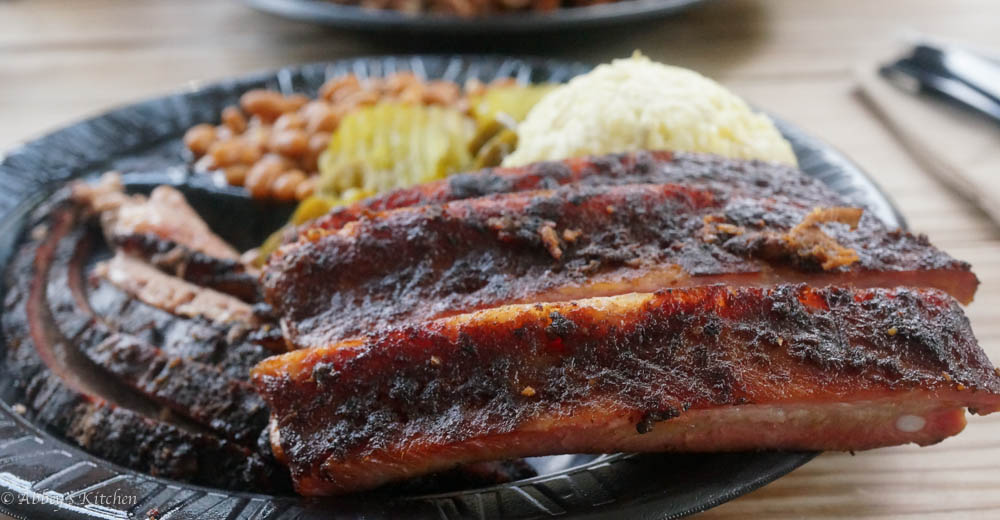 Meaty, succulent, and incredibly flavourful. Some of the tastiest ribs I've ever had.
Sliced Beef Brisket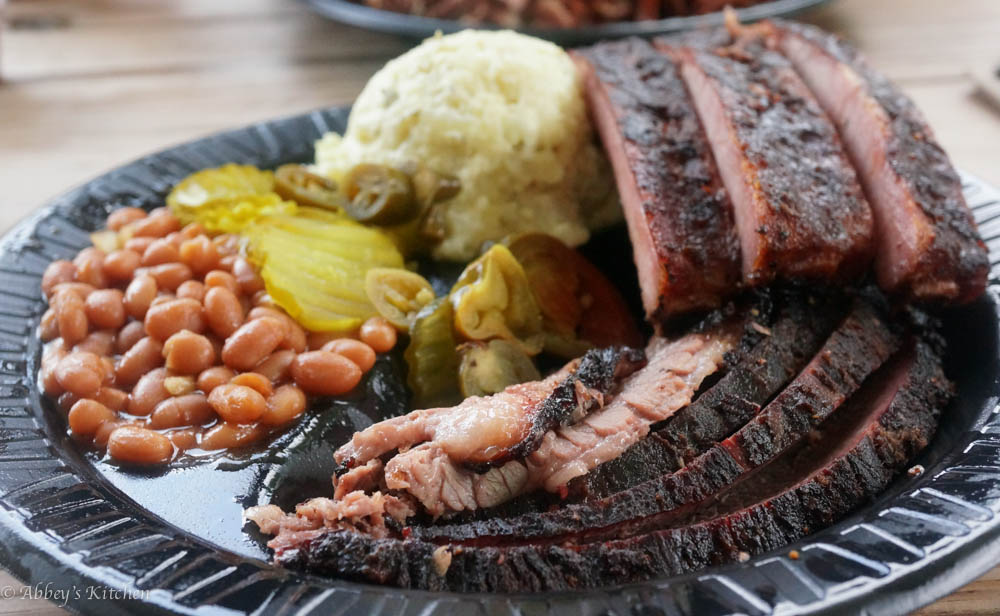 Despite being a specialty, I found the beef brisket my least favourite of the meats. While it did have a solid smoke ring, it was a little too dry for my taste.
Potato Salad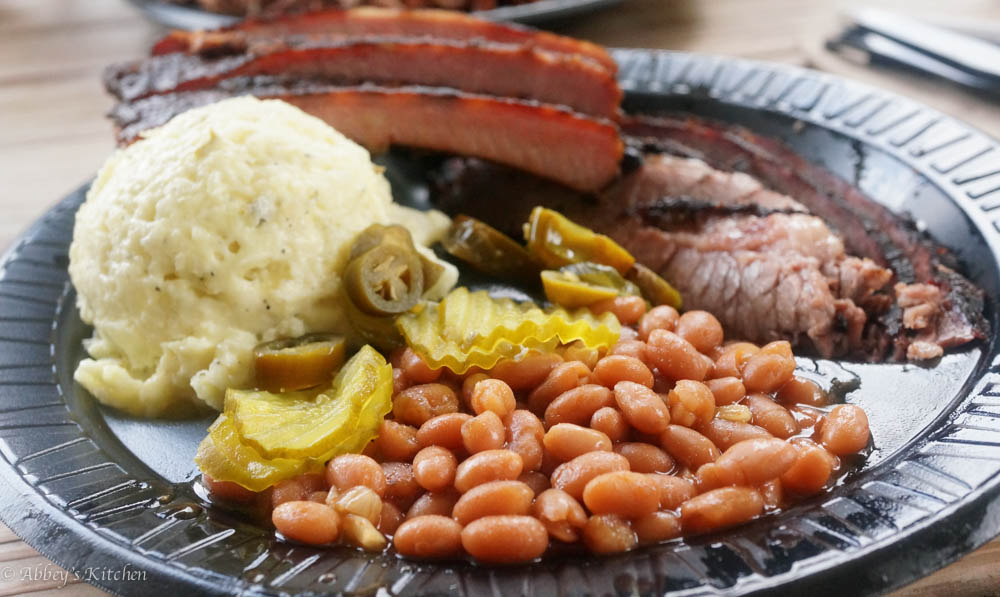 Simple, fairly neutral, with a good balance of creamy elements and a few satisfying chunks in the mix.
Baked Beans
Just the way I like them. Sweet, tangy, with a supple bite but not overly starchy. Yum.
Ranch Style Beans
Still good, but they fell flat in contrast with the baked version. These beans were decidedly far more savoury and a little more al dente.
Coleslaw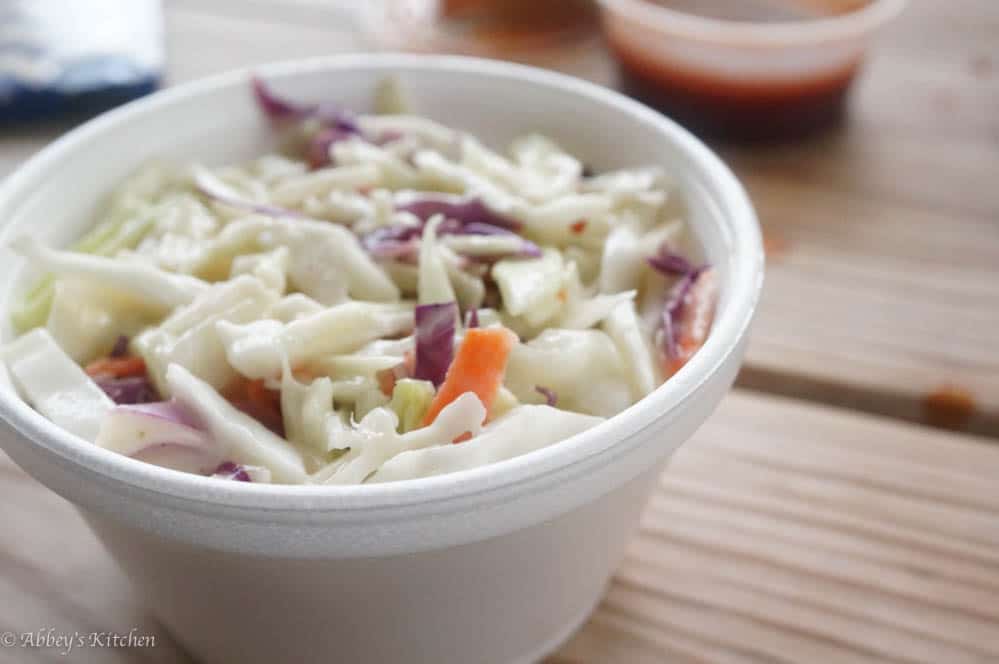 Some of the best coleslaw I've ever had. I liked that the cabbage wasn't shredded so fine that it almost disintegrated into soft mush. Rather, despite it's creamy dressing, the slaw felt crisp and light.
Banana Pudding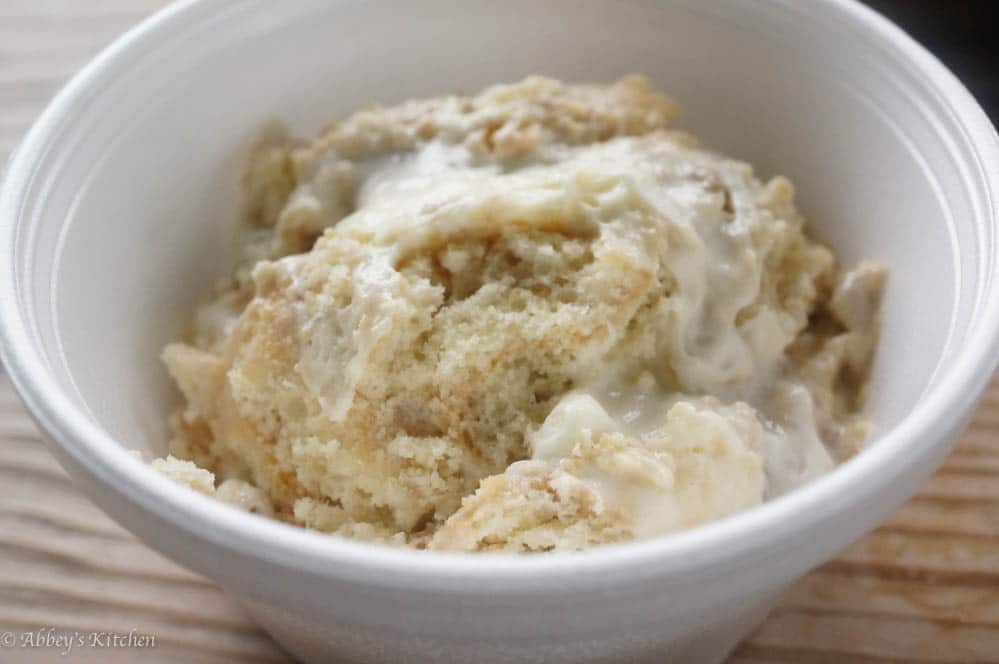 You definitely can't leave Gatlin's without the banana pudding. I actually didn't even see it on the menu, but I watched a bunch of locals order their meals before me and confidently insist on this dessert. My goodness, even if you're full, just get it. Southern banana pudding is not something you see in Toronto so don't go thinking it's like the jello crap. This is more like a bread pudding or a tiramisu style texture in that it has the creamy custard and the little chunks of moistened cookie or cake. It's surprisingly light, and not at all overly sweet, with a delicate banana aroma. Heaven.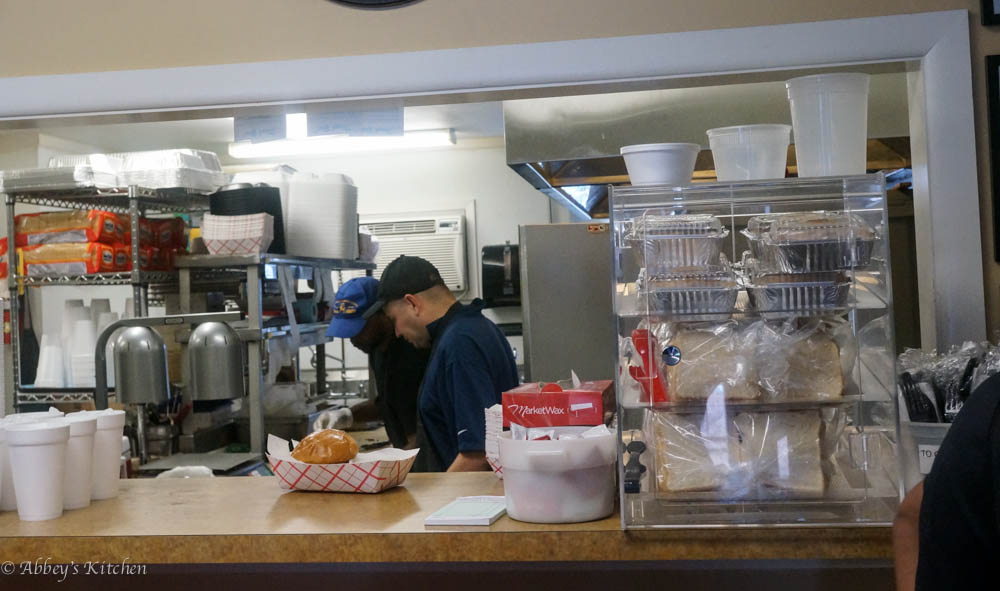 Closing Remarks:
-For two large platters of food, two drinks and a dessert, the bill came to about $35 including tax. In Toronto, this amount of meat alone would cost $50+ and wouldn't even come close in quality. That, in combination with the charming service, and casual convivial atmosphere makes for an unforgettable dining experience.
-My partner and I walked away from Gatlin's both nodding our heads in satisfaction. This, we thought, is what we came to Texas for, and what would be our first stop the next time we're down South.
Updated on May 8th, 2019