Opening Remarks:
-One Michelin Star
-Owned by self-taught Executive Chef Mikael Jonsson. Before he owned Hedone, he was actually a lawyer, largely because his severe food allergies prevented him from fully committing to the food world. Thankfully, those allergies were overcome and he opened the restaurant in 2009.
-Located about 25 minutes from the heart of London in Chiswick. Don't expect to just hail a taxi home- they will have to call you a special cab from their neighbourhood
-Definitely make a reservation- the place is tiny and it's a popular joint attracting diners from all over London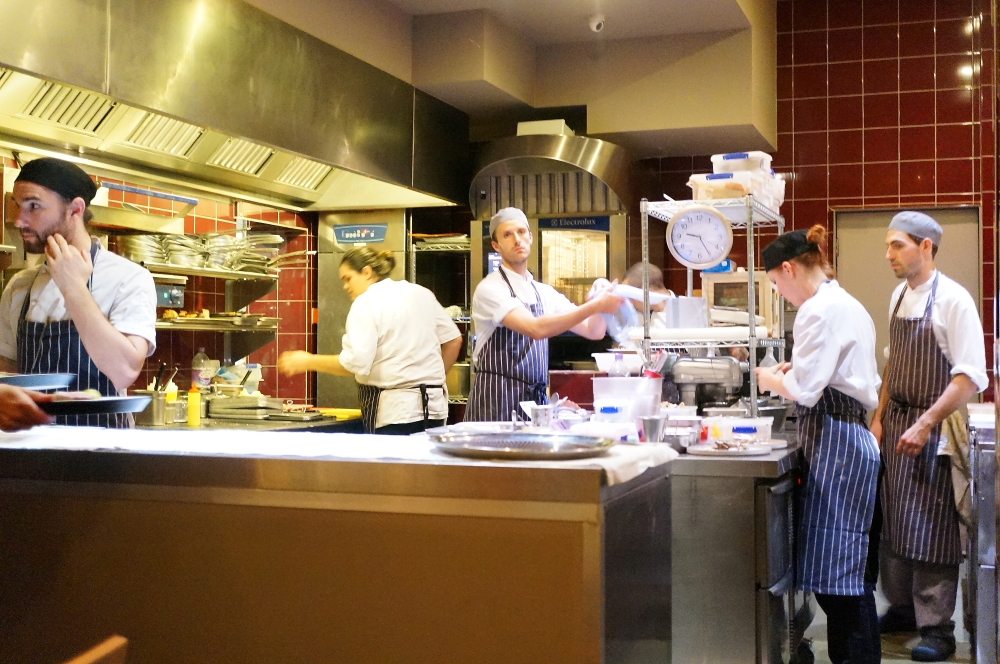 Ambiance:
-The small open kitchen and bar seats anchor the dimly lit dining room with strange hieroglyphic-like etchings on the ceiling. The décor is very masculine but sexy in its simplistic raw state.
-Downstairs there is a private dining room, bussing station, wine cellar and bar.
-Most of the tables are fairly spacious, and since the room is so small, you can get a good view of the kitchen action from pretty much any seat in the house
-The demographic is fairly diverse but mainly in the 30-50 year old bracket looking for a special date night out.
– It's comfortable high end dining without pretention or stuffy rules, so while you don't need to get dressed up, you'll want to look somewhat chic.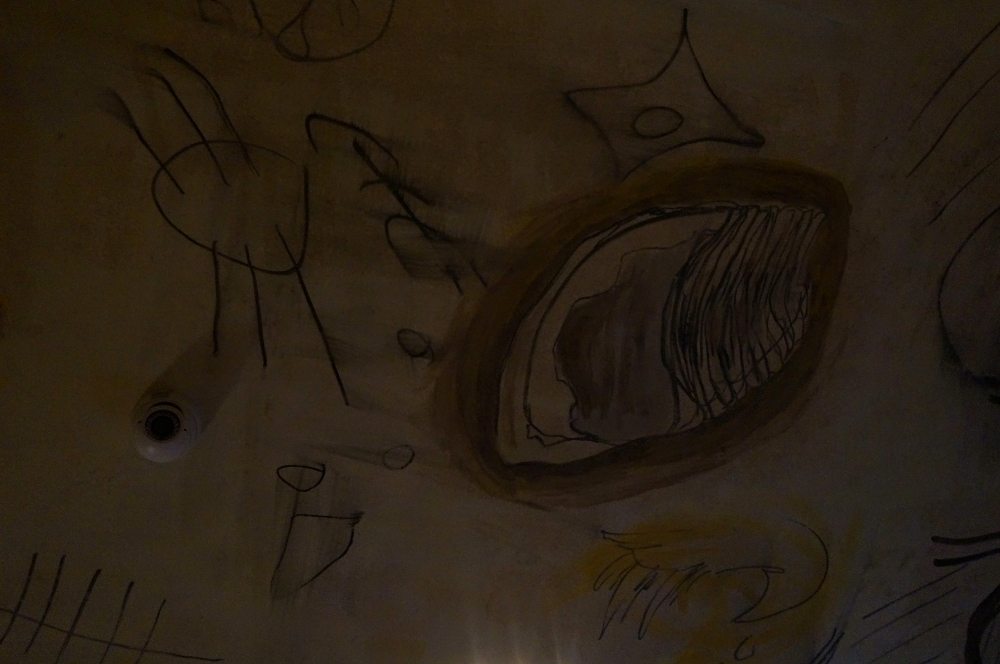 Service:
-Unpretentious, and friendly yet professional- they have a small but well orchestrated team of servers and food runners. The night we visited, chef Jonsson was filling in for a sick employee as Sommelier for the night.
-We spoke extensively to Jonsson who was gracious enough to spend quite a bit of time with us.
Drink:
-No cocktail list, though they can accommodate classic drink requests.
-The wine menu is predominantly French, though there are a few other International varieties to select.
-Tasting menus can be accompanied by wine pairings for ₤59 (regular tasting) or ₤79 (Carte Blanche).
-Knowing I had had quite enough wine the night before, I opted to simply order by the glass while he indulged in the pairings.
-Every wine we sampled throughout the evening was spot on and accompanied by a thorough explanation by the chef himself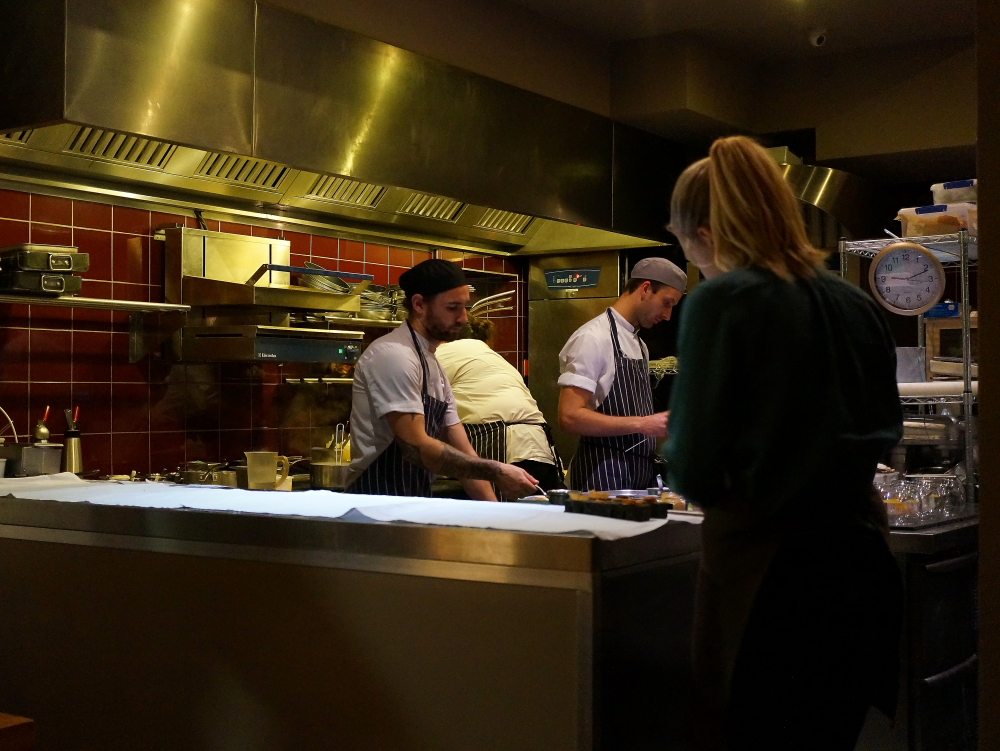 Food:
-The seasonal menu changes daily
-On Friday and Saturday evenings, only tasting menus and carte blanche options are available (lunch time and other evenings you have the option of a 3 course meal)
-The food is ingredient driven and has a definitive focus. By that I mean that the flavours are not muddled down with fancy-pants techniques or too many garnishes or components. When you get a dish in front of you, you know which ingredient is the star.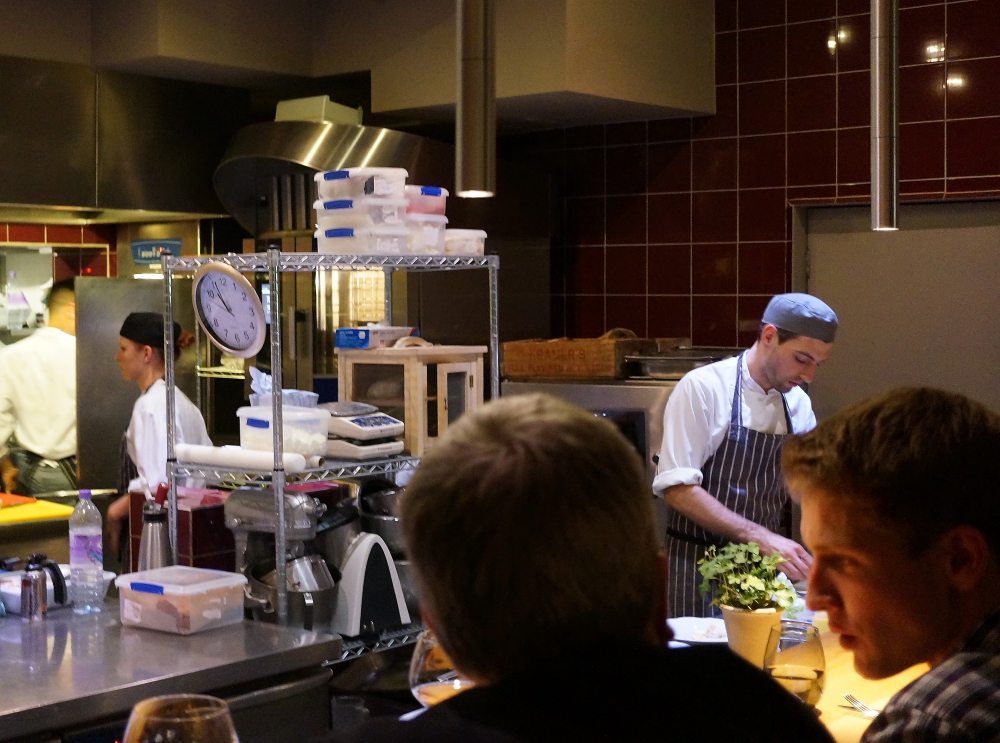 Smoked Eel Lemon Tart, Parmesan Sable with Cherry, Foie Gras between Balsamic Sourdough Crisps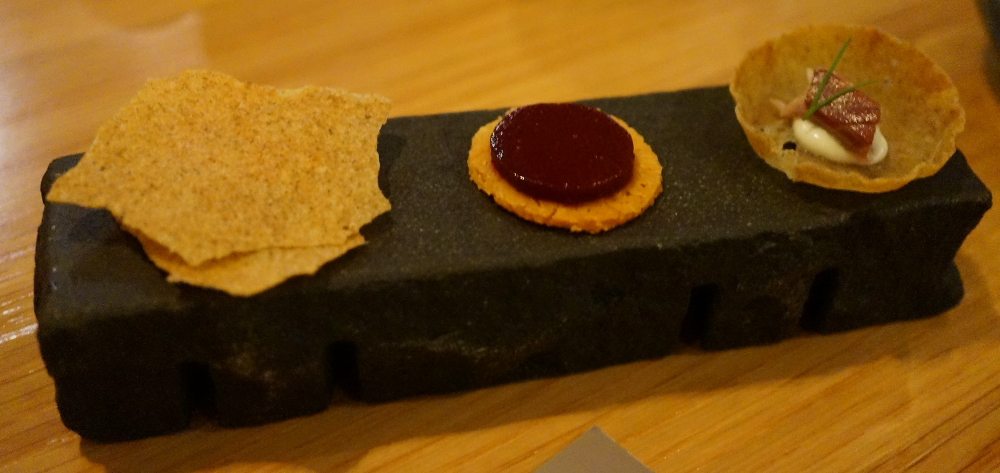 A lovely welcome that felt quite similar to the one we had at Pollen Street Social. My favourite bite by far was the foie gras and tangy balsamic sourdough.
Poached Cornish Rock Oyster, Granny Smith Foam and Shallots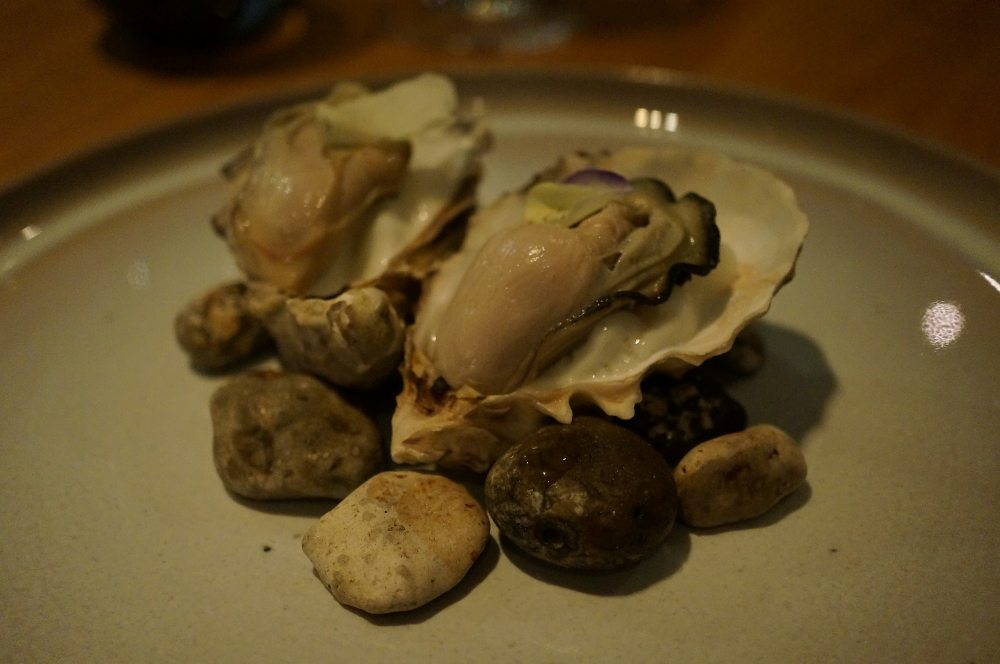 Massively plump oysters that paired nicely with the slightly sweet mildly acidic apple foam. And while I think it could have used something else to elevate the flavour of the dish, perhaps something with a little heat, it was still an enjoyable two bites.
Mediterranean Tomatoes, Orleans Mustard, Dill and Yogurt Sorbet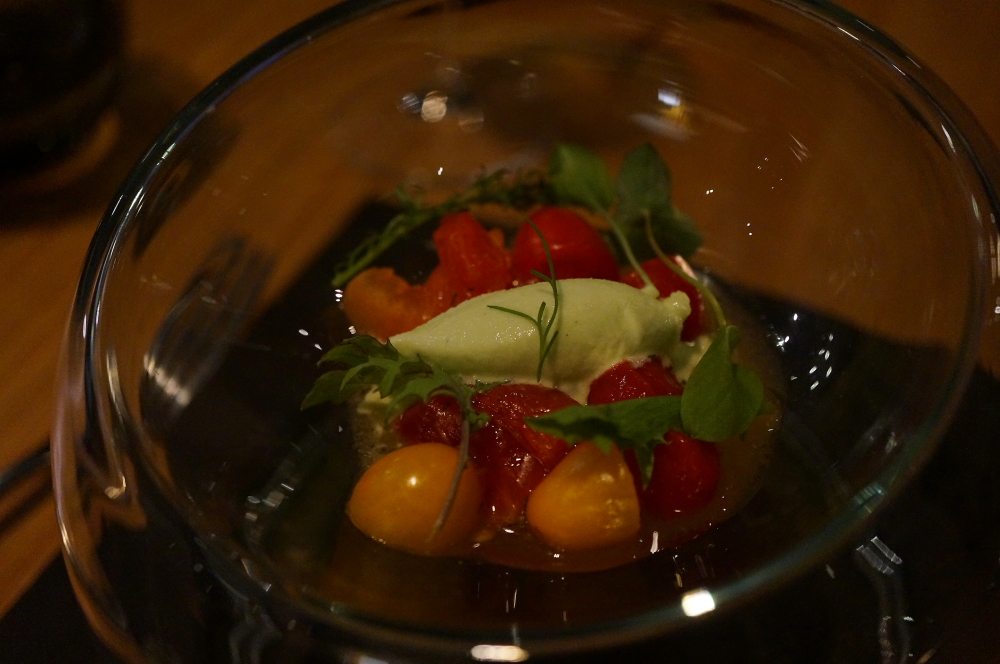 One of my favourite dishes of the night. The tomatoes were absolutely enchanting when paired with the tangy herbaceous sorbet and the touch of heat from the mustard.
Hand Diver Scottish Scallop Cooked on its Juice, Seaweed Powder (₤ 10 pp extra)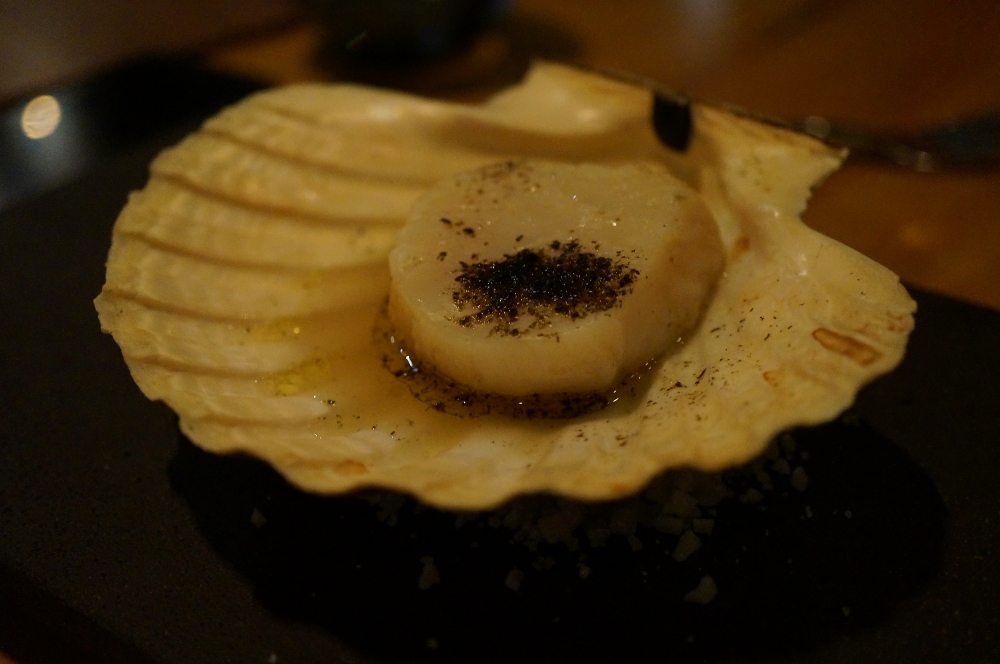 I am not really a fan of scallops that don't have a serious sear on them, so this wasn't my favourite dish. However, I must say that the preparation did allow one to appreciate the delicate sweetness of the shellfish.
Liquid Parmesan Ravioli, Onion Consomme, Mild Horseradish, Pancetta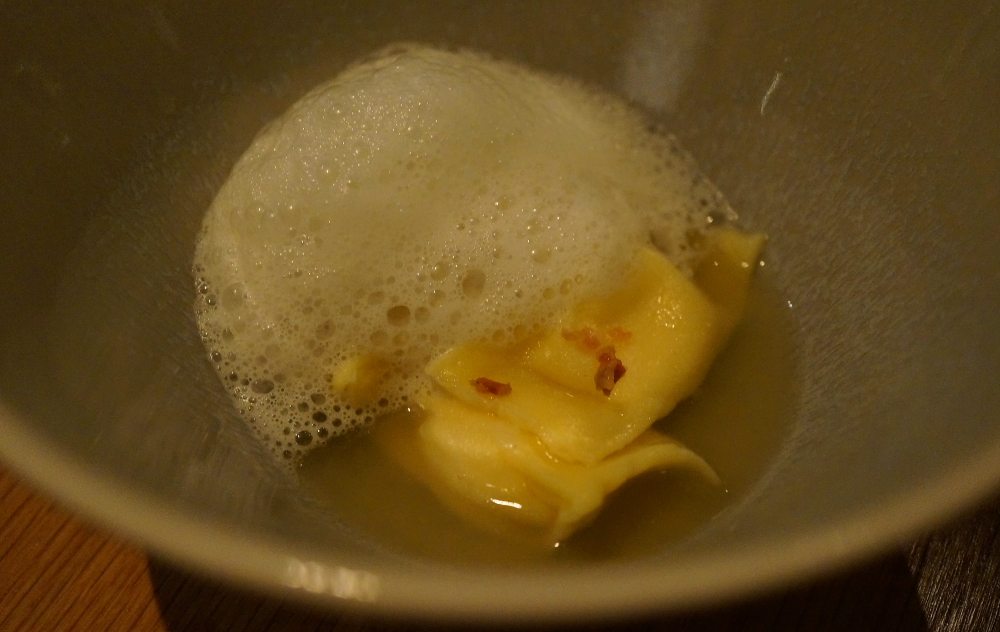 Another favourite course, this one reminded me a lot of a dish we had at Alinea with a similar liquid filling. The combination of the super salty ravioli and the sweet and comforting consommé was an absolute dream.  This course was paired with an unusual Orange Wine from Italy which had an unmistakable truffle scent that went nicely with the umami rich parmesan.
Roasted Breast and Leg of Scottish Grouse, Smoked Potatoes, Blackcurrant, Foie Gras, Juniper
A much better grouse than the one we had sampled earlier that day. The meat was tender and juicy, pairing beautifully with the bright berries, the fragrant juniper and the luscious foie. I was a bit confused by the potatoes, which just tasted like they had been boiled, but perhaps the dish needed something neutral to balance out the other big flavours.
Roasted Breast and Leg of Squab, Beetroot Variation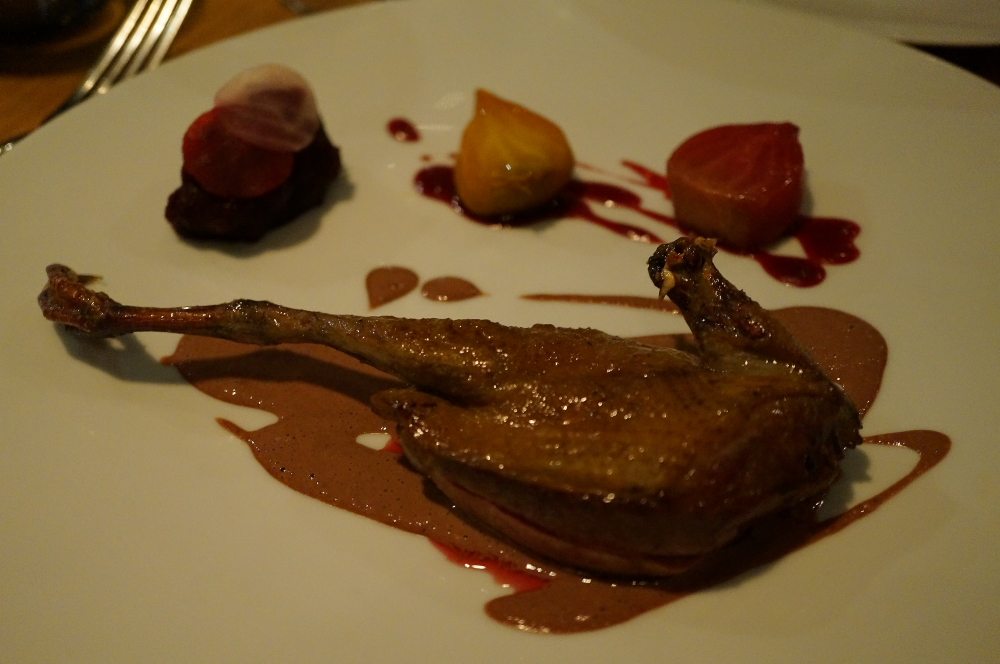 Beautifully cooked meat that paired nicely with the sweet beets, though I did find this dish a bit bland in comparison with the Grouse.
Fresh English Blueberries, Rosemary Sorbet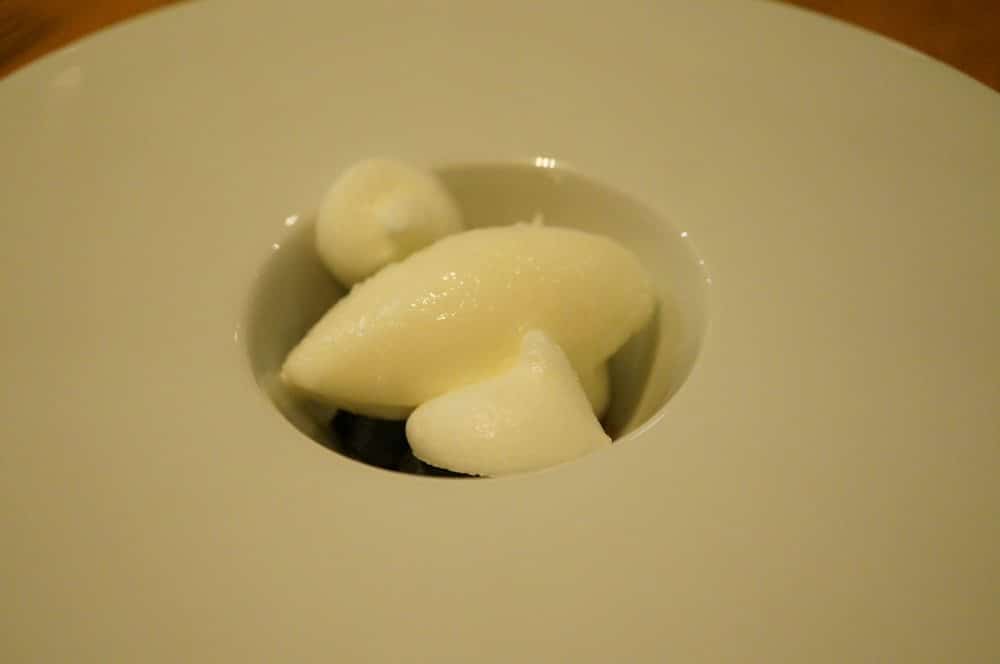 A fabulous example of how sometimes the simplest things can be the most incredible. The sorbet was intensely piney but in the most captivating way possible, and it paired so nicely with the sweet ripe berries underneath.
Warm Chocolate, Powdreed Raspberry, Passion Fruit Jelly with Madagascar Vanilla Ice Cream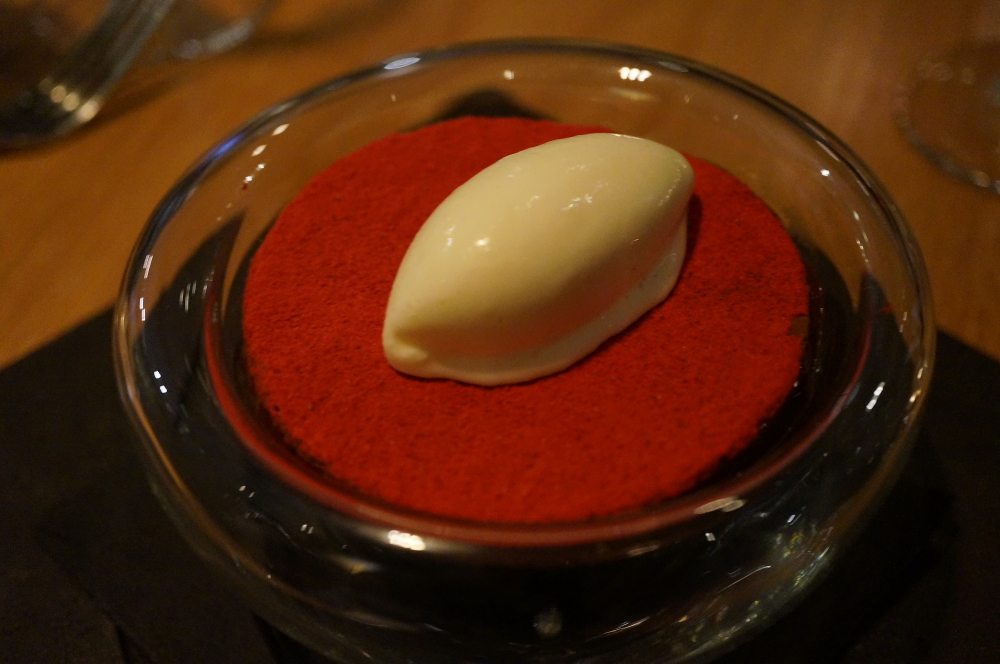 A truly stunning dessert. The bitterness in the chocolate was tempered by the acidic raspberry wafer and the creamy ice cream on top. I also loved the contrast in temperatures – warm molten lava type cake and chilly ice cream all separated by a thin delicious berry barrier.
Raspberry Macaron, Financier and Chocolate Tartlette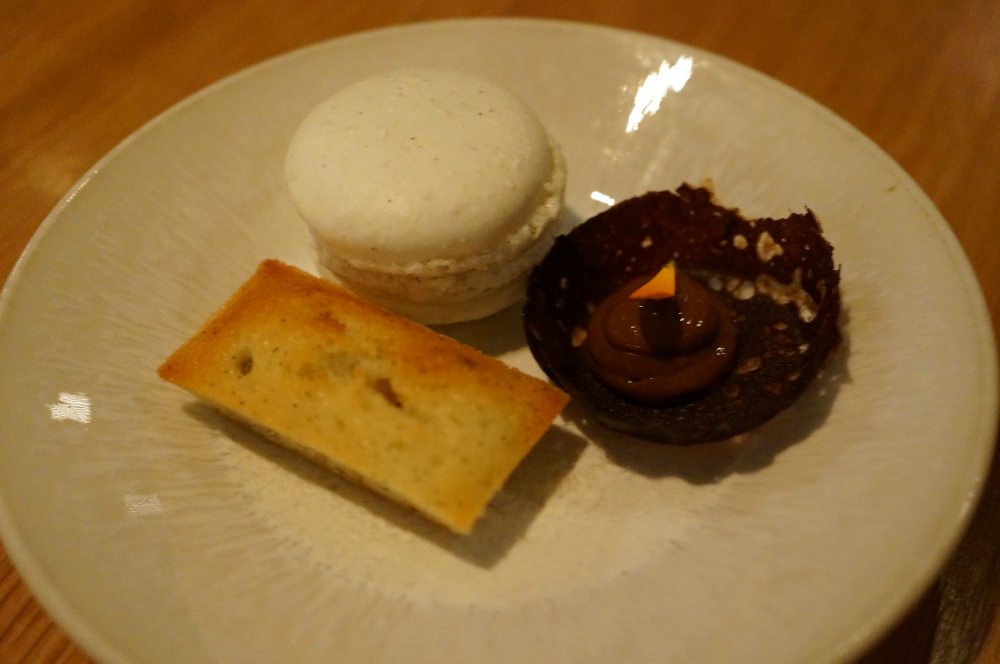 Always nice to end the meal with something sweet and that macaron was particularly dreamy.
Salted Chocolate Caramel with our bill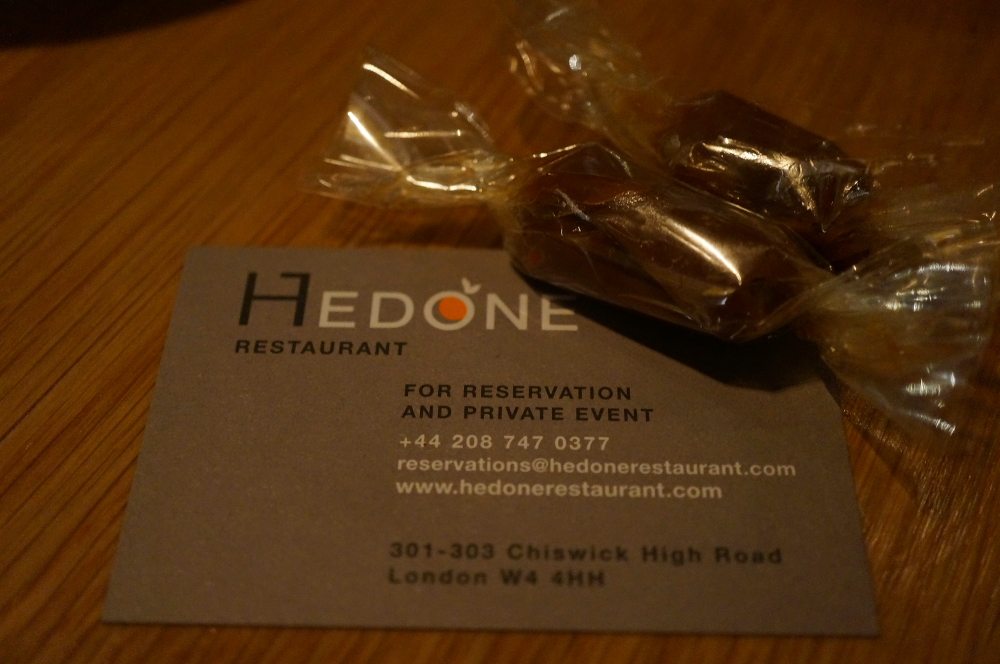 A lovely treat for the (kind of long) car ride home.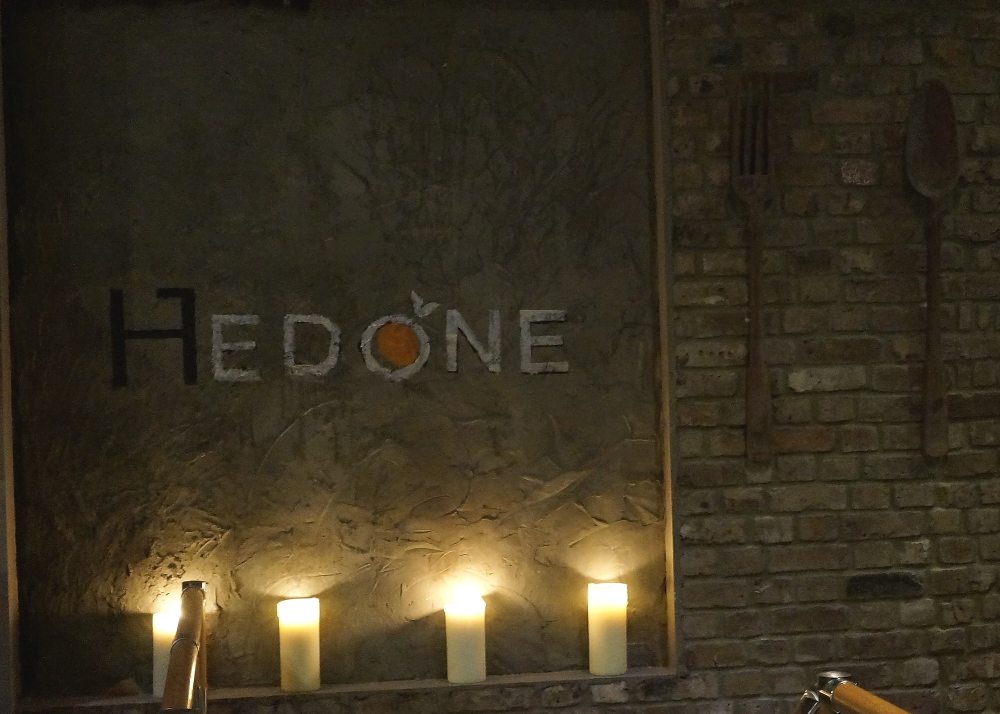 Closing Remarks:
-The bill for two tasting menus, one wine pairing, two glasses of wine and two teas was ₤289 ($470 Canadian). For the high quality casual yet professional service, in conjunction with the solid food and wine pairings, I would say it was well worth the price tag.
-Sure, it's a bit of a schlep to Hedone if you're staying downtown in London, but I would absolutely make the trek again. It's a fabulous spot for a date, and a great example of an innovative meal that doesn't compromise the integrity of clean well executed ingredients.