Opening Remarks:
-Opened in August of last year by owner Tenny Bhutia with Chef Peter Pietruniak (formally at Ten Restaurant and Wine Bar and The Guild) spear-heading the menu and kitchen.
-The name, Lot St., pays homage to its location back in the mid-19th Century.  As history would suggest, various sections of Queen St were previously called Lot St. until about 1840, at which time it was renamed in honour of Queen Victoria. Bam! Why not bust that one out at your next dinner party?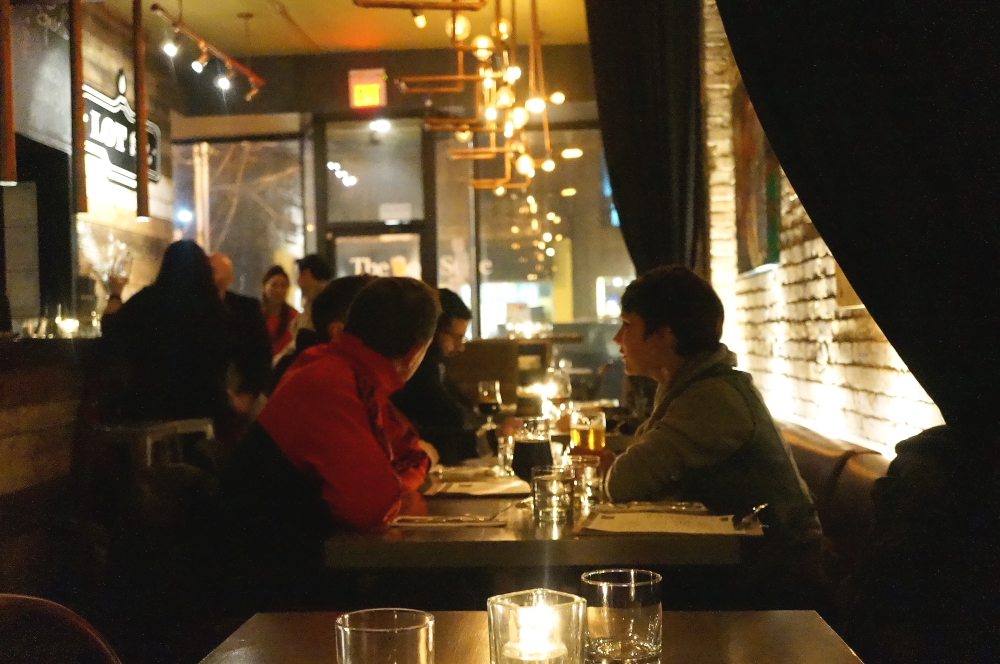 Ambiance:
-The 40 seat space is intimate and cozy. It's about as dark as restaurants get these days, lit up by a combination of tea candles on the table, and copper pipes securing Edison bulbs at random angles. The eclectic collection of bulb shapes and sizes, the unpredictable twists and turns of the installation, and the slender cone-like pipes hanging above open kitchen make for a real conversation starter. While the lighting surely doesn't make for the best food photography, it definitely lends a sexy, industrial vibe.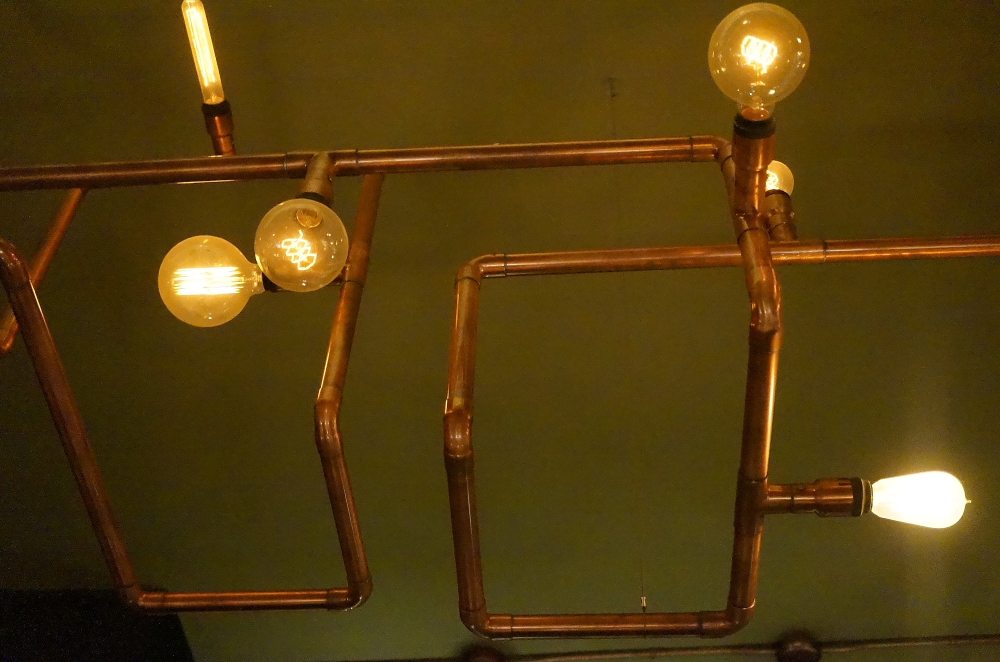 -The rest of the room follows suit with rustic exposed brick walls, masculine maroon leather banquettes, stained wood table-tops and metallic chairs.
-The demographic on the Friday night we dined was young, downtown professionals. I saw predominantly 25-40-something couples, with a few small groups stationed in between.
-When we arrived, at 8 PM, the place was almost entirely full. A mere hour later, and we were down to about a third. Full or not, don't expect that to change the vibe. Even by West Toronto standards, the place is pretty loud. Partially, I expect, from having people sat along pretty much just one banquette, and partially just from loud music. I did really like the music, however, which included a lot of retro rock and roll classics (appropriate considering we had actually come straight from our dance lesson in swing).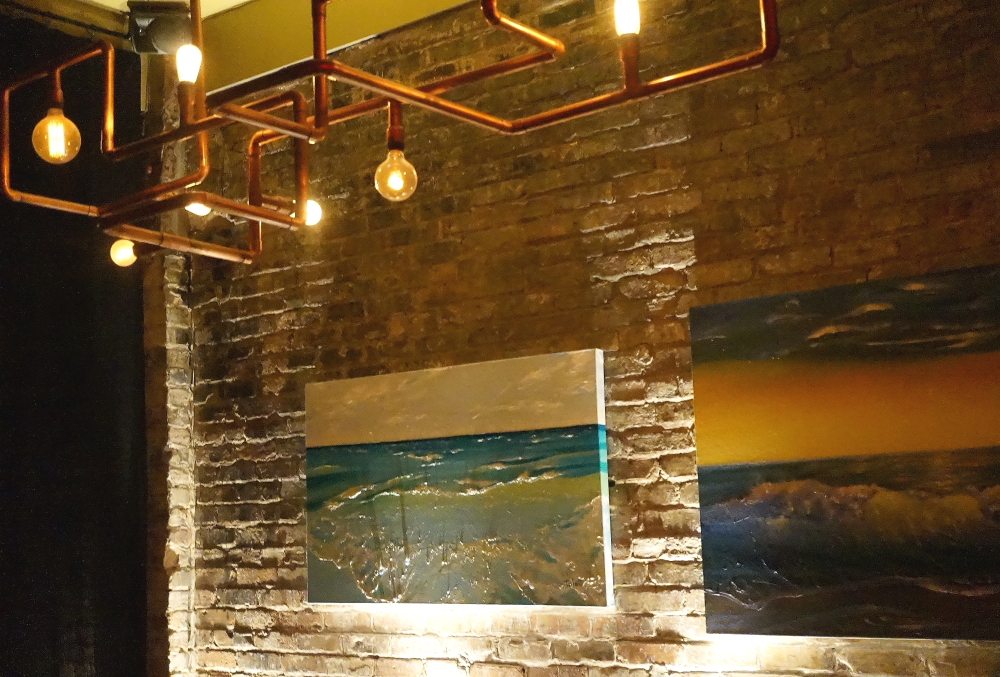 Service:
-The service was friendly, casual and beyond efficient. Our server was quick to refill our water glasses before they even dipped below the half way mark, while sharing plates and cutlery were replaced between courses.
-Likewise, cocktails came within minutes of ordering, and I was happy with the general spacing of the meal- we weren't bombarded with too many things at once (as can sometimes be the case with "small plate focused" restaurants), but we never had any lengthy gaps between bites.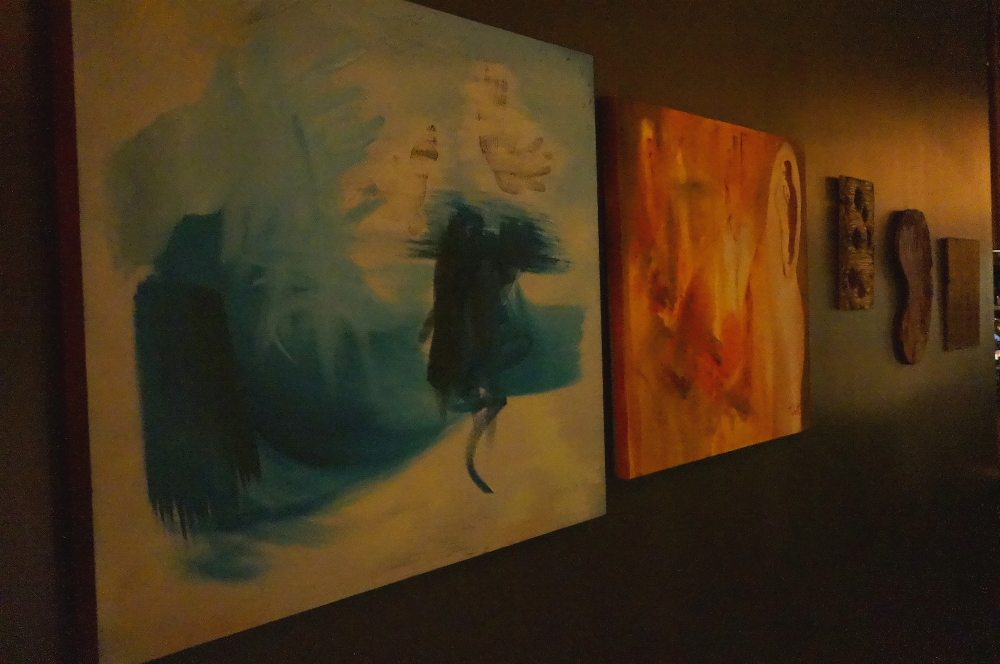 – In the end, however, I did feel it was a very quick Friday night meal- literally an hour in and out. Some times, like on a Monday or Tuesday night, I really appreciate this, but in this case, I did feel it lacked that leisurely vibe I was seeking for a much-anticipated Friday night out. I probably would have taken my time and sipped my way through a few more drinks if I had just a minute or two little more time in between each dish to stretch them out. Having said that, seeing how quickly the kitchen can pump out most of these dishes, I think a good game plan would be to order as you go. Pick a couple dishes, let those come out. When you're ready, order a couple more. Repeat until satiated. That will be my game plan next round.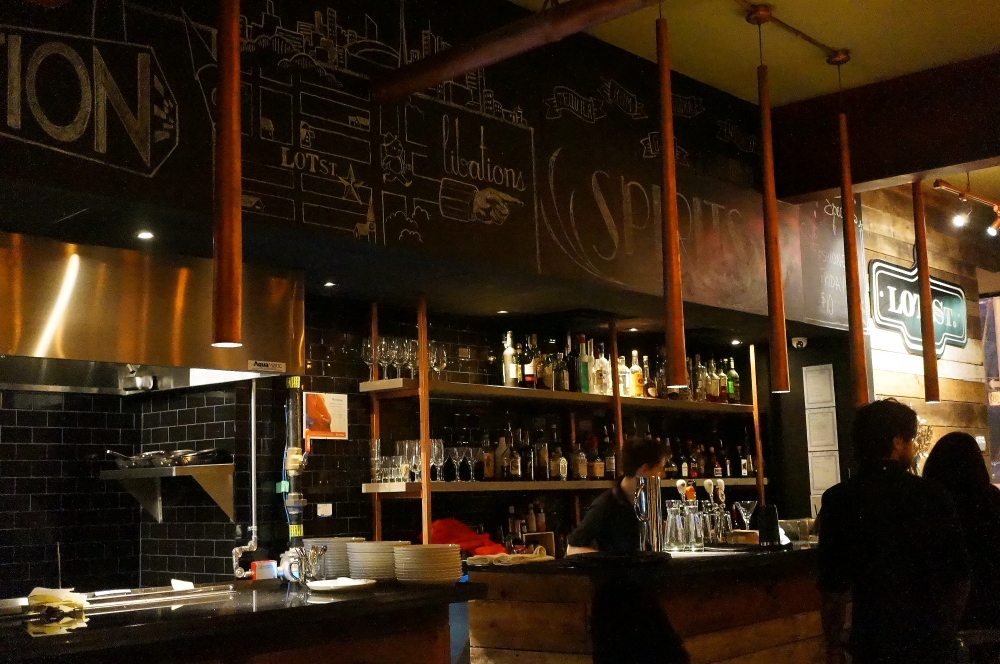 Drink:
-Lot St offers about 18 International wines ($35-69), half of which are available by glass ($8-12). There is certainly a strong representation of VQA options, but also a few offerings from California, Europe and Latin America to choose. They also offer a few ice wines, like the Inniskillin Riesling we had with dessert.
-Beer drinkers can opt for one of the 6 craft brews on tap ($4 for a half pine, $7 for a full), or can go with one of their 750 ml bottles ($16-18).
-Cocktail enthusiasts like myself should definitely check out their 8 signature libations, most of which, including the King St, Queen St, Little Italy, Cherry Beach, and The Distillery, are named after local neighbourhoods.
-While bourbon seems to be the favourite spirit on the current menu (as with everywhere else West of Yonge), there is a good spread with various other liquors. Well, except vodka. I don't think I saw any drinks with vodka. But let's be honest, vodka lost a bit of it's hip factor after the speakeasy classic drinks gained popularity in this city, and it might be a while before that buzz dies back down. Whatever the liquor involved, expect to see lots of house made syrups, foams, and infusions that make for some pretty tempting drinks. I was told that the current menu was devised by Julian Watson, who actually just recently passed, but current bartender Devon Kennedy has some new Spring items on the way.
-Friday nights are Old Fashioned nights, so they offer three off-the-menu options for $10.  So naturally, we started with that.
Bourbon Old Fashioned ($10)
Four Roses Bourbon, Fennel and Anise Syrup, and Orange Bitters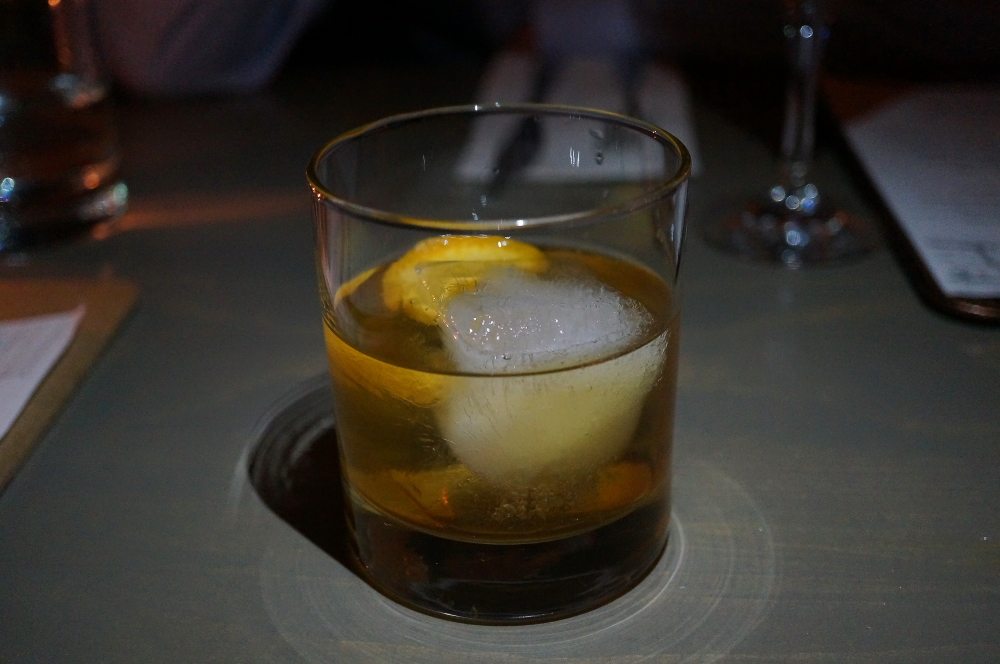 King St. ($10)
Campari, Cassis, Ginger Syrup, Fresh Lemon, Float of Ginger Beer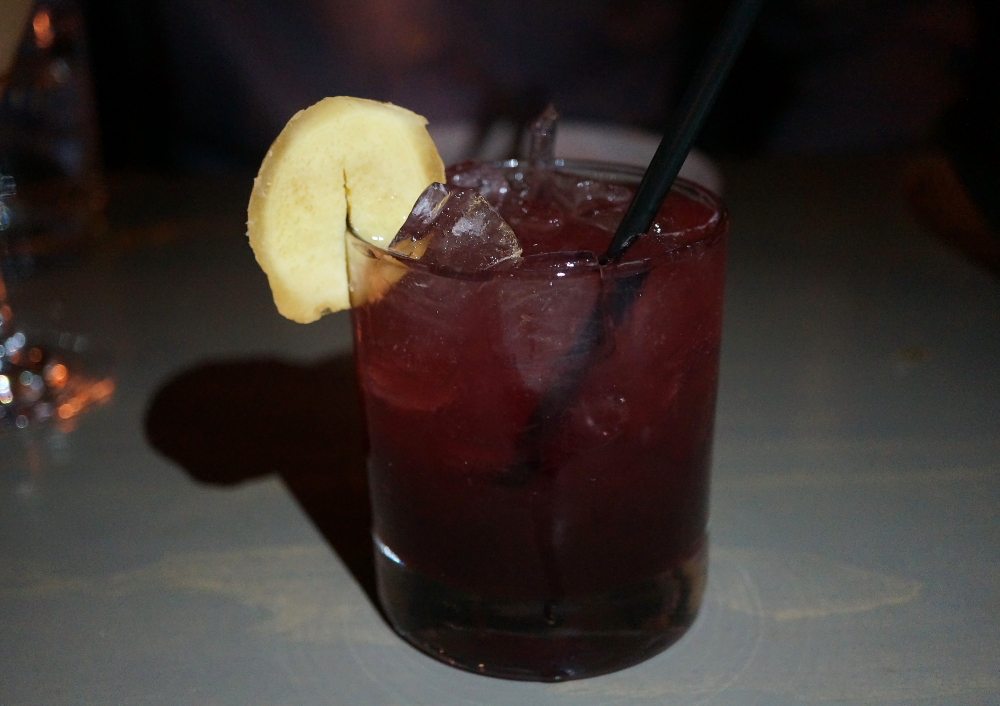 Queen St. ($12)
Rye, Lillet, St. Germaine, Cinnamon Syrup, Apple Juice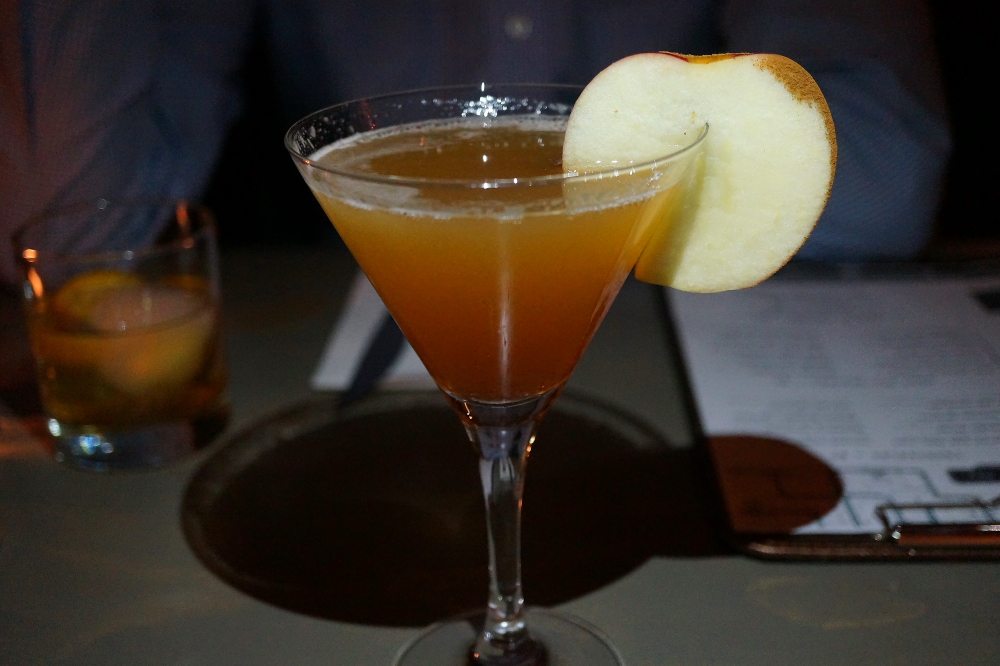 South of the Border ($12)
Jalapeno Infused Tequila, Cointreau, Lime Juice, Simple Syrup, Salted Lime Foam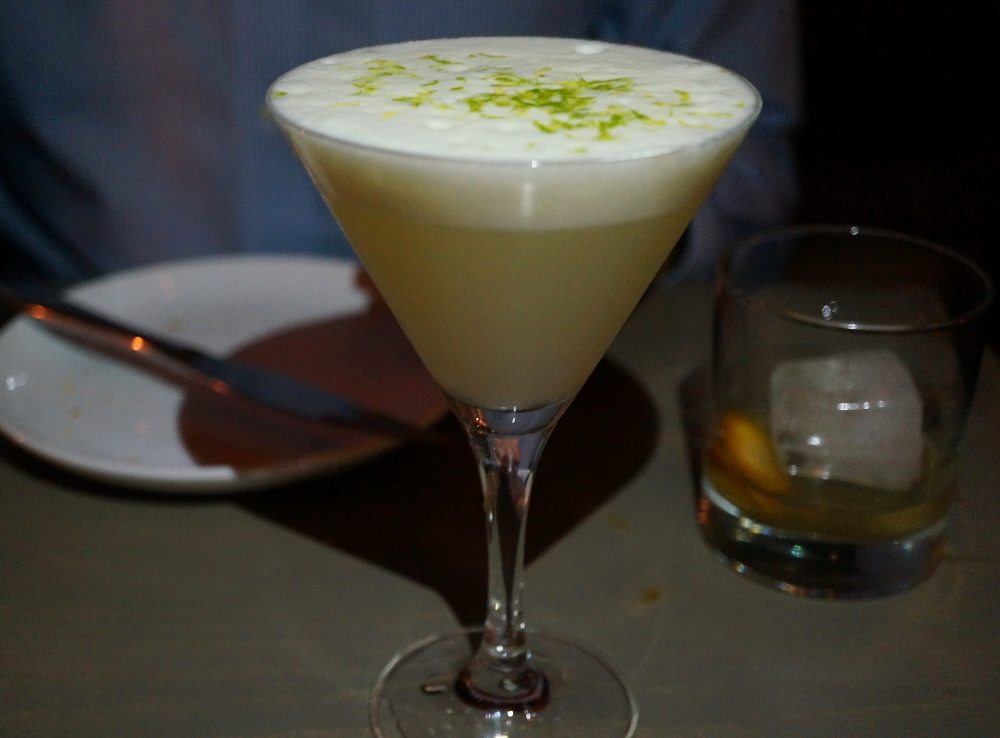 Inniskillin Riesling Ice Wine ($14)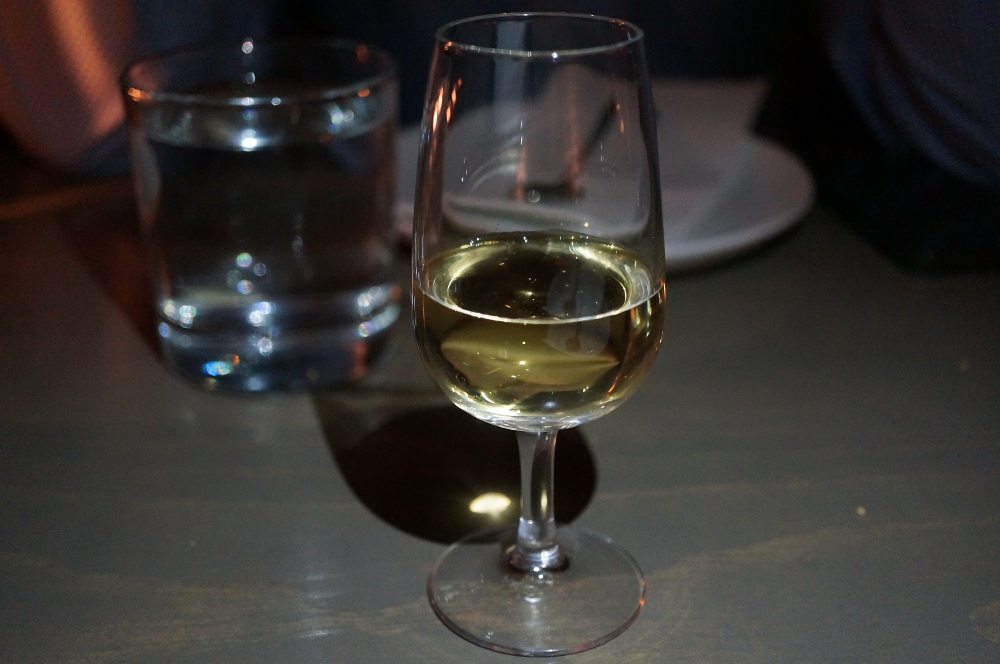 All very different cocktails, but all very tasty. The sweetest of the bunch, but surely still my favourite was the Queen St. I loved the comforting aroma of cinnamon with the sweet and acidic brightness of the apple juice- it's too bad that a drink like this has reached the end of its season. Likewise, the sprightly King St offered a satisfying balance of sweet and heat with the spicy hit of the refreshing ginger beer. And if the King St gives your tongue just a gentle buzz, the South of the Border will take it right off. Just kidding, it wasn't that spicy, but the 3-day infusion process could probably be reduced just a touch. You're want to sip this baby slow, but otherwise, it's a really fun and delicious drink. As for the evening's special, with the addition of the aromatic anise syrup, it was certainly on the sweeter side as far as Old Fashioned's go, but ultimately a very well balanced drink.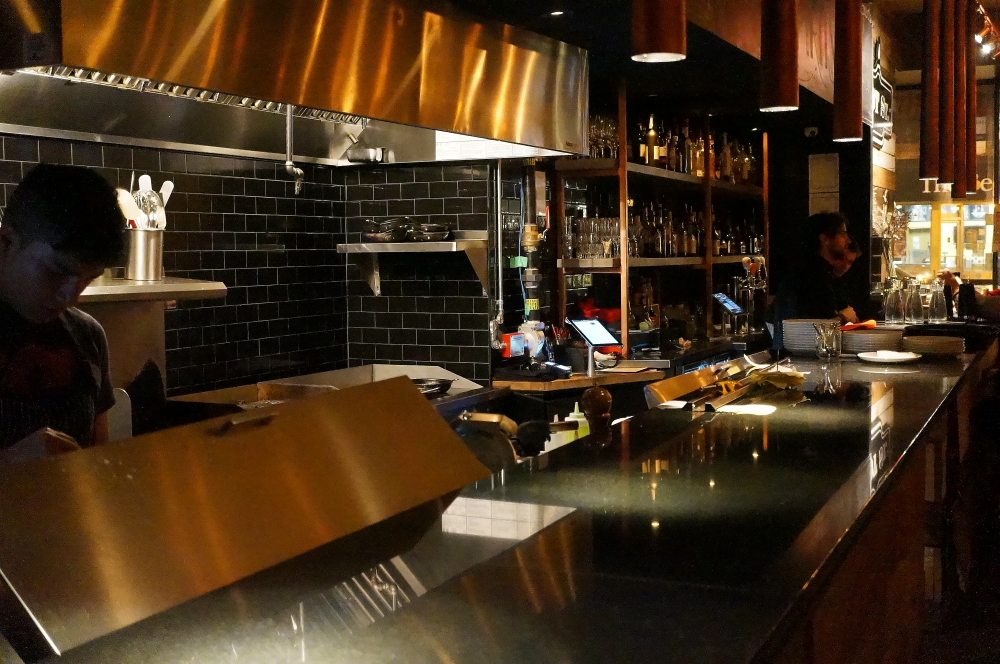 Food:
-Chef Peter Pietruniak's menu doesn't really commit itself to a single cuisine, but rather, dabbles in various comfort food flavours from around the world.  Expect to see influence from Italy, Latin America, Asia, France, America and Canada. The theme? Locally driven sharable comfort cuisine.
-The menu is broken down into Breads, Boards, Oysters, Vegetarian, Meat & Seafood, Mac n' Cheese and Poutine. They also offer a special "Let the Chef Decide" option where you let the kitchen work within your budget and preferences to create a meal.  I often just put my trust in the chefs, assuming that they will always know their menu best and choose the best dishes to represent them. Check out what we tasted!
Baked Challah ($4)
Maple Butter
Absolute heaven. The bread was fluffy and warm and that butter was addictively good- a perfect balance of sweet, savoury and luscious creaminess.
Artisanal Charcuterie & Cheese Board ($15)
Salami, Saucisson, Avignon Cheddar, Tomme de Grosse Ile, House Made Maple Mustard, House Pickled Carrots, Apple Ginger Jam, Maple Nuts
A wonderful selection of goodies served with light as air crisps. My favourite bite was the combination of nutty cheddar with the zippy apple ginger jam and the complimenting flavor of the maple candied nuts. A lovely way to start off any meal.
Shaved Carrot & Beet Salad ($7)
Havonlee Cheddar, Spiced Pepitas, Cucumber, Champagne Vinaigrette
I like my vinaigrettes on the acidic side, so this one fit the bill. While the ingredients were certainly reflective of cold weather, the sprightly flavour and crisp texture foreshadowed Spring. A great dish to balance out heartier mains.
Roasted Mushrooms ($7)
Egg, Pickled Shallots, Parsley Puree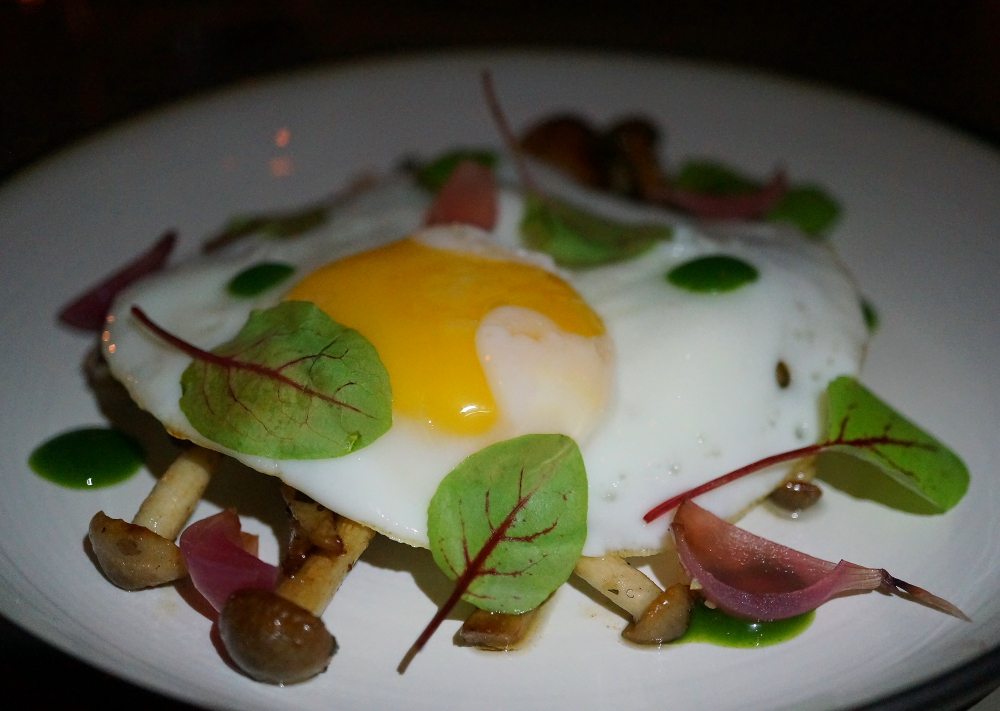 I love a good roasted mushroom, especially one that's been enveloped in luscious egg yolk. This little salad felt both naughty and nice, which is exactly how I like to eat. While I do believe that eggs love a good hit of salt, my only criticism would be that they were perhaps a touch overseasoned, Regardless, a very tasty vegetarian and gluten free dish.
Sesame Brussels Sprouts ($7)
Ginger, Chili, Garlic, Pear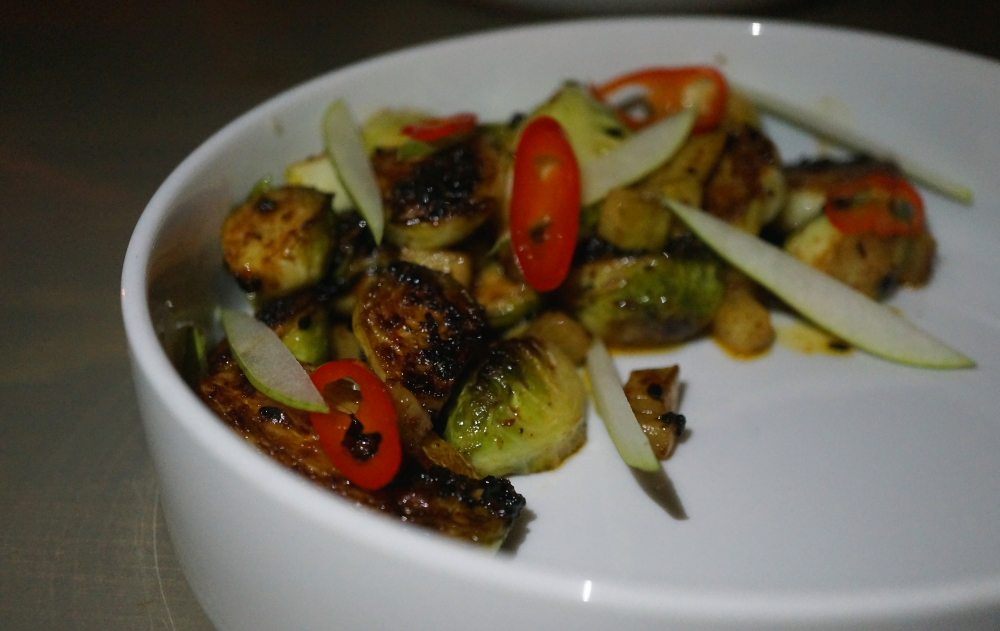 A tasty dish, but not mind blowing in the grand scheme of Brussels sprouts dishes (especially after Chef Carl Heinrich deep fried them for me at Richmond Station). I wished I could have taken a little of the salt on those mushrooms and brought it here to help amplify the flavour of the ginger and chili.  It also may have helped to have something really crispy on the plate- like some toasted nuts or fried bacon. Alas, I loved the unique addition of the cooked and raw pear to lend some sweetness and acidity to the Asian flavor profile. I will totally be stealing this concept to make at home.
Apple Mustard Lamb Sausage Flatbread ($10)
Gruyere, Pickled Onions, Maple Syrup, Granny Smith Apple, Sorrel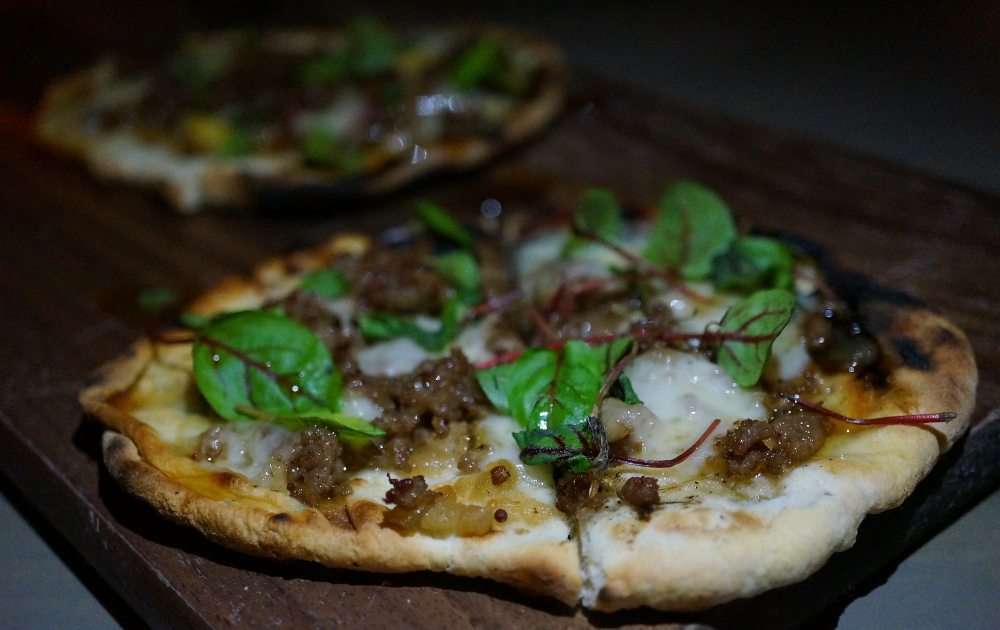 This was probably my favourite dish of the night. The flatbread was crisp but with a supple chew, topped off with a great balanced combination of spiced sausage, tangy apple, sweet sticky syrup, and salty gruyere. I absolutely would want to work my way through more flat breads at Lot St.
Duck Confit Lettuce Wraps ($8)
Kimchi, Pear, Scallions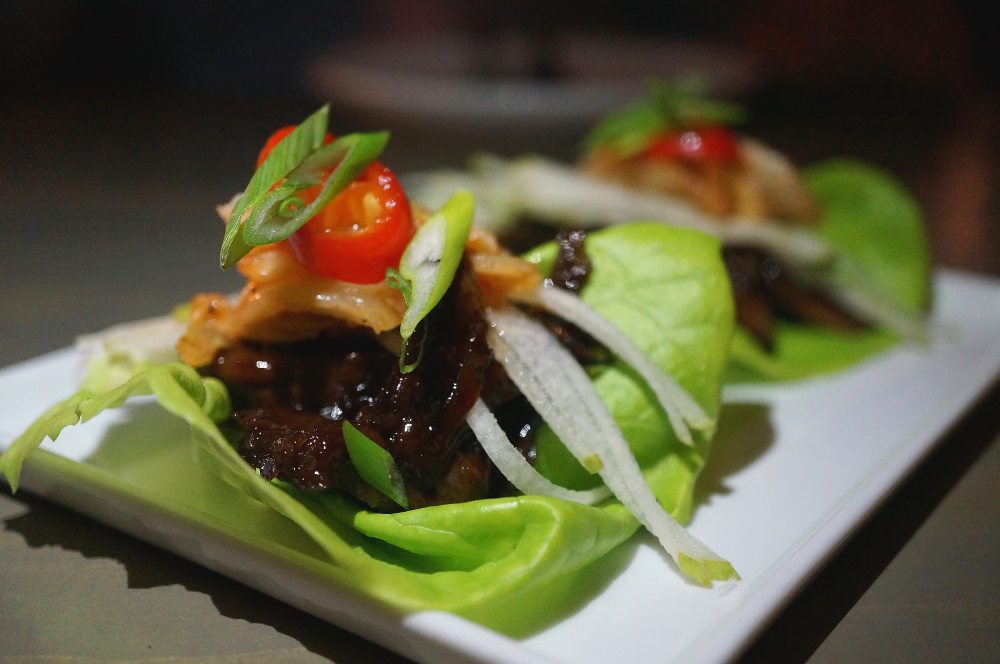 Super flavourful and meltingly tender duck tucked into a hearty leaf that miraculously held up under all those juices. As decadent as it was, the pungent layer of kimchi and sweet delicate pear helped offset it's richness on the palate. Great value in my opinion, as well.
Apple Bread Pudding ($6)
Nutmeg Ice Cream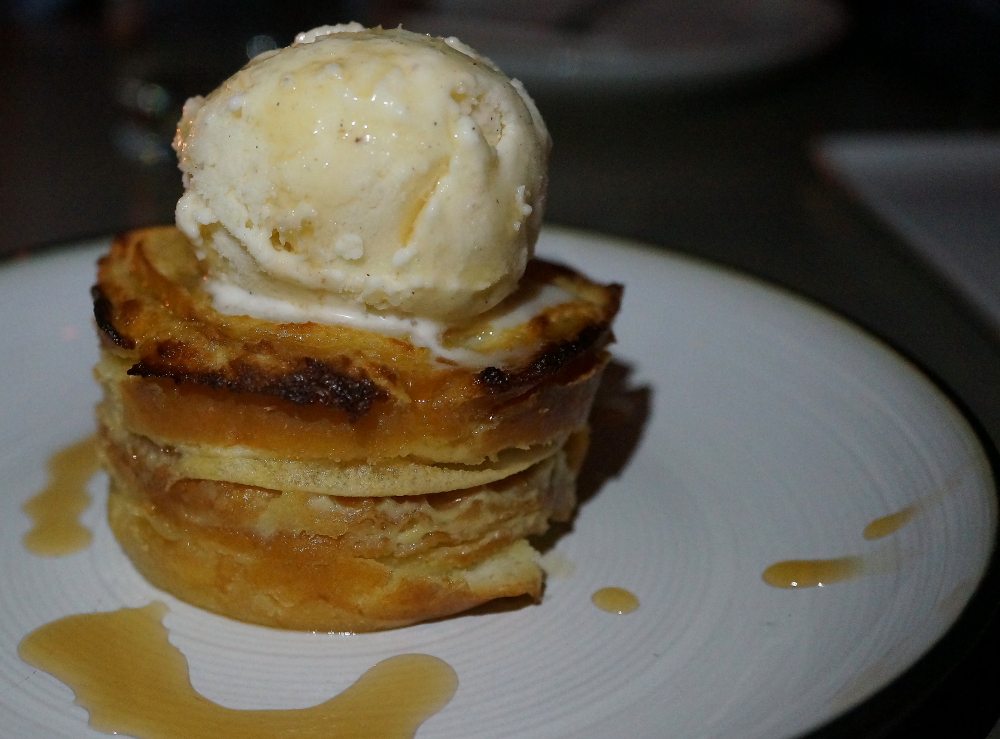 Oh yum. I am a huge fan of bread puddings, and this one was delish. It was surprisingly not too sweet, but rather, was nicely spiced with a bountiful dose of moisturizing sliced apple. While I loved the rich, creamy consistency of the accompanying ice cream, I did feel they could have pulled back on the nutmeg just a touch. The flavour of nutmeg has that "je ne say quoi" attribute when used conservatively, but against the subtle bread pudding, was a bit too evident to compete. Regardless, a very successful sweet finish at a very reasonable price.
Smores Tart ($4)
Smoked Chocolate, Housemade Torched Marshmallow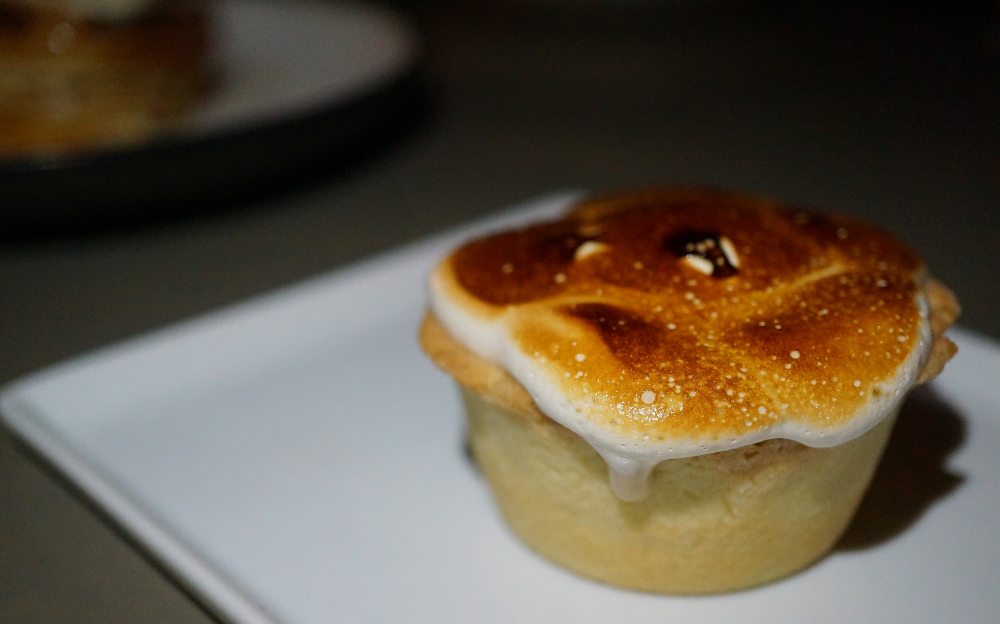 Another win for diners who don't like tucking into total sugar bombs after dinner.  While I found the pastry a little tough, the deep smoky chocolate filling was devilishly rich, while the ethereal torched marshmallow helped balance it out. A great pick for chocolate lovers.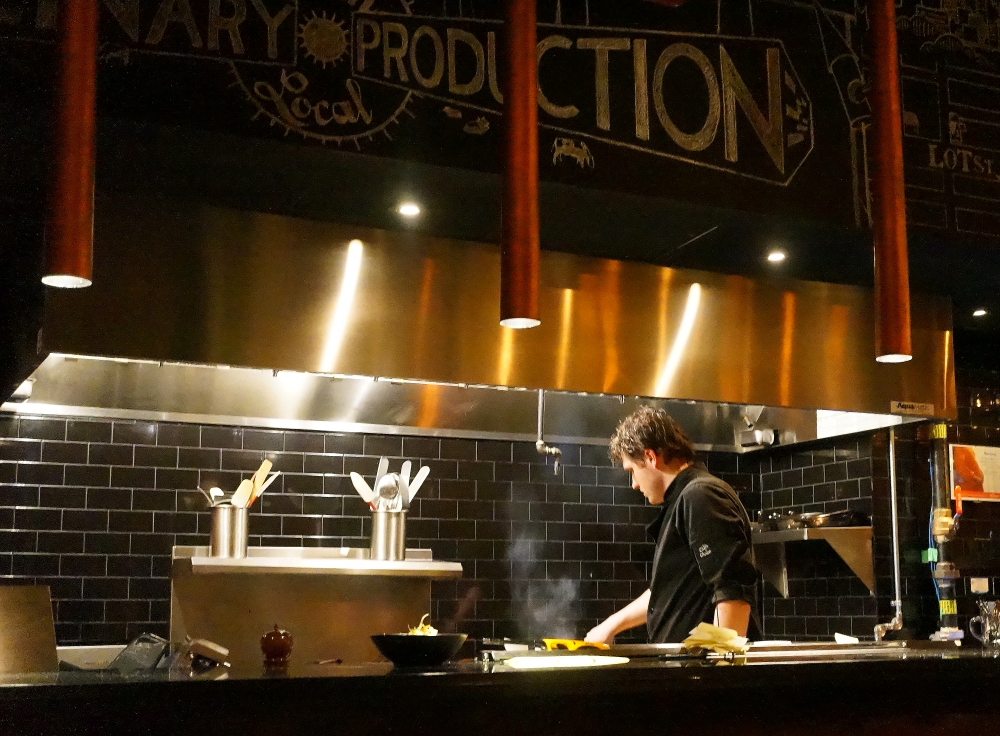 Closing Remarks:
-For 9 dishes, 4 cocktails and a glass of ice wine, the bill came to about $165 including tax and tip. Considering the amount and quality of food and drink we had, I thought it was a pretty fair price.
-Overall, I really enjoyed my meal at Queen West's Lot St. The food was solid and playful with lots of items I'd come back to try, the cocktails were across the board my style, the service was friendly and efficient, and the space itself exuded sex appeal and playful buzz.
-With the focus on approachable flirty food and shareable dishes, Lot St would make for a fabulous date destination, or a casual night out with friends. This is absolutely the way I like to dine.
-I am definitely looking forward to seeing the upcoming Spring menu go up, and checking out how that changes the comfort-food focus we see with the cold-weather fare.
-Tell me friends, have you been to Lot St. yet? If so, what were your favourite dishes?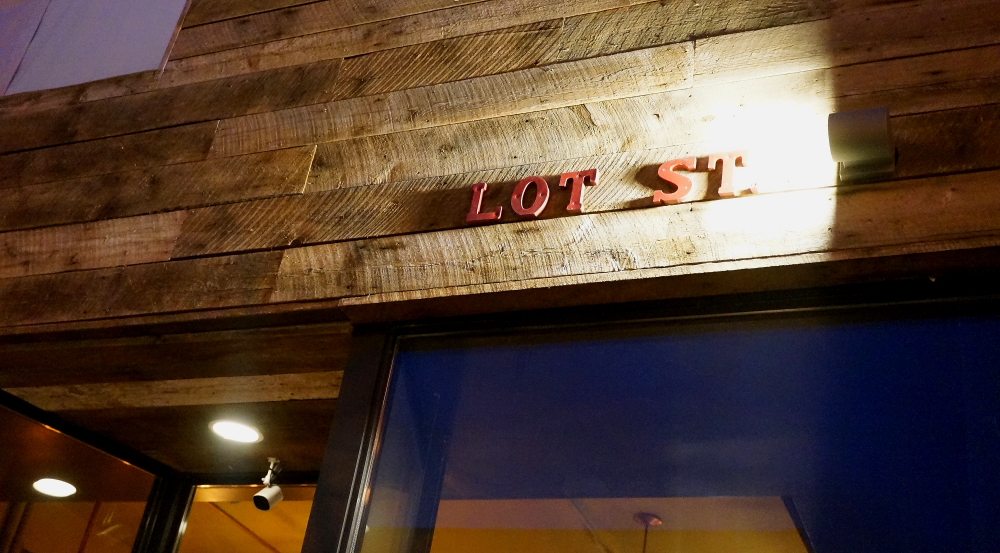 Disclosure: The food featured in this post was complimentary, however, as always, all opinionsa are my own.