Meson Egues Opening Remarks
-Owned by Chef Fermin, Meson Egues is a local Logrono gem, famous for operating in the same space for nearly 30 years and for its simple hearty meat meals. Since we were staying in Logrono, it was a no brainer to make a reservation.
Meson Egues Ambiance
-A simple tavern look decorated with linen-covered tables, low ceilings, old-school wooden chairs, cappuccino-coloured stucco walls and dark wood trims. There are multiple old faded photographs on the wall of the chef with various patrons. I'm not honestly sure if these were supposed to represent celebrities (I wouldn't know a Spanish celebrity from a regular), but it seemed like that kind of institution.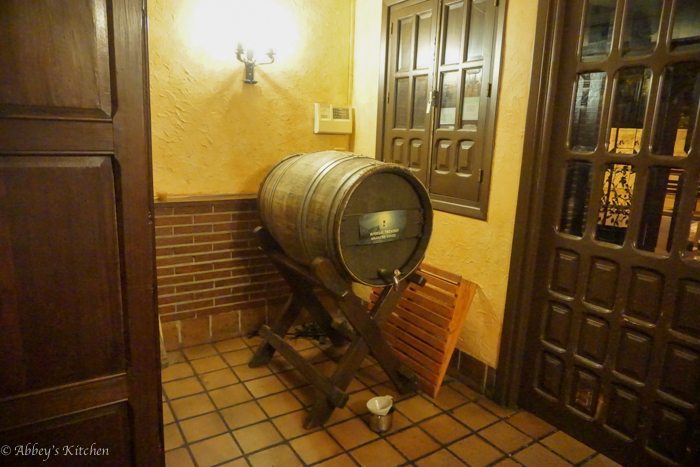 -When we arrived at Meson Egues at 9:30 PM on a Thursday night, the place was completely empty- which made me a wee bit nervous about my choice. But we sat down anyway as I didn't want to offend anyone if we walked back out of an empty restaurant. Soon after, one other table was filled and another a couple sat down at the bar but still, with so few patrons, the restaurant was eerily quiet with some strange operatic music playing gently in the background. Not my preferred ambiance, but it's slim pickings in a small city like Logrono.
Meson Egues Service
-Service was very friendly from the moment we walked in the door. Our server spoke enough English to get us by, and was very patient in communicating the menu options with us.
-Despite the very casual setting, our side plates and cutlery were replenished between courses and our server even pushed an extra table together with ours give us a bit more room.
-The meal moved at a very good pace – we were in and out in hour, which got us home (for once) in good time.
Meson Egues Drink
-The restaurant offers a few dozen very affordable local wines with prices as low as around 20€ per bottle.
-He went with the house wine- a Marques de Riscal white, while I opted for a very delicious Gin & Tonic. They didn't have my favourite Nordes gin (a Spanish-made spirit), but whatever they used worked out just fine.
-The small meat and fish-centric menu at Meson Egues is grilled and seasoned simply to highlight the quality ingredients. Portions are typically quite big so our server offered at times to do half portions wherever possible.
Chorizo (6€)
The best part of the meal. The mild sliced sausage was wickedly juicy on the inside and crazy crispy on the outside- I dream of this chorizo.
Peppers with Acorn Fed Imberico Ham (4.50€)
The sweet roasted peppers were nicely balanced by the salty high quality ham. My only criticism was that I thought it was a shame to douse it in so much olive oil, as the flavour of the oil overshadowed the beautiful ham.
Piperrak with Ham (6€)
Again, far too oily but I loved the spicy smoky charred peppers with the deliciously salty ham.
Ox Chop (21€)
Served on a hot grill and cooked to a perfect rare, the meat was flawlessly seasoned, impossibly tender and deeply flavourful. Lots of fat, yes, but it was easy enough to remove.
Ox Burger (10€)
Served sans bun (which was fine by me), the burger was all meat, cooked to a pink medium and had a nice amount of fat. I found the onions a bit too greasy but the fries were deliciously light and crispy- almost like a mix between a potato chip and a fry.
Closing Remarks:
-For 1 glass of wine, 1 cocktail, 2 bottles of still water and the above food, the bill came to 70€ ($95 CAD) including tax and tip – super affordable considering how much quality meat we enjoyed.
-While I did find the atmosphere a little less than inviting (maybe even a bit creepy), the food was solid and the service was good, so I would recommend Meson Egues if you are staying in the heart of Logrono and looking for a quick casual meal outside the pinxtos strip.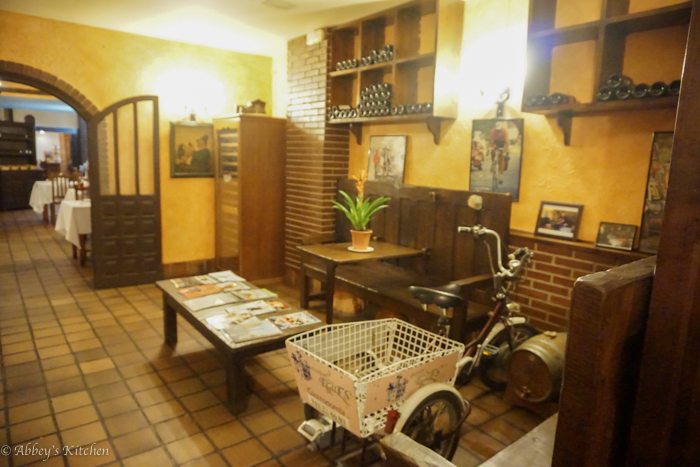 Updated on March 16th, 2016