Opening Remarks:
-Since it opened in the Spring of 2012, Oxheart has remained one of the most sought after reservations in Houston.
-They were a James Beard semi-finalist for Best New Restaurant in 2013 and Pete Wells from the New York Times called it "one of the growing number of places around the country that are rearranging our notions of what fine dining means." That is, Oxheart is more than just a meal. It's considered a vibrant dining experience.
-It's a husband-wife team here, which in my experience, always means there's love in the food, owned by wife and baker, Karen Man and Executive Chef Justin Yu. Yu previously worked at the vegetarian haven, Ubuntu in Napa Valley where my partner and I visited years ago back when we started dating. This was literally like 6 years ago, but I still can remember the watermelon gazpacho and deconstructed potato salad we enjoyed on the patio of a stunning day in wine country.
Ambiance:
-Located in the Warehouse District of Houston on the north end of downtown, the location is what I'd describe as hipster with a side of seedy charm- right next door to a tattoo parlor that glows in the dark.
-The décor is reminiscent of a warehouse studio with floor to ceiling windows, brick walls, wire and exposed filament bulb light fixtures, and clean white walls.
-One of the defining features of Oxheart's décor is the collection of Japanese Lucky Cat dolls with their paws in the air. This is a common feature in small businesses as it apparently symbolizes financial success (it's as if the cat is throwing cash towards the owner). Here, it's taken to a whole other level, with a doll on nearly every table, nook and shelve. If you're really paying attention, you will even notice them staring into the windows from the planters outside.
-The dining tables seem repurposed, rustic and imperfect, while even the front door outside is a bit tarnished, scatched and old. It reminds me of a rusty door you'd find in a magical garden hidden behind a wall full of vines. My favourite features, however, are the cutlery drawers within each table which hold a selection of cutlery that diners can replenish for themselves between courses.  Obviously, there is no shortage of eclectic charm going on in a place like this.
– There are only about 30 seats, 11 of which overlook the bustling open kitchen, and none of them are easy to grab. Word to the wise- I had to make my reservation a few months before to secure my spot.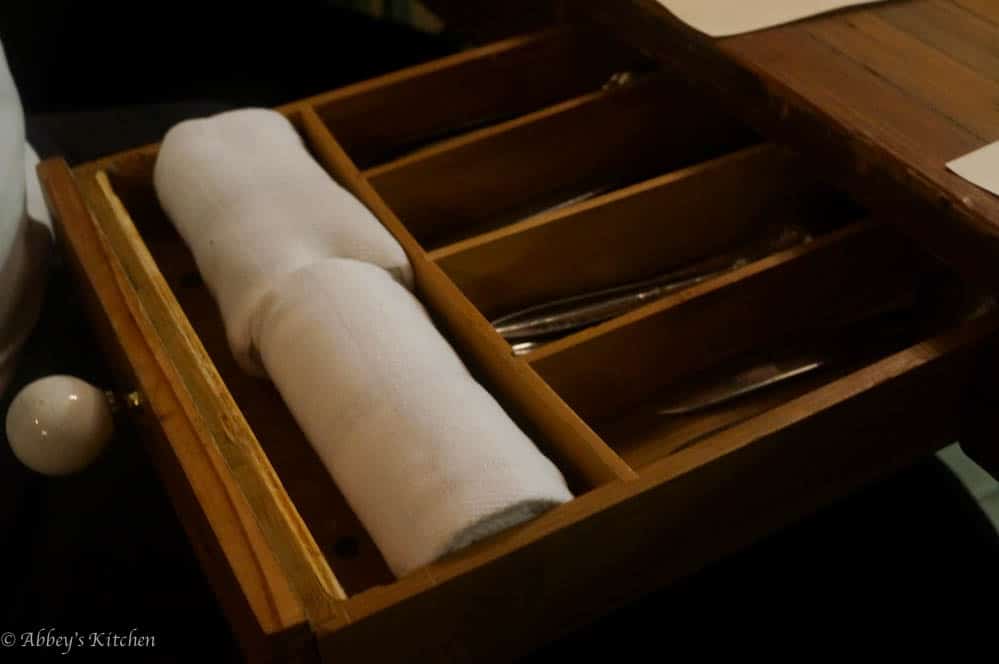 Service:
-With a server: diner ratio of 1:10, you can bet things will run fairly smooth. In fact, this was some of my favourite service in my restaurant-dining career to date.
-Our server, a sprightly sassy gal, had more gastronomic knowledge than most culinary grads I know. You can tell she was so passionate about every dish, every ingredient, every wine that she would bring, and while she obviously had no part in preparing the food, it was as if that passion almost permeated the plates. I found myself wanting to learn more and more, and she was happy to hang out and chat.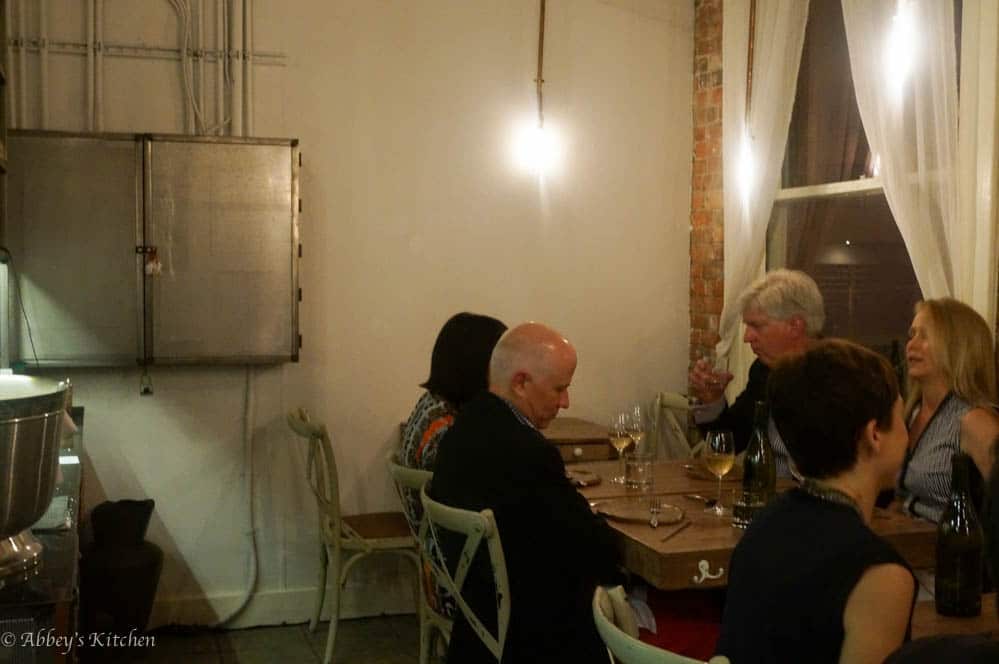 -From a professional level, everything was spot on. Dishes and cutlery were removed on cue, drinks were presented before each course, dishes were explained in great detail, and the timing was comfortable and well paced. We got through our 7 course meal in about 2 1/2 hours, and lingered chatting with our dining neighbours for a little while. Never were we rushed, never were we bored- it was literally as comfortable as a meal can be.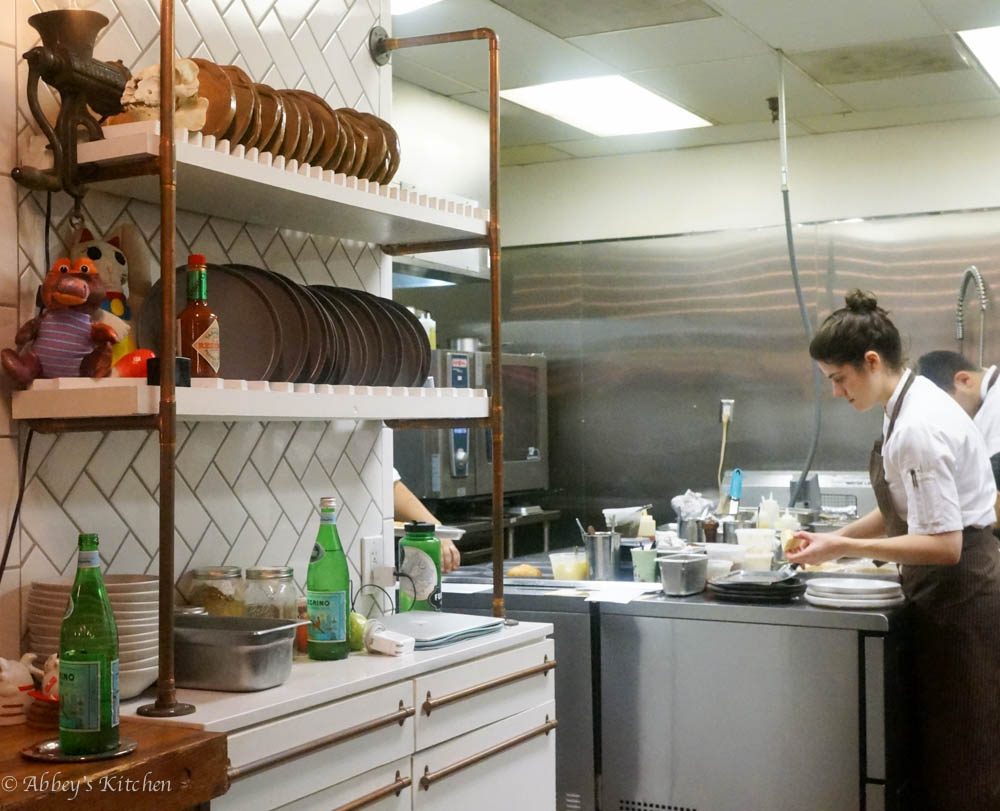 Drink:
-To pair with the tasting menu options, Oxheart offers drink pairings at $35 (for 4 courses) and $45 (for 7 courses). Those wanting to drink a la carte can opt for one of three International beer bottles ($9-14), or about 30 International wines by the bottle ($55-270).
-My partner opted for a very well thought out flight of drink pairings (which worked out to 5 x 1/2 glasses total), while I went with a glass of the Ametzoi "Rubentis", Hondaribbi Beltcha, Spain (2013) for $14 and later the Domaine Ciringa Sauvingnon Blanc from Slovenia (2012) for $15. We both agreed that the wine pairings were very appropriate and did not overpower the subtleties of Yu's food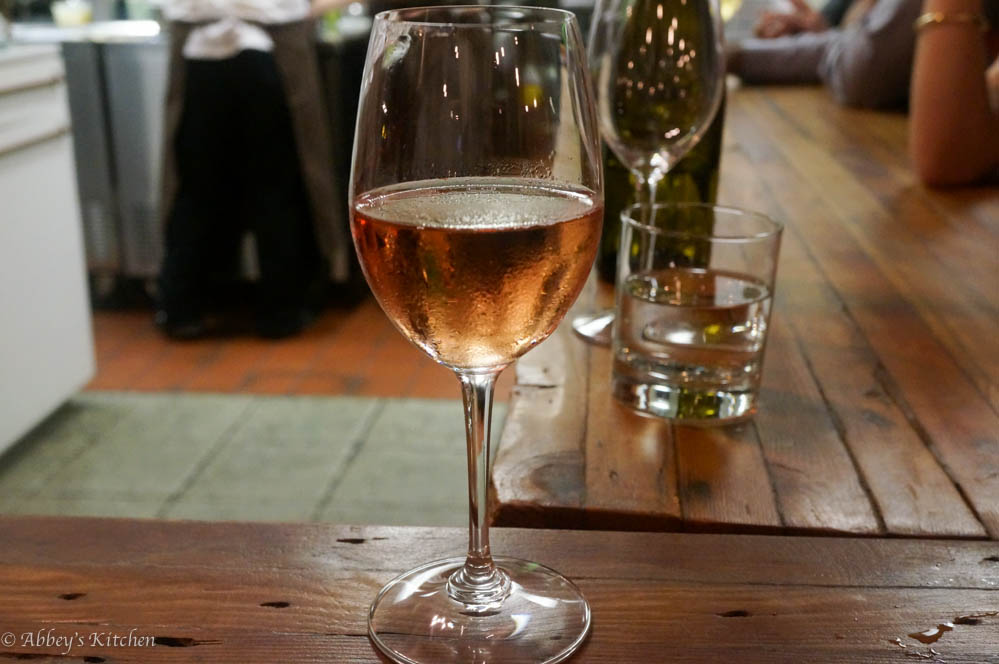 Food:
-Chef Justin Yu has developed three different tasting menus for diners, each of which pay close attention to seasonality and local product. He offers a Spring Menu (4 courses, $49), Garden menu (4 course veg menu, $49) and the Tasting Menu (7 courses, $79). The beautiful thing about this is that the same tasting menu isn't required by all parties, allowing room for lots of sharing and a greater range of bites.
-Even in the non-vegetarian menus, you can see a real inspiration out of Yu's work with local produce. From honey poached carrots, to kale stews, to spring onions cooked in milk and butter- Yu demonstrates the hedonistic craveworthy pleasure inherent in wholesome cuisine.
-We both opted for the 7 course Tasting Menus, which included the following dishes.
Sour Strawberries with Green Tomato Dressed in Malaysian Flavours, with Celery Root and Raw Om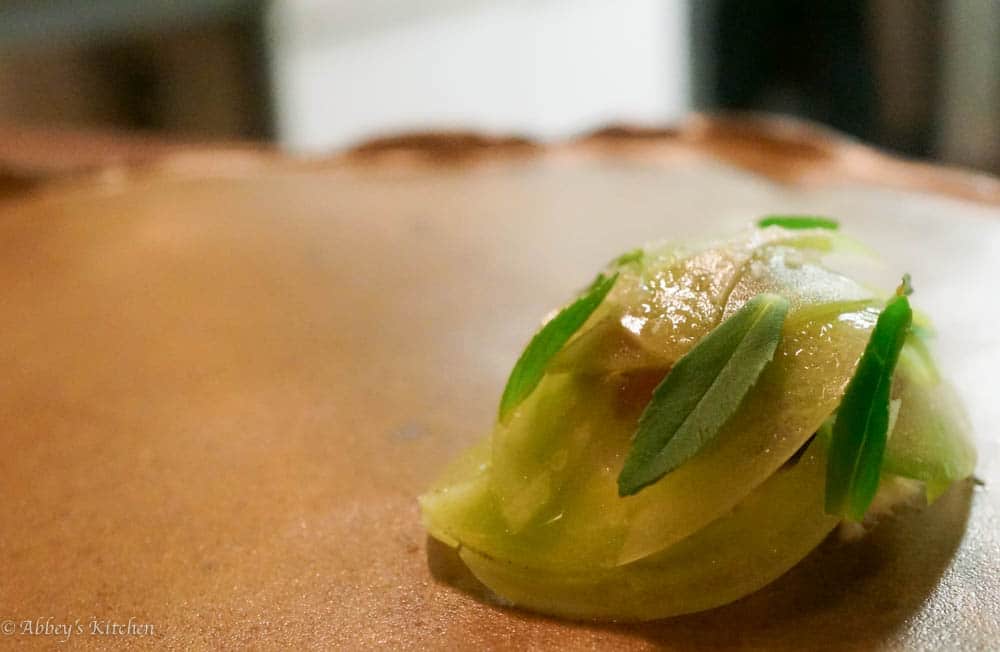 The bright strawberries and delicately shaved green tomato were balanced by the aromatic creamy emulsion of the celery root and coconut milk. A beautiful first course.
Spring Onions Warmed in Milk and Butter, with "Syrian" Oregano and Breadcrumbs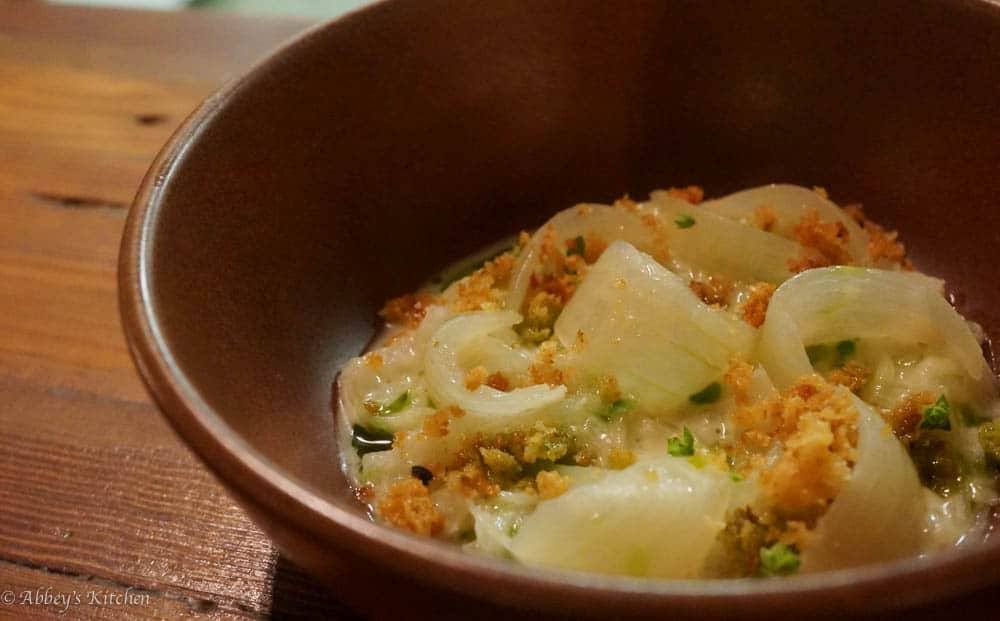 It's incredible how something so simple can be so sensually inviting. The onions were cooked without any caramelization or colour, but were sweet, soft, comforting and a contrast with the crisp texture of the nutty breadcrumbs. Heaven.
Sourdough with Sprouted Kamut and Whipped Butter
I try not to OD on bread, but these warm crusty pillowy rolls were certainly worthy of an exception.
Gulf "Almaco" Jack Smoked Over Mesquite, with Collard Greens, Mustards and Pickles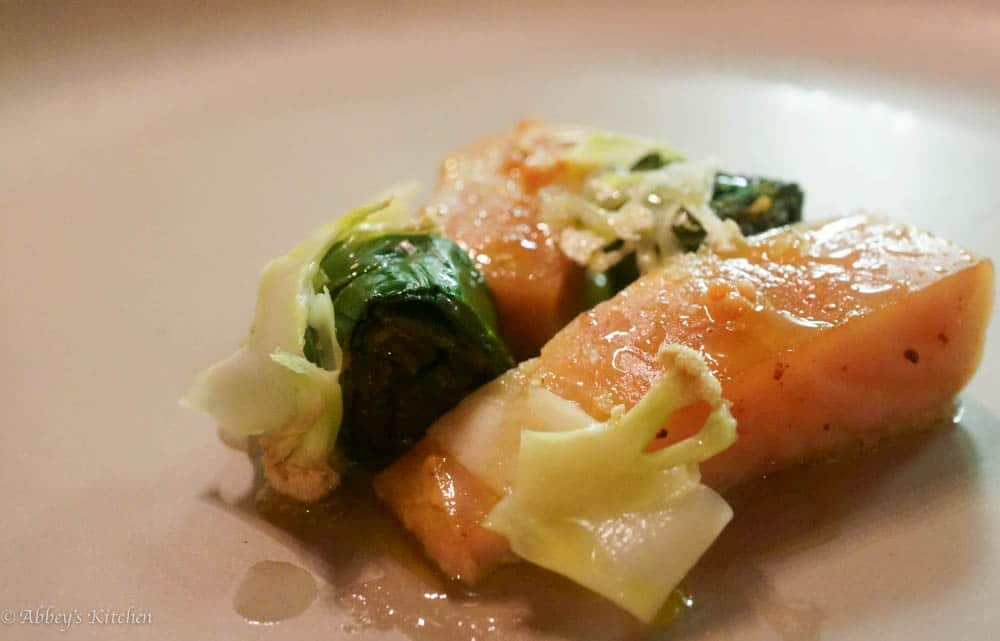 A beautifully cooked fish glazed in a sticky syrup to contrast the bitterness of the sunflower seed "butter" wrapped in collard greens and the spicy mustard.  This made for a nice savoury progression from the mellow flavour of the previous dish.
"China Black" Rice Cooked in Pork Fat, with Fermented Green Garlic, Toasted Nori, and Cured Gulf Blue Runner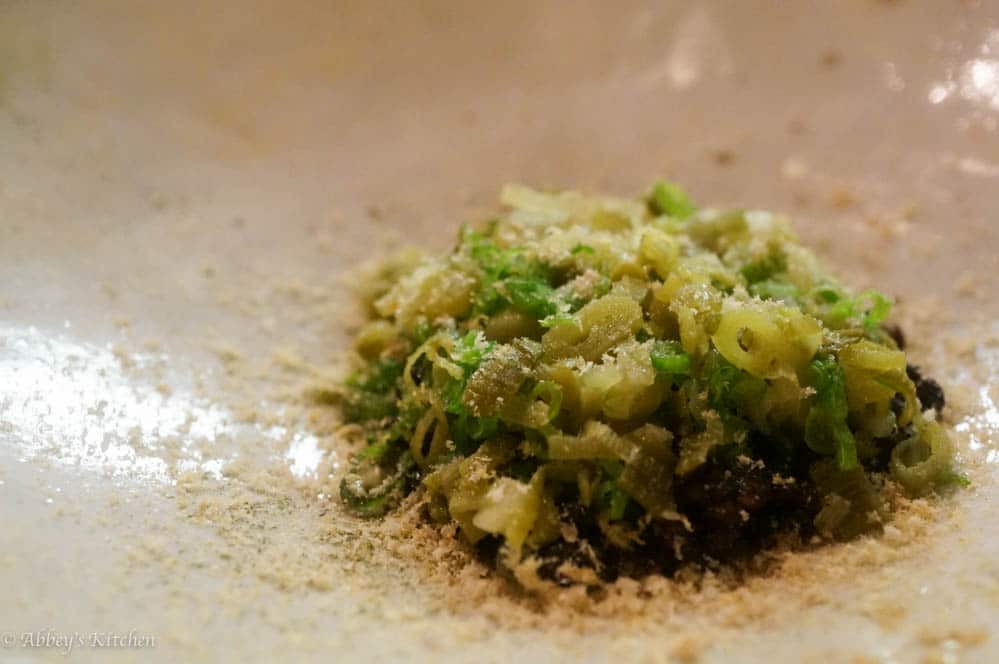 The rice was cooked perfectly al dente, while the addition of pork fat lent a sweetness reminiscent of dried fruit. This of course helped balance out the umami rich fermented garlic, seaweed and the salty shaved cured fish.  A dainty portion, yes, but it was exactly the amount any one would want of something so deeply flavoured.
Roast Sirloin of Texas Grass Fed Beef and Saucisse de Boeuf, with Beets, Calamansi and a Sauce of Dried Offal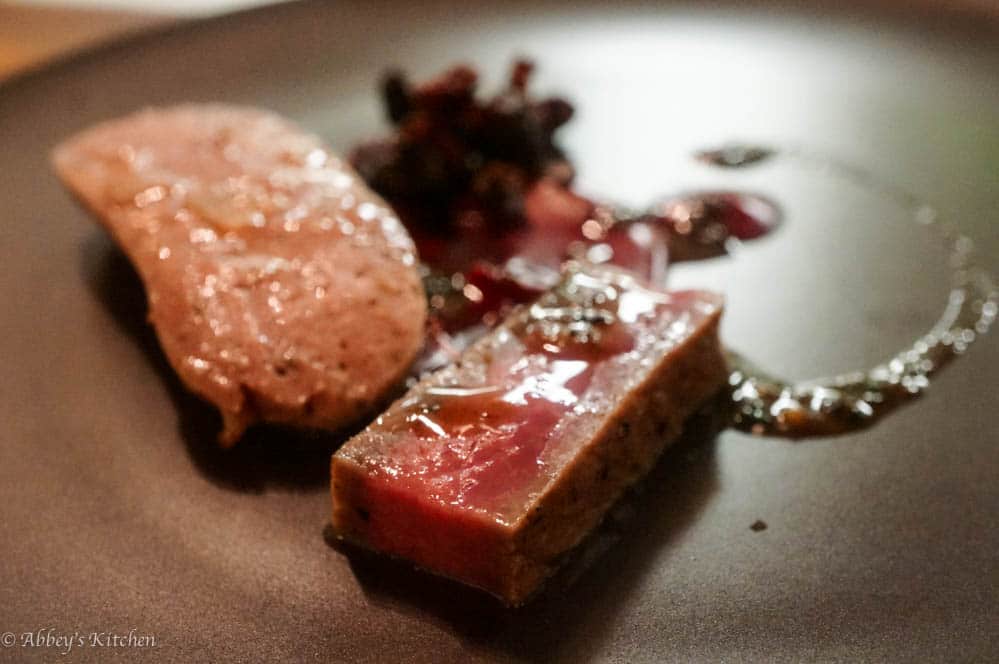 Of the two proteins on the plate, the hands down winner was the sausage which literally dripped with succulent juices in every bite. The sirloin, in contrast, was flavourful, but a bit chewy for my taste, albeit a nice lean counterpoint to the fatty sausage. Having said that, both proteins just paired beautifully with the sweet beets and the bright calamansi sauce.
Stew of Fermented Vegetables and "Winterbor" Kale, with Braised and Crisp "Lacinato" Kale, Horseradish Dumplings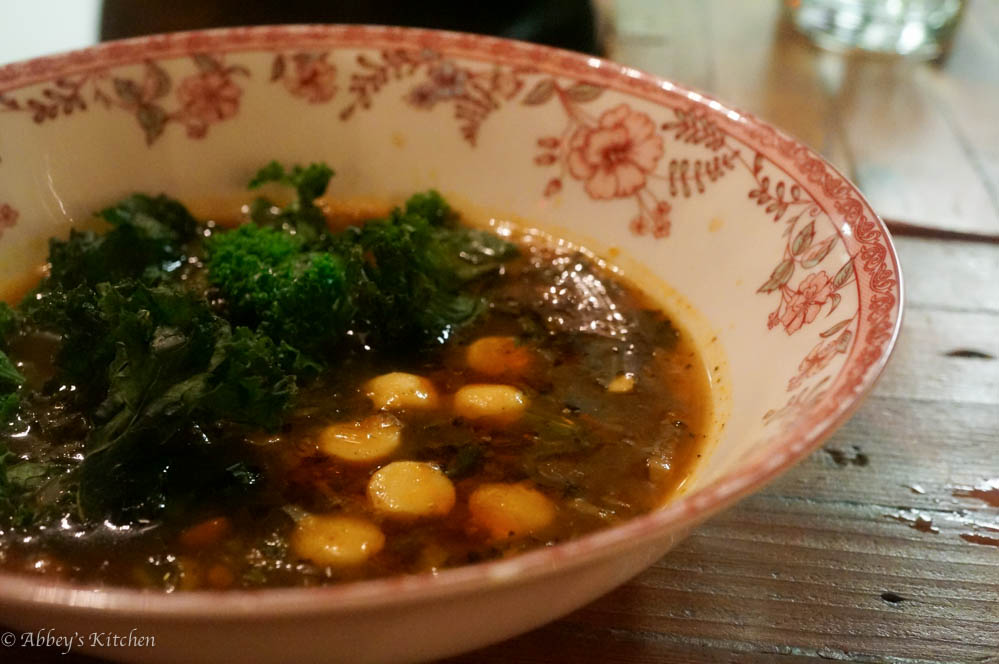 I'm admittedly one of the only dietitians in the world whom could care less about kale, but this dish here definitely changed my mind. I wish I could find the words to describe how deeply satisfying this stew really was. The contrasting textures of crispy kale, pureed kale, and pillowy dumplings were made even more exciting by this remarkable brightness from the fermentation. I literally could eat this dish every day and likely not feel deprived of pork belly, cheese, or cake. Well, okay, that's a dietitian lie.
Carrots Poached in Honey, with Honey Cake, Cream Cheese and Coriander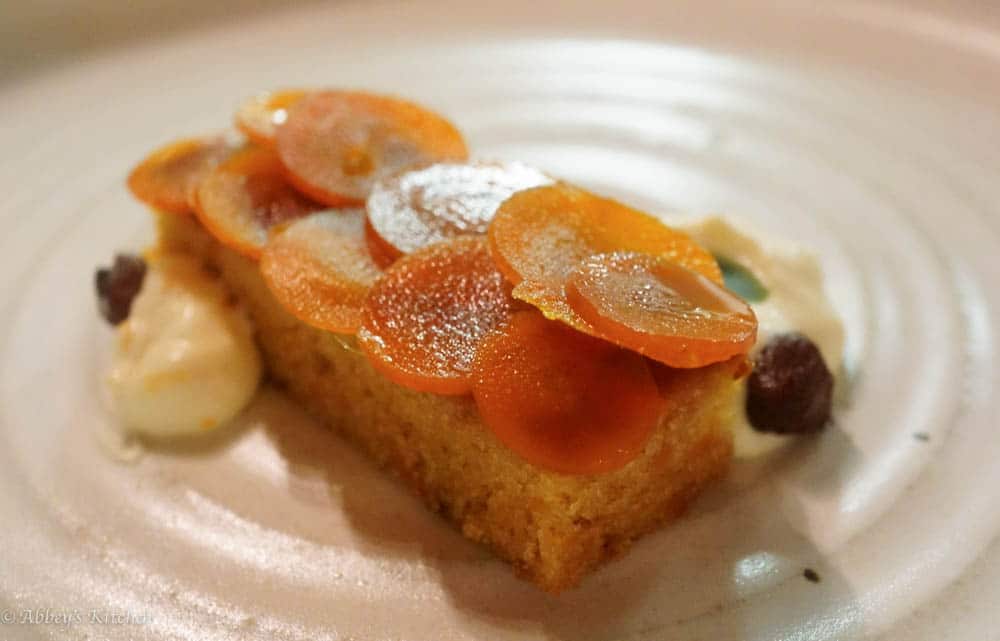 Even with dessert, Chef Yu finds a way to work vegetables in and my goodness, is it ever good. The carrots were naturally sweet, and retained just a perfect amount of bite to contrast the sponge-like texture of the honey cake. I also appreciated the mild hit of refreshing coriander jus to balance the sweet, creamy, tangy cream cheese whip. A lovely way to end a stellar meal.
Shortbread with Fennel Ganache
A final bite to bit adieu to Oxheart (for now). Remember Dunkaroos? Consider these little babies the grown up variety. Hell yes.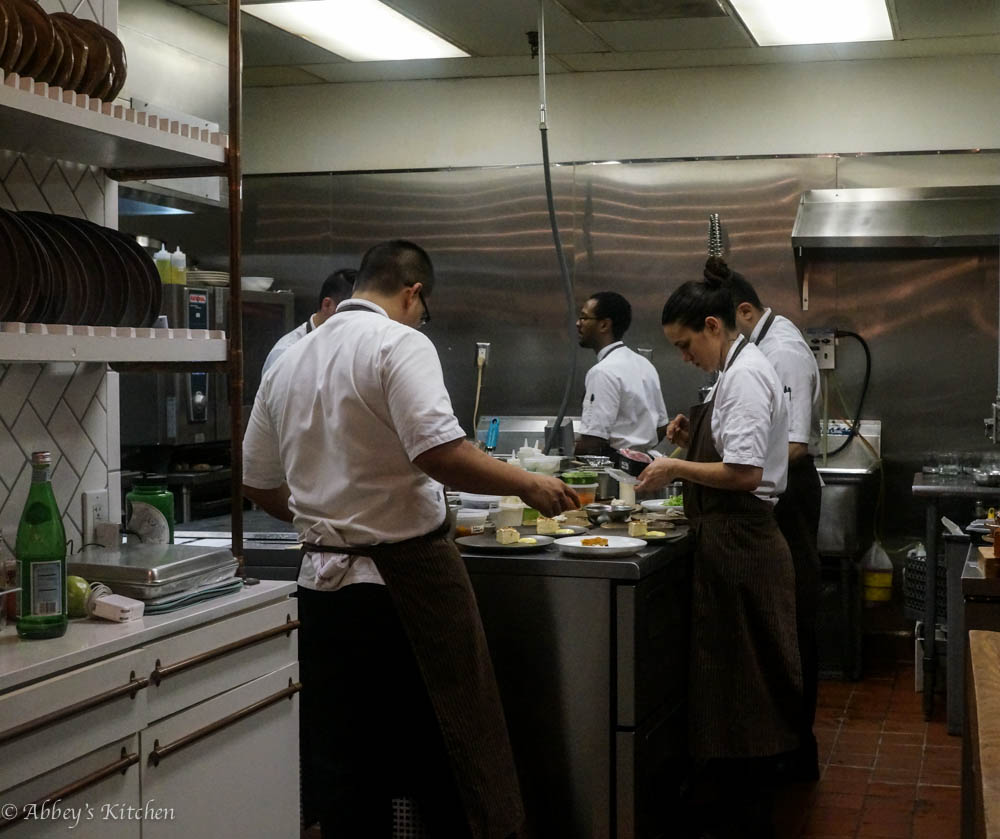 Closing Remarks:
-So for two tasting menus, one wine pairing, 2 glasses of wine, 1 bottle of Sparkling water and 2 teas, the bill came to $315 including tax and tip. In my opinion, while the price tag may not scream "value eats", this is one of the best meals for the money I've probably ever had. The food was light, yet comforting. Thoughtful, yet approachable. And every single bite was fantastic. There isn't really much for me to critique. Likewise, the service, as previously mentioned, was impeccable to say the least, and the ambiance was totally my style.
– I would highly recommend Oxheart to Houston locals and tourists, alike and would certainly return for another meal if I get the chance.
-Reservations are available online but are admittedly tough to get, so be sure to plan well in advance to avoid disappointment.