Opening Remarks
-Paesanos was opened by Peter McAndrews and his partner Nathan Baynes after McAndrews grew tired of having to add "gusto" to other sandwich shop offerings.
-Paesanos is located in the heart of Philly's Italian Market, and has been regarded by many as having the city's top Cheesesteak and Roast Pork.
-Apparently, the folks at Food Network and CNN thought the same, considering they were featured on Bobby Flay's Throw Down and the Layover with Anthony Bourdain.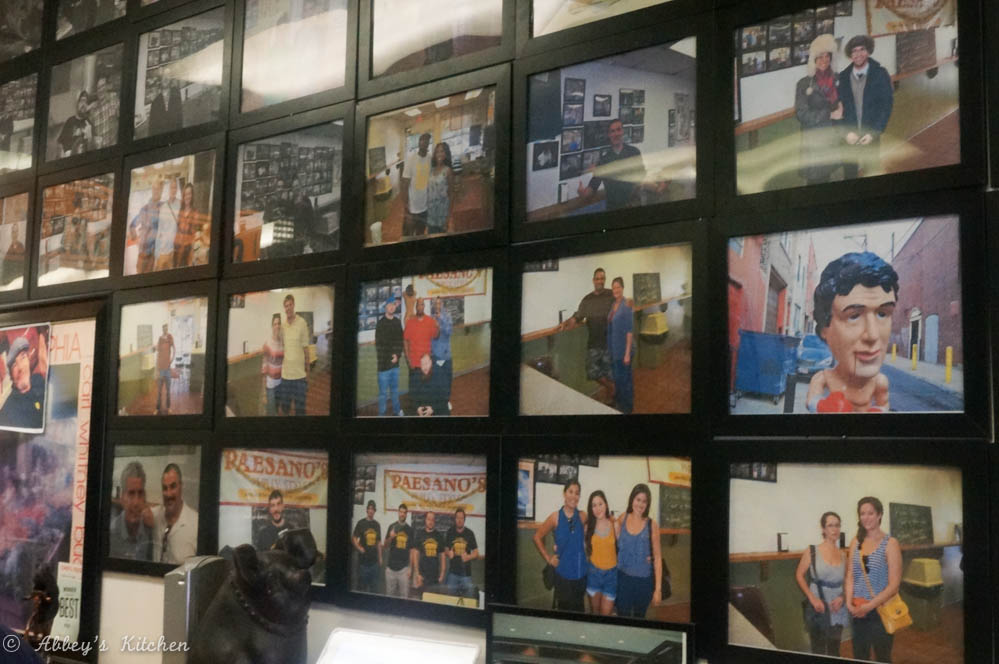 -They have also been awarded an endless list of tasty accolades including Philly Magazine's best sandwich shop (2009), Bon Appetit's top 3 dishes under $10 in America (for the Arista), and the best Italian Hoagie in Glen MacNow's Ultimate Italian Hoagie Hunt in 2009.
-In addition to the popular South Philly spot, they also have two other locations – one in Northern Liberties and one in the Lincoln Financial Field.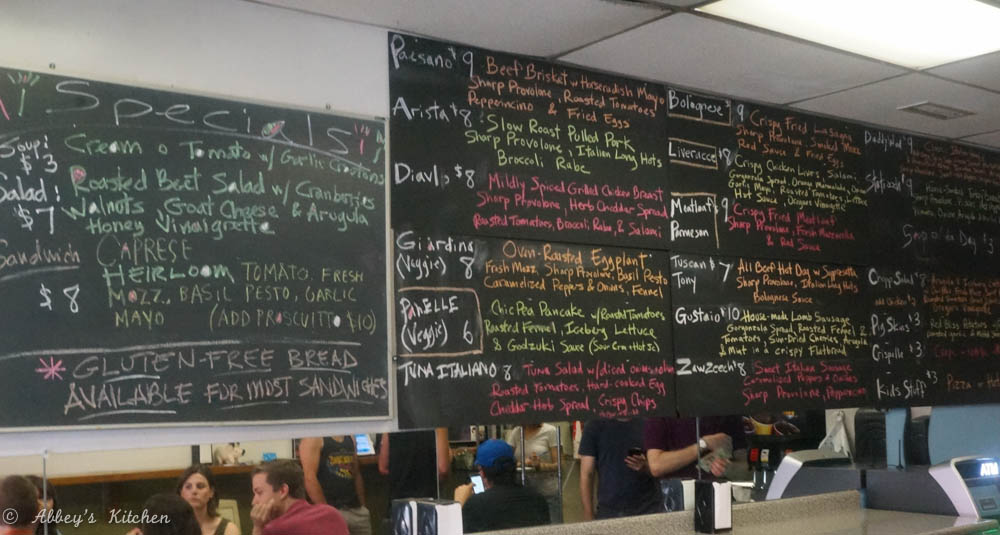 Ambiance
-Paesanos is without a doubt what Guy Fieri would call a dive. There are about 4 wooden deuces set with beaten up padded chairs and a half dozen or so bar stools along a dingy mirrored wall.
-Any non-mirrored space is adorned with photographs of customers and celebrities, the most noteworthy to me being culinary bad-ass Anthony Bourdain.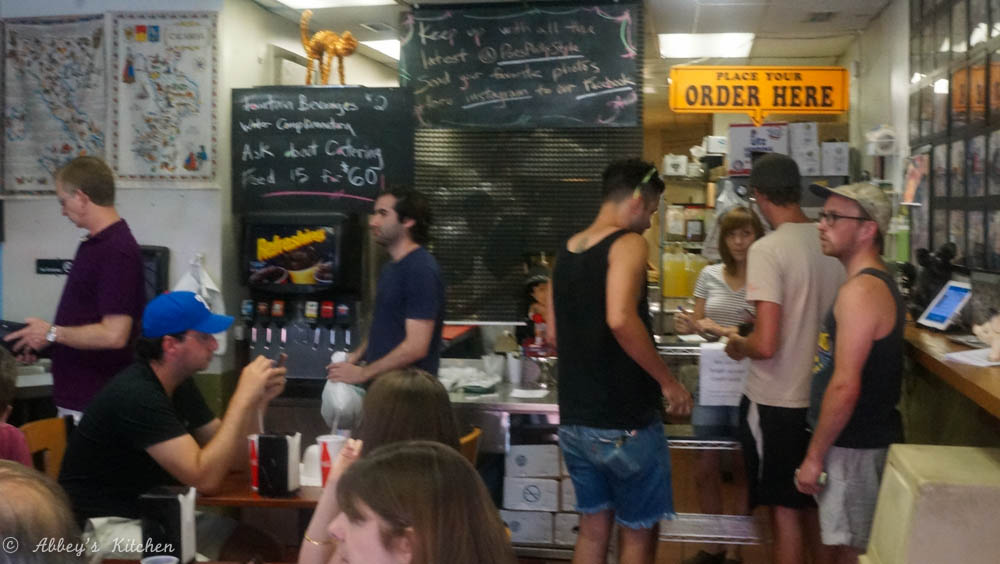 Service
-To order, you walk up to the lady who stands casually behind a table inside the kitchen, who will take your order on a basic pad of paper and hand it to the cooks.
-You help yourself to fountain soft drinks, plastic cutlery and straws, and can settle into one of the deuces while you wait.
-It only took about 5 minutes on a Sunday at 1 PM before our order was up, so it's a perfect option for hungry folk in a hurry to eat.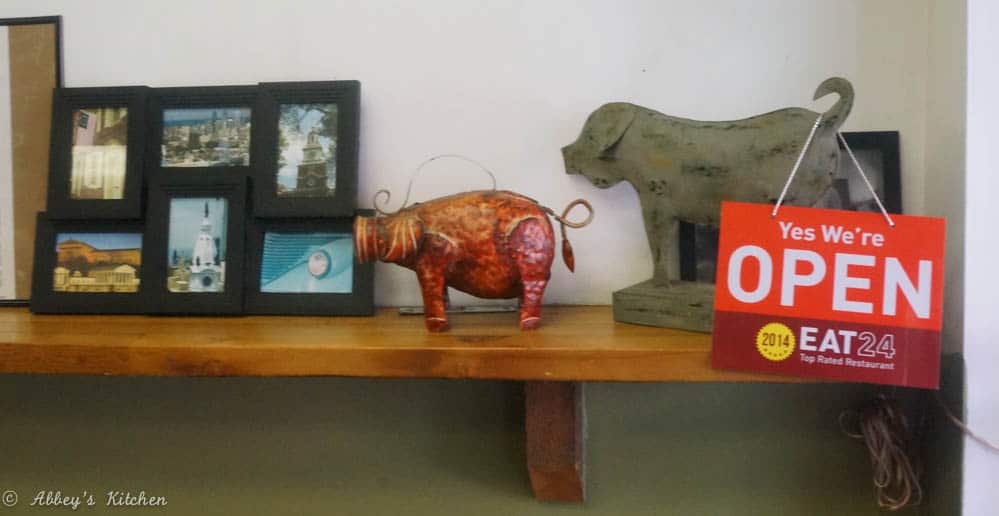 Drink
-No booze or fancy-pants bottled soft drinks here, just a half dozen bargain brand pops at the serve-yourself fountain station. They had Rite Cola, Diet Rite, Stewarts Orange, Stewarts Root Beer, TEKO lemonaid and some mysterious Black Cherry Wishniak without a logo. I don't think I've had Rite Cola since I was a kid when we could get it for 50 cents at No Frills, but it was, as I remembered it, just okay.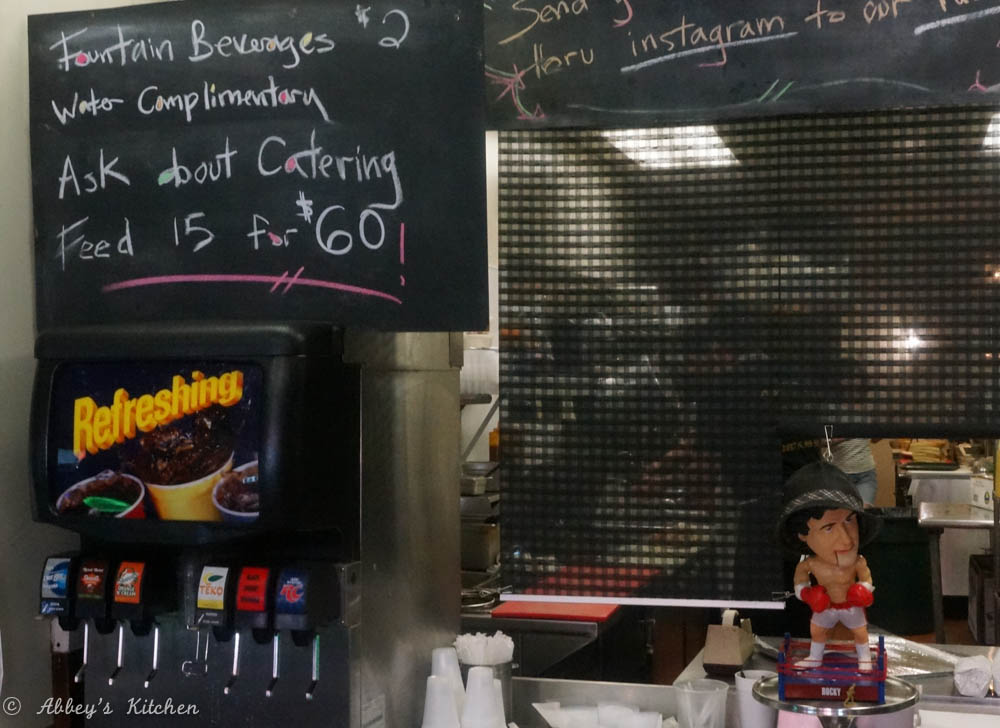 -Paesano's offers 14 original sammies with chef-selected predetermined toppings. So unlike John's Roast Pork where you pretty much can choose your adventure, here all the work is done for you. As an inexperienced Philly sandwich eater, this was what I liked. I wouldn't know to order pepperoncini on my cheesesteak if Paesano's didn't do it for me, and I'm really glad they did.
-In addition to the sandwiches, they also soup, salads, fried pig skins, roasted potatoes and crispelle with nutella for dessert.
-For comparison sake with my other philly sandwich experience at John's, I opted for the two classic Philly sandwiches, Paesano's pork and their cheesesteak.
Paesano ($9)
Beef Brisket, Horseradish Mayo, Roasted Tomatoes, Pepperoncino, Sharp Provolone & Fried Egg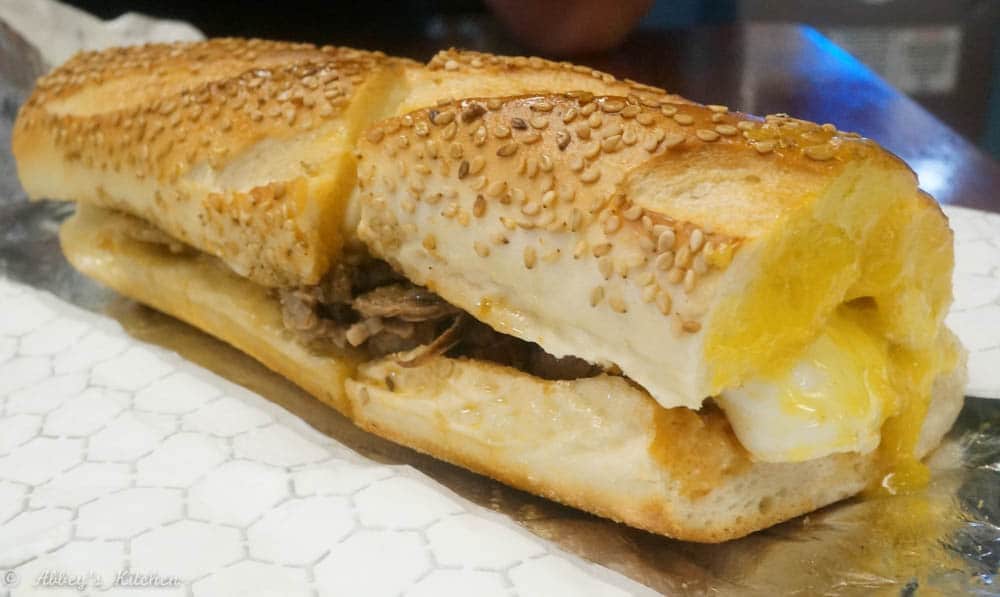 In short, I preferred both sandwiches at Paesanos to Johns, but it was a close call. Unlike at John's where the bread held up a bit better and retained it's toasty crust and pillowy inside, the bread here was pretty well soaked through like a dipped Chicago beef. This has its advantages and disadvantages and I think it's really just a preference. On the downside, it means it's way messier and we both stained our pants trying to eat it. It also means you don't get the juxtaposition of the creamy cheese quite as well since everything is pretty much one texture. Having said that, Paesano's soaked  bread had a heck of a lot more flavour, and there's something I personally like about moist meaty bread. I also liked the addition of sweet acidic tomatoes and the spicy pepperoncino on Paesano's version which helps cut the fat and salt that I was overwhelmed by in John's version. Finally, the meat here was slightly more tender, though that could have simply just bean a function of the extra juice and the fatty egg yolk. Two meat-juice soaked thumbs up.
Arista ($8)
Whole Roasted Suckling Pig, Broccoli Rabi, Italian Long Hots & Sharp Provolone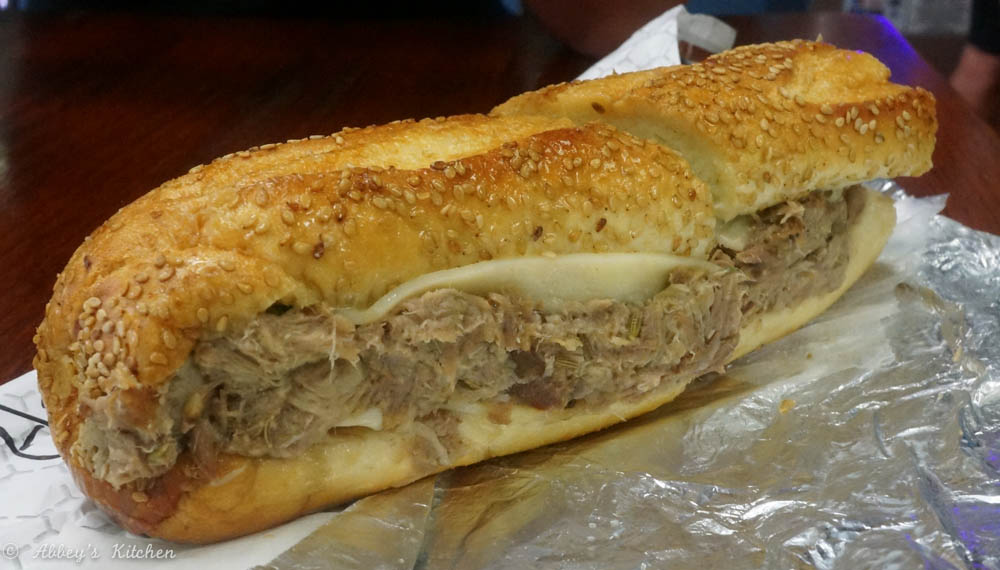 This was the best sandwich I had all trip and definitely won out over John's version though admittedly they were different beasts. So ditto on the points I made above with the bread. To put it in perspective, at John's I ended up leaving most of the bun and eating the meat, but at Paesano's I couldn't help but finish every crumb. The meat here didn't have that buttery silky lardo like texture of John's but rather, was more of a super tender pulled pork piled unbelievably high. I think John's meat maybe edged out on top but Paesano's was delicious in a different way. What gave Paesano's the final one up were the addition of the long hot peppers to cut the fat, and that the rapini offered a more noteworthy bitter bite and substantial texture than the spinach on Johns.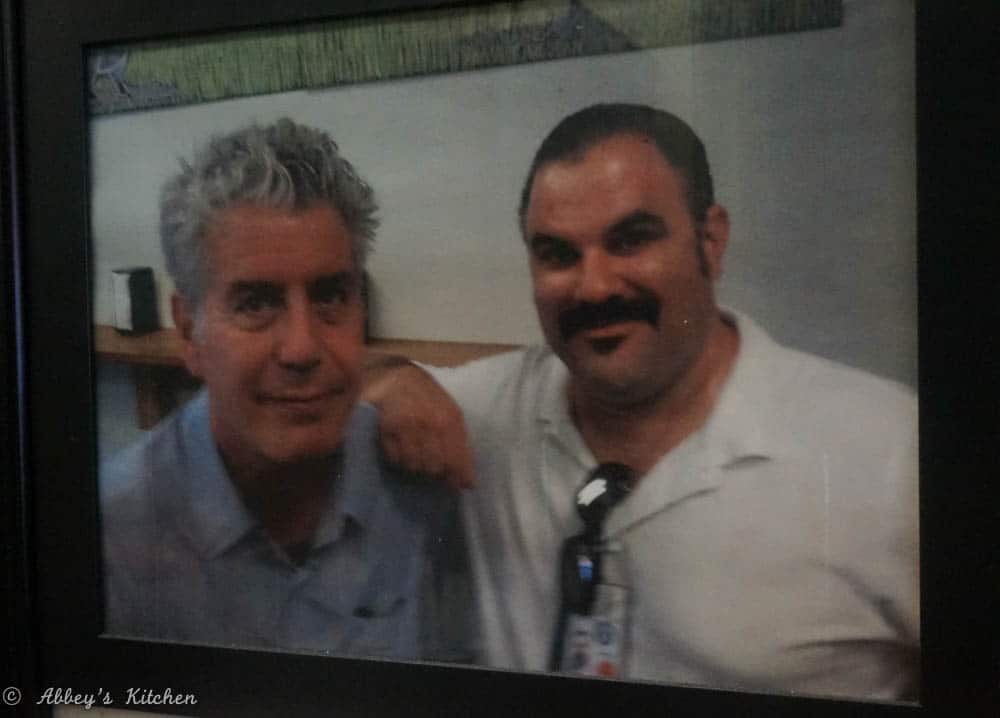 Closing Remarks
-For two sandwiches and two pops, the bill came to $21 including tax. Did I love it? I really did. And I appreciated that it was central enough that it would be an easy spot to visit again. When I do, I will be all over that Arista and would love to try the crispy fried lasagna sandwich too.
-In the end I did find it a better sandwich experience than John's but I'm still quite green in my Philly eating adventures, and its likely that this could just be a preference.
Updated on May 8th, 2019