Pai Opening Remarks:
-I first met Jeff and Nuit Regular from Pai when I was working on curating aspects of the 2012 Delicious Food Show. Now, I've met a lot of restauranteurs and chefs in the city, and to this day, the Regulars remain some of my favourites. They're warm, polite, respectful (they return emails!!), and they make a mean Thai curry that literally kept me alive in the chilly exhibition hall during those 3 days at the expo.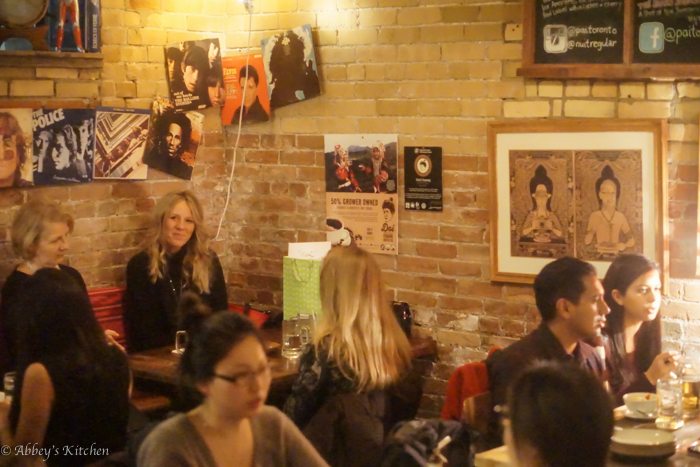 -Well, if you're not already well versed on this Toronto Thai-food power couple that own Pai , Nuit cooks, and Jeff runs front of house- the reverse of most married restaurant couples I know who tend to operate the opposite roles. As part-owners at Sukhothai, consultants at Sabai Sabai (read my review here) and the former owners at Khao San Road, they have become the name in Toronto Thai cuisine over the past few years.
-Their latest hotspot, Pai, is located on Duncan Street and is co-venture between the Regulars and Gusto 101's Janet Zuccarini. The restaurant specializes in Northern Thai cuisine and is named after the small town where Nuit and Jeff actually met.
Pai Ambiance:
-At a glance, I'd say this 155 seat Pai is much more spacious then their other venues. There is also a 20 seat patio and an overflow bar called Be-Bop inside- apparently named after a famous bar in Pai.
-Despite never having visited Thailand myself, walking downstairs into the space feels like stumbling into a local bar hang out on one of my trips to the islands down South. Despite the draft from the constantly revolving door, the place feels warm, inviting, care-free and tropical.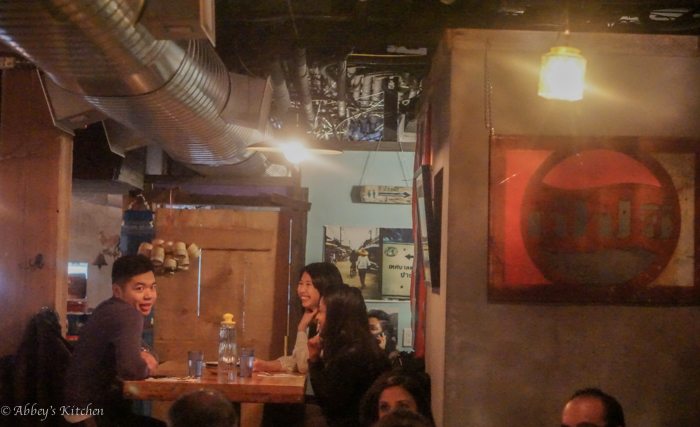 -The two-toned rustic brick walls lead way up to the low wooden ceilings and provide the backdrop for colourful paintings, old record covers and little nooks of Thai-themed paraphernalia. The lights are kept dim with a spattering of sexy tea-candles, and a bit of emitted light from the partially exposed kitchen at the back.
-Seating comes in a range of options- from high-top tables, to regular deuces spaced fairly close to one another throughout the floor. There is also an exotic  "sit on the floor with pillow" situation going on in little alcove beside the entrance.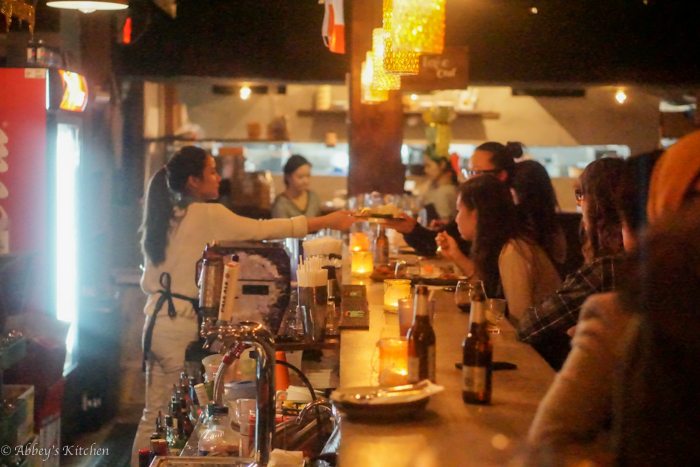 -Serving ware is equally unpretentious with plastic water cups of the same variety I remember drinking out of in Montessori school as a child, and plastic plates for presenting some of the mains. We took notice of these things, because we're detail people, but we both applauded Pai's business smarts on this one. Who the heck cares if they're drinking out of glass when you're passing around casual curries and satays?
-Apparently not a bunch of people in the city who were lining up the stairs towards the door to get in. Absolutely packed on 7:30 on Friday (including the overflow bar), Pai is no doubt a buzzing joint. I'd call it a solid 7/10 on my noise scale- enough to appreciate the excitement but manageable enough to still chat with your dining companion and server.
Pai Service:
-Service was efficient, to the point and friendly, but the meal all happened so quickly I felt I barely got a chance to interact with our server at all. We were sat, were brought water, our drink orders were taken and were then delivered a mere few minutes after. Soon after, our food orders were jotted, which arrived bang, bang, bang one after the other. I didn't mind it all going so fast because admittedly I was tired, but the whole thing start to finish took an hour. Great if you're trying to get a quick bite in before a nearby show in the Theatre district but maybe not the ideal spot for a lengthy date night out where you maybe want to sip your wine and linger.
Pai Drink:
-Speaking of wine, the drink list at Pai is kept to the point but is kept pretty short and sweet (literally- at least when it comes to a lot of the cocktails).
-Wine drinkers have an International selection of 4 whites and 4 reds to peruse, priced very reasonably between $7-11.50 a glass and $28-48 a bottle.
-If you fancy a nice cold brew with your spicy Thai fare, they offer 4 beers on draft ($6.75-7.5) and another 4 by the bottle or can ($6-7)- a unique list that includes local craft beers like Woodhouse as well as the popular Thailand beer, Chang.
-Cocktail lovers (like me) can check out their list of signature cocktails featuring a range of Thai-inspired ingredients like lemongrass syrup, Thai Iced Tea, lychee juice and pickled mango.
-And if you've got a group (and are planning on hitting the clubs for a long night out later on) then I'd suggest a "Thai Bucket" for $27- an order of this gets you rum or vodka, with red bull, ice, coke and lots of straws.
Tea Rose ($9)
Vodka, Kahlua, Crème de Cacao, Ice, Thai Iced Tea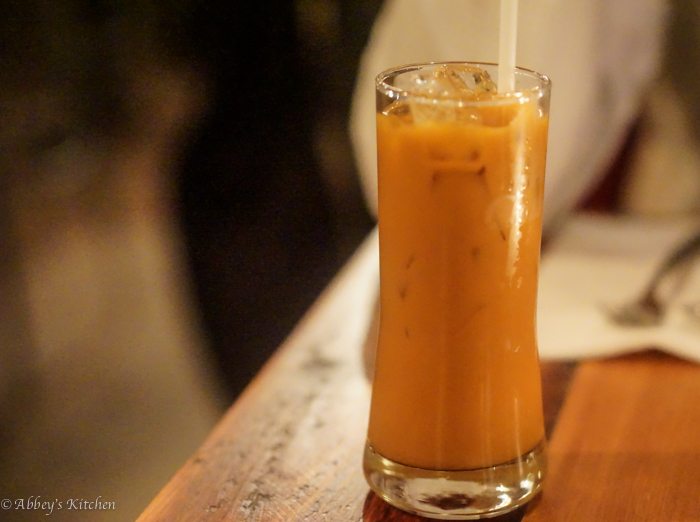 Ohhhhh dear. Forget dessert and just order this again, and again, and again. Creamy, spicy, sweet and bitter. Decadent and oh so delicious.
The Lowry ($11)
Gin, Lemongrass Syrup, Mint, Thai Basil, Lychee Juice, Soda
A very different cocktail then the aforementioned Tea Rose, the Lowry was bright, refreshing and way too easy to drink. It was definitely on the sweeter side if you're adverse to that, but the lychee is so floral and refreshing that it didn't taste overly cloying.
Pai Food:
-Building on her previous restaurants' menus, Nuit aims to deliver the most authentic Thai experience at Pai. Here, you'll see a few Regular staples like her yellow curry (Khao Soi) but plenty of new exciting North Thai plates to peruse. Actually, dining with just two people was pretty stressful for a hard-core food lover, as I literally wanted to order every dish. Regardless of what you order, though, everything is fully shareable, and the portions are rather generous so expect to ask for a take-home box to finish it off.
-For those who worry that Thai food may end up being too spicy for their taste, at Pai, you can fully customize the amount of heat in your dishes. From Mai Phet (no spice) to Phet Mak Mak (authentic Thailand style spicy)- you can have it how you want it no matter what. I see a semi-dangerous drinking game in the future with this.
Grabong ($10)
Vegetarian Deep Fried Squash Fritters with Garlic Tamarind Dip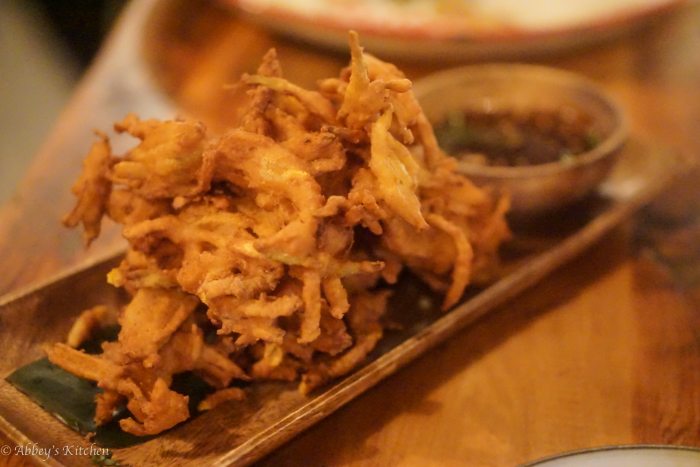 Umm… yes. Guys, just order this. It was damn delicious and so addictive that if I didn't feel like I was eating a savoury funnel cake and thousands of likely calories, I would have polished it off myself and ordered another. Light and crisp on the outside, and fluffy and sweet within, paired up with a tangy bright tamarind dip. Okay, confession time here folks. This dip tasted like the "sweet and sour sauce" from McDonalds- and obviously I mean that in the BEST-WAY-POSSIBLE! Who can tell me they don't adore that stuff? WHO?!
Som Tum Tad with Salted Crab ($12)
Green Papaya, Long Beans, Chili &Tamarind Salad, Pork Rinds, Shrimp Chips & Noodles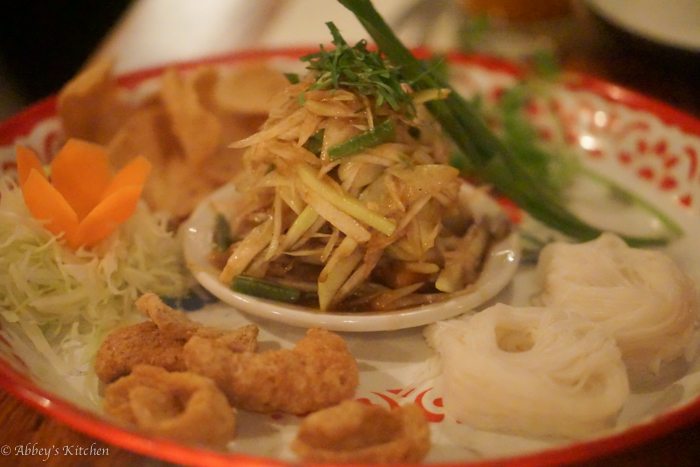 Wow. This is not like any papaya you will ever order off justeat.ca. Sweet, sour, supple, crisp, and garnished with the briny salty pop of the fermented bits of black crab. The result is a very well balanced, vibrant dish with wickedly crunchy pork rinds and foamy shrimp chips for scooping. Yes, please.
Chef Nuit Chicken Pad Thai ($14)
Stir Fried Rice Noodle, Tamarind Sauce, Roasted Peanuts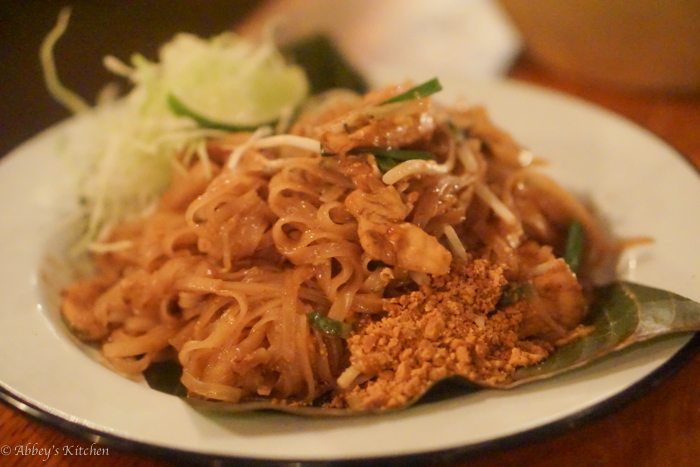 Again, please forget the ketchup-laden crap you're likely accustomed to eating in take-out boxes. If it's not tamarind-based, it's not real Pad Thai. Chef Nuit's version is still semi-sweet, but is surprisingly light, refreshing and well balanced by the toasty note of roasted crushed peanuts. Insider tip- do add a squirt of lime from the wedge they include on the side- it really helps cut through the jammy sweetness of the tamarind and balance everything out beautifully.
Gaeng Masaman with Braised Beef ($15)
Braised Beef in a Peanut Tamarind Curry with Potatoes, Deep Fried Shallots and Jasmine Rice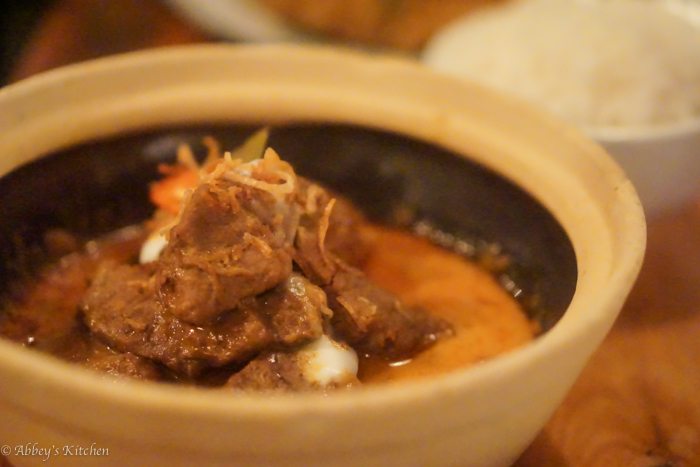 This was my favourite dish of the night. The massive hunks of tender beef swam in a rich aromatic sauce. In retrospect, it actually had a similar flavour profile to the Pad Thai but with an opposite emphasis- more nutty savoury lusciousness with just a little sweet fruit flavour to balance everything out. No complaints here other than I wish I had room to eat more of it (thank goodness they offer good quality tuberware for curry take-away).
Pai Closing Remarks:
-For 2 cocktails, and 4 dishes, the bill came to $95 including tax and tip and we went home with lunch for the next day. Talk about a fantastic deal. The food was really, really delicious (and I would rush back to work my way through the rest of the curries and mains), the cocktails were tasty and reasonably priced (for once!), the service was friendly and casual, and the place had a young fun vibe.
-In conclusion, Pai would be a fantastic choice for a range of occasions. From group get-togethers on a budget (where you can then order a lot of the menu to share), to quick bites nights before a show downtown, this would be an ideal spot for a fantastic meal. In contrast, I would say it's probably not your best bet if you're looking for an intimate drawn out date night as it's a bit too casual and fast paced to be great for that, but otherwise, there are a lot of occasions I'm looking for just this kind of joint. And the best part? They take reservations- so as long as you can think ahead, there's no need to worry about waiting in the overflow bar for a seat at this popular joint.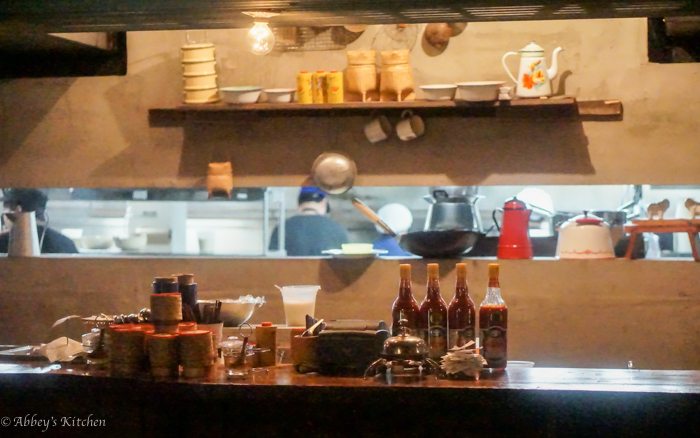 Have you been to Pai? What did you think of the food? Any must order dishes for next time?