Park Tavern Opening Remarks:
-Park Tavern is owned by Anna Weinberg, Chef Jennifer Puccio and Dave Stanton.
-The trio also own three sister properties in the city: Marlowe, The Cavalier, and Tres Tequila.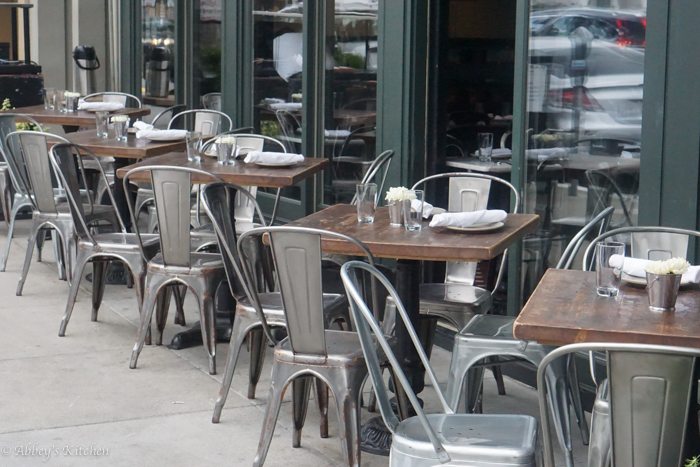 Park Tavern  Ambiance:
-Park Tavern is located in the North Beach neighbourhood adjacent to Washington Square Park.
-The décor inside is rustic, yet refined with a retro black and white hexagonal tile floor, subway tiles on the walls and leather banquettes.
-Outside there are a handful of small tables, ideal for just 2-3 guests each (and maybe a pooch underneath if you've come with the pup). We were lucky enough to be one of the first to arrive when they opened so we snagged an outdoor table overlooking the tai chi and older adult dance troop in the park. It was very entertaining to watch, but still very peaceful to be outside.
-Noise level inside (when I went in to use the ladies room) was hopping and buzzing on a Saturday morning. I can see this being a really busy spot on a Friday or Saturday night.
Park Tavern  Service:
-Service at Park Tavern was very friendly and attentive throughout the meal. Our water glasses were consistently refilled, while food and drinks came out promptly. Our brunch start to finish took about 45 minutes.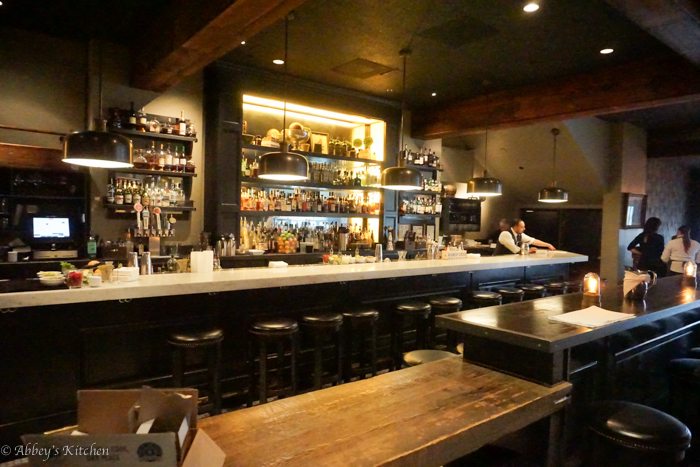 Park Tavern Drink:
-Brunch drinks include the usual suspects – their Bloody Mary and Michelada are touted as the main features, while they've also got another 10 classic cocktails (Mimosas, Aperol Spritz, Pisco Punch, Boozy Smoothie) and a handful of house cocktails. Expect some playful combinations like Gin, vermouth and grapefruit soda, or Fernet branca, espresso liqueur and cold brew coffee- all ranging in price from $10-12/glass. Trust me, there are plenty of options to kick off your weekend brunch.
-If liquor isn't your game, they also offers a generous sized International list of wines by the glass ($11-35), cider ($7-16) or beer on draft ($7-8) or bottle ($6-14)
John Daily ($10)
Tea-Infused Vodka & Lemonaid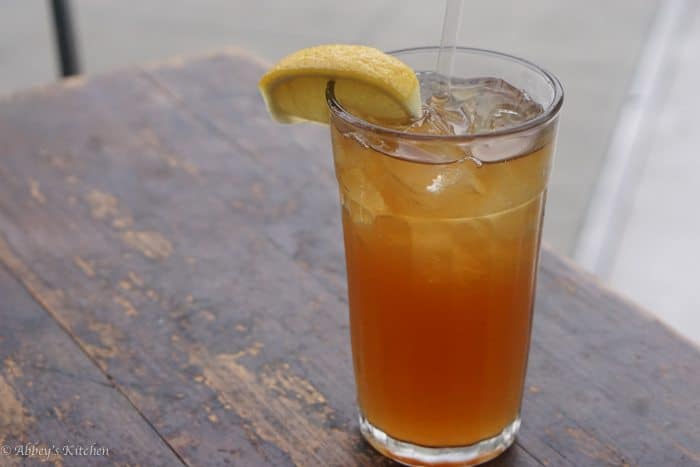 Honestly, this was such a perfect brunch drink. Easy drinking and very refreshing- I'm totally copying this for summer parties this summer.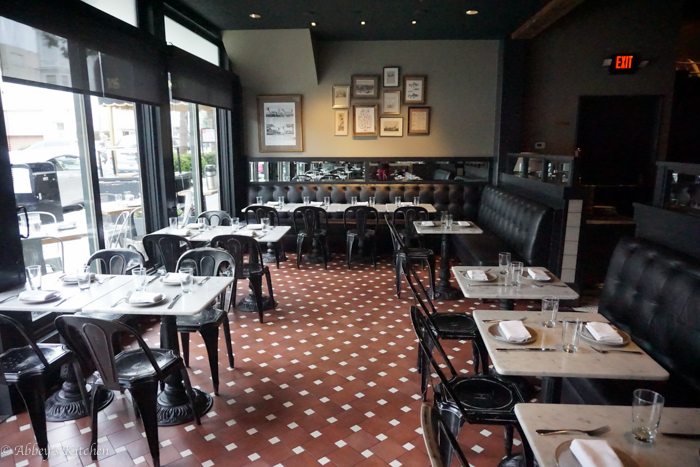 Park Tavern Food:
-The fun and youthful menu at Park Tavern screams elegant comfort fare. It's definitely indulgent, but you won't feel like you just got back from the state fair.
-The menu is divided into Toasts (ie. Dungenous crab or Fromage Blanc), Fruits and Grains (fritters and salads), Pastries (cakes and breads), Sweets from the Griddle (like pancakes, and French toast), Warm Baguette (with nut butters or preserves), and Savories (like eggs, and other yummy edibles).
Strawberry, Kiwi & Orange ($10)
Whipped Coconut, Coconut-Citrus Water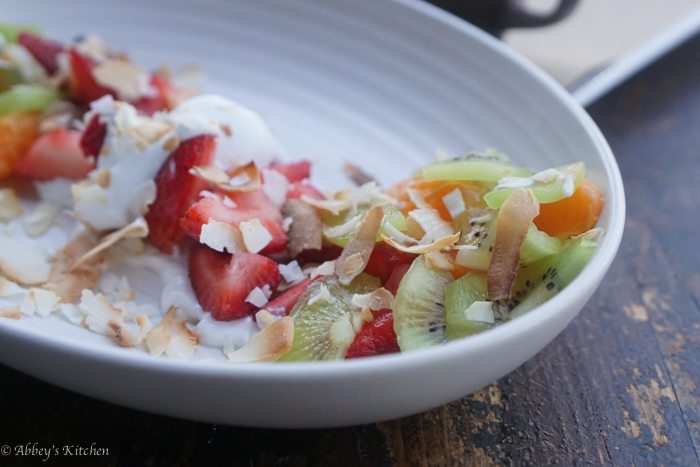 A simple (and pretty) fruit salad with light coconut cream and delicious toasty shavings of coconut. I also loved the little shot of light coconut citrus water.
Banana Coconut Fritters ($9)
Vanilla Strawberry & Chocolate Coffee Rum Sauce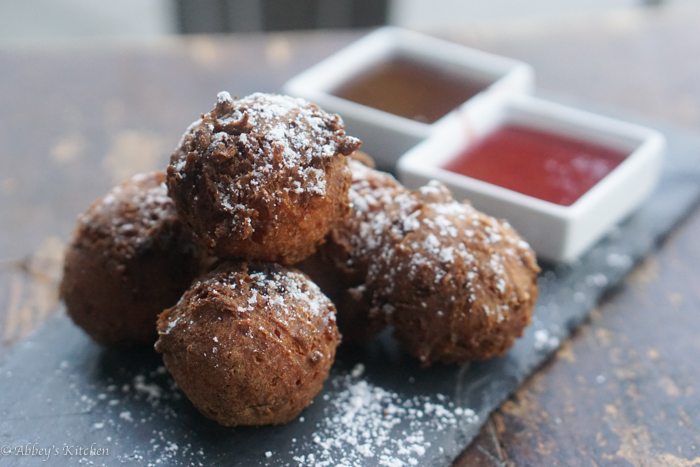 Man, these were wickedly addictive. Caramelized and crispy on the outside, and beautifully moist within, with an unmistakable tropical flavour.  Delish.
Brioche French Toast ($13)
Blueberry-Thyme Compote & Vanilla Caramel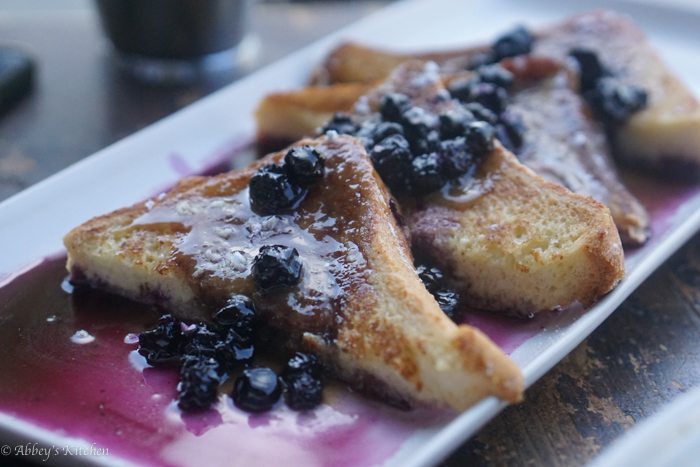 Oh lordy was this ever good. The brioche really soaks up the custard here, yielding a breakfast bread pudding- like consistency. I love dessert for breakfast so this was totally my style.
Pan-Fried Corned Beef Hash ($16)
Crispy Potato, Poached Egg, Arugula & Red Wine Jus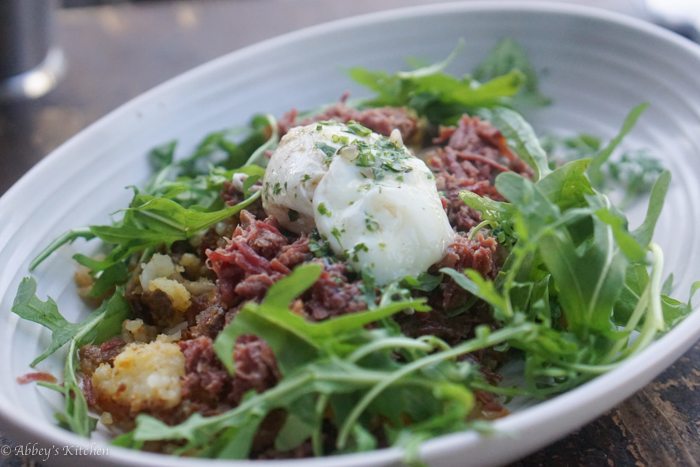 After all that, I was pretty full but I'm so glad I saved room for this. The crispy potato was one of the best bites I think I've ever had. Rustically smashed with fluffy insides and butter crisp corners, all tossed around with a generous portion of spiced corned beef. This, my friends, is a happy girls plate.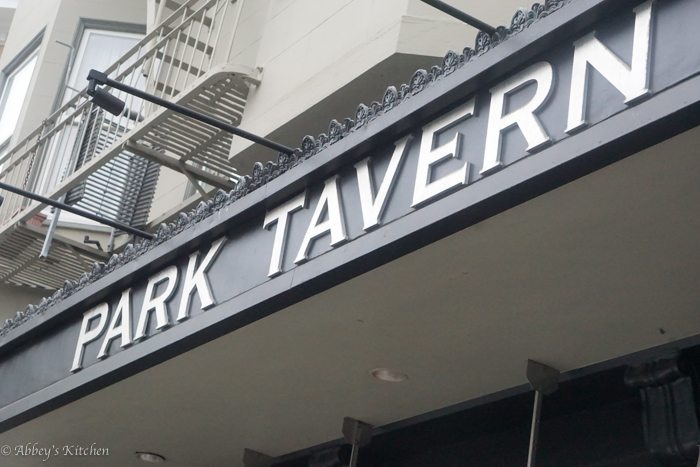 Park Tavern  Closing Remarks:
-For two cocktails, and 4 dishes the bill came to around $90 including tax and tip. It's not cheap eats, but admittedly we both drank and we ordered more food than we could eat. You could easily get along with just two main dishes and skip the starters (though I don't advise skipping out on those fritters).
-I would definitely recommend Park Tavern for anyone who is in the North Beach neighbourhood and I do look forward to returning again soon.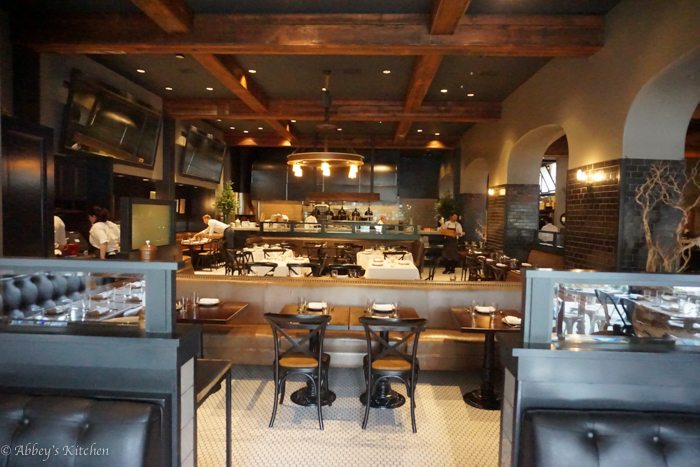 Updated on March 13th, 2016