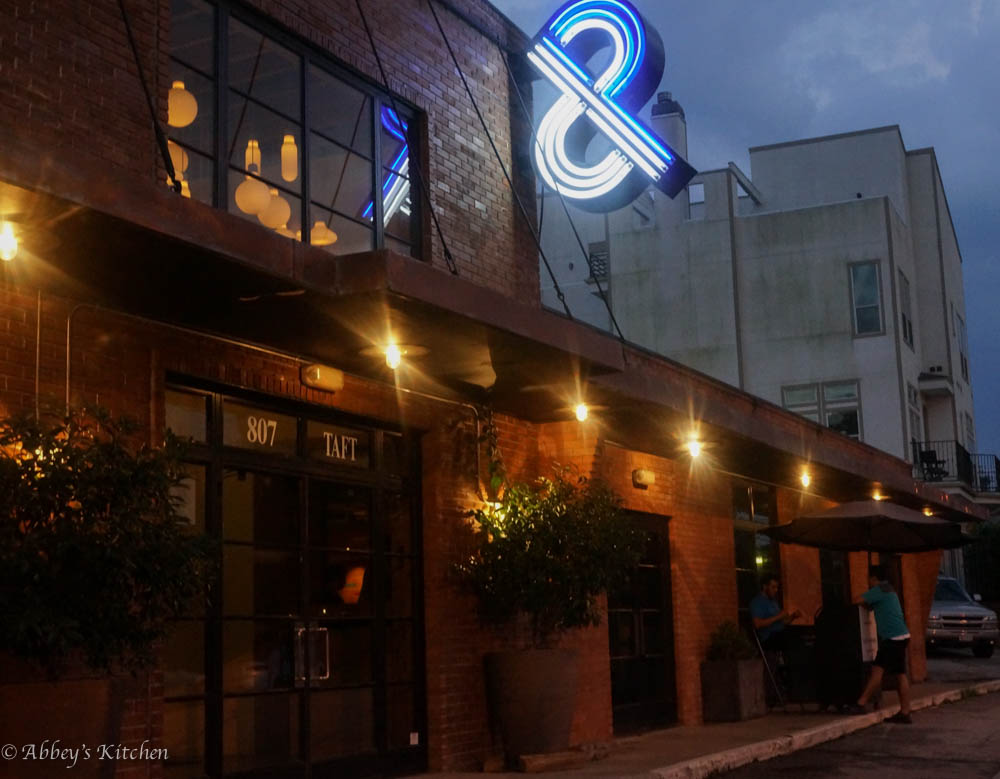 Opening Remarks:
-The Pass is the more upscale twin in the restaurant duo "Pass & Provisions", and is located within the more casual Provisions.
-The name represents the space where cooks, chefs and front of house staff converge to plate, garnish and send out the food.
-Pass & Provisions is opened and operated by Chefs Terrence Gallivan and Seth Siegel Garder who together have done time at such noteworthy spots as The Fat Duck, Fiamma, Alto and The Modern.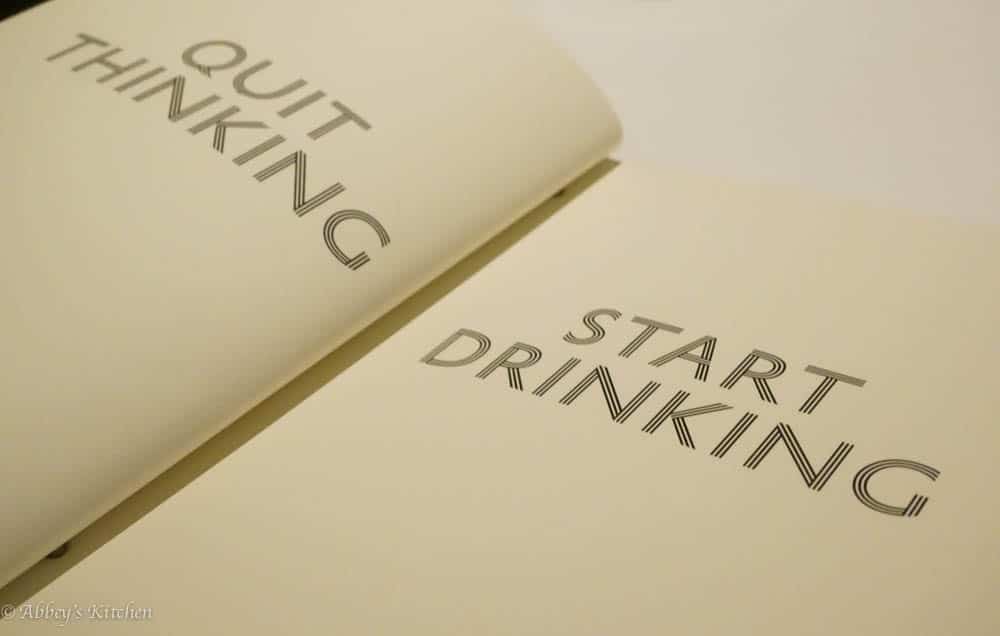 Ambiance:
-Prior to the restaurant duo, the building was the original Antone's PoBoy deli and import company, a Houston landmark, which they pay homage to with the original signage in the Provisions space.
-To get into The Pass, guests walk through the Provisions space, and through the massively sleek black door. While both had been designed by Betty Maccagnan, the Pass is a completely different experience. In contrast with the hustle and bustle of the hipster/family friendly Provisions, the Pass is a simple room filled with white lines, walls, and 40 charcoal seats. An agglomeration of tiny lights brighten up the room much like a dramatic play, adding to the theatrical nature of the whole experience. The vibe is pristine, modern and sophisticated without feeling at all traditional, stuffy or old- a nice comfortable compromise for typical high end dining.
-Leading towards the kitchen is the actual "Pass" made visible to diners throughout the room. This is the space from which the chefs make final adjustments to the dishes and transport them to diners tables.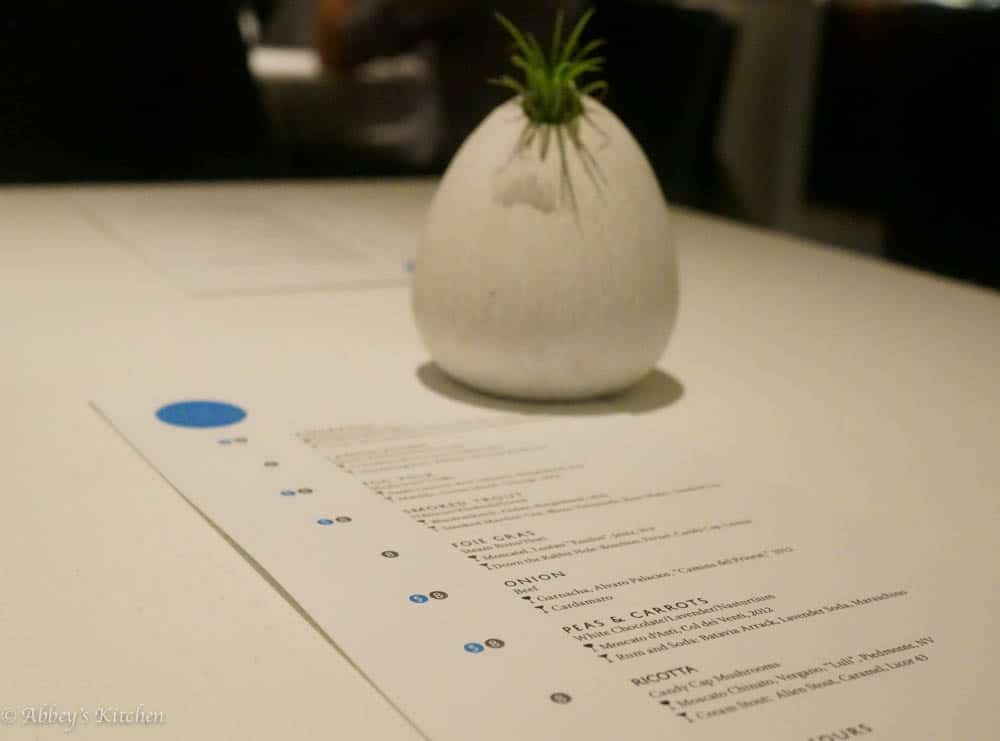 Service:
-At the Pass, every seat in the house is like a seat at the chef's table in that the chefs serve, describe and answer diner's queries for each dish.
-Our main server was immensely knowledgeable with the wine pairings and food but I felt her service lacked the human touch we experienced even the night before at Oxheart. What I mean is that when she would approach our table to pour a new wine, a thorough description would immediately flow out of her mouth as if she had a speech memorized months ago and was tiring of the same old script. The delivery lacked passion, excitement, and inquisition, which I understand can take effort at this point, but that effort never goes unnoticed to a first time diner.
-Having said that, there was technically not a single flaw in the execution of the meal. Much like the classic European service I experienced daily when dining in France, our evening began with a cart of champagnes and their thorough descriptions. Wine pairings arrived on time, before each dish, and the whole meal moved at a steady and comfortable pace- in and out through 8 solid courses in about 2 1/2 hours.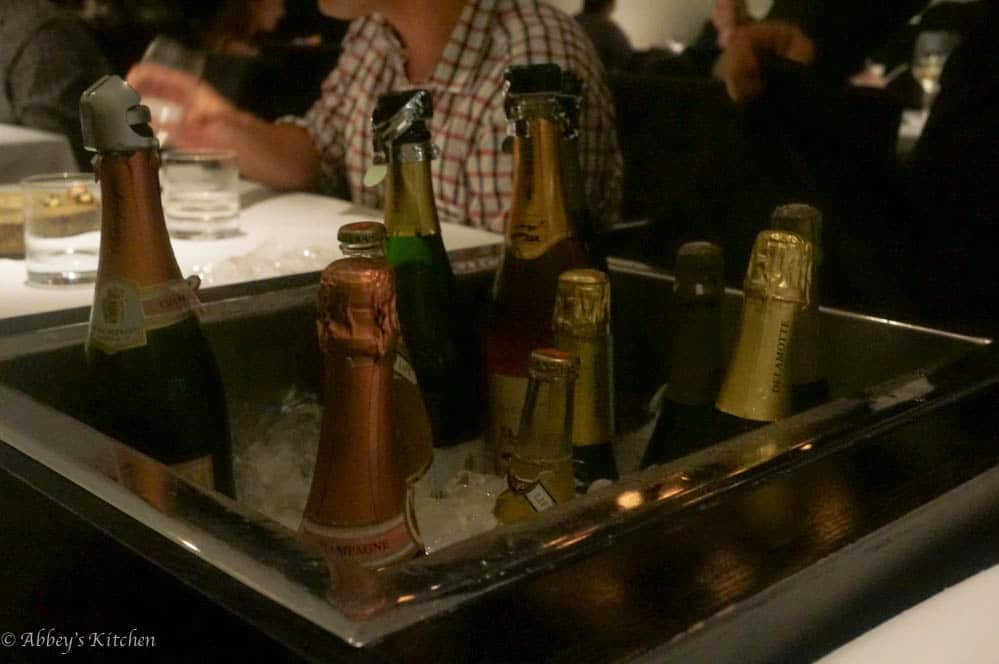 Drink:
-The cocktail menu boasts about 10 innovative and unique drinks. Expect ingredients like yuzukoshu (a Japanese seasoning), carrot with ginger, mushrooms (in a drink called Down the Rabbit Hole), and Chinese five spice.
-Beer drinkers will be impressed by their extensive list of International and local craft beers, including about 15 unique rare large format bottles ($13-38).
-And then there's the wine list, which outdoes all of it. Sommelier Travis Hinkle offers 20 International glasses, 8 half bottles ($37-82) and about 20 pages of full bottles ($35-660) organized by geography. Many going the wine route may want to consider the reasonably priced wine or cocktail pairings for the tasting menus for an additional $45 and $65 for 5 and 7 courses, respectively. I'm definitely more of a spirit drinker than a wino, while my partner is the opposite, so I appreciated the unusual offering of a cocktail pairing flight. Unfortunately, I knew I just wasn't going to be able to make it through 8 drinks and be able to even remotely recall any thing I tried. So instead, I played it smart and opted to just pick and choose a few cocktails off the menu.
Wiley Post ($10)
Vodka, Cava, Yuzukoshu, Chamomile, Lemon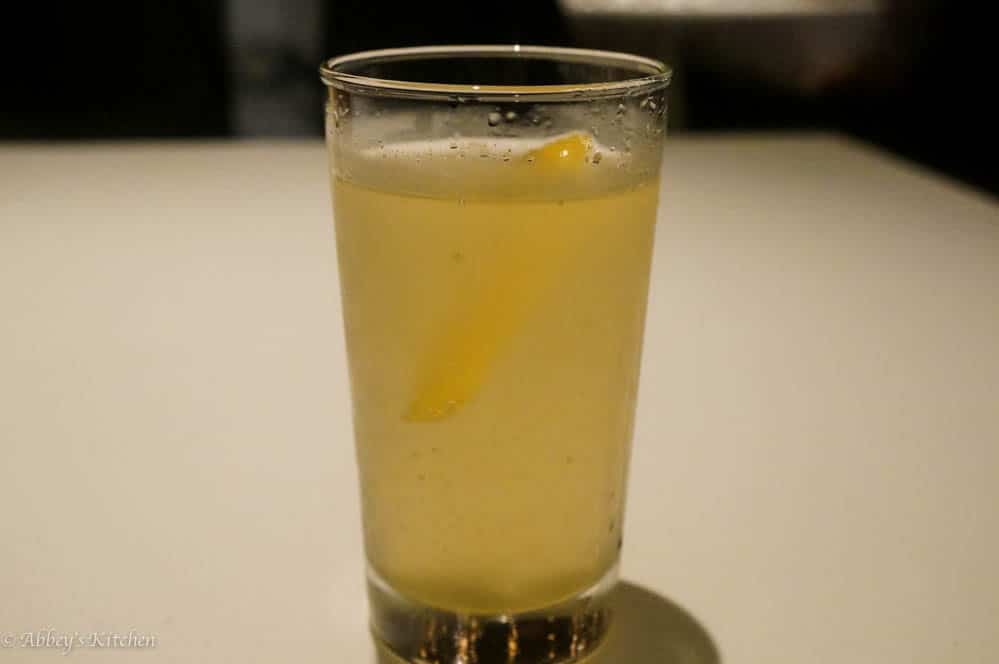 Very bright and sour, which was a bit too acidic for my partner, but totally my style.
Earth Girls Are Easy ($10)
Rum, Lime, Grapefruit, Maraschino, Beets, Up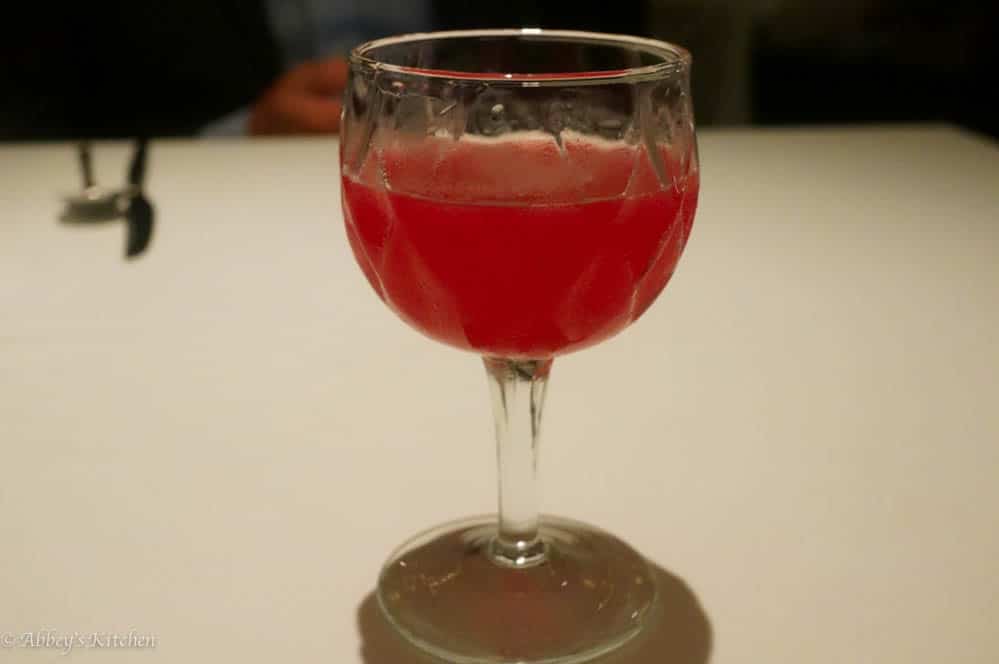 A deliciously balanced "girlie" drink that was sweet but refreshingly so.
Cream Stout ($10)
Alien Stout, Caramel, Licor 43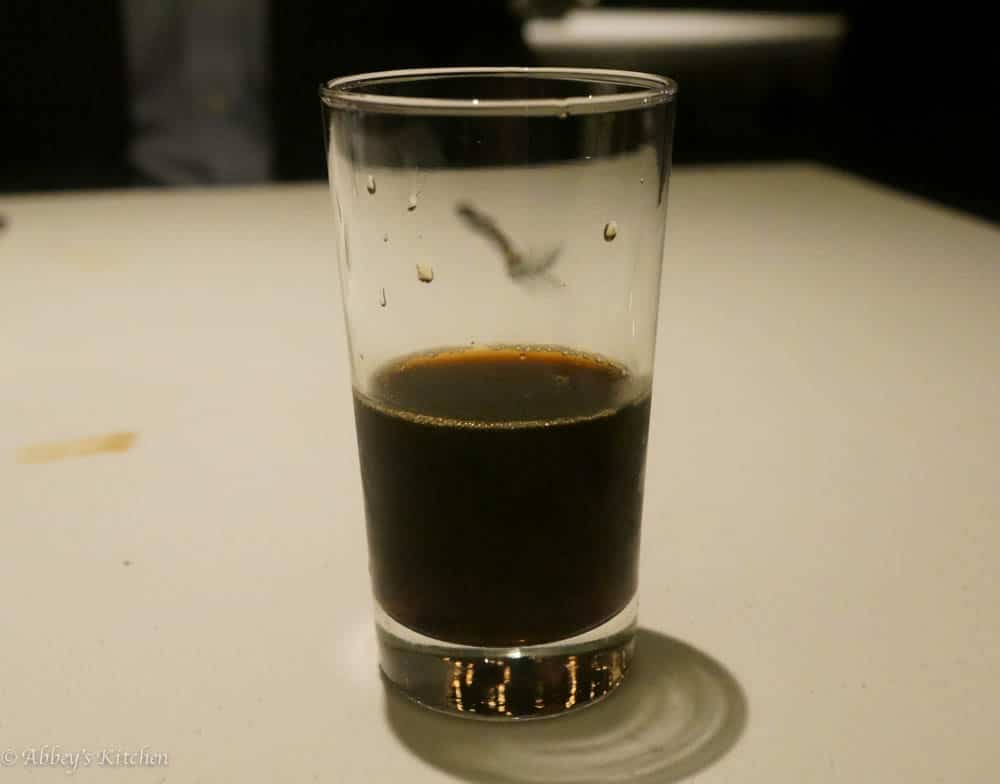 Imagine a tootsie roll, liquefied, with booze. Yup, genius.
-My partner, on the other hand, went for the wine pairings, and was thoroughly impressed by the quality and complementation with the food.
Food:
-The Pass offers 4 options for dining- meat or vegetarian options in either 5 course ($75) or 8 course ($95) menus.
-What arrives is always an unusual take on what one expects from reading the ingredient-listing style of menu.
Asparagus
Castelvetrano Olives/Ham
Pairing: Sauv Blanc, Abbazia di Novacella, Alto Adige, 2012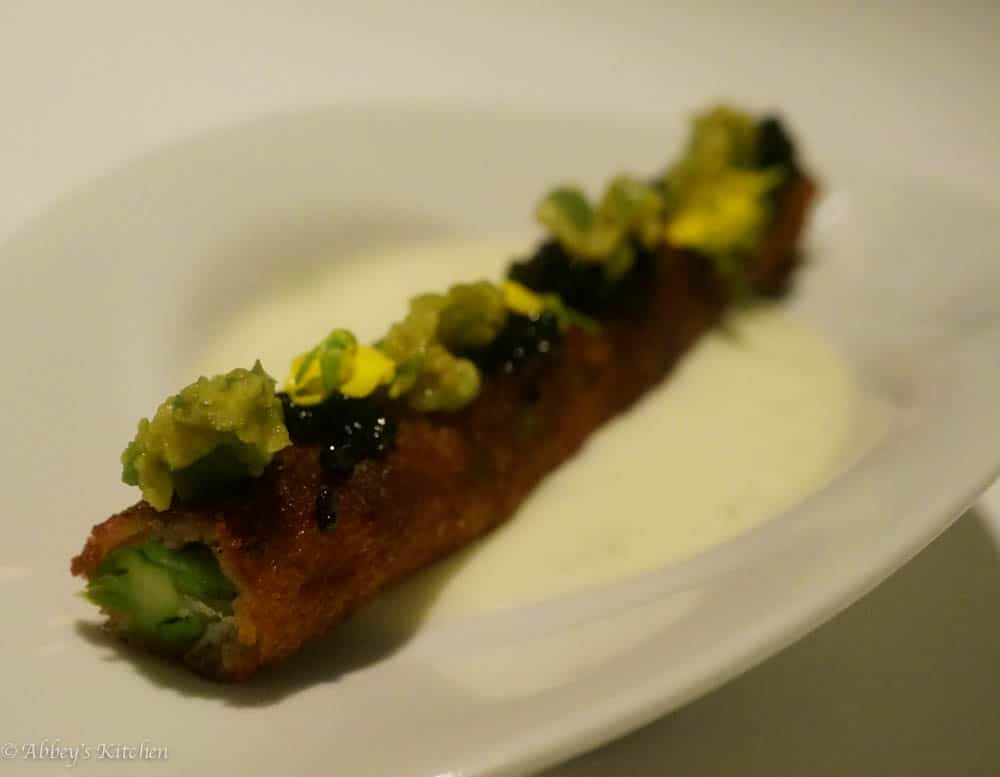 Reminiscent of a "soup and sandwich" combo, this dish included a chilled green asparagus soup, layered with a white asparagus foam, upon which a piece of asparagus had been covered in prosciutto, cheese and sandwich bread and then pan fried to golden brown. It was then topped with a little salty caviar and briny olives. In short, the flavours here were spot on. The grassy green soup was tempered by the mild creaminess of the foam on top, both of which were enhanced by dipping in the salty, addictive pan-fried asparagus roll. The flavour reminded me a bit of a croque monsieur but with the grassy addition of asparagus to cut the richness.
Langoustine
Hearts of Palm/ Herbs/ Avocado
Pairing: Treixadura, Finca Vinoa, Galicia 2011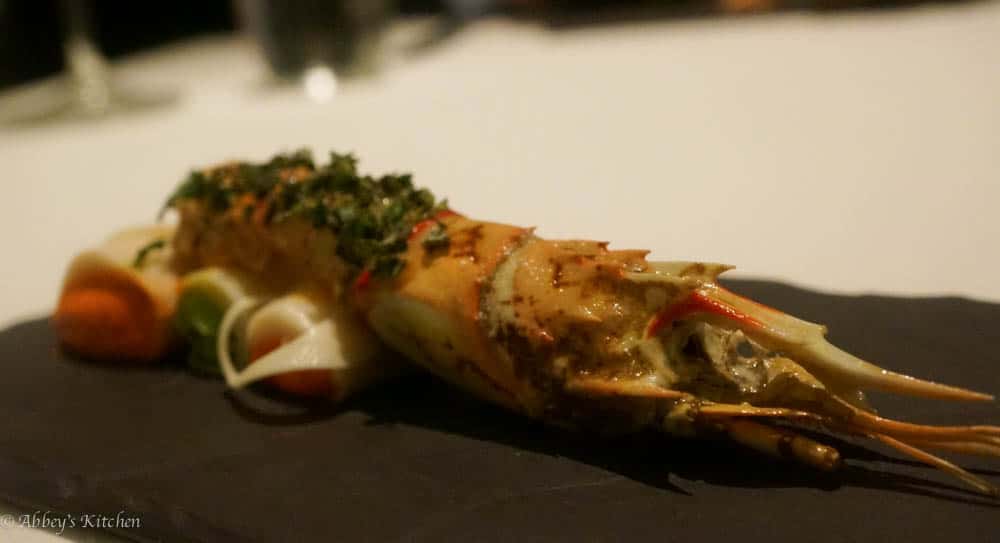 Perfectly cooked langoustine dressed lightly in refreshing herbs and aromatic oils that paired perfectly with the tangy hearts of palm, creamy avocado and piquillo pepper mousse.
Egg Yolk
Mushroom/ Truffle
Pairing: Sankt Laurent, Rosi Schuster, Burgenland, 2011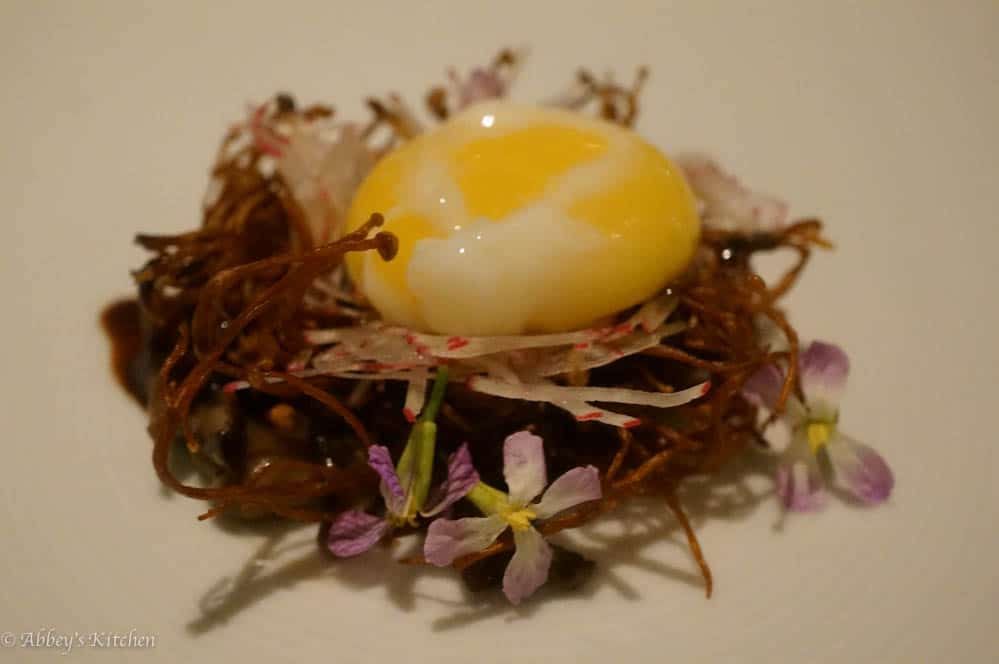 Layers upon layers of umami delight. There were ribbons of fried portobellos, with hen of the woods mushrooms, black truffle puree, and a mushroom demi glass underneath, which when coated in the fat of the runny sous vide yolk helped keep the mushrooms from being overwhelmingly earthy. I also adored the textural contrasts going on- the crispy threads, the slippery mushrooms, the palate-coating egg. Heaven.
Smoked Trout
Hibiscus/ Rhubarb/ Sorrel
Pairing: Blaufrankisch, Andau, Burgenland, 2010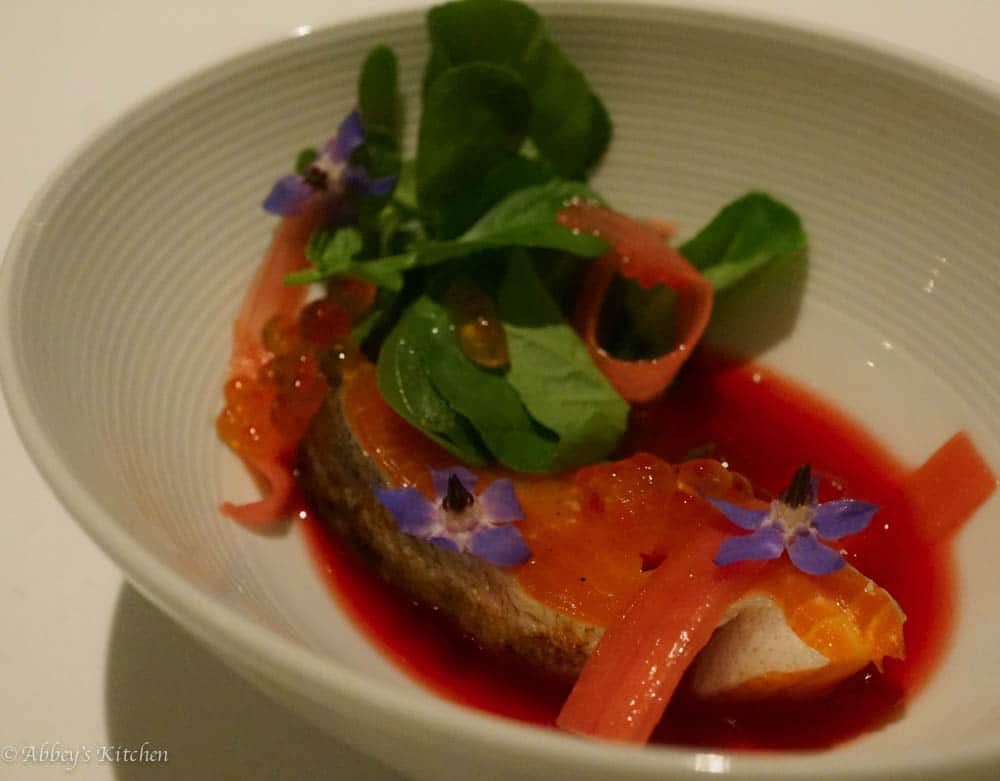 I really enjoyed the smokiness of the sturdy fish in juxtaposition with the bright floral rhubarb hibiscus broth, the pickled rhubarb strands and the complementary fruity greens. A lovely dish for Spring.
Foie Gras
Steam Buns/ Nori
Pairing: Moscatel, Lustau "Emilin", Jerez, NV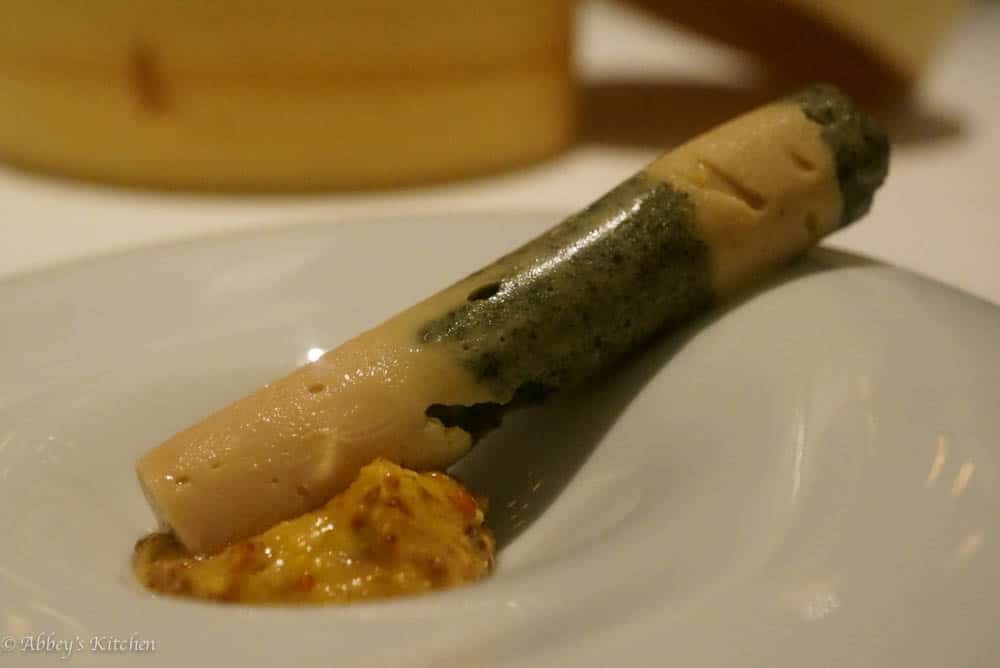 My favourite dish of the night, this was described as the "bread and butter" coarse,balbeit not exactly a humble one my any means. Here we were brought a basket of pillowy steamed buns, packed with luscious duck confit, brushed with sweet tangy hoisin and topped with a sprinkle of nutty sesame seeds.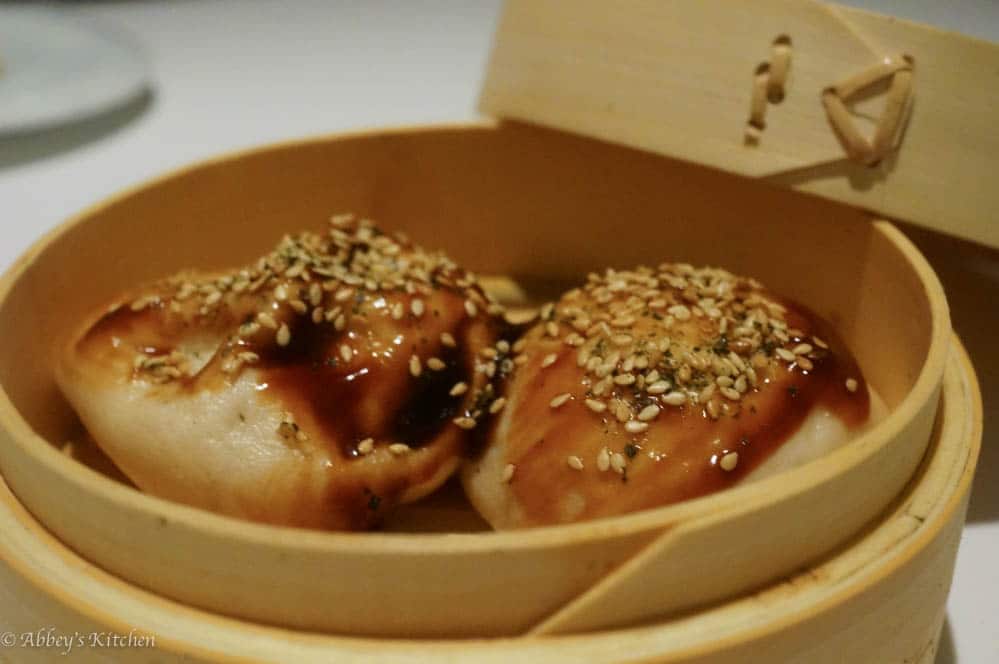 This was to be smeared with the little batonette of foie gras torchon with alternating layers of Nori mixed foie and a little bed of citrus mostarda. Dear G-d, this was good. The ethereal dough, the sweet duck, the touch of umami in the buttery foie gras, and the bright condiment to cut the fat made for a dish I wanted to re-live again and again.
Onion
Pairing: Garnacha, Alvaro Palacio, "Camins del Priorat", 2012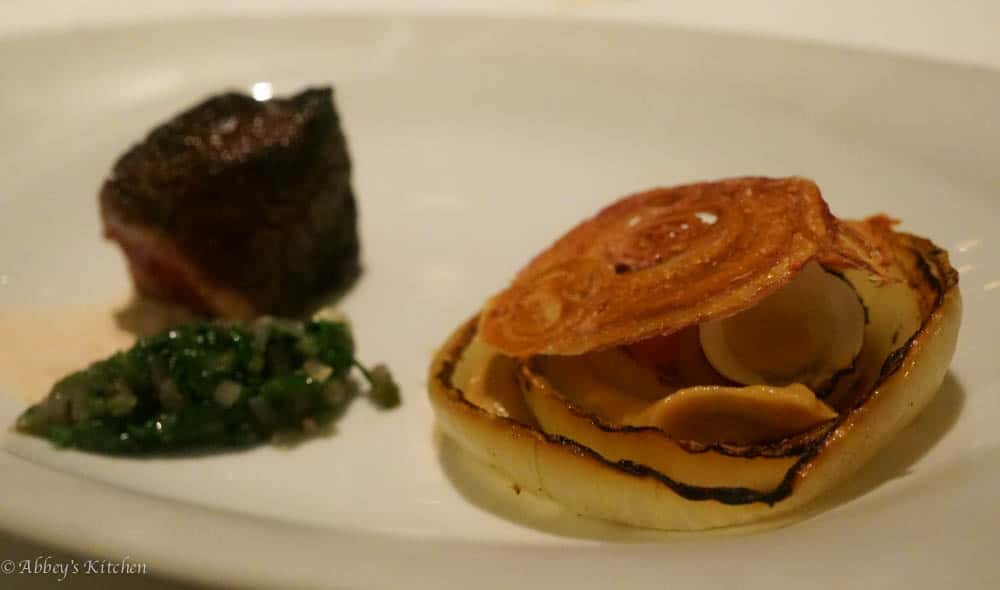 I really liked how the onion played the star in this dish rather than serving it as a side to the otherwise tasty beef. Instead, the onion was done multiple delicious ways- sous vide, confit, pureed, caramelized, dehydrated, sprinkled (as seeds) and pickled- lending a range of fabulous textures and flavours to the blessedly tender braised short rib and a dehydrated steak sauce.
Palate Cleanser
Pimm's Rose Water, Liquid Nitrogen Frozen Blackberries and Cucumber Sorbet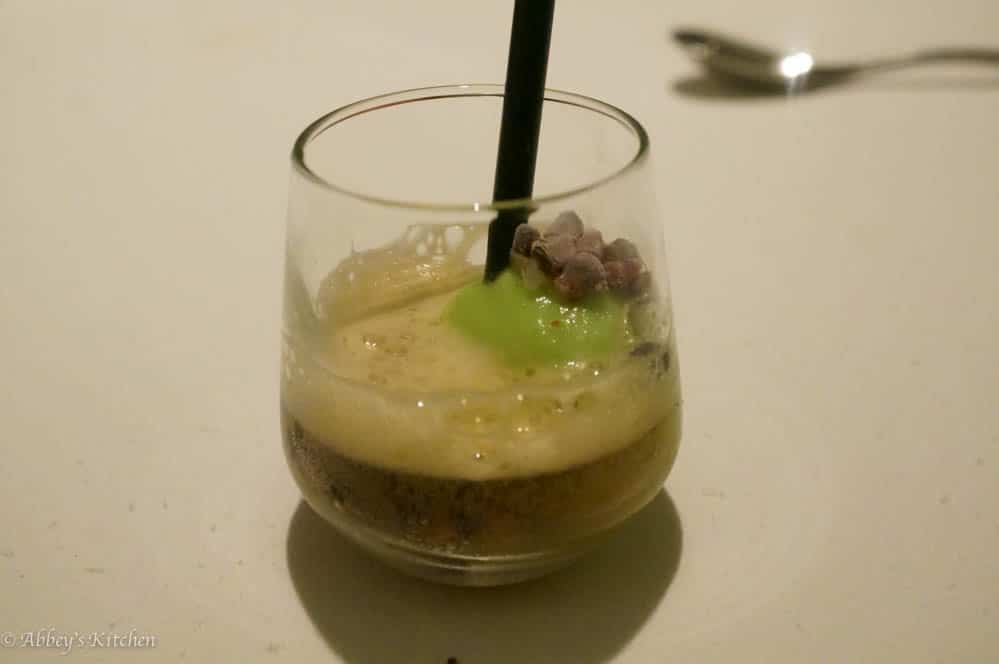 Oh, yes, yum. Imagine a Pimm's Cup cocktail, but amplify the refreshing factor 10 fold. An awesome Spring transition to sweet.
Peas & Carrots
White Chocolate/Lavendar/ Nasturtium
Pairing: Moscato d'Asti, Col dei Venti, 2012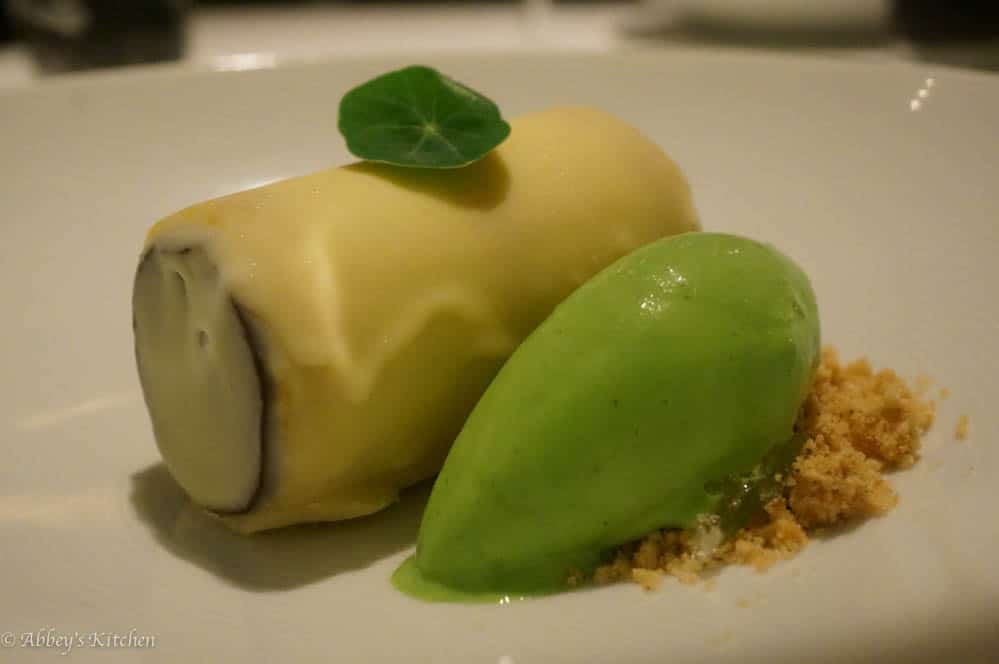 Certainly a unique savoury angle with dessert that I happened to really enjoy. Here we had a carrot chiffon cake layered with coconut pea mousse that was then dipped in a layer of dark chocolate and then a lavender scented white chocolate and served with a mint nasturtium sorbet with a crumbled shortbread for crunch. I loved the textural contrast of the tender cake and silky mousse with the crackle of the double layer of chocolate shell. I also really enjoyed the herbaceous quality of the mint sorbet. My only complaint on this would be that a heavy hand on the lavender made me feel like I was eating out of my grandmother's underwear drawer. I know, gross image, but that was actually the thought I conjured up between bites.
Ricotta
Candy Cap Mushrooms
Pairing: Moscato Chinato, Vergano, "Luli", Piedmonte, NV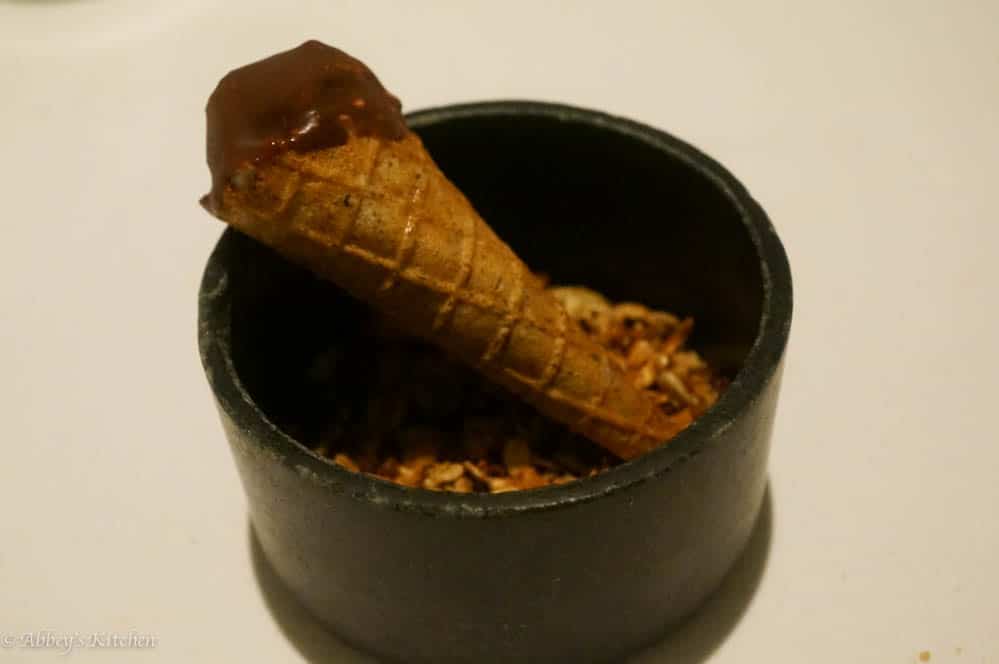 One of my favourite dishes of the night- this cheese course featured a mushroom waffle cone stuffed with goats ricotta, coated in a candy cap mushroom chocolate shell and served on a savoury granola. Holy hell, it was good. Here, the ricotta flavour was subtle enough not to compete too readily with the earthiness of the mushroom that showed up in the rest of the components. I particularly grew an affinity for the bed of granola, which had a really addictive level of salt to balance the sweet chocolate and waffle cone.
Petite Fours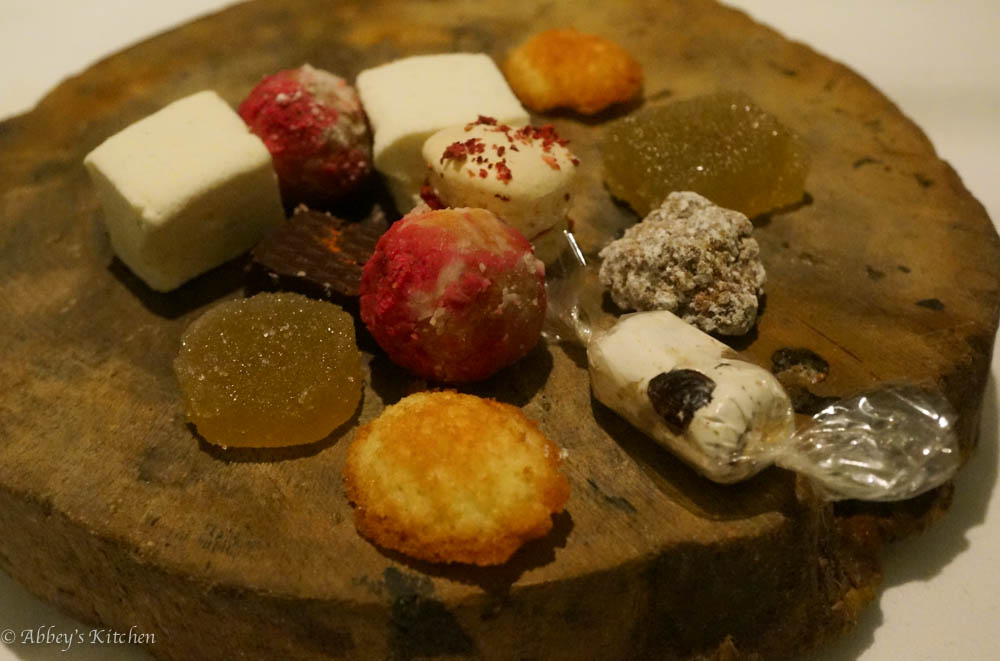 A wicked selection of goodies served on a little trolley like I had seen so many times while dining in France.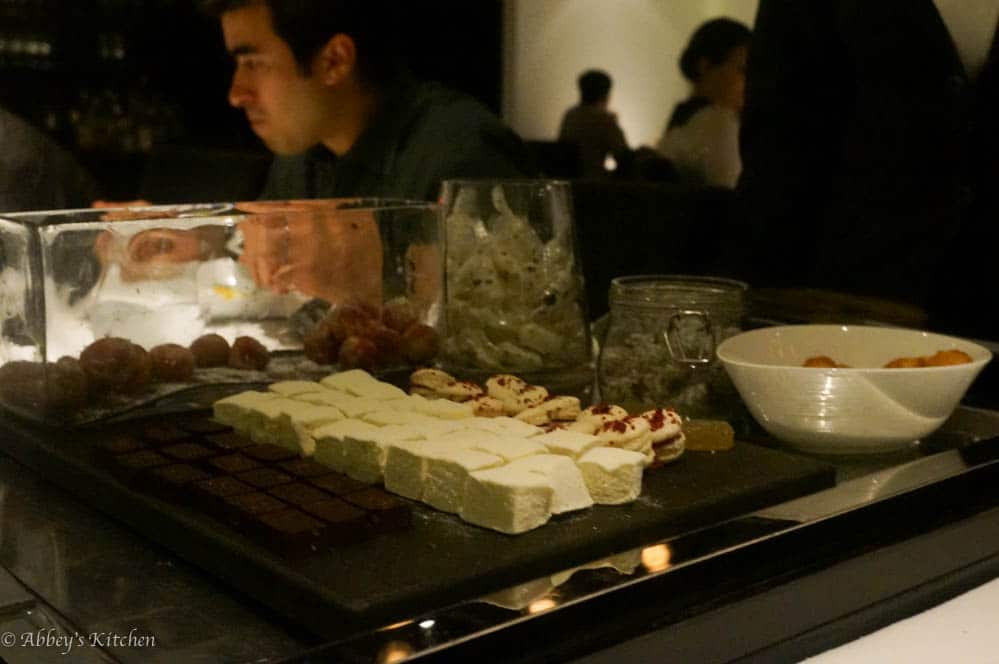 My favourite bites were definitely the expertly executed macaron, the apple gelee, and the blueberry stuffed doughnut. Loved it.
Goats Cheese and Hazelnut Brownie
This made for a tasty little snack before breakfast the next day. While I definitely prefer a denser brownie to this more cake-like version, I loved the savoury addition of tangy goats cheese.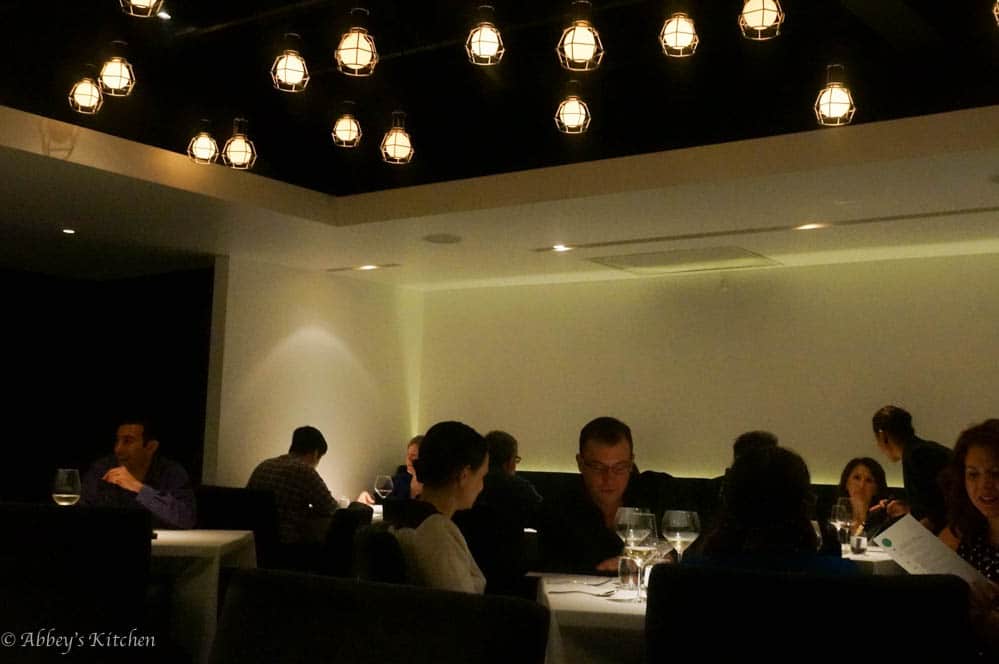 Closing Remarks
-For 2 x 8 course tasting menus, one wine pairing, and 4 cocktails, our bill came to $368 including tax and tip. I definitely think this exceeded my expectations at this price. The food was consistently inventive yet delicious, the wine pairings were spot on, the cocktails were solid, service was professional, and I loved the ambiance. There isn't a whole lot I can critique here, considering I have paid for many more meals at the same price or higher that have paled in comparison.
-I would highly recommend checking out The Pass for a special occasion meal, and would certainly return on a future trip for another myself.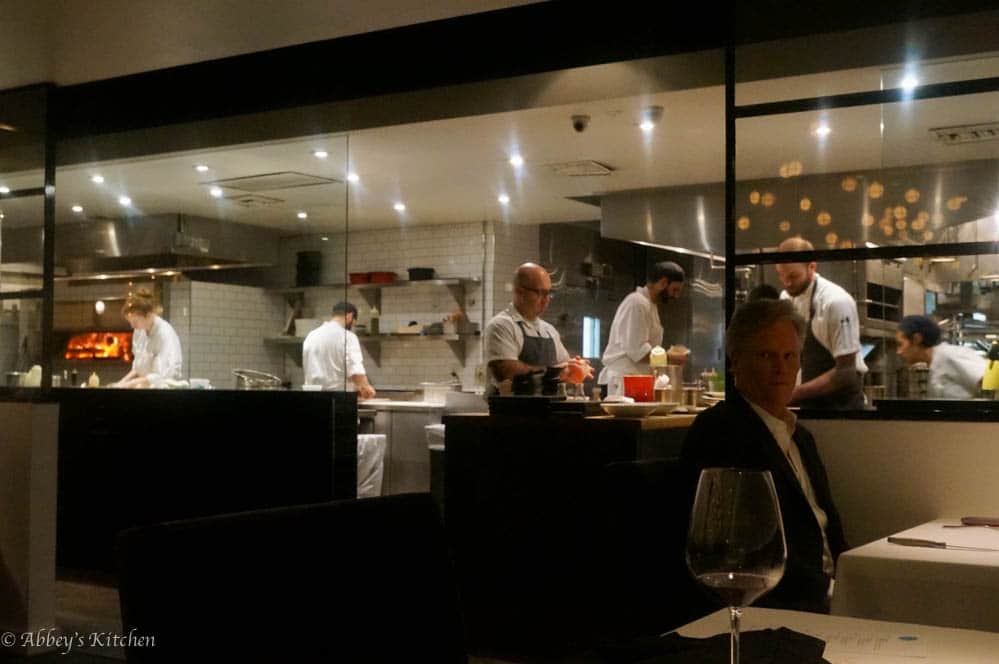 Updated on May 8th, 2019