Opening Remarks:
-Opened in 1945
-Owned by Pop Newland, a British man who's been making fish & chips his entire life.
-With the success of their original location in East London, the family opened up a second shop in Camden Town.
-They are frequently regarded as the top Fish & Chip parlor in London.
-Poppies offers live music Fridays and Saturdays.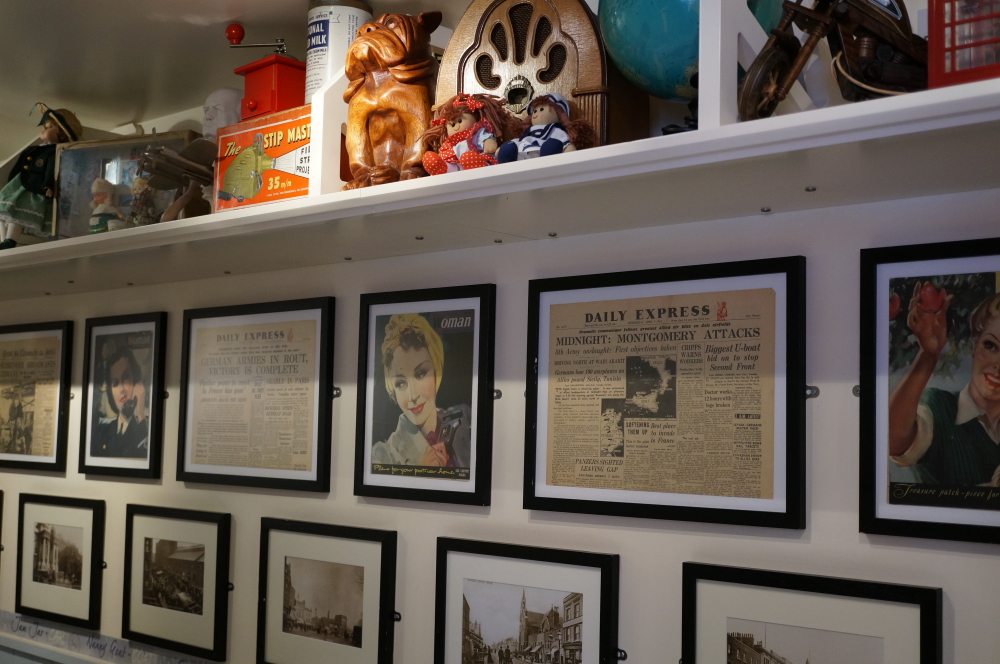 Ambiance:
-Straight out of a scene from a post-war film. The posters on the wall speak to war-time paraphernalia and 50s pinup housewife jokes (so my style). The ceiling is lined with old toys and housewares from the 50s including the tiniest television I have ever seen (then again, nowadays we watch TV on our phones!)
-Beside the dining room there is a line up out the door for quick take out. Patrons can take it home or stand around one of the high top tables outside.
Service:
-Fast, efficient and remarkably friendly – our server asked us how we would like our meal timed (thank you!!!) and if we would like new cutlery and plates between courses.
-Servers all dress up in 1950s nautical type dresses – honestly, it's like Poppy's was personally created for me!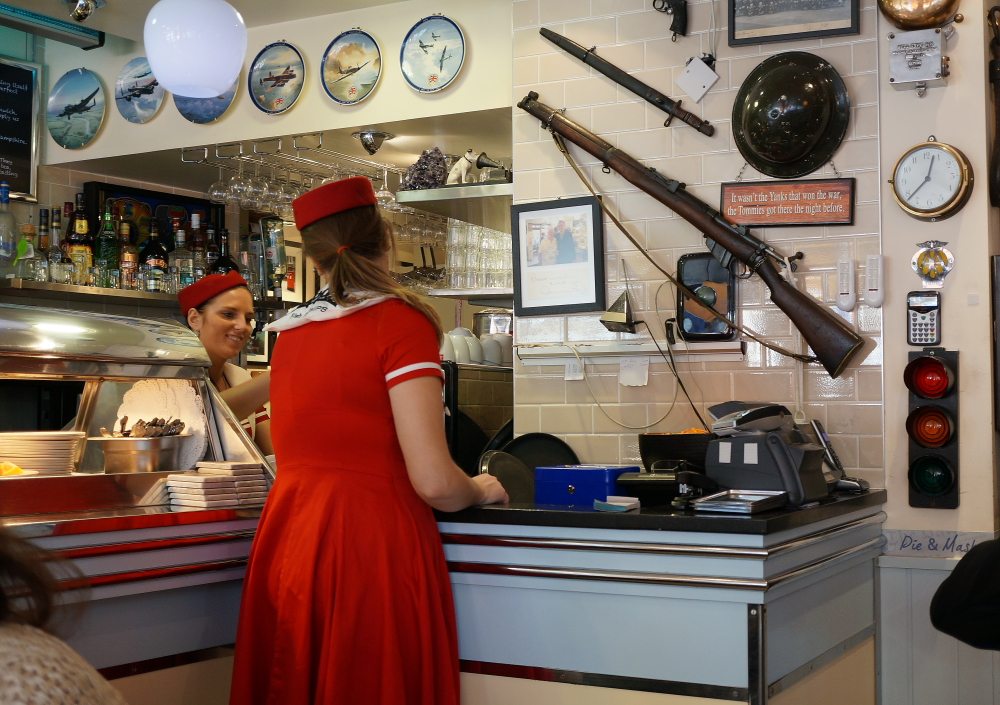 Drinks:
-I believe the other location offers booze, but we were already feeling loopy from jet lag so ordered simple with a few Cokes in retro bottles to keep things sober.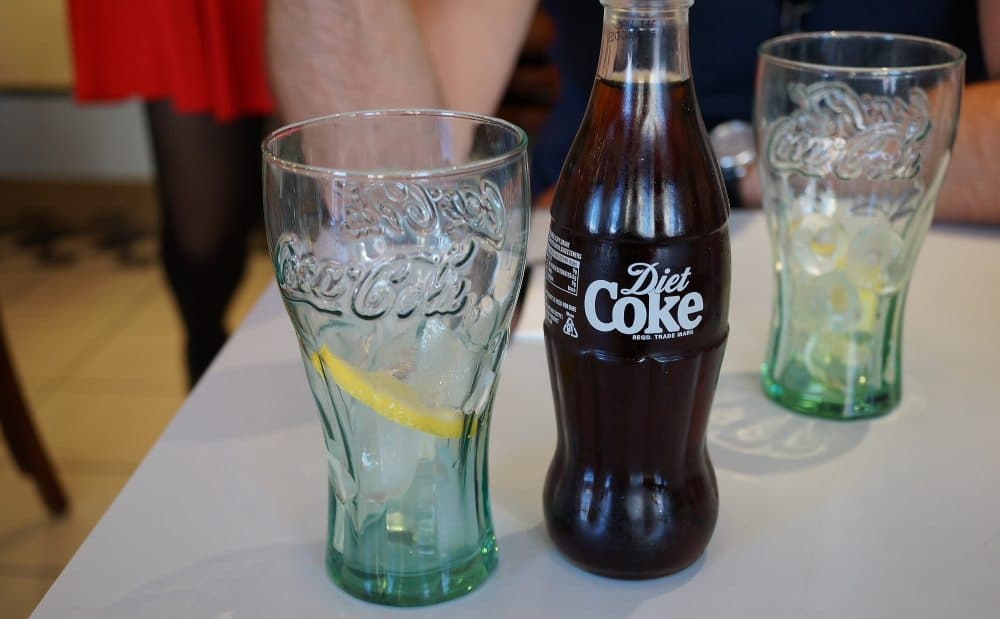 Menu:
-Heavily fish & chip based rounded out with a variety of classic British staples like baked beans and mushy peas.
-All fish is sustainably caught and purchased from Peterhead Fisheries.
-There are 13 different seafood options for your fish & chip supper.
-Take-Away meals are served in newspaper like the good old days.
Hand Peeled Prawn Cocktail (₤ 4.95)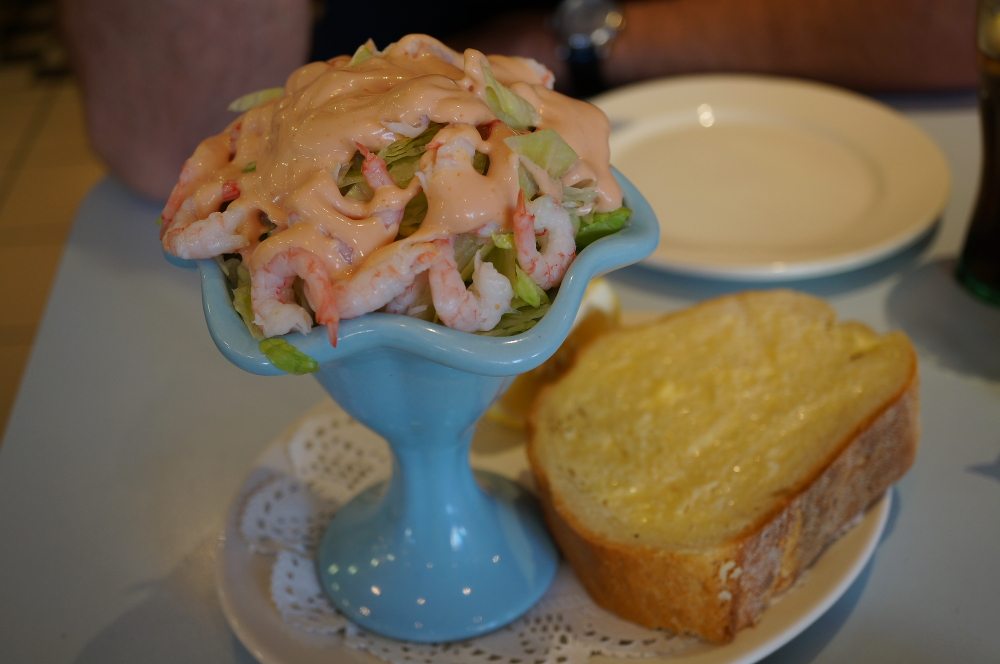 We certainly weren't expecting baby shrimp in a Russian-type mayo dressing laying on a mound of iceberg, but it was pretty tasty. My only complaint is that I wished there was some dressing on the lettuce below and a little less on top as it was hard to get an evenly dressed bite.
Gherkin (₤ 1.00)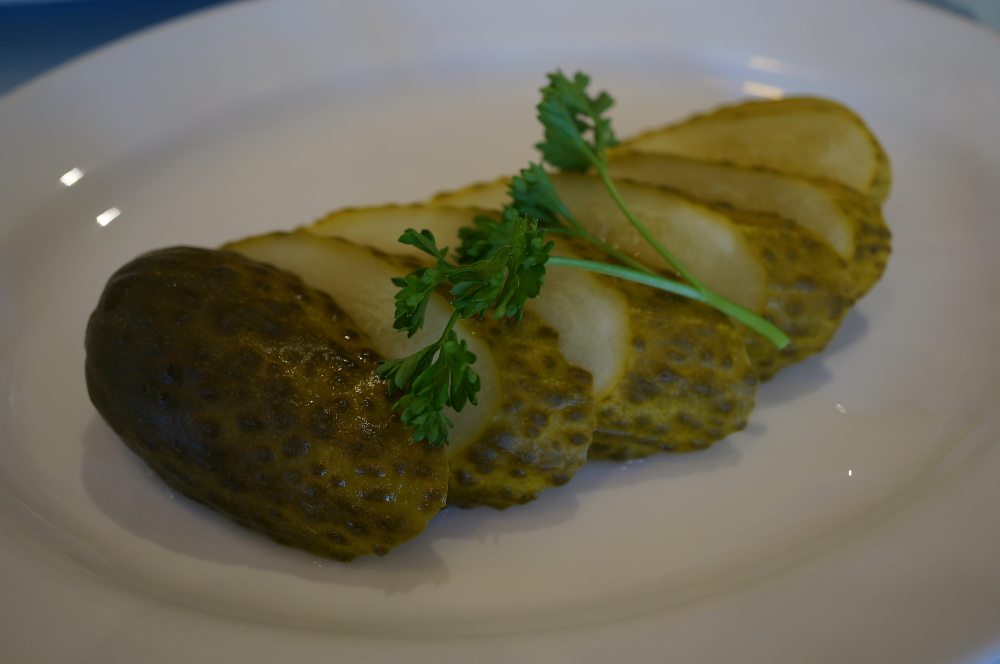 Yum. Mild sweetness and not too sour, a great pickle.
Garden Peas (₤ 2.45)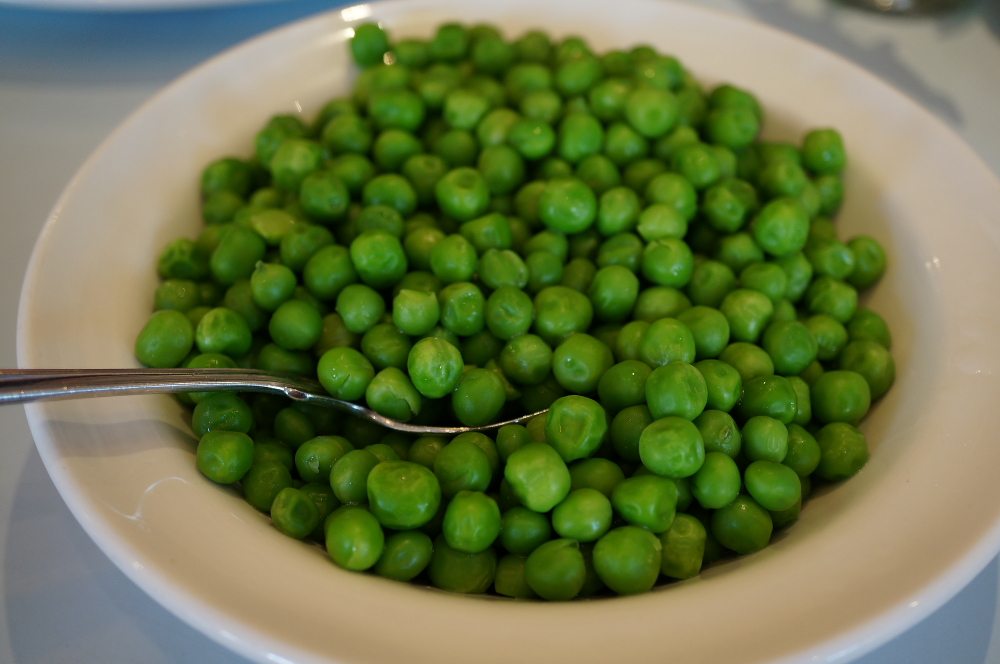 These are you-know-who's favourite food so he was super pleased with this. Simple but effective.
Halibut and Chips (₤ 15.90)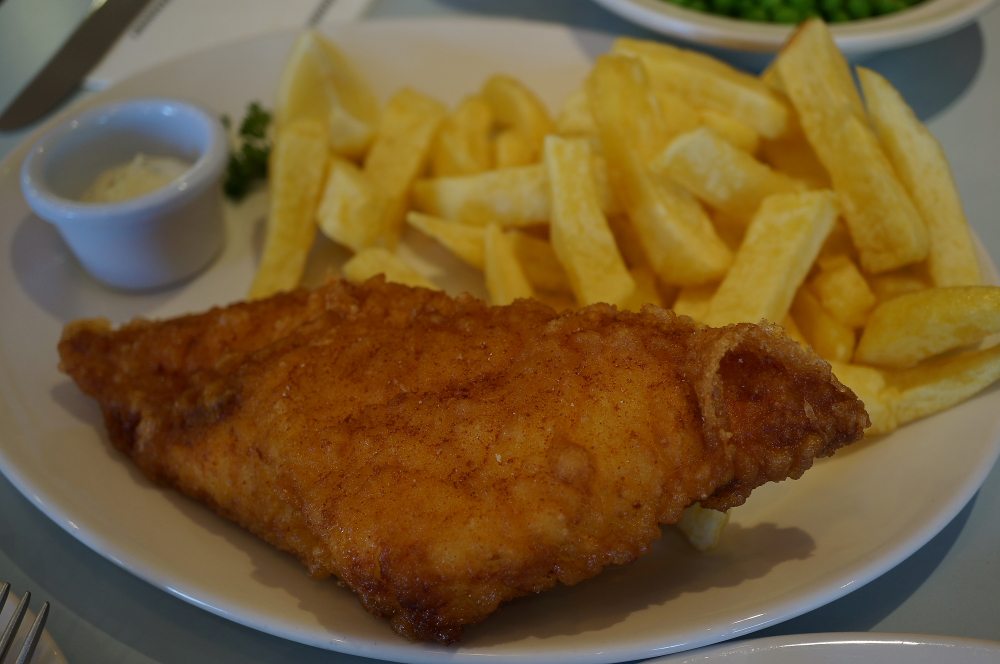 I can see what the fuss is about-these were damn good F&Cs. The halibut was so moist, it literally melted like butter on the tongue, while the batter was crispy but light. The chips, while not my personal style of fried potatoes (I like skinnier with skin and more browning), were undeniably fluffy.
Cartmel Sticky Toffee Pudding (₤ 4.60)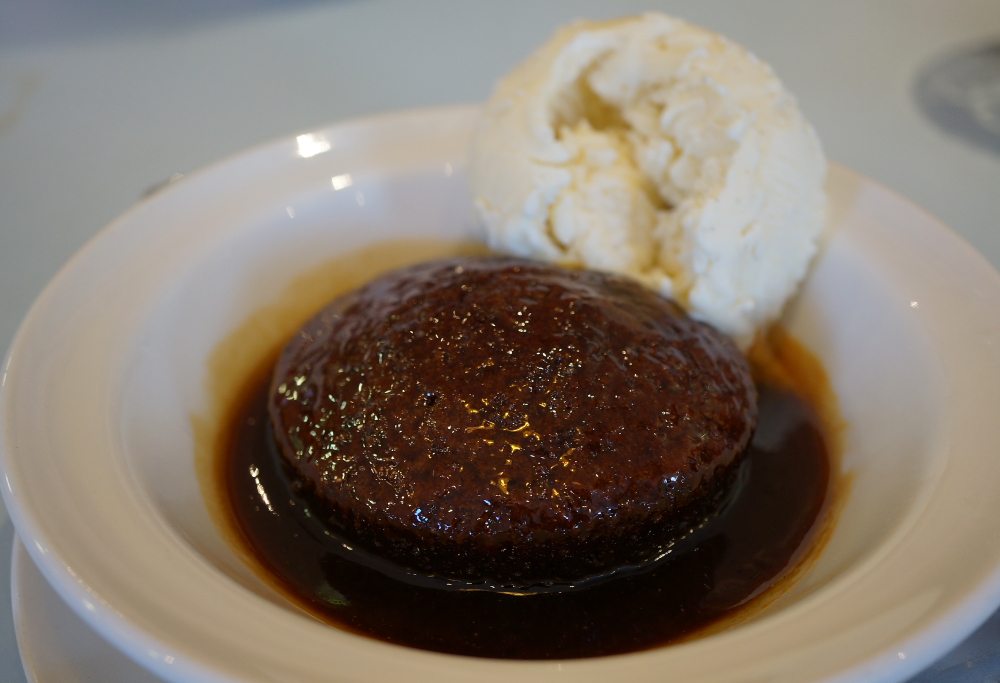 Months ago (maybe years ago) Carmel tweeted to me all the way from England and I have since wanted to try their famous STP. Well, it was damn good. Not too sweet, but super moist and delicate, I loved the rich molasses flavour of the cake. I wasn't particularly hungry but I ate it all up.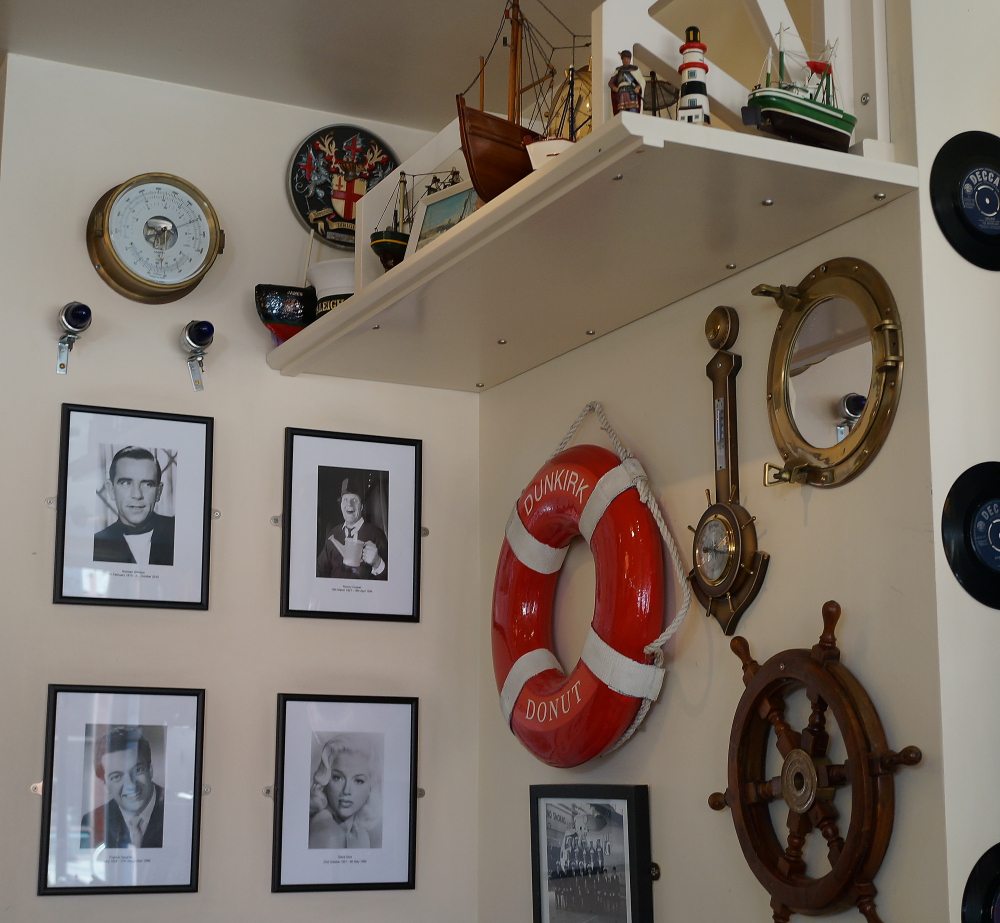 Closing Remarks:
-Bill for 5 dishes and 2 pops came to ₤37 including tax and tip ($60 Canadian). Kind of pricey considering what we got and what we would likely pay for this in a fish and chip shop at home
-Despite the price, the food and service was great and I loved the nostalgia atmosphere and for that alone I would be back.
Updated on May 8th, 2019