Opening Remarks:
-Rasa, translated to "Essence" in Sanskrit, is located in the Harbord and Spadina area in the former Momo's space.
– Owned by Brent McClenahan and Adrian Niman, The Food Dudes Inc. are no newbies to the local food scene. They were pretty much part of the first generation of Toronto food trucks, and remain by far one of the most successful roaming the streets to date. I have eaten a lot of food truck food at this point, but I maintain that their Nutella Bombs are one of my favourite street food dishes (check them out here).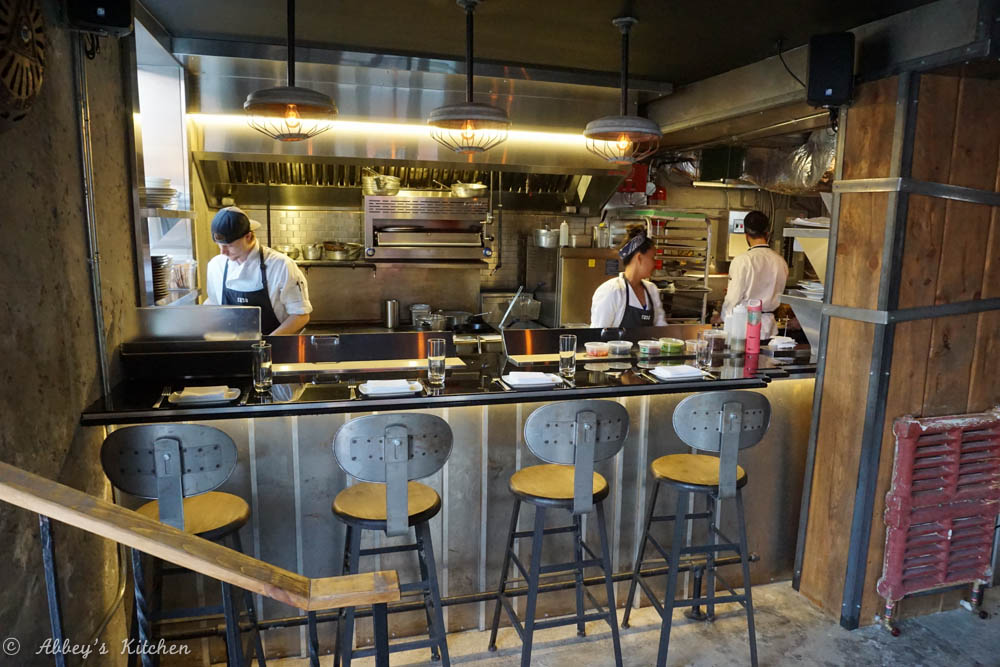 -Well, with food truck season in full swing, somehow they've also managed to add three additional major projects to their resume for 2014.  Back in May they launched a 10,000 sq. ft. kitchen and office space called Pantry to accommodate their massive catering business and offer take-out out of the front shop. They also hopped into the restaurant scene with Rasa having launched in June (with co-partner Adam Minster), and the soon-to-open Junk (with acclaimed chef Matt Blondin) slated to open soon.
Ambiance:
-The 50-seater apparently took nearly a half a million bucks to get ready for launch as it had to be gutted and then structurally completely repaired.
-Designed by Type-D Living's Damon Snider, the space features an eclectic combination of cozy barnyard and industrial warehouse with its custom hand-built furniture.
-The glowing tea candles warm up the reclaimed wood furniture and antique hutch, suggesting an atmosphere that's rustic, cozy and inviting.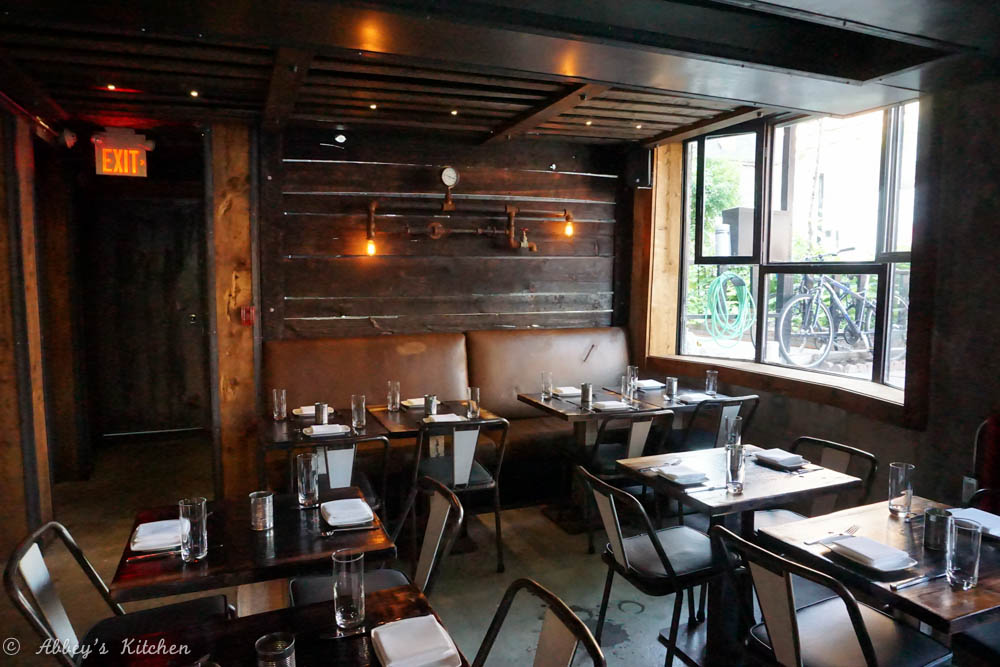 -In contrast, the exposed filament bulbs poking out of the concrete between shelves of liquor illuminate the black glass bar and provide that sexy warehouse vibe.  My favourite little detail is the rustic tin keg, which is apparently where the Seasonal Punch is poured (I'm asking for one of these babies for Christmukkah this year)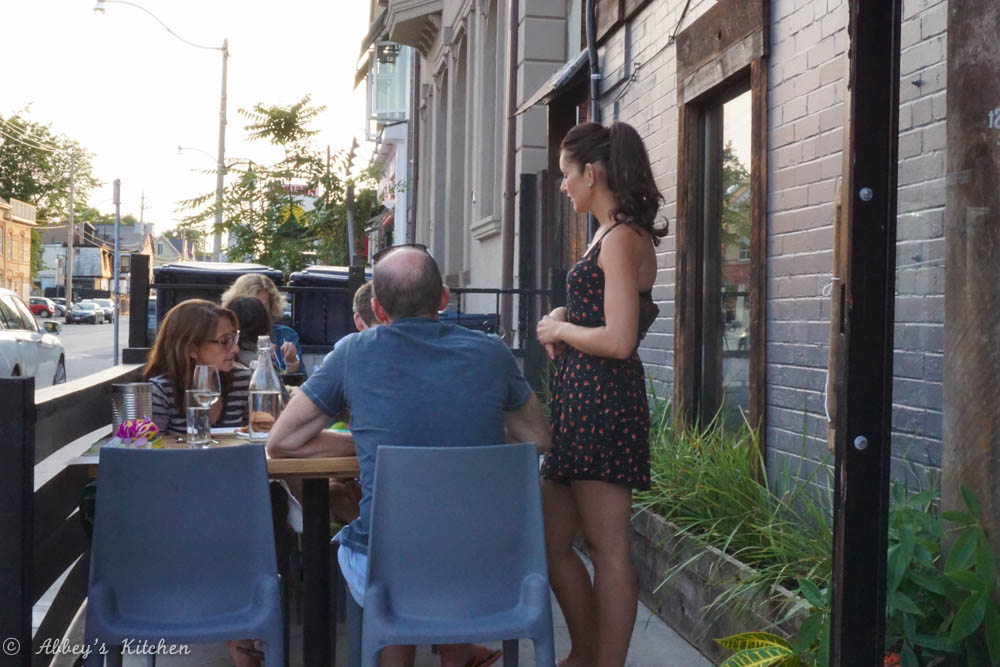 -As the night grows darker, the room dims without the natural light spilling in through the door, leaving the opening kitchen to shine in grave contrast to the room. While most of us diners wanted to spend the evening outdoors on their wrap around patio, a few lucky diners nabbed the chefs rail up front.  This is usually my seat of choice, but I found the rail-seating overlook the street even more fitting for a Summer night.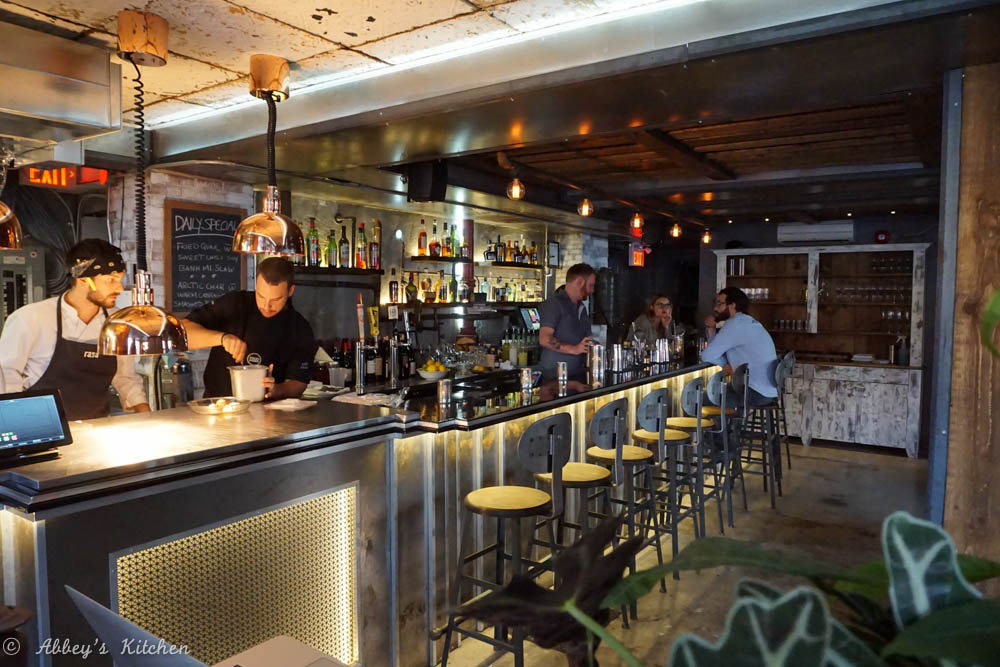 Service:
-Service was friendly, attentive and playful. We had a few people helping us out over the night, including co-owner Adam, and everyone was personable and well-versed of the menu.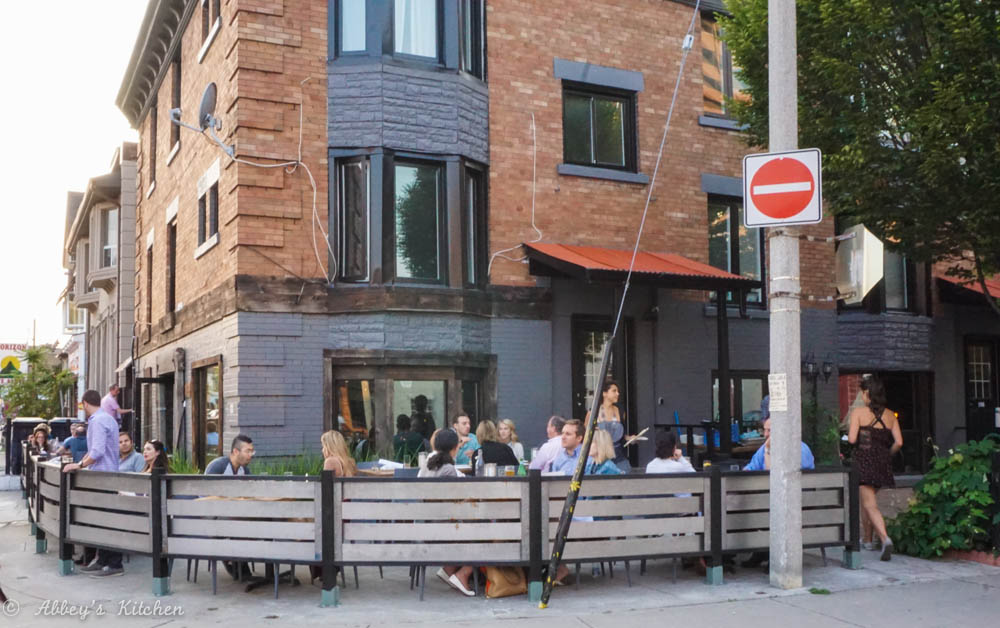 – In restaurants where menu items are meant to be shared, I always appreciate when dishes are brought out individually, so that I can at least have a moment to breath and photograph each one. It can get really stressful for a food blogger when there are suddenly 3 or 4 dishes plopped down onto an already- crammed table and you have to give your dining companion the stink-eye about touching them until you've arranged and styled them all. With just one at a time, it's far more manageable, quick and polite (for your dining guests!). Thankfully, the folks at Rasa got the shareplate service down so I didn't even have to ask- each plate came out in a very manageable pace so that we never had any super lengthy waits or rapid successions of dishes.
-Likewise, water glasses were kept full, and side plates and cutlery were consistently replenished as needed between any super messy/ saucy dishes.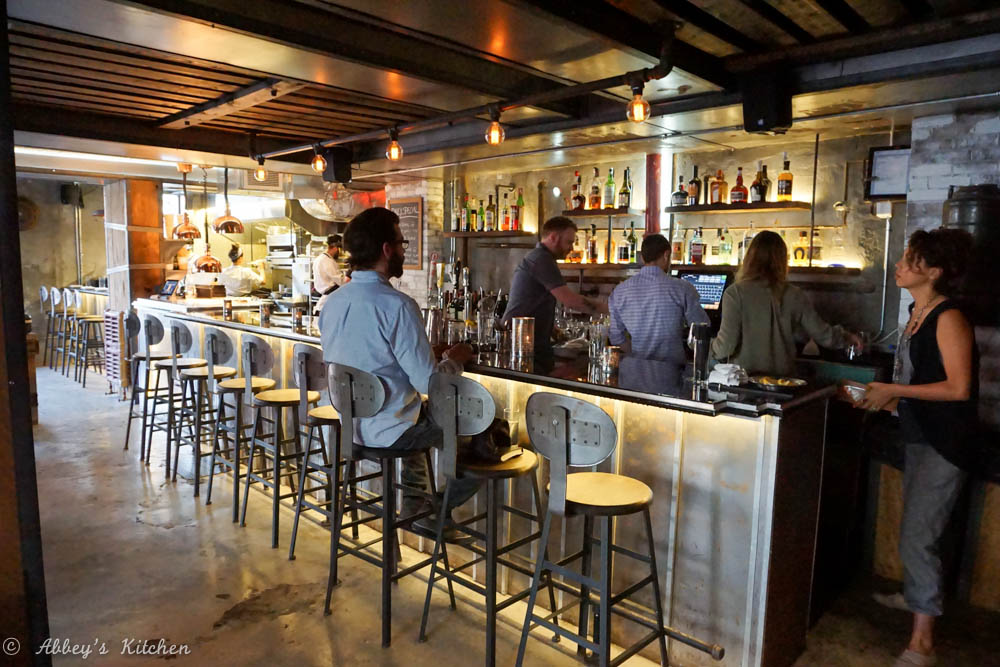 Drink:
-Mixologist Chanel Wood (of Cold Tea) has put together a really unique list of 8 signature cocktails, with pretty much every spirit featured at least once (well, except Vodka because hot Toronto bars only use that for Caesars). Expect a variety of house-made syrups (like Nettle and Capillaire), bitters and a solid selection of Sherry's added to the party, which you don't see as much.
-Non-liquor lovers can opt for one of their 30-or so International wine bottles ($44-200), a third of which are available by the glass ($9-12).  Alternatively, there are also a dozen or so local craft beers on tap ($7.50), or by bottle or can ($6-8) that I'm sure there's someone for everyone's taste.
Cocktail Special: Frankie's Dream
Bombay East Gin, Coconut Milk, Pineapple, Cilantro, Benedictine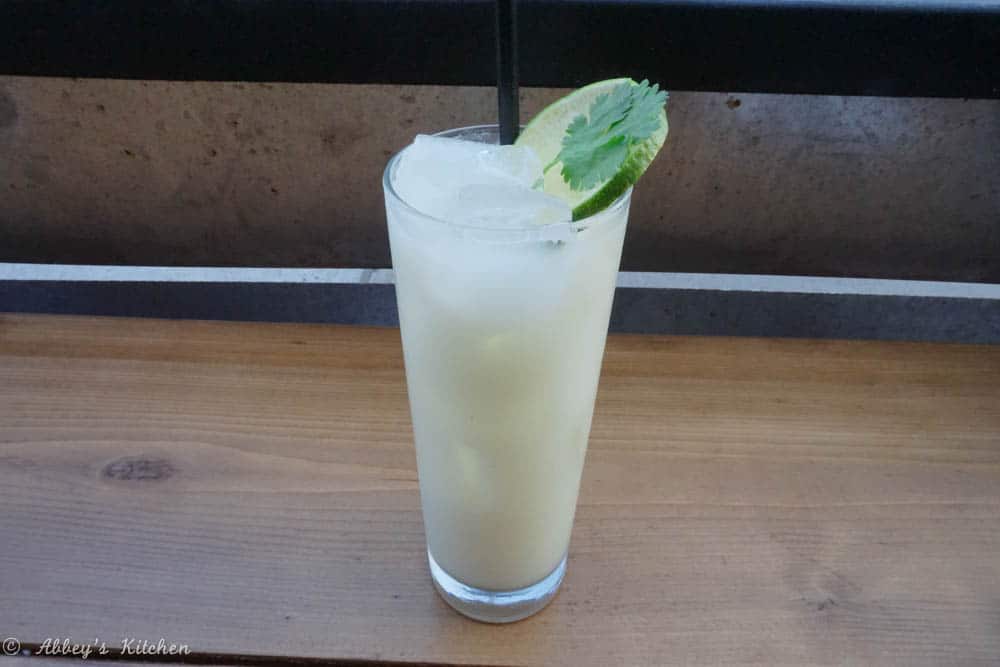 Super delicious. It wasn't overwhelmingly creamy or heavy, as the bright pineapple and cilantro helped balance out the nutty milk. I don't know who Frankie is, but I'm totally digging his dream.
Hidalgo's Cure ($12)
Tromba Tequila, Alvear's Fino, Nettle Syrup, Fresh Lemon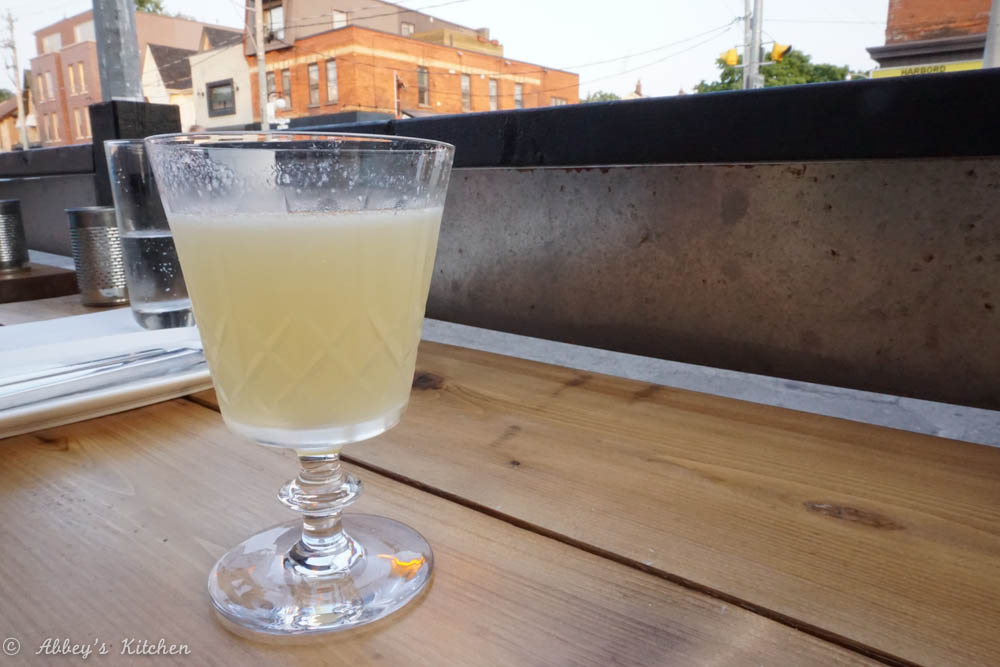 I loved the combination of the Tromba with the nutty aromatic Sherry and the refreshing bite from the fresh lemon juice.
Jamaican Observer ($13)
Havana 3 Year Rum, El Dorado 5 Year Rum, Wray & Nephew Overproof Rum, Ginger, Honey Syrup, Mezcal Spritz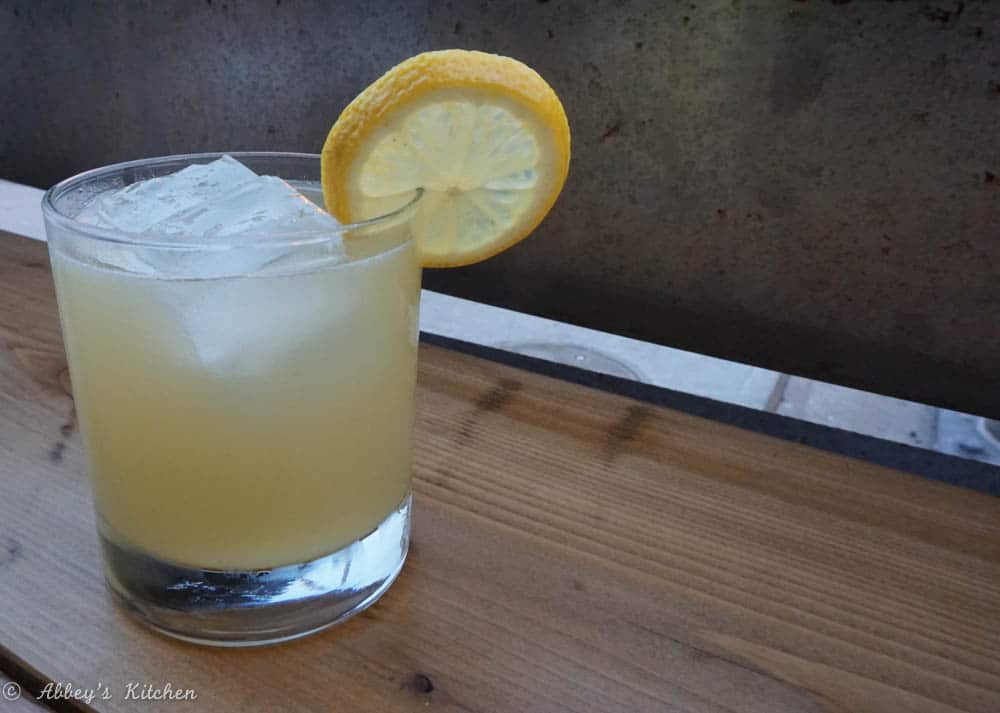 A triple hit of island flavour with not one, not two, but three rums on board and I loved the addition of spicy ginger, floral honey and a little fizz to temper the booze down.
Chartreuse Swizzle ($15)
Chartreuse, Macademia Falernum, Lime, Pineapple Juice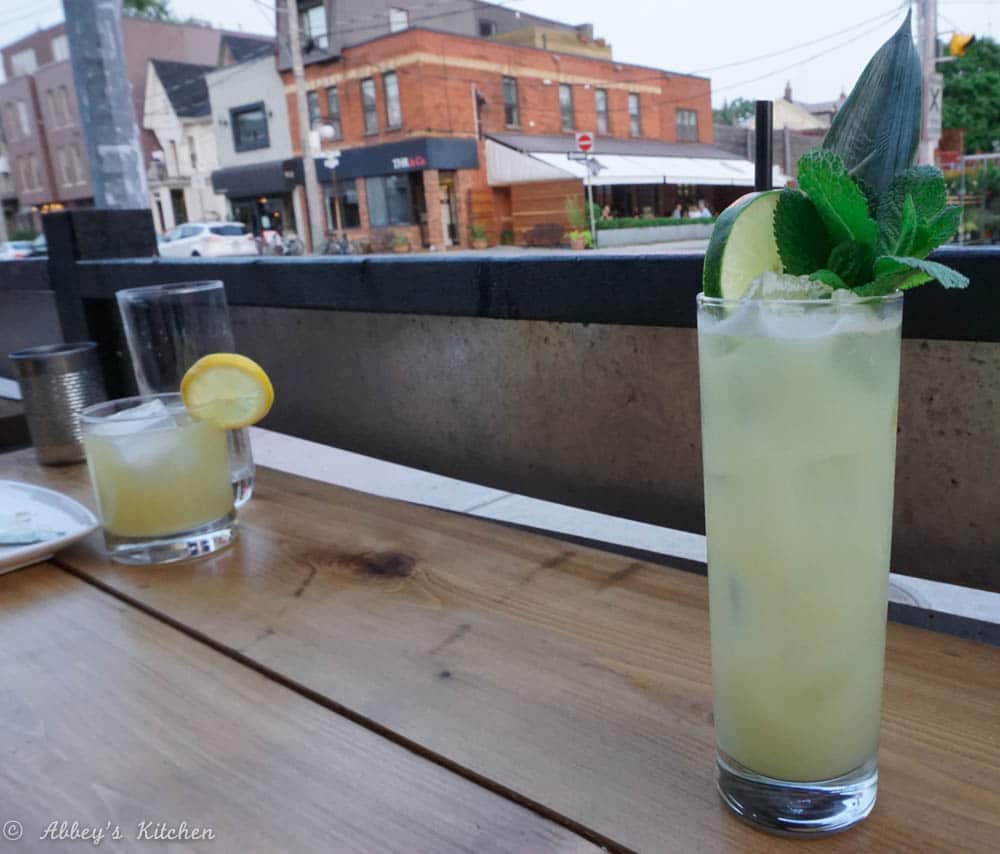 This is totally my kind of drink- the type that goes down with way too much pleasure and gusto to mean any kind of good thing for the next day. The slightly vegetal flavour of the chartreuse paired beautifully with the sprightly pineapple, sour lime and the nutty yet sweet macademia syrup. This one can be renamed Abbey's Dream. Thanks.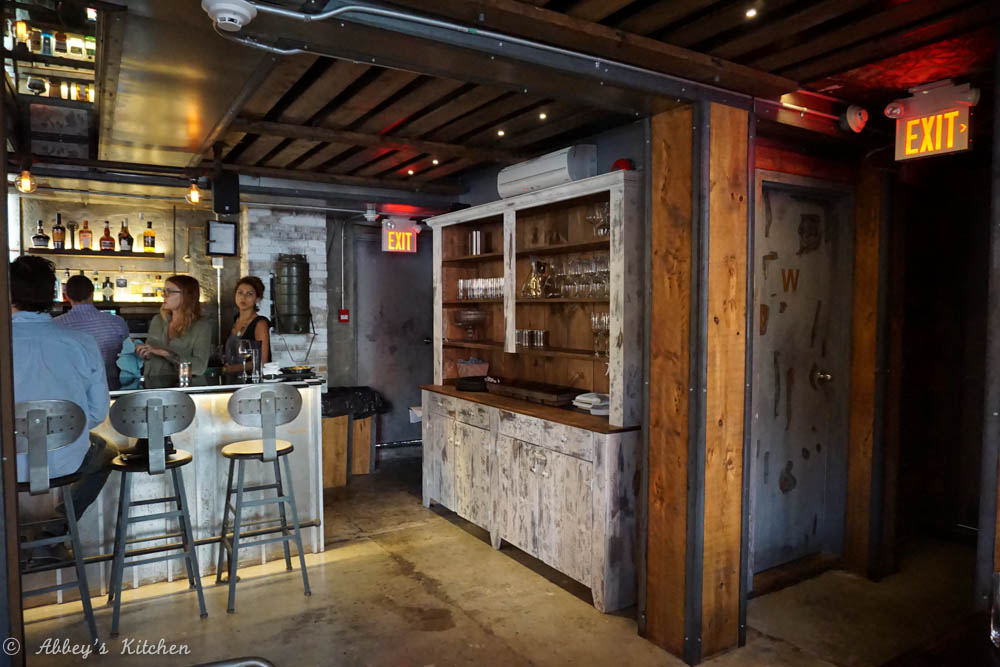 Food:
-The menu is a globally-inspired collection of about 15 savoury courses and 4 (rocking) desserts. Like most new Toronto restaurants, Rasa doesn't pigeon-hole diners into any specific pattern of eating. Rather most, if not all, of the dishes are shareable and arrive in various sizes, allowing for a more shareable dining experience.
-A quick glance through the menu reveals a different cultural influence in nearly every dish with multiple dishes employing a number of different cultural techniques together. Imagine Eastern European Cabbage Rolls with Mexican Queso and Korean Kimchi Slaw. Or Jalapeno Poppers with Mexican Crema and Italian Bolognese Pasta with Asian Fermented Chilli and Crispy Pork.  I was admittedly pretty pumped when I read the menu through so I knew this was going to be one of those "eyes are bigger than your stomach" nights out –Sigh, #FoodMediaProblems. Thankfully, the kitchen agreed to do some of the dishes 1/2 size so that I could eat more and share more with you! Take a peaksie here.
Mini Muffins (Complimentary)
Semolina, Grilled Corn, Poblano, Cheddar, Honey Butter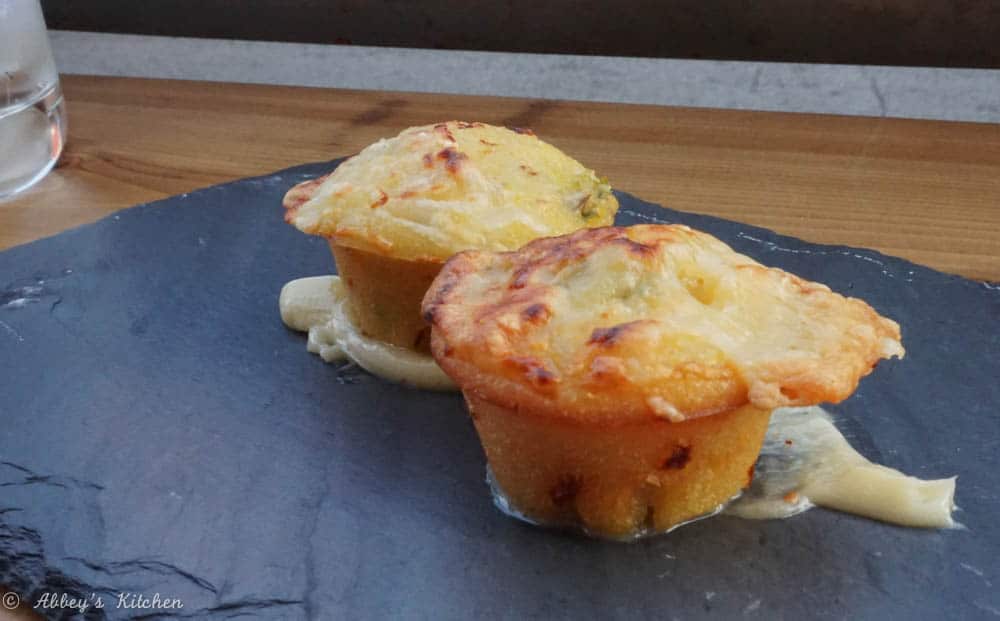 Crazy yum. Moist baby muffins with just enough heat to balance out the sweet pops of fresh corn and savoury cheese topping. Way too easy to eat.
Chopped Salad (1/2 of Regular Order, $13 for Full Order)
Vegetables, Quinoa, Macedonian Feta, Crispy Chickpeas, Sumac)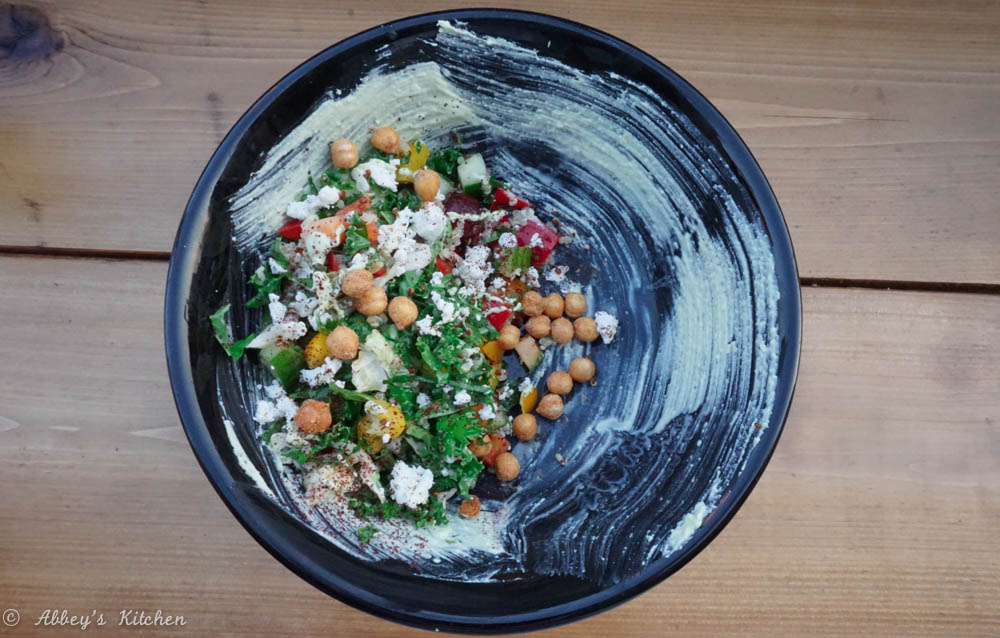 Don't let the simple name deceive you- this is more than just a diner chopped salad. The mildly salty feta dressing, the addictively crispy seasoned chickpeas, the crunchy fresh cucumber, the explosively sweet grapes, the nutty chew and sexy colour of the quinoa, and my beloved Middle Eastern Sumac on it all, made this girl-who-rarely-orders-salads-in-restaurants an absolute junkie. Rasa, I'll be back to study this in more detail because I am stealing this recipe for home.
Spicy Tuna Bites (2/3 of Regular Order, $14 for Full Order)
Albacore, Yuzu Ponzu, Wasabi Pea, Squid Ink Brioche, Wakame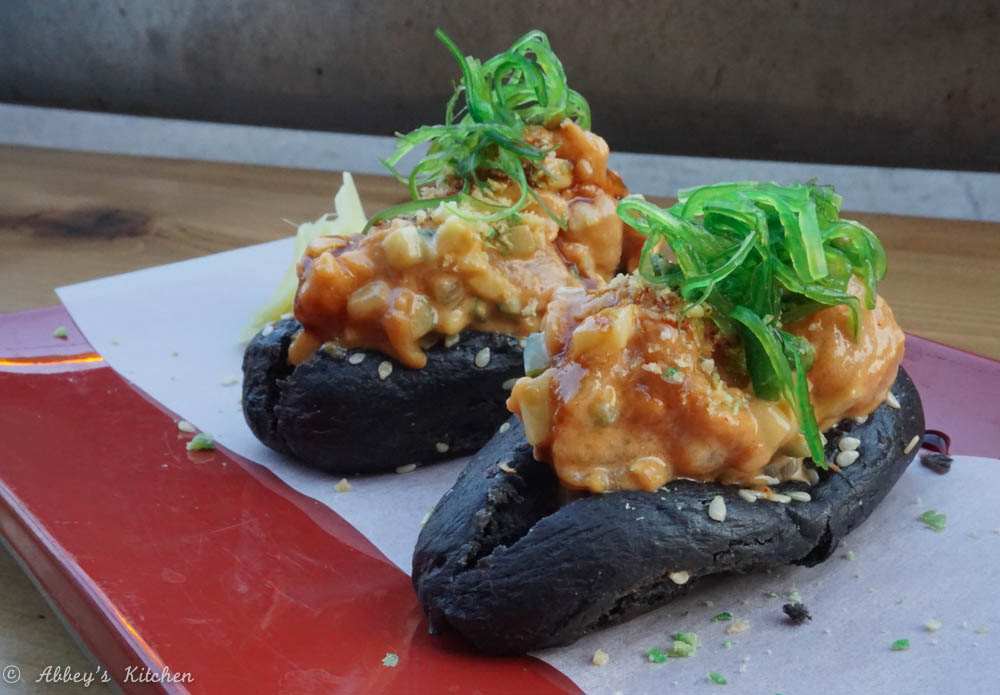 Wow, talk about a mouthful of savoury flavour. The luxurious fatty tuna was bathed in a mildly creamy yet bright yuzu sauce, and was then tucked into a pillowy pleasantly sea-scented brioche roll. With so many buttery textures on the tongue, the crisp wakame and hard wasabi pea snacks offered a much welcome layer of crunch. Genius.
Jalapeno Poppers (1/2 of Regular Order, $12 for Full Order)
Serrano Jam, Goat Cheddar, Lime Crema, Pico de Gallo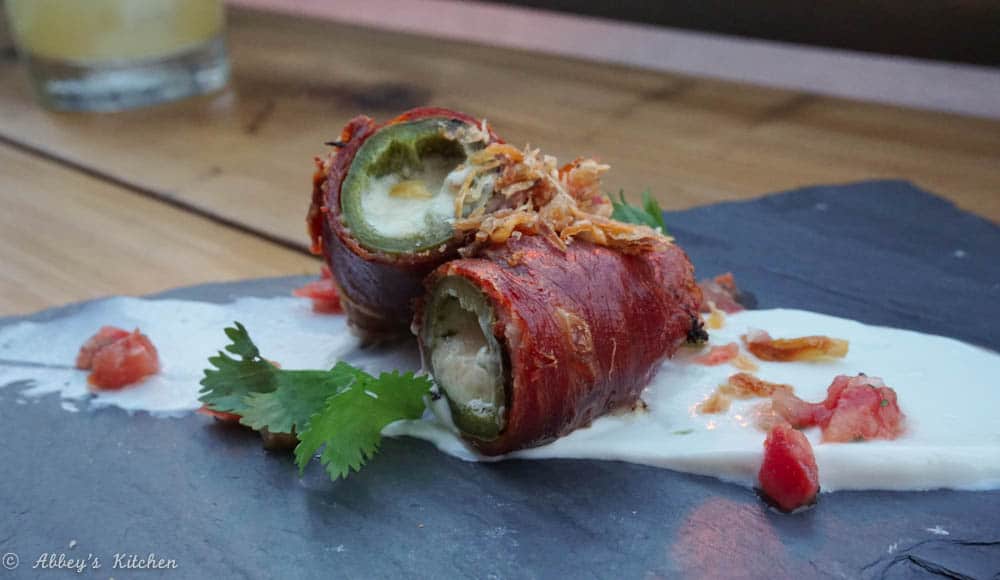 These playful little poppers packed a solid level of heat to compliment the tangy smooth goat cheddar and the salty crisp Serrano ham. With all that richness going on, I was particularly grateful for the hit of fresh tomato flavour with the pico de gallo.  Perfect party bites.
Ribs ($14 for Full Order)
Lamb Belly, Chimichurri, Greek Yogurt, Pine Nuts, Pickled Things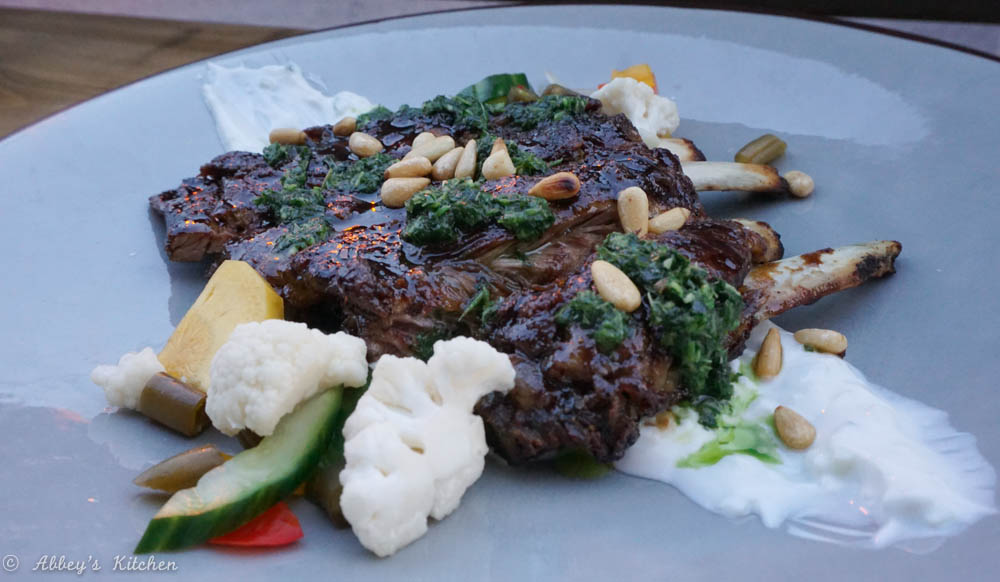 One of our favourite dishes of the night. I was amazed by the remarkable tenderness of the meat, and yet, there wasn't a single piece of gristle to slow down my enjoyment. Their inherent delicate flavour was enhanced by the Food Dude's house BBQ glaze, balanced out by the tangy Greek Yogurt and pickled veg. These aren't even pork, and they're some of the best ribs I've ever had.
Fish Board (MP for Full Order)
Torched Scallops with Chorizo Spices on Labneh with Peach Salsa & Fried Capers; Pickled Vegetables; Albacore Tuna Jerky; Tuna Caprese Salad with Basil Puree and Parmesan Crisps; Cold Smoked Salmon with Everything Bagel Crumble, Crème Fraiche, Oranges and Pickled Green Beans
Oh, the daily fish board, how could I say no? It's hard to pick a favourite from this display of utter fabulousness, there wasn't anything neglected as we sampled back and forth. The inherent sweetness of the scallops was balanced by the heat of the chorizo seasoning, the bright peaches, and the tangy thick labneh. Oh and those fried capers? A brilliant touch, boys. The tuna jerky had a sturdy meaty texture with just enough fat to keep it from getting too tough- I would love to see that stuff packaged and sold at Pantry (if it isn't already there). Meanwhile, the Caprese had everything I could want and more of our staple Summer salad with the added bonus of rich buttery fish. Finally, I loved the cheeky nod to the deli platter with the salty and savoury bagel crumble alongside the burst of juicy goodness from the segmented orange and smoky salmon. This surely changes often, but I'm quite confident it would always be good.
Truffle Gnudi (1/2 of Regular Order, $18 for Full Order)
Local Mushroom, Portobello Soil, Pickled Shimenji, Pesto, Mache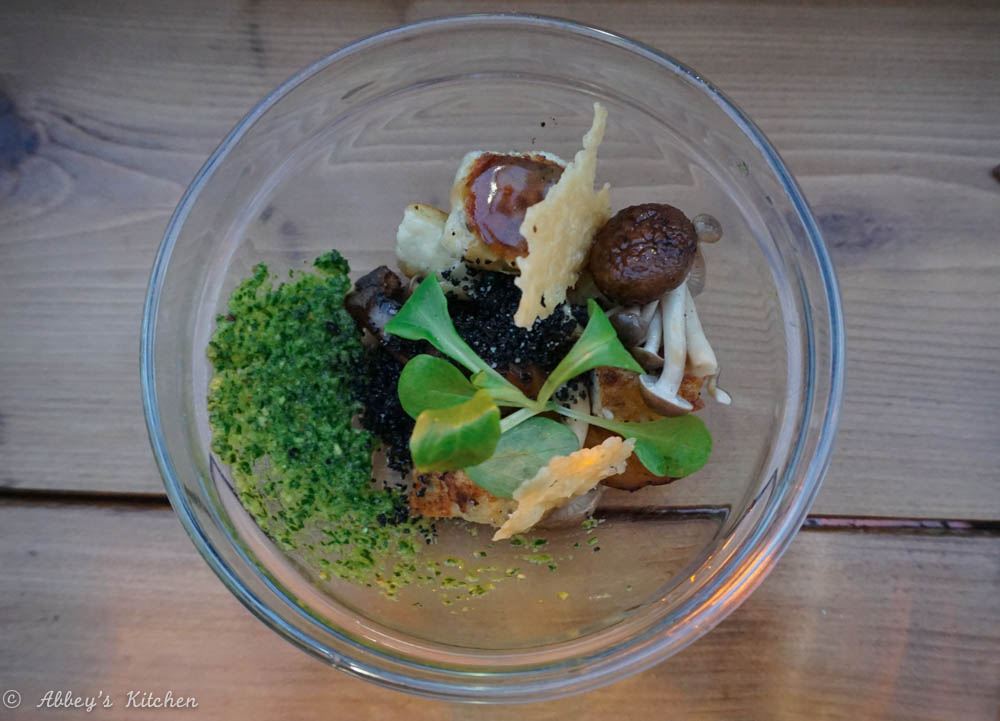 Another winner of a dish (are you getting the theme here? Winning is my favourite food theme). The light yet fried-crisp gnudi were beautiful with the umami-rich selection of local mushrooms- the earthy Portobello soil, the bouncy pickled bits, and the lightly sauteed ones in the mix. I often find vegetarian dishes fall into one of three categories- they're boring and monotonous (primavera pasta anyone?), they use ingredients that "taste like" meat but aren't (no, I don't really want Chick'n) or they're loaded with cheese as if that's the only source of pleasure those poor veggie-eaters can have. Rasa doesn't fall into any of the three traps, delivering a satisfying and beautifully presented meat-free dish that any carnivore would devour.
Cabbage Rolls (1/2 of Regular Order, $18 for Full Order)
Kalbi Beef, Mushroom, Queso Sauce, Kimchi Slaw, Vermicelli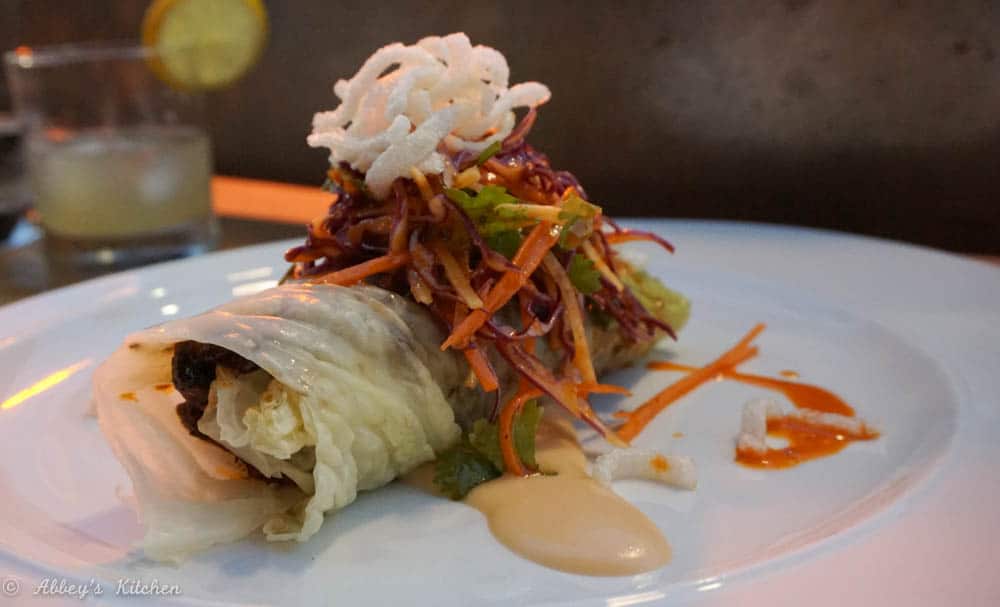 This last dish was another total favourite at our table. The addictive sweet-soy scented Korean short ribs with the salty cheese sauce and the funky fermented slaw was totally my style. An eclectic combination of ingredients, yes, but there was nothing there that didn't totally work. At $18 for two huge meaty rolls, I'd say this is a solid deal.
Dessert Platter (Mini Versions of Each, Full Order for $9-10 each)
Citrus with Grapefruit Sorbet, Beetroot Meringue, Compressed Rhubarb, Strawberry Consomme; Cereal with Cornflake Ice Cream, Puffed Grain Clusters, Ganache, Banana, Almond Milk; Sticky Bun with Candied Bacon, Walnut Praline, Cream Cheese Anglaise; Chocolate with Passion Fruit Ganache, Coconut Crumble, Marshmallow and Brownie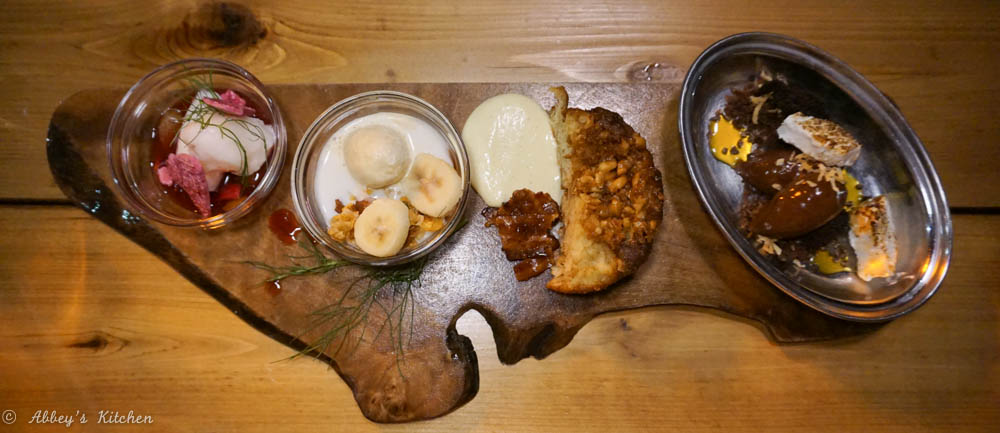 Dessert lovers like me should know to leave room for (at least) one of Rasa's sweets- the hardest part will be deciding which to choose. Hopefully, I can help you with that. For those who prefer something light without too much sugar, the combination of the bitter-sweet grapefruit sorbet, tart rhubarb, and refreshingly berry broth will hit the spot . The cereal is another light choice with its range of satisfying textures from the smooth mildly sweet ice cream, crispy cereal treats, thick ganache and fresh sliced banana.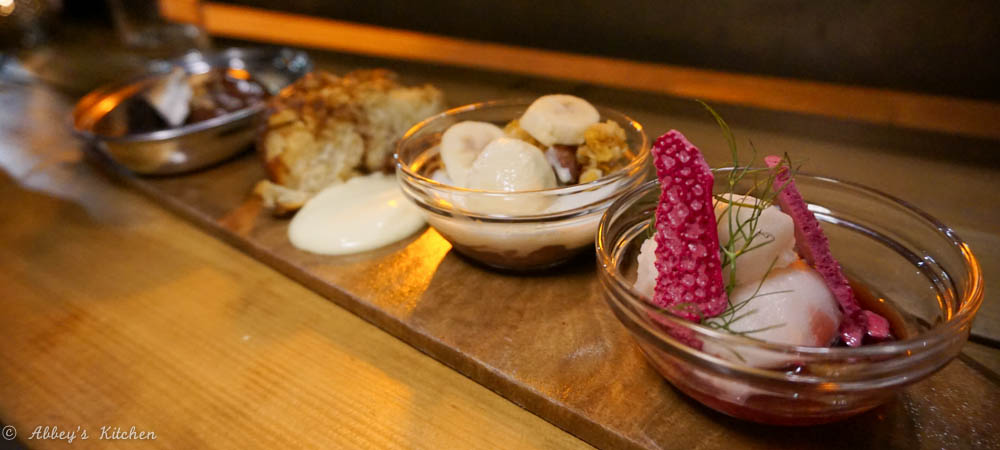 Once the almond milk flooded the little bowl, it's kind of fun dig in blind and pull out the hidden treats. At the other end of the spectrum, those who love their caramelized sugar (that's me!) should go straight for the sticky bun. Its sticky sweetness was made even more addictive alongside the chewy candied bacon and the surprisingly light and tangy cream cheese anglaise.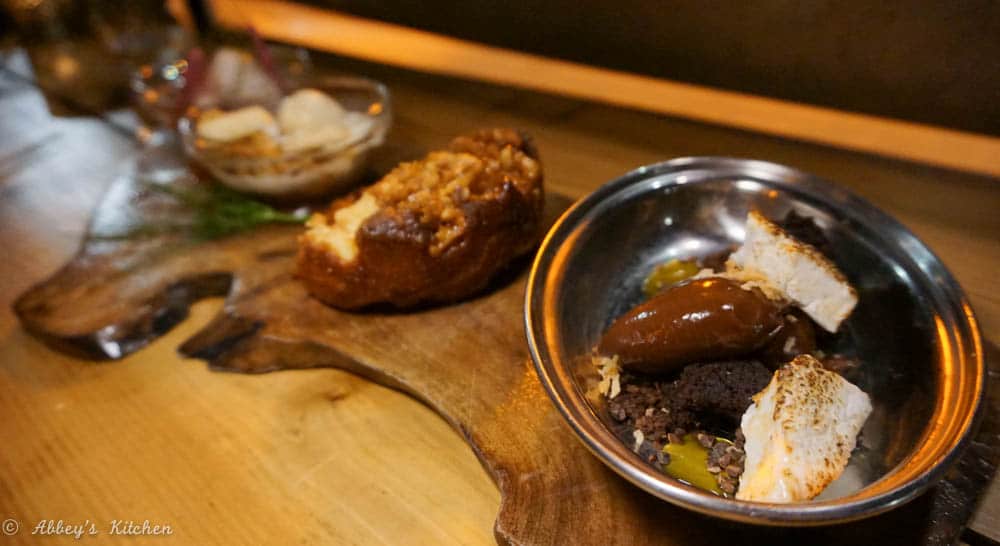 Finally, chocolate lovers, you know what to do. Actually, anyone and everyone should get the Chocolate offering- and that's coming from a girl who's not very keen on the dark stuff. But when swiped through the palate-spanking passion fruit sauce, and speared with a little fudgy brownie and bouncy marshmallow, the luscious rich mousse became my best friend. This one, we did fight over. Actually, once we had scraped the bowl, I also noticed that the bowls were suspended onto the platter with more chocolate, and I had to really hold myself back from eating that too.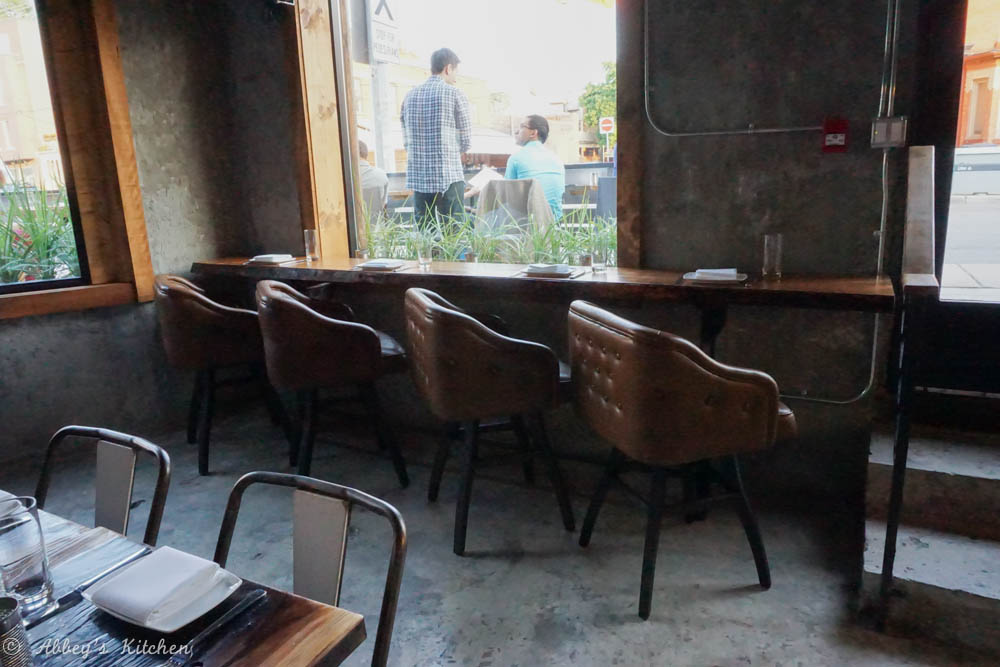 Closing Remarks:
-A bit confusing with all of the half and partial orders going on, but by my calculations, a couple could easily dine with 2 drinks each, 2 smaller plates, 2 larger plates, and 1 dessert (a solid amount of food) for somewhere around $145-165, including tax and tip- standard Toronto prices for far above standard experience.
-To summarize, I loved my meal at Rasa. The food was innovative, invariably tasty and far succeeded my expectations. I knew I loved The Food Dudes eats whenever I had them at food truck events, but this was even so far beyond that level. Likewise, all of the cocktails were easy drinking, well balanced and playful, the service was accommodating and personable, the décor and patio was inviting and fun, and it's a 20 minute walk from my place (a-maz-ing).
-I know I say this a lot, but I will absolutely be returning. I eat out a lot, and there are always so many new restaurants I need to try, but I would actually forgo eating somewhere I haven't to dine at Rasa again. That's how good it was.
-My goal is to get back before they close the patio and/or change the menu. I am going to need a repeat-eat of the salad, ribs, cabbage roll, chocolate and probably everything else I ate. Bring-it-on.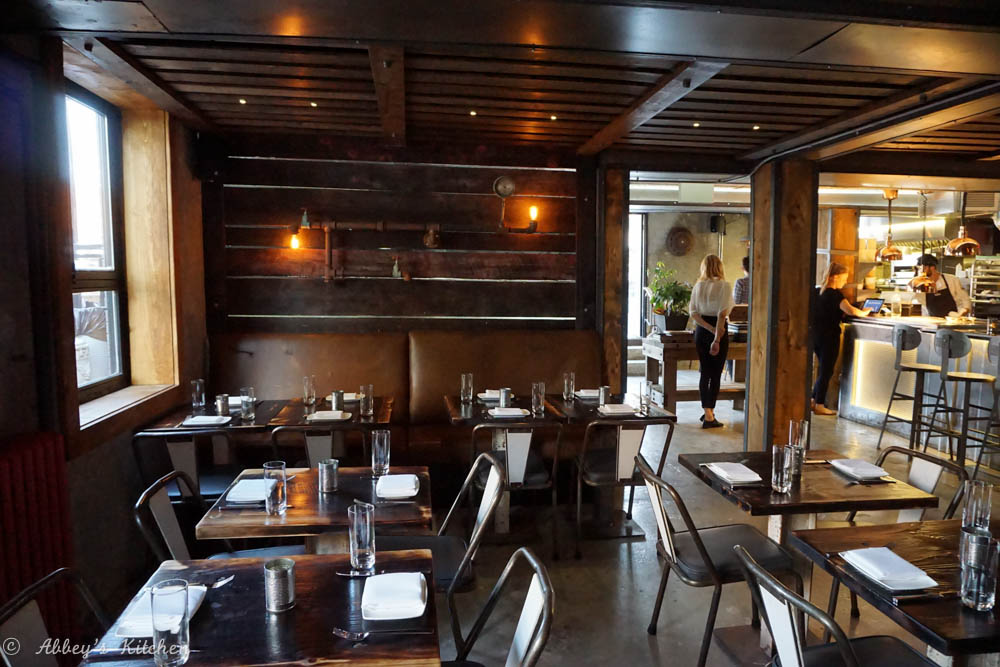 Disclaimer: The preceding meal was complimentary, however, as always, all opinions are genuine.
Updated on May 8th, 2019