SAAM in the Bazaar Opening Remarks:
-Located inside the SLS hotel, and even further, within The Bazaar by Jose Andres, is the exclusive private tasting experience called Saam.
-Unlike the SLS's main restaurant, The Bazaar, Saam only does dinner service Thursday, Friday and Saturday evenings with limited availability.
-I had dined at The Bazaar in the SLS Miami and absolutely loved our meal there. I was told that the Saam experience is even more spectacular so I was eager to make a reservation when I was in town.
-Having previously trained under molecular king Ferran Adria El Bulli in Spain, culinary director, Jose Andres, was named "Outstanding Chef" by the James Beard Foundation in 2011 and one of Time Magazine's 100 Most Influential People in 2012.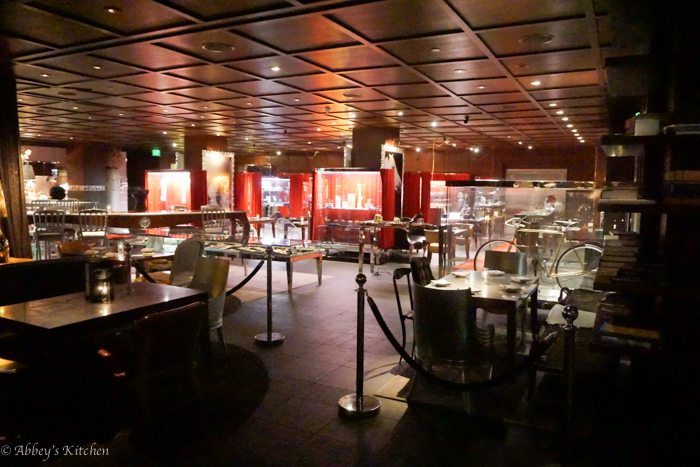 The Main Bazaar
The Bazaar Ambiance:
-Designed by Philippe Starck, the 40-seat room at the Bazaar is intimate and elegant, yet still features a touch of Spain with the warm orange walls, chairs and light fixtures. Tables are draped in shiny white tablecloths, and are set with colourful water glasses while book shelves and mirrors line the walls and ceilings.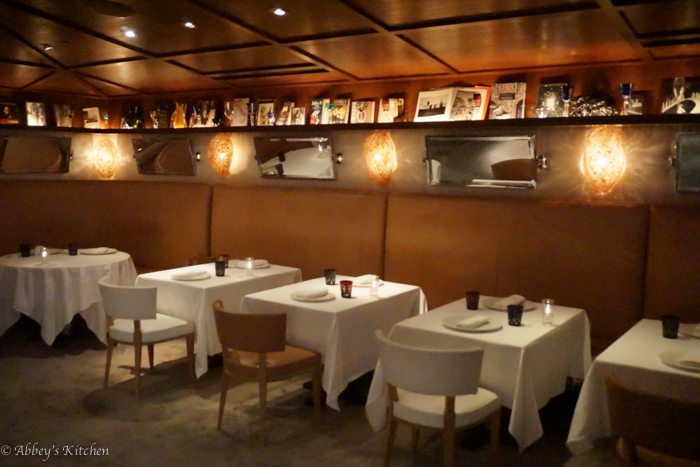 -The space feels regal and upscale, yet exotic and romantic- a bit of departure from the super dark and wonky Alice in Wonderland meets Amsterdam S&M sex parlour aesthetic of the main Bazaar and hotel. Seriously though guys, the SLS hotel is just weird. Weird, and erotic, and freaky and whimsical, to the point that you're constantly saying "WTF" in your head. Confession time- I like it.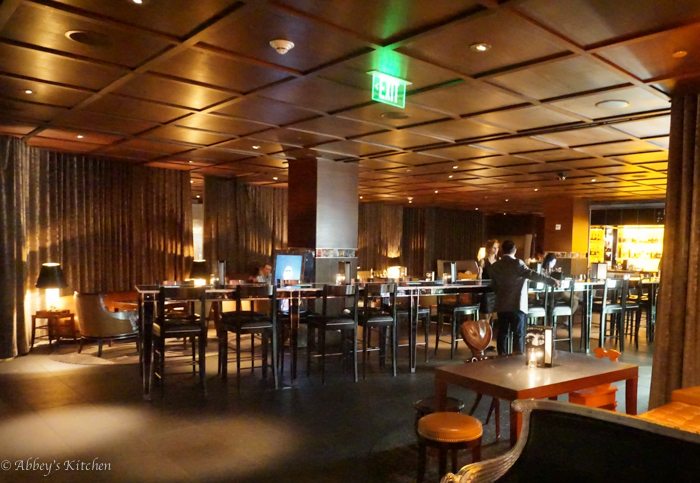 The Main Bazaar
The Bazaar Service:
-Service was literally some of the best I've ever had, mainly because we were the only ones in the dining room that night. Yep, we had the whole Saam in the Bazaar to ourselves. That meant our lively server (a voice over actor with tons of great stories) could give us his undivided attention, making sure our water glasses were always full, my fiance's wine portions were specifically to his liking, and that there weren't any lags in between courses. Actually, the meal moved at a perfect pace for us. There may have been 23 courses, and it may have taken almost 3 hours, but the time literally flew by because as soon as one dish was removed, another was put down a moment later. I would think this pace is one of the only ways to make this meal enjoyable (that or lots more cocktails). Had we waited for 10-15 minutes between plates, we would have been passed out on the floor (which I guess would have been fine since no one else was around to see it).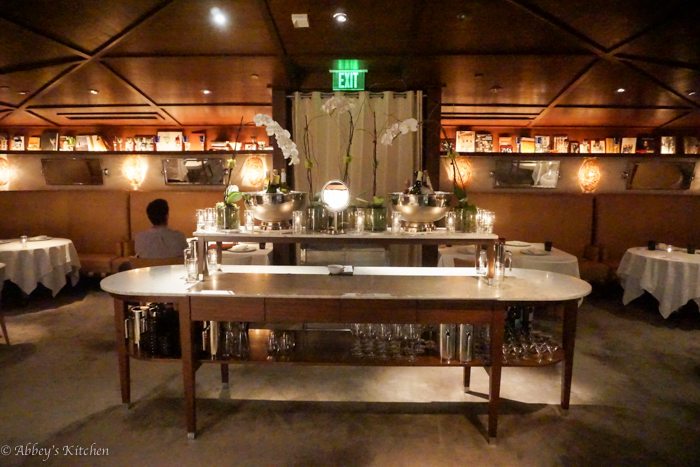 The Bazaar Drink:
-A pricy collection of cocktails features some of Spain's favourites – including sangria by the pitcher ($62), and classic G & T ($18). My only critique here would just be that they should have brought in our favourite Spanish gin, Nordes. Other featured drinks are playful and expertly composted, featuring ingredients like atomized Scotch, sugar frozen by liquid nitrogen, a "very cute" Japanese peach, spherified olive and salt air.
-A largely Spanish list features options by the glass ($9-26) and bottle ($32-6775), as well as wine flights ranging in price from $16-23 for 3 and $30-36 for 6.
-Finally, beer lovers have a half dozen local and International brews to peruse ranging in price from $7-20.
-My fiancé opted to go for smaller pours of the basic wine pairings since we had been drinking a lot on our trip and he didn't think he could make it through a full sized flight. I loved that they were so accommodating with size, pouring extra when requested, or less when he was feeling tapped out. We also both felt that the International wine pairings (which included one sake) were solid choices for the food and offered a nice global tour of some of the world's top wine regions.
-Meanwhile, I was immediately enamoured by the whimsical cocktail list and was eager to go that route instead.
Magic Mojito ($17)
Served over Cotton Candy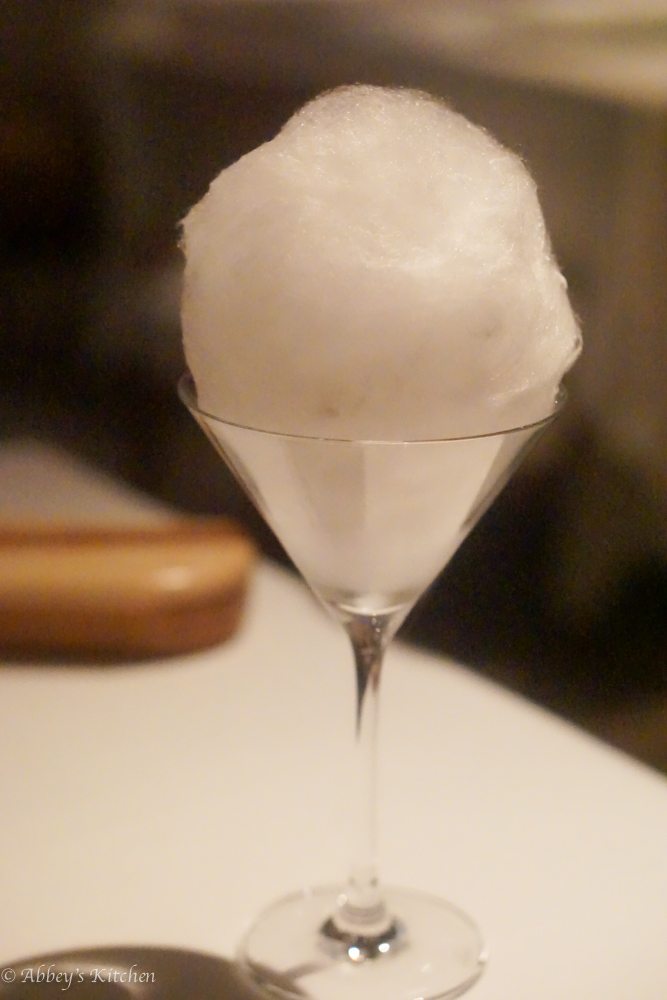 Step 1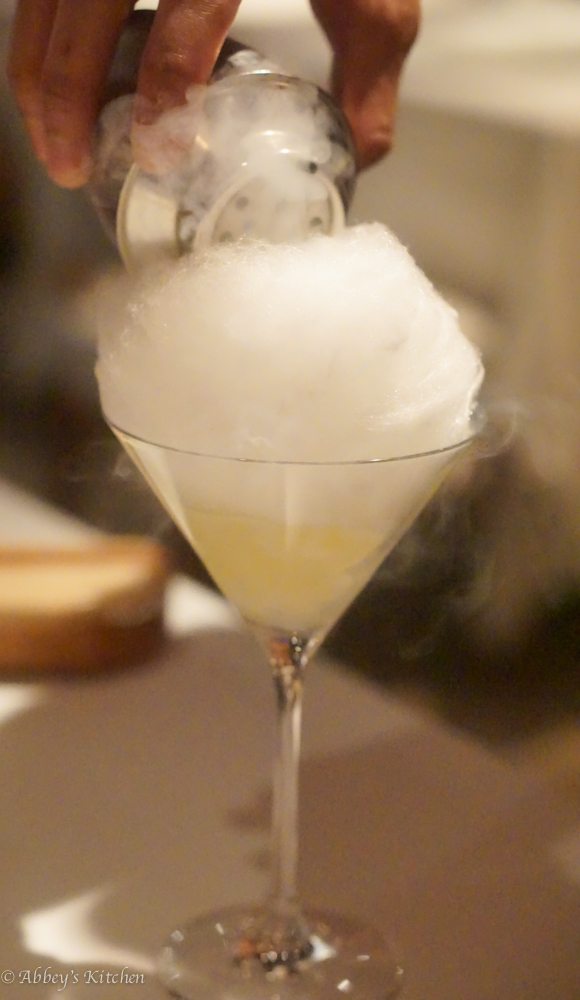 Step 2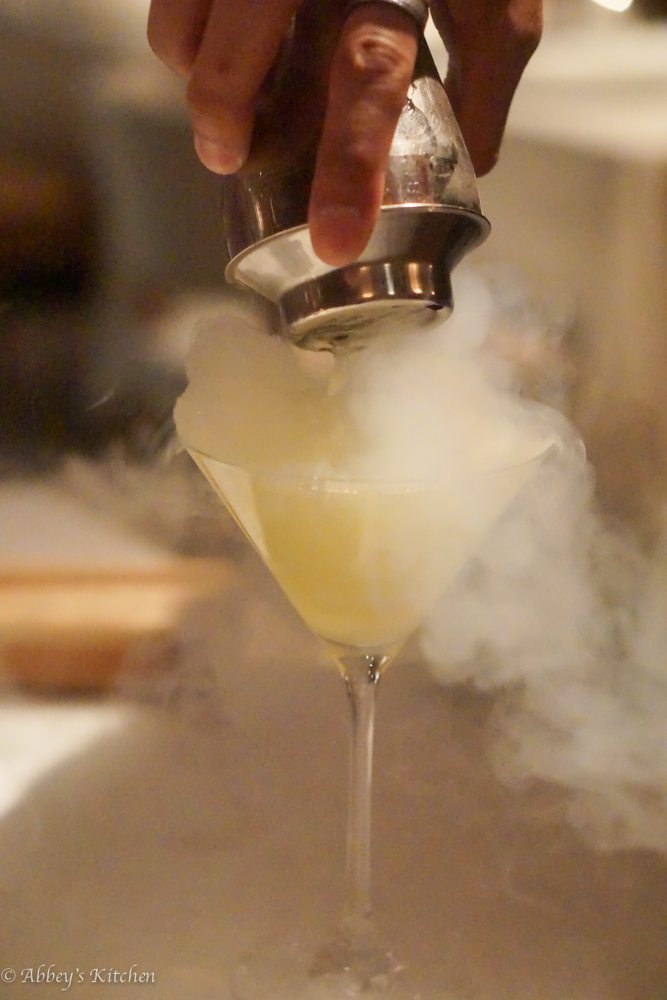 Step 3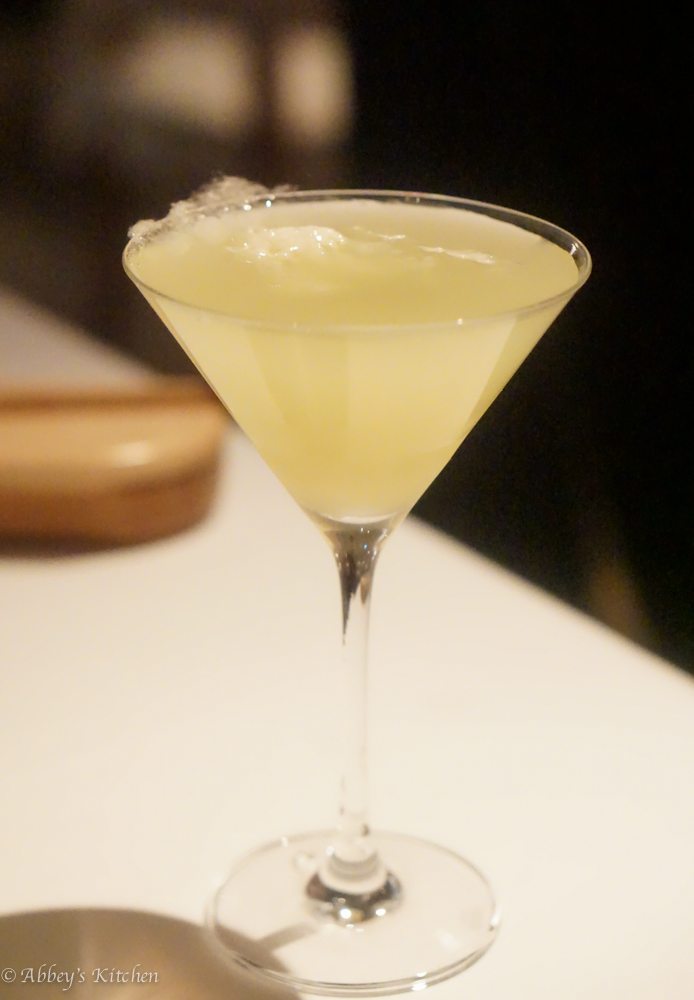 Final Drink
A genius and delicious drink. The vanilla cotton candy served as the simple syrup in this drink as liquid nitrogen melted it down to sweeten the mojito-base.
#BeLedgendary ($17)
Grey Goose Le Melon, St. Germain, Champagne Flute, Lime Juice
An easy drinking cocktail with a nice balance of sweet melon, floral elderflower and bright lime, all balanced out by the gentle bubbles of champagne.
Passion Fruit Up ($17)
Bacardi Orange, Passion Fruit, Ginger-Laurel Syrup, Passion Fruit Foam
Oh boy, this was ridiculously good. Girlie and sweet, yes mam, it definitely was, but I could happily have a glass of this for breakfast.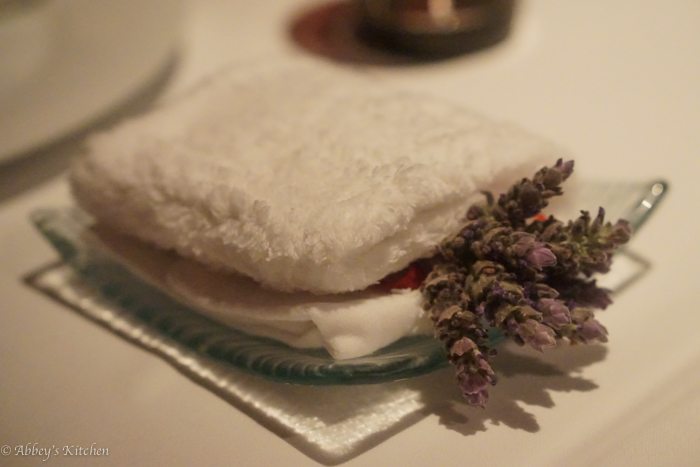 The Bazaar Food:
-Saam offers a $120 23-or-so course/bite tasting menu which highlights some of the favourites from the Bazaar menu along with new dishes specifically curated for Saam. The meal aims to take guests on a personalized journey of modern creations and traditional flavours.
-As I already knew from my previous Bazaar meal in Miami, Chef Andres style is whimsical and molecular with subtleties blended with bold flavours and artful cheeky presentation.
Old Fashioned
Blanton's bourbon, Luxardo cherries, orange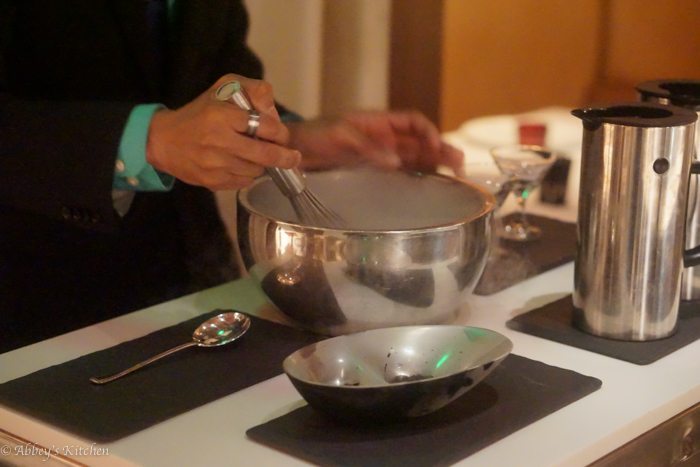 Liquid Nitrogen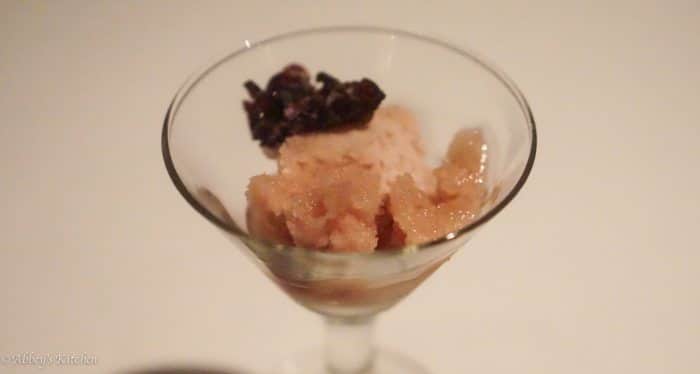 Made with liquid nitrogen and served with a cluster of chewy Cherry candies. Like dessert but decidedly more boozy. Obviously I oved it.
Ferrero Roche
Pecans, barrel aged maple syrup, organic butter
Henriot Brut Souverain, Champagne, France MV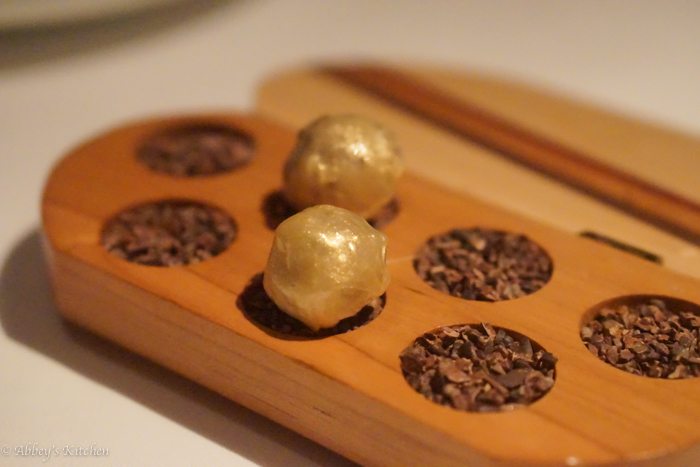 A crisp candy like shell filled with a rich nutty filling was a delicious first bite for the meal.
Beet Meringue
Beet meringue, yogurt espuma, beet reduction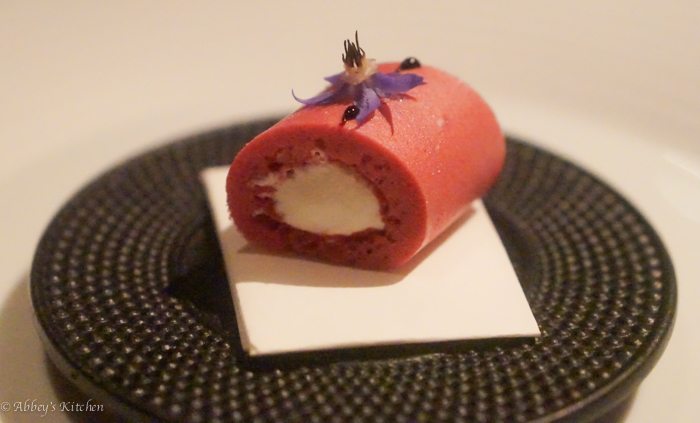 The meringue's ethereal foam-like consistency merely melted on the tongue into a tickling bed of beet flavour that was tempered by the light and tangy yogurt filling. Warning – eat this in one bite to avoid an explosion. I, of course, learned the hard way.
Uni Mango
Mango sphere, uni, lime, yuzu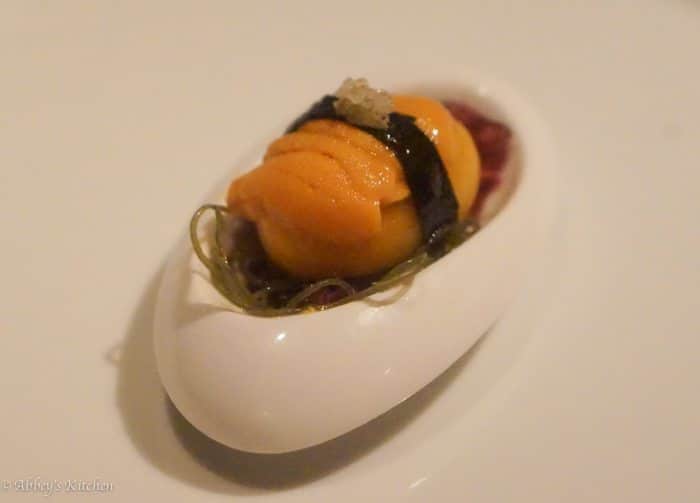 Here the mango had been treated with spherification to yield an explosion of sweet nectar to counterbalance the salty uni. Again, be sure to get it all in in one bite.
Chicken "Ham"
Chicken Ham, crispy chicken skin, salt cured chicken breast, cilantro
Lucien Crochet, Sancerre, Le Chene, Loire, France 2012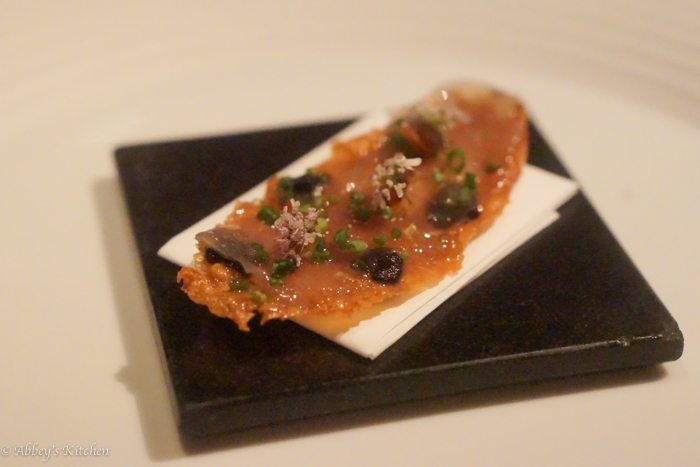 Imagine a chip made out of chicken skin for the ultimate salty snack with the fresh hit of cilantro to balance everything out. Amazing!
White Cheddar Popcorn
Popcorn paper, white cheddar espuma, aleppo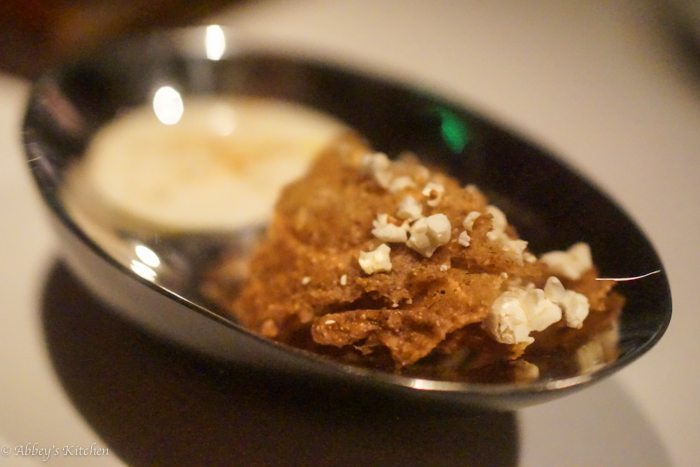 Well this was wickedly good. The crackers had been made out of dehydrated popcorn while the aerated light cheese dip was kicked up a few notches with the sprinkling of espelette pepper. Perfect movie snack for foodies who don't even care what the movie is.
Leeks
Leek puree, roasted leeks, asparagus, truffle, black garlic, roasted tomato vinaigrette Renato de Bartoli Catarrato, Terzavio Lucido, Sicily, Italy 2009
A beautiful representation of Spring's bounty with sweet Spring vegetables, umami-rich truffle and pungent black garlic.
Spring
Porcini espuma, white/black potato chips, carrot chip, cipollini onion, forest mushrooms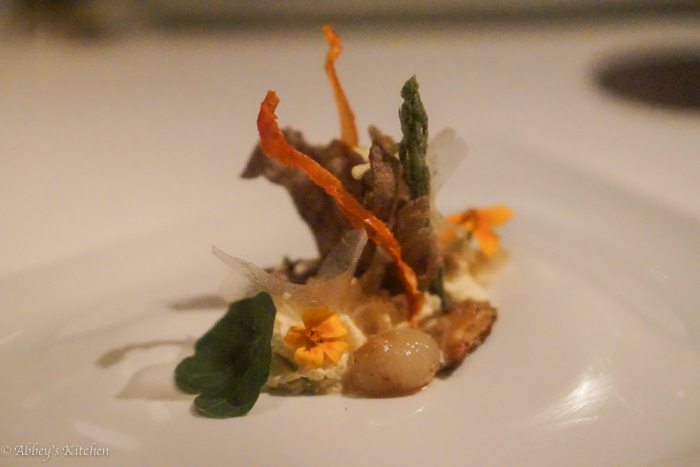 I loved the play on textures here with the tender cipollini onions and mushrooms, the porcini foam and the crispy root vegetable chips.
Dungeness and Daikon
Roasted daikon, miso dressing, chili thread, lime, mushroom dashi
Old Mountain Tokubetsu Junmai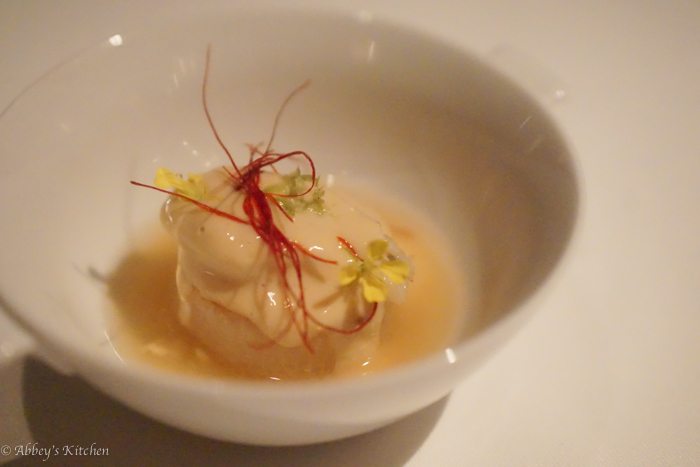 A beautifully cooked tender piece of daikon topped with a light mushroom broth with fragrant chili and lime peppered throughout. Such a flavourful dish!
Cod & Coconut
Steamed cod, coconut lemongrass sauce, lime, coconut water air,  basil, cilantro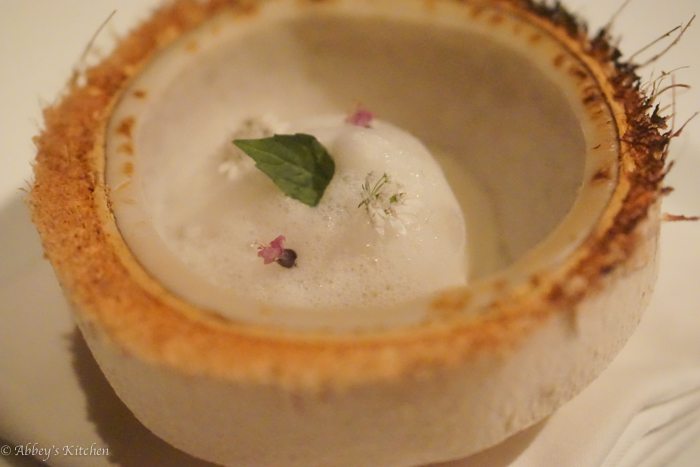 Served appropriately in a scorched toasty coconut shell, I absolutely adored the moist tender cod in the fragrant coconut curry broth. Sometimes I find curry sauces to be so thick and rich they overpower delicate fish like cod, but this one had been frothed to an angelic air-like consistency, delivering just enough body and flavour. A truly comforting and beautiful dish.
Sea Urchin
Hand cut tagliatelle, uni cream, sea grapes
Sandhi Chardonnay, Santa Rita Hills, CA 2012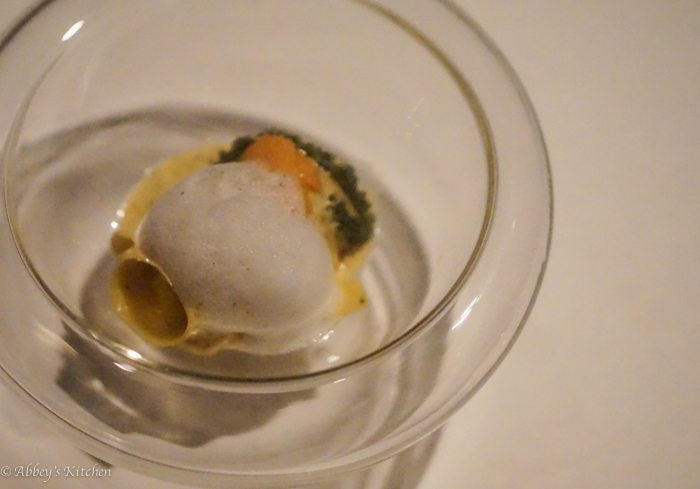 A perfectly cooked hand cut coil of pasta with unctuous uni and sprightly sea grapes. Lovely.
Foie Gras Floating Island
Foie gras soup, corn espuma, corn nuts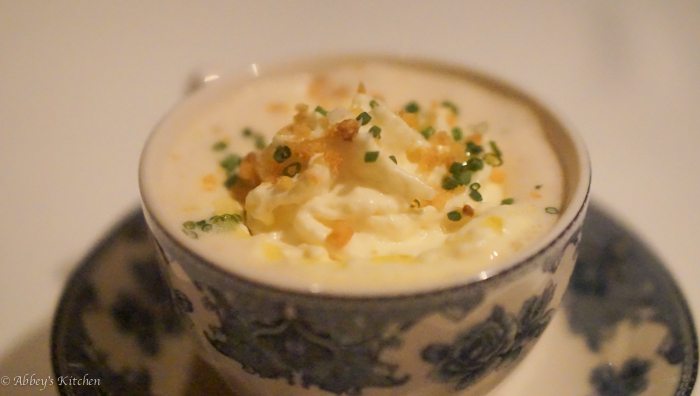 Oh lordy. A cappuccino made of foie gras? O-M-G- how will life go on?? The satiny-smooth body of the thick creamy froth melted into my tongue while the crispy bits of corn nuts offered a much needed crunch.
5 Star Breakfast
Bacon cream, egg yolk sphere, black trumpet mushroom, paquillo chips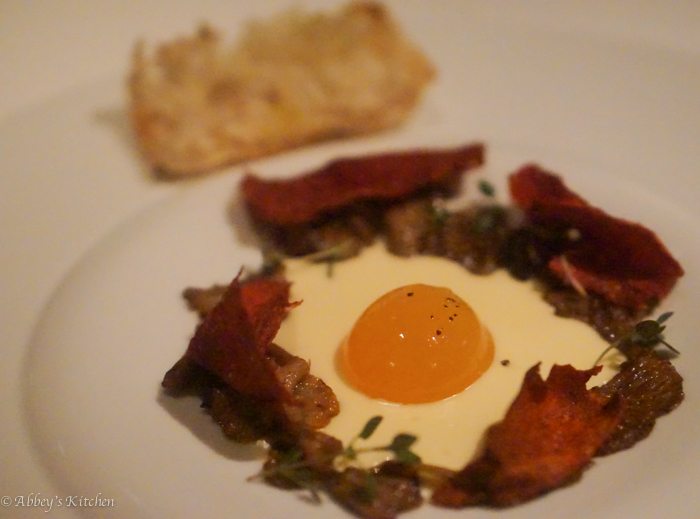 This was absolutely irresistible. The egg yolk had been perfectly cooked so that once broken, would spill onto the plate (or in my case, onto the white linen table), adding a luscious sauce for the sweet chewy mushrooms, the espelette pepper crisps, the BACON CREAM (AH, YES!!) and the buttery crusty crystal bread. This is my kind of breakfast.
Rabbit and Sunchokes
Roasted rabbit loin, sunchoke puree, sunchoke chips, chive oil, thyme
Kirnbauer Blah Haus Blaufrankisch, Mittelburgenland, Austria 2012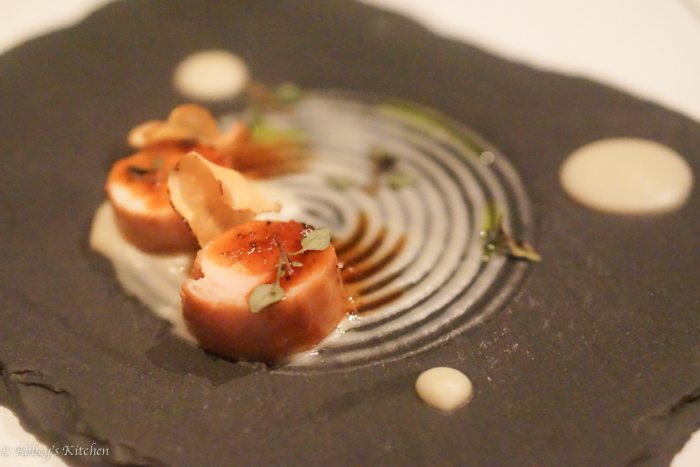 Perfectly cooked tender rabbit in a sweet nutty sunchoke puree, topped with crispy fried sunchoke chips for a satisfying crunch. Heaven.
Imberico Pork Cheeks
Braised pork cheeks, pickled grilled miatake mushroom, brown butter polenta gnocchi
Bodega Numanthia, Termes, Tempranillo, Toro, Spain 2012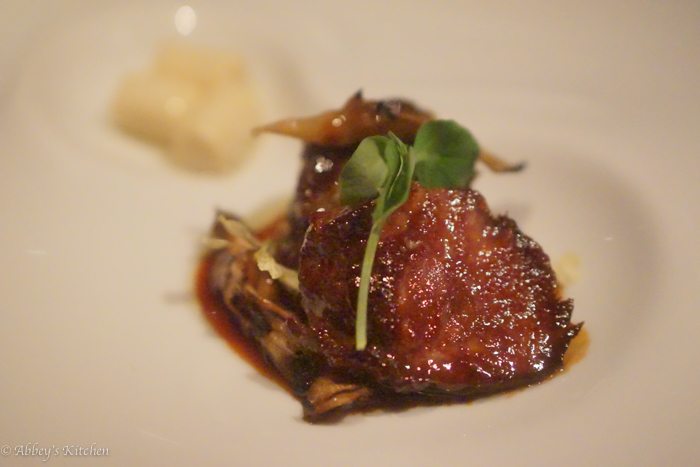 Deliciously gender pig cheeks caramelized in a sweet sauce that literally melted as soon as it hit my tongue. I wasn't crazy about the accompanying gnocchi which I found strangely soggy and almost flavourless despite use of one of my favourite ingredients- brown butter. Nevertheless, it certainly was not problematic enough to detract from those cheeks.
Cotton Candy Foie Gras
Foie gras terrine, corn nuts, cotton candy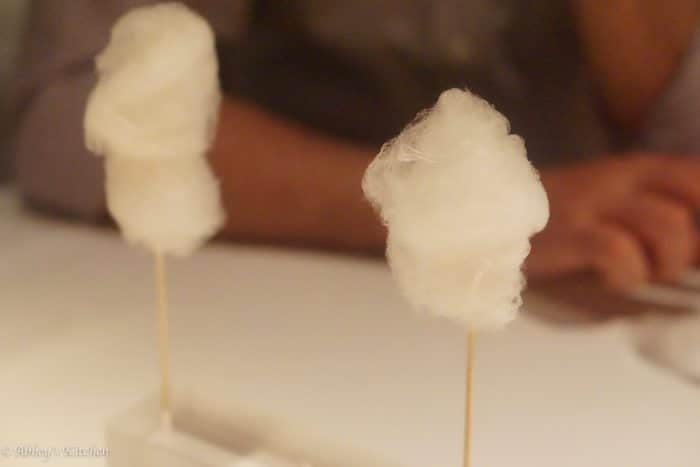 Imagine this for a second. This has got to show up at this year's CNE as one of the only "outrageous fair foods" that are actually worth the hype. The idea here is to put the whole thing in your mouth at once to be pleasantly surprised by a creamy Foie gras centre and a smattering of crunchy salty corn nuts. This truly hits all of the pleasure centres in my diet-food adverse brain- the sweet candy, salty corn nuts and fatty Foie. Yes. Yes. Yes.
Dragon's Breath
Caramel popcorn, liquid nitrogen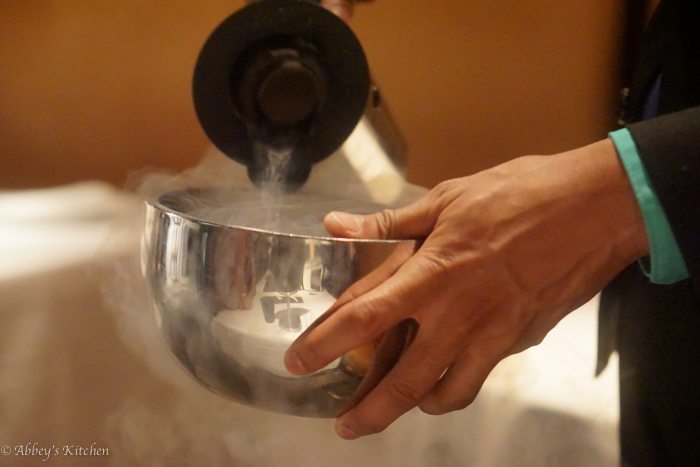 Liquid Nitrogen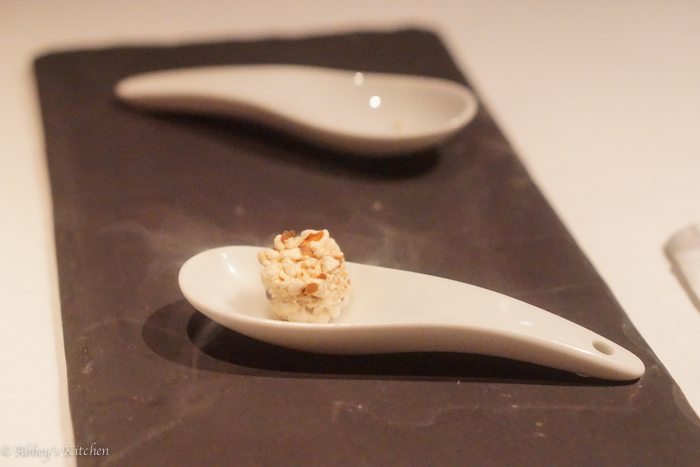 Liquid Nitrogen Popcorn = an unusual sensory experience, because on the one hand you have that toasty popcorn flavour, while you exhale a gust of (very) cold frozen air. Nothing like a little mind-f*ck to end off a great night,
Praline & Yogurt
Royal Tokaji, 5 Puttonyos Aszu, TokJi, Hungary 2003
Love Nutella? Then you would die for this. The rich glossy chocolate ganache was counterbalanced by the tangy and light frozen yogurt while the beautiful candied hazelnuts and bed of crispy crumbs offered a much-needed contrast in texture.
Warm Baked Chocolate
Alvear Cream Sherry, Pedro Ximenez, Montilla-Moriles, Spain MV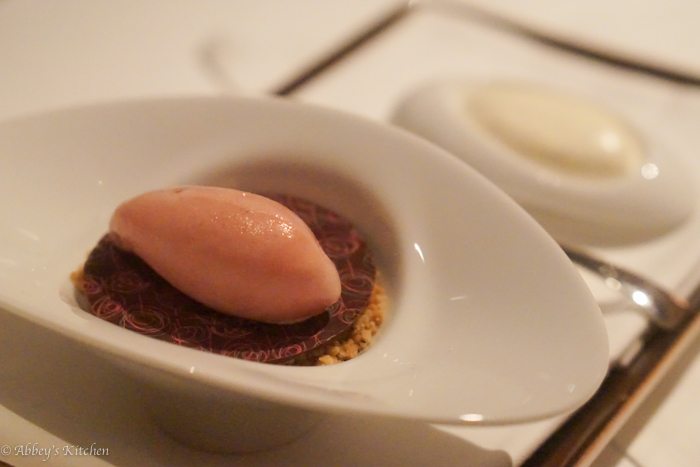 A gorgeous dark chocolate mousse with crispy cookie-like crumbs balanced out by the light vanilla bean cream and fruity sorbet. Very rich but deeply satisfying.
Guava & Cheese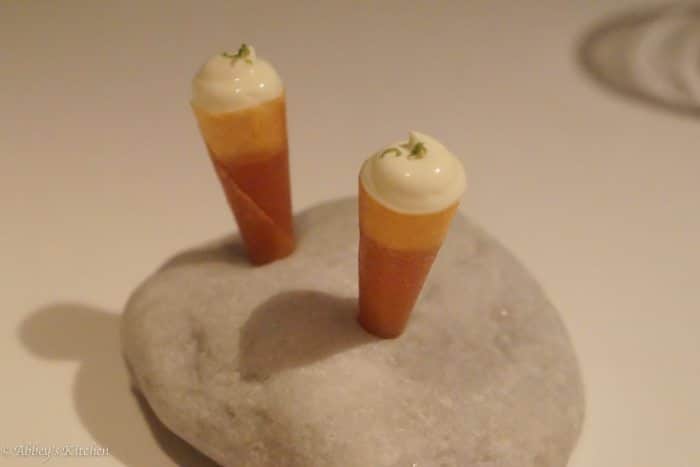 Oh yes, a guava curd cone and a mascarpone cream, served together in one delicate crispy tuile. Tropical heaven.
Banana Chocolate, Yuzu Gelee, Black Sesame Macaron
All of these final Mignardises were beyond perfect, my favourite being the tropical filling of the banana chocolate.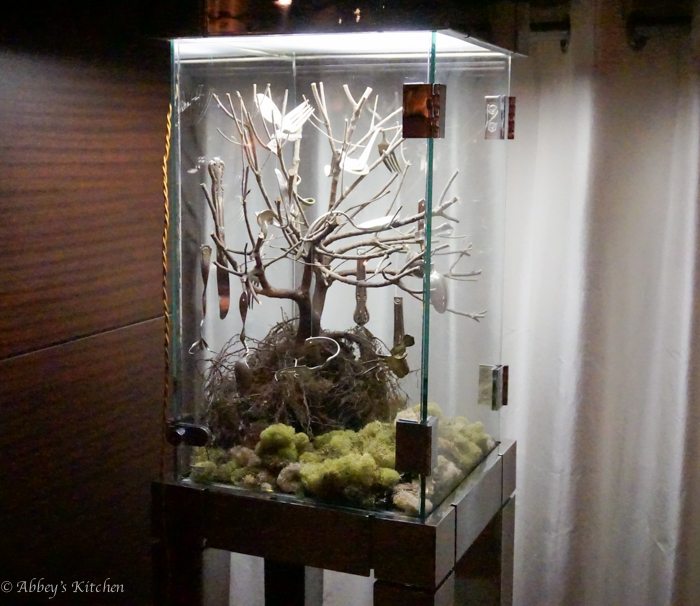 The Bazaar Closing Remarks:
-For two tasting menus, one wine pairing, and 3 cocktails, the bill at the Bazaar came to around $700 including tax and an included 20% service charge. I thought that was a very reasonable price considering the fantastic food, cocktails, service, ambiance and overall experience. Man, I felt bad that we literally occupied an entire restaurant and only paid that price
-All things said, this was definitely one of my favourite meals I've had in a while, and surprise, surprise, it doesn't have any Michelin stars! The food was incredibly imaginative, cheeky and still very delicious, the service was personable, professional and down-to-earth, and the ambiance? Having a whole room to yourself is pretty bad ass. In conclusion, I would definitely recommend Saam at the Bazaar to friends and would happily return next time I'm in LA.
Updated on May 8th, 2019