Saint Martha Opening Remarks:
-Named after the biblical patron saint of servants and cooks, Saint Martha is located in a Korea-town strip mall amidst a variety of semi-sketchy looking establishments. You can certainly tell there's something different going on from the outside as the glowing sign, sturdy red door and stone facade denotes a more modern hip experience inside.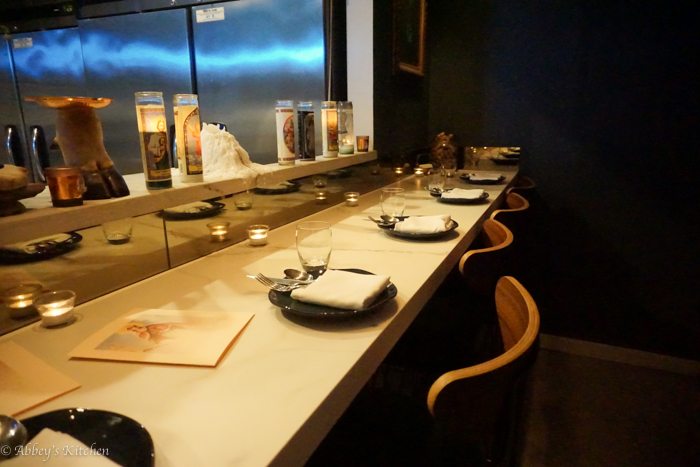 -The restaurant is owned by Chef Nick Erven, a friendly and personable chef embodying what I assume is LA's version of a "hipster" (I assume that's cool to say since their kitchen is adorned with the word in neon lights". However he identifies, he seems like a really cool guy just having a lot of fun not giving a F*ck in LA's notorious scene-y restaurant world.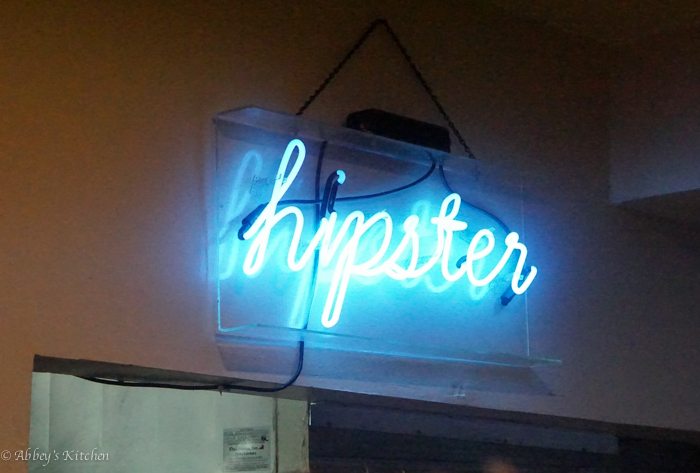 Saint Martha Ambiance:
-Upon entering the small intimate dining room, we were greeted at the cruiser table by a host/server who (at our request) sat us at the chef's rail.
-The main dining space at Saint Martha is decorated simply with rich blue and grey walls, leather banquettes, sleek marble tables and sparsely positioned framed artwork.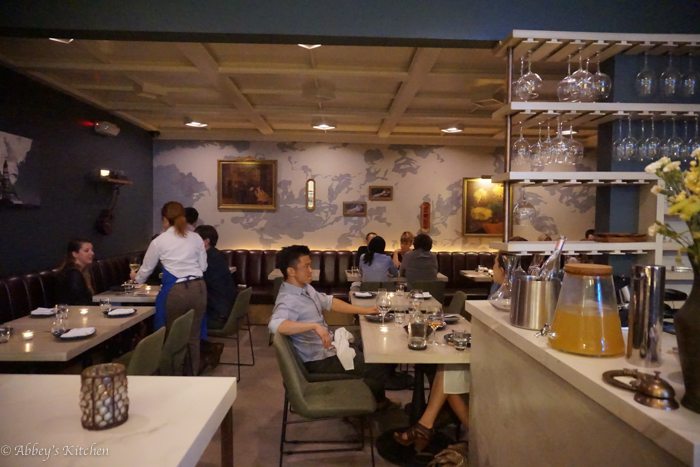 -Our seats overlooking the kitchen awarded us full view of the small corner bar (really just a nook with all the wines and glassware), and a shrine to the elusive "Saint Martha". There are biblical candles (like the ones you find at the souvenir shop when you go to a touristy cathedral), a bookshelf of some classic cookbooks (many of which I have myself), a super weird ashtray held up by an animal hoof, and one of those lucky Asian cat piggy banks (aka. the Beer Fund).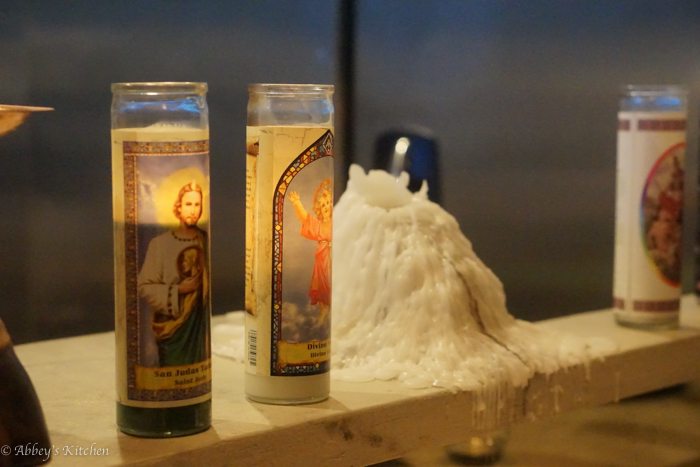 Saint Martha Service:
-Service throughout the evening was very friendly, and food came out in good time, though admittedly they were a bit slow on drinks. I mean, I know it's a small place and there are only like two people serving and pouring, but I think it took about 10 minutes to pour our glass of wine from right beside us.
-Having said that, everything else ran smoothly. Our plates and cutlery were replenished promptly between starter, mains and desserts and our water carafes were consistently refilled.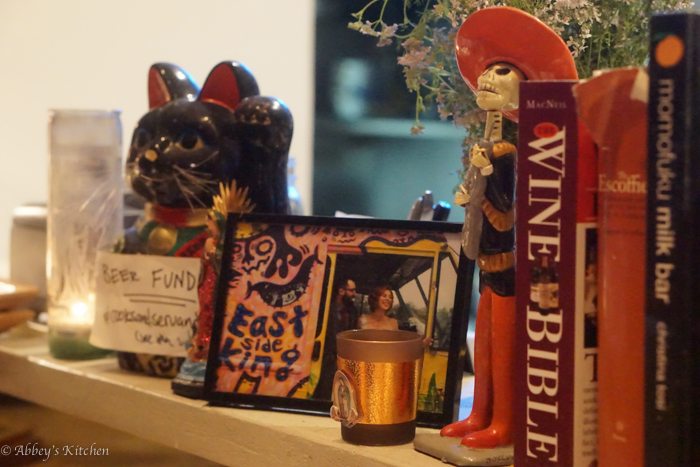 Saint Martha Drink:
-Saint Martha offers a good-sized list of about 40 or so wines from all around the world. Unlike most restaurants, which only offer a small selection of their bottles by the glass, all of SM's options can be ordered by Taste ($4-95), Glass ($8-190), Pitcher ($16-380) or Bottle ($32-760).
-Beer drinkers can choose from two bottles ($8-9), one from California and one from Japan, while there is also a fruit-flavoured Soju "on tap". Otherwise, there's no liquor or cocktails on offer, so if that's your preference you're out of luck.  My fiancé ended up having a few glasses of the easy drinking Soju ($8), while I went for a delicious Joh. Jos. Prum Wehlener Sonnenhur Kabinett Riesling from Mosel, Germany ($11).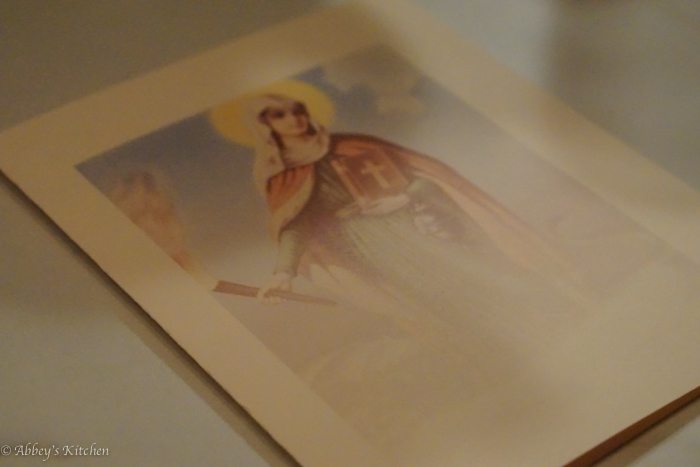 Saint Martha Food:
-Saint Martha offers an a la carte menu and two tasting menu options, a five courser for $65 (with $36 for wine pairings), or a 7 course for $90 (plus $47 for pairings).
-Unsurprising given its K-Town location, the menu has an obvious Asian feel but it's blended seamlessly with inspiration from all over the world. Plating and presentation is both playful and beautiful, with splatters of dynamic colours and textures thrown like art on the plate.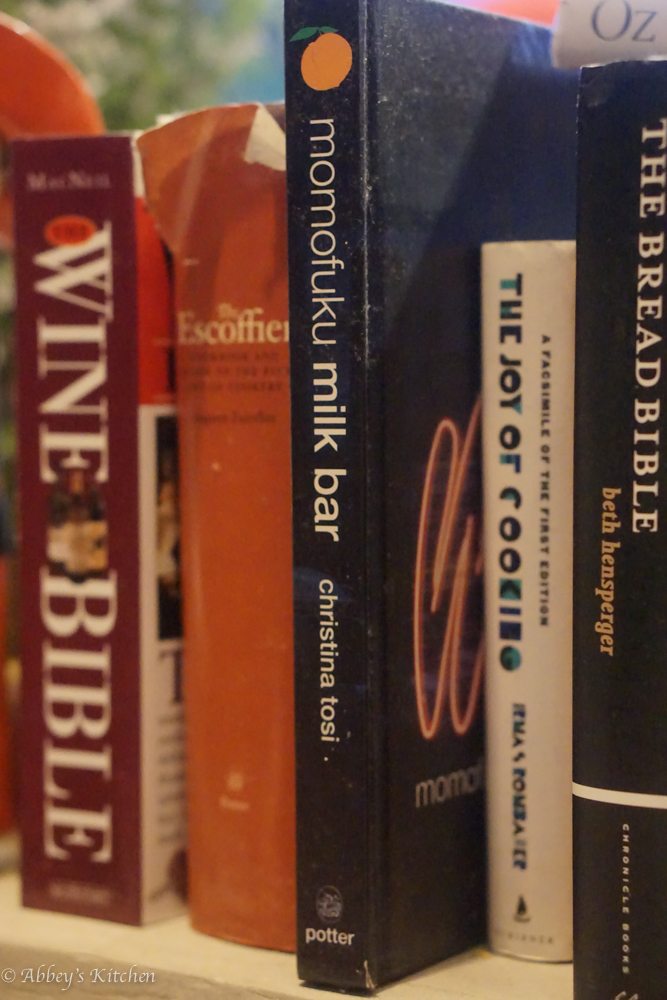 -Menu items are divided into Snacks, Rawesome, Vegetables and Grains, Fish and Such and Meaty Things with everything designed to be shared.
Shrimp Tostada (Complimentary)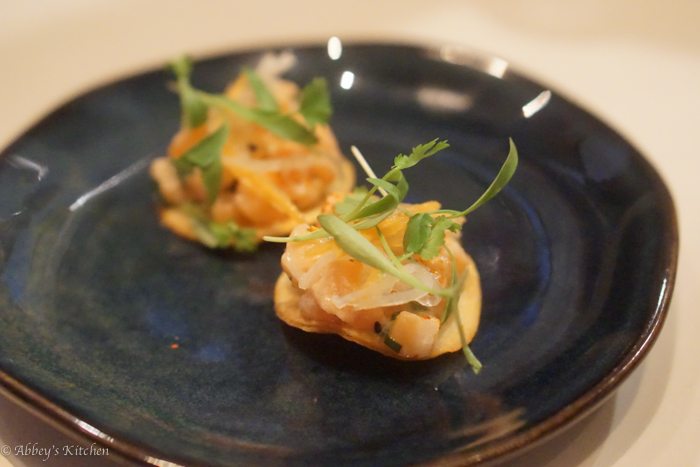 Flavourful, well seasoned and admittedly addictive, I could easily eat an entire plate of these bad boys.
Octopus with Koshihikari Rice, Sauce Nero, Lardo and Esplette ($13)
Absolute perfection. I loved the sticky creamy rice with the smoky charred octopus, the salty squid ink and meltingly fatty sheet of lardo.
Mixed Baby Carrots with Coconut, Tamarind Sriracha, and Puffed Amaranth ($12)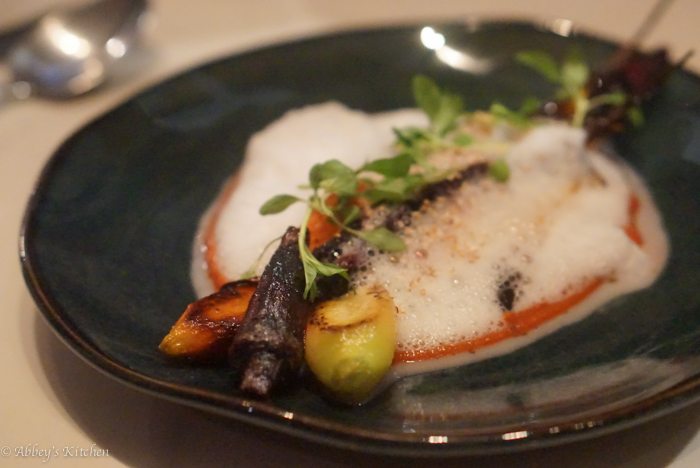 Love, love and love. The beautifully caramelized carrots were fantastic with the sweet aromatic coconut foam and the sweet spicy sriracha. I'm copying this one at home for sure.
Chicken Skin Granola with Spiced Date Jam, Sunchoke, Parsnip Milk and Frozen Foie Gras ($17)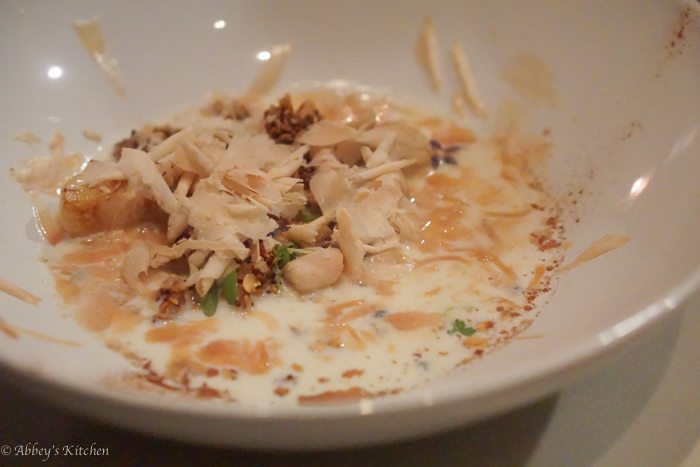 This was the hands-down highlight of the night. Actually, I would argue this was one of my favourite dishes I've eaten all year so far (and I've already been to a few Michelin star's this year!).  The salty chicken skin, crunchy granola, sweet thick jammy dates, nutty sunchoke, creamy warm milk and unctuous melting foie made for the best bowl of cereal I've ever had. Man, if I had this to wake up to every morning, I would jump out of bed.
Crab and Sake Cream Okonomiyaki ($14)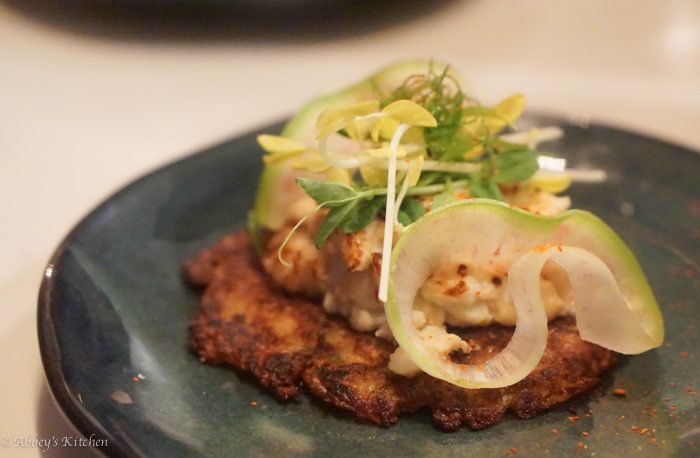 A fun dish with the crispy sweet green onion pancake, and the creamy crab salad-like topping. Very yum.
Fried Chicken Thigh with Snails, Acorn Spaetzle and Parsley Garlic Sauce ($21)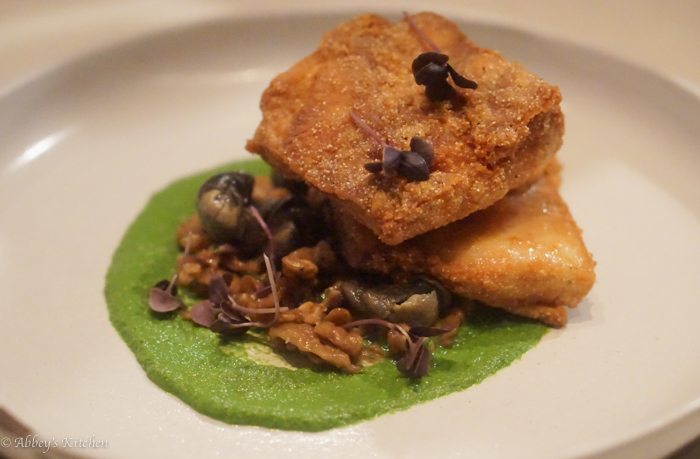 I wouldn't want to kiss anyone after this because the garlic game is strong, but don't let bad breath deter you. Beautifully juicy chicken thighs coated in a light and crispy batter that reminded me a bit of KFC in the best way possible. Pair that with the savoury snails, nutty supple spaetzle and the verdant fragrant sauce and I was practically licking the plate.
Peanut Butter Ganache, Roasted Grape Ice Cream ($10)
Griddled Pound Cake and Chocolate Feuilletine
Do-not-go-here-without-this-dish. AHHHH. I'm going to dream of this for way too long. That grape ice cream? AH I want to curse as I write this because I want it in my mouth again so bad. Plus the PB Chocolate mousse-like ganache? FML. You can figure out the rest. It hurts me to continue writing about it so let's wrap this up.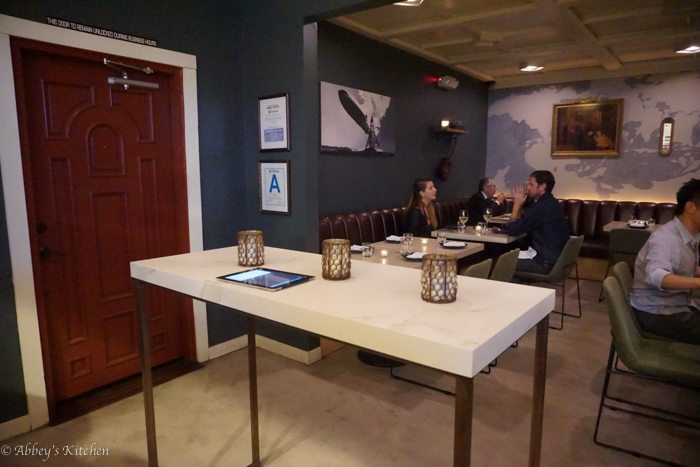 Closing Remarks:
-For 2 glasses of Soju, 1 full glass of wine and 1 taste, and 6 dishes, the bill came to $160 (US) including tax and tip. I thought that was pretty reasonable considering how much I enjoyed the meal. I don't live in LA, and I don't think I would want to because my first impressions is that the dining scene is pretty, well, scene-y, and overrated/ overpriced for what you get. So amidst all the hype, Saint Martha is a G-d-sent breath of fresh air.
-I would highly recommend SM for a casual date night, a late night snack, or a fun meal out with a group of friends.