Opening Remarks
-Co-owned by Philly's restaurant superstar, Stephen Staff and Executive Chef Peter Serpico, James Beard Award winner and David Chan's former right hand man from Momofuku Ko in NYC.
-The restaurant was open in July 2013 and has been booked solid ever since.
-Serpico made it onto Zagat's most important USA restaurants of 2013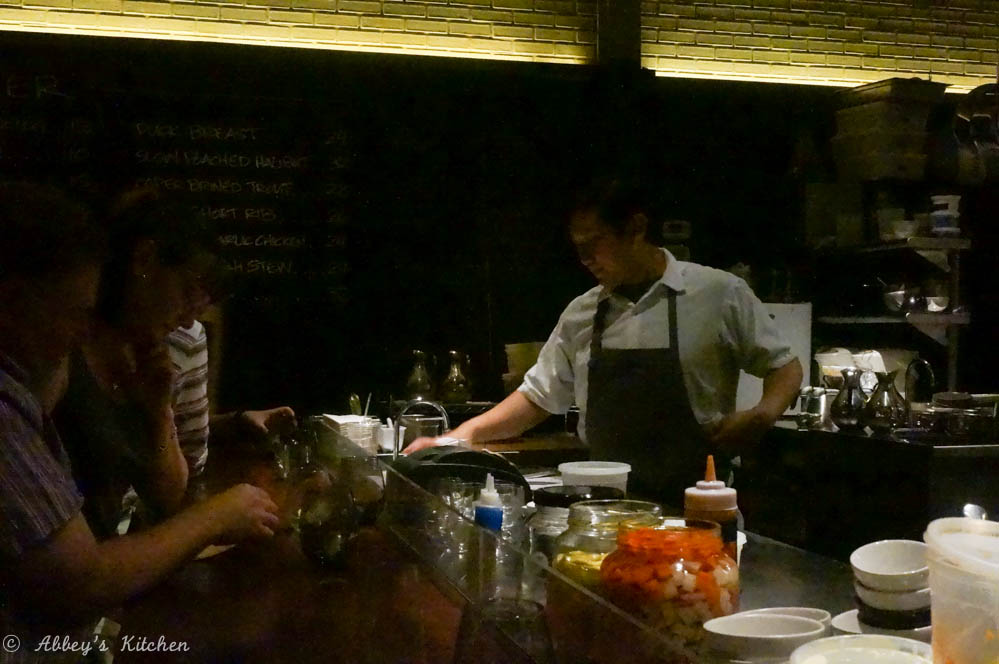 Ambiance
-Serpico's 60-seat eponymous restaurant is located on South Street in between tattoo parlours, hookah bars and seedy pawn shops. On the website, the address is described as, "604 South St (Yes on South St)", so apparently this speaks volumes about how unlikely this location really is.
-Like so many of the best restaurants I've visited abroad, Serpico is easy to miss. There is merely a small sign and menu box attached to a dark unassuming door and an observant cab driver pointing out, "that's the one."
-The restaurant is decidedly dark, buzzing and sexy in an approachable neighbourhood way. The black slates lead more than half way up the tall walls and showcase a hand-written wine menu, upon which a layer of uplit yellow brick is built.
-In juxtaposition with the dim-lit room, the glowing stainless steel kitchen gleams like a well-cut diamond. A handful of lucky diners grab seats at the bar where they can watch the action and plating inside.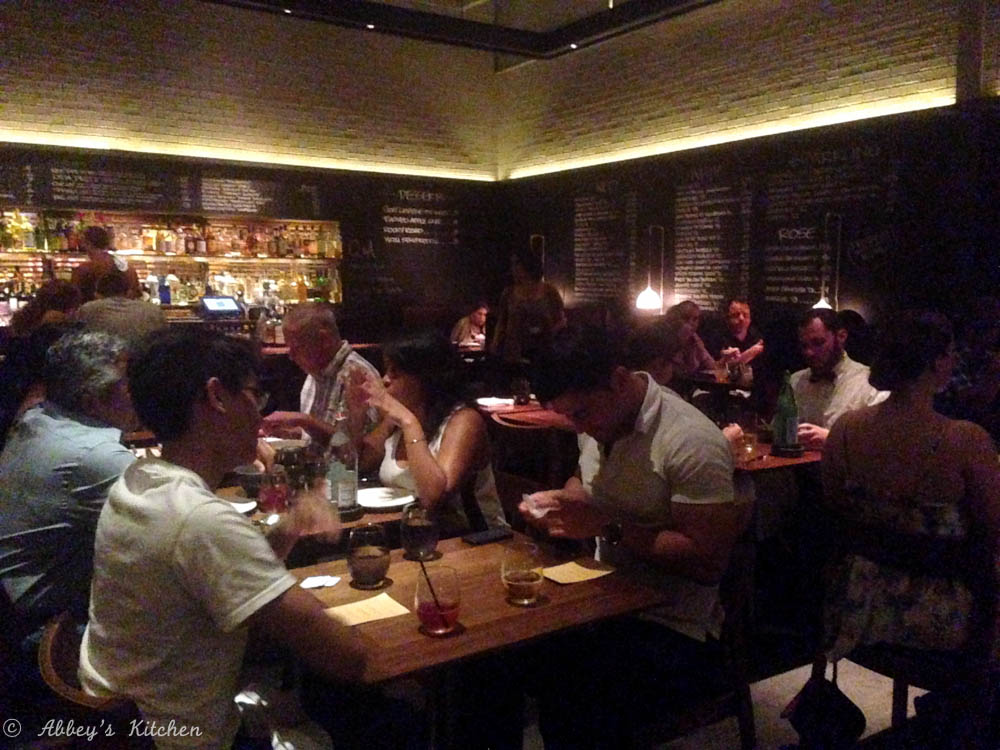 Service
– Despite sitting at the chefs rail (where we could oversee the action going on), I was a bit disappointed that the prep tables were just too large for the chefs to reach over and serve us. Rather, a series of food runners, our main server, and a few of the prep cooks walked the dishes from the pass and delivered them from behind. Unfortunately, Peter didn't do any of the serving (at least, not to us), as he was clearly busy expediting and finishing plates.
-While I found our server very friendly, personable, and on the ball with refilling water and replenishing cutlery and dishware, the service from chefs and food runners left something to be desired. As one could expect from a chef in a packed restaurant, they all seemed in an intense rush to spit out the dish description as quickly as possible and rush back away. They must have hated me because I often asked them for further clarification because they spoke far too fast to pick it all up.
-Another strange thing to note was that we were listening very intensely to the servers speaking to our neighbours since they were a dish ahead of us and we were looking forward to what was to come. However, depending on which food runner/ chef delivered each of our meals, the descriptions were often completely different. For them it was described as duck, for us it was chicken, for them it was a beef consommé, for us it was oxtail. I'm not sure if this too was a result of them feeling rushed, but it would be important to make sure they were all on the same page.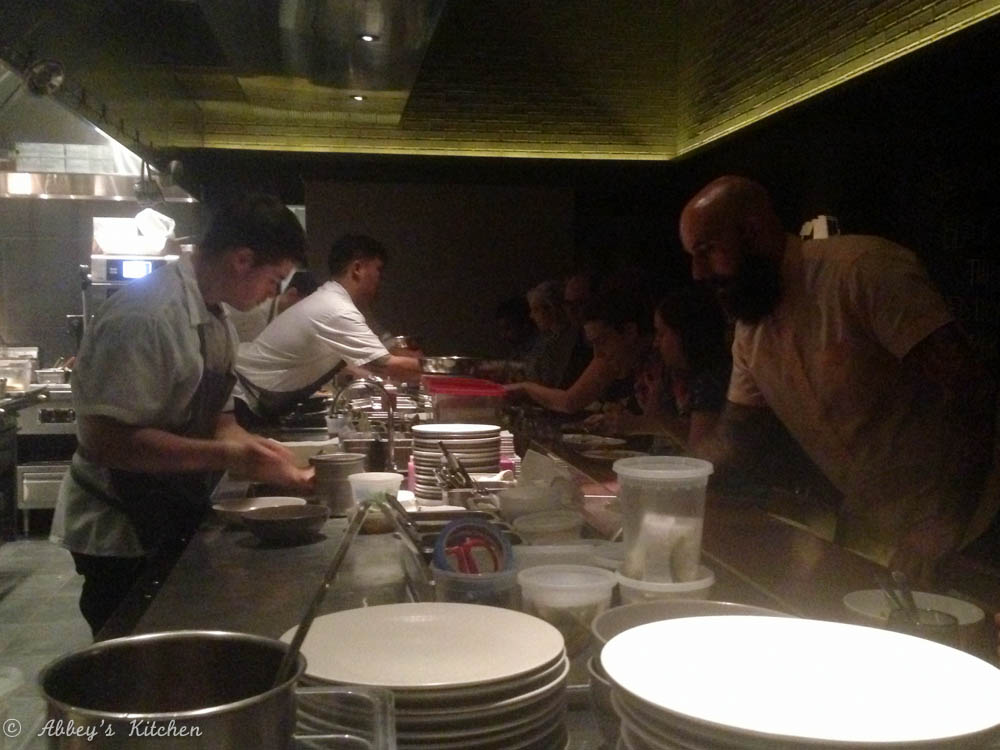 Drink
-Serpico offers about a dozen International wines ($10-14) and two Japanese Sakes ($8-12) by the glass on offer. For those more willing to commit, there are a little over 50 reasonably-priced ($38-145) full bottles to peruse.
-Beer drinkers can opt for one of a half dozen local craft brews ($4-7), while liquor lovers can sip one of their 5 signature cocktails ($12-13).  With a slight favourtism to Gin, expect housemade spiced syrups, bitters, and juices that read as beautifully as they taste.
-My partner opted for the tasting menu beverage pairings for an additional $50, a well-curated compilation of International wines and sake. We both agreed that each and every drink pairing was spot on with the meal.
-Not a huge fan of sake myself, I decided to give a few of Serpico's cocktails a go, and boy was I ever glad I did.
Cucuy ($12)
Monte Alban Mezcal, Green Chartreuse, Cinnamon Syrup, Lime, Pineapple, Bitters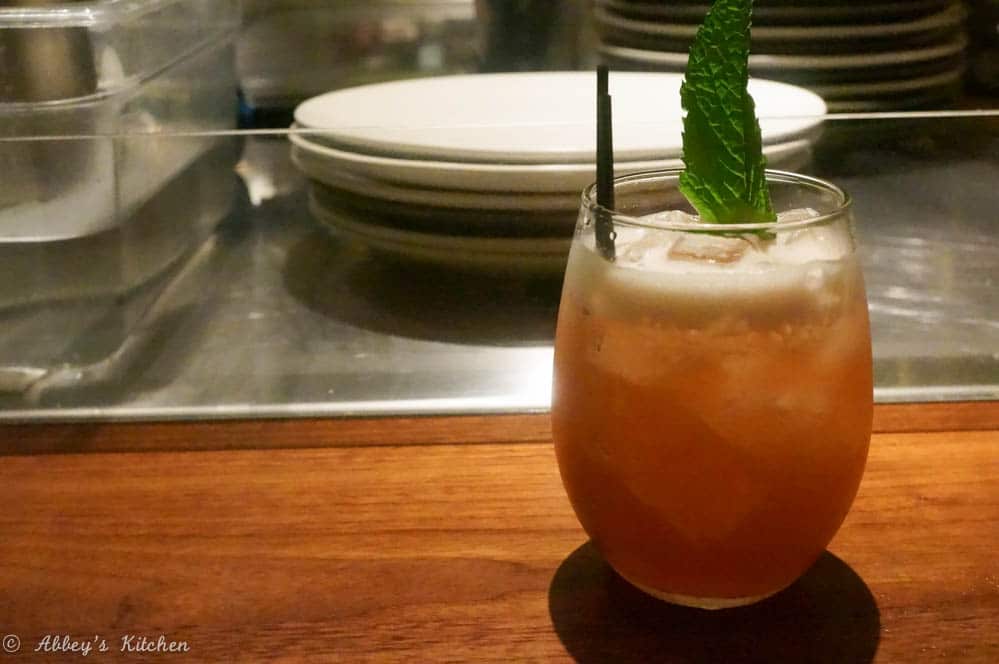 A deliciously smoky cocktail enhanced by the aromatic cinnamon and balanced by the bright lime and pineapple.
Fall Guy ($13)
Rittenhouse Rye, Lairds Apple Jack, Honey, Lemon, Ginger Beer, Laphroaig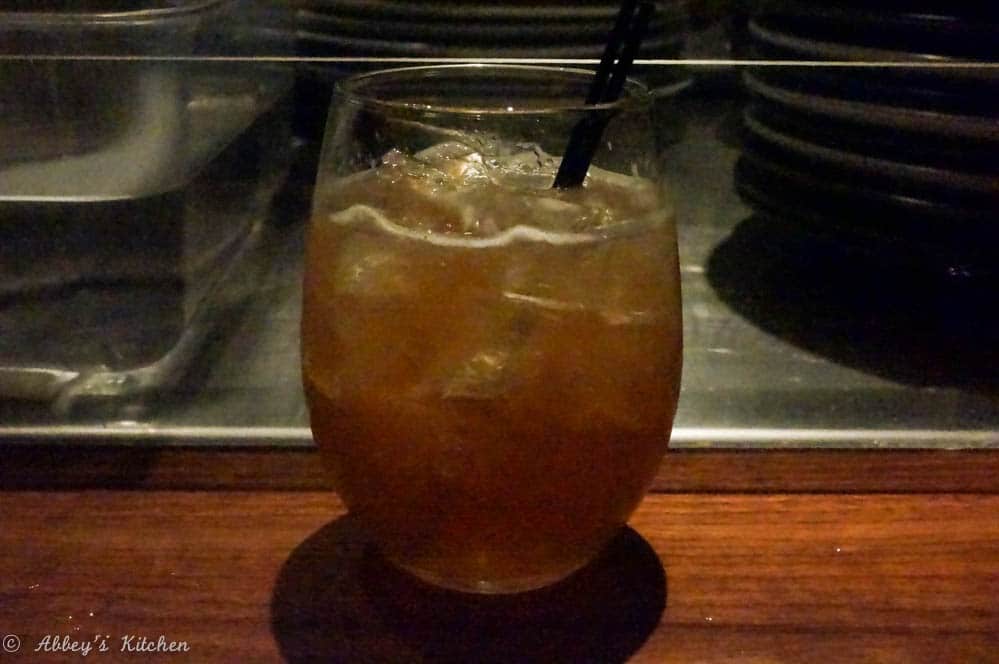 Another winner, probably even better than the first. I loved the sweetness of the rye and honey against the sizzle of the ginger beer and the mild bitterness of the splash of Laphroaig. Solid cocktails on board here.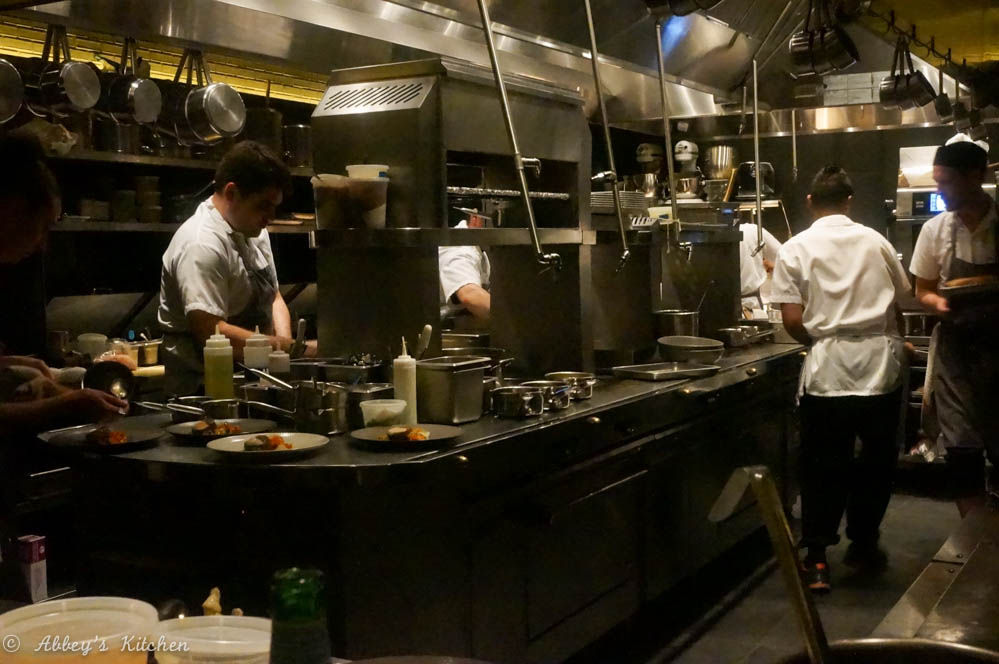 -Serpico's a la carte menu has no divisions or sections, but rather, is organized from top to bottom by size and more or less price. Sharing is definitely encouraged, so that diners can experience a variety of fare.
-There is a solid range in cuisine represented at Serpico that makes it a challenge to pin down as a particular style. I saw mainly Asian flavour profiles represented in the way of Dashi, Shiso, Ginger, Hoisin and Kimchi. On the other hand, there was also some clear Mexican inspiration (chorizo, lime, cilantro), and American (Country bacon, spinach and breadcrumbs) going on.
Sweet Potato with Sage & Idaho Potato with Basil and Potato Consomme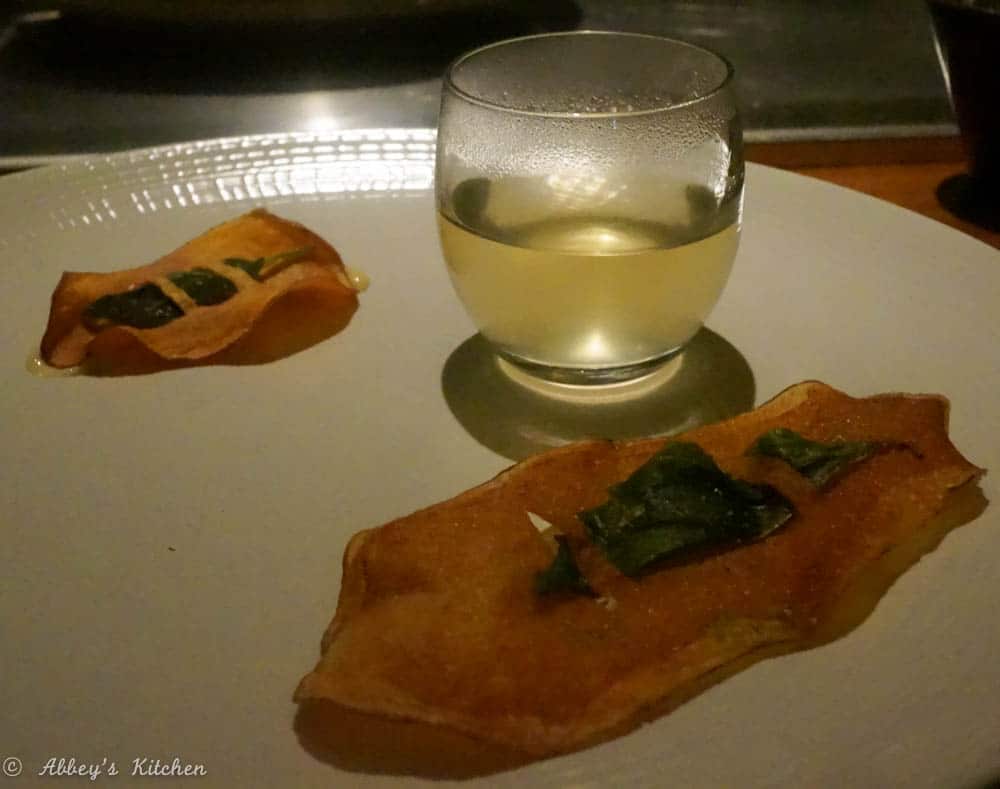 The chips were wickedly crispy with an addictive layer of flaky salt, while the consommé was warm, sweet and comforting. A perfect first bite (and sip).
Eggplant Wrapped in Nori with Parsnip Cake topped with Duck Pate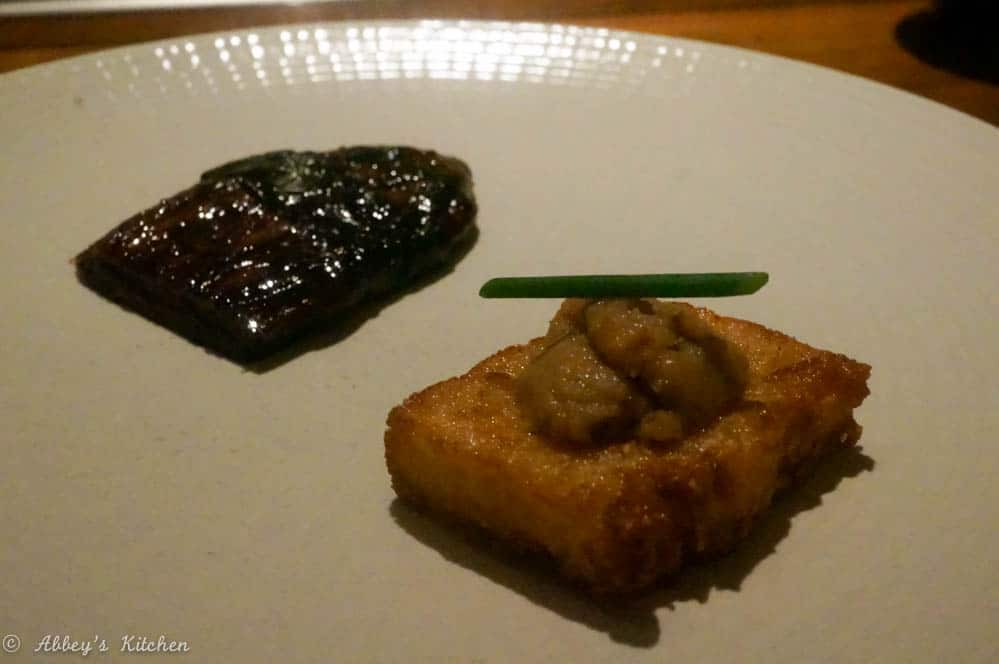 A simple but very flavourful course. I loved the balance of sweet and savoury in both elements on the plate- the caramelized eggplant with the savoury strip of nori, and the fluffy sweet cake with the savoury pate. Yum.
Trio of Mushrooms with Shaved Daikon and Fried Lilly Bulbs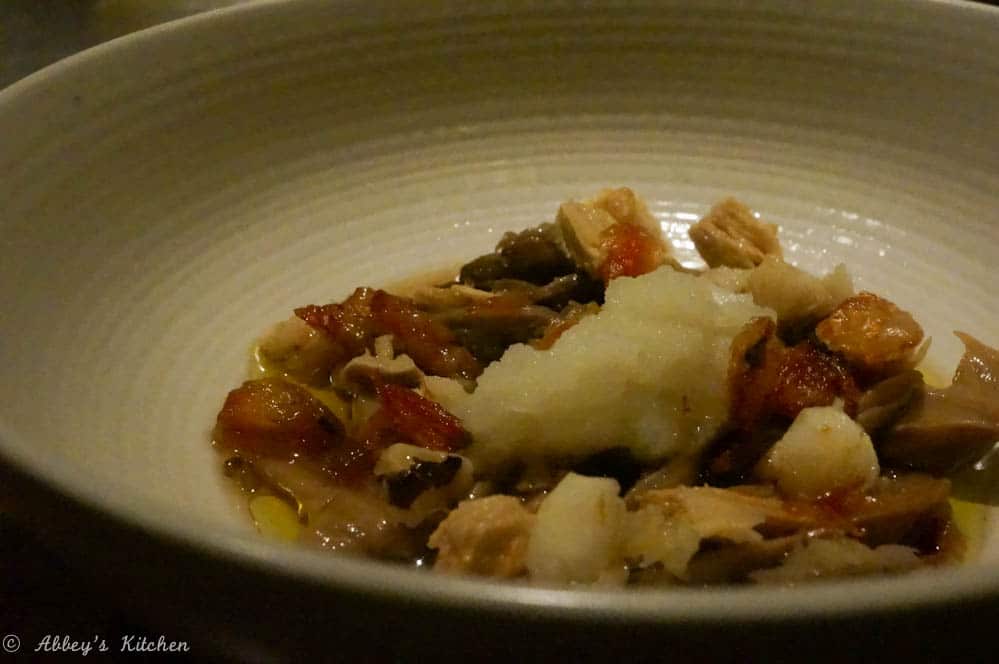 This was an unusual dish, and probably not my favourite of the bunch. I found the combination of cold mushrooms with the sulfurous and daikon a little soggy and flat. The fried lilly bulbs did add a little textural contrast to pull everything together, but it still wasn't enough to make me love the dish.
Smoked Cobra, Cobra Jelly, Black Pepper Oil and Potato Crumble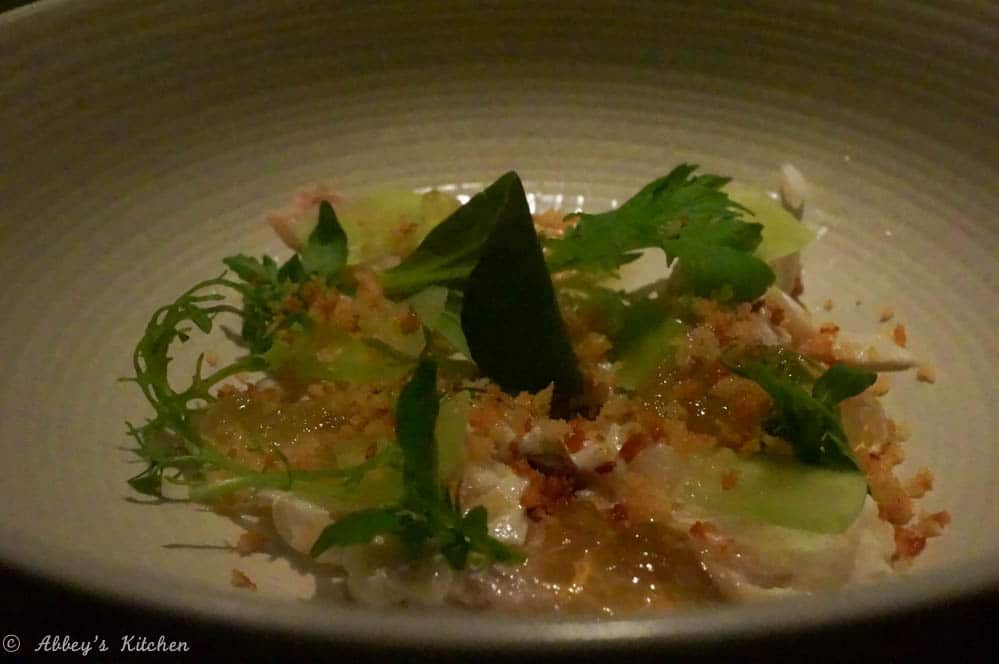 This was a favourite course for sure.. The combination of the smoky, nutty sweetness of the fish with the spicy oil and the salty crisp potato crumble made me want to lick the bowl absolutely clean. This was probably one of my favourite dishes of the night.
Steam Baked Custard, Brown Butter, Potato Crisp, Caviar, Cauliflower Mushroom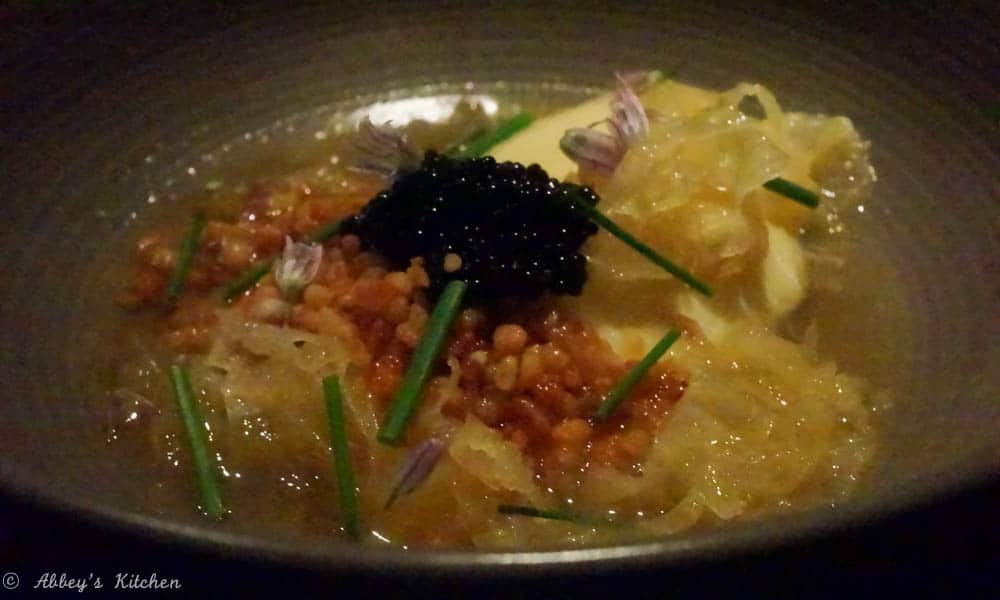 Like the previous dish, this one really nailed it with the textural contrast. I really loved the satiny smooth custard with the supple pop of the salty caviar and the bed of crunchy generously-seasoned potato crumbs.
Alkaline Noodles with Pork Broth, Radish and Pork Belly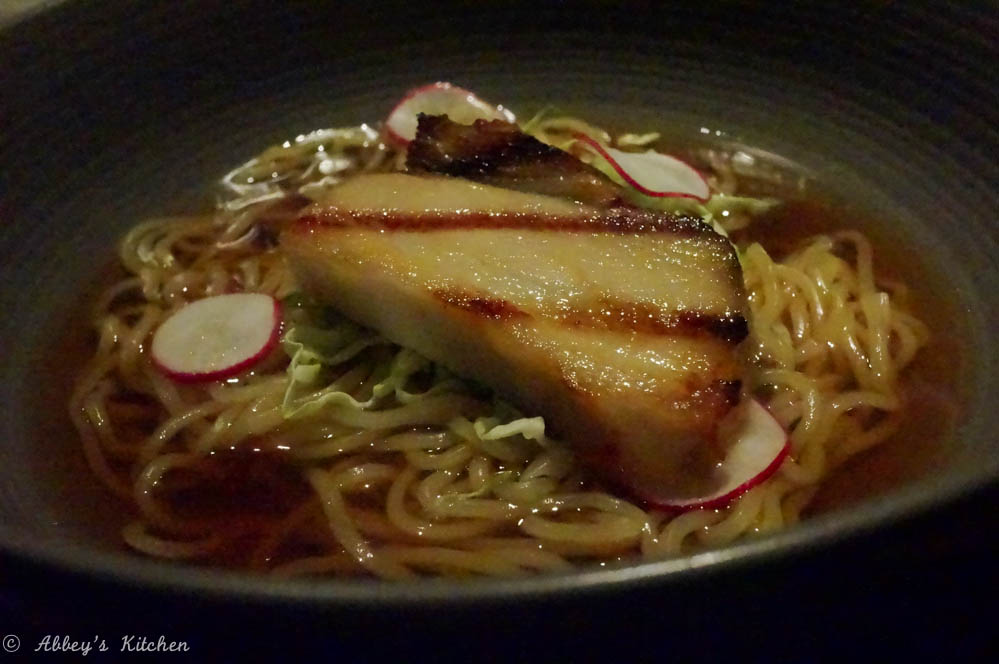 A simple ramen dish, but packed with expert flavour, no doubt a reflection of Peter's time with David Chang. The noodles had a bouncy supple chew, the pork belly had a nice crisp skin and a tender bite, and I quite enjoyed the light, yet mildly spicy broth. A tasty course.
Trout Potato Pancake, Onion Puree, Trout Roe, Freeze Dried Apple Powder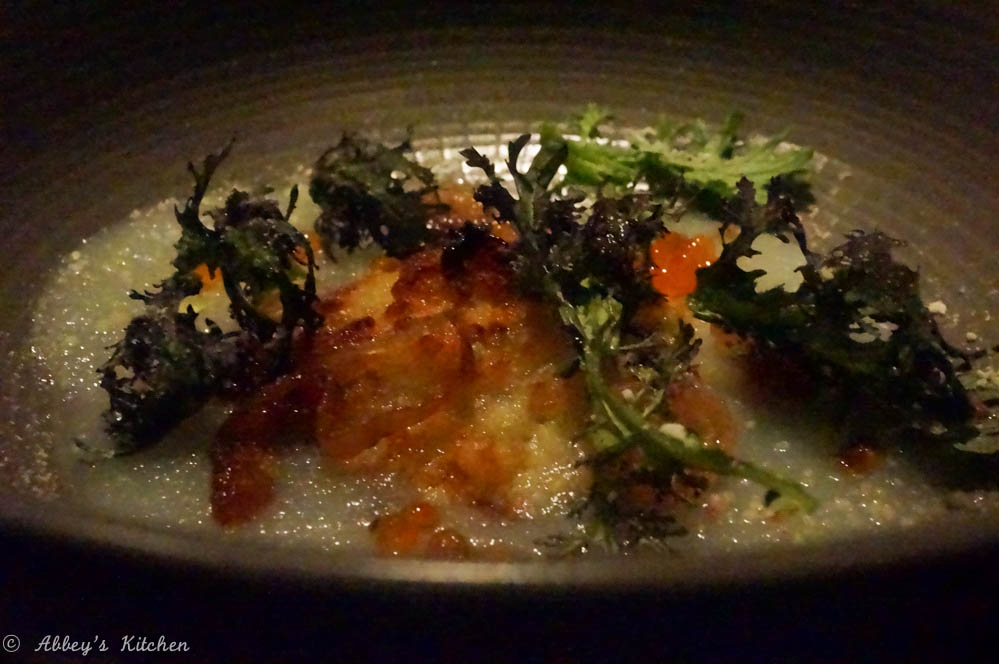 This actually reminded me of a mix between a variety of Jewish favourites as if Zaidie's cured fish had a baby with Bubbe's latke. I'm not sure if that's what Chef was going for, but if it was, the whole flavour profile would make sense since the onions and the apples clearly work. This was probably one of my favourite dishes of the night.
Chicken Roulette, Black Pepper Snail Sausage, Chicken Gravy, Parsley Juice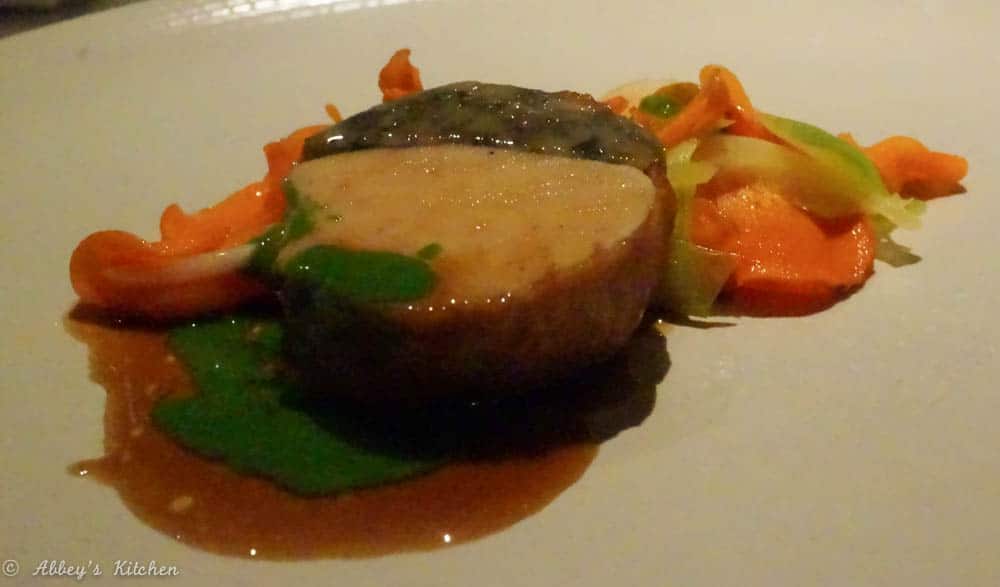 The spicy succulent sausage truly enhanced the wickedly moist chicken, while the vegetal parsley sauce helped balance out the rich gravy. This was a very tasty dish that would make for a beautiful full sized course.
Braised and Deep Fried Oxtail, Mirin Mustard, Radish and Daikon, Oxtail Consomme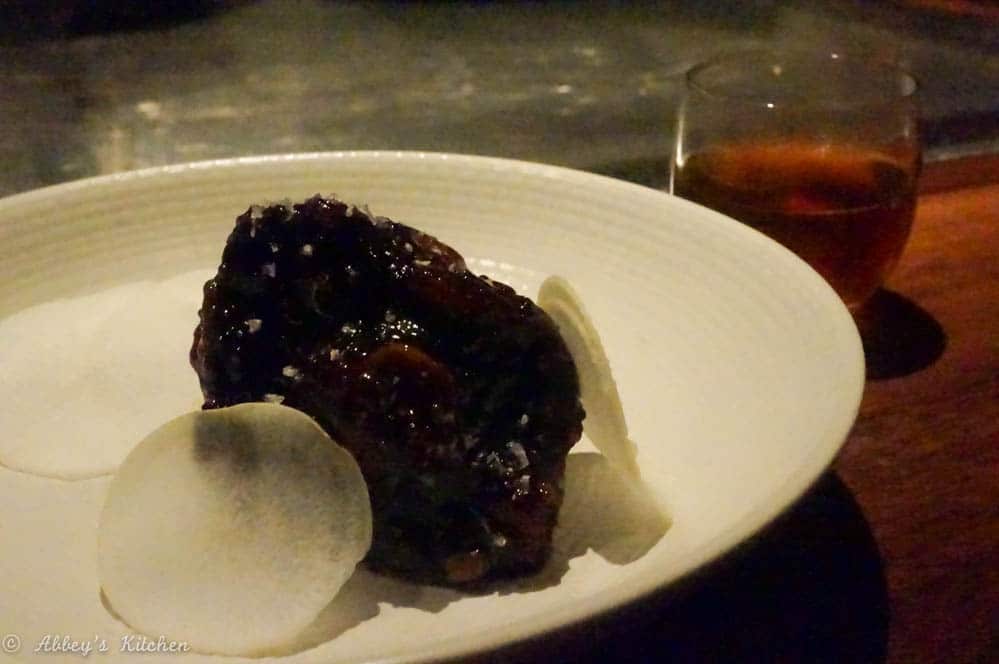 Another one of my favourite little bites- the oxtail here was blessedly tender while packing an addictively crisp crust that was made even more tasty by the sweet and spicy glaze. Admittedly, I wasn't crazy about the oxtail consommé with the fatty oxtail, as I felt I needed something acidic to cut the rich savoury flavours. But all in all, a very tasty meat course.
Shaved Foie Gras, Peanut Brittle, Chia Seeds and Apple Sauce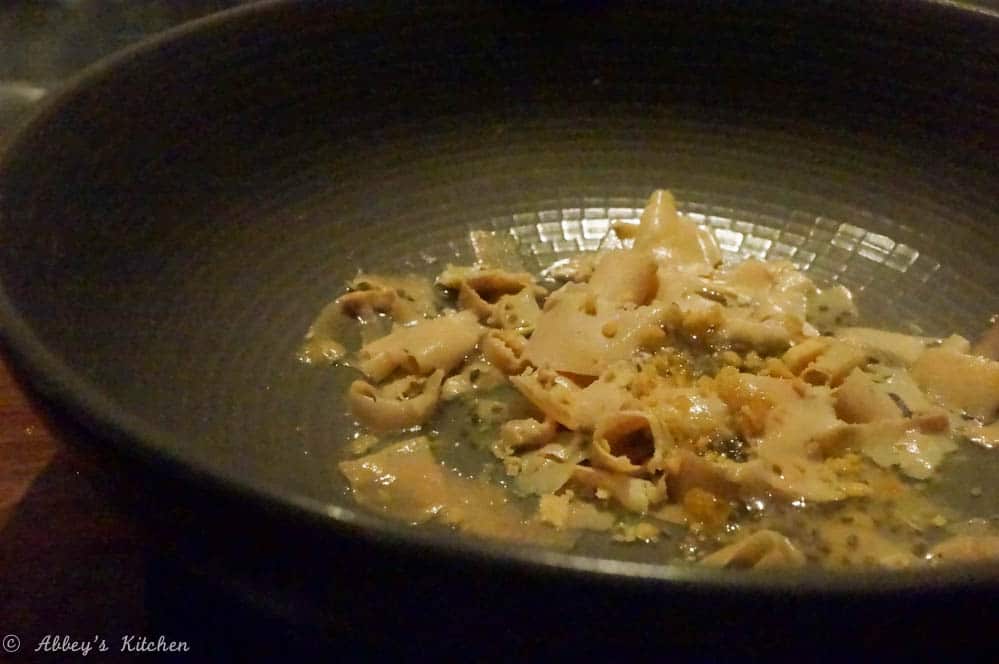 While I hardly ever can turn up foie gras, this surprisingly wasn't one of my favourite courses. The flavours were obviously beautiful (who could complain about good foie gras?), but the texture (or lack thereof) left something to be desired. It was described as having a peanut brittle component, but I didn't get enough textural contrast to balance out the buttery foie. The result was that the whole dish pretty much dissolved on my tongue and I felt I missed out on that satisfying foie experience.
Frozen White Chocolate Maple Custard with Oolong Tea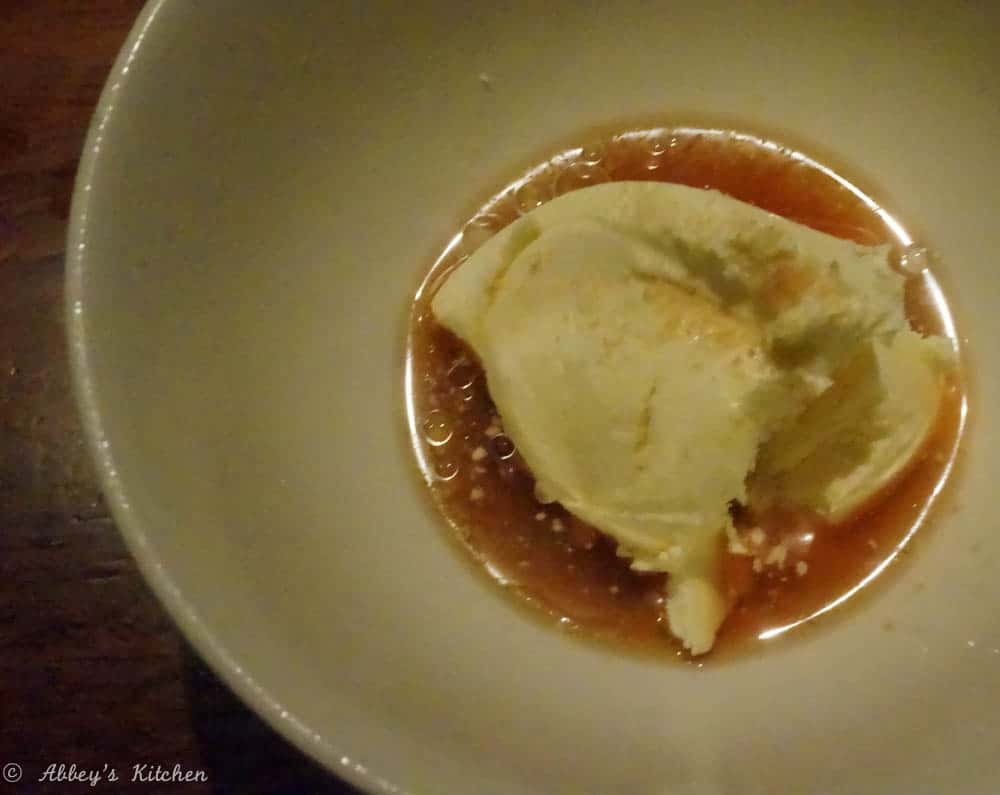 A brilliantly balanced dish to end a great meal. The white chocolate custard was cold, satiny smooth and tantalizingly sweet, a refreshing shift from the decidedly savoury theme of the meal. However, like most desserts in Asian cuisine, Serpico paired the sweet cream with a slightly bitter oolong tea that when combined made for a wonderfully balanced bite. It actually reminded me a bit of the popular green tea ice cream, which I find far too easy to eat because it's not too sweet.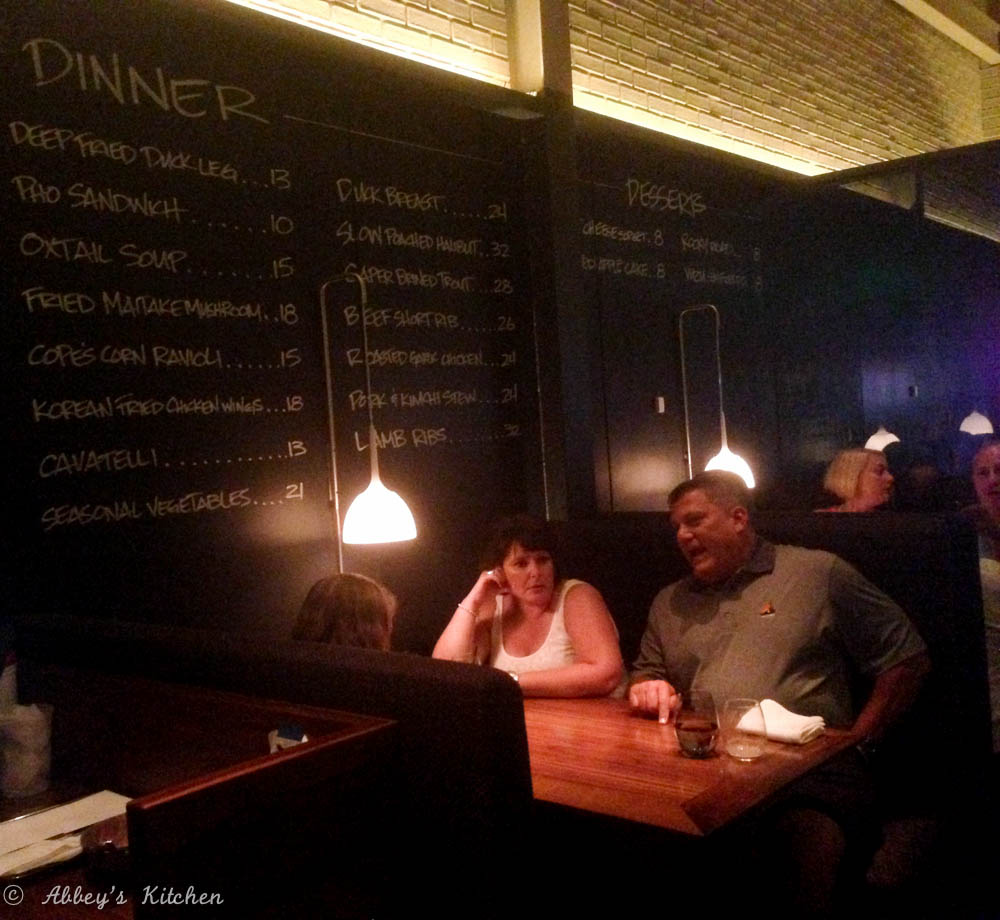 Closing Remarks
-For two tasting menus, one beverage pairing, and two cocktails, the bill came to $317 including tax and tip. I thought it was a very reasonable price for such a solid meal, especially considering I paid more for my meal at Momofuku's Shoto in Toronto way back when it opened, and didn't enjoy it as much as I did Serpico.
-In conclusion, I would definitely recommend Serpico to visitors and local Philadelphians alike if they're looking for a casual, yet sophisticated dining experience. Despite my minor quibbles with the service, I thought Serpico made for a very unique and enjoyable night out and I would personally love to revisit again. Next time, I would opt to order off of their regular menu since some of the plates (namely the Pho sandwich, the Deep-Fried Duck Leg, and the Beef Short Rib) looked so delicious I almost wanted to order more food after dessert (not that I would have had room to anyway).
Updated on February 13th, 2016