Opening Remarks:
-Opened this past June by husband and wife duo, Diana Sederis and Rony Goraichy, Tabule on Queen East is the long awaited follow-up to the restaurant's original midtown space.
-After my trip to Israel left me craving falafel every week, I had had the east-end spot on my hit list, so I was excited to get an invite from a fellow foodie for a belated birthday gift.
-We were also in luck with our timing as diners on Saturday nights get to enjoy dinner and a show with a professional belly dancer in the house at 8:30 PM.
Ambiance:
-The space at Queen and Degrassi was previously a doctor's office and had been made-over into a modern Middle Eastern oasis.
-The front bar commands attention the moment you walk in the room. The combination of bright turquois and traditional gold patterned baseboards, with finished wood and shiny marble countertops was certainly inviting.  I loved the elegant ebony wood hutch on the wall that showcases their liquor and glassware and compliments the charcoal leather seating around the room.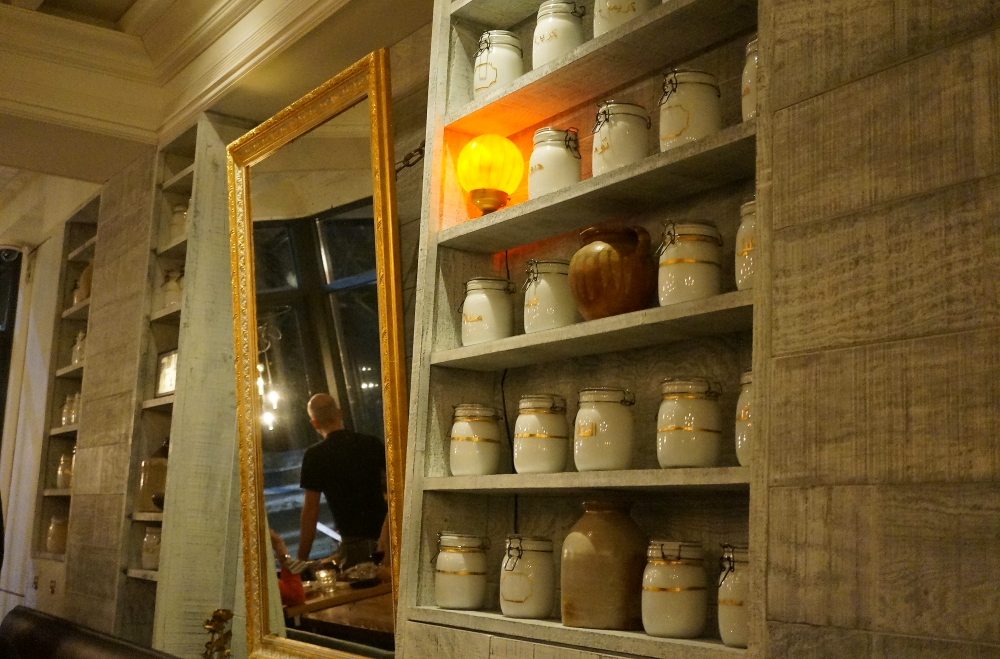 -Tables are dressed simply to highlight the simple wood and glimmer of the regal décor. The gilded spherical lamps throw light on the symmetrical silver and copper patterns on the wall, while the clean grey walls throw in an element of purity and grace.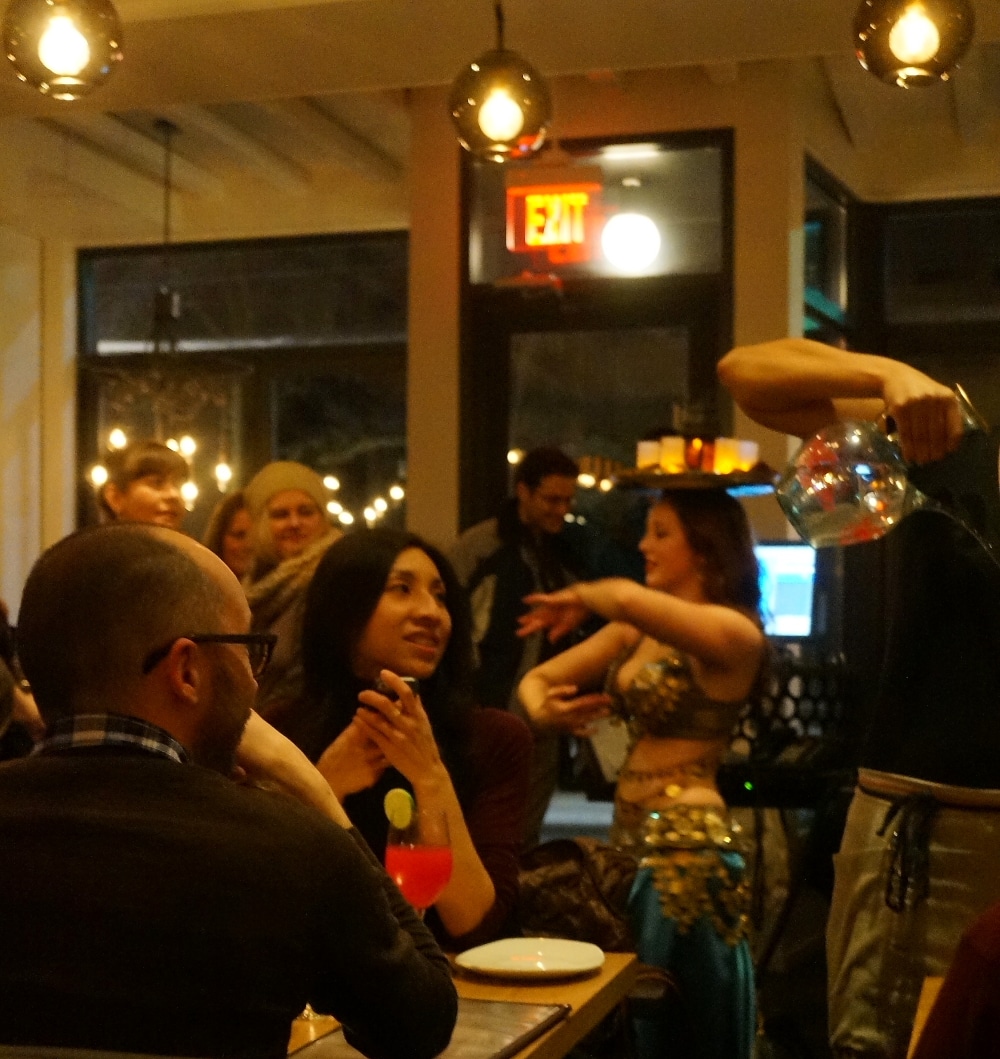 -Noise level is tolerable, though buzzing throughout Saturday night. The only time it got really rowdy was when the belly dancer was out as they raised the Arabic music to build the mood.
-It should probably also be noted that those who are uber sensitive to cold temperatures should request a table at the back. We were tucked between a few full tables mid-room, with enough body heat going on to keep us toasty, so the occasional draft was not a big deal. Having said that, I think I would have been uncomfortable in this weather had I been seated right beside the frequently open door, so just something to keep in mind.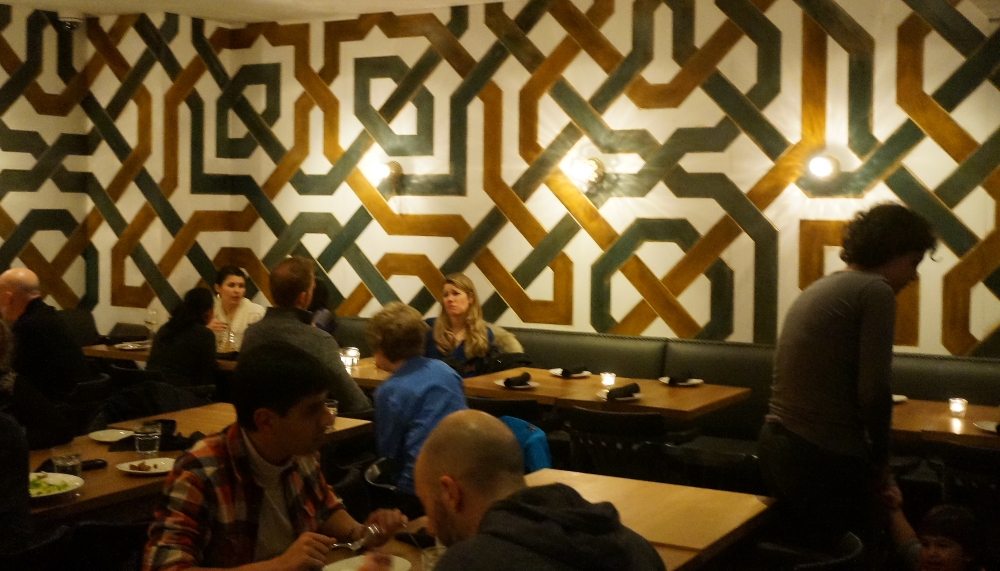 Service:
-Our server, g-d bless her, had apparently lost her voice, but it didn't stop her from checking in on us, making recommendations and reinforcing menu choices.  Immediately upon being seated, we were brought some Middle Eastern pickles and olives to munch on, our water glasses were filled and our drink orders taken.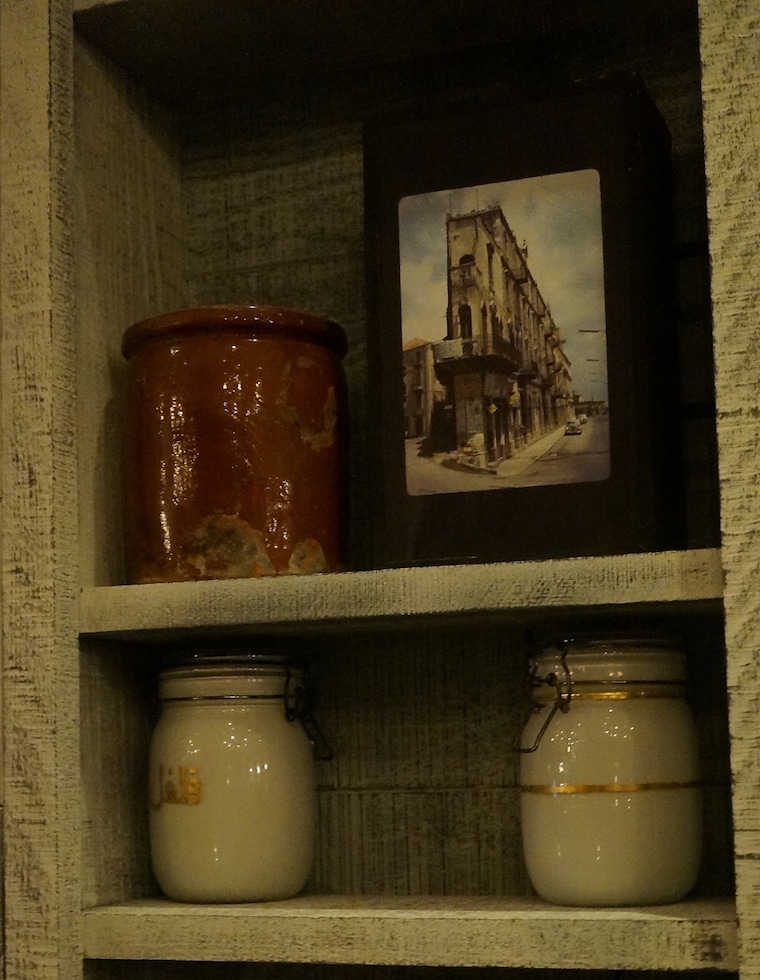 -The technical service was also fairly good. Sure, we had to ask for more water once or twice, but for the most part, our glasses were refilled regularly without request. Cocktails also came fairly promptly after ordering, and there weren't any long waits for any of the food. Sure, the mezze appetizer plates pretty much all came at once, which can be a bit hectic for a girl who likes to photograph her food, but for most parties, I am quite confident that this would be ideal.  While we spent about 2 1/2 hours at the table (lingering and chit-chatting as groups of friends do), I never felt rushed to get out. On the flip side, I think if you were in a rush, you could very easily have dinner in an hour.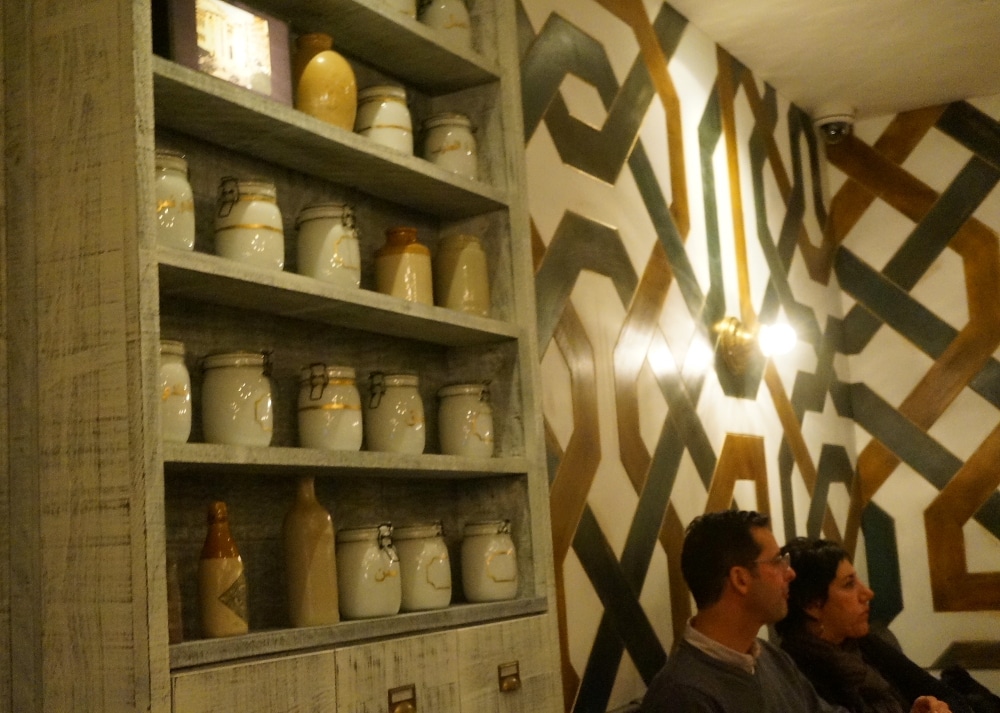 Drink:
-Crafted by Nishan Nepulangoda (Blowfish), Tabule's cocktail menu takes classic drinks and adds an unmistakable Middle Eastern twist. Think harrisa and sumac in your Caesar, date molasses and rose in your mojito and orange blossom water in your martini.  There are also a number of completely original drinks that continue with that Arabian theme, including a traditional Lebanese liquor called The Arak ($5.50-8).
-The cocktail menu is divided into Mojitos ($11-12), Maritnis ($11-13), Barrel Aged Cocktail ($13), Specialty Cocktails ($11-13).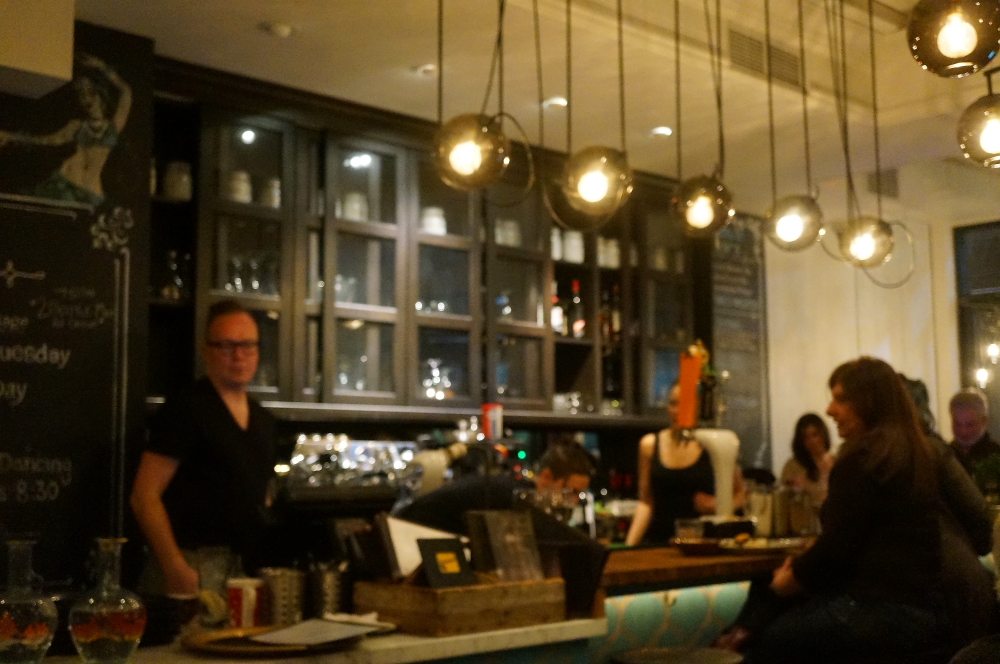 -Beer drinkers have a handful of largely international brews in bottles ($7) and draught including stand bys like Mill Street, Heineken, and Stella.
-Winos will be pleased by their no corkage fee BYOB offering every Monday and Tuesday. Having said that, the restaurant does offer a well rounded International wine list including about a dozen by the glass ($7-12) for the rest of the week. I think I only saw a couple wines from the Middle East, but based on my experience wine tasting in Israel, I think that was a wise choice.
Arabian Chiquita ($12)
Tromba Tequila, Lemon Grass Syrup, Fresh Green Grapes, Basil, Lemon, Green Chartreuse, Ginger Beer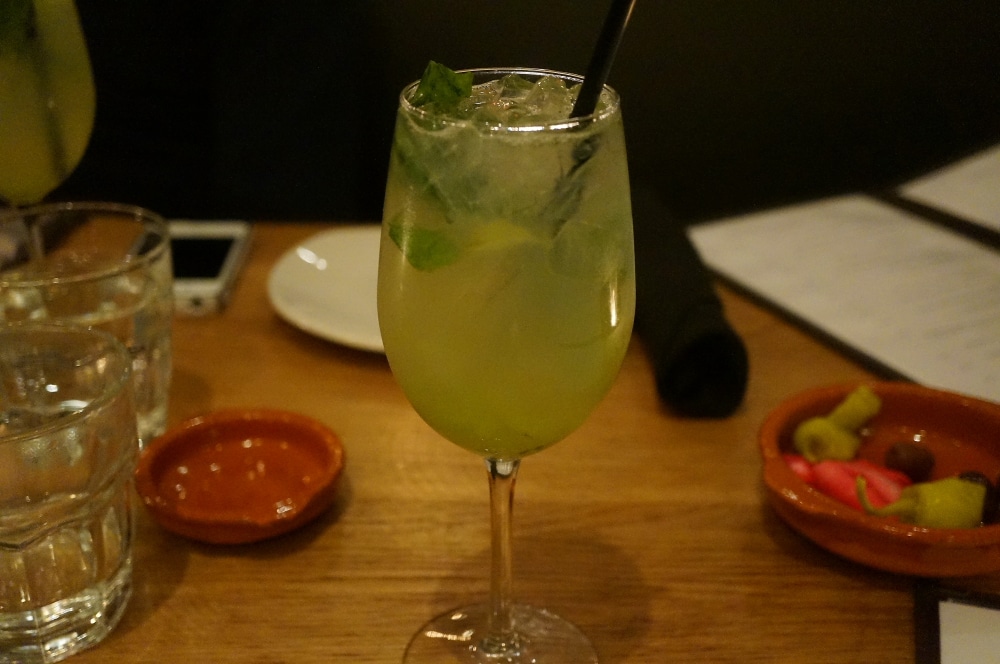 Kumquat Mojito ($12)
Bacardi Rum, Kumquats, Habenero Lime Syrup, Lime Juice, Mint, Rhubarb Bitters, Perrier Citron
Both of the cocktails I sampled looked beautiful and tasted even better. The Chiquita had a really bright citrus flavour that was complimented by the spicy buzz of the ginger beer, while the Kumquat had a similarly solid balance of citrusy kumquat, spicy habanero, bright lime and cooling mint. Everyone at the table enjoyed their drinks, so I would definitely want to return to work through the rest of their offerings.
Food:
-Tabule's menu is perfect for dining with a crowd where sampling and sharing is encouraged.  It's classic Middle-Eastern fare, divided into Cold Mezze (salads, dips etc.), Hot Mezze (soup, falafel, cooked fish and meat), Vegetarian Entrees, Meat Entrees, Seafood Entrees and Dessert.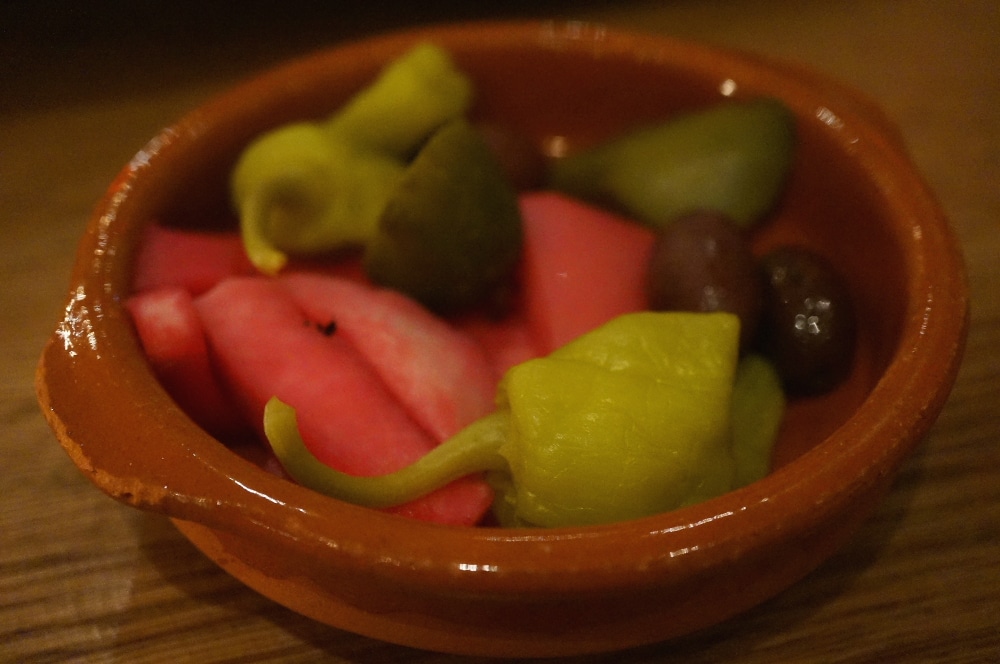 Sampler Platter ($14)
Hummus & Babaganuj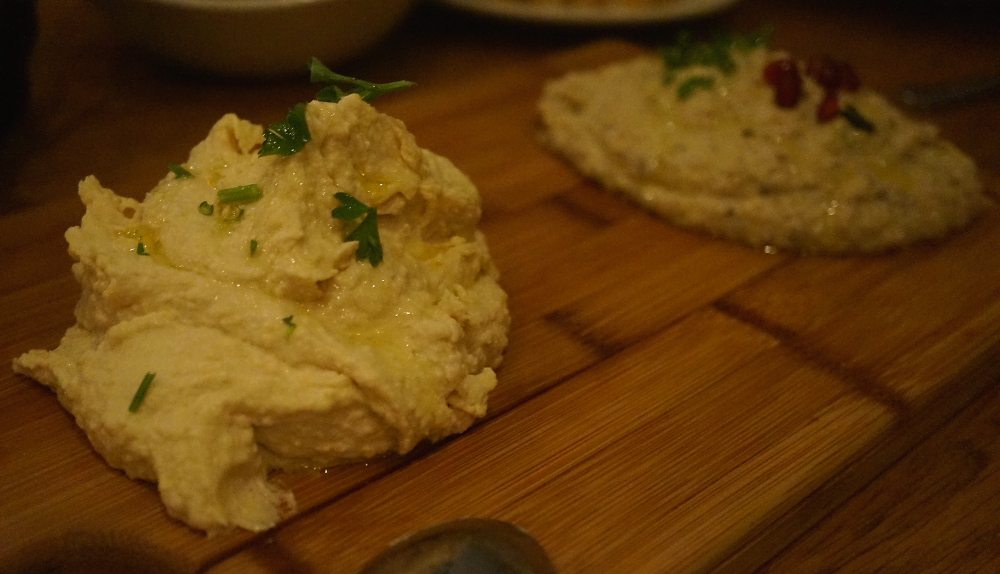 A solid set of dips, I liked the thick, yet smooth consistency of the hummus, and the mild sweetness of the babaganuj. I especially loved the bright tangy pop of the pomegranate seeds on top and wished there were more! My only criticism would be that I found the accompanying pita a bit mundane and semi-stale. It would be really nice to have fluffy house-made pita served warm in a covered basket that made eating dips feel like a luxurious experience in itself. I would even pay more for an offering like that. On second thought, maybe it's a bad idea, because then I would eat way too much bread and have no room for what was to come.
Sampler Platter (Cont.)
Tabule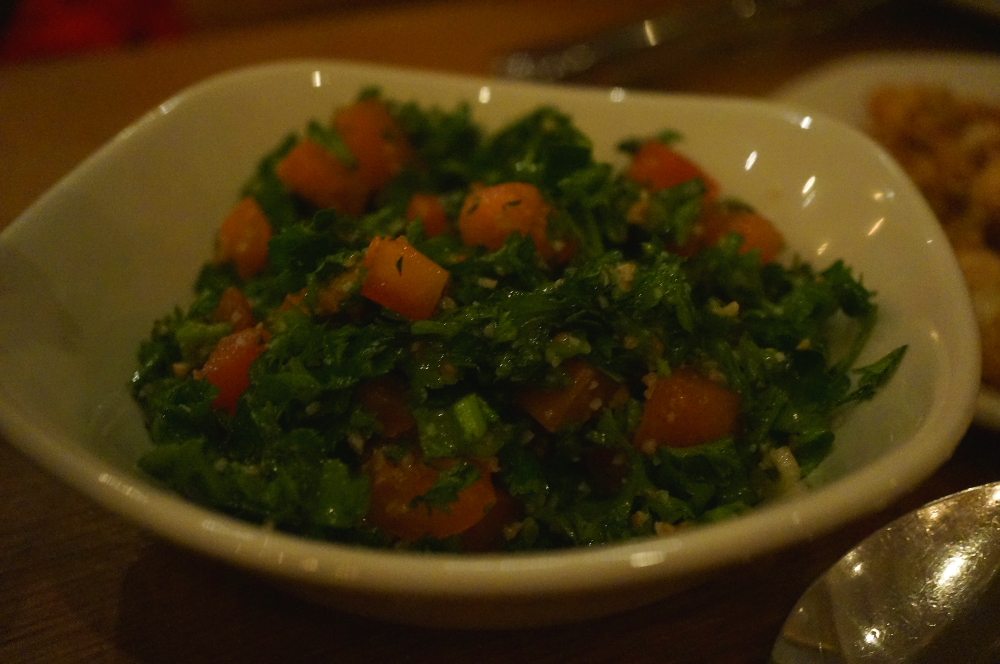 A refreshing, well seasoned salad. It was definitely more parsley-heavy than most tabules we see in Toronto (the bulgur was merely peppered throughout), but from my eating travels, it seems that's the way it's done abroad.
Akaawi Cheese ($11.95)
Seared with Nigella Seeds, with Tomato Concasse, Za'atar and Extra Virgin Olive Oil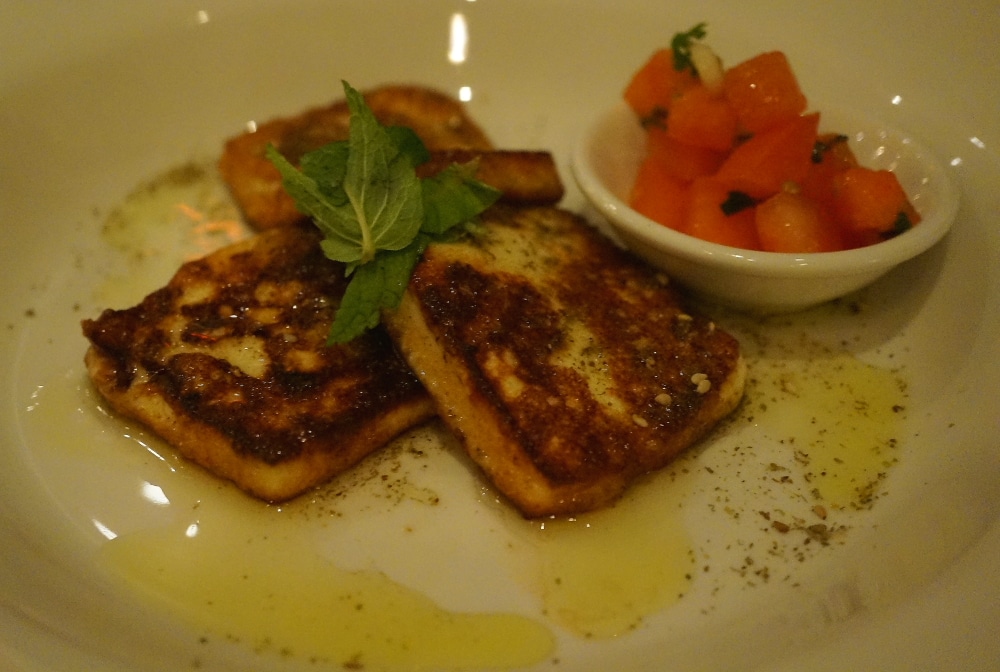 Gah- my favourite dish of the night. Yes, it looks a bit like a seared 90 calorie frozen fish filet or maybe a few dirty erasers I had in 5th grade, but those fishy erasers were really tasty (note- they did not taste like fish, just looked like fish). It had a nice firm yet supple texture and a slightly salty flavour that made me want more, but be totally satisfied with just a piece.
Cauliflower ($7.50)
Flash Fried Cauliflower with Tahini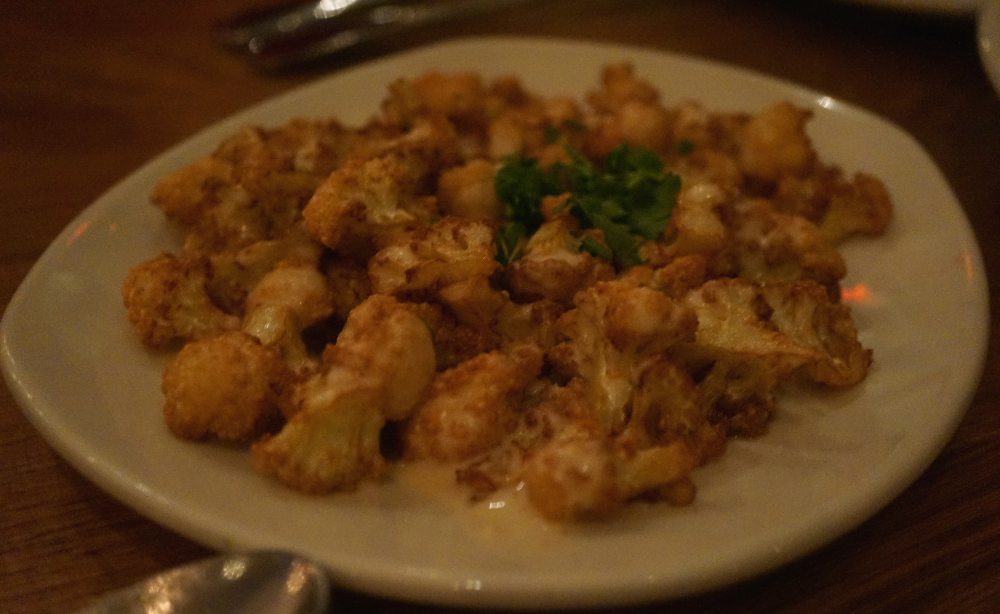 I really liked the nutty flavour from the tahini which complimented the natural sweetness of the cauliflower well, but I think a larger cut of cauliflower would have helped the veggie out. The teeny tiny baby florets kind of lost their texture in the cooking process, leaving them a little soft when they could have been crispy and light. Considering 2014 is the year of the cauliflower (apparently), I've apparently spent a lot of time thinking about their cooking physiology, and bigger is better is what I've learned.
Falafel ($5.95)
Chickpeas, Split Fava, Parsley, Garlic, Onions, Spices with Tahini
Like the great matzoball debate, everyone has thoughts on how to make falafel. Personally, I like mine dense, hearty and wickedly crunchy outside. These satisfy my needs just fine. These are some of the crunchiest little balls I've ever had without being even the least bit greasy or stodgy. I bet if I had taken an order of these home with me to eat the next day, that they would still illicit a dirty look from my partner when I bit in from the excess noise. Crunchy enough to start a marital dispute, crunchy enough for me.
Garlic Shrimp ($12.95)
Sauteed Shrimp, Tomato Garlic Sauce
The sauce had a really nice rich flavour that was sweet, tangy, smoky and spicy all at once. There was quite a lot of it (probably far too much in the context of the dish), so I used it on everything else- pita, cauliflower, falafel, chicken. Middle-Eastern hot sauce! You can put that $#@! on everything.
Fried Eggplant ($7.50)
Slices of Eggplant Fried and Topped with a Lemon Garlic Dressing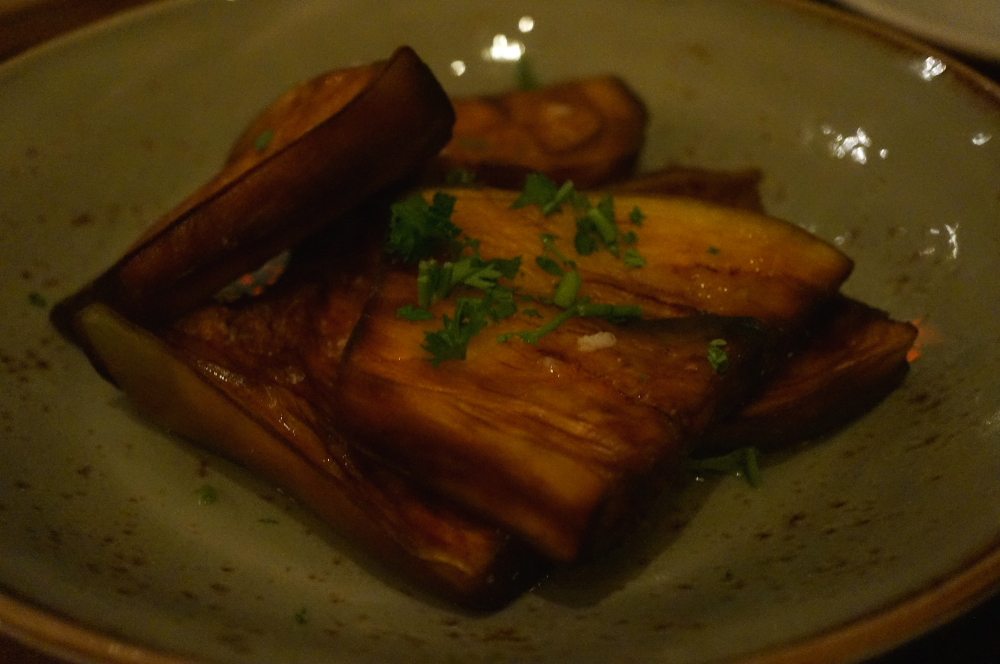 I usually strongly dislike eggplant, partially because it can be greasy from soaking up too much oil, and partially because it's bitter even when it's liquid is salted out. This eggplant was neither. It was satiny inside with a nice caramelized exterior and a bright slightly tangy glaze. Yay. Hater converted.
Kefta ($15.50)
Mixed Lamb and Beef with Onions, Parsley, Garlic and Spices with Veg, Rice and Fried Onions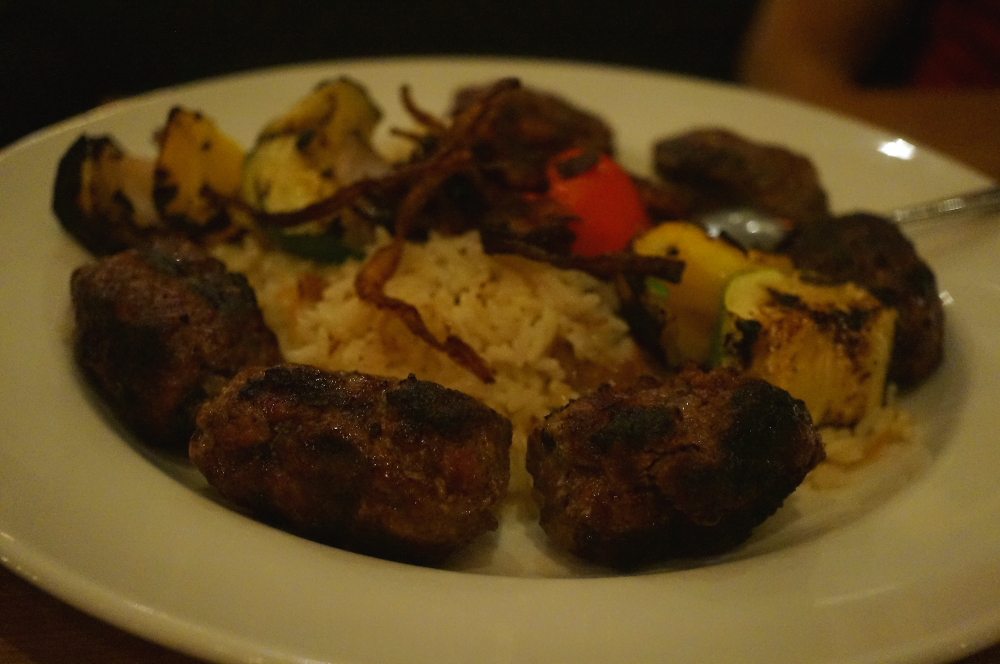 Kind of like baby burger fingers (sans bun), the keftas were really well seasoned with a nice kick of heat, albeit maybe just a little overcooked. Thankfully, nothing that a little tzatziki couldn't fix, which also played double duty cooling down the spice. A generous portion too for the price, I thought.
Tawuk ($15.95)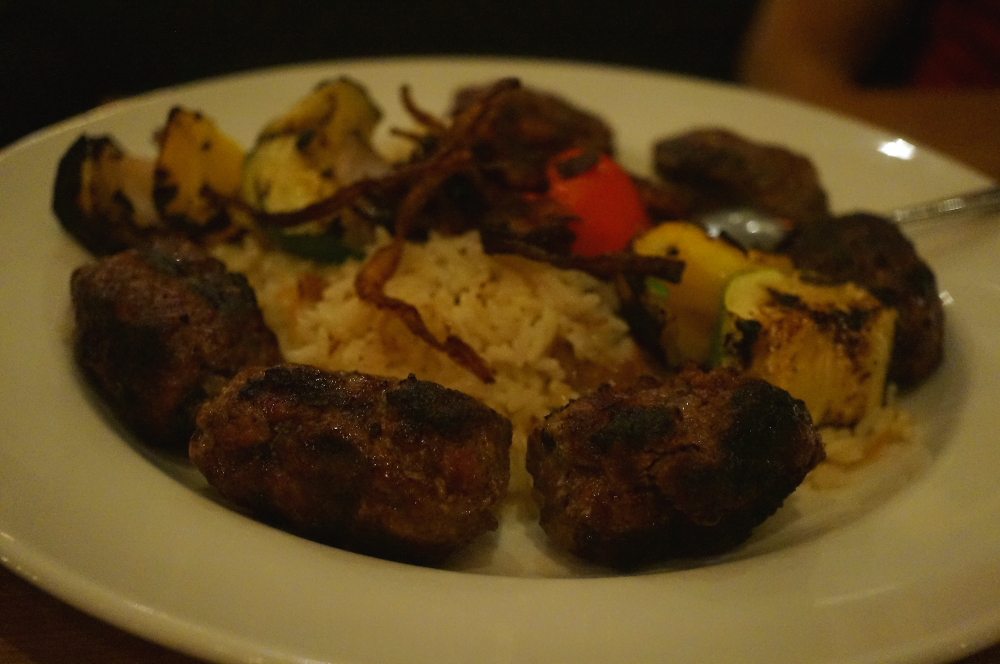 Mennonite Raised Marinated Chicken Breast with Veg, Rice and Fried Onions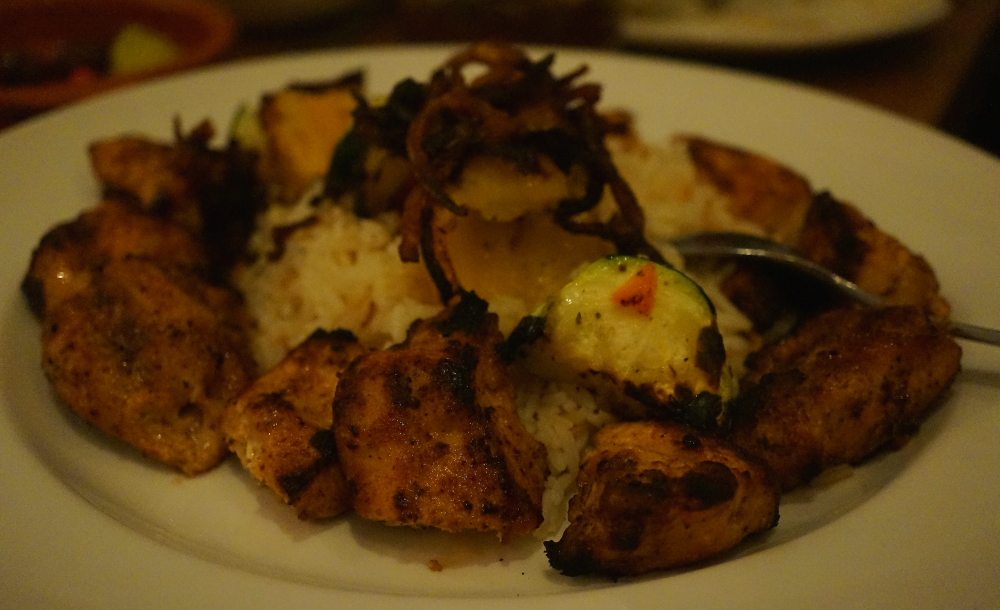 I usually don't order chicken in restaurants, especially when it's cooked in pieces like this, as it's almost always overcooked. But not this chicken- oh no- super flavourful and moist. I'm not sure how they're marinating that meat, but other restaurants could definitely take note.
Baklava ($5.75)
Bite Sized Baklava with Pistachio and Cashews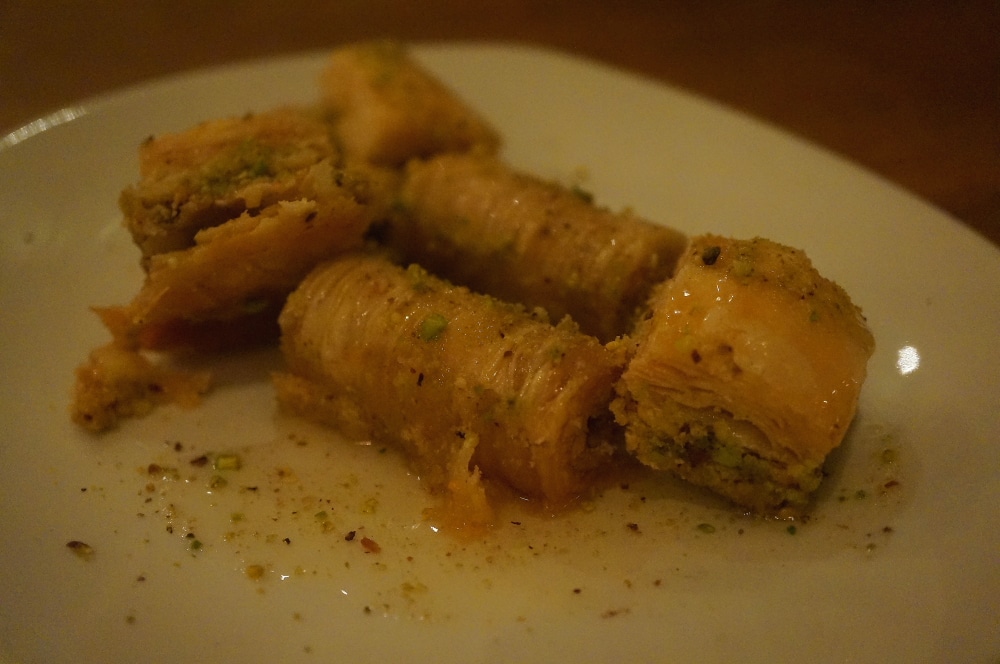 I'm royally obsessed with baklava and these were highly addictive, super sweet, crispy bites of Middle-Eastern goodness. One of my favourite memories of Israel was going into the sweet shops for a mid-day bite of baklava, because just a taste is all you need. Yum.
Kunafa Ashta ($6.50)
Filo Layered with Custard and Topped with Rose Water Syrup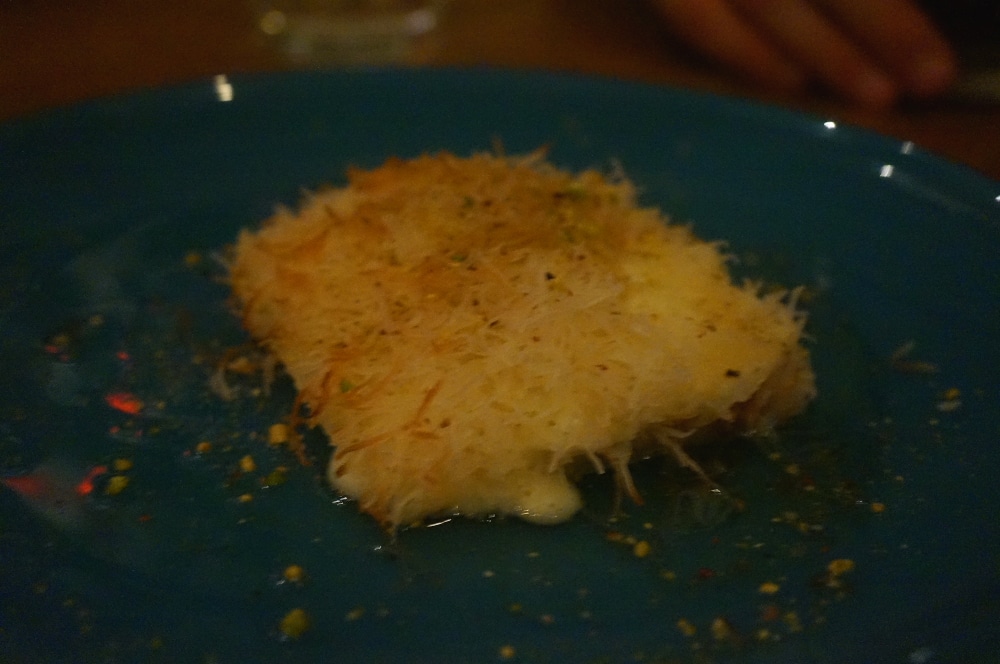 A very unusual dish that looked more like a hair ball than anything edible, but boy, was it ever good. The combination of the silky custard with the crispy golden filo and the sweet and floral syrup made for a light, yet satisfying dessert.
Closing Remarks:
-For 8 cocktails, a beer, a espresso and a tea, the bill came to about $235 including tax and tip, incredibly reasonable considering we couldn't even finish all the food!
-I really enjoyed my experience at Tabule. This isn't the place to go to be wowed by innovation, their strengths lie in their delivery of simple but delicious Middle Eastern cuisine. The service was attentive, the ambiance was inviting and fun (especially with the belly dancing bonus), the food was all very tasty and the drinks were playful and to my liking. Tabule would certainly make for an ideal spot for a group (even with picky or restrictive eaters), a date night or even a casual bite because it delivers a seemingly familiar solid experience at a very fare price.  Thanks to my foodie friends for the night out, I'm so thrilled to know Leslieville's got yet another great spot for their quickly growing roster.
Updated on May 8th, 2019