Thoroughbred Opening Remarks:
-Owned by Executive Chef, Ariel Coplan, Maitre D', Jacob Fox, and General Manager, Robin Kemp (formerly of hot spots, Colborne Lane and Momofuku), Thoroughbred Food & Drink officially opened their doors on September 2nd, just in time for the annual TIFF rush.
-Now, before you march down to protest, let me assure you that the name Thoroughbred has nothing to do with the animal offerings– there's no horse meat (at least not right now) on the menu. Rather, in Ariel's words, "Thoroughbred is about pedigree. It's our view on the service industry – appreciating the beauty in simplicity. It's a powerful creature but has a lot of grace. It's a lot of little things that are done well for this perception." The ultimate vision is for a restaurant that elicits a sense of nostalgia- a place where the food, drink, art and music tell joyful narratives of our past.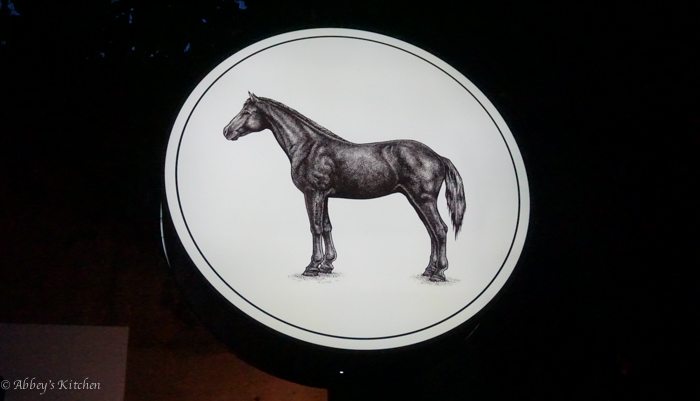 -With an absolute infatuation with the concept of nostalgia in food, I was dying to try this place out as soon as their doors opened, but alas, a trip to Spain kind of threw a wrench in my get-there-opening-weekend plans. I had heard awesome things about their TUM pop-up last year and their now-legendary foie gras pop-tarts (HELLO!). I mean, how could any chef who makes foie gras pop-tarts not open a killer joint? So I took a risk having never tasted his food and I invited Chef Ariel and the restaurant to participate in my upcoming Abbey's Kitchen Stadium event at the Delicious Food Show. Spoiler- the risk paid off.  You can catch him in my pavilion Oct. 17-19th and rumor has it you can get those infamous pop-tarts at the show! Hell, yes!
Ambiance:
-The three-story space is located across the street from the Scotiabank Theatre in the heart of a neighbourhood known more for its bottle service than its food. Well, folks, get ready, because that's about to change.
-When you enter the first floor, you're greeted by a sophisticated tile-lined bar area with seating for up to 55 guests.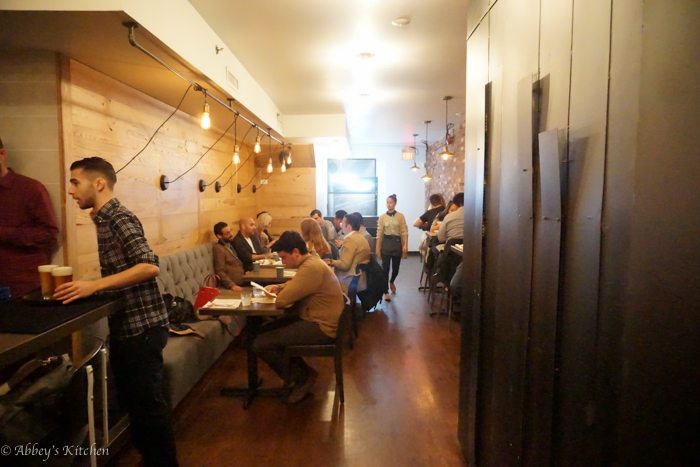 – With grey cushioned banquettes, exposed filament bulbs, and a different medium used on nearly every wall (wood, tile, brick, panel), the décor is understated, clean and comfortable in juxtaposition with the flashy clubbing district outside. Lighting is left fairly dim to contrast the white washed walls, and between the excited buzz and the lively music, the noise level is tolerably loud.
-The second floor is the 35-seat dining room and the exclusive Chef's Table for 10 that overlooks the glistening open concept kitchen.  This space wasn't open when I visited, but will apparently launch any day.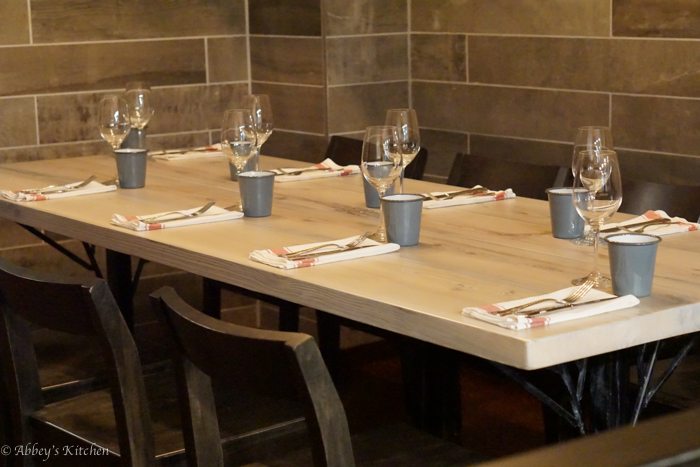 -The top floor is still "a hazard" I'm told so I didn't get to take a peak, but it too will have its own unique concept. While they're still toying with ideas, it sounds like Toronto may be getting a new sexy speakeasy some time soon. Stay tuned.
-Much more than a watering hole or a gourmet gathering for foodies, the team at Thoroughbred have also planned a number of local artist collaborations to create in-house exhibits in their space.  You may also be able to catch one of their in-house DJs at work who will be spinning different themed tunes Wednesday through Friday on the main floor.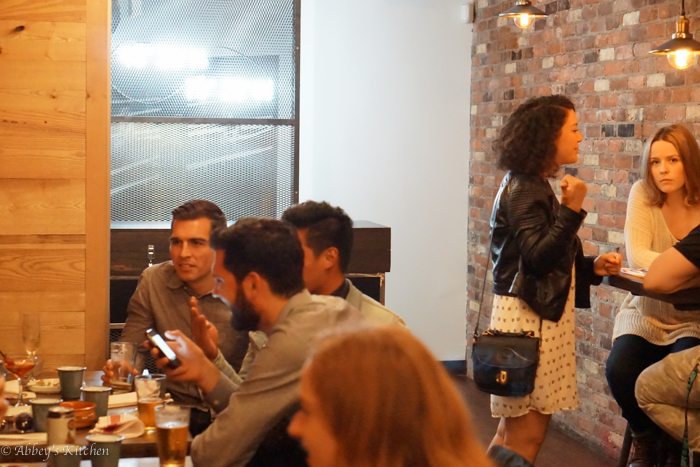 Service:
-The team has aimed to do away with stuffy service, and instead foster a more intimate connection between diners and the passionate artisans at work. For that reason, it's not uncommon to have your drinks and food hand-delivered to you from the chef or the bartender who created it. Regardless of who ends up at your table, you can be assured they're going to be friendly. The many folk who popped by our table to refill drinks, deliver food, and clear plates were all smiles on a hoppin' Thursday night so it totally felt like a real neighbourhood joint.
-Water glasses were consistently refilled, plates were replenished appropriately, and the meal – especially considering it was casual bar food – moved at a leisurely pace- in and out in about 2 hours.  Unlike a lot of trendy shareplate-style spots that tend to put 5 dishes on your table before you've even had a sip of your cocktail, this would be an ideal spot for a date.  Here, you're afforded that time to savour each plate, have more than one drink, and actually enjoy a conversation with your partner.  Imagine that!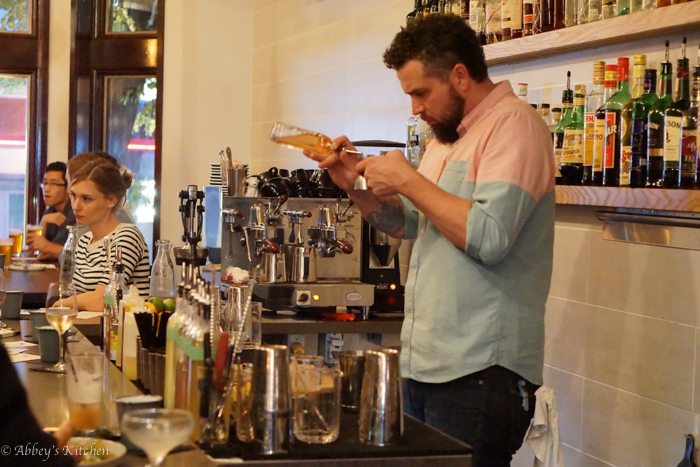 Drink:
-And speaking of drinks, Master Sommelier Bruce Wallner has compiled a list of natural, organic and sustainable wines from all around the globe. Bottles range from $48-120, with 14 glasses between $9-16.
-Craft beer buffs should really focus their attention on the unique list. Go-to local faves like Kensington Augusta Ale, and Black Oak Bitter Years are available on draft ($8/ 16 oz), as well as exclusive-hard-to-find offerings like Cheshire Valley Ginger Cream Ale. They've also got an additional 7 interesting bottles ($6-14.50) and another 2 ciders to peruse ($7.50-24.95). If you're a fan of the craft beer, then exploring Thoroughbred's unique list may just become your next weekend hobby.
Brickworks Cidery 1814 ($7.50, 500 ml)
Easy drinking, beautifully crisp, and perfect for early Fall.
-And while the beer and wine list certain entice, y'all know I'm a cocktail girl myself. Thoroughbread offers 9 house cocktails ($13-15) and 3 great non-alcoholic creations ($6) that feature a beautiful array of housemade syrups, shrubs, tinctures and bitters. Definitely expect to see some unique combinations and ingredients (salted Campari, tailpipe falernum, and hopped grapefruit bitters) as well as some sassy takes on familiar classics like an Appletini with Verjus and bitters float.
Cadillac Chrome ($14)
Tequila Tromba, Pineapple, Lime, Passionfruit Syrup, Salted Campari, Habanero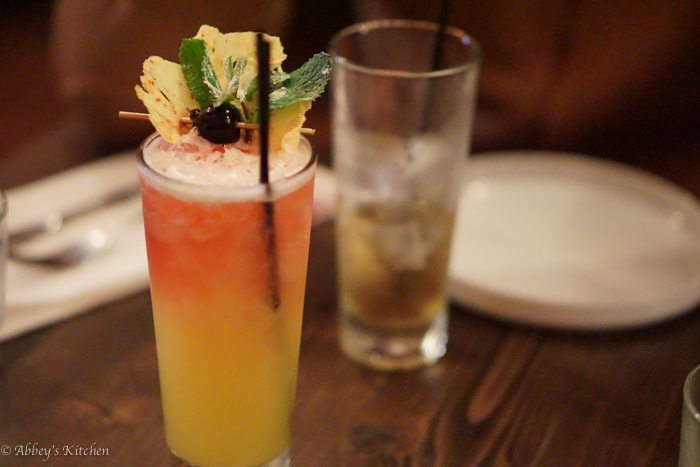 Perfectly balanced with just enough sweetness to balance the slightly salted liquor, fiery pepper and bright lime. I also adored the spiced dried pineapple tuile garnish (note to self- always ask the bartender for an extra one so I don't have to share mine with my partner).
The 808 ($15)
Leyenda Organic Mezcal, Carrot-Cucumber-Celery-Beet Blend, Cayenne, Citrus, Dill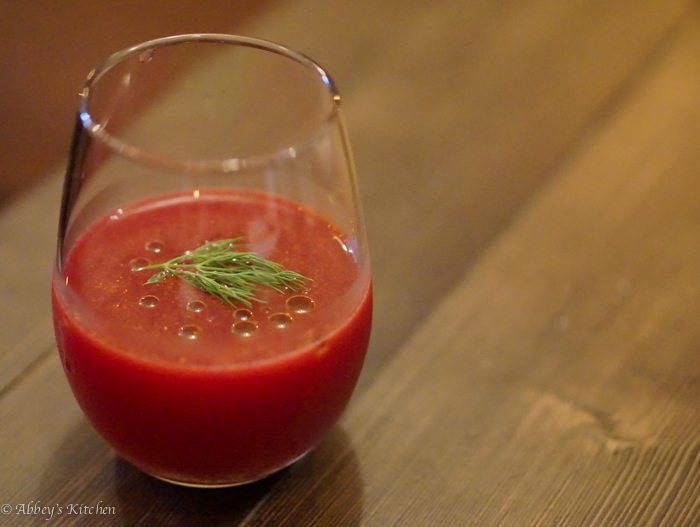 With the popularity of juicing at an all time high, I've hit my fair-share of juice bars for beet-based blends. Tasty, they are, but exciting, eh-not so much. Well, if they came with smoky Mezcal in them, a hint of spicy cayenne, and a little herbaceous dill, I could easily skip the snooze button for one every morning. Hey, maybe there's a business model in that… Alas, this cocktail was perfectly balanced, deeply fragrant and ideal for slow, mindful sipping. And hey, I totally did my body some good with it too, right? #NutritionWin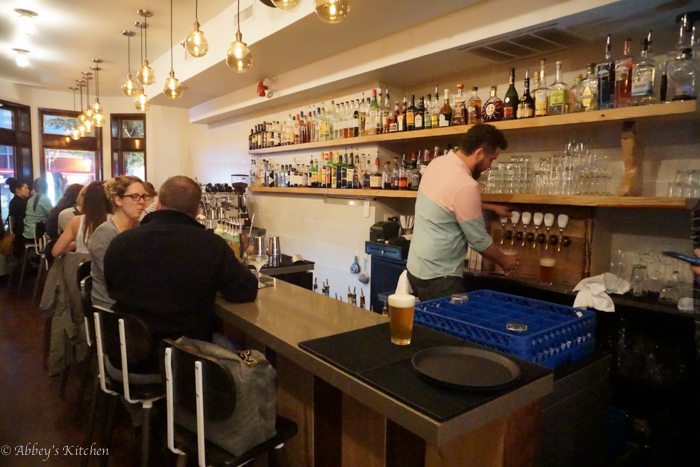 Thoroughbred Food:
-With previous time spent in esteemed local kitchens like George and Splendido, in addition to stints at NYC's Café Grey, Sydney's Felix Bistro and Michelin Star Number 1 in Balmoral, Coplan certainly has an eye for a pretty plate.  While the flavours may conjure up memories of your grandmother's kitchen, the upscale plating is anything but. And that's really what I love about Thoroughbred. This is comfort food that no one can deny loving, but it's been reimagined with the air of haute cuisine. It's approachable and familiar, yet utterly interesting and imaginative- the best of all worlds in my books.
-As previously alluded, Coplan's food concept is all about pulling at our heart strings by updating some of the familiar, comforting flavours of our childhood. Imagine an old school Waldorf salad done up with miso and almonds, a BLT on steroids with crispy pork jowl and bacon challah, a bloomin' onion with jalapeno honey mayo, or hot dog done up with onion jam, birch mustard and scallion mayo.  Desserts continue theme with a playful vibe and four solid options- Chocolate Bar themed Truffles, Mini Pies, Banana Split, or "The All In" aka. one of each (because believe me, it's totally hard to choose.)
-I also noticed there was a strong representation of vegetables on the menu, with a nice range of unexpected produce getting their time to shine. In my opinion, exploring produce on this level really makes for a lighter and more enjoyable meal because the range in flavours, colours and textures is merely endless.
-The night of my visit, they were still just offering their 18-item Bar Menu, but apparently, dinner is on the way. They also will be soon doing a Large Format Menu featuring pre-ordered platters for 4-6 people like an East-Coast style Lobster boil ($250), and a Whole Porchetta with Milk Buns ($150). Man, I need to make 5 friends fast. Even though I was just ordering off the bar menu, I can assure you that even without the full dinner spread, there was no shortage of tempting selections. Actually, if anything, I was having a hard time deciding what to choose because I wanted everything and then wanted it all again. Solution? Let Chef Ariel pick.
Bay Oysters ($3.50 each)
Mignonette & Horseradish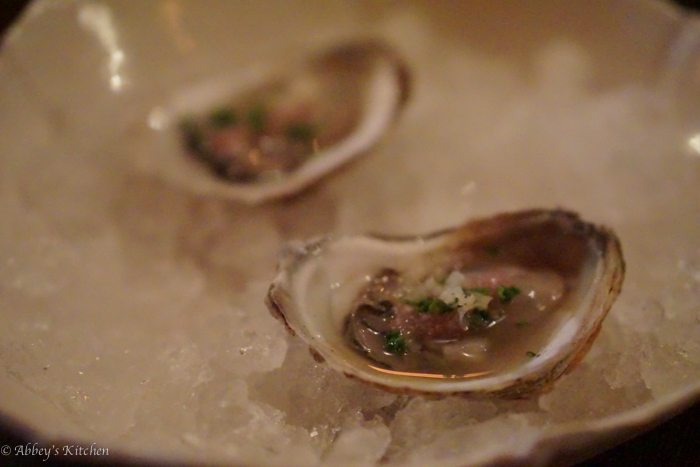 Meaty briny oysters balanced out by a perfectly sharp mignonette and a zippy horseradish.
Chicken Liver Mousse ($10)
Pickled Sultanas, Granola, Marbled Rye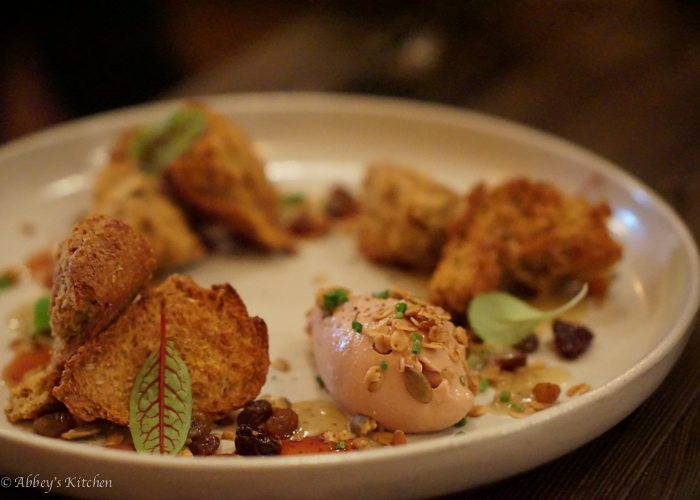 A lot of you may think you don't like liver, but a lot of you would be sorely wrong if you tasted this dish. The whipped mousse enveloped my tongue with its silky consistency that was in perfect contrast with the crunchy torn rye, the chewy dried fruit and the supple pops of granola across the plate. While chicken liver is notoriously unctuous and rich, Ariel's pickled raisins, bright cherry glaze and sprightly schmaltz vinaigrette helped cut the fat. Yes, folks, this tasted even better than it looked.
Roast Broccoli Marrow ($6)
Broccoli Carpaccio, Plum Vinegar, Mache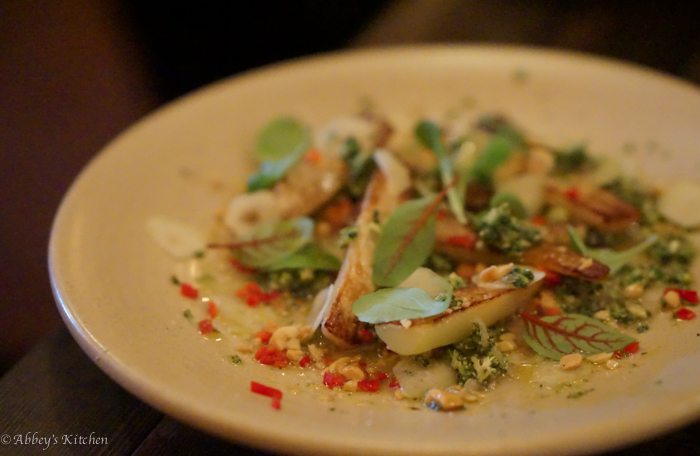 A lot of people think the only thing you can do with broccoli is to steam it a la diet food, or mix it with mayo in some kind of Paula Deen inspired recipe. Ariel proves them wrong. Here, the hearty stocks were caramelized to bring out their sweetness, and then showered with little bits of the shaved crowns, crunchy cashews, and a brightly acidic plum vinegar. This was the dish that made me instantly say in my head I'm so excited to come back here again because the flavours were so bold, so fresh, so addictive I just wanted more. I wanted more broccoli- how many places can make you think that?
Kung Pao Cauliflower ($9)
Cashews, Cilantro, Chili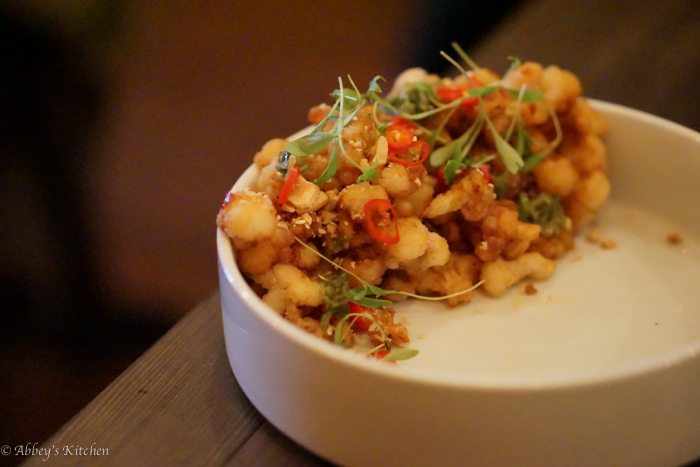 I'm so happy that cauliflower came back for its well-deserved comeback because when you deep-fry it and toss it in a spicy sweet sauce with fragrant cilantro and crunchy nuts, it simply just tastes-so-freaking-good. Cauliflower haters, eat this- it may change your perspective on life.
Duck Confit Nachos ($9)
Salsa Roja, Tomatillo, Queso Fresco
The moment I saw "duck confit" and "nachos" together on one line in the menu, I assumed they put them on there just for me. Nachos are my game folks, and duck confit is my reason for living. Now, this is not your bar standard nacho platter, folks. This-is-perfection. Gorgeously crispy chips loaded with tender, sweet duck meat that was nicely balanced by the acidity of the sliced tomatillo, the spicy chili and the salty cheese. I want to eat these every day. Please. Thank you. Please.
Sunchoke Bravas ($7)
Smoked Yogurt, Pepita, Sumac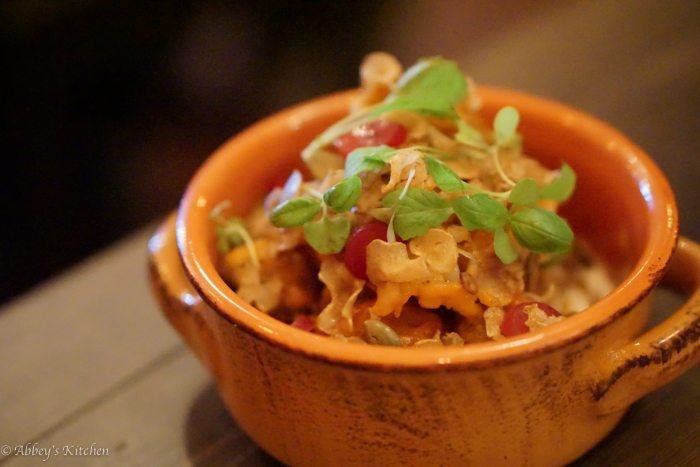 Having just returned back from Spain, it was fun to see this (dare-I-use-the-F-word) fusion of a classic Spanish bar food with Middle Eastern flavours. Unlike the traditional potatoes in the dish, the sunchokes provided a rich sweet nutty flavour that was brought out by the romesco sauce, the tangy smoky yogurt and pickled grapes. Top all that goodness off with a shower of crispy sunchoke chips, and just try not fighting over this dish.
Banana Split ($9)
Brownies, Brown Butter Ice Cream, Bruleed Banana, Caramel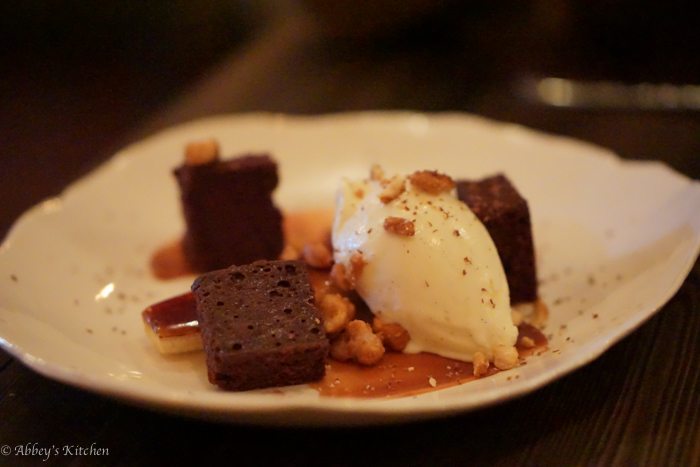 Definitely not the banana split you may be expecting, but I promise you, you will not be disappointed. Dark, rich, fudgy brownies paired with lusciously smooth and rich brown butter ice cream. Oh brown butter, you get me every time. The star, however, was the bruleed banana half that was laid spread eagle across the plate, offering its characteristic bitter-sweet candy shell and delicate fruit beneath.
Chocolate Bar Truffles ($2.50 each)
Cookies & Cream and Peanut Butter Chocolate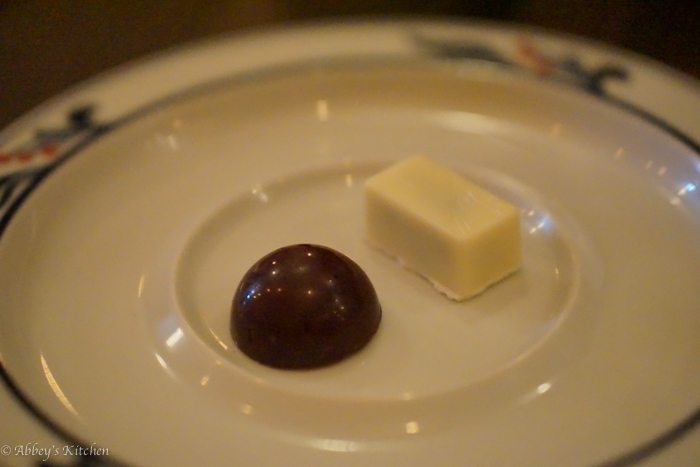 For those who may have stuffed themselves but still really just need something sweet to end the meal, you've got to check out these one-bite pleasures. Apparently they will always have at least 3 flavours in rotation and with Halloween around the corner, these put those little "fun size" bars to shame.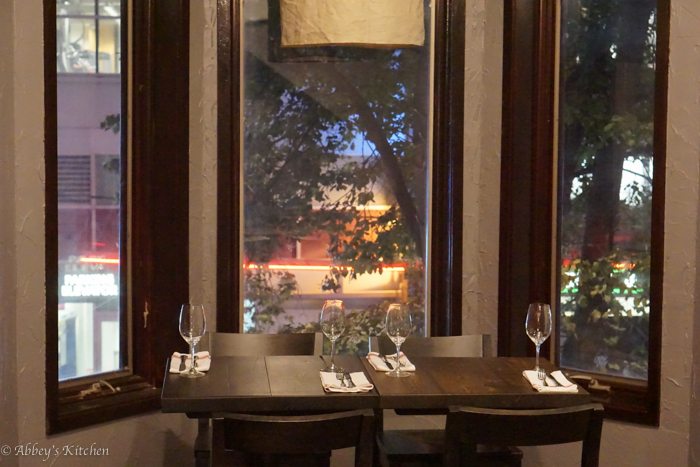 Thoroughbred Closing Remarks
-For 2 cocktails, 2 ciders, and 8 dishes, the bill came to $135 including tax and tip. Best-deal-ever. Seriously, the price just solidifies what a perfect option Thoroughbred would be for an inexpensive casual date or a night out with a group of friends as the menu and prices can fit any budget or taste.
-In conclusion, the whole experience at Thoroughbred was exactly what I was craving- laid back, accommodating and fun. The service was friendly and professional, the space was comforting and inviting, and the food and drink truly exceeded my expectations. I also felt like there were so many things on both the food and beverage menus that I was dying to try, so I can't wait to return for round two. I'm also looking forward to seeing what's in store for the full dinner menu upstairs, and awaiting the announcement of what's happening with the 3rd floor. Most of all, though, I'm really just super pumped to see Ariel throwdown at the Delicious Food Show where you will surely be able to catch me mowing down on foie gras pop-tarts. See you all there!
-Upcoming Even Notice: on Oct 9th 6-8 PM there will be a Lake Fish Tasting Dinner at Thoroughbred Food & Drink. Join chefs Ariel Coplan of Thoroughbred Food & Drink and Dennis Tay of DaiLo for an 8 course dinner celebrating the freshwater fish of Ontario. Guests will be joined by some of the fishermen themselves to help raise awareness about overfishing. Desserts by pastry chef Shane Harper. Prices are $65 for dinner and $35 for beverage pairings including 6 savoury and 2 sweet courses. To make a reservation email [email protected] or call 416 551- 9221.
Disclaimer: The preceding meal was complimentary, however, as always, all opinions are genuine.
Updated on May 8th, 2019