Bar Isabel Opening Remarks:
-Bar Isabel opened its doors in March of 2013 with plenty of media buzz and loyal customers dying for a taste. I made my initial visit a month after their opening (you can read about my experience here) and have been anxiously awaiting an opportunity to return. Usually when I check out a new restaurant and love my experience, by the time I get a chance to re-visit, they've already closed up shop. In this case, that would be both incredibly disappointing and unbelievable because it's been almost 2 years (a virtual lifetime in Toronto's competitive restaurant scene), and yet the buzz about Ms. Isabel has shown no signs of quieting- if anything, it's only become harder to get in.
-Over the past five or so years, Toronto has watched chef and co-owner, Grant van Gameren become a food celebrity at home and abroad. He is more then just a great chef- he is Toronto's culinary trendsetter and leader. And the same way he made charcuterie and offal Toronto's sexy eating trend at The Black Hoof, he started Toronto's unwavering love affair with Spanish cuisine at Bar Isabel.
-And it's not just a Toronto thing. Anytime we have international food celebrities touring the city, Bar Isabel is their first foodie stop. Depending on who you follow on social media, you've surely seen shots of Grant with Mario Batali, Albert Adria, Gordon Ramsay and more.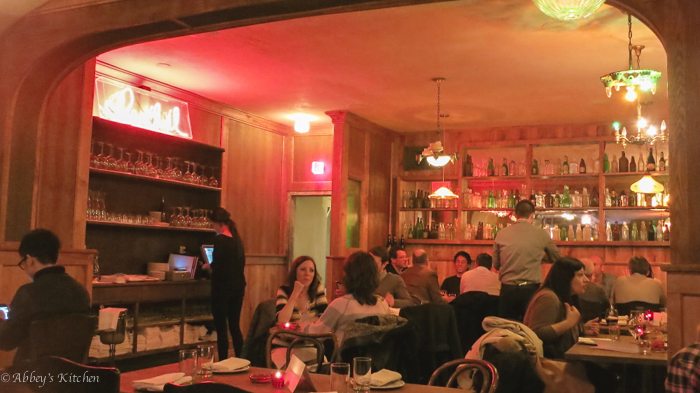 -Just to revisit some of background I went through in my prior post, Bar Isabel is co-owned by long term business partner Max Rimaldi (also of Enoteca Sociale, Pizzeria Libretto) with an all-start team of fellow ex-Hoofer Brandon Olsen as Chef de Cuisine and Guy Rawlings (Room 203, Brockton General) as General Manager. It's actually incredible to see a team stick together since day one for so long, but clearly, these guys know they're holding onto something great.
-Speaking of the team, one of the cool things about Bar Isabel is that they hire inexperienced chefs and students into an apprenticeship program to work for six months unpaid just for the experience. I'm not a professional chef and have never been one, but I would bet that's an incredible opportunity.
-Isabel fans can also look forward to more Spanish goodies in the months to come with van Gameren opening a new pintxos bar called Bar Raval with Robin Goodfellow and Mike Webster. Can-not-wait.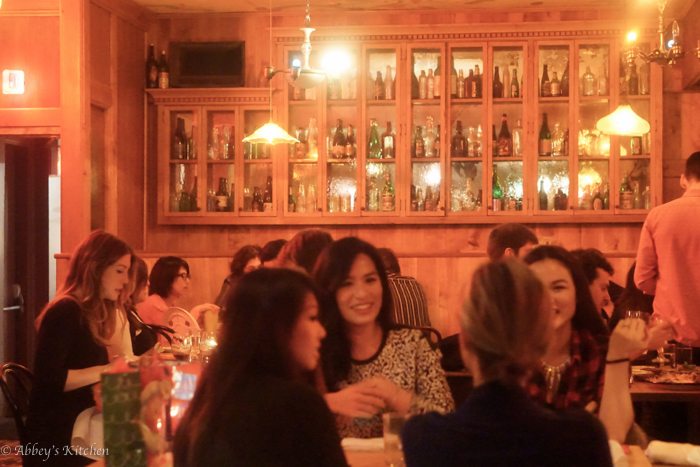 Bar Isabel Ambiance:
-Located in the former Grappa Ristorante on College, the 70-seat restaurant has transformed into a Spanish oasis by designer Marx Kruix. The bar, walls and banquettes are lined with rustic cherry wood panels, while the floors get a royal treatment from imported Mexican encaustic tiles. With the stain-glass windows, shimmering mosaics, warm red lighting, and arched ceilings, the room has the feeling of an old European place of worship. Romantic, comforting and inviting.
-Like many of the popular Spanish tapas bars I frequented this past fall during my travels, there is an unmistakable buzz about the room. I would put the noise level around a 7/10 – it's certainly lively but the acoustics don't overwhelm you so you can actually you're your dining partner speak. With young couples, older couples, groups of middle-aged friends all represented in the room, the demographic is varied but everyone seems able to have a good time.
Bar Isabel Service:
-Service throughout my visit was friendly, attentive and knowledgeable. Within moment of being seated, our lovely server popped by to take our drink orders and make some recommendations on her favourite plates. I would give her an A+ for her tastes because everything she recommended was fantastic. Meanwhile, we kept all of the staff busy replenishing soiled side plates and cutlery before courses and refilling our water glasses as it got low. Actually, in my birthday-weekend- perma-hangover-and-still-drinking  state, we drank a lot of water so filling our glasses became someone's full time job. Bravo for keeping up!
-Speaking of my birthday, once they were alerted by a little birdy on his way down to the washroom, they were so gracious to not only serve my dessert with a candle but to also comp us two little glasses of sweet wine. Those little touches are always so appreciated.
-My only minor quibble with service was that I found the timing of dishes a bit inconsistent. Before we even got our first drink, we had two dishes on our table with the next two coming a mere moment after. We did then get an eating break before the octopus and then later, dessert, but still I felt a little overwhelmed at first. I'm sure if you requested a little more spacing between dishes, they could probably accommodate, but just be aware that otherwise it may hit you pretty quick.
Bar Isabel Drink:
-Bar Isabel offers a solid spread of wine, beer and cocktails. The wine list is predominantly Spanish with the remainder made up mainly of French, Italian and VQA options. There are about dozen by-glass varieties ($10-18), over 80 bottles ($45-300) and another dozen sweet wines and sherries. Bonus points given for a BYOB option with a $25 corkage.
-Beer and cider fans can peruse their substantial list of local and international brews, with a half dozen on tap ($8-9) and over 30 bottles ($6-64).
-And if you're a cocktail drinker like me, you will not want to miss their creative list of libations. Divided into current champs (their take on classic drinks like the Sazerac and Old Fashioned) and the House Contenders (their unique concoctions), all of which feature cheeky names like "My Favourite Ex-Girlfriend" and "Vana White". Even though I had an early morning photo shoot with Santa Clause the next day (for work, not for fun obv- I'm Jewish), it was my birthday so I had to have something strong.
My Favourite Ex-Girlfriend ($16)
Absolute Vodka, White Peach Infused Bianco Vermouth, Aperol, Grapefruit and Lemon Juice, Grenadine, Teapot Bitters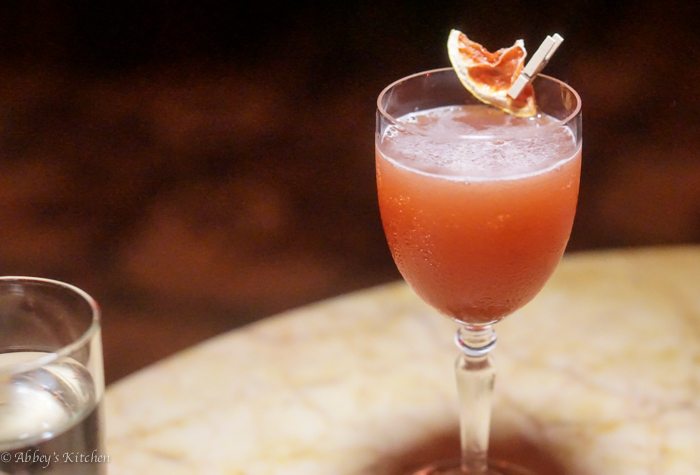 Sprightly, yet well balanced- an easy drinking (albeit boozy) sipper.
Grand Slam Fizz ($16)
Dillon's Strawberry Gin, Vieux Pontailier Absinthe, Cream, Egg White, Sampras Syrup, Lime and Lemon Juice, Rhubarb Bitters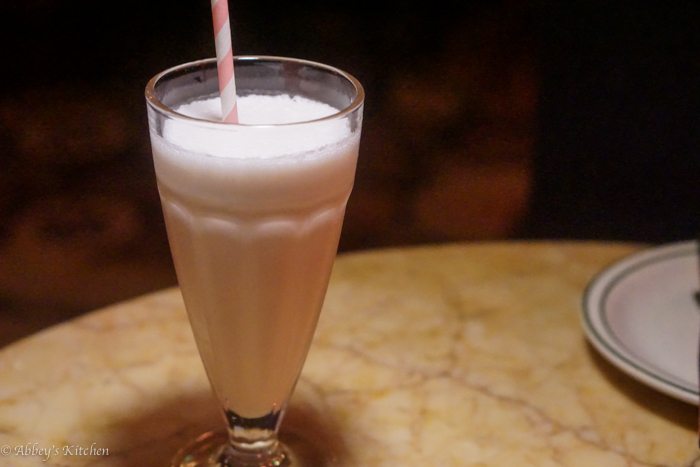 This is not your malt-shop milkshake, folks, but it does go down way too easily. While it may look both super rich and sweet, it was surprisingly light on the palate with just enough floral sweetness to round everything out. Girly? Maybe a little, but at least you won't feel like you're drinking dessert.
Pisco Pumpkin Sour ($16)
Torres Gobernador Pisco, Torres 5yr Brandy, Lemon Juice, Pumpkin Guts, Egg White, Rhubarb & Dandelion Bitters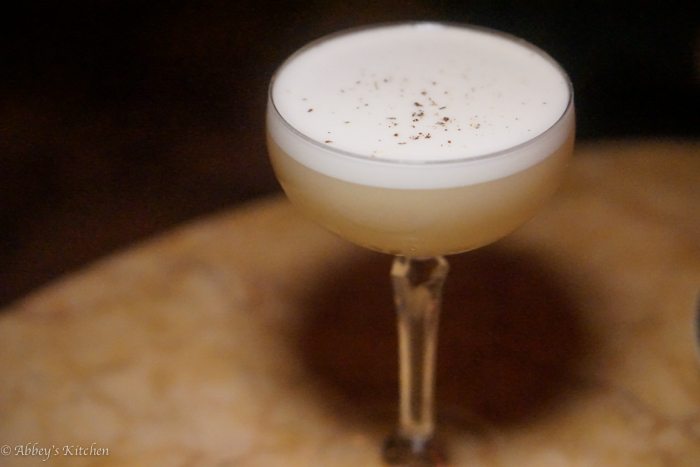 Okay so I was a little turned off by the "guts" reference but that's because I associate pumpkin guts with that semi-gross smell that stinks up the whole house when you're carving jackolanterns in the fall. But forget I even brought it up because this drink was fantastic. Frothy, spicy, with a nice balance of acidity, bitter and sweet.
Baraganna ($15)
Charred Pineapple Tequila, Cointreau, Padron Pepper & Sage Simple Syrup, Lime Juice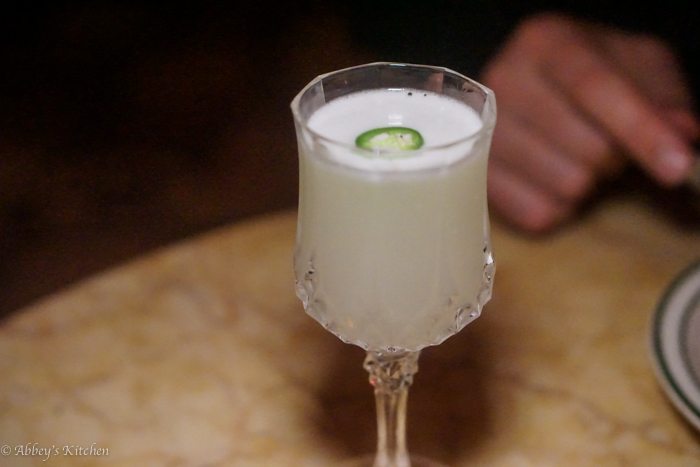 I'm always a tequila fan, so this one was a no brainer for me, but I particularly liked the smoky note from the charred pineapple and the bitter kick of the padron pepper. Seriously, if it wasn't so damn hard to get a seat, I would drink at the bar every night.
Bar Isabel Food:
-Van Gameren and Chef de Cuisine Brandon Olsen have put together a sexy shareable menu inspired from Gameren's travels around Spain.
-It's hard to pinpoint exactly what has made the city go ga-ga over Van Gameren's food (aside from the unanimous understanding that it's just really really good), but I think Toronto Life recently got it right when they said he makes food "intimate". That is, he makes dishes you feel you've been eating all your life but using ingredients you've never seen before. I would think that that that's an experience that can feel exciting and comforting to us all.
-The menu is divided into dishes to "Begin" (ie. pintxos- type fare with ingredients like bacalao, jamon croquetas, patatas bravas, pan con tomate), Vegetables, Seafood, Meat, Bar Snacks (almonds, olives), Cheese, Cured Meat, and Dessert. It's a relatively large menu so food restrictions shouldn't hold you back.
Sobrassada, Foie Gras & Honey Montadito ($8)
Um, yes. Let me tell you folks, I went to a lot of pinxtos bars when I was recently in Spain and I saw some items that looked like this (they were actually just shaved egg yolk mixed with mayo on bread and then topped with shaved egg whites) but obviously THEY-WERE-NOTHING-LIKE-THIS. This is the ultimate in sweet and savoury bites- the sweet honey, the salty cured pork and the unctuous foie shaved so fine it merely melts on the tongue. Just go there and get this. You're welcome.
Jamon Croquetas, Torta del Casar & Sobrassada ($7)
Oh yum, super rich creamy filling with a delicately crispy fried shell. Ladies and gents, just be sure to be leaning over the plate when you bite into one of these or else you can guess what this creamy white filling will look like all over your lap. You've been warned.
Chips, Boquerones, Piquillo & Jalapeno ($9)
House-made spiced chips (our server called them fancy Doritos) served alongside a DIY accouterment dish of salty anchovies, sweet marinated peppers and spicy jalapenos. A perfect medley of big bold flavours, the combination was utterly addictive. Also, Bar Isabel should put these chips alone on their snack menu because I could come in just to drink and eat a few bowls of these.
Smoked Sweetbreads, Raw Tuna, Pickled Persimmon & Brown Butter ($20)
A satisfying balance of textures and flavours as the dense umami-rich tuna contrasted with the tender crispy sweetbreads, the tangy supple persimmon and nutty brown butter caper sauce. I also thought it was a pretty generous portion of premium ingredients for the price.
Shishito Peppers ($8)
Even though I ate these every day in Spain and actually bought these peppers to make for dinner this week, I couldn't resist ordering them here. After all, I knew Grant would make them better then I ever could anyway. As expected, they were perfect as shishito peppers can be. Nicely charred, coated in addictive flaked salt with just the right amount of oil to carry the flavour. I do recall a few restaurants in Spain that just drowned everything in so much olive oil that it was overwhelmingly grassy and greasy. Bar Isabel does it right.
1/2 Grilled Octopus ($34)
You can't really go to BI without ordering the grilled Octopus- it's been the restaurant's signature dish since they opened almost two years ago and it's still as good as ever. While so many restaurants seem to bastardize this delicate seafood, van Gameren's version seems effortlessly flawless. A nice kiss of smoky char, tender meaty tentacles, all served on a bed of lemony greens and potatoes. It's simple, sure, but I also though Etxebarri was simple and still it was one of my best meals to date. Food doesn't need to be complicated to be good, and van Gameren really nails that home.
Cider Sorbet, Molasses Crumble & Korean Mint ($8)
While their signature dessert is the beautiful Basque cake with sherry cream, I wanted to try their other two offerings instead. This light and flavourful sorbet had a beautiful crisp clean flavour and a satiny consistency to contrast with the bitter-sweet crispy crumble in each bite. A perfect pick if you overindulge yourself on too many croquettes.
Leche Frita & Salted Dulce de Leche ($7)
Oh man, were these ever good. Essentially they're just little nuggets of a spiced lemon pudding that is set, battered and deep-fried. I know, that's freaking amazing already, but then they serve it with my all time favourite ingredient- dulce de leche! This was the perfect birthday dessert to end my birthday weekend.
Closing Remarks:
-For 4 cocktails, and 8 dishes, the bill came to about $220 for the two of us. No, it's not Toronto's cheapest, but it is undoubtably one of Toronto's best, and for that I find the price to be well justified.
-After my second encounter, Bar Isabel remains one of the first restaurants I recommend to locals and visitors when they ask me where to eat without any other criteria. The service is professional, personable and attentive, the space is inviting, romantic and energetic, the drinks are varied and some of the best in the city, and of course, the food is unanimously agreed on as some of the best in the city.
-While my second visit to Bar Isabel gave me a little Spanish fix until the new year, I am now even more excited for the arrival of Bar Raval. Stay tuned, friends!
Updated on April 2nd, 2016