Ovest Cucina Opening Remarks:
-Ovest Cucina e Vineria was opened in November when I visited for their cocktail-style launch party.
-Owned by Sicilian born Chef Luca Stracquadanio (previously of Terroni), Ovest aims to combine Italian tradition with classic French technique into a new concept for King St West.
Ambiance:
-Located just west of Bathurst, the 120 seat space pulls inspiration from traditional Italian cantinas. The floor to ceiling windows make for fantastic people watching along King, while the room within exudes undeniable warmth and charm.
-With glowing tea lights and overhung lamps, the sultry lighting makes the space feel cozy and inviting. The 360- degree illuminated bar is particularly enticing, while the surrounding rustic wine-barrels, reclaimed wood and wall of stacked bottles brings me back to my travels in wine country abroad.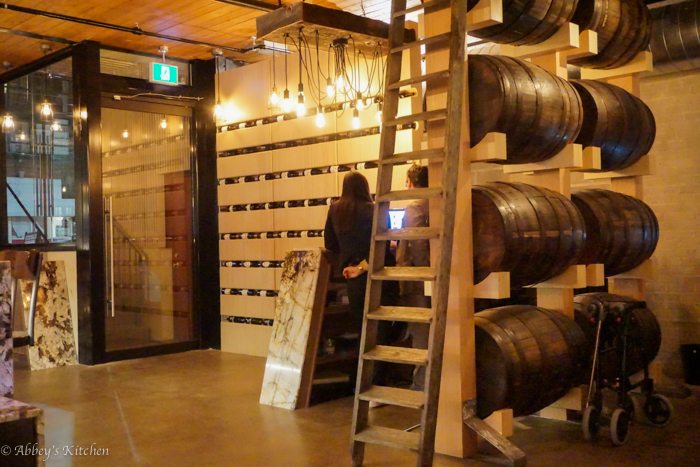 -For those (like myself) who aren't a fan of dining in a club, you'll be happy to know that the noise level is very reasonable. A solid base-line of buzz, but no straining required- a welcome departure from many King West joints. There was also a marked range in demographic around the room- from larger families to middle-aged couples to small groups of women on a girls' night out.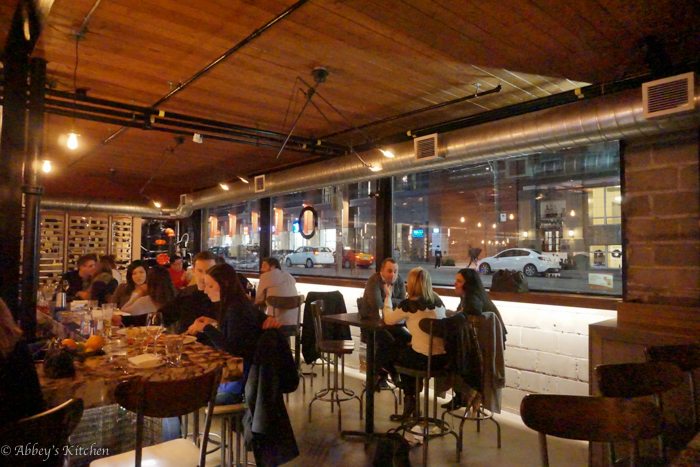 -Suited to intimate date nights or larger group events, Ovest offers a unique variety of seating options to fit any occasion. From stools at the granite bar overlooking the in-house salumeria counter, to casual bench four tops and intimate deuces, to high tops along the front window, and finally, the wooden chef's tables and nearby wine-tasting hutches- there is something to suit a wide range of needs. For me, I snagged a few bar stools right beside the kitchen in front of the pizza oven so I could be as close as possible to the action.
Service:
-From the moment we walked in the door and our coats were safely stowed to when we said our good-byes at the end of our stay, the service staff went above and beyond. While nowadays, it's certainly rare for me to feel like I'm being poorly treated but it's also rare for me to explicitly think to myself, "wow, everyone here is so nice!" But that were exactly my thoughts at Ovest.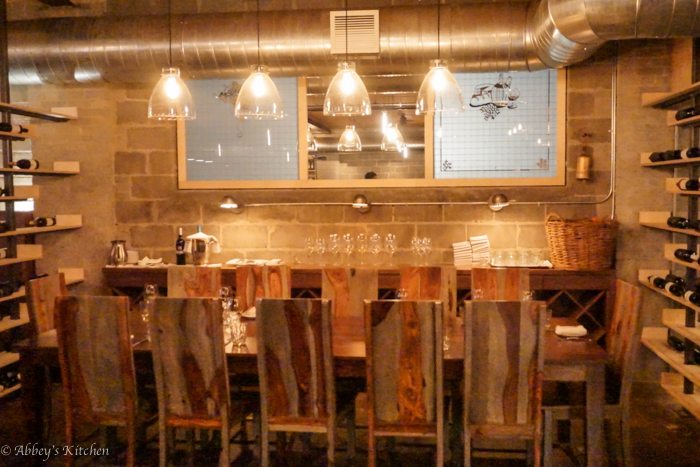 -Part owner and floor manager, Emanuele De Donno, did his rounds throughout the room, making sure that all of the patrons were well taken care of and enjoying their meals. Our server was totally on the ball with great suggestions, personable small talk, and all of the little details that can get sometimes overlooked during a busy Friday night rush. Our plates and cutlery were changed between dishes, our water glasses were always full, and the meal moved at a nice consistent pace- in and out in about 2 hours.
-Much of the fun of sitting at the pizza-counter was chatting with the super friendly chef as he pulled the dough, and watching the adorable Chef Luca move about his kitchen with a huge smile on his face. From management, to service staff, to the kitchen- you can tell everyone truly believes in what Ovest is offering, and that always makes for a good time.
Ovest Cucina Drink:
-Sommelier Giammarco di Loreto has curated a list of 120 Italian bottles priced between $45-700. For those not able to commit, they also have a dozen available by glass in the $9-26 range.
-Meanwhile, Bar Manager Luca Casula has put together a short list of four simple cocktails ($12-15) featuring ingredients like Aperol and Grapefruit, Rum with Ginger Beer, and Gin with Hibiscus Syrup and Basil. Beer drinkers can also opt for one of their four European bottles ($8-14) like Peroni, Castello and Leffe.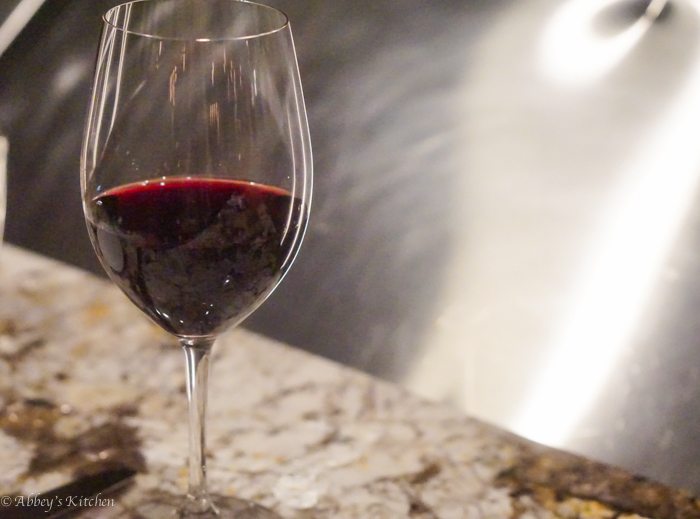 -For those in need of a wee nosh while out for a late night drink, Ovest will be offering complimentary charcuterie and cheese on Friday and Saturday nights with the purchase of a glass of wine or cocktail at the bar. Now, this is what I call real Italian hospitality.
Tempesta ($14)
Bacardi 8, Five Spices Syrup, Lime Juice, and Ginger Beer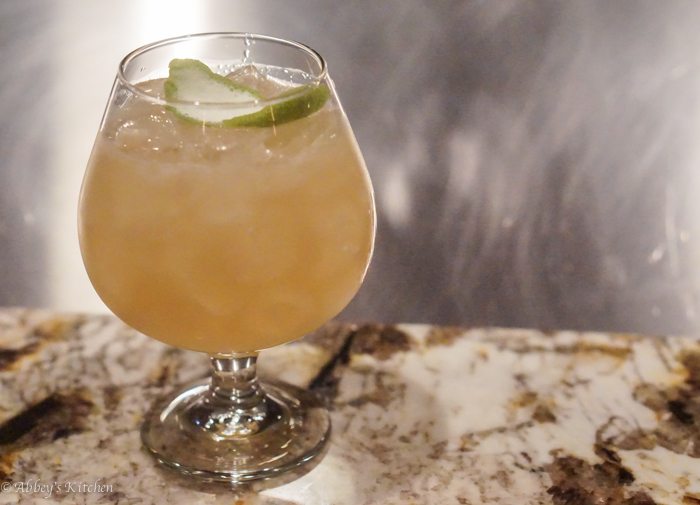 A classic done very well- I am always a fan of ginger beer so the Tempesta did not disappoint.
Ibisco ($15)
Bombay Sapphire, Hibiscus Syrup, Lime, Basil and Soda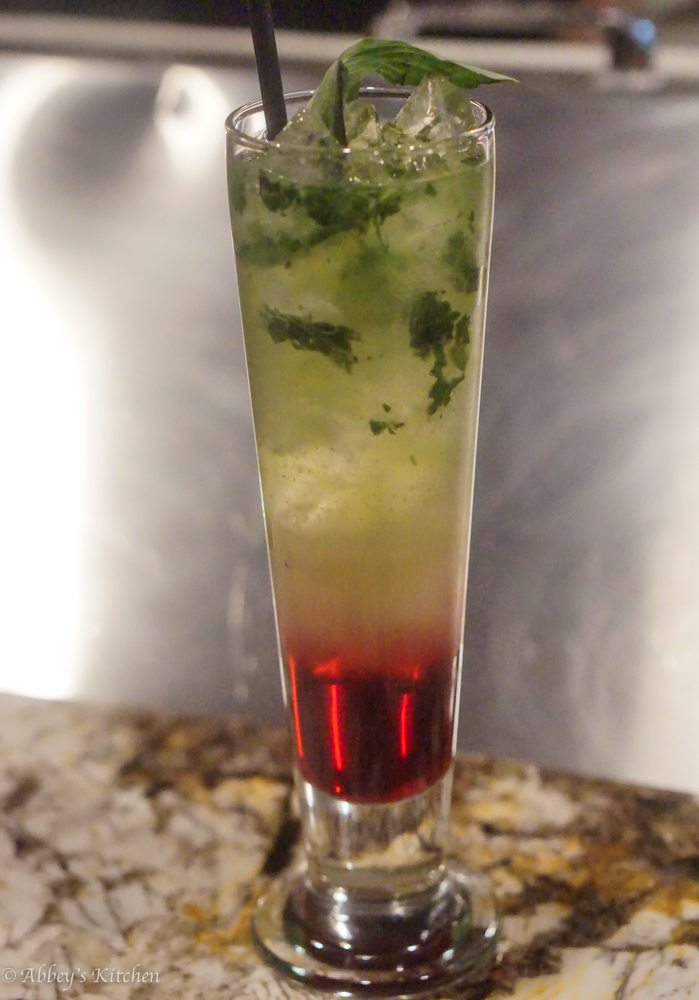 I love the floral flavour of the hibiscus and admittedly like my cocktails on the sweeter side, so this was totally up my alley. Having said that, those who prefer their drinks very dry may want to choose something else.
Ovest Cucina Food:
-Chef Luca and his sous-chef Daniel Hassel have created a seasonally rotating menu that combines the best of Canada's fresh local ingredients with traditional Italian staples.
-Luca tells me that he tries to respect the quality of ingredients by putting as few as possible on the plate which you can see simply by reading the clearly-written menu. No waning poetry here, folks (and that makes my job a heck of a lot easier). This passion for quality is further illuminated by his undeniable excitement in the kitchen. Each and every time he sends something out, he would pop by my seat at the pizza-bar to show me how beautiful the product was, sometimes letting me sample ingredients in their pure unadulterated state.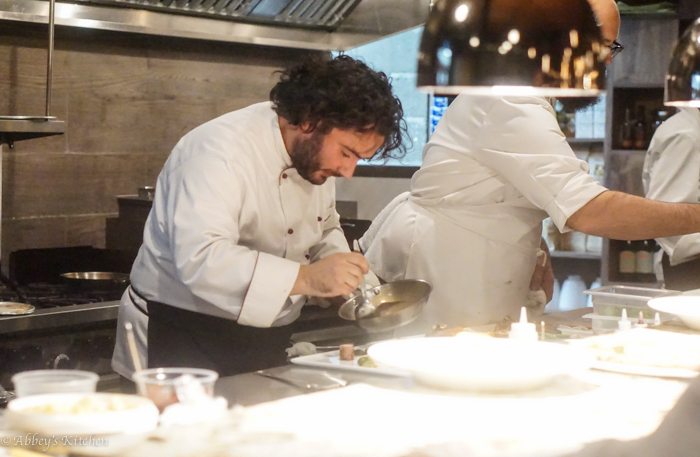 -In classic Italian fashion, it's this exact sort of hospitality that makes it hard not to just "Eat! Eat! Eat!" When someone puts a plate in front of you with that much gusto and pride, you just can't turn it down. I could have just finished a hot dog eating competition and be feeling like I'm going to vom and if this guy handed me a plate of pasta with that fiery passion in his eyes, and I would have no choice but to lick the plate. Food always tastes better when you can see and feel the love and at Ovest Cucina, you definitely feel the love.
-The extensive menu is broken into Salumi and Cheese, Antipasto, Pasta, Pizza, Secondo and of course, Dessert and ranges in price from $15 for some appetizers, to $46 for the priciest rib eye.
Carpaccio di Polipo ($21)
Octopus Carpaccio with Sea Urchin Bottarga, Pomegranate and Lemon Juice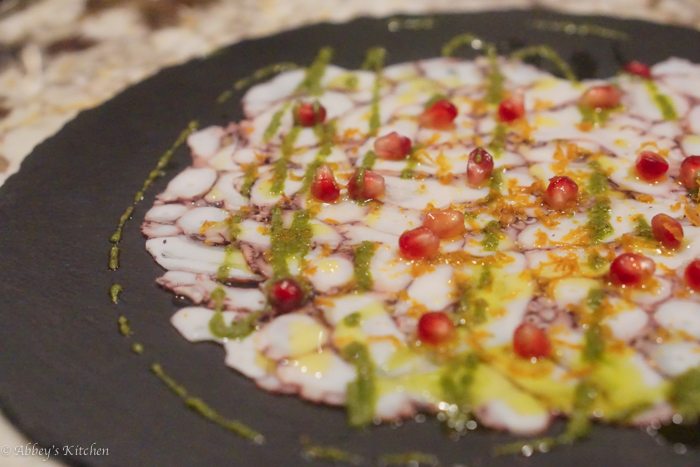 This dish is a must for octopus lovers. The flavour of the delicate seafood was truly enhanced by the sea urchin bottarga while the sweet pops of pomegranate arils balanced out the rich umami on the plate.
Carpaccio di Pesce Spada ($20)
Smoked Swordfish Carpaccio with Fennel and Orange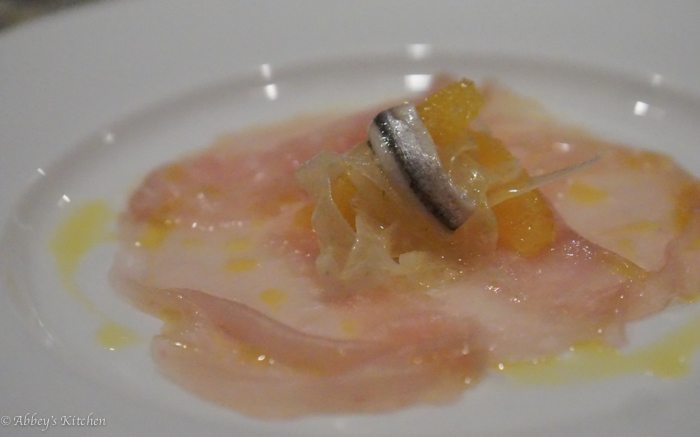 Satiny swordfish paired with sweet fennel, bright orange and a salty bite of anchovy. Pricey, yes, fancy, no, but decidedly well done.
Agnolotti del Plin ($23)
Agnolotti Stuffed with Veal Shank, Finished in Butter, Fresh Truffle and Parmigiano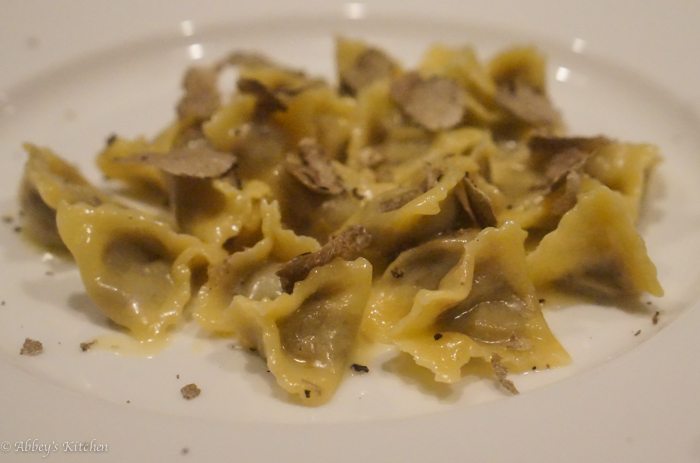 Oh boy, this was absolute heaven on a plate. Perfectly al dente agnolotti with unctuous sweet meat mixed with a perfect balance of luscious butter, salty cheese and aromatic truffle. Serious perfection for pasta lovers.
N'Duja E Cipolla Pizza ($20)
Mozzarella, N'Duja and Caramelized Onions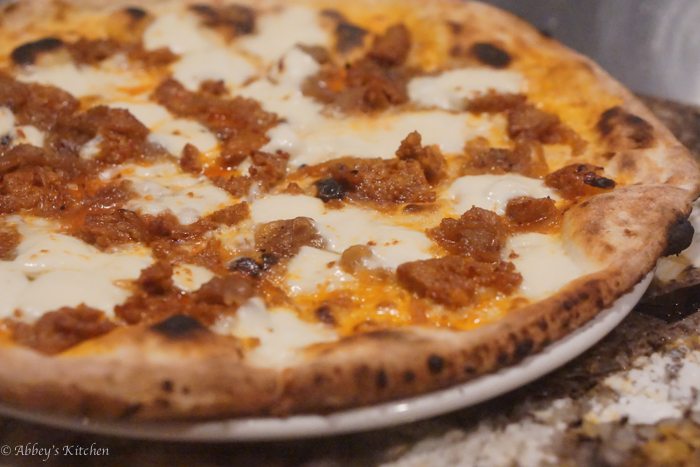 A beautifully blistered pizza with a nice balance of chewy and crispy bits, cooked all the way through without any soggy spots. I also loved the combination of the milk mozzarella, the spicy sausage and the sweet soft onions on top. While all of the pizzas on the menu looked fantastic, I would come back specifically for this one in a heartbeat.
Merluzzo ($34)
Pan Seared Black Cod with Lentils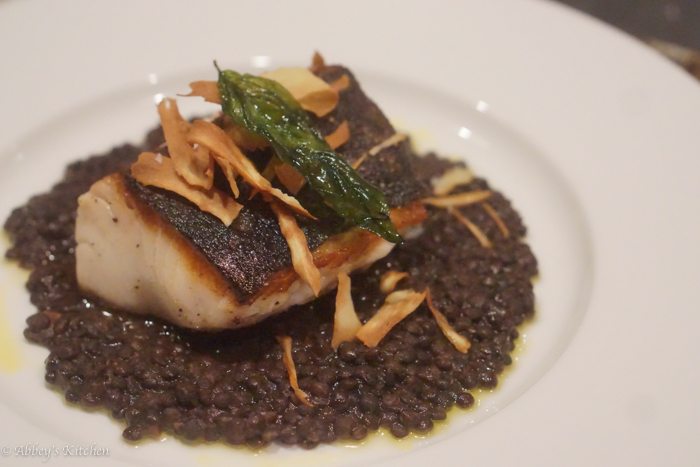 At this point, I was pretty full, but Chef Luca and our server suggested this was a really special dish to try. Simple, it was, but man, why mess with a good thing.  The cod was cooked just shy of done in the centre so that the flesh stayed moist, and buttery in contrast with the wickedly crispy skin. I also am not usually a huge fan of lentils but these were earthy without being unpleasantly starchy.
Apple Tart ($10)
Frangipane with Rose Bud Apples and Caramel with Pistachio Gelato
I had the pleasure of meeting the talented pastry chef responsible for painstakingly crafting each of these babies by hand. The result was something to marvel at. The moist and frangipane shell was filled with sweet apple rosettes made even more tantalizing by the droplets of caramel inside. That alone would have been a treat, but the creamy pistachio gelato really added a nice nutty compliment to the frangipane and a pretty colour with the blush pink rosettes.
Chocolate Bird's Nest ($9)
Chocolate Cream Ganache on a Biscotti Praline Cookie, Spun Chocolate Nest, Cinnamon and Coffee Candied Pistachios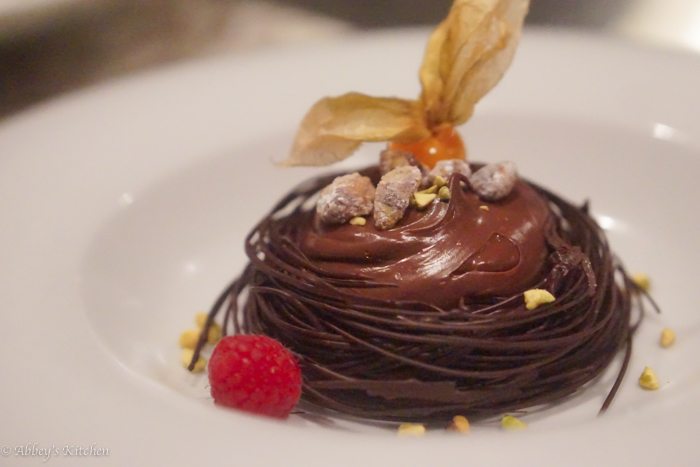 This here would be perfect for the chocolate fiend at your table, but is rich enough that they'll hopefully want to share. I loved the play on textures- the luxurious ganache, the crunchy cookie, the crisp nest and the candied bite of the nuts.  Yum.
Sicilian Cannoli ($8)
Red Wine Poached Pear, Pistachios, and Figs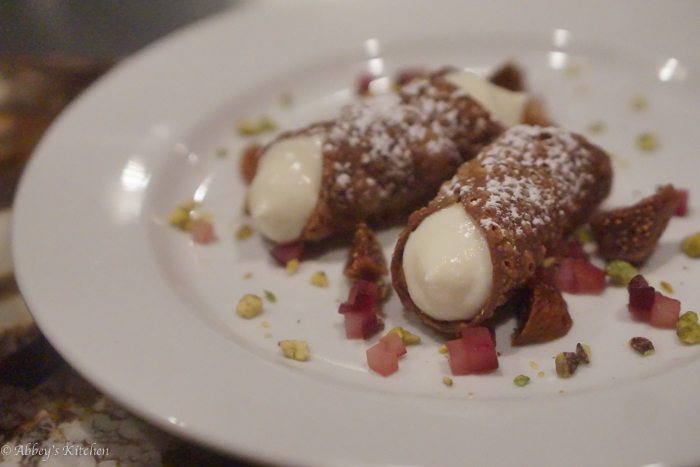 I wasn't going to get this dessert too, but Luca convinced me otherwise. Cannoli are without a doubt one of my favourite desserts of all time, and Ovest's version did not disappoint. Kept simple (the Sicilian way), the cookie shell was filled with some of the most ethereal ricotta cream I've ever had. No chocolate, no candied citrus, no nuts inside- nothing else is needed when the baseline tastes like eating a sweet creamy cloud.
Ovest Cucina Closing Remarks:
-In conclusion, I thoroughly enjoyed my meal at Ovest Cucina e Vineria and am looking forward to returning again soon. The cocktails I tried were both tasty, the wine list was plentiful, the space was beautiful, food was truly comforting and the service was beyond inviting. I was really impressed with Chef Luca's respect for the integrity of good ingredients as he proved that sometimes you don't need to mess with a good thing. Meanwhile, just being in his company with the rest of his friendly, passionate staff truly made me enjoy my experience even more.
-With such a large space, I would definitely recommend Ovest Cucina for an intimate date night, a quick glass of wine with charcuterie at the bar or of course a larger group event. No, this is not exactly cheap and cheerful Italian fare, especially if you opt more for the pricier meat or fish options rather than the pizza or pastas, but I do think it's comparable with others in the King West hood.
Have you been to Ovest Cucina? What did you like? Dislike?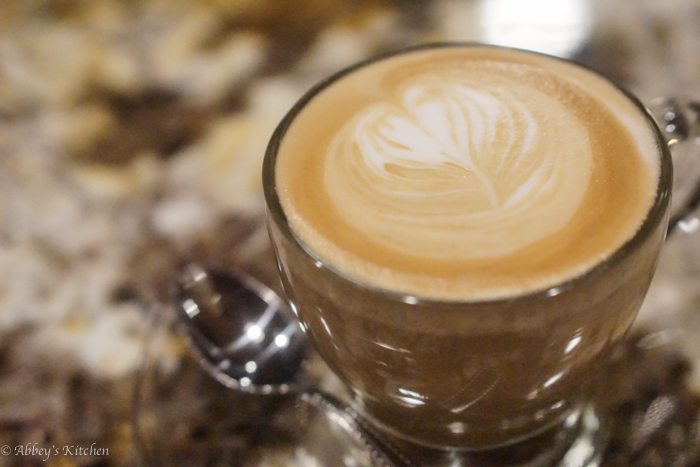 Disclaimer: The preceding meal was complimentary, however, as always, all opinions are genuine.