Treadwell Farm to Table Cuisine has long been regarded amongst local Ontario foodie circles as one of the top dining establishments in Niagara. Admittedly, every year that we visit wine country, we head straight for the wineries in NOTL and by-pass much of the St. Catherines' scene- including the aforementioned Treadwell cuisine.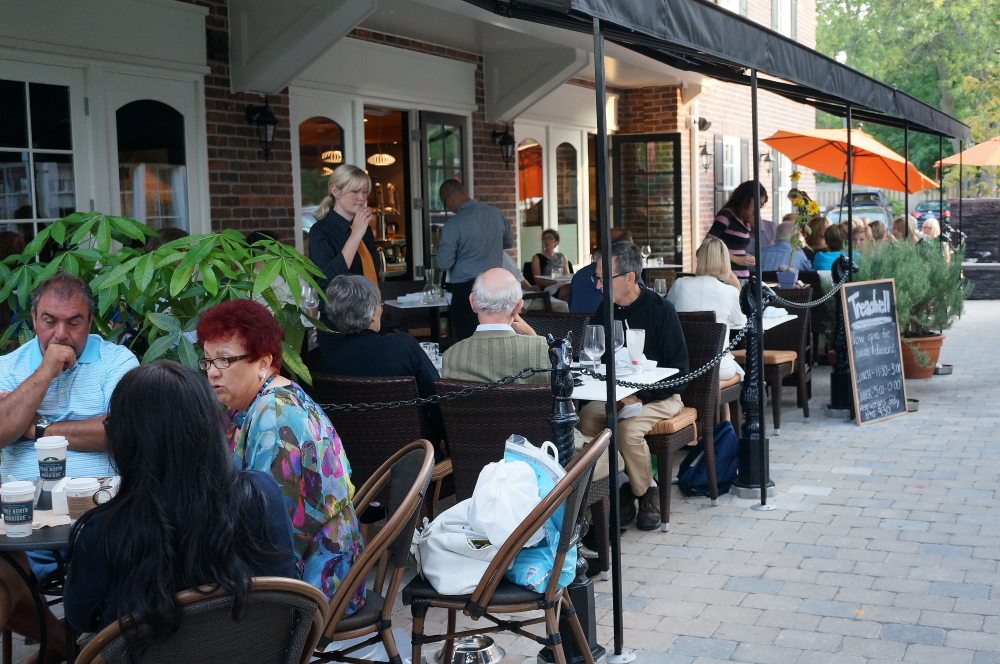 Well, this year, father-son duo, Stephen (father, chef) and James (sommelier, son) got an opportunity to move their establishment into the heart of NOTL, providing them with an open kitchen, a much larger wine fridge and a bigger patio for guests.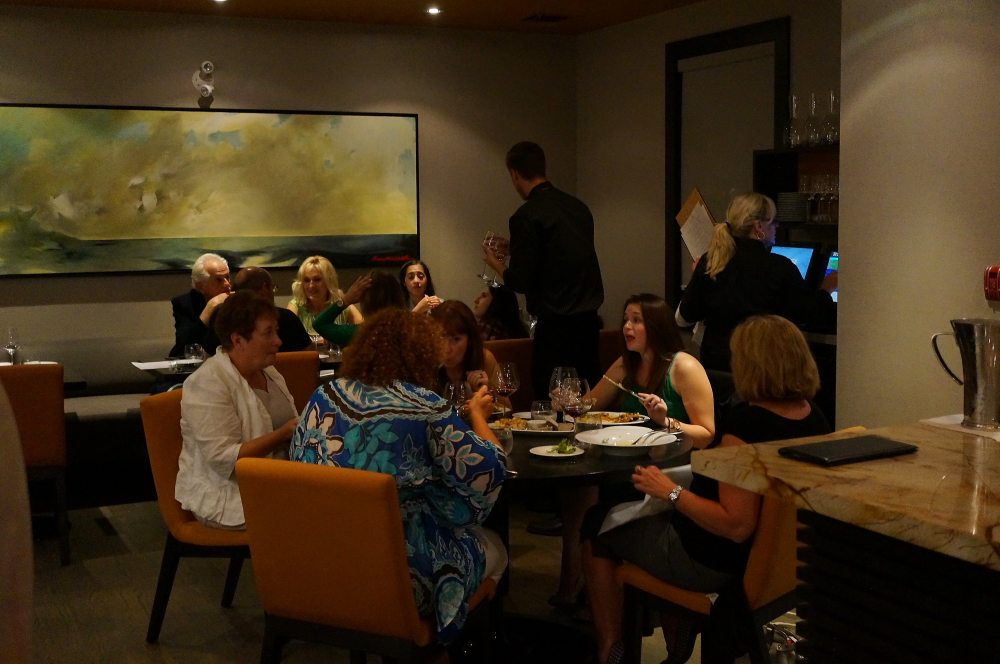 Having nothing to compare it to since I never made it out to the previous digs, I didn't have any expectations of décor or space. Located on the main Queen St downtown strip, the restaurant is entered along the side of a building lined with patio seating. Indoor, there is a small dining room with booths and a few round tables, a small simple bar, and a chef's table with barstools. While it was a lovely summer night, we always love to watch what's going on in the kitchen, so we requested a couple seats inside.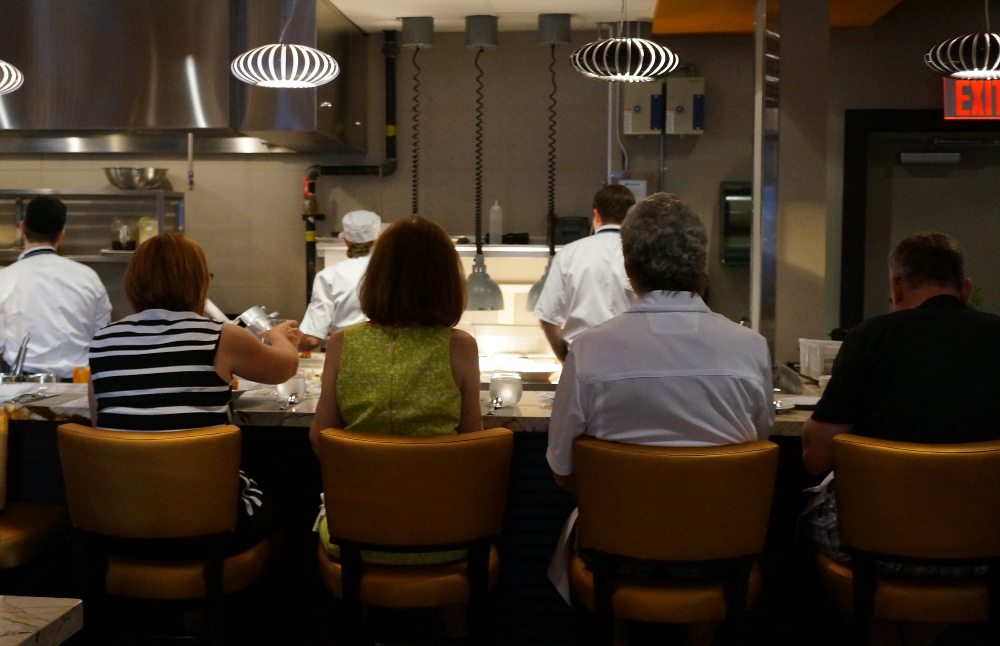 Service was friendly, albeit very slow at first. After being sat, it took a while to get menus or flag down a server, though once we did, she was fairly attentive to us. Our cutlery was replenished, our water glasses were promptly refilled, and drinks came soon after being ordered.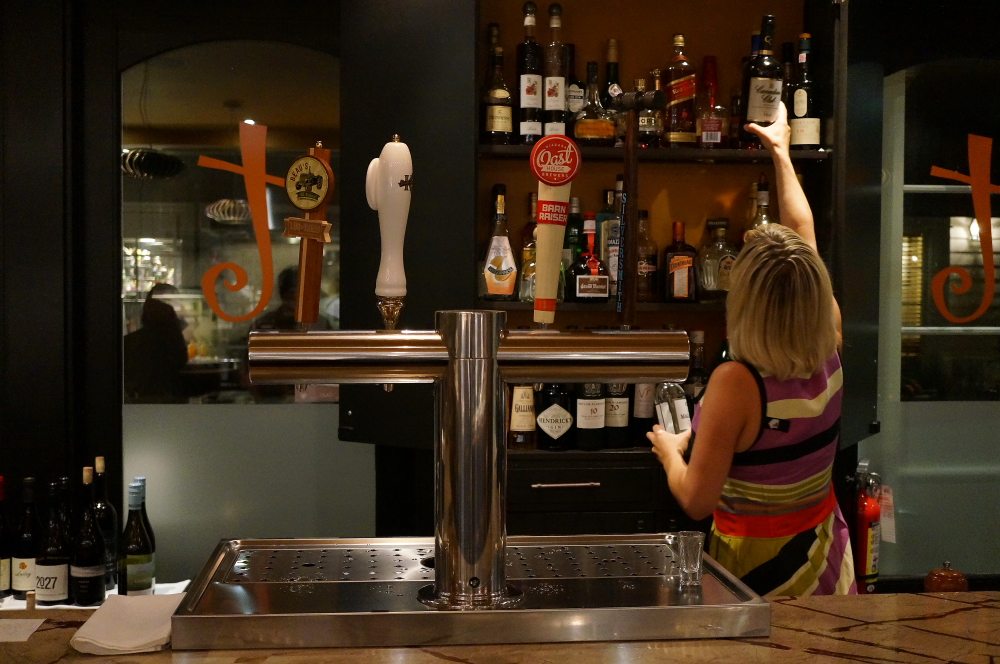 Speaking of drinks, Sommelier and co-owner, James Treadwell, has curated an impressive list of almost exclusively VQA wines and has made the process of choosing as streamlined and simple as it could possibly be. James has carefully divided the wines by their variety, region, and vintage, so as long as you know what you typically like, you'll likely be okay.  Bottles range in price from about $37- 192, with about 18 options available in 3 oz  ($6-9) or 6 oz pours ($10-19). For those who are tired of drinking wine at that point (maybe a little too much tasting throughout the day), there are also a handful of classic cocktails ($12-18), and beers on draft ($5.50/pint) and by bottle ($5.50).  We tried a few glasses of Niagara's finest (I can't recall which after a full day of sampling), and the Queen Street Refresher.
Queen Street Refresher (Hendricks Gin, Chambord, St. Germain Elderflower Liquor, Sloe Gin, Spicy Basil, Lime, Raspberries $17)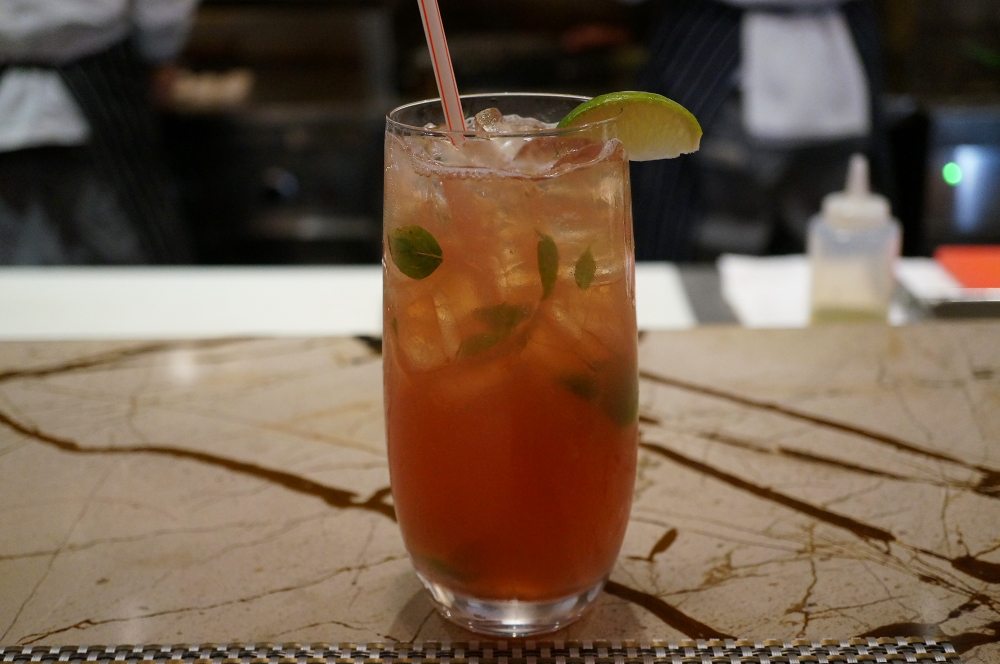 The cocktail, while refreshing as its name would suggest, could have used a little more citrus to brighten it up. I also found it on the expensive side at $17. Thankfully, the mile-high foam on the cappuccino that came later in the night was so good, I left totally satisfied on the drink-front.
Like the wine, the food at Treadwell is expectantly heavily rooted in what the local land has to offer. Chef Stephen has carefully sourced out some of the region's best artisan producers and has presented them cleanly and simply.  In essence, he lets the effort of the individuals behind the ingredient truly speak for themselves.  The menu is tight yet varied enough to please most palates, featuring about 5 starters, 5 mains and 3 side dishes.  Having surveyed the offerings from our view in front of the kitchen, we enjoyed the following selection.
Bioflavin Bread and Caramelized Onion Focaccia with Olive Oil and Blueberry Vinegar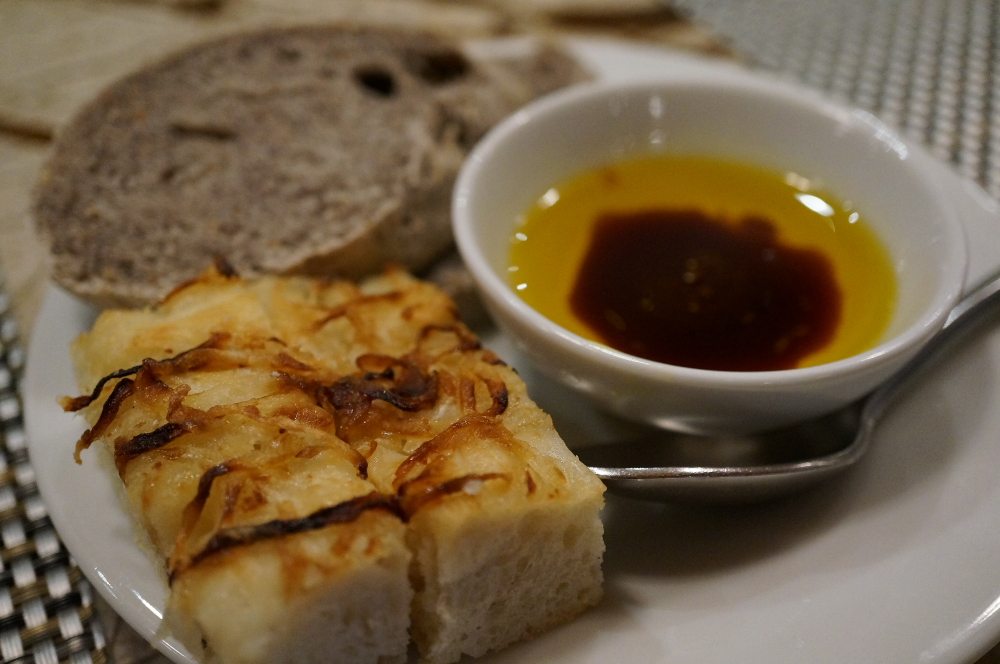 I loved the tangy sweet blueberry vinegar, especially with the onion focaccia, which had that addictive sprinkling of course salt crusted into the top. I could eat a whole loaf of that.
House Smoked Duck Breast Salad with Preserved Niagara Cherries and Sheep's Milk Cheese ($18)
A nice light starter- the duck wasn't overly salty or fatty, and paired well with the sweet bright cherries and the creamy tangy cheese.
Seared East Coast Sea Scallops with Crispy Hoisin Glazed Pork Belly, Toasted Sesame, Red Pepper Jam ($18)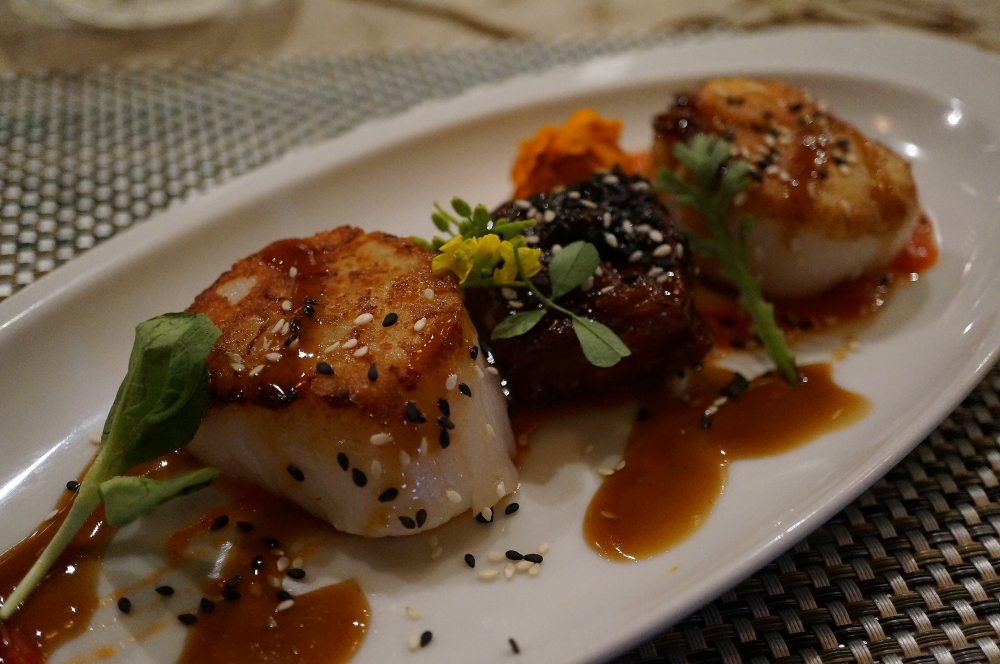 My favourite dish of the night. The scallops were cooked perfectly with a super caramelized crispy surface, while the pork belly was succulent and well-rendered. I also liked the combination of the mild sweet red pepper jam with the tangy salty hoisin, and that little sprinkle of sesame offered a satisfying textural pop. Yum.
Seared Lake Huron Whitefish with Housemade Sausage, Sweet Corn Veloute, Lobster Fritters ($30)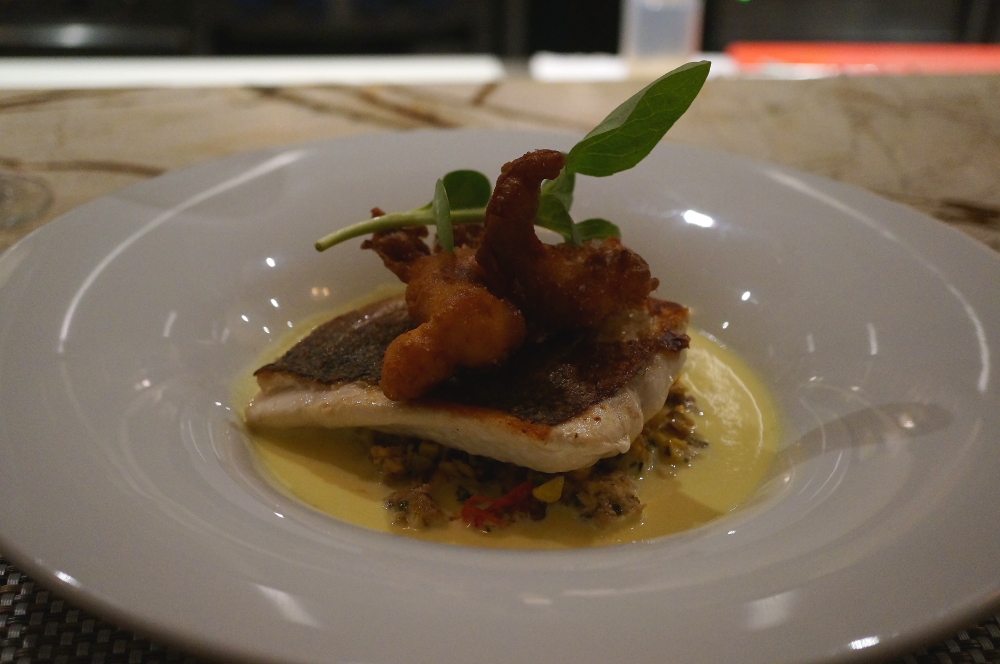 Absolutely delicious. The fish was perfectly cooked with a moist flesh and a crispy, well-seasoned skin. I also loved the pairing with the hearty sausage meat and the sweet creamy corn veloute. My favourite part, however, was definitely the lobster fritters, which were seasoned so beautifully, I could have eaten an entire bowl like popcorn. Popcorn lobster, how decadent.
Confit of Cumbrae Farms Lamb Shoulder with Eggplant Summer Zucchini, Montforte Feta Vinaigrette ($34)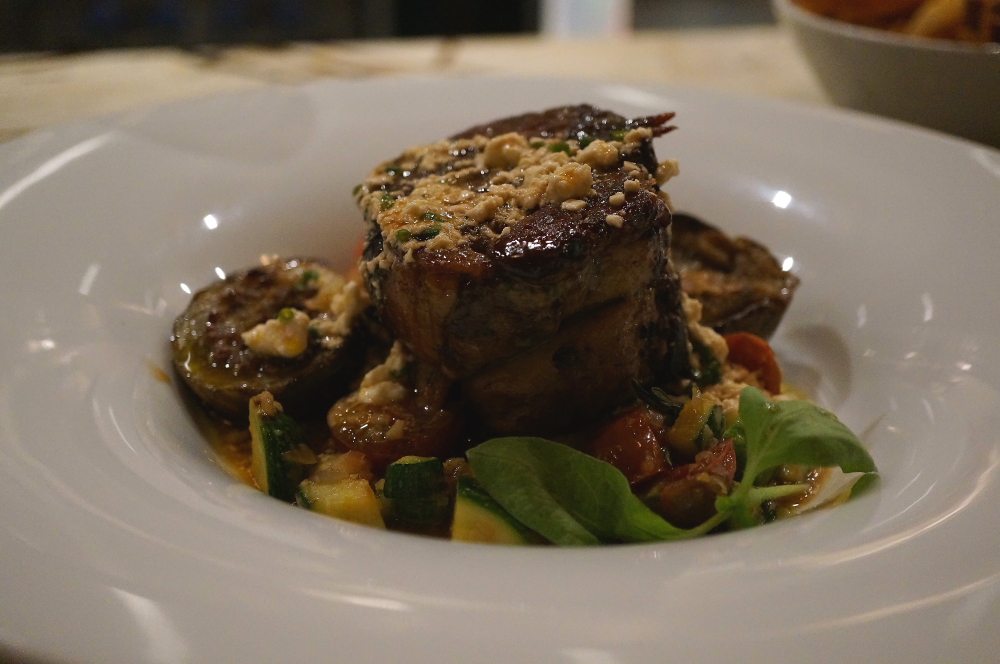 The lamb was perfectly cooked and seasoned all the way through, but there was a flavour in the vinaigrette that was distracting. It tasted a bit like a very bitter olive brine that needed balancing out with something rich or sweeter. For $34, it was too bad I didn't really want to finish it.
Fresh Cut Frites with Rosemary and Sea Salt ($7)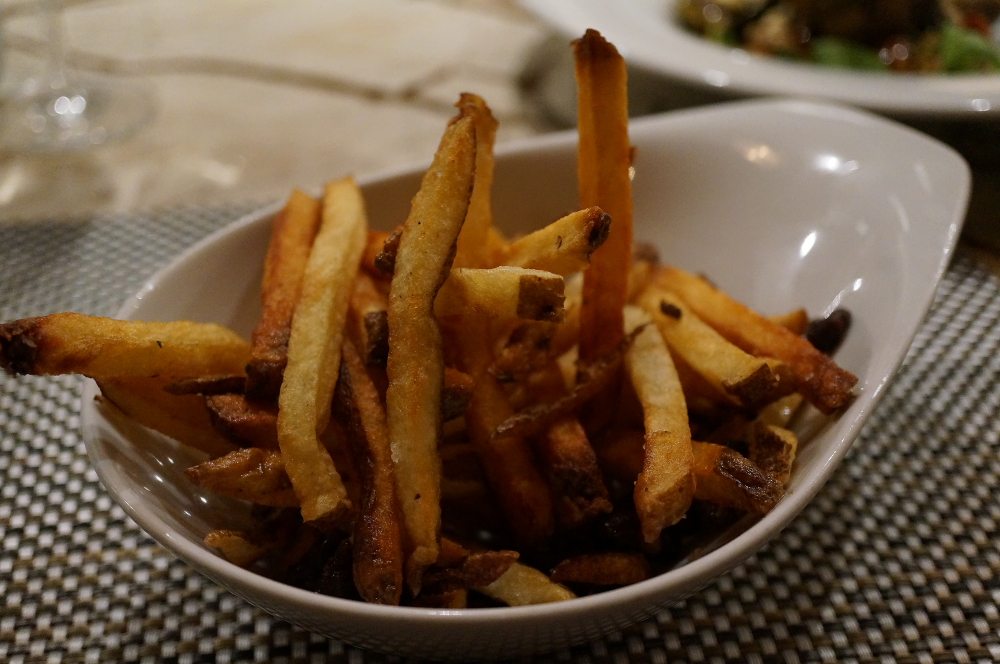 I watched one of the chefs on the line put down the frites into the fryer and based on how long they were down there, I knew they'd be overcooked. Alas, they were. And it was unfortunate, because I could see that they would be beautiful frites had they been pulled out just a minute or two before. Having said that, I still ate the whole bowl so I guess it wasn't that big of a deal.
Peach Melba with Ginger Snaps, Vanilla Ice Cream and Raspberry Sauce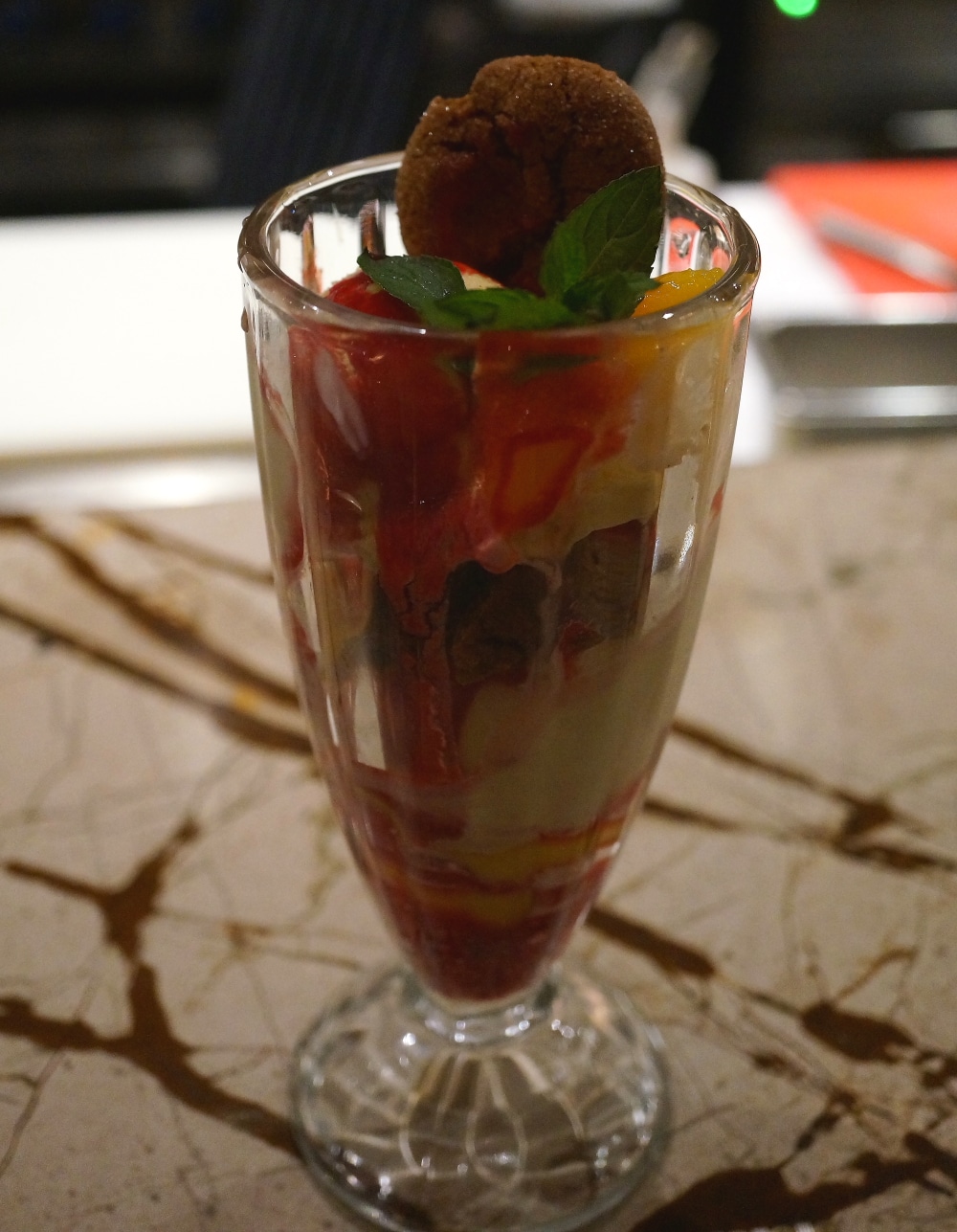 I do love the combination of spicy ginger with sweet peaches and tangy raspberries. The dessert was certainly very simple, but tasty, nonetheless.
So for 2 apps, 2 mains, 1 side, 1 dessert, 2 glasses of wine, 1 cocktail and 1 cappuccino, the bill came to $225. Certainly much more than a typical meal we'd have downtown Toronto, but as anyone who has tried to find accommodation in Niagara knows- the region isn't cheap. The meal was not necessarily innovative or inventive, but was certainly enjoyable in it's simplicity, which I think is what they're going for anyways. With its lovely patio, inviting local food and wine, and the fact that they're open for lunch and brunch, I'm sure Treadwell will be going into my regular rotation for Niagara eats.
Updated on May 8th, 2019