Opening Remarks
-Vedge is owned by husband and wife duo, Rich Landau and Kate Jacoby, and has been open since fall of 2011 after they closed down their fan-favourite Horizon's on South.
-First thing's first, there is something you should know. Vedge is a strictly vegan restaurant.  Wait! Don't close the browser yet! You would be robbing yourself of one of the most stimulating #foodporn tours I've taken y'all on yet!
-Now, a lot of people associate the word Vegan with bland, boring, diet food, deprivation, denial and well, in short, blah. And that's really not a surprise considering most of the vegan fare I've tasted has been pretty meh (and I'm a dietitian, so if I'm thinking that, I'm sure you're turned off). When I'm eating out, the last thing I want to do is feel like I'm depriving myself of something I love.  But that isn't how things work at Vedge.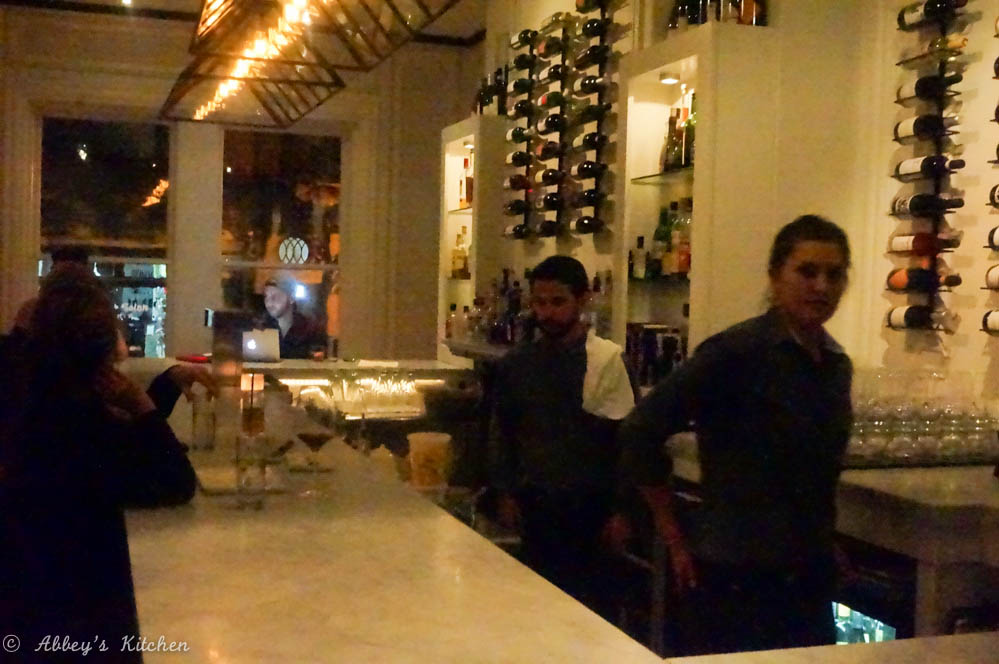 -A year ago, I was watching Unique Eats on the Cooking Channel when they featured Vedge as a must-eat spot in Philly. While I am in no possible way a vegan or vegetarian, I was fascinated by Chef Rich Landau's unique approach to celebrating produce and encouraging carnivores to re-think vegan fare. Once I made the decision to visit Philly, I felt determined to see what the chatter was all about.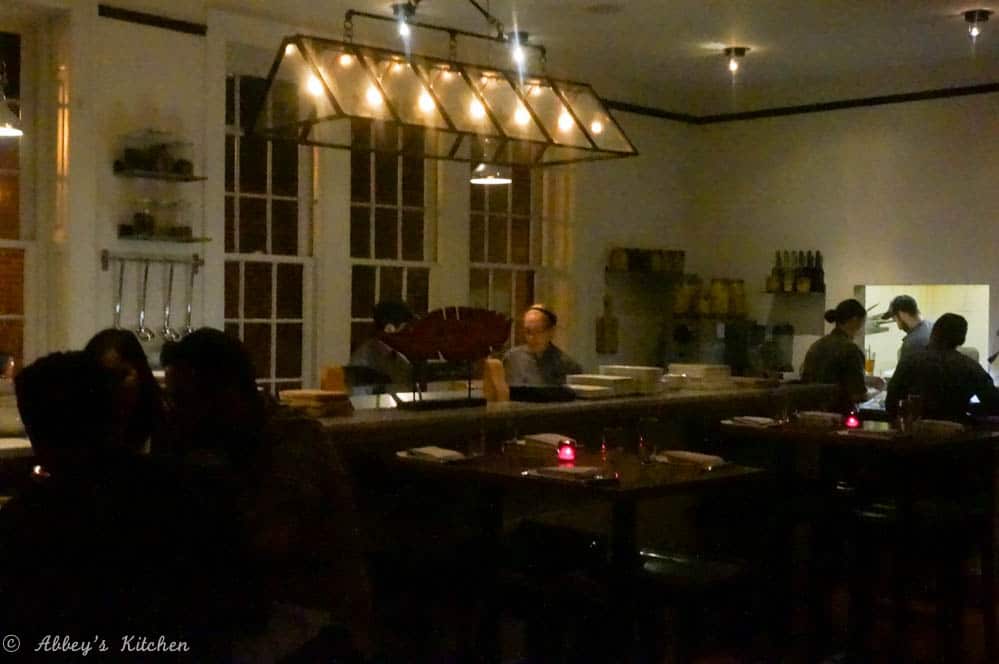 Ambiance
-No doubt an old home in a past life, the space is charming and sophisticated, yet invitingly simple and inclusive. The walls and ceiling are painted clean and white, with dark wood trim set about 8 feet up and a single colourful painting in each room.
-Lighting is kept slightly dimmed and sultry, predominantly made up of tea candles along the fireplace, up-lighting behind the banquettes, small peak-a-boo pot lights and fixtures that resemble an upside down menorahs. There is also a beautiful wall full of floor to ceiling windows that allow the moonlight to shine through as the evening draws on.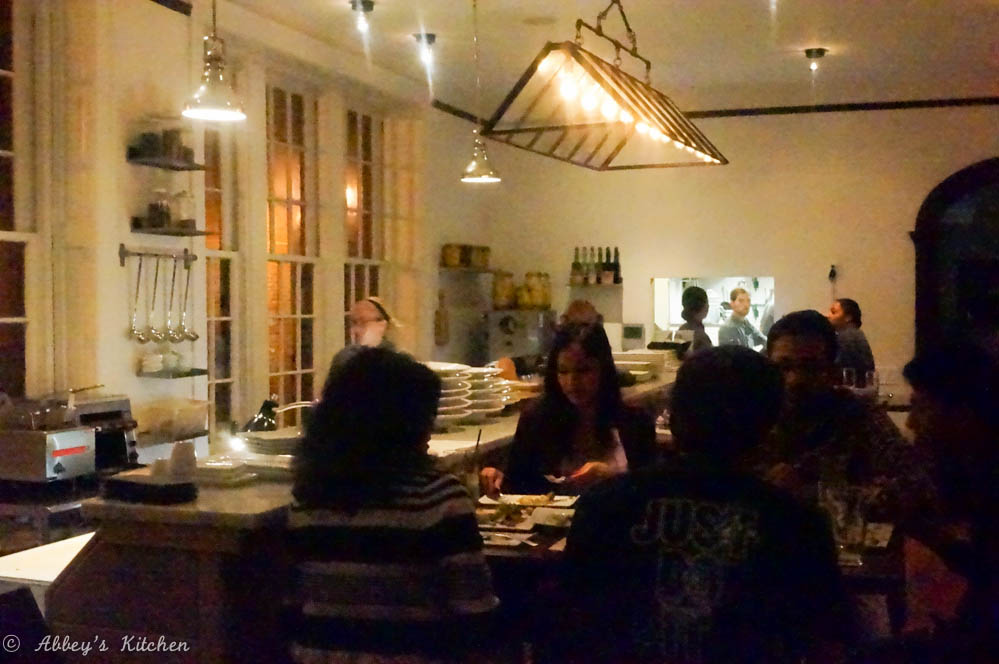 Service
-Service was professional, efficient, super friendly and knowledgeable. Our server described herself as vegan since she was 15 (though she did enjoy a piece of cheese every once in a while), and was therefore able to thoroughly describe all of the dishes in good detail.
-Water glasses were consistently full, our cocktails were delivered remarkably quickly, cutlery and side plates were replenished between each "course", and the whole meal moved at a timely pace- we were in and out in about 1 1/2 hours.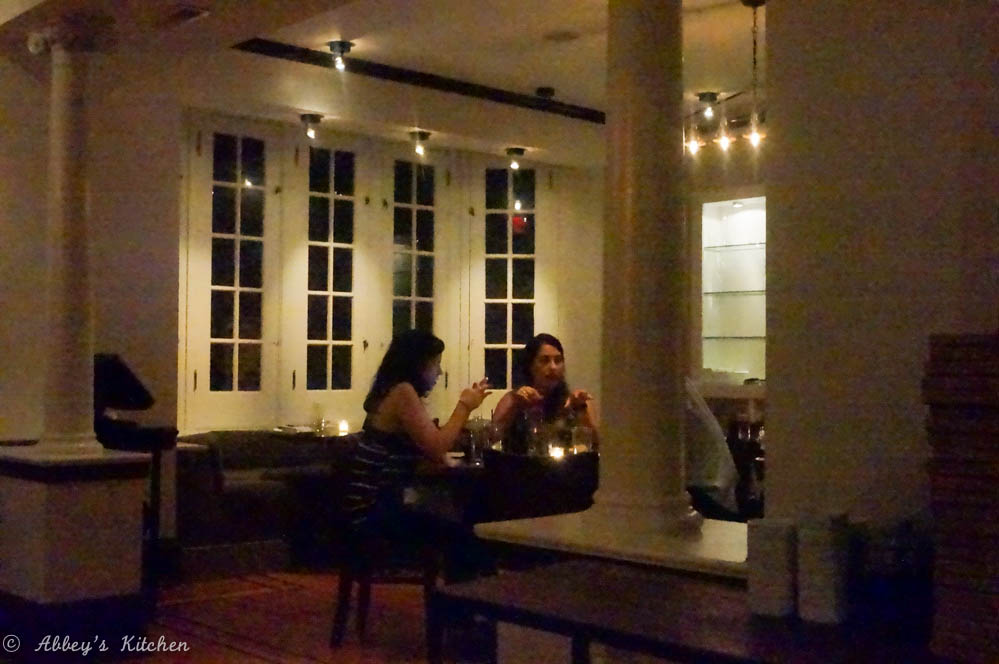 Drink
-Vedge offers about Craft beers available by bottle ($5-19) or on tap ($5-8) and about 15 International wines by the glass ($10-18), divided into sparkling, white, orange, rose and red. Those willing to commit to a full bottle can peruse about 50 or so International options that range in price from $38-150.
-Cocktail drinkers can check out their half dozen cocktails ($9-13) that feature a variety of produce-based syrups, bitters and garnishes. They also have a Happy Hour menu with snacks and discounted cocktails weekdays from 5-7 PM at the front room bar.
Fee-Fi-Fo-Fum ($12)
Art in the Age Rhuby, Pea, Absinthe, Tarragon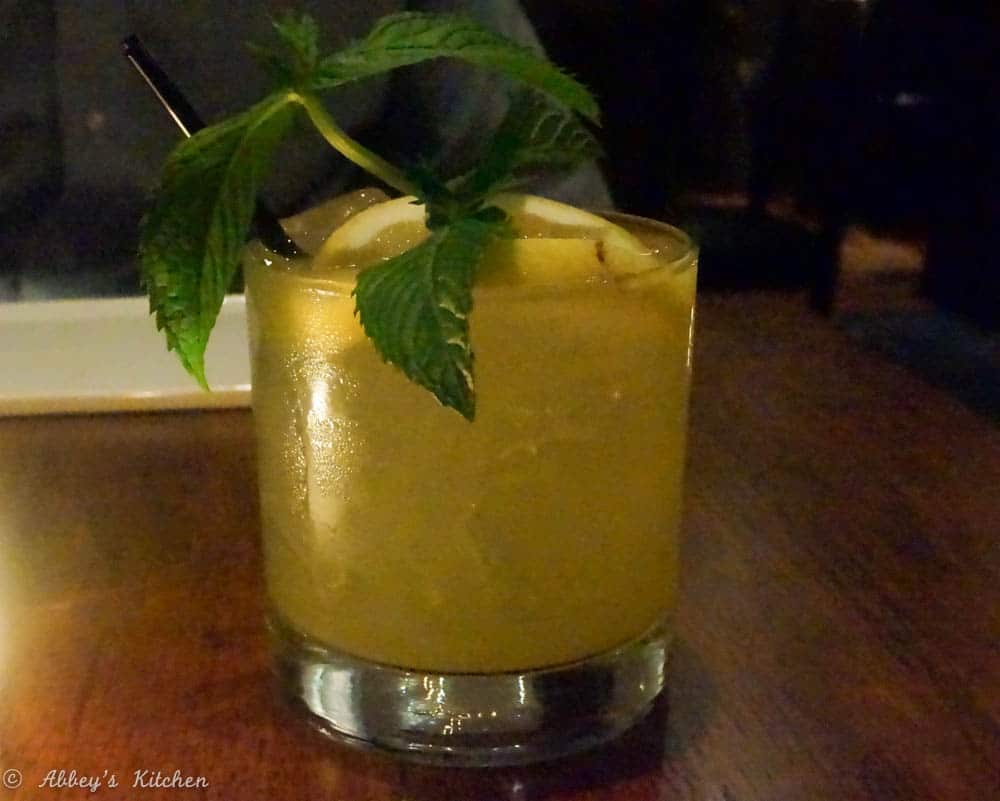 This was the most unique drink of the bunch as the hint of vegetal sweet pea played beautifully with the fresh tarragon.
Botticelli ($13)
Hendricks, Averna, Aperol, Fennel, Strawberry-Oolong Shrub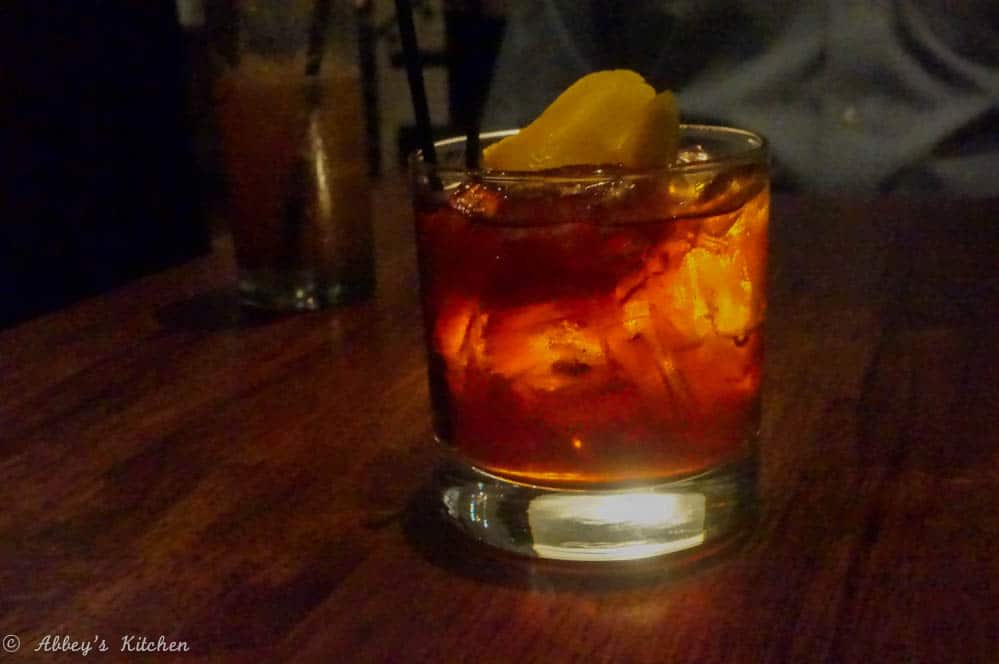 The least sweet of the bunch and definitely the most heavy hitting, this drink had a nice herbaceous flavour balanced out by the gentle sweetness of the fennel and strawberry shrub.
Bon Voyage ($12)
Beefeater, Cointreau, Pineapple-Lemongrass Shrub, Falernum, Citrus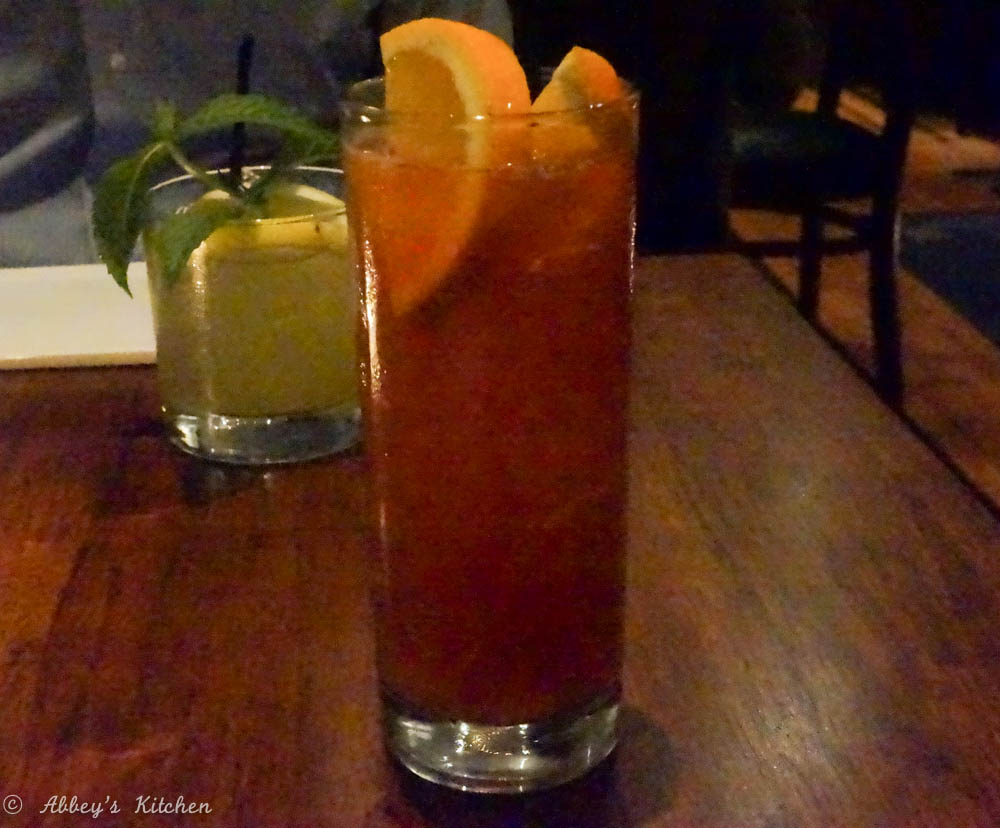 One of my favourites of our flight, I loved the sprightly zing of the pineapple and lemongrass with the Caribbean-themed spice of the Falernum. This drink definitely deserves its name, and I thought it was nice to see a "tropical" themed drink that isn't based on rum.
Flannel Shirt ($12)
Scotch, Blood Orange, House Ginger Beer, Ramazzotti, Lemon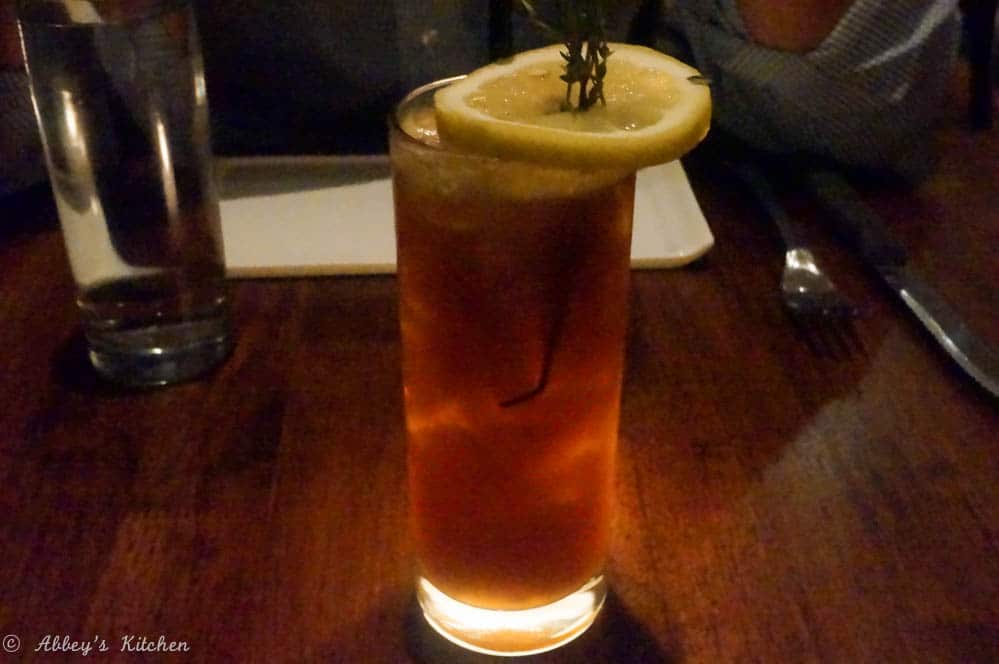 The zesty ginger beer, and the aromatic scotch made for a very flavourful concoction. I actually almost detected the flavour of garam masala in there somewhere, though I assume that was simply a mixture of the ginger and bitters.
-As previously alluded, there are no animal products at all used in Vedge's kitchen- no meat, no cream, no cheese, no butter and definitely no bacon. Everything you see is made of vegetables. As off-putting as that may sound to some of you, let me assure you from one carnivore to another- there is nothing to be unsatisfied about. Every taste, texture and aroma will prove itself satisfying, and you'll inevitably leave feeling satiated and content.
-Landau has been lauded (hehe- see what I did there with those similar words??) as one of the city's top chefs, but I will venture to say he's in North America's top. There are not that many chefs I know who can become so comfortable with the biochemical properties of different vegetables that they can find ways to make them taste like dairy and meat.
-The menu is divided into share-plates For the Table (3 for $9), the Vedge Bar (cold items), Hot Plates (hot items), The Dirt List (sides) and Desserts.
For the Table (3 for $9)
U-Peel Lupini Beans with Piri Piri & Fried Garlic; Curry Pickled Cauliflower; Chili Roasted Almonds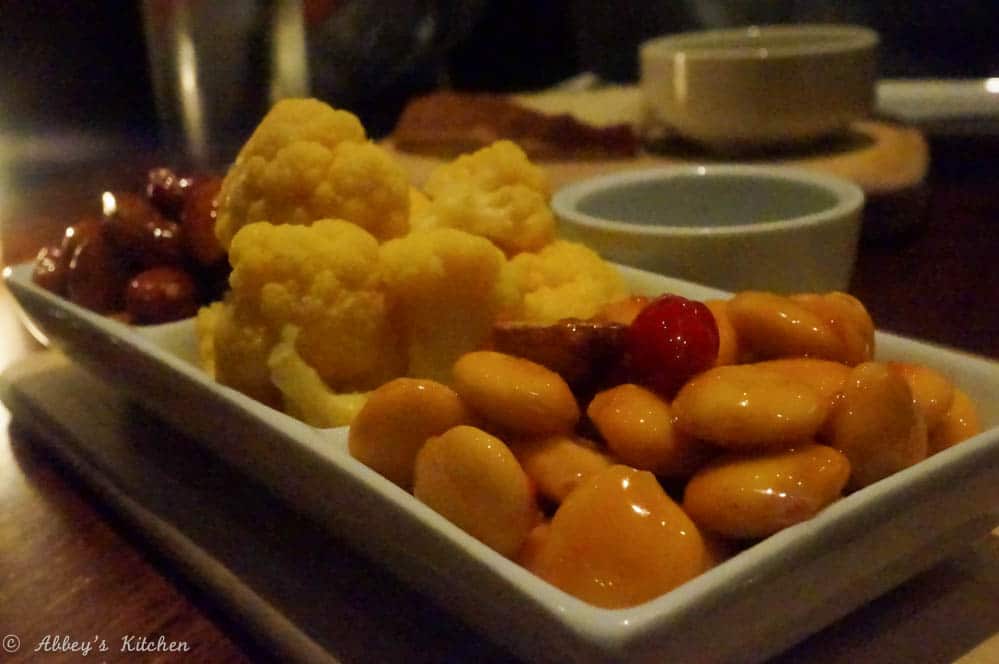 A fun choose-your-own-adventure dish, all of which were tasty and refreshing. We happened to actually pick three options with a solid level of heat, but they were so addictively tasty, that didn't stop me. I particularly enjoyed the pickled cauliflower, which had a perfect balance of acid, sweet and heat.
Chilled Corn Soup ($9)
Cubanelle Pepper, Yuzu, Cilantro Crumbs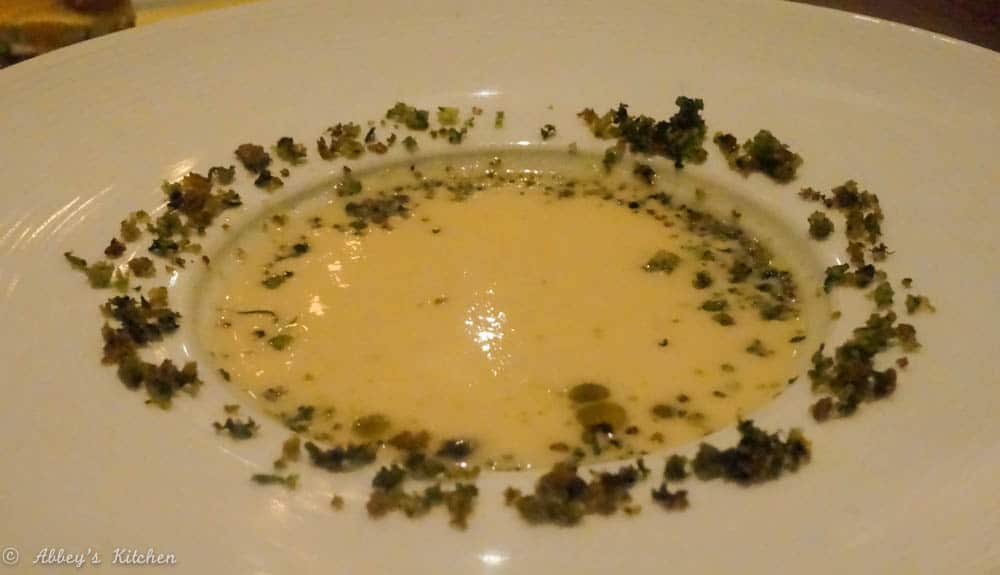 One of my favourite dishes of the night. I loved the sweetness of the smooth thin corn puree with the supple pops of delicate kernels strewn throughout and the refreshing crispy crumbs on top.
Salt Roasted Gold Beets ($10)
Avocado, Smoked Tofu, Rye, Capers, Creamy Cucumber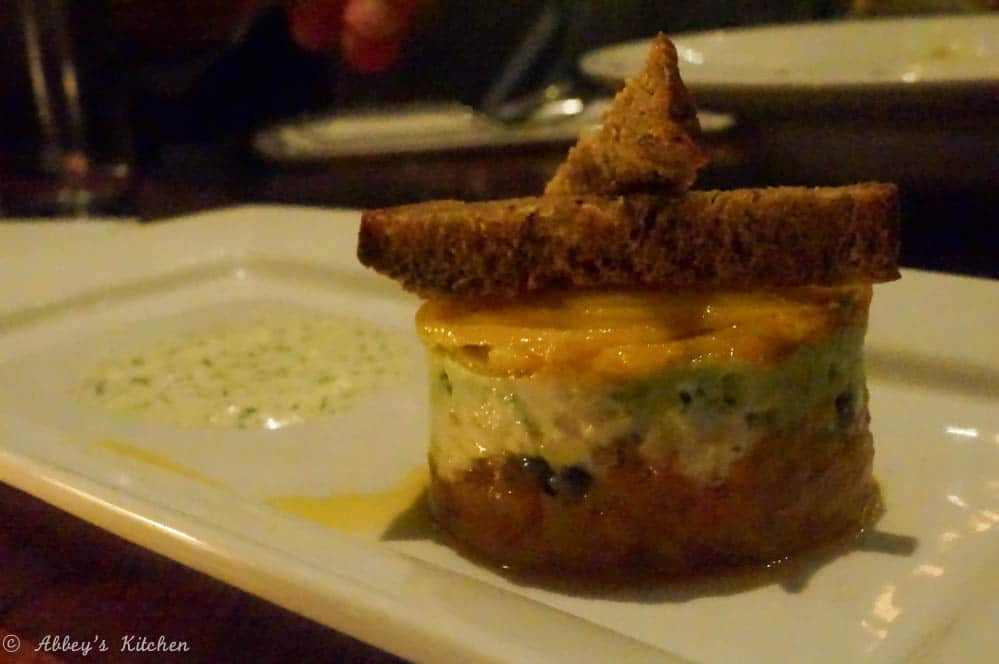 A tasty take on lox, cream cheese and dark rye bread. I loved the natural sweetness of the beets against the creamy layer of tofu and avocado, as well as the satisfying bite of the briny capers.
Deconstructed Ratatouille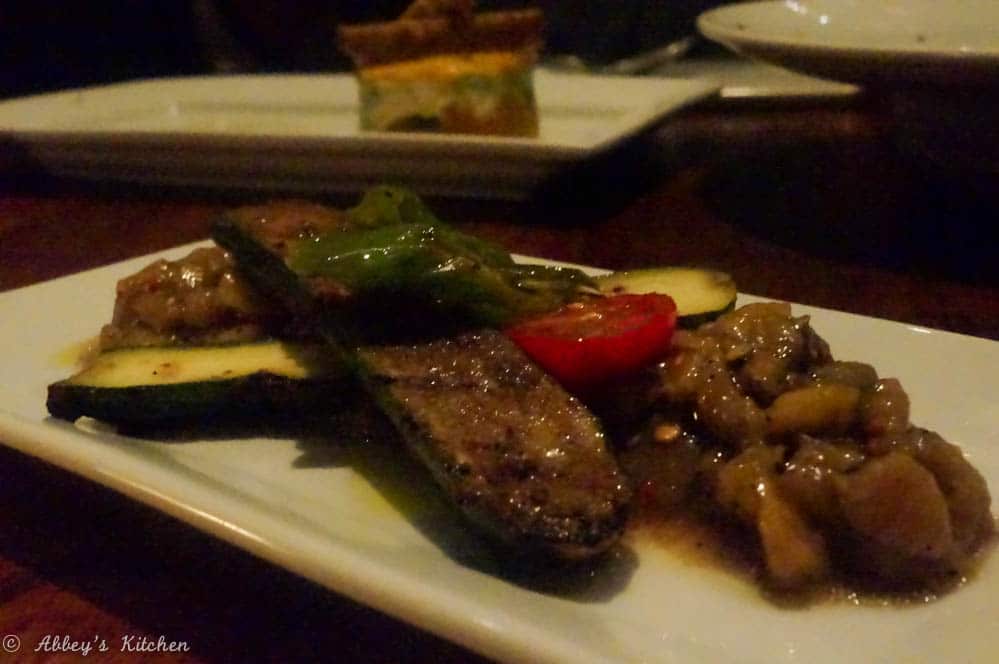 An off the menu item, this was a simple yet very tasty vegetable based dish that really let the beautiful ingredients shine.
Fresh Peas & Cauliflower ($14)
Buckwheat Crepe, Beech Mushrooms, Preserved Lemon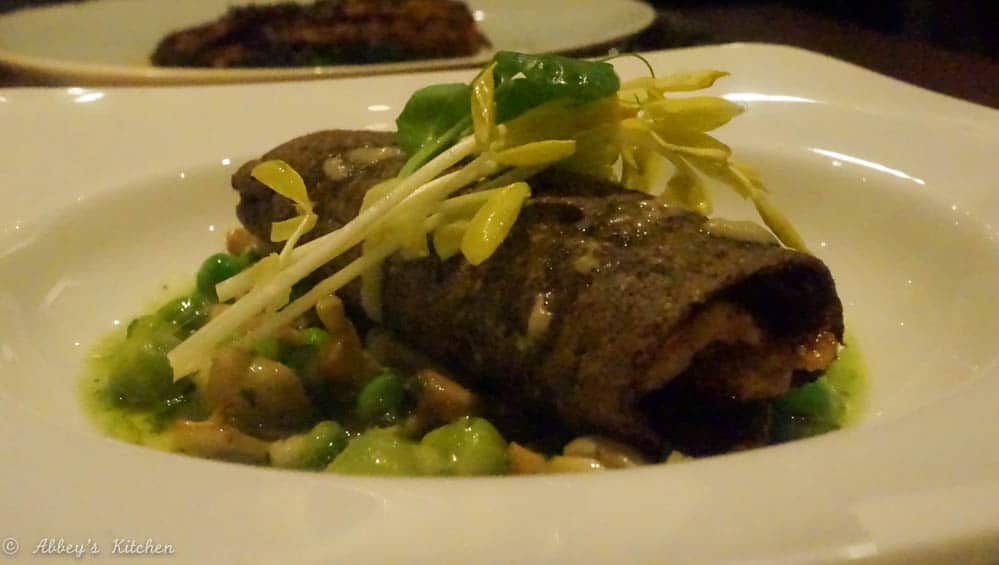 Another favourite dish for me that I would absolutely love to try to replicate. The nutty chewy buckwheat crepe was packed with a creamy cauliflower puree reminiscent of ricotta cheese. With such a lusciously decadent mouthful, the crepe paired beautifully with the sweet fresh peas and earthy mushrooms.
Roasted Maitake & Trumpet Mushrooms ($15)
Celery Root Fritter, Smoked Leek Remoulade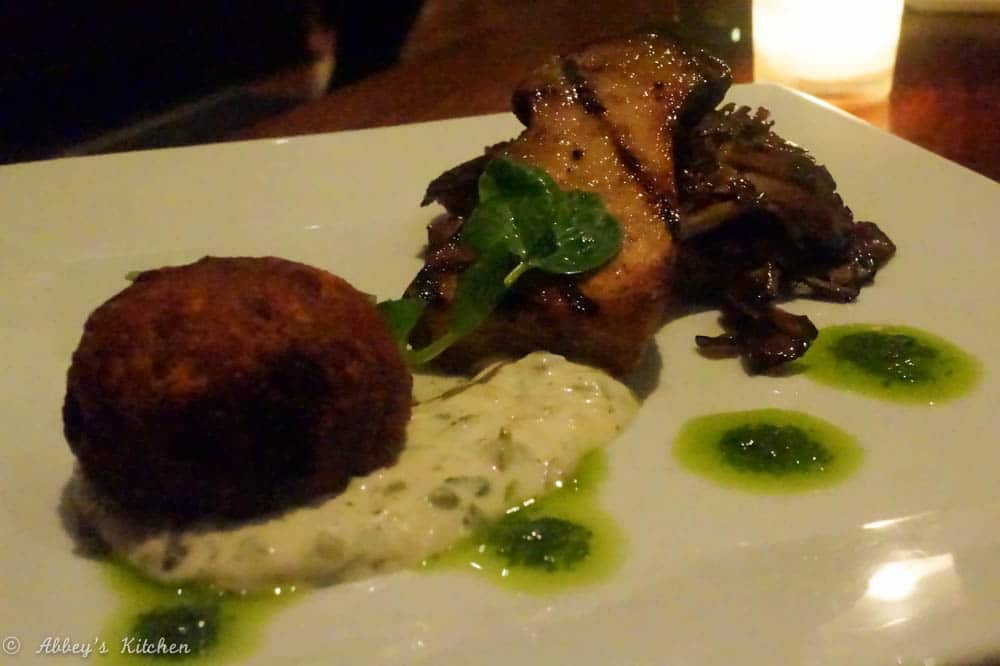 As expected from such hearty shrooms, the maitakes and trumpet were satisfyingly meaty, and totally addictive paired with the sweet celeriac fritter and tangy remoulade. A stellar vegetarian dish.
Grilled Seitan ($16)
Swiss Chard, Whipped Tahini, Pickled Turnips, Za'atar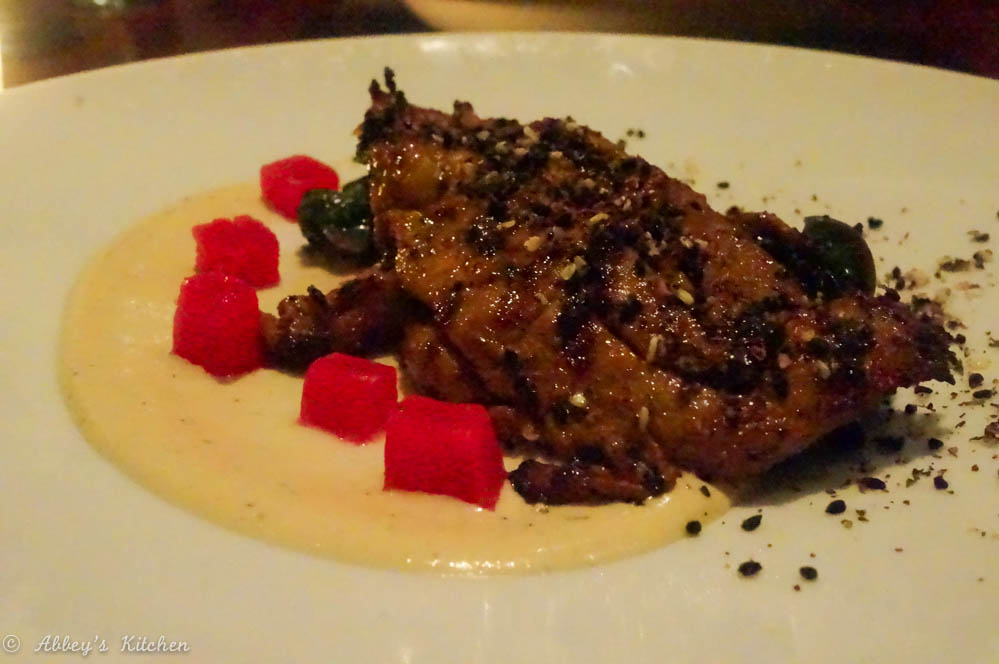 I am no expert when it comes to vegan cuisine, so I haven't had a whole lot of really excellent seitan dishes in my day. But man, if this was what it always tasted like, I would totally hit this up more often. The protein was smoky and tender with a texture nearly identical to succulent shawarma chicken, absolutely brilliant with the Middle Eastern spices and nutty cream.
Brussels Sprouts ($8)
Shaved & Grilled, Smoked Mustard
I will never turn down a tasty Brussels sprouts dish, and this baby did not disappoint. I loved the sweet smoky leaves with the tangy zippy bite of the smoked mustard cream, and really enjoyed the tender delicate texture.
Saffron Cheesecake ($9)
Basil Gel, Rhubarb Ice Cream, Black Olive-Pistachio Crumble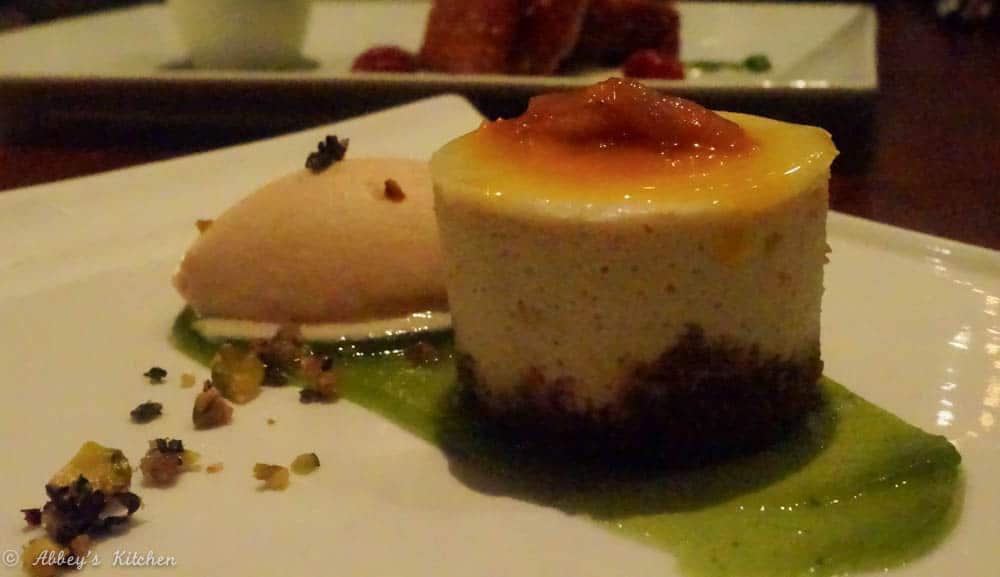 The servers told us that aside from Chef Landau, no one in the restaurant is aware of the recipe for the cheesecake base, and I'll tell you, it really stumped me. It was creamy, tangy and blessedly dense with an aromatic perfume from the saffron. I was definitely skeptical about the vegan ice "cream", but Vedge nailed it with the luscious creamy texture of the Rhubarb frozen treat. And to help cut some of the richness and sweetness going on, the slightly savoury bite of the olive crumble balanced everything out.
Cherry Jelly Donut ($8)
Horseradish Cream, Zhoug, Turkish Iced Coffee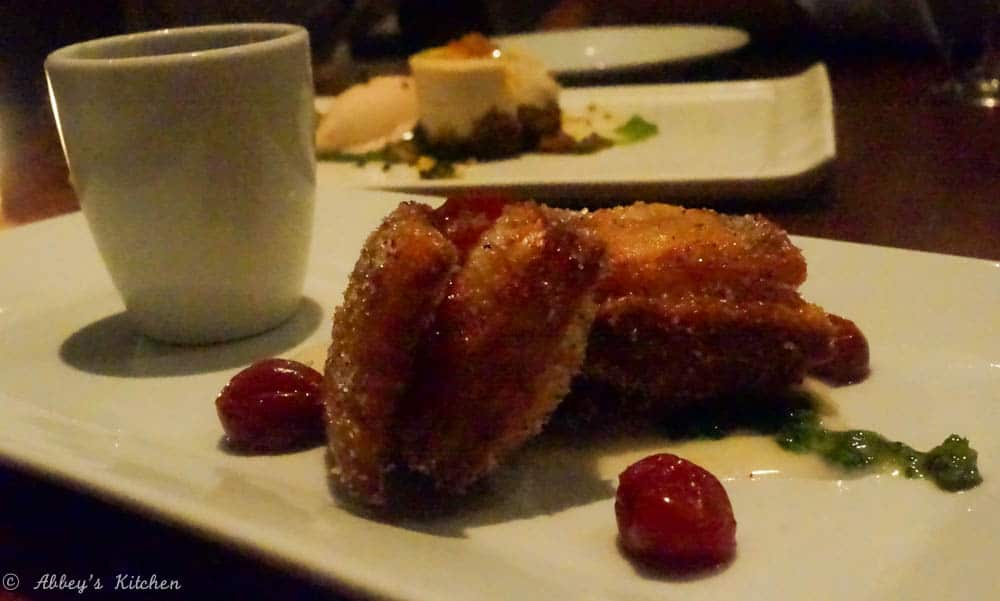 Another stand-out dessert with an interesting Middle-Eastern flavour profile and a satisfying balance of savoury and sweet. The donuts reminded me of some of the "cronuts" I've had, in that they were wickedly crispy on the outside and meltingly moist within. I loved the mild heat of the zhoug and the horseradish spicy-sweet cream with the tangy bite of the cherries on the plate. The unsweetened coffee was also a nice touch as it added a mildly bitter hit to take the edge off the sweets. After these two sweet picks, I would definitely return to Vedge to sample all of the desserts.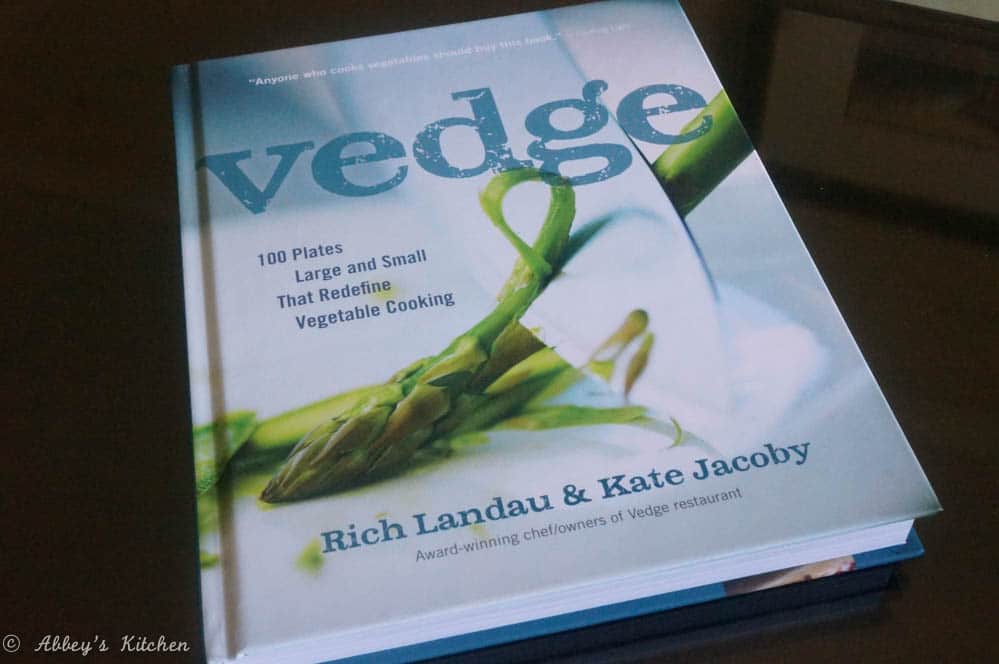 Closing Remarks
-For 4 cocktails, 1 glass of Tokaji, and 9 dishes, the bill came to about $240 including tax and tip. Sure, there were no pricy oysters, foie gras, or kobe beef on my plate, but was it worth it? Holy, hell yes. The food and cocktails were satisfying and memorable, the service was professional and sweet, and the space is beautiful for a casual meal or a special date.
-This is not "diet" food, and doesn't at all come off as preachy or political. It's simply a damn delicious celebration of beautiful veg and I could only wish more chefs back home in Toronto would take note.
-Despite my early apprehension, I honestly walked away so inspired that I purchased Chef Landau's cookbook on the spot so that I could experiment with some of his innovative techniques.
-If you're interested in trying some of these recipes yourself, you can find the book online or on their website, and can also find a selection of his sauces to purchase online or in Williams Sonoma.
-Vedge is open Monday-Saturday for dinner only with reservations accepted online.
Updated on February 13th, 2016