Opening Remarks
-Chef Michael Solomonov and his partner, Steven Cook opened Zahav in 2009.
-Zahav, when translated from Hebrew, means Gold, which pretty much sums up the restaurant's impact on Philadelphia's glowing food scene.
-I actually saw Zahav featured on the Cooking Channel's Unique Eats and I was craving its Middle Eastern delights ever since.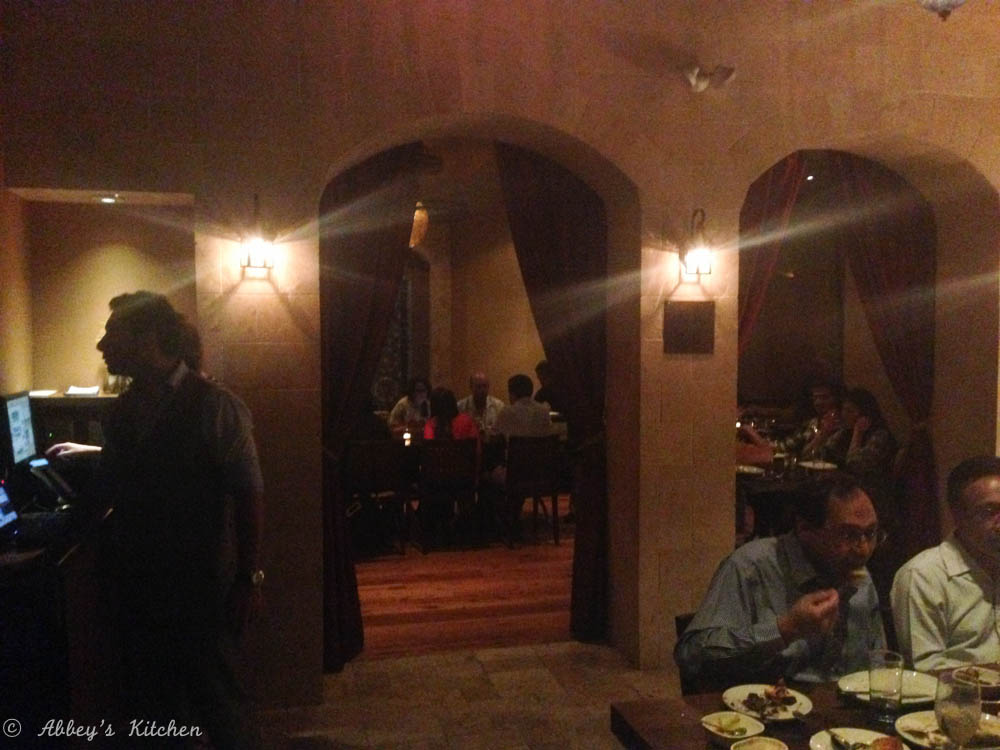 Ambiance
-The high ceilings, Middle Eastern antique low-light fixtures, pristine brick walls and the cut out arched doorways with weighty mahogany curtains, all exude an air of history. The space feels romantic, ancient and exactly how I remember so many of the magical restaurants I visited in Jerusalem.
-The wooden tables and chairs are simply dressed with white dishware and blue napkins, a nod perhaps to Israel's national colour scheme.
-One of my favourite features of the restaurant are the billowing hanging curtains framing the stain-glass detail of the window that lead the eyes immediately into the bright bustling kitchen.
Service
-Service was professional, efficient, nicely timed, friendly and knowledgeable. In a single (hyphenated) word it was spot-on.
-Our lovely server was always close by with complimentary still or sparkling water, the cocktails came out promptly after ordering, and the food was delivered at an efficient and perfectly timed pace. That is, we would be brought about two dishes at a time, and have a few minutes to breath between each round, so the whole meal took us about 1 hour 40 minutes- perfect for my preferences.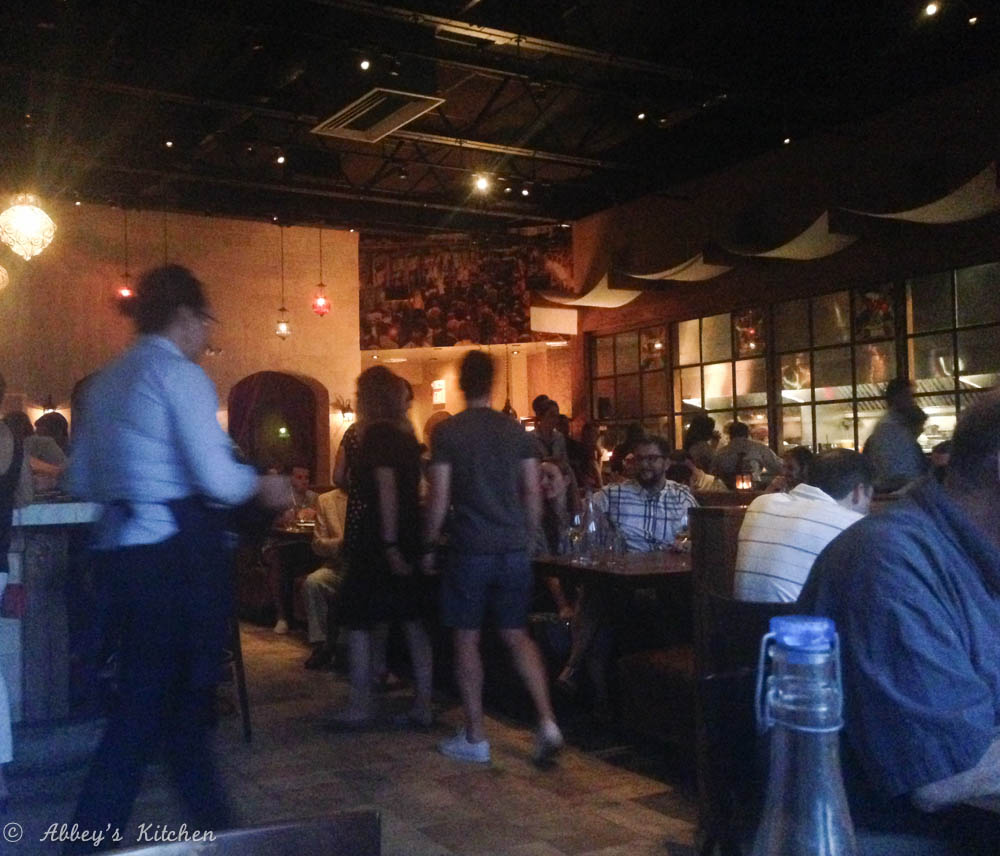 -Our server was also very knowledgeable on the extensive menu offerings and made some excellent suggestions for my first visit at Zahav. She (and the FOH Manager) were also quick to help when I accidently spilled paprika oil onto my Lilly Pulitzer dress as I feverishly shoveled hummus and laffa into my mouth in a desperate moment. As my partner so satisfyingly pointed out, that will teach me to "eat like a lady."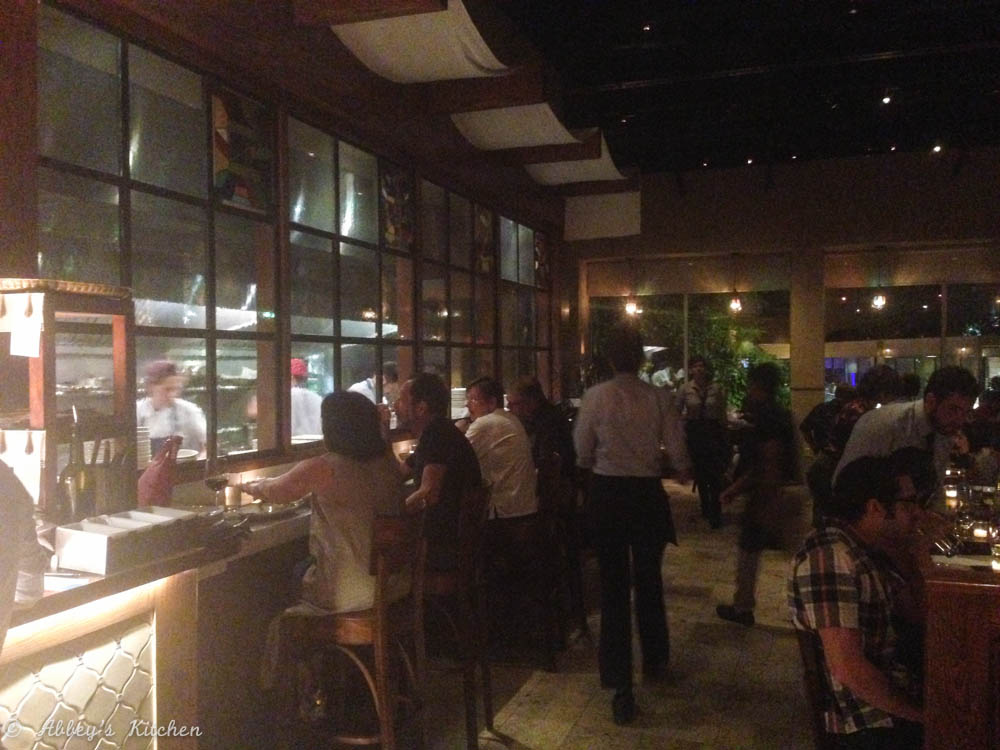 Drink
-Zahav's wine list includes a beautiful collection of Israeli, Lebanese and International wines by the bottle ($46-295). I was actually really impressed with the selection because I personally had a hard time finding awesome wine when I was in Israel, but perhaps that was just a preference thing. They also do 10 options by the glass ($10-12), and another 8 craft beers ($5.5-16) including an Israeli based brew.
-Cocktails are creative and tempting, showcasing a nice spread of different spirits, fruit syrups and bitters.
Lemonnana ($9.50)
Jim Bean, Mint, Lemon, Verbena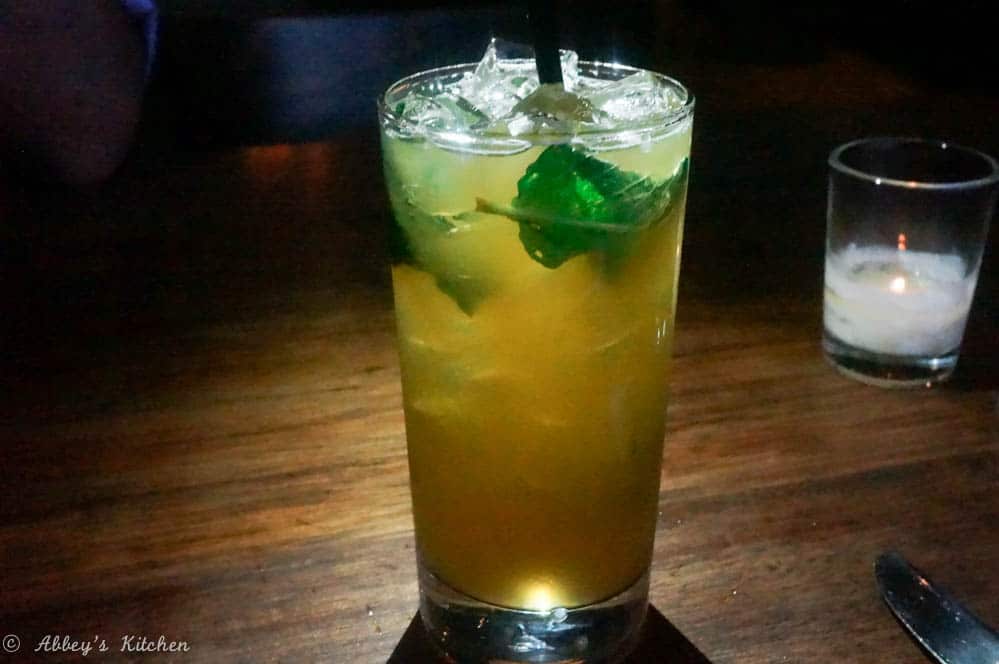 This is Zahav's signature drink and after a single taste, you can easily see why it's such a popular choice. The combination of citrus with mint and aromatic verbena instantly reminded me of a hot day in Tel Aviv. You can also order this cocktail by the pitcher ($34) which I would totally be game for next time around.
New Year's Jerusalem Cocktail ($10)
Sparkling Wine, Festina Peche, Peach Bitters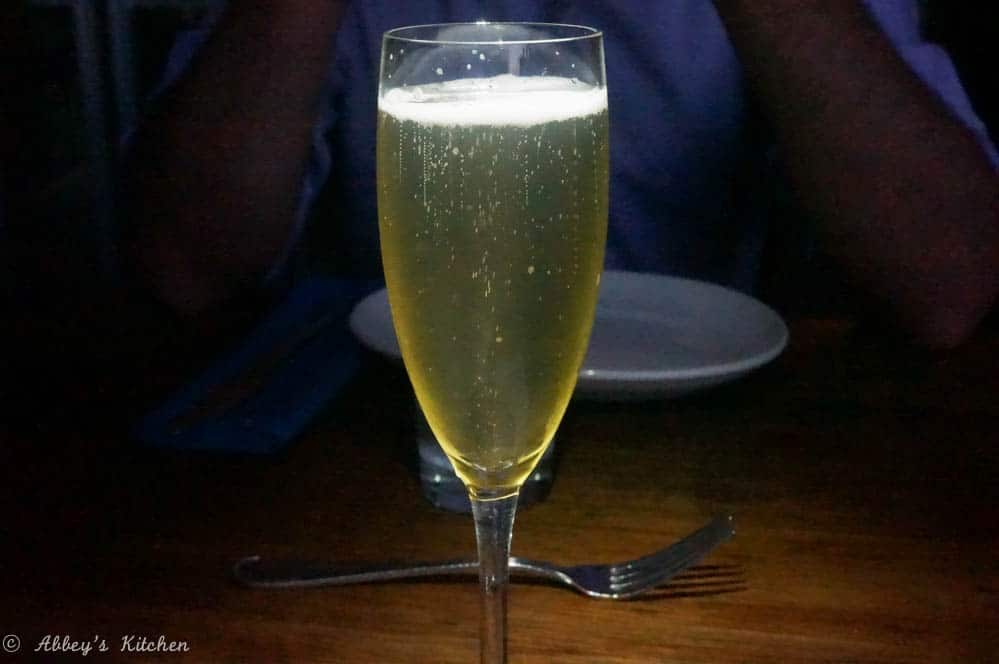 While this read like a sweet drink, it was actually nicely balanced with a just mild hint of fruit.
Sunny Castello ($11)
Vodka, Aperol, Grapefruit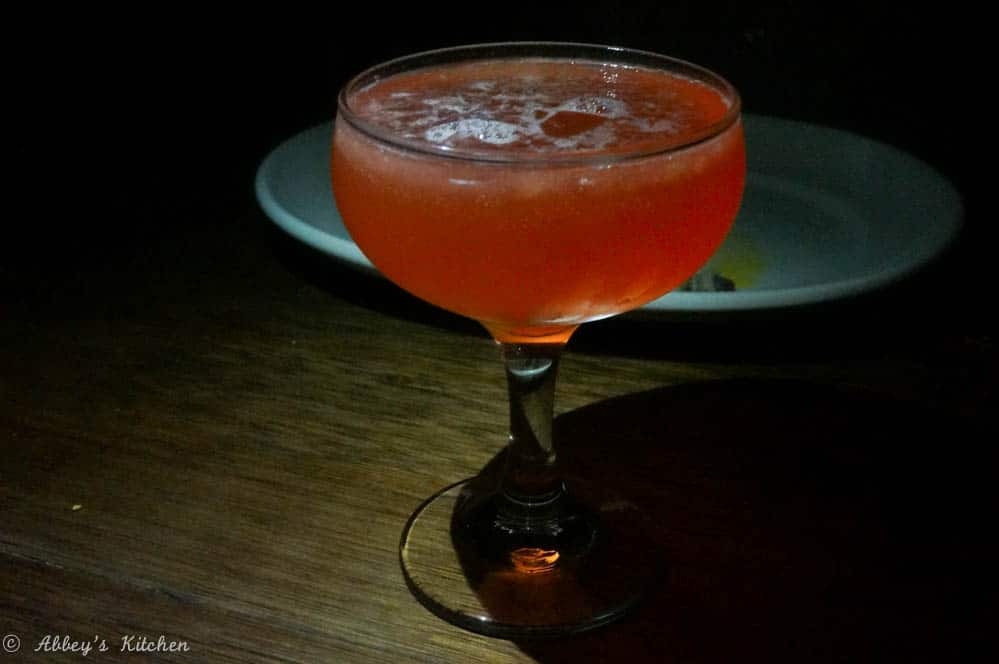 A very easy drinking and well-balanced cocktail with a slight bitter edge from the grapefruit and Aperol.
Marble Rye ($9)
Pumpernickel & Caraway-Infused Beam Rye, Celery Soda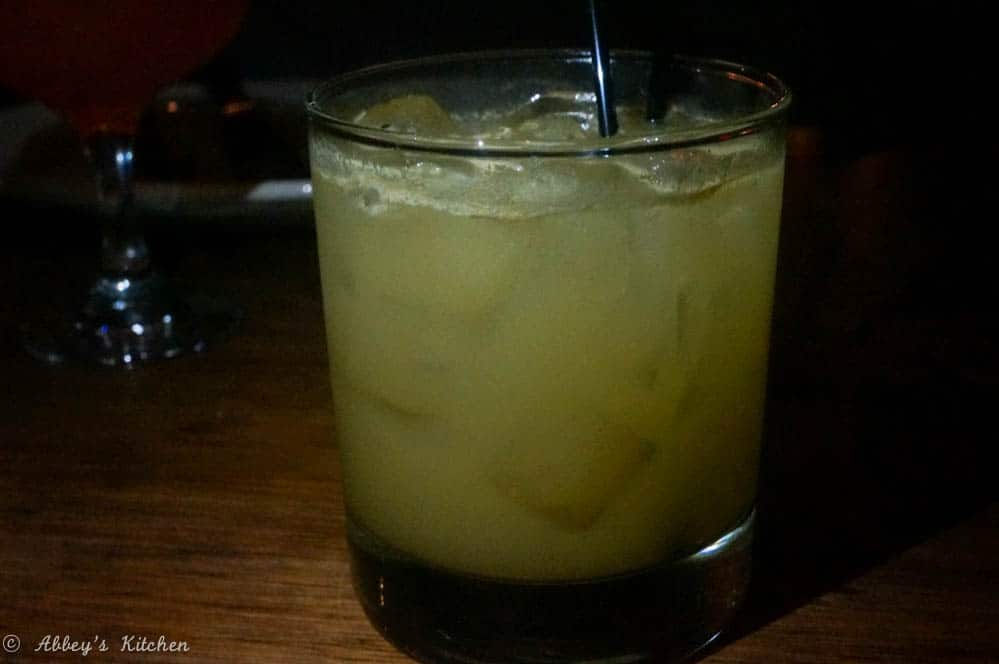 Nice to the Lemonnana this was my favourite drink. I loved the subtle flavour of the savoury caraway in the rye alongside the mildly sweet and refreshing celery soda.
Mint Tea ($3)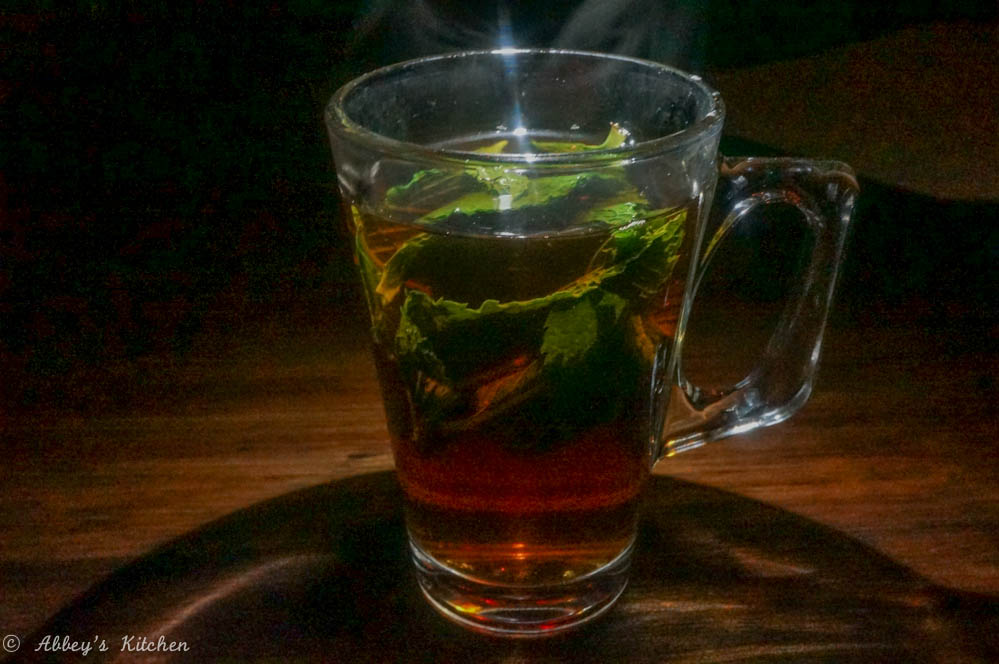 Exactly how I remember it from Israel where it we drank it after every single meal. Hot, refreshing and just ever so slightly sweet.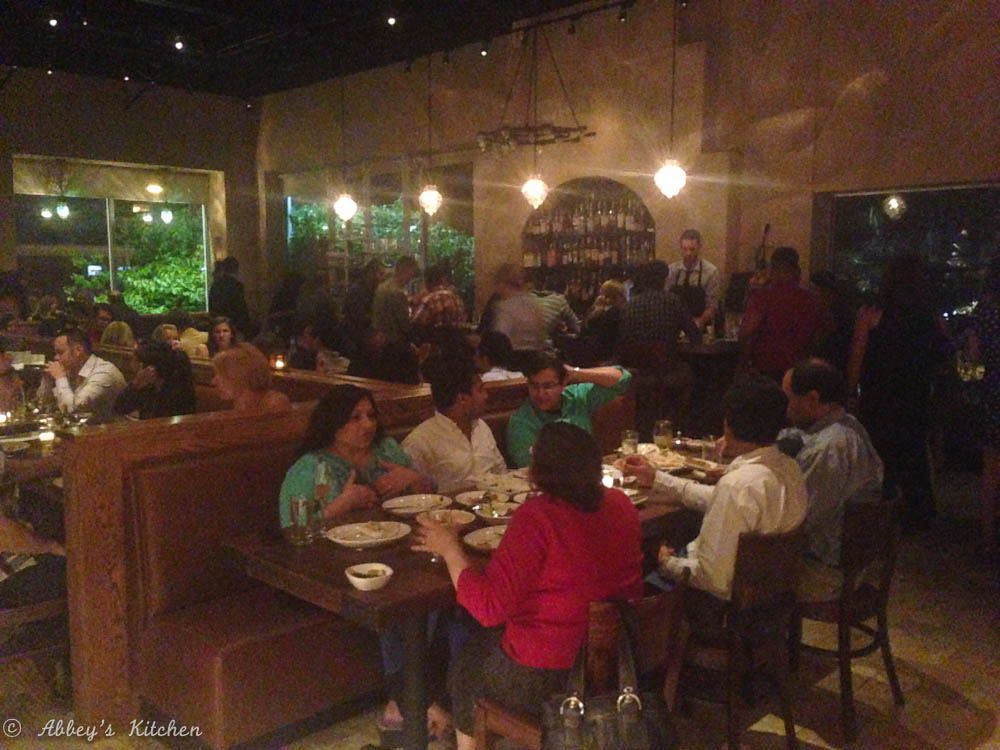 -The menu offers a distinctive Israeli identity but with lots of unique interpretations of ingredients and preparations like using sweetbreads in the Israeli street food, schnitzel.
-While Middle Eastern is definitely on trend in 2014, I have a feeling that Zahav feels no need to confirm to restaurant trends and instead just does what it does best- make sexy Israeli eats.
-The menu is divided into Hummus & Salatim (a selection of mini salads), Mezze small plates, and Al Ha'esh items grilled over coals.
-Diners can also opt to go for the Taste of Zahav, which supplies the table with salatim, hummus, laffa, two mezze, one al ha'esh and one dessert per person for $39. Alternatively, there is an opportunity to go for a tasting menu of sorts which includes a chef selection of 4 or so Mezze, dessert and a large serving of the braised lamb which otherwise is unavailable on the menu. We opted to go for the Taste of Zahav option so that we could pick and choose a nice spread of dishes. In reality, however, our wonderful server and the kitchen staff ended up treating us to a few extra bites from the kitchen since I was having such a hard time deciding what to choose.
-Just a warning if you do opt for the Taste menu- there is a heck of a lot of food. You may be tempted to clear out every dish of your salatim, but restraint is needed if you want to enjoy the fabulous desserts. It reminds me of my favourite meal we had in Jerusalem at Machneyuda where we sat at the chefs rail where the chef specifically instructed us at each course "do NOT finish this all- have a taste and let me take it away." It will be hard, but it will be worth it if you listen to me on this.
Salatim Spread
Carrots, Kale and Quinoa Tabouleh, Beans with Spicy Tomato, Beet Labneh, Tabouleh, Marinated Eggplant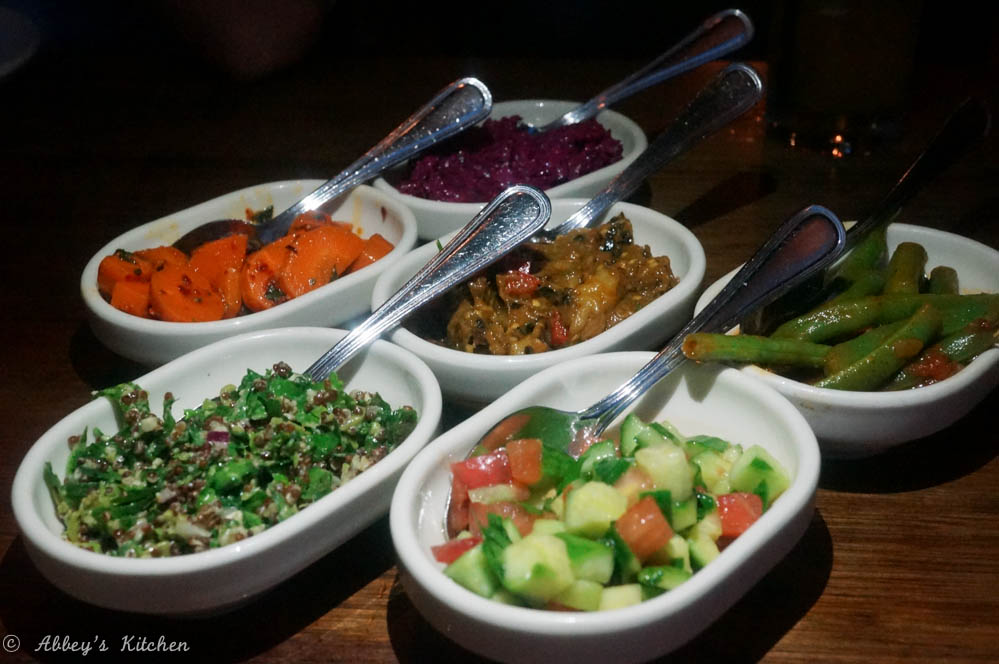 One of the best salatim spreads I've had to date, and I literally had one every day for two weeks in Israel. Of all the dishes, my favourite was the sweet and tangy beet labneh, and the chewy kale and quinoa tabouleh salad.
Hummus with Laffa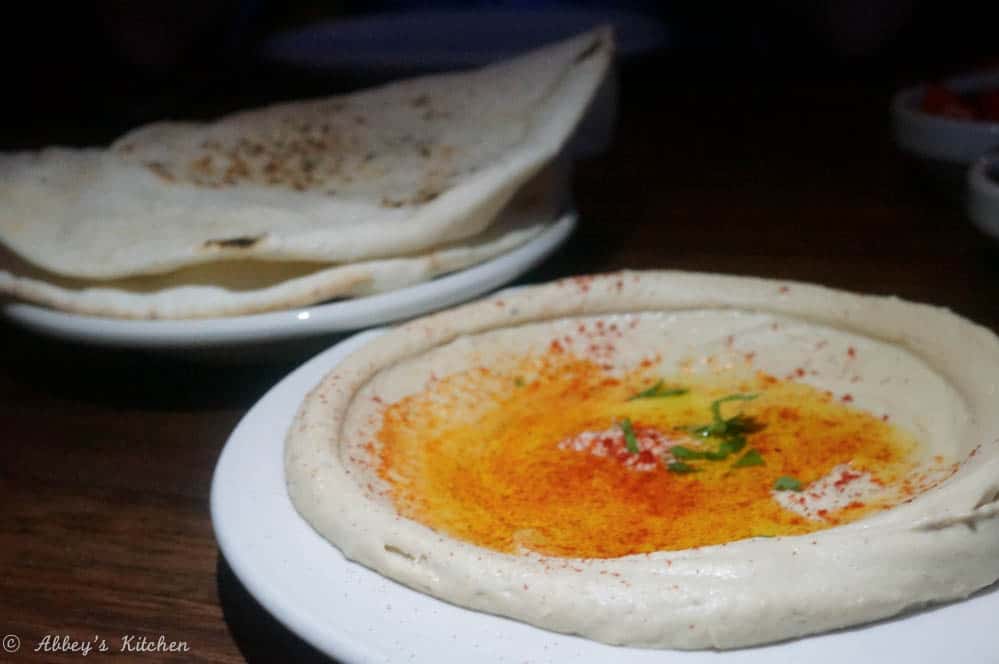 A flawlessly smooth hummus with a nice balance of tahini, citrus and garlic. The laffa was also so much more than a tasty eating vessel. It was crisp around the edges, chewy in the middle and deliciously seasoned with aromatic spice.
Yemenite Beef Stew
Roasted Short Ribs, Potatoes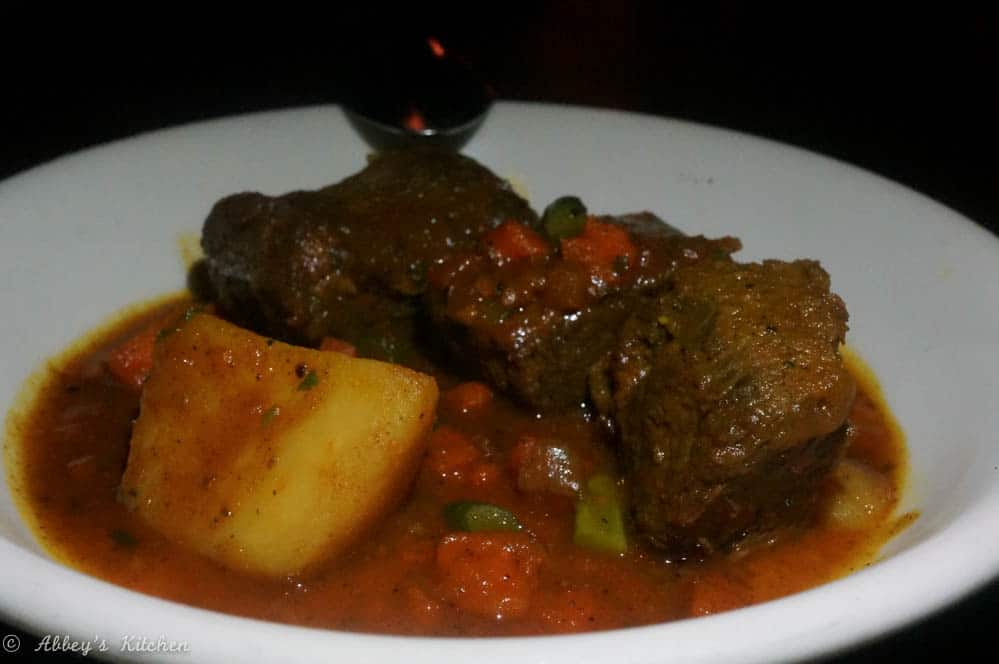 A blessedly tender short rib in a comforting rich broth. This dish reminded me the stews my mom raised me on.
Pastilla
Spiced Chicken, Apricot, Almond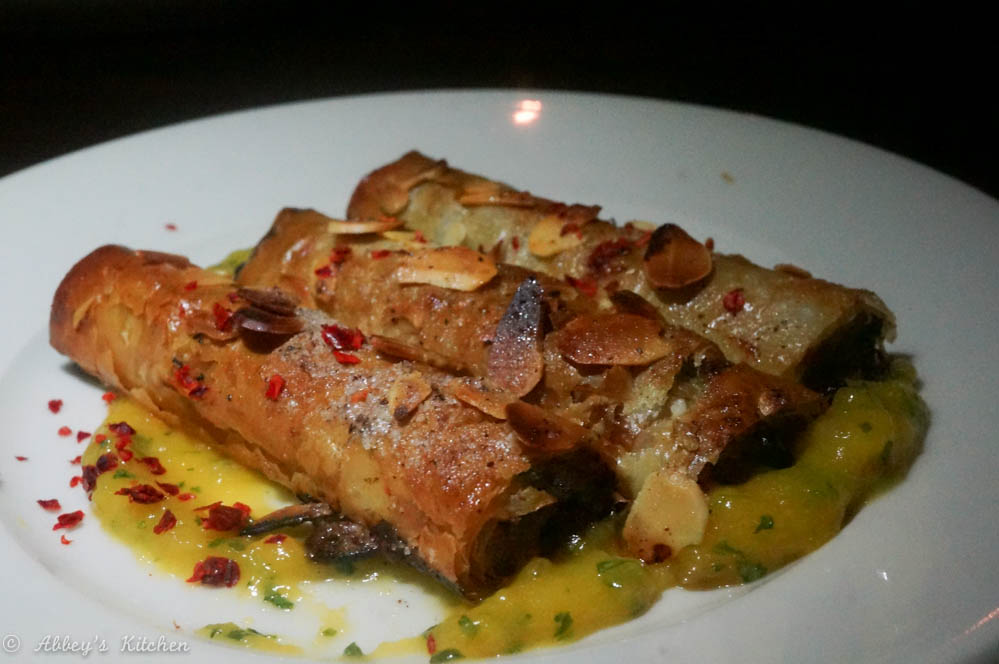 After having pastilla in Israel, I literally dreamt of the dish constantly ever since and was determined to find it done well in North America. Well, Zahav, you did not disappoint. This was definitely one of my favourite dishes of the night because I loved the balance of savoury and sweet. The phyllo was crispy and light, was packed with wonderfully flavourful meat and was absolutely delicious smeared through the apricot puree.
Kibbe Naya
Raw Lamb, Olives, Walnuts, Garlic Scapes, Bulgur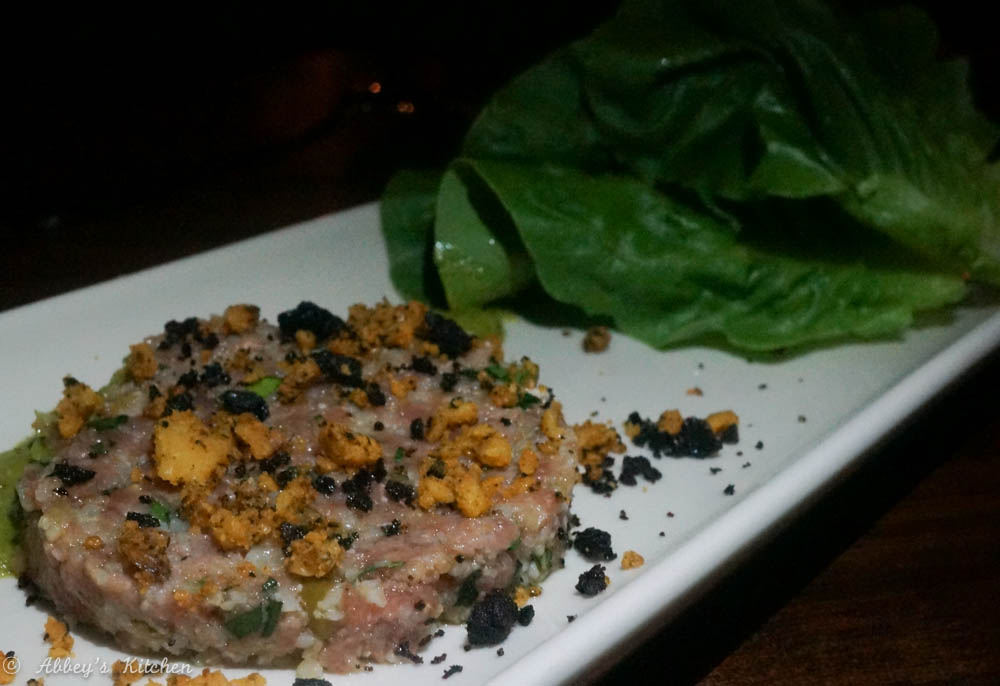 Wow, I was amazed by how flavourful this tartare was from the aromatic garlic scapes and the briny olives. A delicious light dish.
Fried Cauliflower
Labneh with Chive, Dill, Mint & Garlic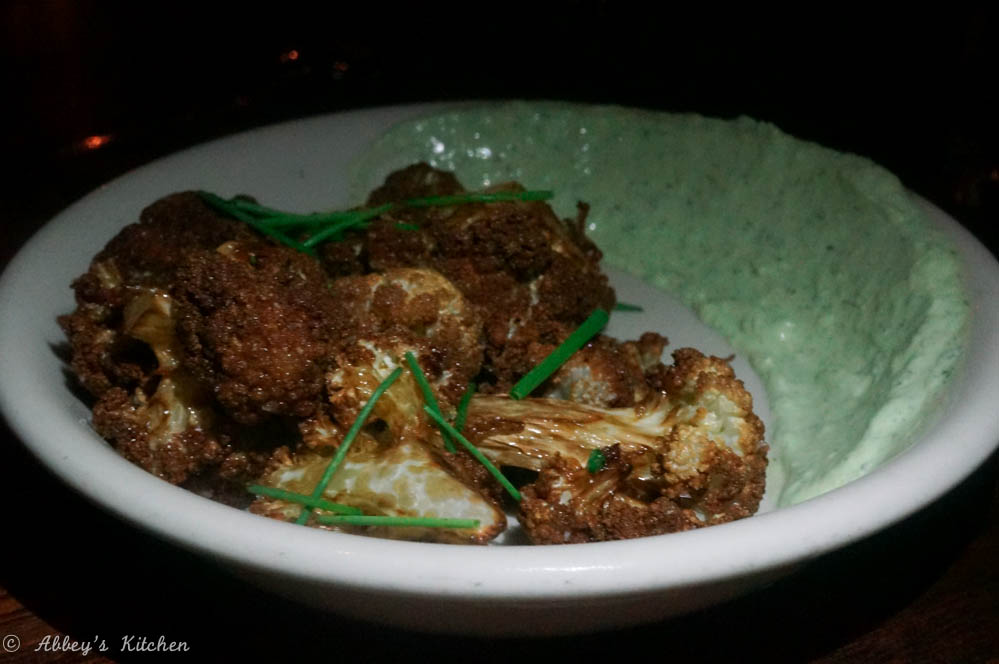 Another favourite dish so I'm not surprised our server said it's a top seller. The cauliflower were seasoned generously and fried to a light and crispy consistency, absolutely brilliant when swooshed through the herbaceous tangy labneh.
Crispy Haloumi
Dates, Pickled Onions, Walnuts, Urfa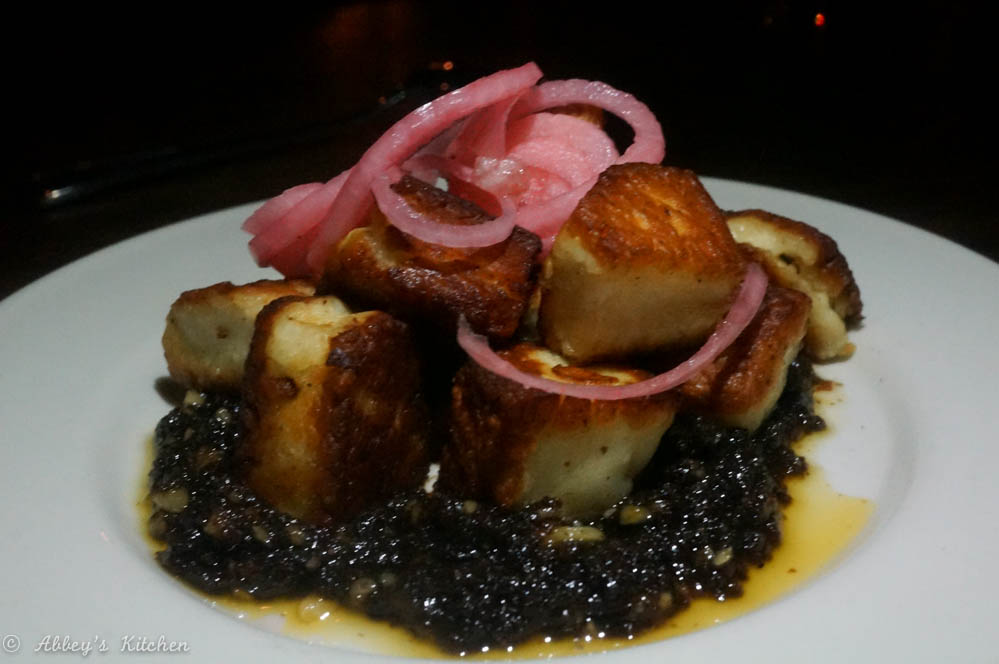 Imagine a salty firm cheese but fried to golden crispy nirvana like crazy-addictive chicken nuggets. But wait, it gets better when paired with the sweet date puree and the slightly bite of the pickled onions.
House Smoked Sable
Challah, Fried Egg, Poppy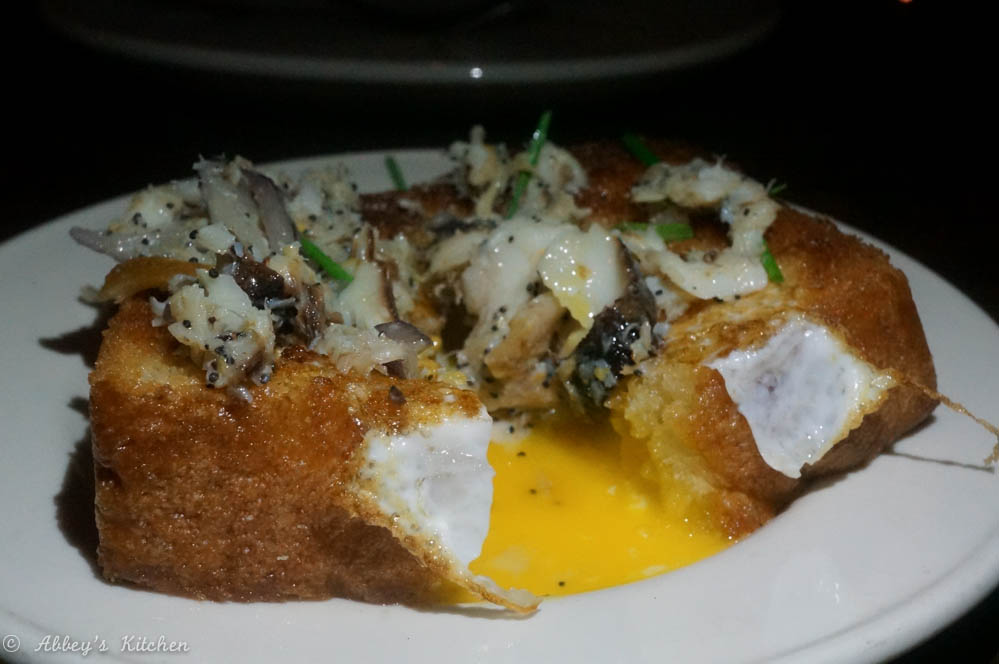 Do-not-miss-this-dish. Holy hell. Some of the most fantastic challah I've ever tasted, I wished I could just order a loaf to go. But pair that ethereal goodness with a smoky sweet fish and a luscious runny yolk and I officially prayed to G-d for a second stomach.
Duck Kebab
Dirty Rice, Rhubarb, English Peas, Summer Squash
My favourite of the two main courses, only because I apparently cant get enough of that Middle Eastern combination of savoury and sweet. The duck meat was juicy and beautifully seasoned and irresistible with a smear of tangy rhubarb and the pop of the fresh sweet peas.
Lamb Merguez
Carrot Puree, English Pea Harissa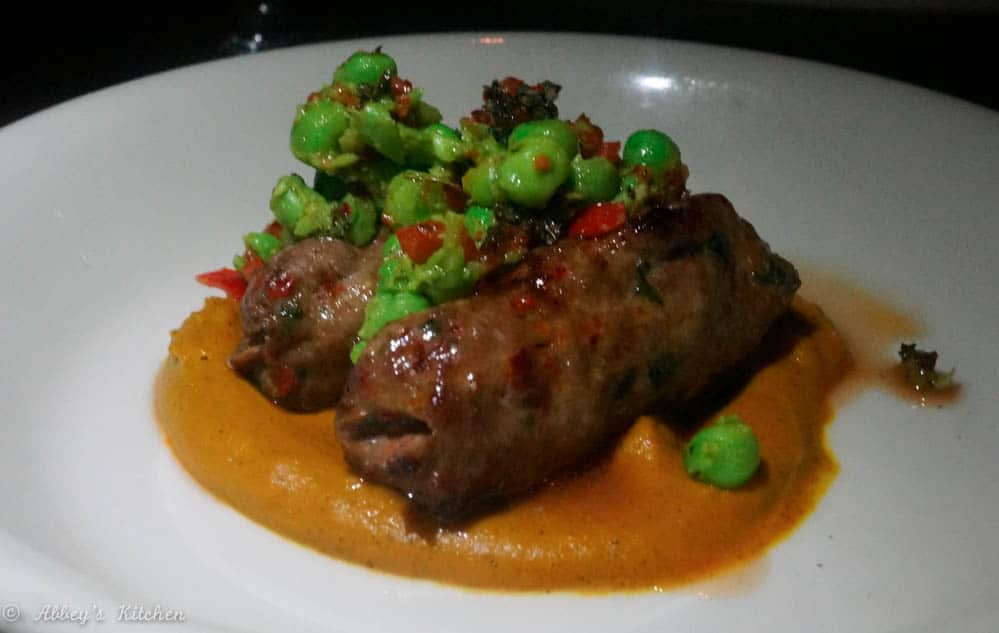 In contrast, this dish offered a nice level of heat to cut the richness and fat, tempered down by the comforting carrot puree. A wicked choice for anyone who likes a little kick.
Konafi
Ricotta, Rhubarb, Strawberry, White Chocolate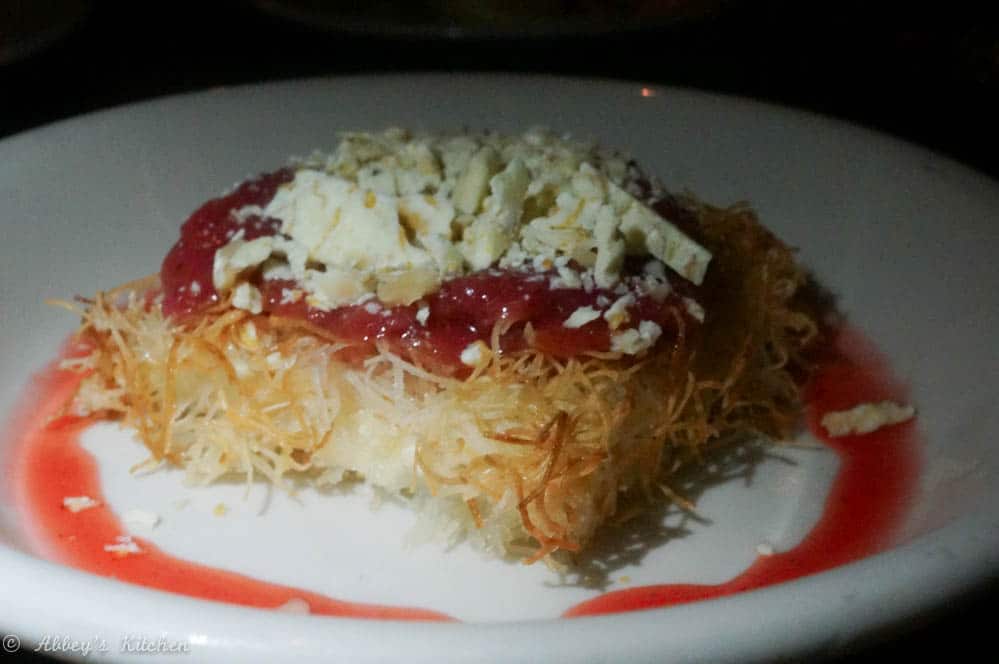 My favourite dessert of the three. I loved the creamy mild filling against the light crispy texture of the shredded phyllo, and the sweet fresh fruit and white chocolate bits. We were at the end of the meal, so I gave myself permission to polish this baby off.
Vanilla Custard
Poached Banana, Pistachio, Cardamom
I usually don't order custards or panna cottas as sometimes they have gelatins or too much gelatin, which I find unpleasant. This version, however, was an absolute pleasant to let melt into my tongue. The custard was satiny smooth with a nice aromatic level of fresh vanilla bean, while the ripe warm banana offered a refreshing counterpoint. A nice dessert option for those who need something light.
Almond Chocolate Cake
Almond Baklava, Frozen Almond Milk
The richest dessert of the three, the chocolate almond cake was dense, bitter-sweet with a nice chewy texture that was perfect with the mildly nutty almond ice cream. My favourite part, however, was definitely the crispy baklava, which offered a satisfying range of textures in a single bite.
Closing Remarks
-For two Taste of Zahav's, 4 cocktails, and 2 mint teas, the bill came to $160 including tax and tip. This may just be one of the best deals of the century, making it an absolute perfect restaurant for virtually any occasion. Pick Zahav for an impressive date night out, or a fun and festive group dining destination. It does not matter why I go next time, all I know is that I will jump at the chance to return.  The food was fantastic, if not flawless, the cocktails were simple and satisfying, the service was spot on and the ambiance was a dream. I love this kind of food. I love this kind of experience. I would love to dine at Zahav again. If you haven't, you should. If you have, you should again. Hopefully you're convinced.
Updated on May 8th, 2019