With Valentines Day quickly approaching (and that means, Sips and Nibbles is getting closer!!), I think its a good time to talk about food and love. Well, let me tell you one the most obvious ways my significant other (SO) let's me know that I'm loved.Through bananas.
Roasting the bananas
See, I love bananas. It's no secret around here. I have tried to adopt love affairs with all other members of the fruit family (and was hitting it off pretty good with the pineapple), but in the end, I always return to my bananas. Well, over the past six years, my SO and I have been going out for breakfast together (usually to our neighbourhood joint), and any time either of us order a fruit salad that happen to have bananas in it, he knows damn well they're mine. I don't need to say it. I don't need to stab his little finger with my neurotic-banana-seeking fork. He just knows that I'm going to "save" those bananas until I'm done with the less glamourous fruit (looking at you, honeydew) and then I'm going to savour every bite.
The puree pre-churn-fest
Well, this past weekend, I was all alone at home, and believe it or not, I wasn't able to go through the abundance of bananas I had bought for the week. Not surprisingly, they turned brown and I started plotting what delicious treat I was going to make with them. I've done a lot of banana bread lately, so I thought I'd bust out my ice cream maker, and make banana sorbet. But not just any sorbet, my friends. Oh no. Banana's bestie, Nutella, decided to hop into the chilly pool party and alas, something indulgent was born.
Churn away my precious
Now, sure, this can be done without the roasting step, but I must warn you that you'll miss out on that campfire caramelized flavour that elevates it's flavour. And yes, you can leave out the nutella too if you want to make it a fat-free dessert, but as a small added indulgence (it's only a few tablespoons), it's totally worth while.  So buy an extra large bundle of bananas, eat as many as you can throughout the week, and celebrate when you don't finish them in time!  You now have a plan.
Why hello, gorgeous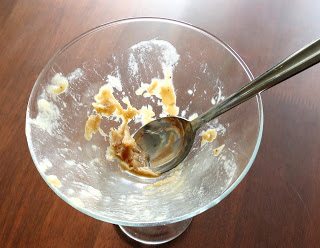 Well, that didn't last long
Roasted Banana Nutella Sorbet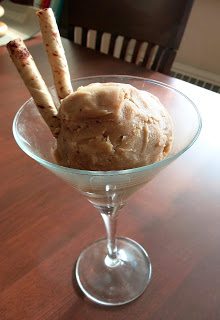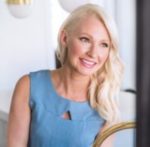 Abbey Sharp is a Registered Dietitian, an avid food writer and blogger, a cookbook author and the founder of Abbey's Kitchen Inc.