I know it's January, but since I just replaced my beloved ice cream maker with a newb, I have been feeling inclined to use it. Plus, when I was down in Florida, I pretty much had ice cream daily (one time, I went to the shop twice!) so I have had a real hankering now that I'm home.
Behind Sticky Toffee Pudding and Caramel-anything, sorbet is really one of my all time favourite desserts. It's refreshing and sexy, and can carry my fruit flavours miles farther than an ice cream or frozen yogurt because its not diluted with dairy.
Well, believe it or not, sorbet can be winter-approved, as long as you're using seasonally appropriate ingredients. And besides pricey pomegranate and tart cranberries (which would require way more sugar to balance out the tartness), I thought a nice roasted pear would fair well. The result was a fat free, yet indulgent sorbet, with lots of aromatic rosemary flavour and a nice balanced level of sweetness from the maple.  If you don't have an ice cream maker, you canjust turn this into a granita by freezing the puree and scraping it away into a cup. But honestly, folks, invest in a machine, the air it adds in the churning process really makes for a luscious smooth treat. This is what I did:
Roasted Pear Rosemary Sorbet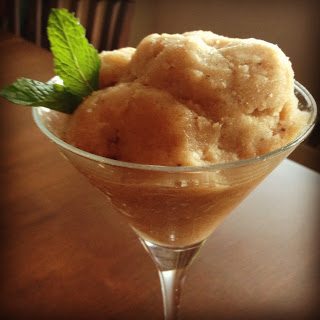 Roasted Pear Rosemary Sorbet
The result was a fat free, yet indulgent sorbet, with lots of aromatic rosemary flavour and a nice balanced level of sweetness from the maple.
Ingredients
6

Bosk Pears

, peeled, cored and deseeded, diced into 1/2 inch pieces

1 1/4

tsp

cinnamon

(or to taste, I like a heavy hand with cinnamon)

1/8

tsp

freshly grated nutmeg

(again, to taste, I just grate it for about 4-5 seconds)

6

tbsp

dark brown sugar

1

vanilla bean

, split, seeds removed and bean reserved

3/4

tbsp

fresh rosemary

, minced fine

1 1/2

cups

pear nectar

1

cup

water

1 1/2

tsp

lemon juice

~6 tbsp real maple syrup

(also to taste, it really depends on the ripeness of your pears)
Instructions
Preheat your oven to 350 F.

Toss your pears with the cinnamon, nutmeg, brown sugar, rosemary and the vanilla bean seeds in a nonstick baking dish. Nestle the reserved bean into the pieces of pear and roast for 45 minutes, or until the pear is tender and caramelized.

Discard the beans, and transfer the puree to a blender, along with the pear nectar, water, lemon juice and maple syrup to taste. Process until silky smooth. Transfer to a dish and refrigerate until cold.

Once cold, pour the puree into the ice cream maker (as per the your unit's directions). You can eat it soft out of the machine or pop into the freezer to harden up before scooping and serving.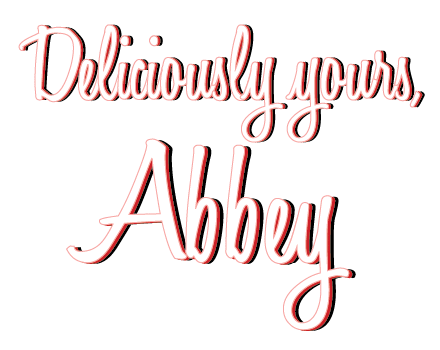 Follow Abbey!
Subscribe to new posts!
Subscribe to my weekly newsletter so you never miss any contests, restaurant news, recipes and more foodie fun!
Email:

You might also like…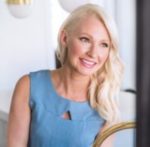 Abbey Sharp is a Registered Dietitian, an avid food writer and blogger, a cookbook author and the founder of Abbey's Kitchen Inc.