It's about time. After numerous visits to the Rock Lobster Co. pop-ups, an entire Sunday actually in the restaurant for the Taco Throwdown, and only 1 week away from their participation in the upcoming Sips and Nibbles, I was clearly overdue for a preview of RLC's new digs.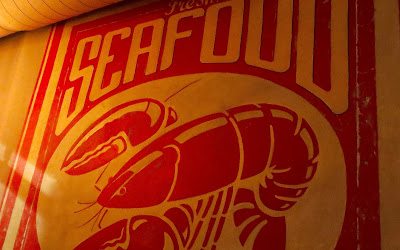 If you've been living under a TO-culture-deprived rock for the past year or so, RLC started their journey as a pop-up at the Toronto Underground Market. While TUM provides the supportive groundwork for food entrepreneurs to explore gaps in Toronto's culinary culture, it's up to chef's like Matt Pettit to recognize and fill those gaps. And boy, did Matt find a delicious one. I mean, everyone loves Lobster but not everyone has the time (or interest) in investing in a pricey, stuffy high-end restaurant experience just to get it.  And so by stuffing fresh lobster into mini buttery buns, and selling them for $4 a piece at TUM, foodies could have the decadent luxury they craved in a casual place with a comfortable price.  With such an enticing, yet simple, food business model, it was only time before Matt graduated from the pop-up world (much like other TUMAlum, La Carnita and Fidel Gastros) and opened up his own storefront.
Having opened just at the start of December as part of the sexy Ossington food scene, the place has been a-buzz non-stop. That isn't surprising, really, considering the massive python of a snaking line up they'd be touting at each and every event they would participate in. I myself always knew it was well worth getting in that line, and I knew it would likewise be worth a line up here. Yep, like so many hot spots in the city with limited seating (72 in total) and relatively quick turn around, RLC doesn't take reservations. Thankfully for us, we just slipped in under the radar (at the early hour of 7:30) and landed a deuce right away and by 9 PM on a chilly Saturday night, the place was completely packed. In such small quarters, that not surprisingly translates itself to me speaking at a higher than normal decibel and then paying for it when I wake up sounding a little like a slightly more classy version of a blue-haired cartoon character whose name rhymes with Narge. Yeah, it's loud in there, but honestly no more so than every other restaurant I've visited of late, and I'll always choose hearing music and chatter over the abrasive sound of cutlery in a hauntingly quiet space. Especially if said chatter is coming from a table of eight (yes eight!) good looking men to my left. Single (or not so single) ladies, take note. Lobster is inherently hot.
Service at RLC was friendly and efficient. Cocktails were delivered almost immediately, water glasses were refilled, and the food began emerging surprisingly quick. Only 40 minutes in, and we were ready for dessert, and yet, I thankfully was never made to feel the push to gobble up and leave. When all was said and done, we were in and out in about 1 1/2 hours, which is my preferred casual dining time.
The cocktail menu, created by Josh Lindley (of Campagnolo and GwaiLo), is incredibly enticing and exciting, offering a wide range of some of my favourite seasonal flavour profiles. In addition to the 7 cocktails and the 4 draught beers, Lindley also features 3 wines on tap, a unique bar feature that's a steal at only $1 per oz (for Ontario). But it wasn't until after the fact that I even cared to look at the drink menu, because I had my heart on one thing and one thing only- their signature Rock Lobster Caesar ($12). A Caesar girl as it is, I just had to look around the room at all of the lobster tail adorned cocktails to know what I'd be drinking that night. And this Caesar is a fiery version, for sure, with an extra kick from the pepper-heavy, satisfyingly salty steak seasonings along the rim. While I probably would have preferred a touch more Clamato to balance out all the heat, I was really impressed by the generous lobster tail peeking out of the top of my glass. An appropriate warm up to our imminent lobster marathon.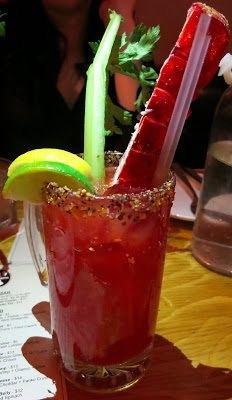 Rock Lobster Caesar
And speaking of said marathon, this is what we had:
Lobster Poutine: Yukon Gold Hand-cut Fries, Lobster Bisque Gravy, Quebec Curds, Fresh Lobster and Chives ($13)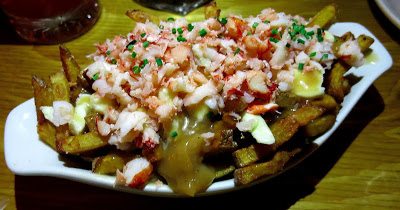 Off to a decadent start. Hidden beneath a much-appreciated Mount Everest of sumptuous lobster bits laid a bed of seemingly sturdy fries. Despite the generous portion of protein, and the even cover of gravy, the fries remained crispy and light for our (albeit short) eating episode. And while the lobster was fresh and tender, and the curds let out a gentle squeak, it was the gravy that sent me into a mild state of anxiety as the portion started to shrink. With characteristics of any good bisque, it was creamy without a burdensome weight, and salty but with a hint of natural sweetness to balance. It was the kind of gravy I could happily drown my low- fat Special K with and feel simultaneously both virtuous and indulgent.
Lobster Mac and Cheese: Fresh Lobster, Aged Canadian Cheddar and Panko Crust ($13)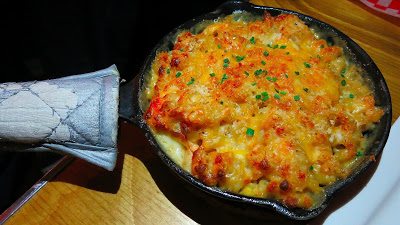 Classic and comforting, with no need for contrasting colours, shapes, unique plating or garnishes, and yet, it truly looked like a blue ribbon dish. Appearance aside, this preparation is my preferred "style" of a mac n' cheese- adequate sauce coverage, lots of cheesy pull, and a crispy golden crust on top.  It definitely wasn't as lobster-laden as the poutine, but the bits were chopped more coarsely, so that some bites were practically just shellfish with a little cheese. When you hit that gold, it's not something to complain about, really. With regards to the MnC itself, I found the flavour to be a little more subdued than I would normally want, however, in retrospect, I wonder if a more pungent cheese may have completely dominated the delicate shellfish.  Regardless, a tasty, decadent dish in a generous portion for sharing.
Surf and Turf Steak Tartare: Steak Tartare and Vanilla Butter Poached Lobster, Yukon Chips and Sea Salt ($12)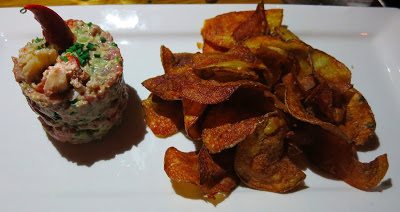 From the menu description, we were both expecting a portion of steak tartare AND some part of the poached lobster separately. Unfortunately for my no-meat-eating dining companion (but bonus for me!), the proteins came mixed together. While I missed the delicate vanilla through the zingy horseradish cream mixed throughout, I was pleased with the harmony of the two proteins working together.  It would be a real crying shame not to appreciate that beautiful lobster flavour, but thankfully, the tartare preparation left the beef's flavours fresh and mild so as not to lose sight of the restaurants namesake.   While a few of the housemade chips came out a little more (or sometimes less) done than desirable, they generally made for a playful and addictive vessel for getting themeat from fork to mouth.
Rock Lobster Roll: Yukon Chips and McClure's Dill Pickle ($14)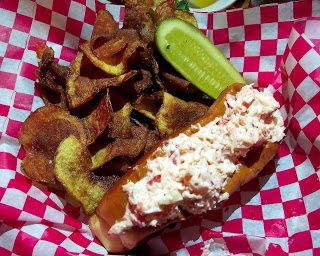 While I've had the mini rolls many times at events and grown fonder and fonder every time, it was a new experience to get the full-sized version which packs an even bigger lobster-punch (ha, I just imagined a lobster punching. HA! Okay, nevermind.) The buttery fluffy rolls maintain their structure despite the moist filling inside, and the meat itself was sweet and seasoned well. I did find some bites to be little too finely shredded and mayo-heavy for my preference, but I'd call that a minor concern in light of an overall satisfying bite.
Whale Tail: Creme Anglaise, Cinnamon Sugar, Canadian Maple Sugar ($6)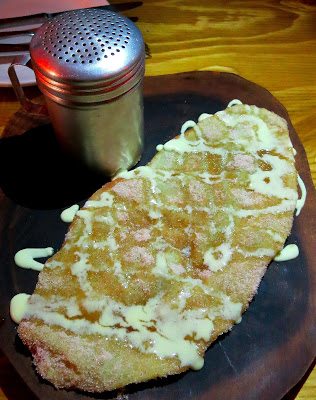 If you're not a fan of sugar, this won't be a dessert for you. But if you have even a tiny sweet tooth (like, even a back molar will do), grab a friend or two (or three) just for one light and crunchy bite of sugar on sugar on sugar (on fried dough). This Whale Tail tasted similar to the Beaver Tail I remember begging my mom for at the summer fair, but closer in consistency to a sweet cracker than a heavy doughnut. A cheeky nod to nostalgia (East Coast Style, I presume), and I'm always down for that.
So for 2 cocktails, and 4 savoury and 1 sweet course, the bill came to about $115 including tax and tip. Considering we ate lobster in four courses (actually five if you count the cocktail), and left satisfied but not stuffed, I'd say it's a really fair deal. Not to mention, lobster has never really made it into my usual home cooking rotation, nor do I think it likely ever will (I'll let someone else do commit that crime, thank you), so I'm beyond pleased to have a fun, and relatively affordable spot for me to reliably suppress my lobster desires. And if the packed house was any indication, I'm sure others are feeling the same.
Congrats RLC for a seamless and successful transition from pop-up to restaurant! A solid addition to our Toronto food scene, and an inspiration to future scene hopefuls.
Updated on May 8th, 2019