As any regular Abbey's Kitchen reader may know, I'm a big fan of Matty Dean Pettit and everything he does. I've been following his lobster-rolling antics since the early TUM days, and knew that his seafood empire was going to grow at wicked rates.  But did I expect him to graduate as TUMAlum into not
one
, but two wildly successful restaurants in a less then a year? Well, actually, knowing Matt and his crazy work ethic, yes, I kind of did know. Now, that doesn't mean I didn't think he was a wee-bit crazy. It's tough to open a brand new restaurant while holding down the fort around the bend. Meanwhile, despite all the restaurant action, his pop-ups and event itinerary (including
#AKS #BattleOne
) never seemed to slow down either!  And while most people just couldn't juggle all that without a breakdown, a drug stint and a really crappy opening, Matt pulled it off without a single rock in the boat. Yep, judging by my first visit to the 3-week old Queen West digs, it's clear that Matty's outdone himself again.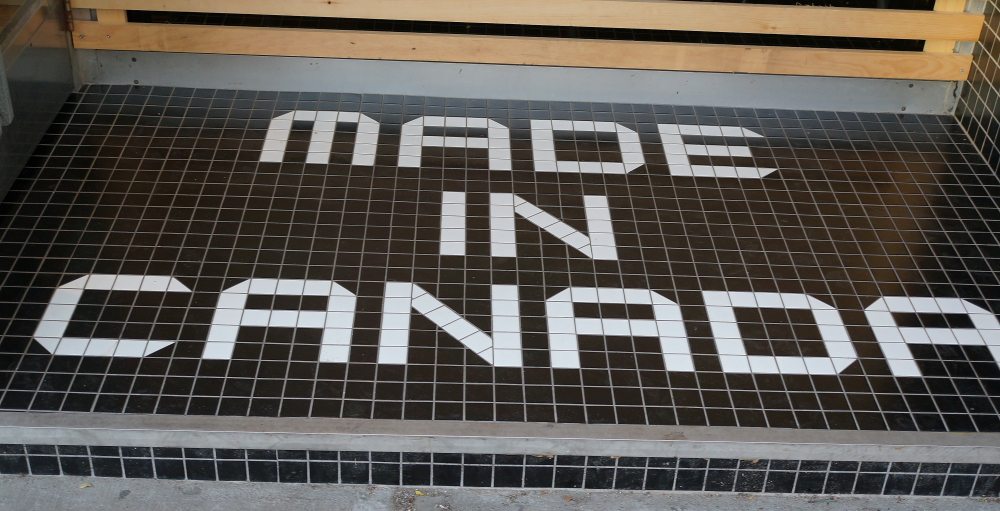 Owned by Chef Pettit, Darryl Fine (Bovine Sex Club) and Alan Thomson (Sotto Voce), the New Rock Lobster Food Co. on Queen occupies the old Shanghai Cowgirl space making it twice the size of the popular Ossington joint. And while the new space holds an extra 150 happy lobster lovers, Matt told me the original is still packed every night. And while neither take dining reservations, with the Queen St. 80-seat patio open, and the service as quick as it is, it's likely the wait won't be uncomfortably long.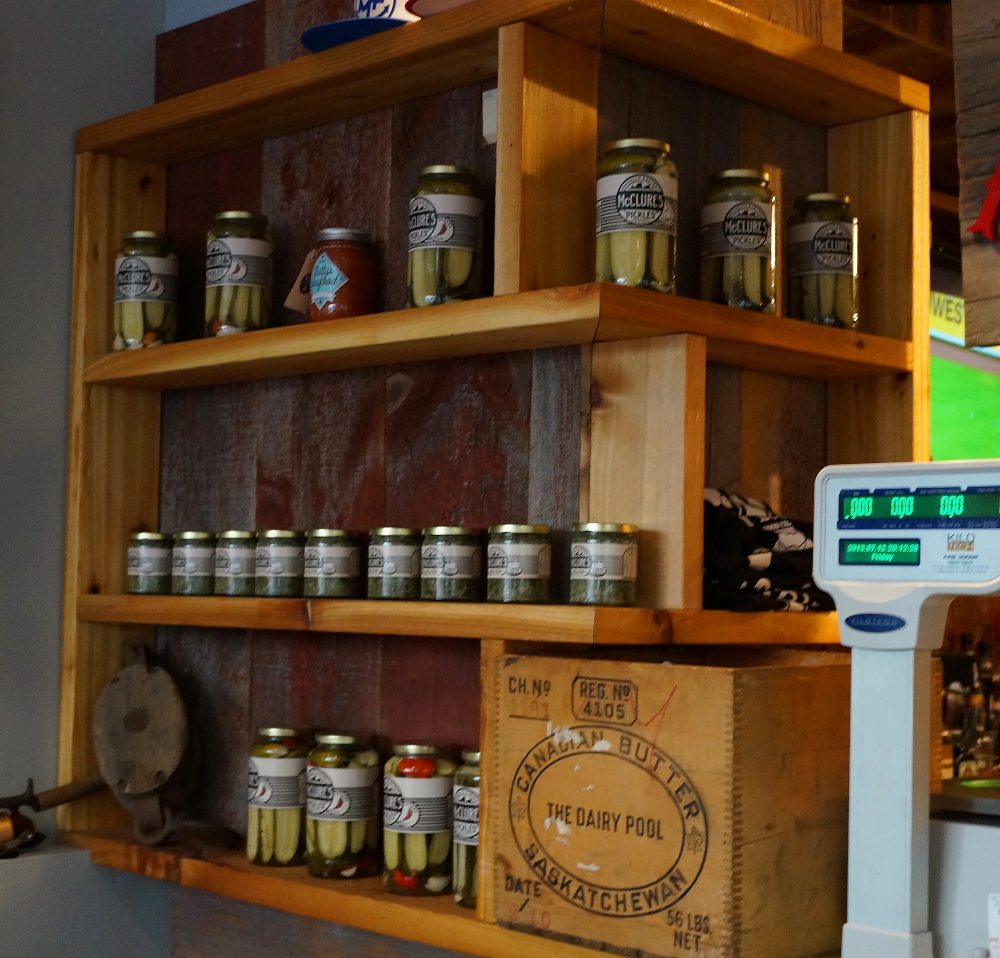 And even if there is a little line up, think of it as a great excuse to check out the retail counter beside the bar, where Matty's selling fresh seafood and appropriate condiments like his Seafood sauce, Seafood Lobster Bisque, and my beloved McClure's pickles. I will definitely be back for "take out" one night.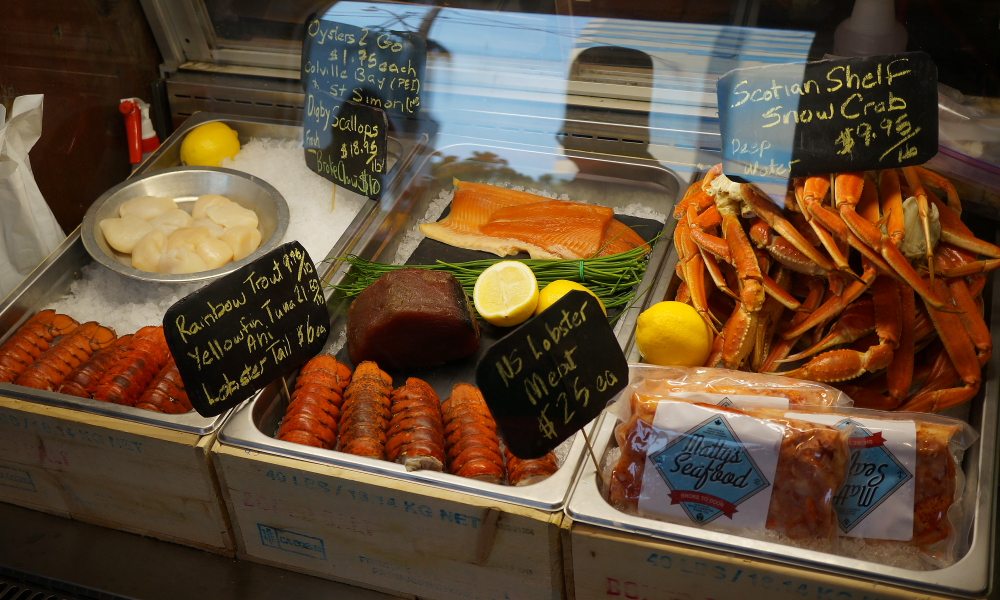 The décor inside and out is Canadiana-crazy in a familiar nostalgic way. The walls are adorned with canoe paddles, and local (dead, well, hopefully) wildlife, with a wicked "Homeward Bound" mural painted on the wall.  I'm obsessed with nautical paraphernalia so this just made me wiggle with excitement thinking, "I want, I want, I want".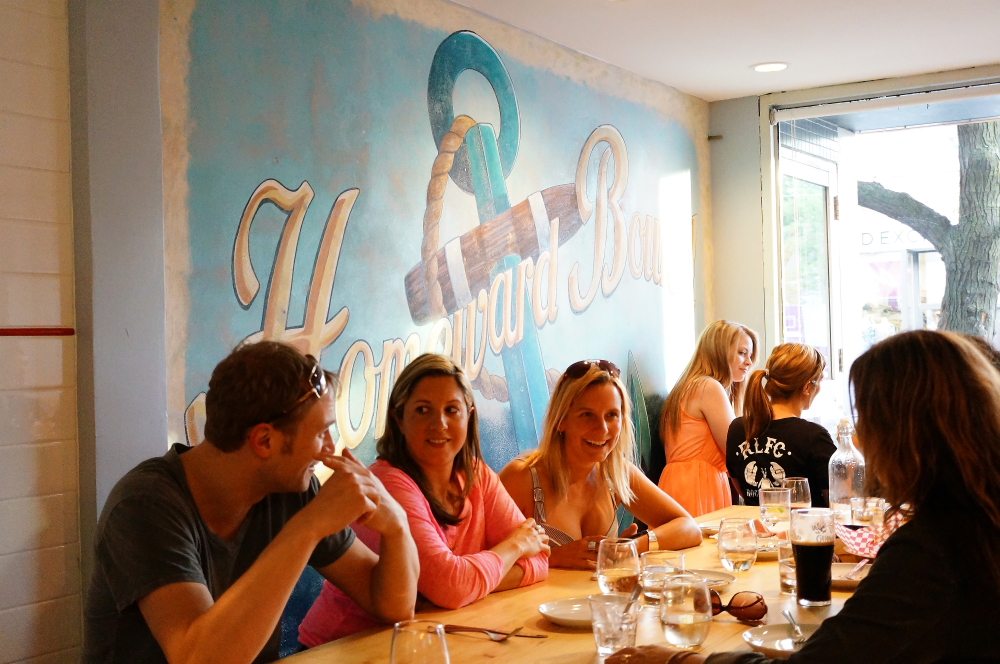 With wooden chairs, benches, tables, walls and shelves, the whole thing reminds me of a family cottage up north, which while not exactly glamourous does certainly feel like home.  Out back, the patio is equally rustic, with wooden banquettes so warn looking that you'd swear they were built 10 years ago and endured the harsh Canadian winters ever since.  And you can't miss the adorable beaver with a Hudson's Bay Co. rainbow behind it, and the massive block letters spelling out the name of our glorious land. I'm not entirely sure why the N and the A are larger than the rest in the word Canada, but I guess it just adds to the cottage-chic hodge-podge design.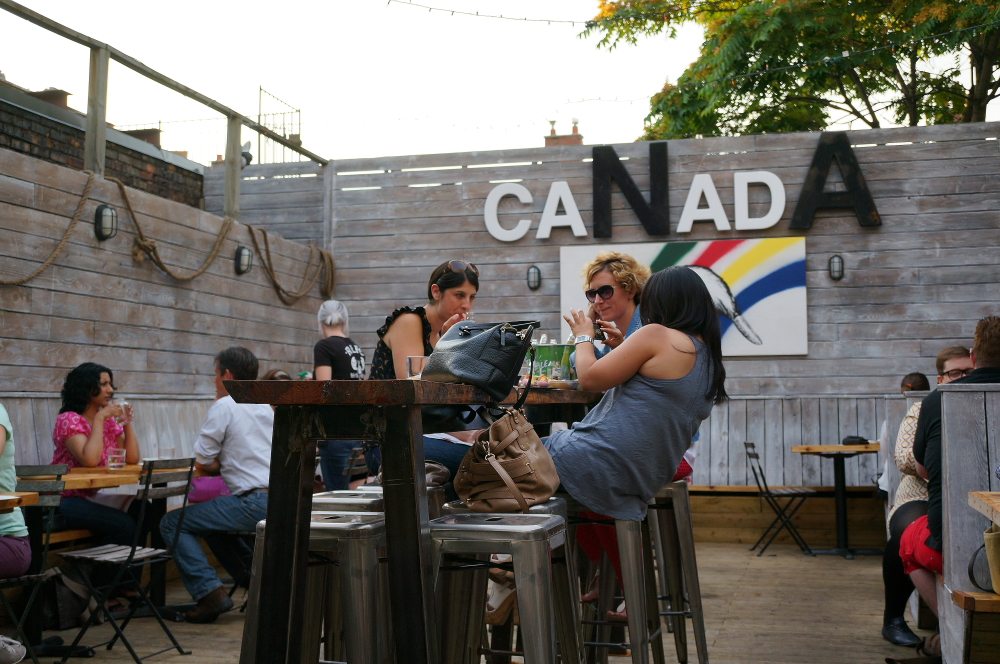 While certainly true for the patio, where noise is able to disperse itself out a little better than usual, I even noticed the noise level indoors to be a lot more palatable than at the Ossington digs. Definitely a major plus for an old timin' couple like us.  But considering it was the best weekend so far this summer, we grabbed a seat on the patio and took in the beautiful night.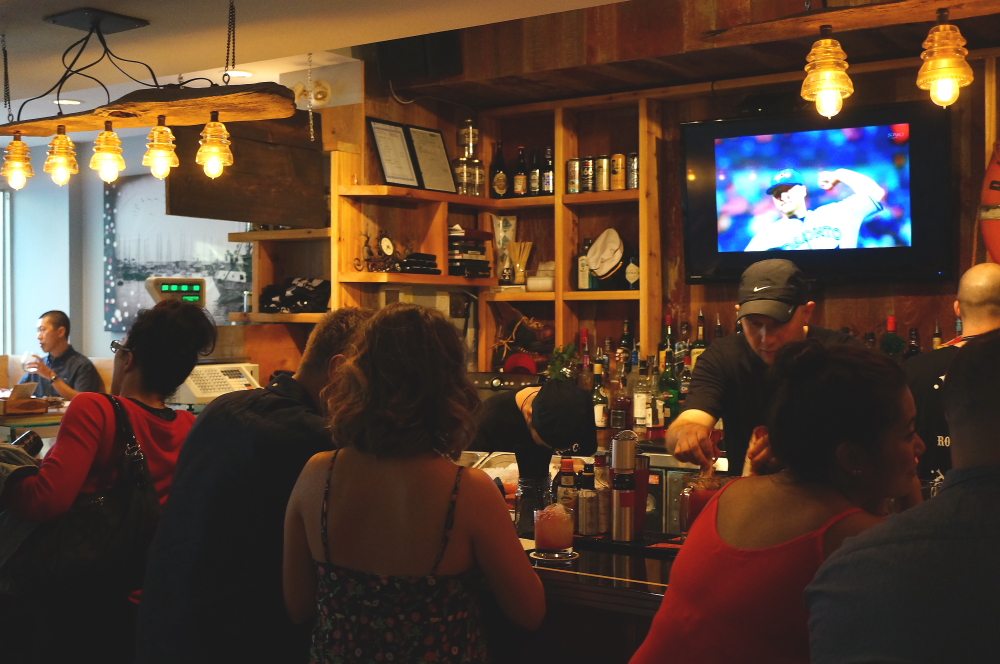 Like any trip to the cottage or cabin, the service at RLCQ was casual, comfortable and inviting. Our adorable server had more energy than a 3 year old on a sugar high, a attributed it to being in her 20s (so why aren't I like that?). Well, like our server, the kitchen was also working at an above average energy and speed. Within about 3 minutes of ordering, our first dish was on the table, and the rest of them followed suit just a few minutes behind the last. For the average diners, especially larger parties who are looking to pass and share, this is probably not such a bad thing. I would take fast service over painfully slow service any and every day of the week. But having said that, too many dishes on the table can sometimes be a little hectic for a blogger who's trying to photograph and consider each plate.  Maybe the solution is to ask the server (to ask the kitchen) to fire them off one by one, or maybe just order as you go considering they so quickly can be pumped out.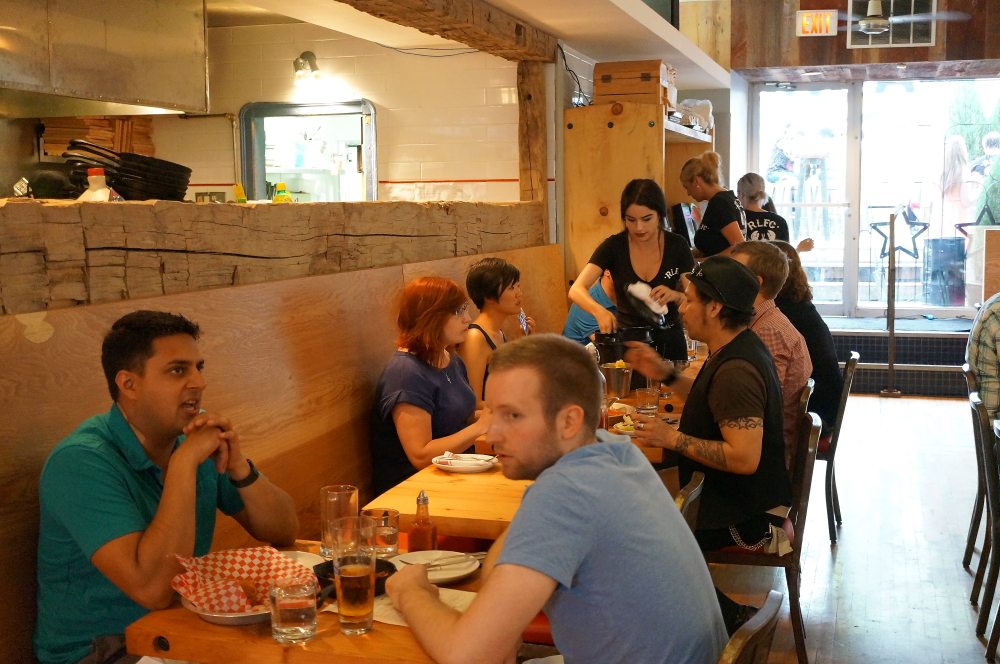 The one thing I'll always take hard and fast though are my cocktails, especially if they're as good as the ones Pettit's drink director, Robin Wynne, is pouring.  Sticking with the tried and true, Matt's famous Lobster-tail Caesar is obviously on the menu, but there are 8 new other concoctions to tempt me through my meal. Some are more sophisticated like a cigar-scented Manhattan, while others remind me of the random concoctions I dream up after a couple rounds of beer pong at the cottage (Froot Loop infused vodka, anyone?).  They also offer 6 local and international brews of draught, another 23 in bottles or cans, and even three Niagara or Italian wines on tap priced by the ounce! While I was intrigued by the wine tap deal, the cocktails were calling my name. Honestly, I wanted to try every damn cocktail on the menu, but in the end decided on:
The Rock Lobster Caesar – Ketal One Vodka Steak Spice Tabasco Worchestershire Clamato Nova Scotia Lobster Tail ($12)
While the first time I ordered this (at Ossington), I found it a wee-bit watery, this one was totally on point. Very spicy, with a good kick of tangy clamato and a beautifully cooked lobster tail to soak up all that booze. This is a must order if you come to either Rock Lobster establishment.
Hudson's Bay Sour – Bulleit Bourbon Grilled Pineapple Old Bay Seasoning Lemon Juice Egg Whites Sweet Cedar Maple Bitters ($10)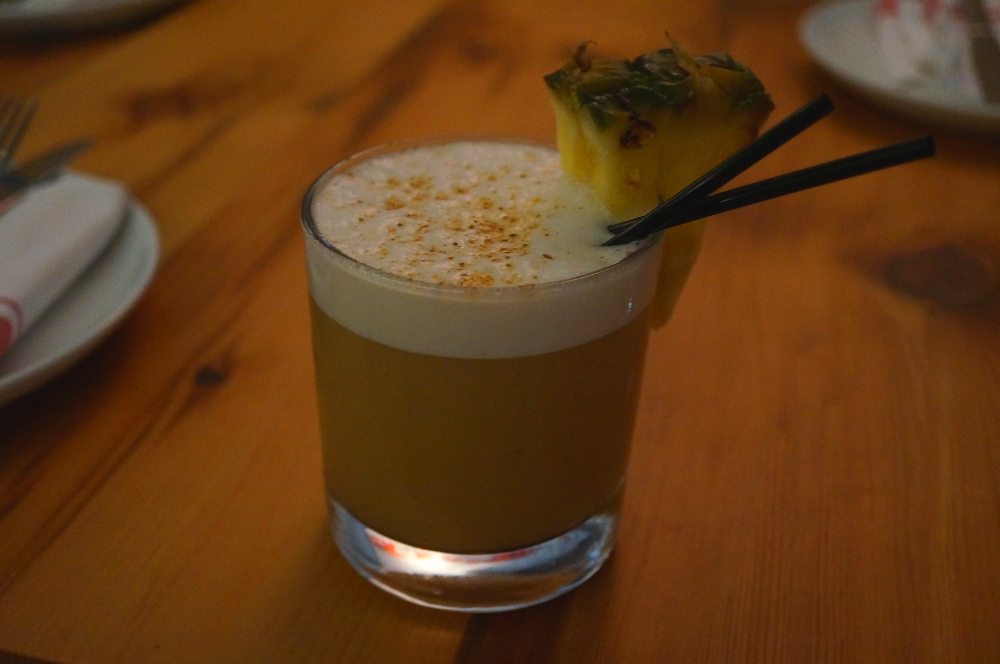 Very well balanced sour with a gentle level of sweetness and acid, and a wicked amount of egg white foam.  I also liked the savoury kick from the Old Bay in there.
One Stormy Night- Mount Gay Extra Old Rum, Lime Juice, Spiced Chai Syrup, Cola Bitters and Ginger Beer ($10)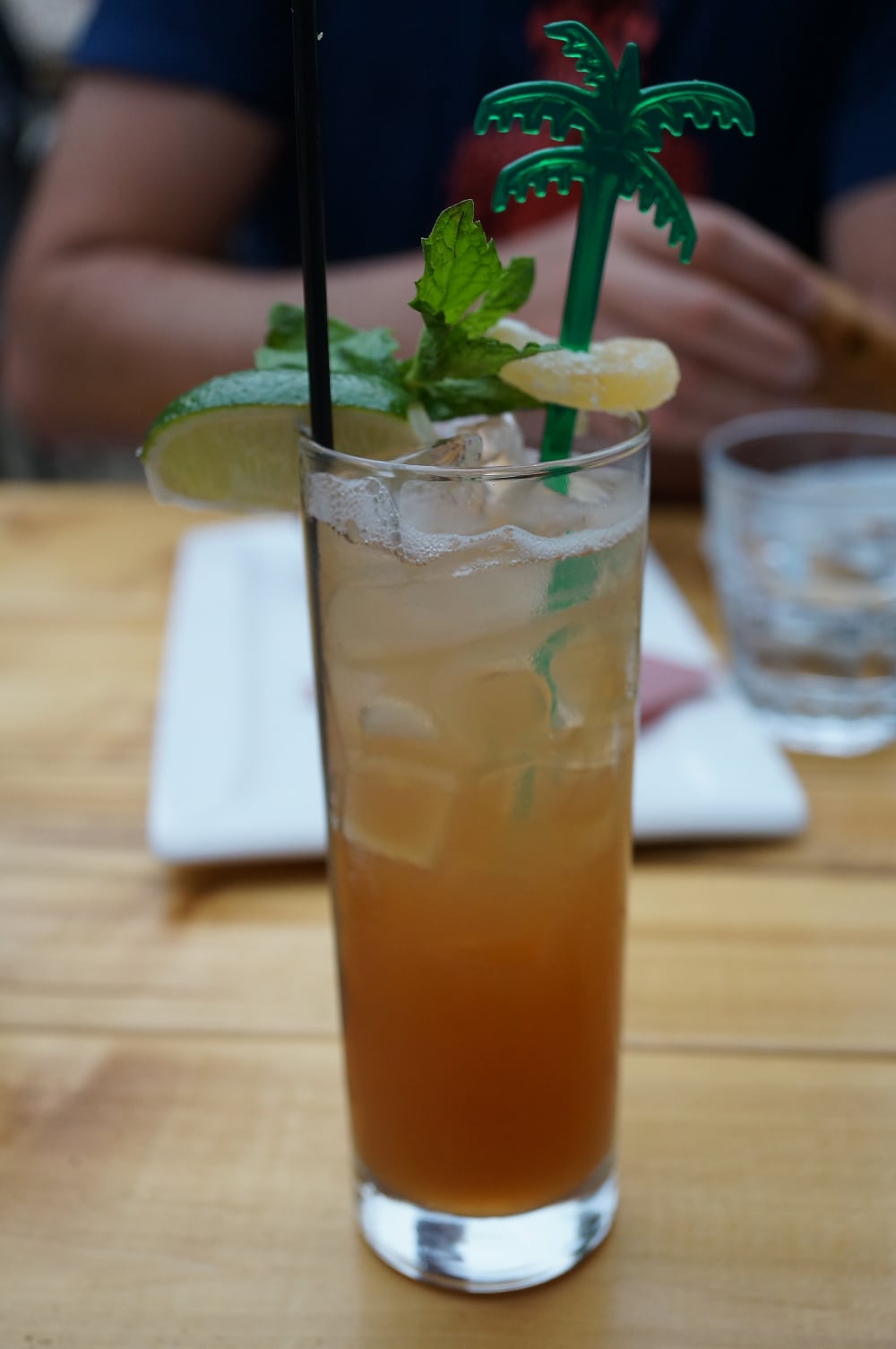 This was the winner cocktail of the night, so much that he had to have two. It was tangy, spicy, aromatic and slightly sweet, and the little ring of candied ginger just made the whole thing that much more addictive. Order-this-now.
Breakfast of Champions – Fruit Loop Infused Vodka Cointreau Aztec Bitters Cereal Milk ($10)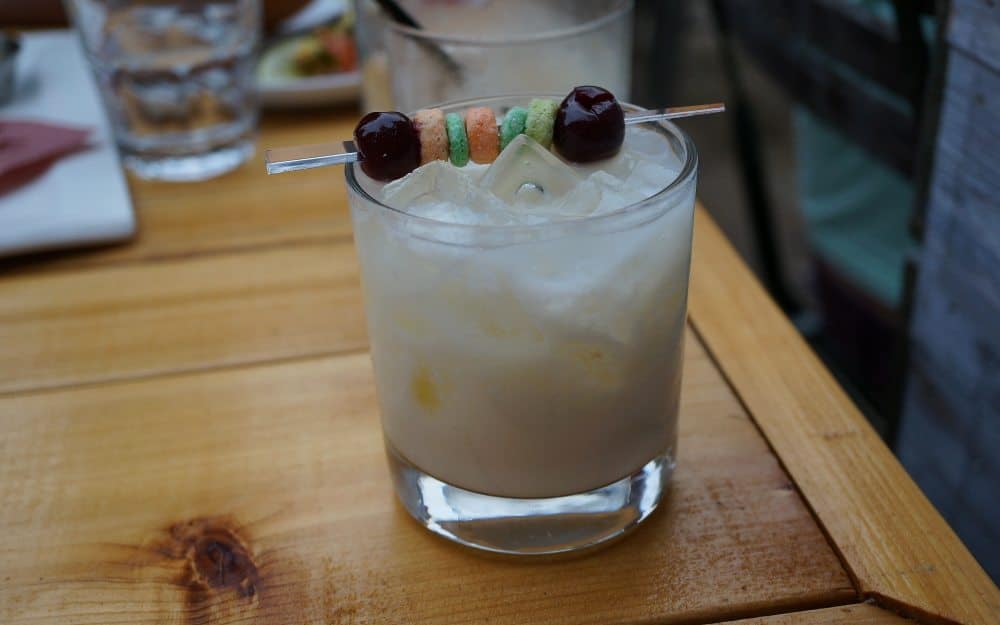 I was just so curious so I had to order this drink, and yep, admittedly, it tasted just like you'd expect. Kind of like your alcoholic mom accidently spilled liquor into your morning cereal and she didn't notice until you chugged the milk a little more enthusiastically than normal. This is probably not the type of thing you'd want to drink all night long, but a nostalgic novelty for sure.
Von Bacon's "The Red Maple" – Bacon Infused Maple Crown Royal, Chipotle Tabasco, Bacon Infused Worchestershire Liquid Mesquite Clamato Bacon Rimmer Candied Bacon Strips ($11)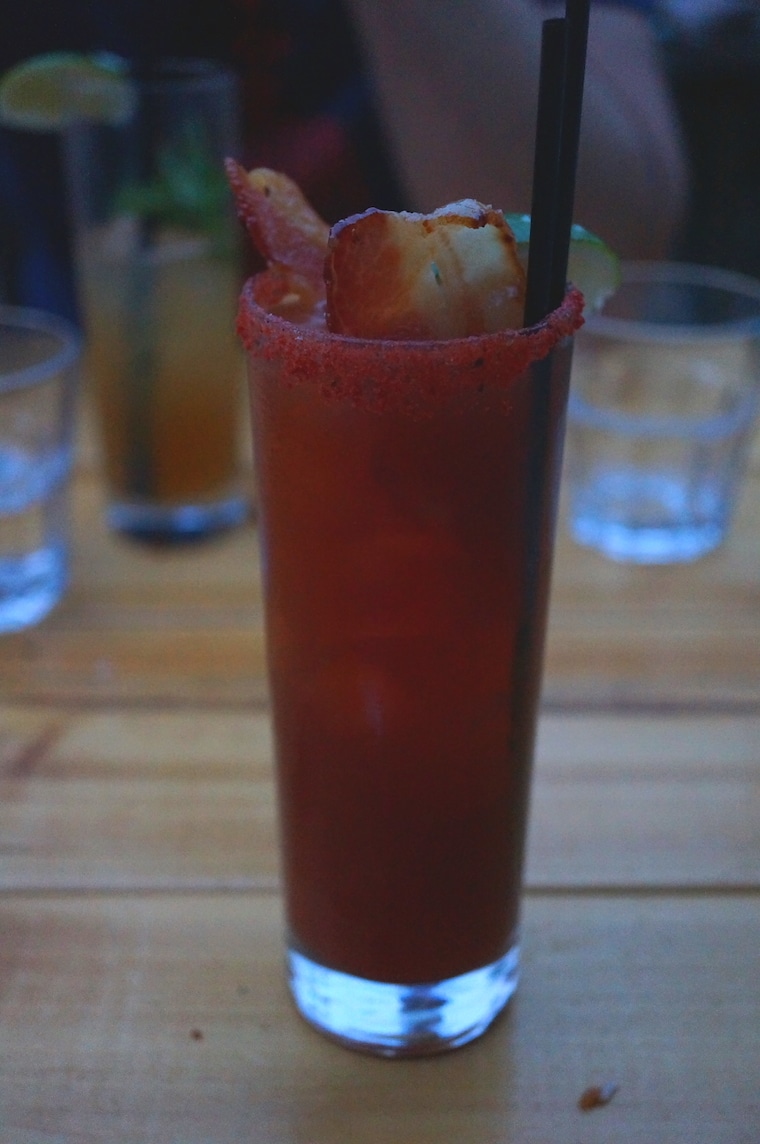 While the Caesar's lobster tail captured my fascination, the candied bacon garnish here just totally stole my Jewish heart.  This drink was maple bacon through-and-through, with the unmistakable aroma of smoke from the chipotle and liquid mesquite, and a fabulous balance of salty, tangy and sweet. If you're a Caesar drinker, like whisky, and are not an observant Jew, then I highly recommend this drink.
Like the drinks, the food menu features Matty's most popular Ossington items in conjunction with a variety of delicious new dishes. Sure, you can obviously get the famed lobster rolls or moutwatering lobster poutine, and even new playful plates like a bacon-wrapped corn dog and battered fish sandwich, but there is also an emphasis on simple preparations that help balance out the more indulgent counterparts. Here you've got more raw bar, and steam pots, each that come packed with so much seafood, you can't help but feel you're on the East Coast. And for the fish-phobes at the table, Matt has also added a number of "Land" options as well including burgers, bacon sandwiches, salads, steak and grilled cheese. Echoing my earlier sentiments, this is cottage comfort food for the food enthusiast. While I would have loved to sample one of the temping steam pots, our server suggested that they're just so big, we wouldn't have room for much else. So together we decided to go "full force tapas style", as she described it, opting to try:
Lobster Devilled Eggs – Devilled Eggs, Lobster Egg Filling, Lobster Meat, Micro Greens ($7)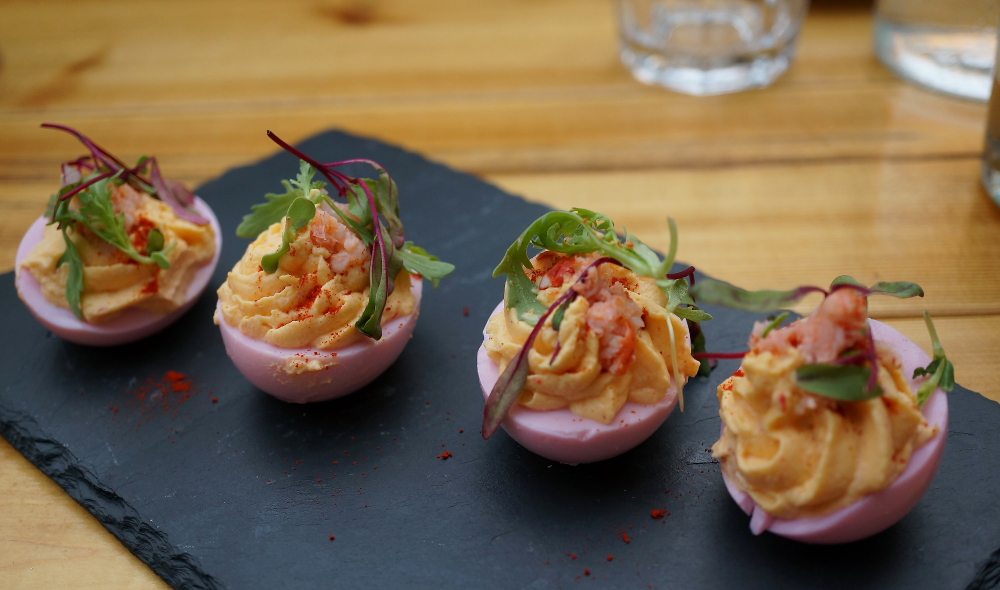 So I didn't think I even liked devilled eggs until I met a Matty egg. The generously swirled filling was creamy and seasoned beautifully, with a nice balance of subtle sweetness from the shellfish. A beautiful two-biter.
Brown Butter Digby Scallops – Digby Scallops, Brown Butter, Mint Green Pea Puree, Canadian Atlantic Snow Crab Meat, Micro Greens ($14)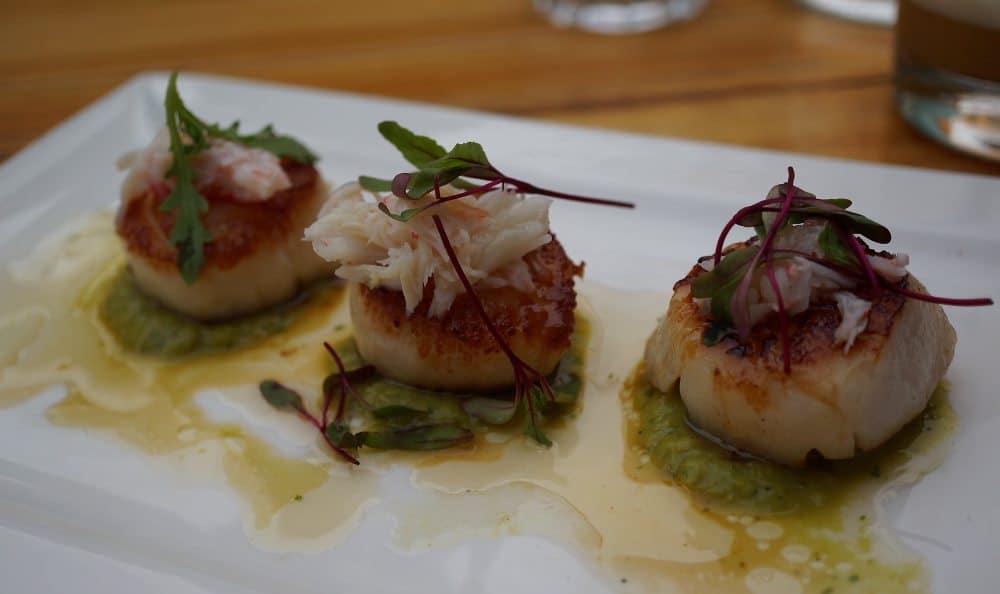 A beautiful caramelized crust, and a perfectly cooked center, I loved the nutty sweetness of the brown butter against the lean shellfish, and the refreshing mint pea puree. This is definetly the kind of dish I could eat every day and never get sick of it.
Fillet "Eh" Fish – Local Whitefish, Matty's Seafood Tartar Sauce, Lettuce, Sesame Seed Bun ($5)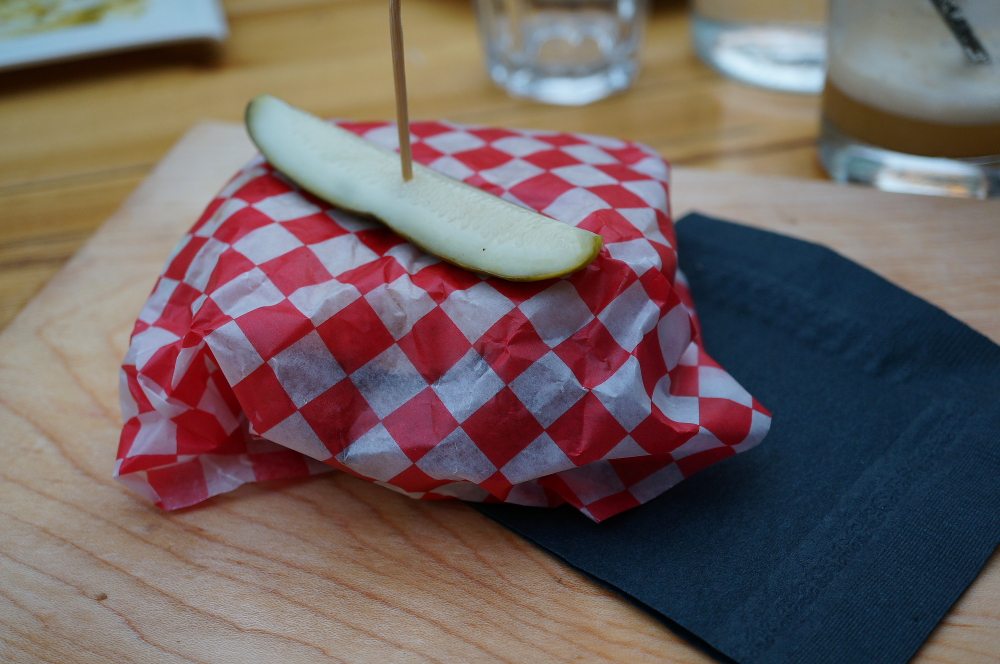 Pretty Package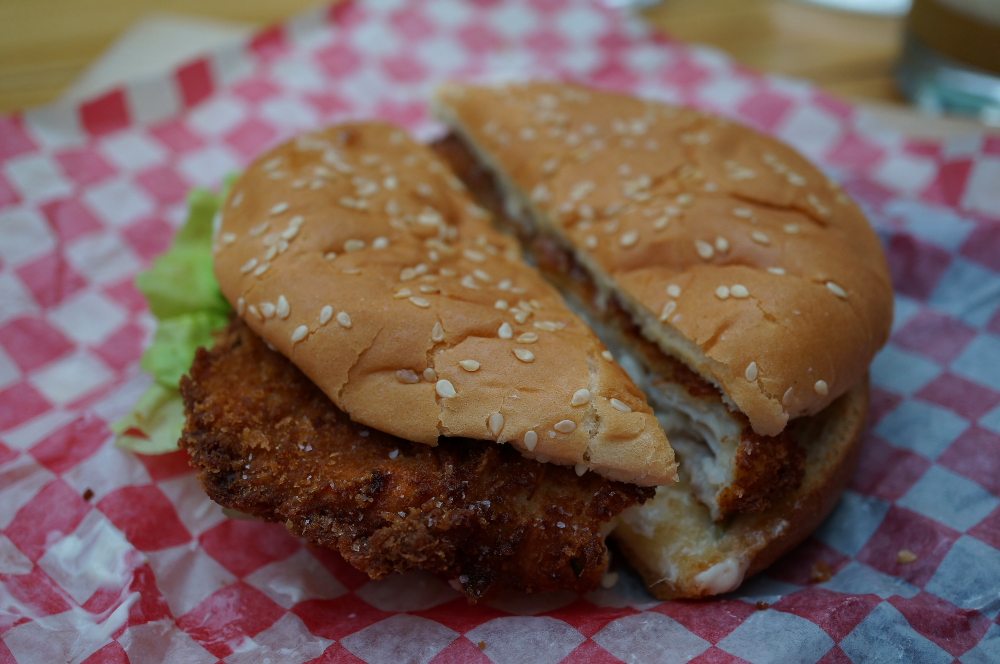 Matty told me that this was his take on the McDonald's classic, something I admittedly have never even tasted (I'm more of a nugget kinda girl). But man, if the trashy original even comes close to this version, I may hitting the drive through a little more. The whitefish was moist inside and wickedly crispy outside yielding a super satisfying textural contrast with the soft squishy bun. I also adored Matty's homemade tartar sauce, which was tangy, bright and creamy all at once. That s*it could go on anything and make it taste great.
Bacon Wrapped Corn Dogs – Local Made Hot Dog, Smoked Bacon, Classic Corn Meal Batter, Spicy Sriracha Mayo, Maple Mustard ($7)
I love corn dogs of all incarnations, and these were damn good. The batter wasn't too thin or thick, and the bacon added a nice smoky, salty bite. I also really enjoyed the two dips and their opposing qualities- a sweet and tangy mustard, and a creamy spicy mayo. Yah, there was definitely some double dipping action going on.
Corn on Cob (2 pieces) – Corn, Smoked Paprika, Crown Royal Maple Mayo, Crushed Sea Salt Chip Dusting, Micro Greens ($7)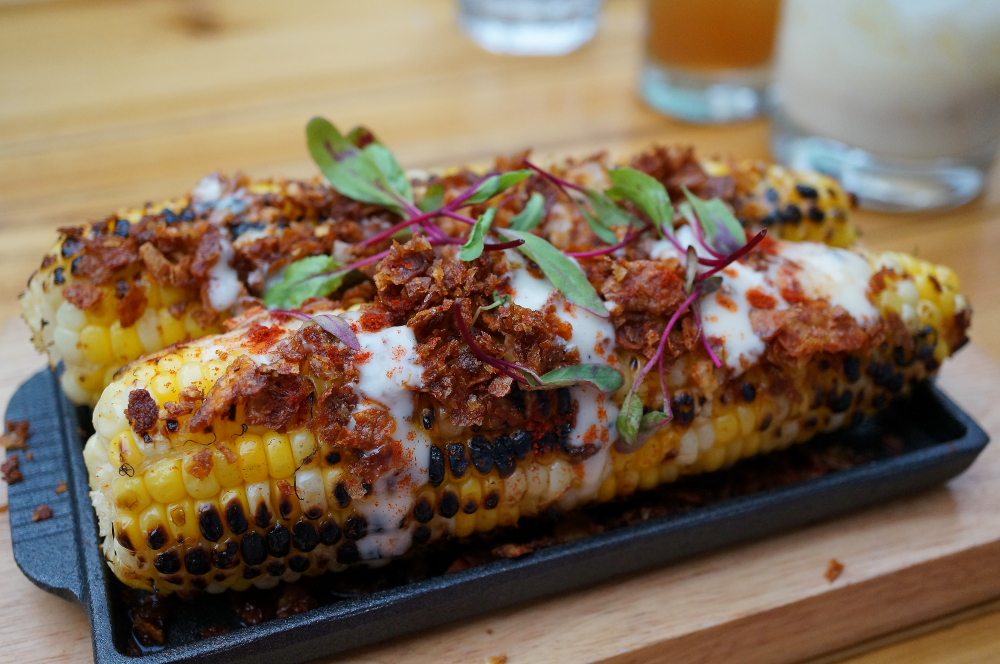 It's hard to know what came first but this looks pretty damn familiar to those of us at #AKS number one. Matt, maybe you can re-name this dish "Abbey's Corn on Cob" – #justsaying ;). Well, whatever its inspiration or name, it was damn tasty. Honestly, my partner milked that cob so dry there wasn't even a trace of evidence there had ever been kernels on it! The corn itself had been grilled and slightly charred, making it's already sweet flavour even more succulent and pronounced. Honestly, it would have been great right there, but Matty took it up to #foodgasm heights with the topping. The mayo was creamy, aromatic and sweet, the paprika added a nice kick, and the salty chips brought that much desired crunch factor. If you like corn- like even just a little bit- you are going to fall in love with this.
Lobster Poutine: Nova Scotia Lobster, Hand Cut Fries, Quebec Cheese Curds, Lobster Bisque Gravy ($13)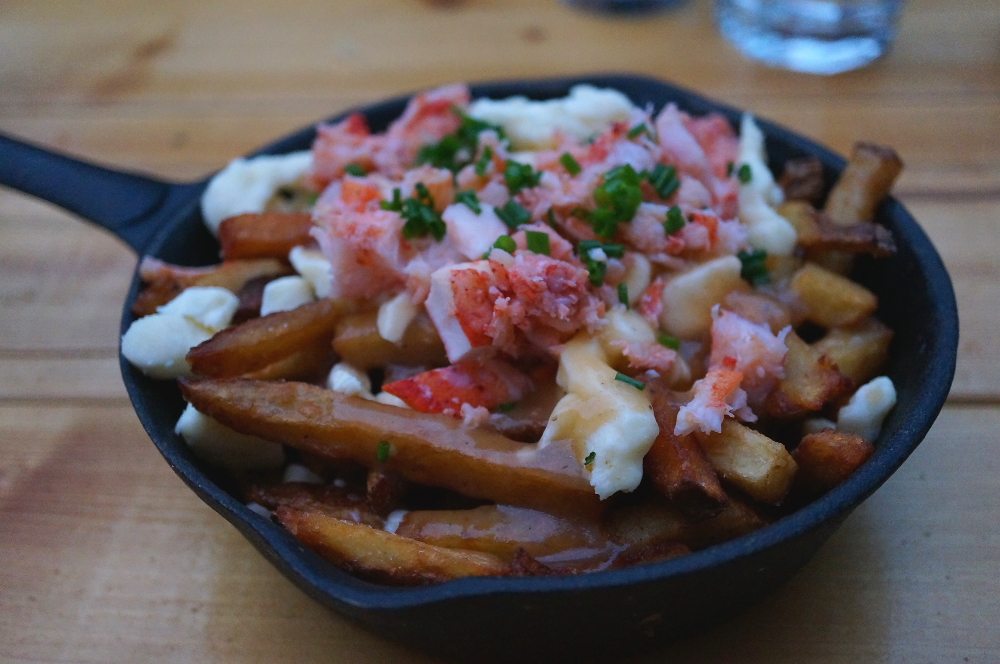 My absolute favourite dish from my visit to the original location, I couldn't bring myself to just move along to dessert without ordering this skillet of #foodporn. The fries were crispy and perfectly seasoned, while the cheese offered a satisfying squeak between my teeth. I also appreciated that the gravy, while luscious, was not at all stodgy or greasy, and the delicate sweetness of the lobster meat helped freshen the whole thing up. Yum-yum-yum.
Maple on Ice: Ontario Maple Syrup Sticks ($8)
As it arrived at our table, my partner squealed like a little school boy, "It's like our grade 8 fieldtrip to the sugar shack in Montreal!" Yes, this was one of the simplest, yet most satisfying and pleasurable desserts I have had in a while. If you didn't grow up in Canada, and have no clue what to do with a platter of "snow", reduced maple syrup, and popsicle sticks, let me give you the 101. You drizzle the syrup onto the snow, grab your stick and twirl it around the syrup so that it sticks to the stick. Then you let it sit in the snow for a few seconds to harden into candy and voila! Maple taffy lollipop. Sure, it took me all night to floss my teeth but was it worth it? Oh hell, yes.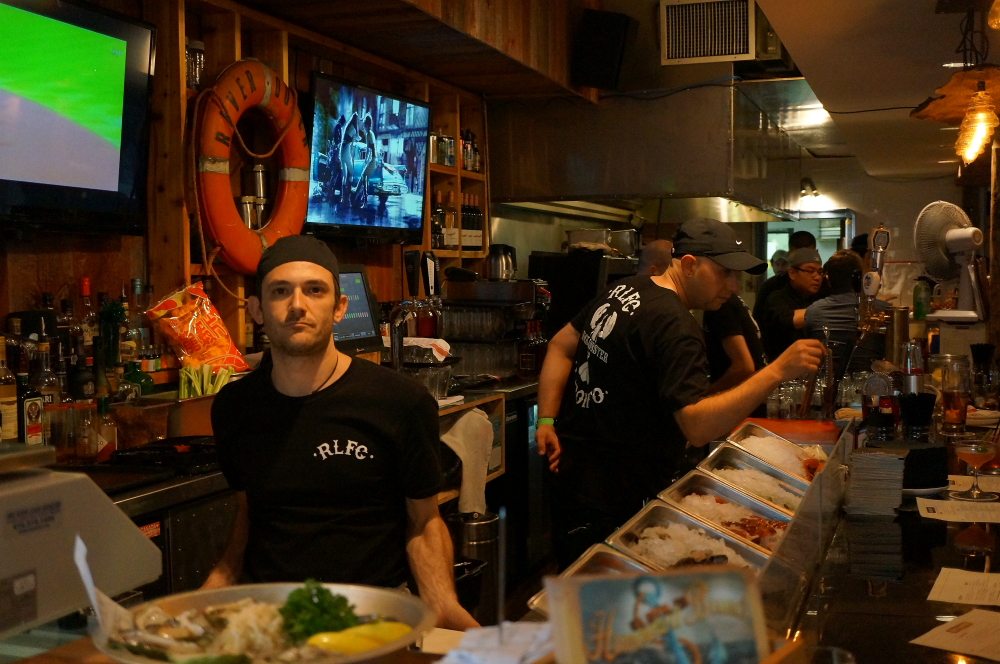 So, for 6 cocktails, and 6 dishes, the bill came to about $165 including tax and tip- very reasonable considering all of the seafood and booze we had consumed! It honestly isn't that often that I leave a restaurant and think "I can't wait to go back!" but that was exactly the sentiment I had when walking out those doors. Even now, reliving the experience through blogging, I am itching to hop in a cab and roll myself onto that patio. The service was friendly, the atmosphere was fun, and they had me with "lobster" when it came to the awesome eats and drinks. So thank you Matty and crew for a wicked summer patio date night meal- save me a perma-seat on the patio, I'll be seeing all of you again soon!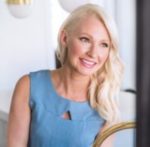 Abbey Sharp is a Registered Dietitian, an avid food writer and blogger, a cookbook author and the founder of Abbey's Kitchen Inc.