I share my school lunch survival guide helping you pack meals for everyone in the family with the same ingredients to save you money and time.
It's that time of year again, mamas (and dads!) It's back to school (and work) time, and that means… packing lunches. Ugh, I know, #firstworldproblems. But when you're exhausted from the day I get that the last thing you want to do is pack a school lunch.
I don't even like packing a lunch for me, never mind one or more kids. Where things get extra challenging is when you have kids that are at different stages and ages. Obviously a teenager's nutritional needs and food preferences are very different than a toddler's nutritional needs and preferences, which often means packing two, three or more very different meals. That's a lot to have to plan and shop for! It's not surprising that most working moms I talk to tell me that they end up just grabbing take out for themselves because they're so overextended thinking about packing for everyone else. Hey, no judgement here, the struggle is real.
While I'm still a little ways out from having to pack my kid a lunch (he is, after all, only 5 months old), I can totally imagine the stress. So I came up with a strategy for my busy working moms and dads to help you pack meals for your kids, teens and you all using the same base ingredients. Yes, my friends, that means one lunch, three ways! Here's my School Lunch Survival Guide.
School Lunch Survival Guide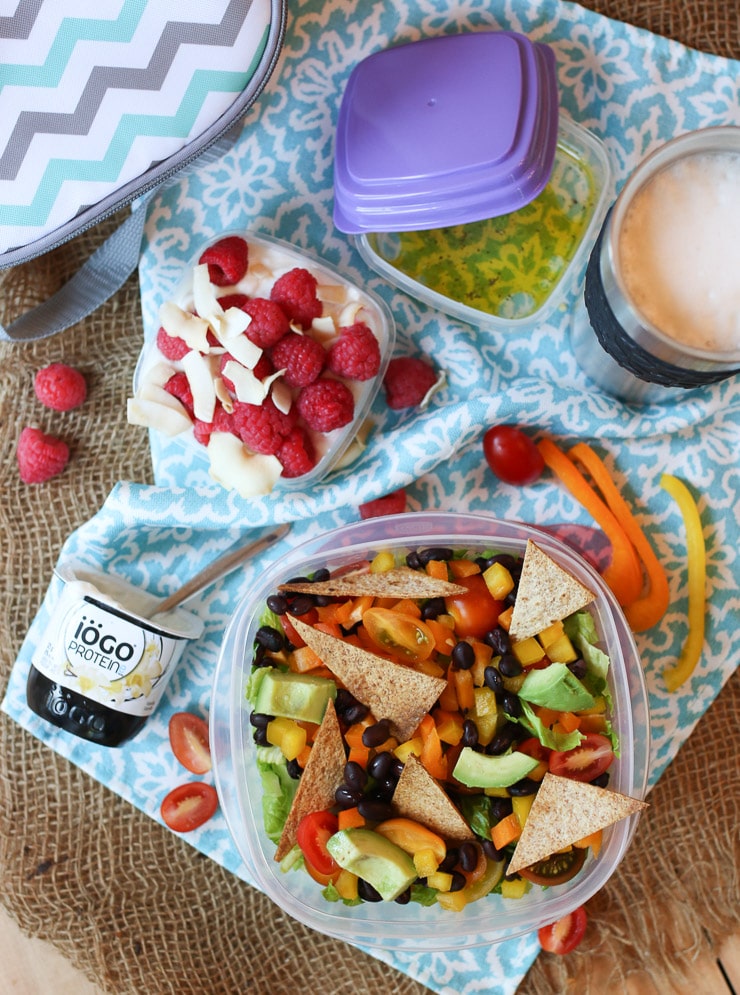 My goal when it comes to meal planning is always variety, and ensuring I'm getting a nice balance of nutrients in my day. An easy way for families to plan meals for their kids is to think about each of the different food groups and mix and match some favourites throughout the week. Here are some examples of kid approved (and adult loved, too) school lunch staples that could be included for each of the groups.
Fruit and Vegetables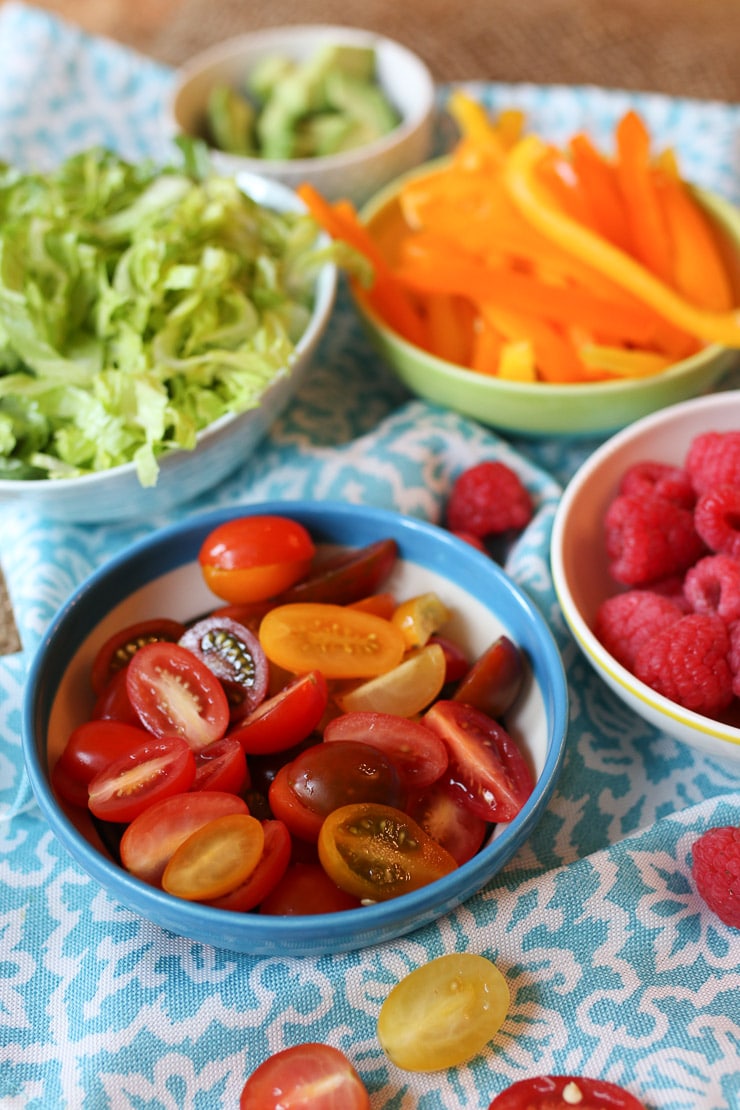 Baby carrots
Sliced bell peppers
Mashed or roasted sweet potato
Sliced cucumber
Sliced celery
Steamed green beans
Steamed asparagus spears
Lettuce/Greens
Steamed cauliflower
Steamed broccoli
Diced avocado
Baby tomatoes
Clementine
Strawberries
Diced mango
Blueberries
Raspberries
Sliced apple
Diced Pineapple
Sliced peaches
Meat and Alternatives (Protein Source)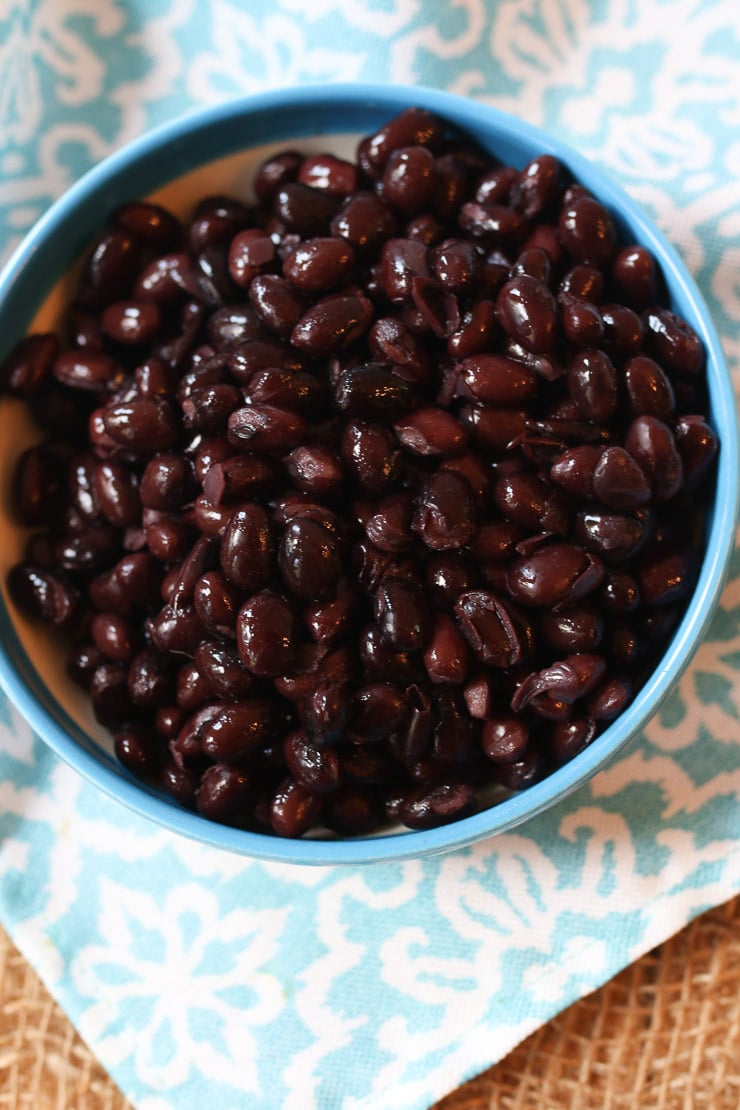 Chickpeas
Black beans
Diced chicken breast
Poached shrimp
Beef strips
Lentils
BBQ Tofu cubes
Meatballs
Sunflower seeds
Sunbutter
Hemp hearts
Chia seeds
Dairy and Alternatives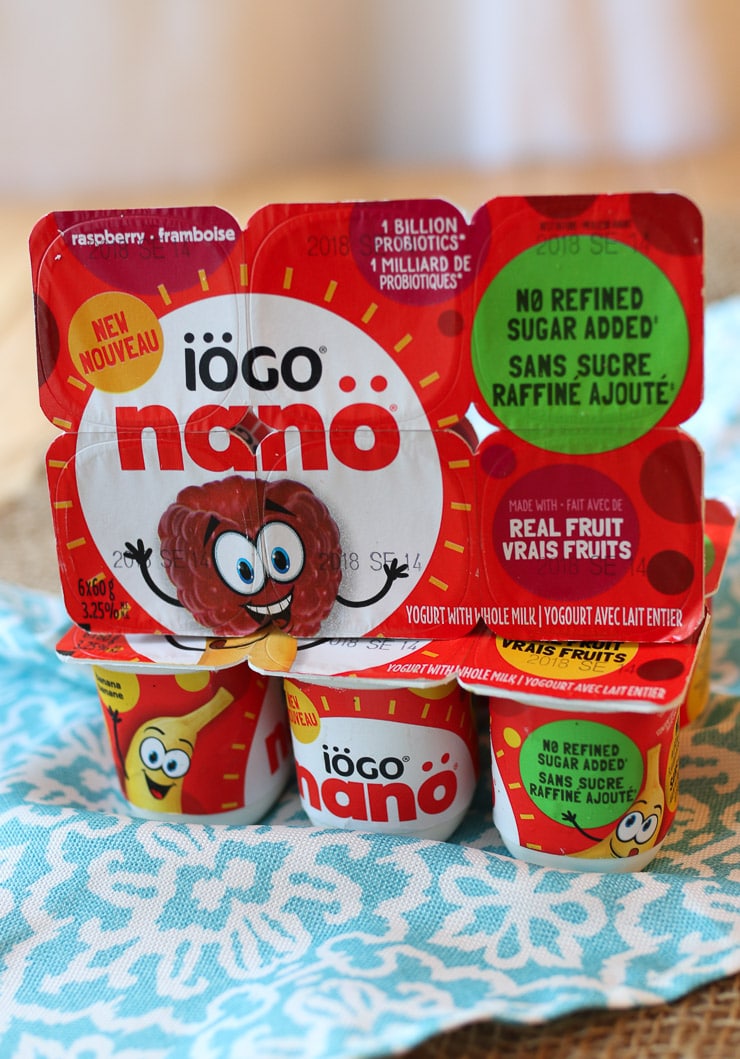 Cheese
Milk
Yogurt
Almond milk
Soy milk
Plant-based cheese
Plant-based yogurt
Keffir
Cottage Cheese
Grains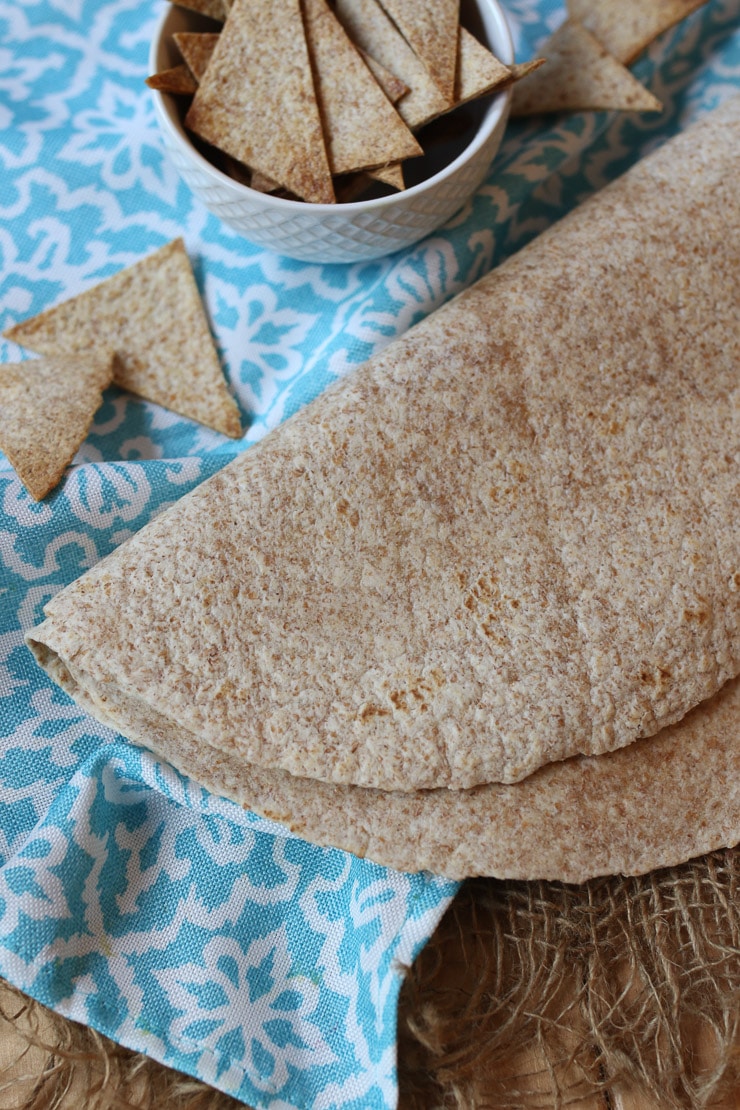 Bread
Tortilla
Quinoa
Rice
Couscous
Pasta
Now that we've got our school lunch building blocks, you need to simply choose one or two options from each of the categories and assemble them to suit the preferences and nutritional needs of your kids, teens and yourself.
How will these three school lunches differ?
Your teens and you will likely need larger portion sizes or servings than your kids.
Your teens may need more dairy and alternative products than you or your kids (hello, growth spirt!)
You'll likely need more veggies (and let's be honest, are more motivated to eat them) than your teens or kids.
You may need to "package" your meal up in a more easy-to-eat (separated) way for your little one (depending on if they're cool with their foods touching).
My Favourite School Lunch – Three Ways for Your Kids, Teens and You
This Tex-Mex inspired menu incorporates the following from our food groups:
Fruits and Vegetables: Tomatoes, bell peppers, lettuce, avocado, and mango
Meat and alternatives: Black beans
Grains: Whole grain tortilla
Dairy and Alternatives: Nano Yogurt and Cheese, IOGO Yogurt and milk (or almond milk)
For Your Child's School Lunch- Bento Box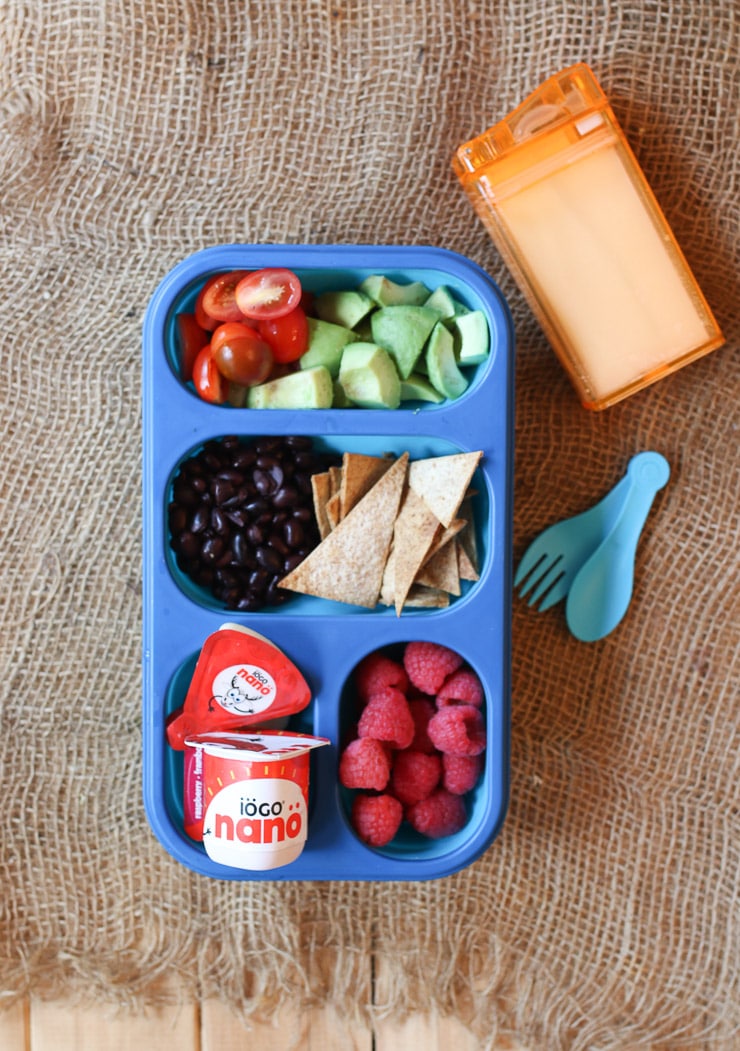 I love the bento-box school lunch concept because it's fun for kids can explore the different flavours and textures individually or together. For the kids school lunch,  I'm including some tomatoes, avocado, black beans, whole grain tortillas (baked into chips), some milk to drink and the Nano Yogurt and Cheese. Have you seen these cute kids snacks? I'm a big fan of these NANO mozzarella cheese packs because they're all natural, come in single easy to open packages and are available in 21 fun animal designs for kids.
For dessert, some raspberries with the NANO yogurt is a great healthy treat. As a mom, I like that it's made with no refined sugar added, satiating whole milk and 1 billion probiotics.
For Your Pre-Teen and Teens School Lunch – Veggie Wrap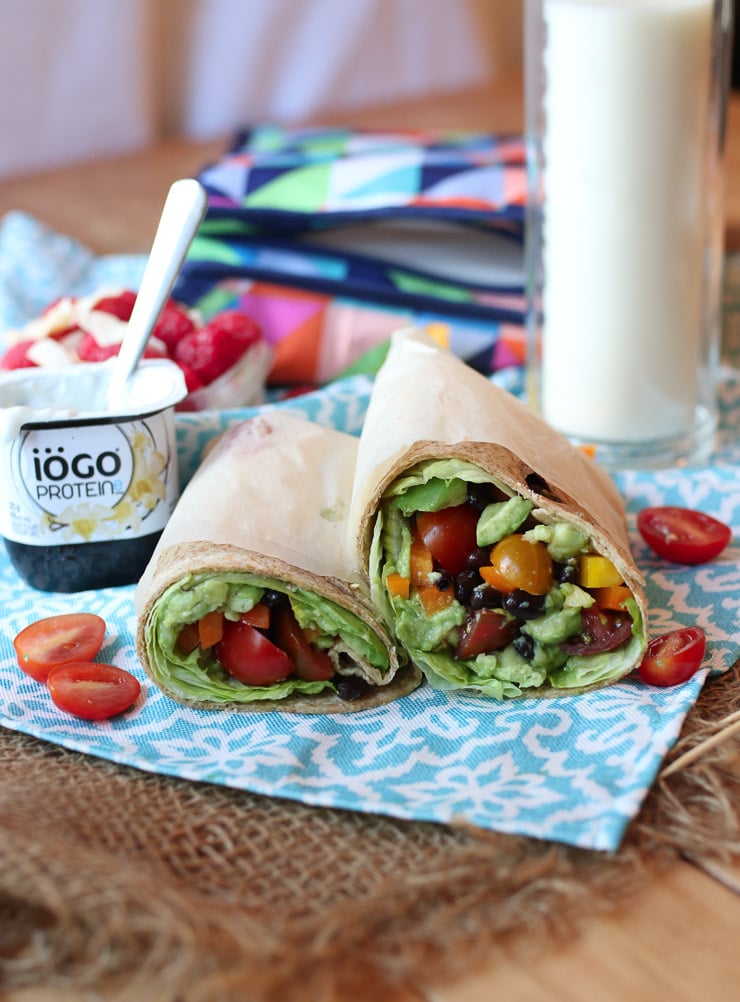 For your cool teens, pre-teens and tweens, I recommend using those same base ingredients to make a hearty wrap. I wrap up the tomatoes, avocado, bell peppers, lettuce and black beans into a whole grain tortilla.
Instead of the NANO yogurt, I serve its grown-up big sister, IOGO Proteine. I like to make this into a tasty little parfait with raspberries and toasted coconut and then serve it with some milk to drink.
For Your Work Lunch – Taco Salad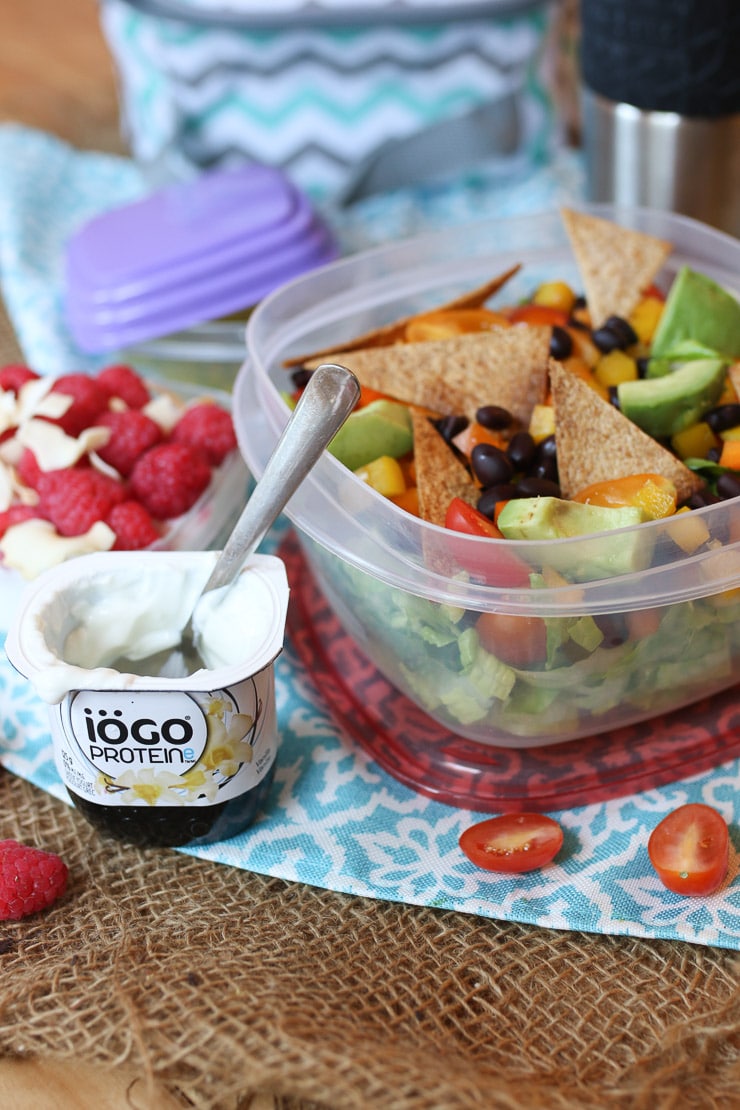 Now it's our turn, mamas! I usually try to sneak in at least one salad every day, and taco salad is a favourite around here. I serve a big portion of lettuce, tomatoes, avocado, bell peppers, and black beans and whip up a simple dressing with equal parts lime juice, olive oil and a squirt of honey, to taste. For dessert, I do the same IOGO Protein parfait and bring a decaf latte (made with milk or almond milk) in a reusable cup.
Isn't that WAY easier than emptying out the contents of the fridge in an effort to try to make EVERYONE a school lunch they'll enjoy?
Become an Abbey's Kitchen Subscriber
Now mamas and dads, let me know what is your school lunch survival strategy for making healthy lunches for the whole family?
Any favourite combinations from my school lunch building blocks above?
Leave me a comment with your thoughts!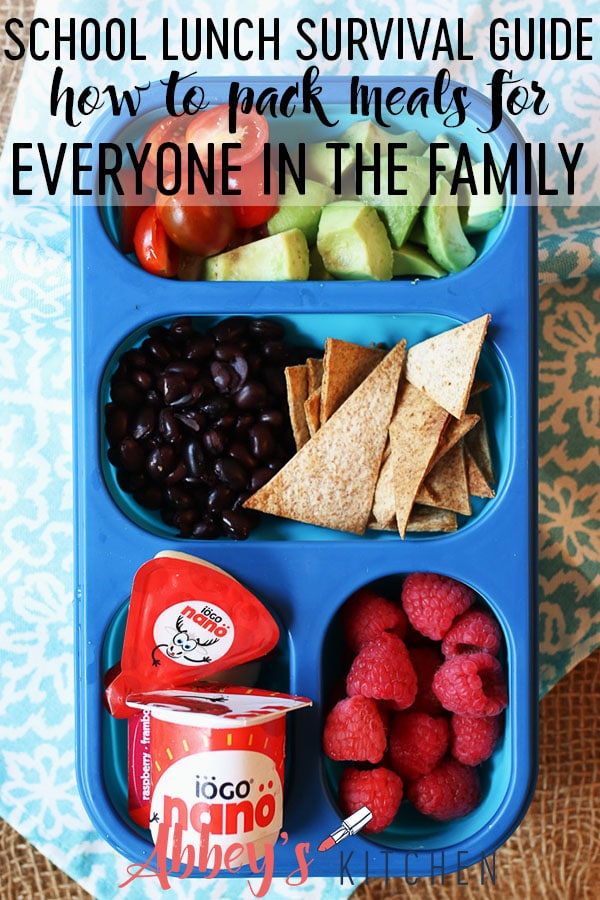 Disclaimer: This post was developed in paid partnership with NANO, however, all opinions are genuine.
Updated on April 13th, 2020