After leaving two of our neighbourhood stand-bys, L'Unita and Malena, and running successful supper club, Boxed, we had been interested in what Matthew Sullivan would get himself into next. Lucky for us it was a sexy new Leslieville restaurant called Skin and Bones equipped with a stunning wine bar, a sprawling open-kitchen dining room, and an enticing bistro-style menu.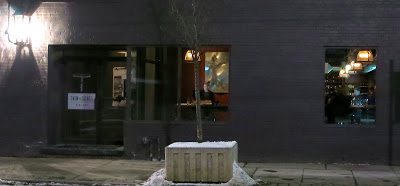 Finally. A Saturday night where the usual request, "Please don't make me go out West for dinner tonight…" doesn't have to be followed up with a lie that "it's close" (when in reality, we're going to Parkdale). Nope. Finally, I get to reply without guilt, "Oh no, my love! It's just a hop over the Bloor St. bridge tonight! We're going to Leslieville!" Okay, so I guess he didn't respond as enthusiastically as I was anticipating, but at least I got him into the car without the series of dramatic eye rolls I have come to expect. Success.
Speaking of success, upon entering the near-full SB at 8 PM on Saturday night, I was amazed by it's transformation from the old auto warehouse on Queen. With the exception of some massive piping along the ceiling, and a strange circular hole along the banquette wall emitting a gentle draft, SB retained surprisingly little of its former self. The room was dim but comfortable, and the tables were luxuriously spaced apart.  The noise level is also appropriate, allowing an obvious buzz to amount in the room without hindering my conversation.  When comparing this experience to so many recent meals spent cozying up to neighbours, and listening in on their gossip, this was a welcome change.
For a restaurant still operating in it's infancy (they opened up shop this past November), I was thoroughly impressed by the service as from the moment we arrived, we instantly felt at home. The host was friendly, engaging, and promptly helped us check our coats, a simple act that is seemingly  becoming an exception in most restaurants these days. Wait-staff were similarly professional.  Upon only a moment of being sat, we were offered complimentary sparkling (or skill) water, and a fresh bread basket was soon delivered. Courses were spaced appropriately, and we were in and out comfortably within 1 1/2 hours. Our server was attentive with refills, knowledgeable with the menu, sweet as a plate of sticky toffee pud', and never pushy with the wine sales.
Speaking of wine, while I'm usually a cocktail drinker, the focus at SB was unmistakeably on wine as they had a whole booklet of local and international selections to rival the 3-4 classic cocktails on offer.  I really appreciated that most of their selections could be ordered in either 3 oz, 6 oz or bottle portions, to allow the potential for a little more sampling if one felt so inclined. Upon the recommendations of our server, we went for the 2010 Italian Falanghina for me (very floral and easy drinking) and a 2010 Argentinaian Malbec for him. Later we indulged in a little glass of Ontario Late Harvest dessert wine, and finished our meal on a sweet note.
Unlike the vast selection of vino, the menu at SB is short but well varied, separated into the categories of Snacks, Apps, Mains, Sides & Desserts. While there were a number of items I could have happily tucked into, in the end we opted to go with:
Crispy Chicken Tails with Potato Salad
Apparently filled with bone marrow, the chicken tails had a wicked crunch and oozed with rich fatty goodness. The accompanying potatoes were tender inside, and caramelized outside, and were brought to life by a smear of tangy spicy cream sauce.
Salt Cured Foie Gras, Preserved Quince, Brioche and "L'Effet Papillon" Raw Honeydew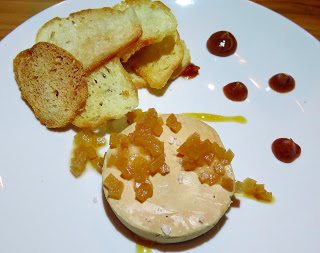 A smooth and buttery slice of foie, with just enough sweetness from the quince and honeydew. I loved the crispy ethereal slices of brioche, but I did find they tended to crumble under the weight of the terrine.
Beef Cheek Bourguignon with Sunchokes, Perth Bacon, Roasted Mushrooms and Red Wine Onions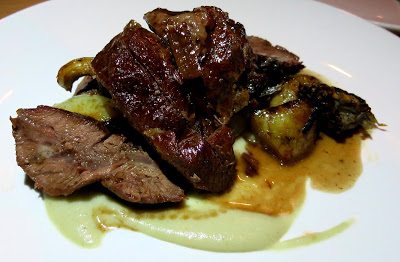 Gilded with little streaks of melted fat, this was some of the most tender and juicy beef ever to grace my lips. My only criticism was that I felt it could have used a touch more salt.  Accompaniments were seasoned much more evenly, with the bits of crispy bacon bringing a kick of smoky flavour. I particularly loved the beautifully cooked sunchokes which lent a nice element of nutty sweetness to the otherwise savoury dish.
 Slow Cooked Half Chicken with Rutabaga Puree, Celery and White Wine Sauce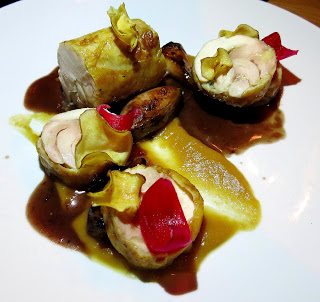 This was probably our least favourite dish, but it still very well prepared. The chicken was generous in portion, astonishingly moist, and seasoned perfectly, while the puree of rutabaga was silky and slightly sweet. However, having been cooked Sous-Vide and thus, lacking the salty crispy skin I appreciate with poultry, I found the texture of the dish a little one-note. Yes, there were a few crunchy fried bits on the plate, but I would have sacrificed half the portion of chicken for something with a little more bite to it.
Brioche Doughnuts with Caramelized White Chocolate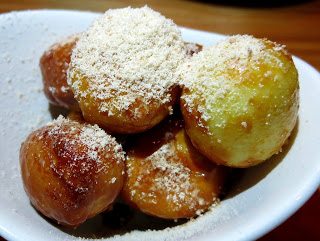 Well, the dessert menu read as if I had written it myself, with both offerings being my two all time favourite sweets, doughnuts and STP.  Despite the menu description, I would say that this was a great dessert for people who don't like things too sweet. The doughnuts were fluffy and light as air, without even a trace of grease or heaviness on my palate, and the caramelized white chocolate lent just enough sugar so as to convince oneself it wasn't another savoury course. Solid dish.
Sticky Toffee Pudding with Figs, Bone Marrow Caramel and Chantilly Cream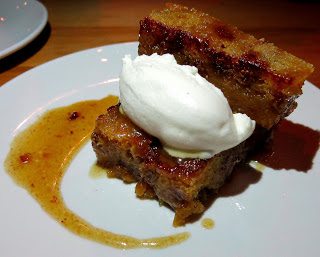 But then there was the STP. Now, I consider myself a real STP connoisseur. I order it any time I see it on a menu, and often seek out restaurants just because they offer it.  While certainly not authentic, this one was a real gem. It was beautifully moist, bouncy and soft, and enhanced by the gentle pop of the fig seeds between my teeth. The caramel was sumptuous and sweet without being cloying or heavy, while the Chantilly cream brought a luscious richness to temper the sweetness. Usually STP is a dessert you finish and then (sorta) regret because of all the syrupy sugar going on, but like the rest of the meal at SB, this course felt surprisingly light.
So for 3- 3 oz pours of wine, 2 "share" plates, 2 mains, 2 desserts, 1 dessert wine and 1 drip coffee (no cappuccino unfortunately), the bill came to about $150 including tax and tip. I found the prices reasonable, the portions generous, the food well thought out and executed, the room cozy and the service spot on.  It was an enjoyable evening and I'm thrilled to see another winner of a restaurant in Toronto's East. Future restaurateurs, please take note. Leslieville is picking up!