Sometimes (like those times when you're 6 years into a relationship), it's a good idea to enhance your standard date night by inviting another couple along.  And no, I'm not referring to anything scandalous or R-rated here, folks. I'm speaking only to double date dinner, drinks, movies and other good old fashioned sources of fun. Thankfully, we are quite lucky to have mutual best friends who are also into food, and are happy to join our feasting festivities whenever their schedules allow.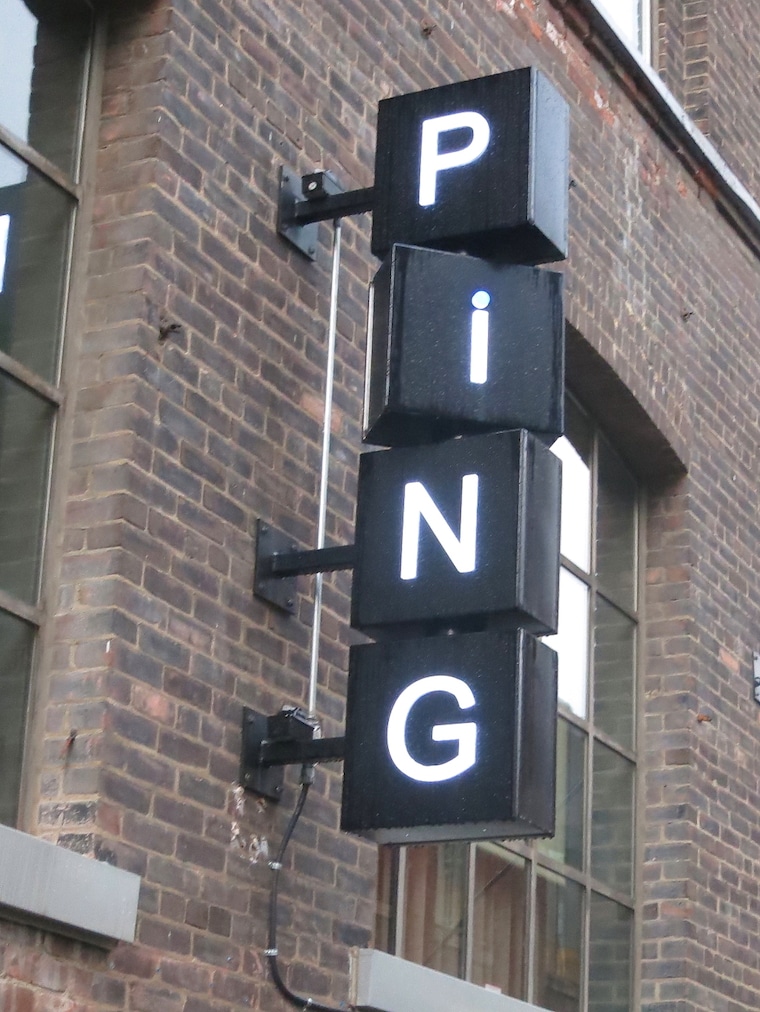 Well, upon setting up our next double date, I recalled the recent menu re-launch at the ping pong bar and lounge, SPiN that opened up shop in 2011. I had been wanting to check out Chef Jon Lovett's food and of course get in on a game, but knew it wasn't a great pick for just us two in our lonesome. I mean, it may be cute for new couples, but after six years, the cuteness kinda wears off, and all we're left with is frustration when one of us (um, okay, so that's me) has no hand-eye coordination. Just to give you a little side bar sense of what I'm talking about, our first and last game of tennis together lasted a whole 2 minutes before he gave up in frustration with me. #Athletefail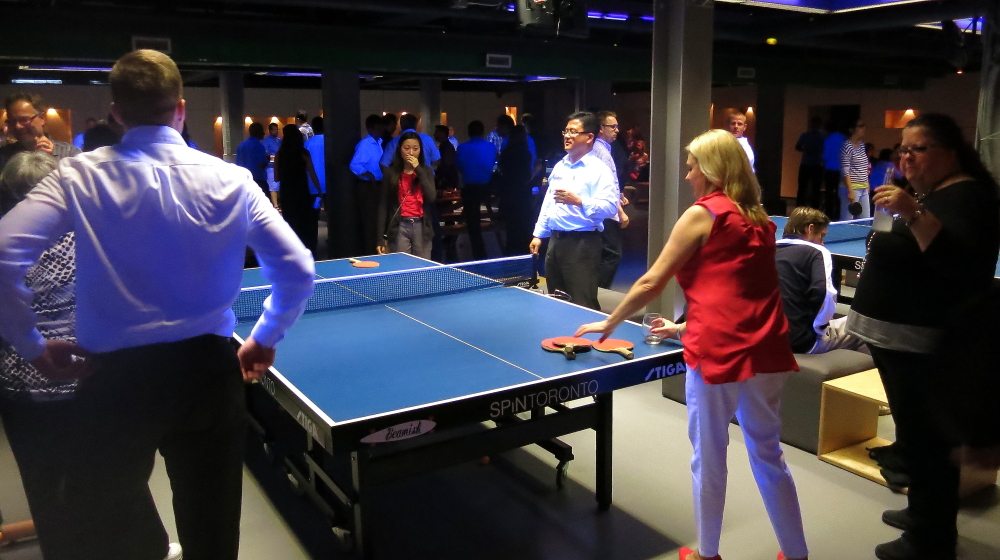 Thankfully, our double-date regulars were up for the challenge. This past Friday night, the four of us headed out for a little girls vs boys action at the King St. ping pong social club.  Spin Toronto is one of the many branches of the Spin Galatic empire created by Franck Raharinosy, Andrew Gordon, Jonathan Bricklin, and Susan Sarandon (yep, the actress).  The brand found it's home on King St W. after Ryan Fisher (the Toronto co-founder) visited one of the clubs in NYC, and was inspired to transform ping pong from geek to chic in the West end of our beautiful city.   I'll be honest- I was a little concerned about the whole intoxicated boys hitting hard balls towards my face (I bruise really easily), but thankfully, the balls are very light, and after a few cocktails, I settled right into the concept.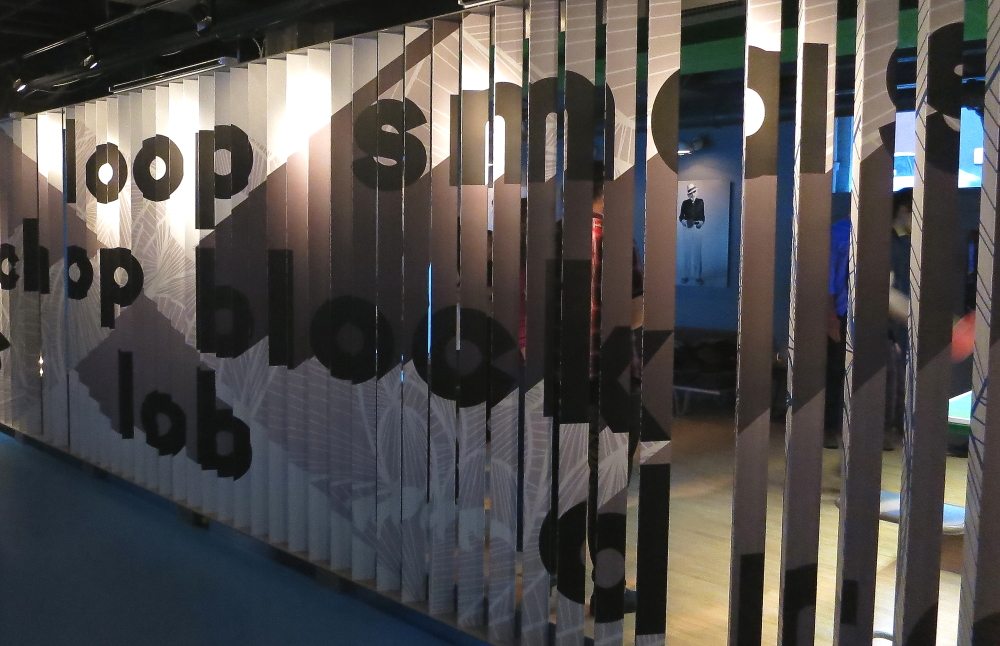 Designed by Emil Teleki, Jessica Nakanishi and Todd Oldham (New York), the large space features 12 ping pong tables, a lounge, two full bars and a room for private parties.    Spin basically functions like a tennis court in the sense that there are club memberships and hourly table fees, but in contrast, here the calories you might manage to burn off in a game are easily accounted for with cocktails, burgers and snacks.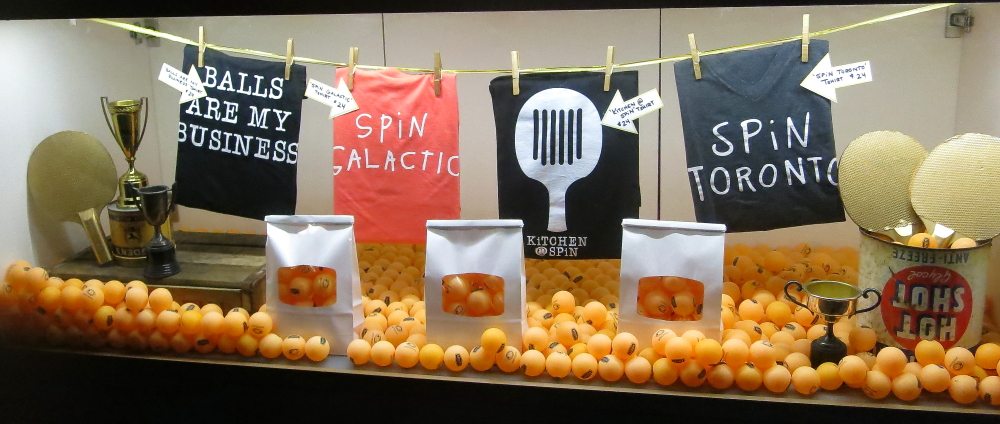 Obviously, though, Spin isn't your typical restaurant or bar where one enjoys a good drink and nibble at a leisurely pace in a comfortable recline.  Rather, most people choose to fuel up between their hard-core (or not so hard-core, in our case) ping-pong rallies.  Alternatively, there are about 6 picnic tables (that comfortably seat 6-8) where players can eat, drink and await their table reservations.  The rooms are noisy, but certainly manageable considering the action going on and that the Leafs game is on the screens. Speaking of Leafs, do note that if you're hoping to keep an eye on the score, that there are only a few small televisions in the first room, and none in the second- a pro or con depending on who you're with and what game is on.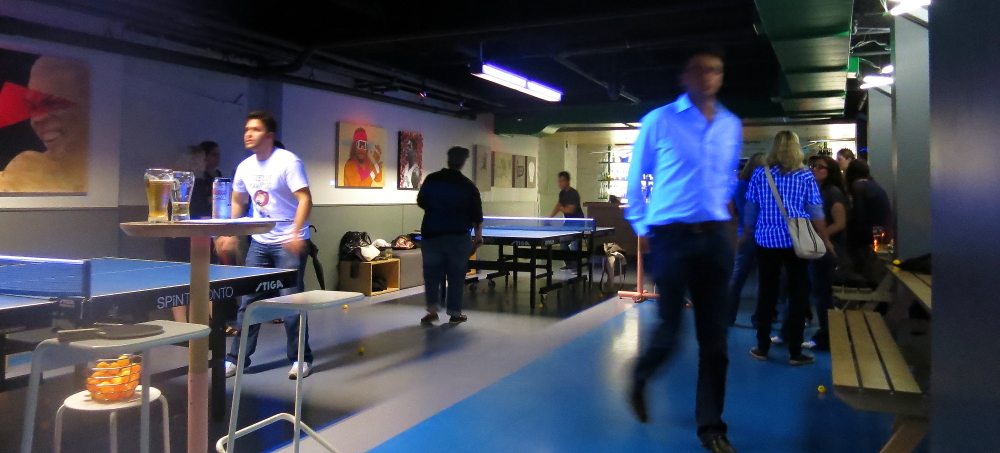 Despite the casual dining concept, the service staff here are truly on the ball- literally. Not only are there servers responsible for taking orders and delivering food, but they also have a crew whose (potentially dangerous) task is to pick up and deliver back all the balls in the room. Our server for the night was an absolute doll and incredibly accommodating.  We began our adventure at one of the picnic tables, moved when it was our time to play, and then headed back to a table for more eats and drinks, and every time, she transported everything for us as we moved.  The kitchen was also accommodating in making sure we had at least a good start on our meal before our table was ready to play. In the 25 minutes we sat at our picnic table before our game, we received six savoury dishes, and had at least one drink each, and somehow never felt rushed or overwhelmed.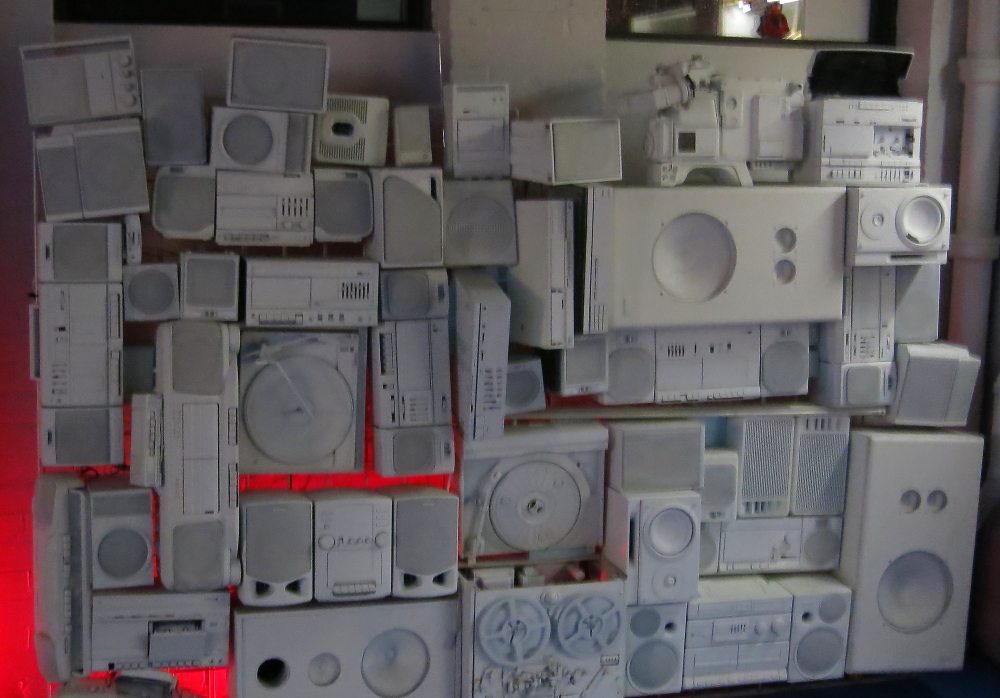 Speaking of drinks, the bar menu at SPiN feature about 14 international wine offerings (from $8-12/glass), approximately 12 local and imported beers by the bottle ($5.75) or can ($6.30) or draft, 7 fruit-forward cocktails ($10.60-15.50), and three 32 oz "punch bowls" ($54.50) to share.  Ha, and unless you want to forfeit your game due to an inability to hold yourself up (nevermind successfully hit a ball), you're going to want to share.  Over the course of the night, we sampled the Cucumber Margarita (Cazadores, Cucumber, Basil, $12.40), Hurricane (Bacardi Black & White, Passion Fruit, Pomegranate, $10.60), the Peach Pit (Bulleit, Peach, Vanilla, $12.40), the Bottom Heavy Bowl (Grey Goose Le Poire, Pinot Grigio, Pear, Raspberry, $54.50), and the iPunch (Tequila Tromba, Pomegranate, Smashed Blackberries, Agave, $54.50).  Of the single glass cocktails, the winner was the Peach Pit- it was sweet, fresh and aromatic without feeling cloying or artificial. The Hurricane was nicely balanced but not as addictive as the aforementioned, while the Margarita packed a serious tart punch.  I personally adore sour drinks, but do yourselves a favour and drink this one before any of the fruity sweet bevvies.  Speaking of punches, I loved the idea of the punch bowl, as it easily yielded 8-10 small glasses over the night. If you like a smoother, less sweet offering, then the Bottom Heavy would likely be the best choice, but for me it was all about the iPunch. It was tangy from the pomegranate, and sweet from the agave, and biting into a blackberry yielded a bit burst of tequila spiked juice. I definitely would come back with a group of thirsty friends for a bowl of punch alone.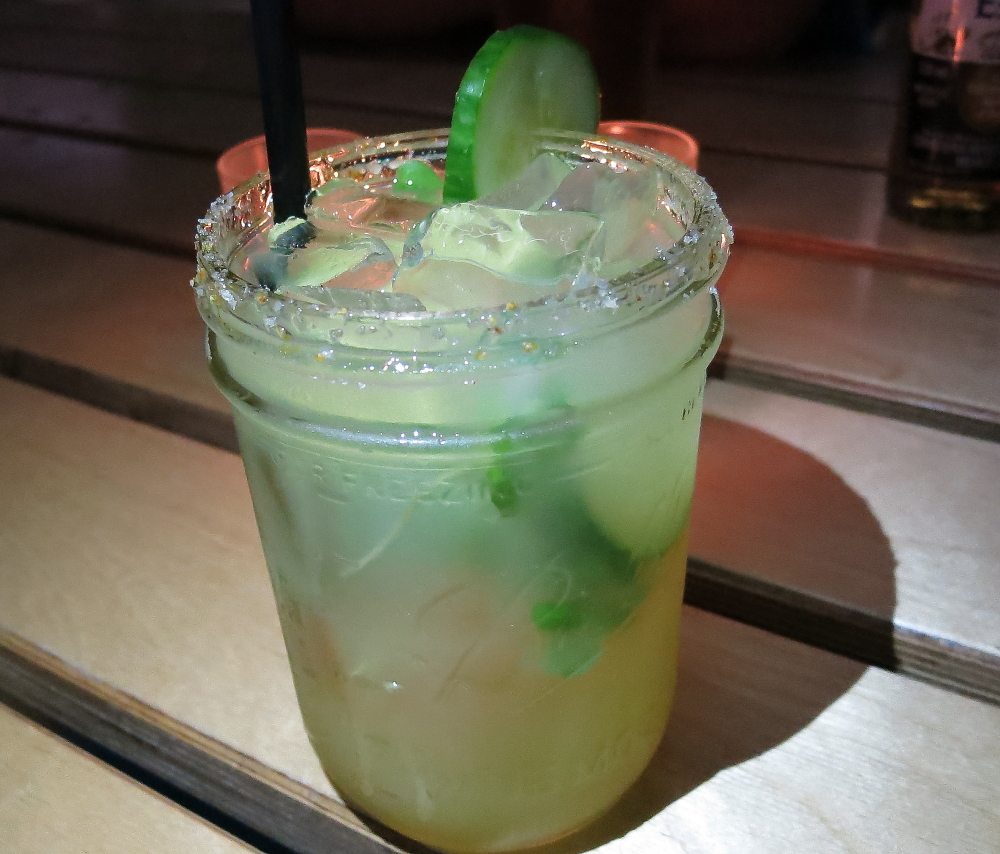 Cucumber Margarita
Peach Pit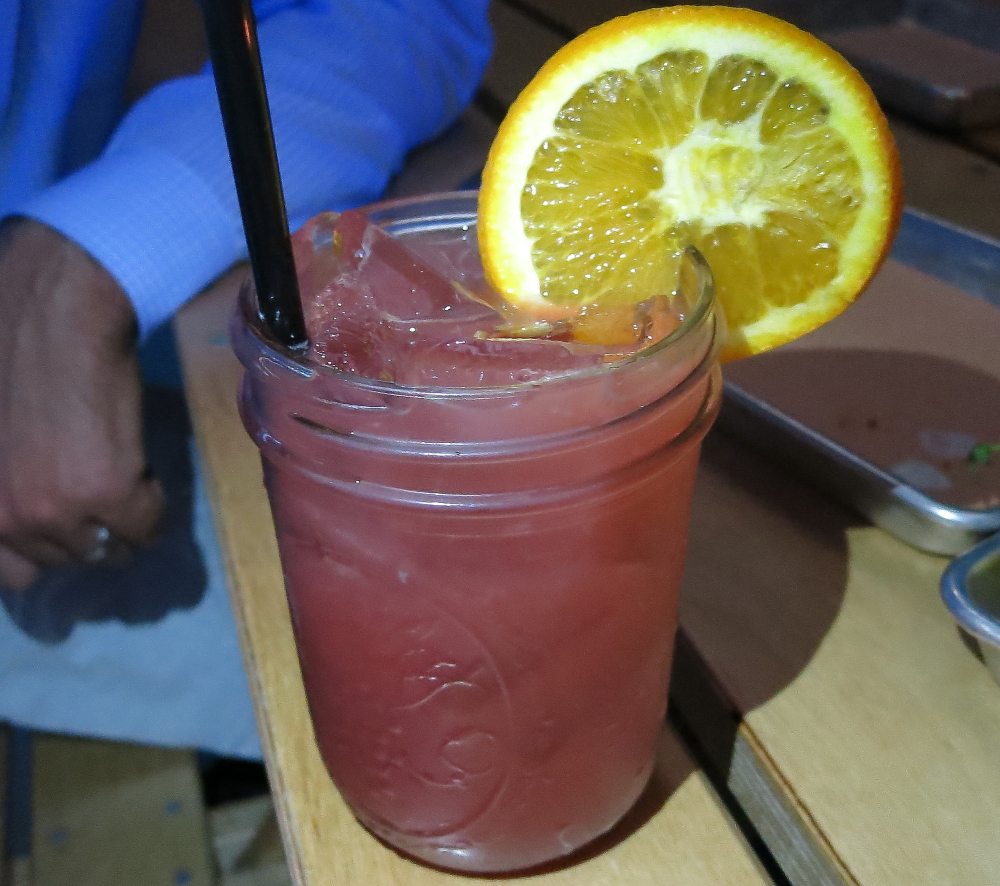 Hurricane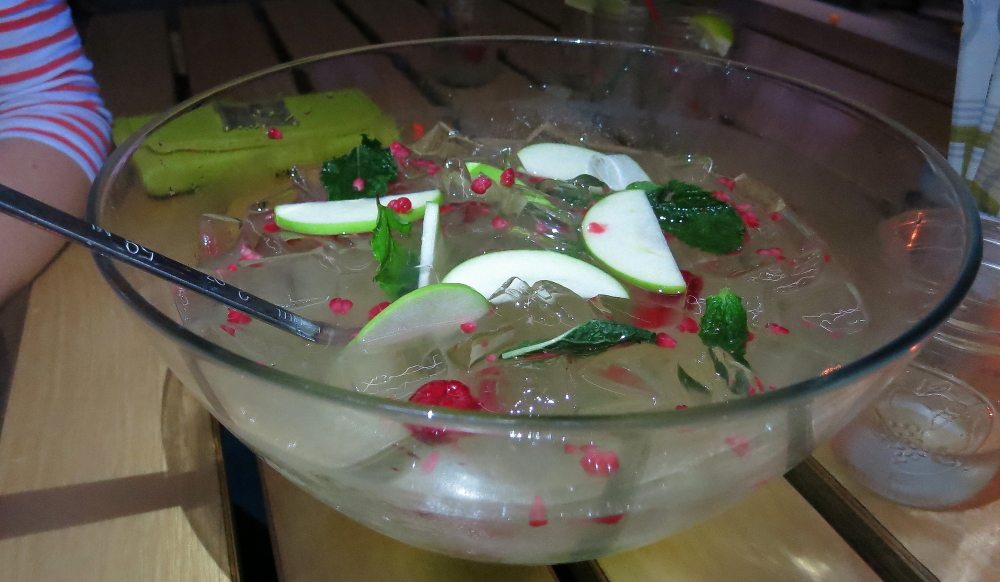 The Bottom Heavy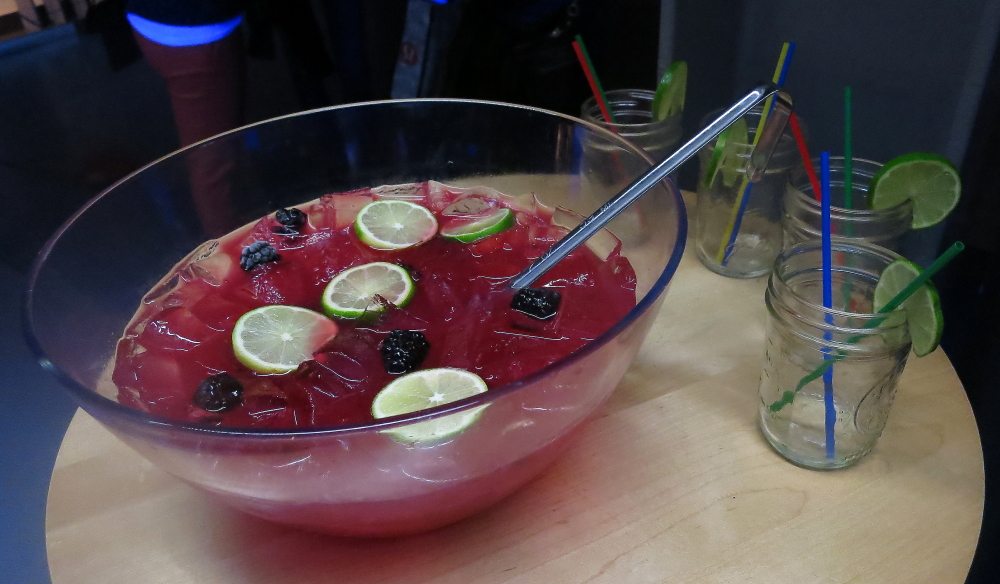 iPunch
And whenever I drink, food I usually soon to follow. Designed by Jon Lovett (whose instragram photos have been making me hungry for months now), the food menu focuses on local, sustainable ingredients, all prepared in house and served with playful flare.  Actually, throughout the night, Chef Lovett was gracious enough to pop by the table a number of times to deliver food himself. Appropriate for it's purpose (aka. to potentially be consumed one handed during a head-to-head ping-pong showdown), the menu is made up of 14 small plates meant for snacking and sharing.  To round everything out, one can also choose from 5 sandwiches, 4 awesome sounding desserts, and 2 salads (which probably should be reserved for the picnic tables. Working a paddle in one hand and a fork in the other may lead to some potentially dangerous accidents. Me hand-eye-coordination? Apparently, not so much).  Sticking to the small sharable type plates on the menu, over the course of the night we sampled:
Poppers- Jalapenos, Atlantic Rock Crab, Buttermilk Ranch Dip ($9)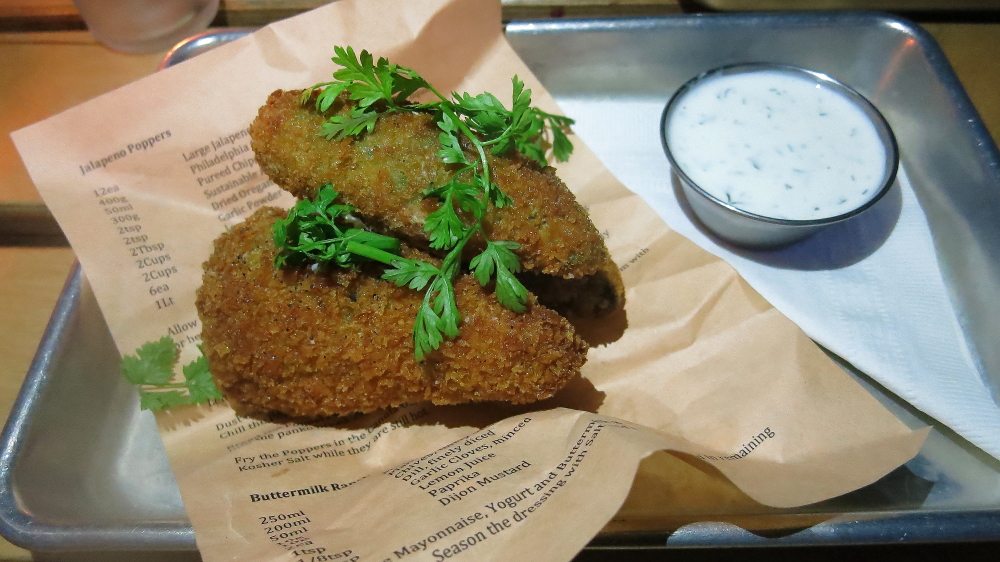 A nicely balanced popper with some mild heat from the jalapenos, sweetness from the rock crab and a tangy kick from the cream cheese filling. I also liked that he used panko, which kept them much lighter than the typical stodgy bar-menu staple
Cast Iron Prawns- Inland Farmed Prawns, Old Bay, Garlic, Chives ($12)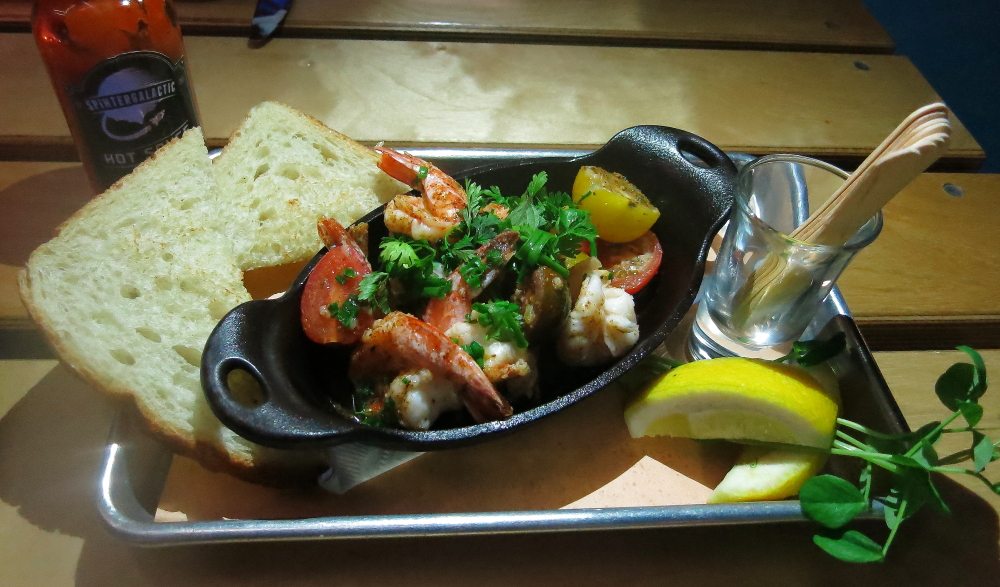 If you're a garlic lover, you're going to love these. The prawns were really nicely cooked and seasoned well and tossed with a sweet vibrant garlic sauce just waiting for a good sop.  The standard white toast that accompanied probably wouldn't have been my first pick for a sauce-eating vessel, but in in pinch, it did the trick.
Fresh Veggie Chips- Coloured Beets, Heirloom Carrots, Radish with "SPiN Sauce" ($8)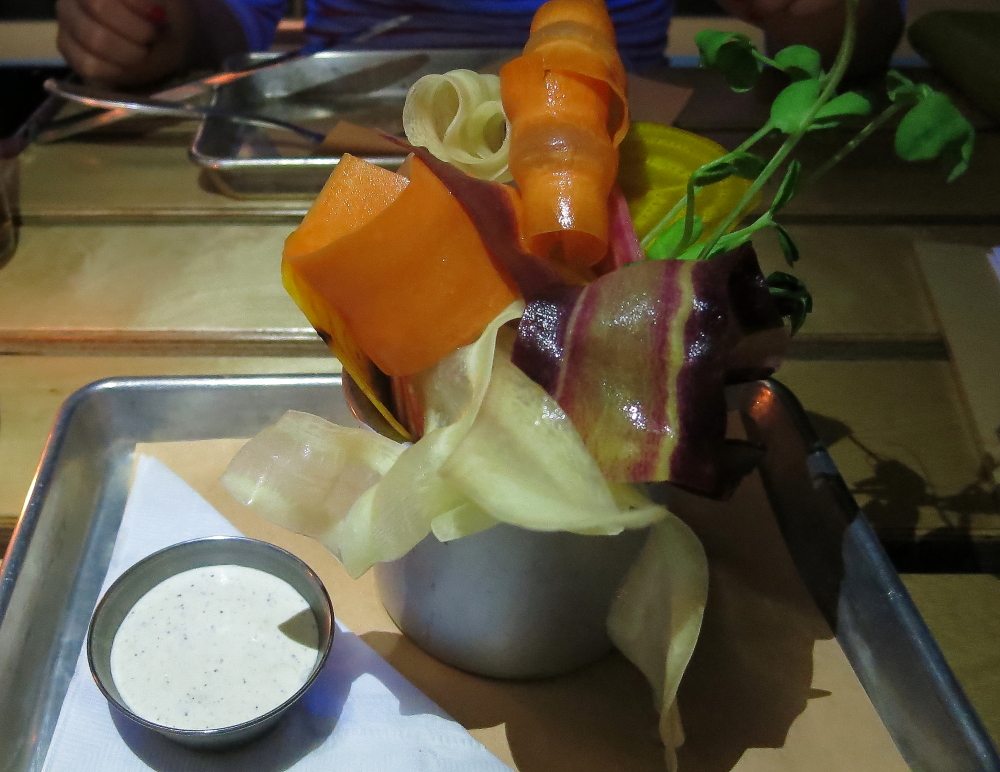 As a dietitian, I appreciate that Lovett has put a sexy "spin" on health food for diners at the club who are maybe a little more health conscious. I mean, no one wants to be the Debbie Dieter Downer at the ping pong club who orders carrot sticks when everyone else is eating poutine.  But when you order something that has "chips" in the description, and when it arrives looking like a canister of delicious edible art, you'll likely fit right in with your burger-loving crowd.  Having said that, calling these veggies "chips" is maybe a little misleading. Even I bit into the colourful gorgeous "chip" expecting a salted fried crisp only to be surprised that it was actually a vegetable in its raw unadorned state. So yes, if you're looking to "trick" yourself or others into eating healthy, then this dish is a must order, but for those of you who just want something fried and satisfying, and don't care about the calorie damage, skip this and order the fries.
Bourbon & Bacon Popcorn- This Little Pig Bacon, Salted Caramel, Pistachios ($5)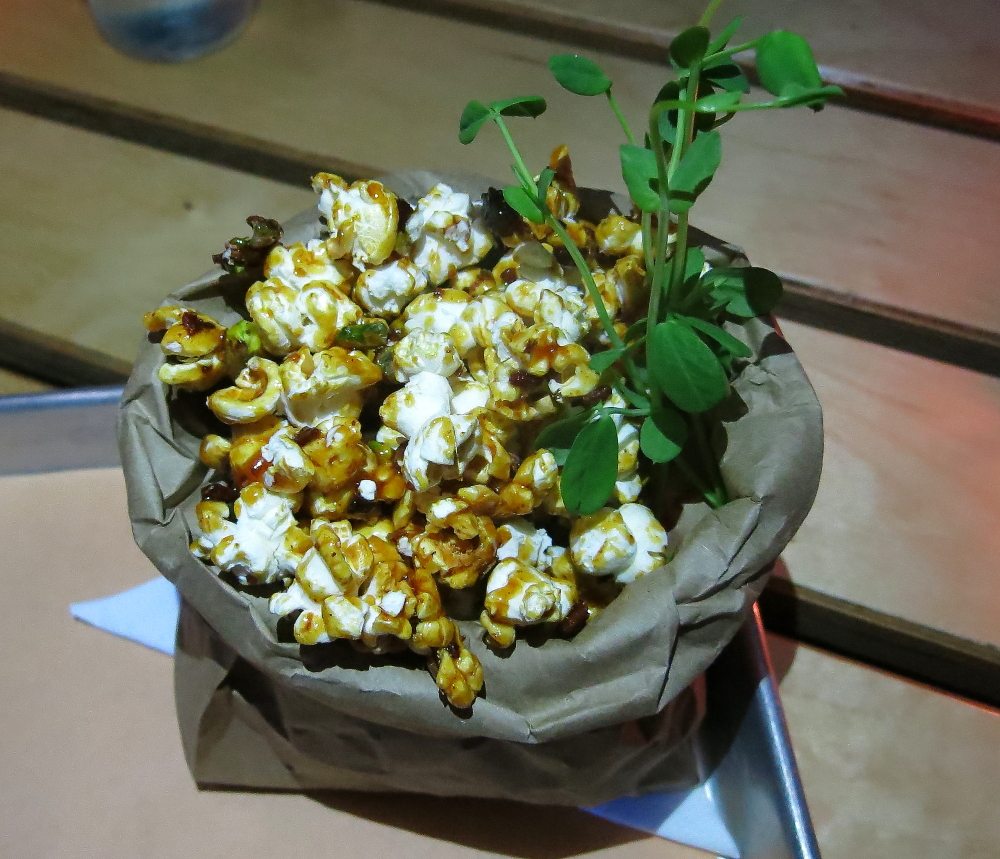 Admittedly obsessed with bacon, caramel, and bourbon, this was a must order for me.  Unlike so many commercial caramel corns, this version had been caramelized long enough to develop some of the more subtle mildy bitter flavours that placed this dish more on the side of "savoury".  The bacon was rendered down well enough that it yielded a nice chewy bite, and echoed the smokiness of the bourbon beautifully. This would make for an ideal snack for a in-game noshing.
5 Step Fries Supreme- Rose Family Kennebec Potatoes, Easy Cheese, Taco Fixins ($9)
This wasn't my favourite dish. The fries themselves were tasty, but I found the bean:fry ratio a little excessive, to the point that I predominantly tasted unseasoned canned beans.  Having said that, I adored the house-made pickled jalapenos and probably could have polished off a bowlful of those alone.
Can o' Tuna- Line Caught Ahi Tartare, Quail Egg, Herb Salad, Toast ($12)
This was a really tasty tartare. Served with deliciously crispy toasts that held up under the weight of the fish, the tuna was fresh, sweet, and flawlessly seasoned.  While probably not the easiest dish to maneuver standing up, I would definitely recommend this dish for your seated enjoyment.
Soft Baked Pretzels- Coarse Sea Salt, Trio of Kozlik's Mustards ($8)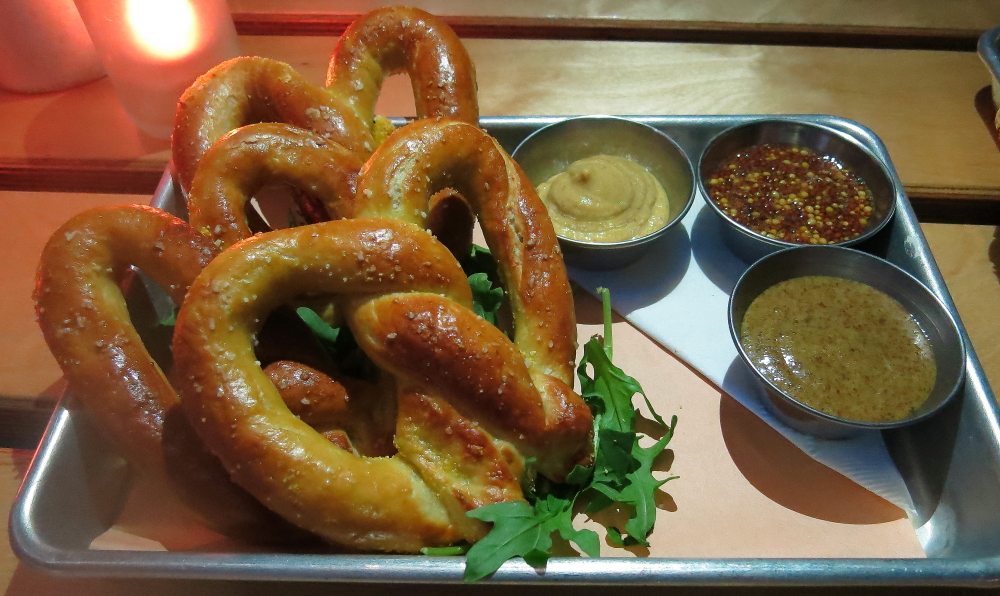 Note to all: one of the mustards apparently has horseradish in it, so dippity dip with caution.  We had two casualties of this tragedy, and the result was a lot of coughing and another round of cocktails on the fly.  Having said that, the pretzels themselves were quite good. They had a nice chew, a silky smooth crust, and just enough coarse salt to enhance their flavour. As much as I love coarse salt, most commercial pretzels (like what you get at the fair etc.) pack so much on that I feel parched in a matter of minutes. Here, that wasn't the case. My only suggestion is that maybe they offer a really sweeter dipping option or even a classic ballpark mustard to balance out the heat in Kozlik's offerings because even their honey mustard has a little bitterness and kick. Heck, I would even really like straight up honey here so I can do a little double dip action- first in spicy mustard, then in straight up honey. Adjust relative ratio. Repeat.
Chicken n' Waffles Platter- King Capon Chicken Breast, Jalapenos, Local Honey ($16)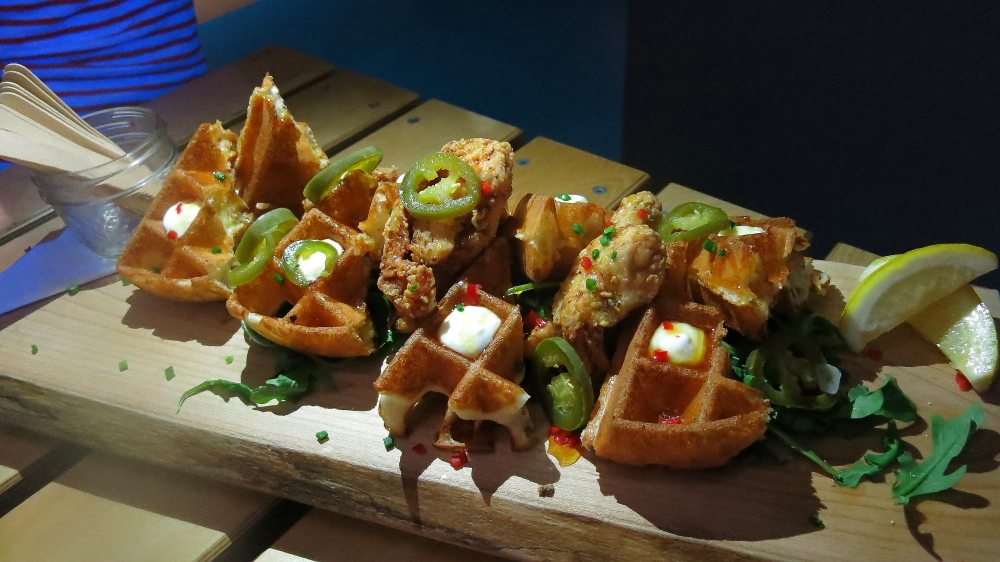 By far the best savoury dish of the night- you cannot come here without ordering this. The chicken had been cooked sous vide before being lightly breaded and quickly fried, so the meat remained remarkably juicy and surprisingly light.  The waffles however were the real star. Dressed with a little local crème fraiche and a spiced honey, they were crackly crispy on the outside and melted with moisture within. Hea-ven. Again, it would be tough to pick these waffle pieces up mid-game with the little wooden pick they give you, but if that's your only option, I recommend you give it a good hard try.
Parfait- Lemon Curd, Candied Rice Crispies, Bruleed Fluff ($7)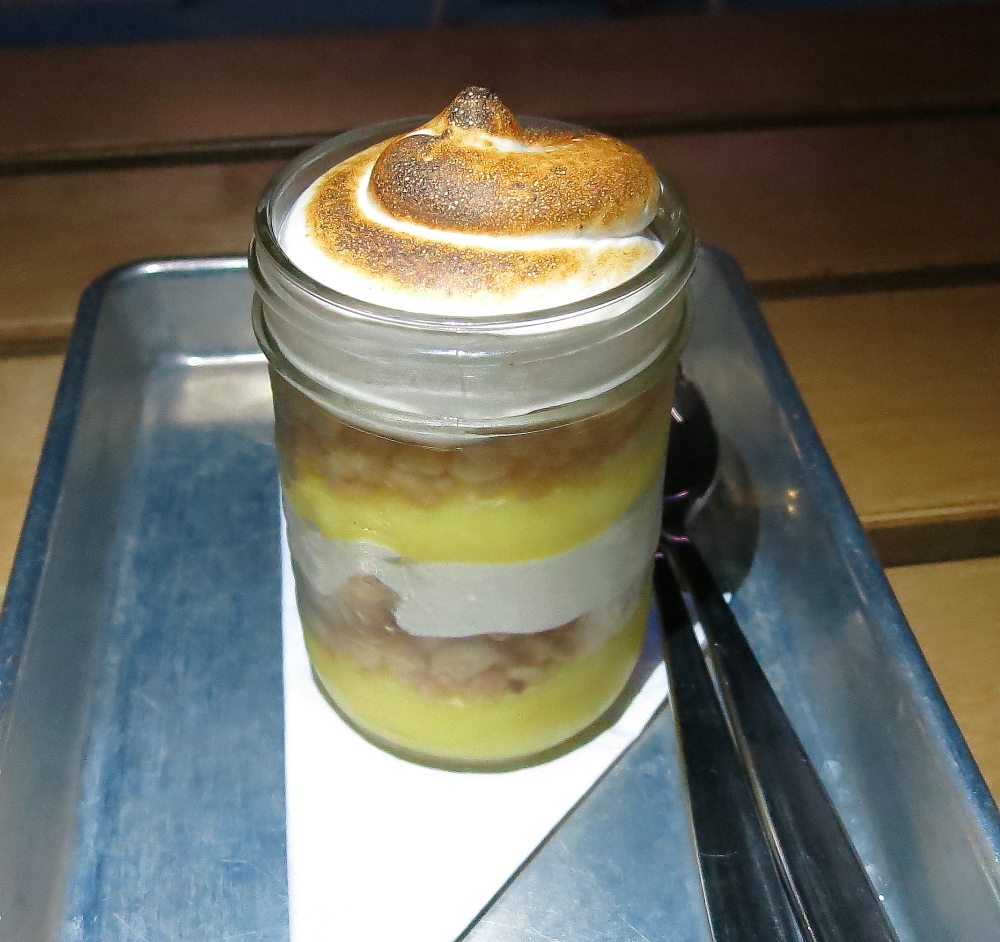 I'm obsessed with lemon curd anything, especially when there's a pillowy meringue on top, but (I know don't hate me), I usually dislike pie crust. This dessert was obviously a perfect solution to my #firstworldpieproblem.  Here, the curd was bright and lusciously smooth, and contrasted beautifully against the crispy candied cereal bits that were layered within. And after being adorned with an ethereal torched meringue top, I was totally in love.
Daily Sundae- Caramelized Banana Ice Cream, Candied Bacon, Hot Fudge, Spicy Honey Roasted Cashews ($7)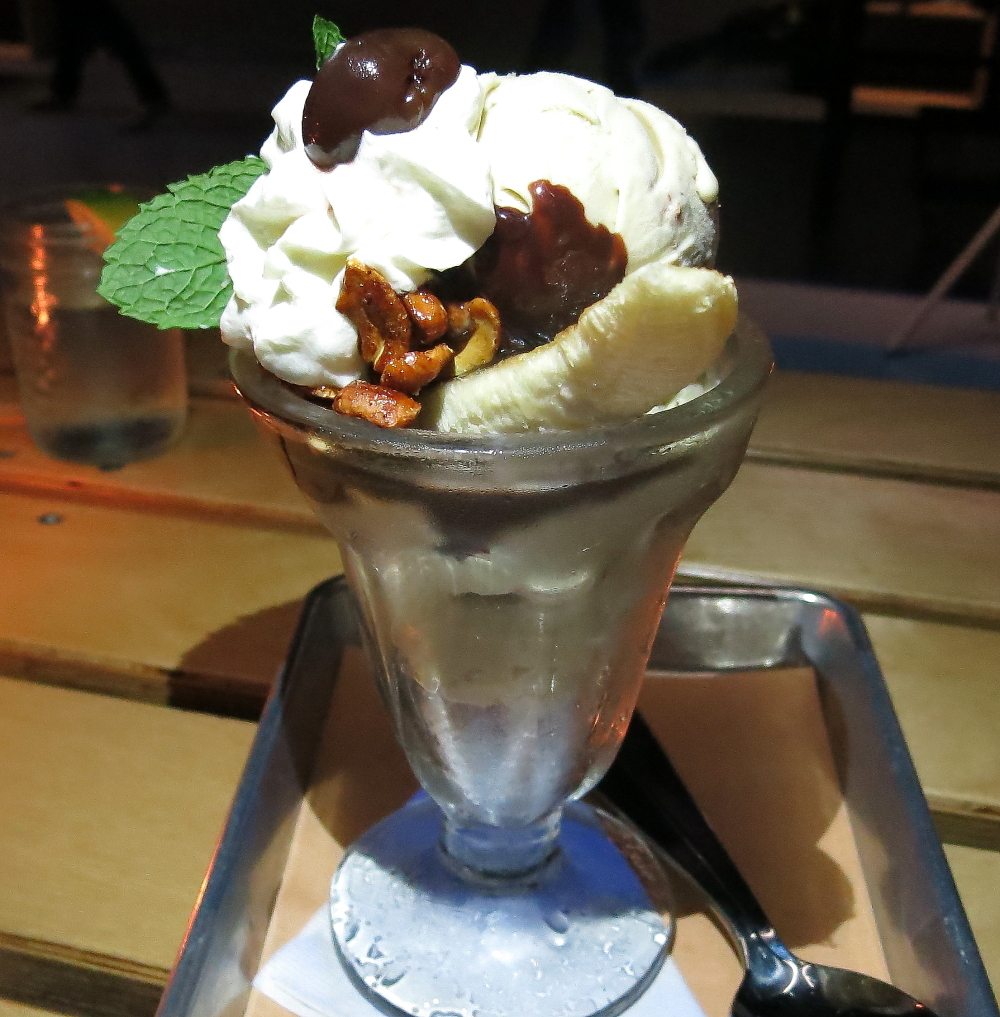 The texture of the ice cream was satiny smooth and lusciously creamy, but the flavour was a little muted. I actually make banana ice cream often, so I know it can be hard to achieve a big banana flavour, but I think the problem was mainly just that its subtleties were overwhelmed by the rich dark fudge.  Having said that, with the crunchy cashews and chewy smoky bacon, the sundae had great textural balance and was definitely an enjoyable dessert- just not the best of the bunch.
Brownies Trio- Ancho Chocolate, Cinnamon Blondie, Red Velvet, Brown Sugar Ice Cream ($7)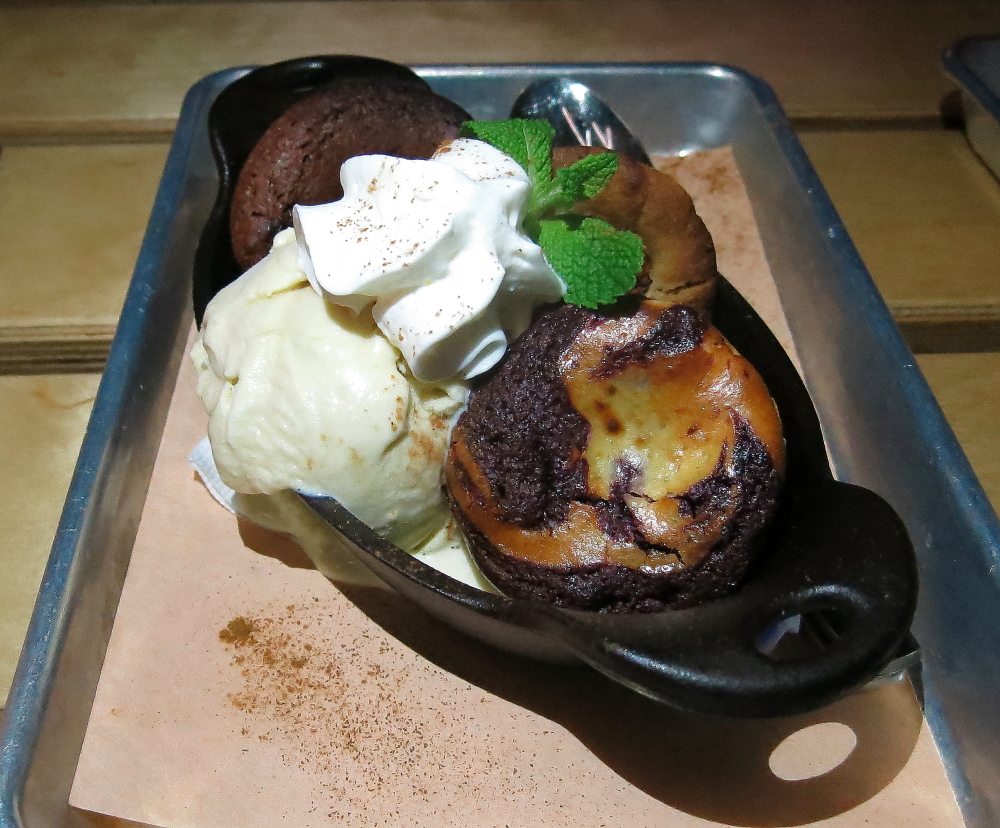 On behalf of the group as a whole, I'd say this was the winning dessert of the night.  All three of the brownies featured a satisfying crackly crust and a fudgy consistency within, each with varying levels of sweet and bitter qualities. With its delicate aromatic sweet flavour, I also thought the brown sugar ice cream was a nice alternative to the standard vanilla brownie-treatment.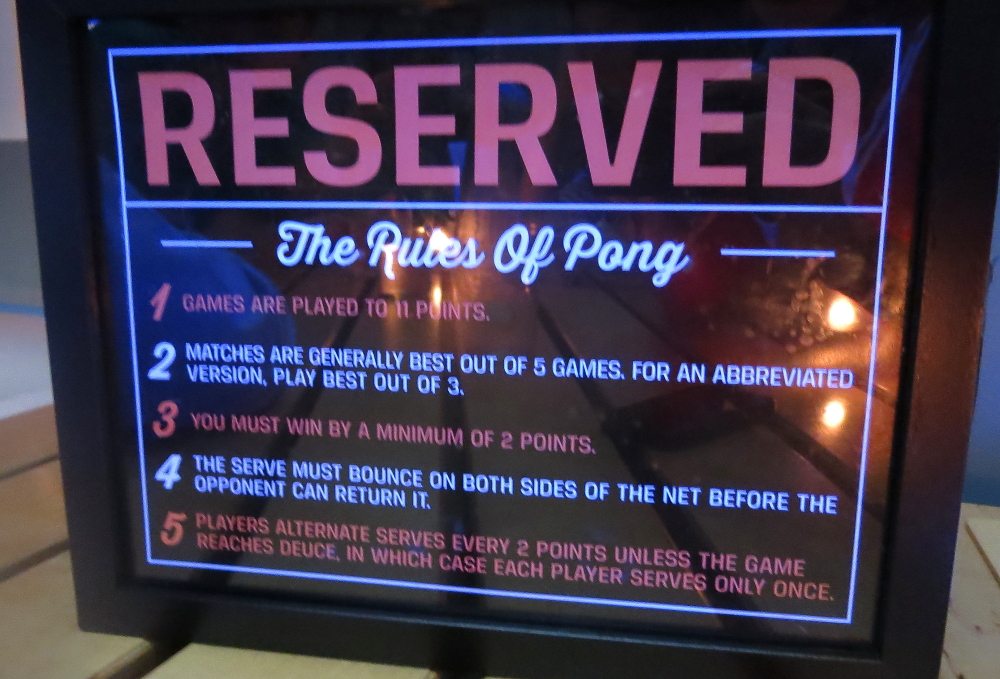 Concluding our night on a (sugar) high, I had a great time with my three best friends, battling it out with a paddle and a bucket of balls, drinking tasty cocktails and munching on indulgent snacks.  While I don't think I'll be signing myself up for a ping pong leagues any time soon (it was actually really embarrassing), SPiN proved to be a really fun way to spend a Friday night.  And not necessarily just for the gaming fun, but for the food and drinks as well! Seriously, the last time the us four went out for any type of pseudo-sport activity (bowling in some sketchy uptown establishment), our "dining" experience was limited to rum and coke in a plastic cup (the guy laughed at me when I asked for a Caesar), and a handful of M&Ms from the quarter candy machine. Talk about a culinary upgrade.  SPiN successfully offers groups a destination for having fun, socializing, playing and quality food and drink- not just some sad food "program" reluctantly purchased out of necessity and convenience.  Taken together, SPiN would make for a really exciting first date, a fun birthday party or event, or like in our case, a great get together with a like-minded long term friends. Thank you SPiN and our lovely foodie friends for turning our standard solo date into a night with double our pleasure, and double our fun!
ATTENTION FOODIE FANS- EVENT CONTEST
Want to taste the culinary creations of four of Toronto's top chefs? YOU could win a pair of tickets to Abbey's Kitchen Stadium on May 26th!  All you need to do is:
1) Check out Abbey's latest webisode
2) Like the webisode on youtube
3) Subscribe to Abbey's Youtube page
4) Follow Abbey @AbbeysKitchen if you aren't already
5) Share the webisode on twitter or facebook and tag @AbbeysKitchen
Winner will be selected on Wednesday. The more you tweet or share the webisode, the more chances you have to win!
GOOD LUCK!