While usually I find myself blogging about the latest hot spot in the city, or a trendy food festival, today I get to pay homage to one of the most celebrated, successful dining establishments in Toronto- Splendido. It wasn't my first visit to the iconic Toronto gastro-landmark. About five or six years ago, I had been treated to a tasting menu for my birthday by the same man I dine with today (ha, don't sigh in envy. I may get fancy dinners, but no sign of a ring yet, ladies). Actually, I still have the Splendido staff birthday card signed by then Executive Chef, David Lee along with then-sous-chef (and now close friend), Brian Semenuk.
Since that momentous date night, however, Toronto's dining scene has been subject to some significant nips and tucks. In the wake of the city's recession, we saw a huge boom of comfort and street food themed establishments that promised cash-strapped Torontonians more flavour bang for their limited buck. Suddenly, people were less interested (or at least, less financially inclined) to drop a fat one on a fancy meal, encouraging high-end restaurants like Splendido to tone down their extravagant style.
Well, since Lee's departure, we've seen Victor Barry step up to the golden plate as Splendido's Executive Chef and Co-Owner, working alongside Carlo Catallo (Proprietor and General Manager) and Tommy McHugh (Chef de Cuisine).  We've also seen our economy make some marked improvements, meaning Splendido could be remarketed not as the place to dine on an expense account restaurant in Toronto, but actually one of a handful of suitable choices. And heck, selection is a great sign, both for our wallets and our palates, because there are a number of dining occasions when a basic BBQ joint won't do. An anniversary, a milestone birthday, a graduation, or my own fine-dining occasion: getting home from an All-Inclusive resort in Jamaica surviving on a diet of ice cream and frozen French fries. I mean, I needed a really good meal to make up for four days of culinary mediocrity.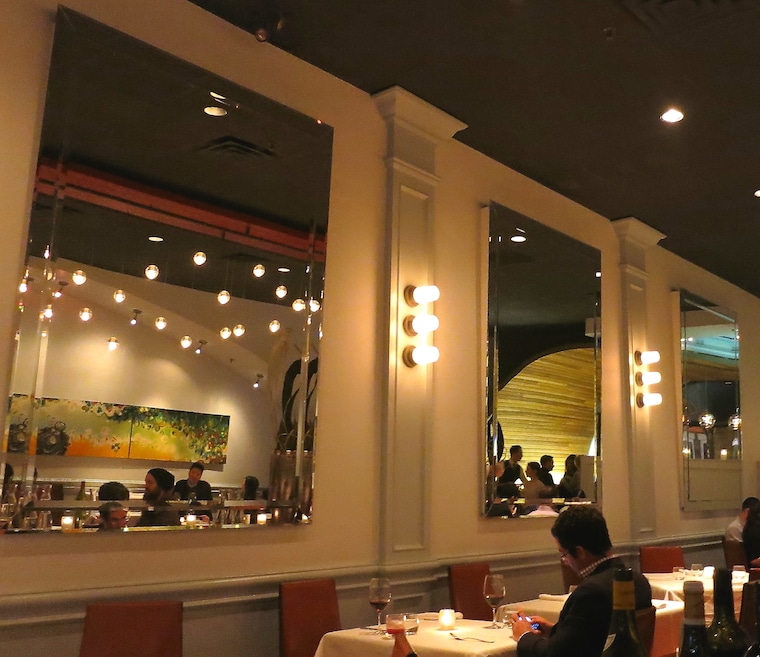 Obviously I was looking forward to Saturday's big meal, and I was to become even more excited when I heard some family members were unexpectedly coming to town. Thankfully, the wonderful hostess staff was able to accommodate our extra guests so we wouldn't be forced to change venues.
The room at Splendido is comfortable and refined. Its sultry lighting is flattering and calming, while the music adds enough noise to fill the otherwise open space while is conservative enough to save our voices from going hoarse. It's only after experiencing this level of noise that I am reminded how boisterous and anxiety-promoting most of our dining scene really is in comparison.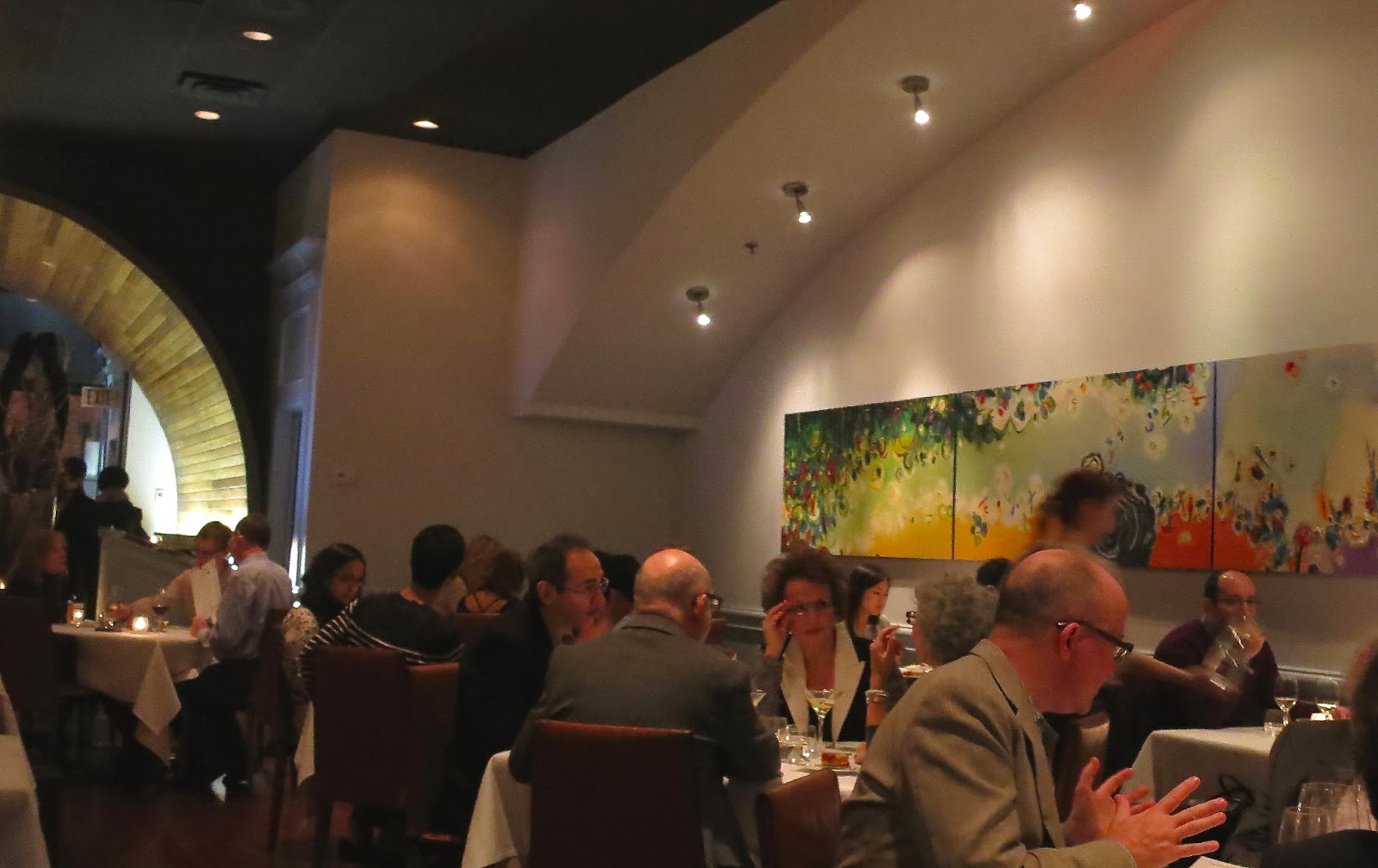 Service, as expected, was professional, knowledgeable and friendly. While our large party size tempered our usual small talk with the staff, every visit to our table was accompanied by smiles and an eagerness to answer questions.  Wine and water glasses were consistently replenished, napkins were tidied and refolded between bathroom breaks, and Chef Victor greeted us on numerous occasions, including seeing us to our jackets with tiny boxes of take-home treats.  Having selected the tasting menu, we knew we were in for a leisurely night (3 hours in total).  And while the two teenagers at our table may have demonstrated more interested in their iPhones than main courses (as one would expect), I was quite comfortable with the overall timing and spacing of our meal.
The cocktail menu at Splendido combines the elegance of classic preparations with a few sexy and trendy accompaniments. The men went with a few flawlessly executed Old Fashions, while I opted for the All- Inclusive (although you'd think after Jamaica, I'd had quite enough of that). With Kaffir Lime Vodka, 12 yr El Dorado Rum, Vanilla, Mango and Ginger, it was fruity with a spicy sizzle on the tongue and a subtle vanilla aroma. All too easy to drink, though, arguably, anything would have been acceptable after the sugar-laden Pina Coladas I had been reluctantly sipping. With gusto and vivacity, I knocked it back in a few satisfying sips and made way for the wine.  While the name and vintage escapes me (I wasn't the one selecting the evening's bevvy), the bubbly sommelier suggested a beautifully drinkable and agreeable $120 white wine from Burgundy.
All Inclusive
Moving along to food, we had pre-arranged with the staff that our party would be enjoying Victor's tasting menu. What that would mean, we really did not know. Thankfully we're all big fans of the golden nugget of the food world (and really, who's ever heard of too much truffle), because like a drunk photo-bomber, it showed up in a good proportion of the plates we received. This is what we had:
Vichychoisse with Gougeres filled with Gruyere and Bechamel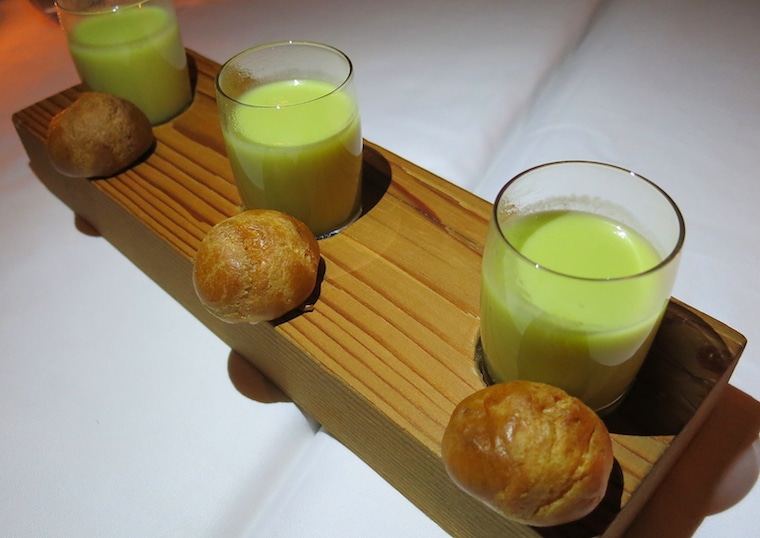 Light in flavour while rich on the palate, I appreciated the restrained serving size, especially alongside the sinfully buttery gougeres. In my attempt to be dainty and lady-like, I carefully bit the pastry in two, only to experience an explosion of cheesy, creamy filling suggestively drip down my chin.  Not sexy, no, but wonderful nonetheless.
Smoked Oyster Poached with Smoked Butter, atop Potato Foam, and Maple Smoke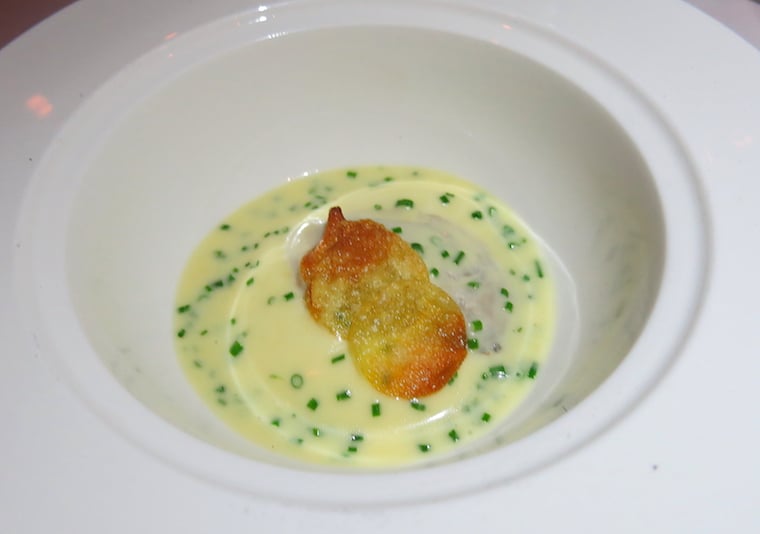 As the servers removed the domed cover on the dish, I was smacked with a thick cloud of sweet smoky air. That mixture of maple with smoke nearly had me convinced that the buttery supple oyster melting on my tongue was actually a juicy piece of pork belly.  It was like all of the rich, fatty flavours of a hearty breakfast had been reduced to one or two blissful bites. If I ever found myself hung-over at 9 PM at night, I think I'd be heading to Splendido for this.
Pickled Mackerel with Crème Fraiche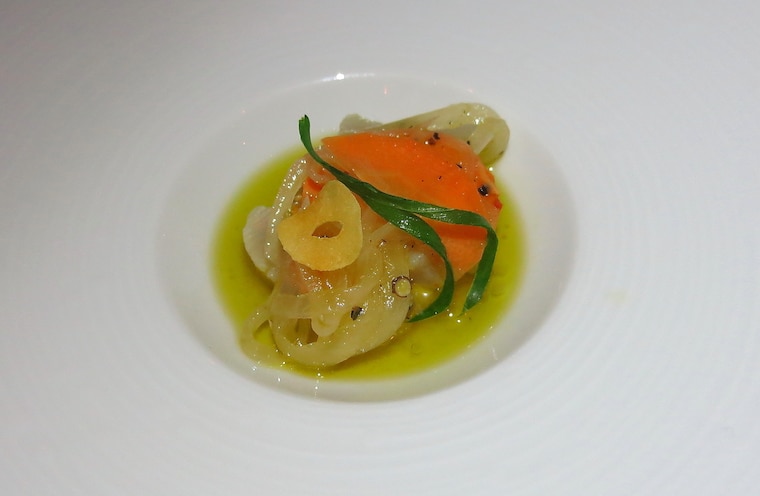 Simple but beautifully balanced. Poached in a copious amount of olive oil, the mackerel was meaty and buttery, with a heavy hand of pepper to cut the fat. The pickling of the onions on top stripped them of their pungency and brought a nice hit of acid to complement the tangy crème fraiche.
Coddled Egg Yolk with Truffle, Madeira and Nutmeg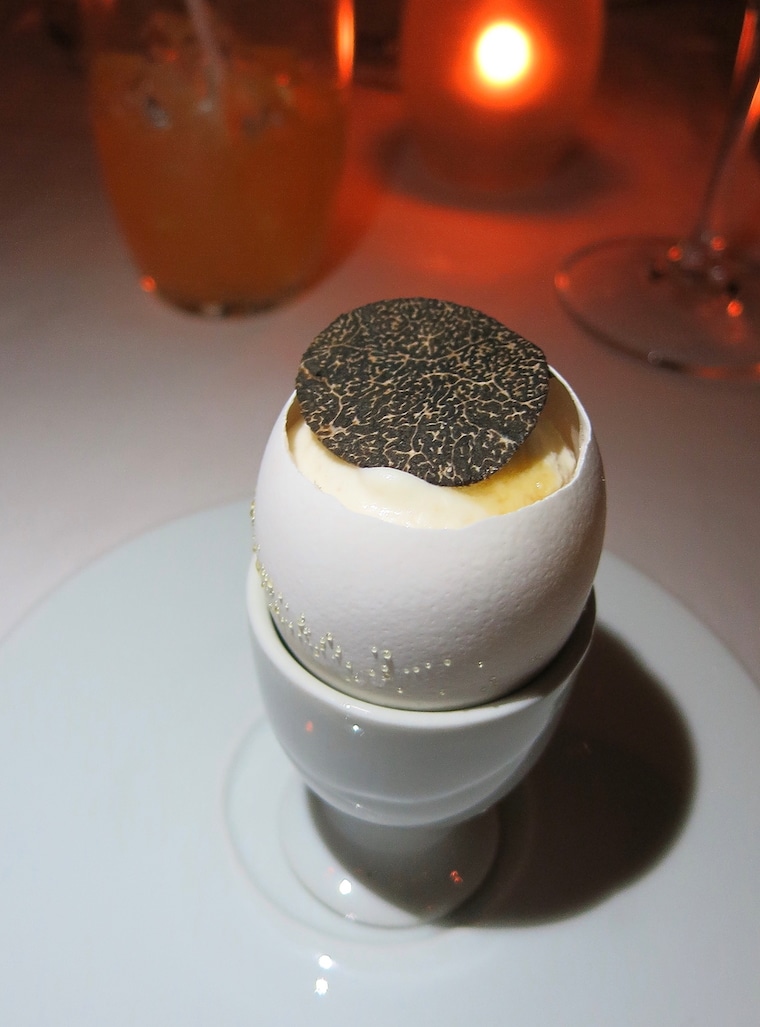 Probably one of my favourite dishes of the night. The egg was lusciously creamy and was balanced out nicely by aroma of nutmeg, and the gentle sweetness and then slightly bitter finish of the Madeira wine.  And while the decadent layer of cream edged the dish towards the realm of dessert (which is never a problem with me), the generous shaving of earthy truffle undeniably sent it back.
Matsutake Mushroom with Truffle Snow, Sunchoke Puree and Sorrel
Another stunning dish for the umami-lover. The sunchoke puree was sweet and creamy, while the truffle snow and beautifully buttery mushrooms contributed their characteristic savoury note. Simultaneously light and decadent, a sign of culinary perfection in my opinion.
Potato Bread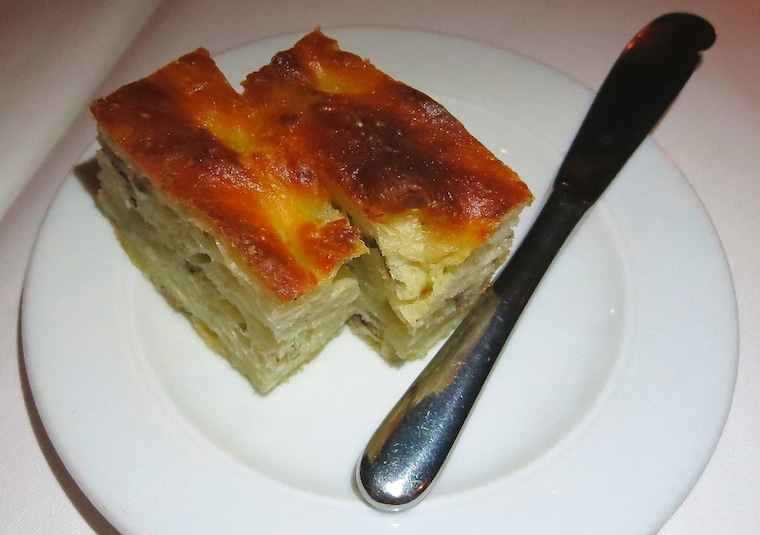 Sweet, salty with a pleasant bouncy chew. I had to really try hard not to OD on the stuff. There were still many more truffles to be had, and only a fool would trade truffles for bread- even really addictive bread. Okay, so I caved.
Frogs Legs with Snails Confit and Parsley Black Garlic Foam and Puree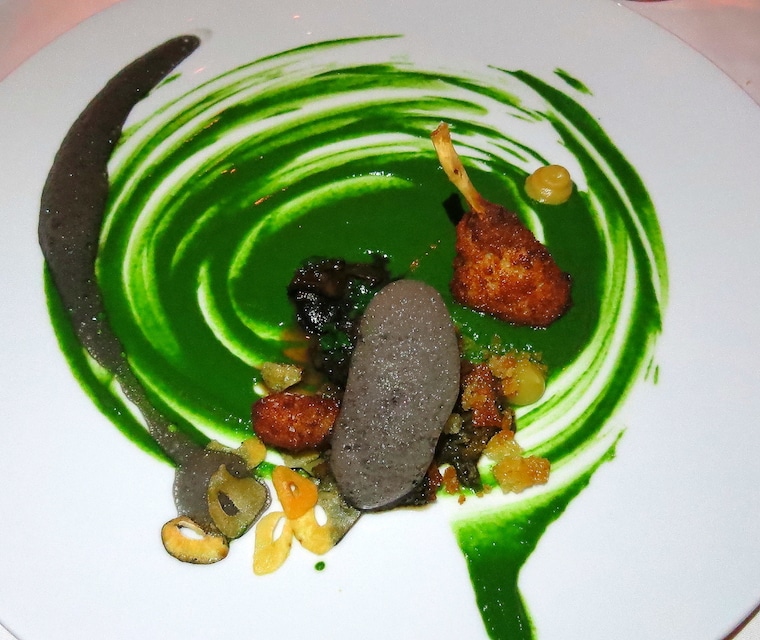 While it freaked out our younger dining companions (more for us! Woo!), the frogs' legs were nicely executed. Crisp and golden on the outside, and impossibly moist within, I sucked that bone like a lollipop I hoped never would end. Likewise, the snails were perfectly cooked with a surprisingly delicate texture, and a mild flavour that let the bold garlic and parsley accompaniments shine.
Seared Scallop with Sauce Diable, Ramp Oil, Ham Hock and White Beans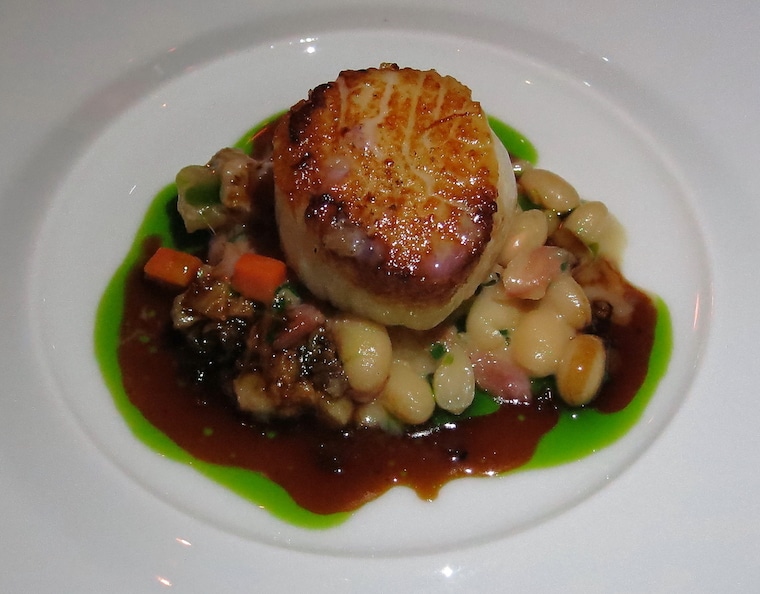 The scallop was perfectly seared with a sweet tender center, and soaked up the porky flavours from the ham below. I did find the ham and bean mixture a little bit salty in some bites, but regardless, it was an enjoyable dish.
Black Truffle Agnolotti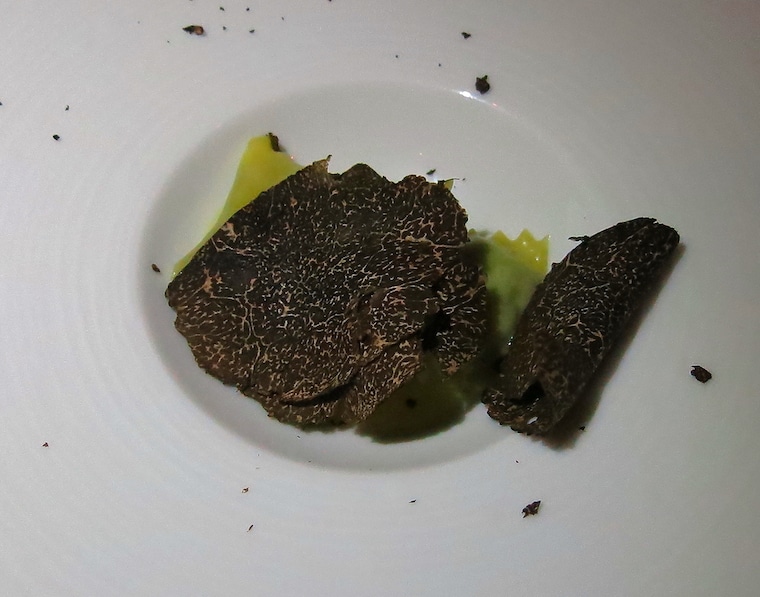 Aromatized with a generous garnish of truffle, the pasta was cooked to a flawless al dente and just drenched my palate with rich cheesy goodness with each bite.
Rib Cap Beef with Pomme Puree and Truffles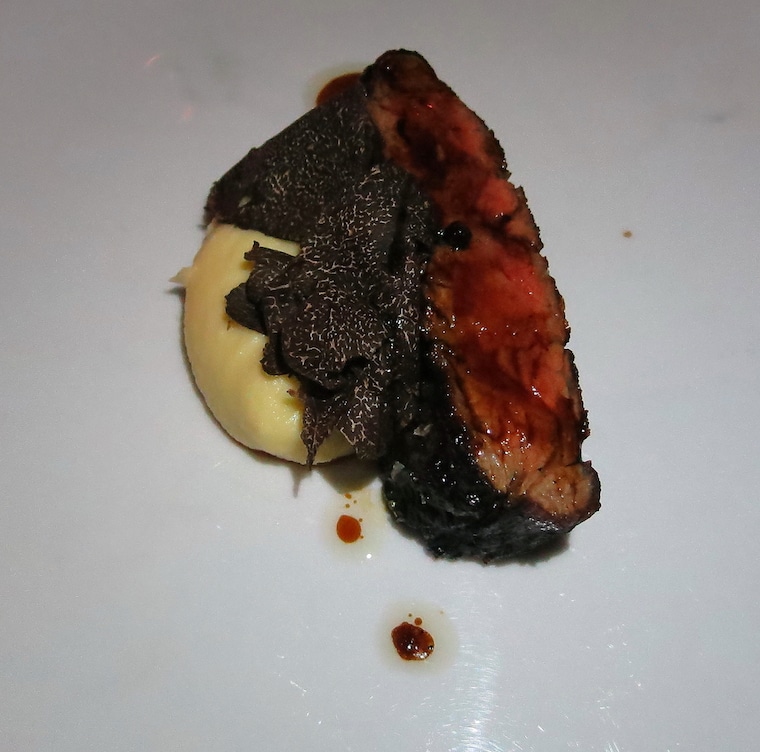 Cooked to a juicy medium-rare, the beef had an interior texture that melted on the tongue, and a crust that offered a pleasant charred crunch.  I liked that the caramelized exterior brought a temperate level of sweetness to help balance the woodsy truffles and buttery potatoes.
Pan-fried Gruyere (a la Paneer) with Piccalilli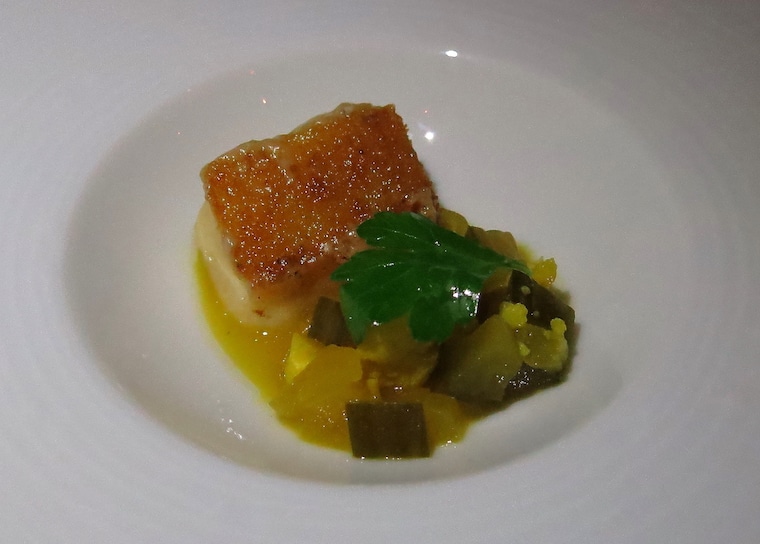 While I was expecting a little more oozy stringy action, the dainty crunch on the top of the cheese was incredibly satisfying alongside the bright and tangy pickled vegetables.
Spice Chocolate Ganache, Orange Caramel, Hazelnut Butter and Banana Ice Cream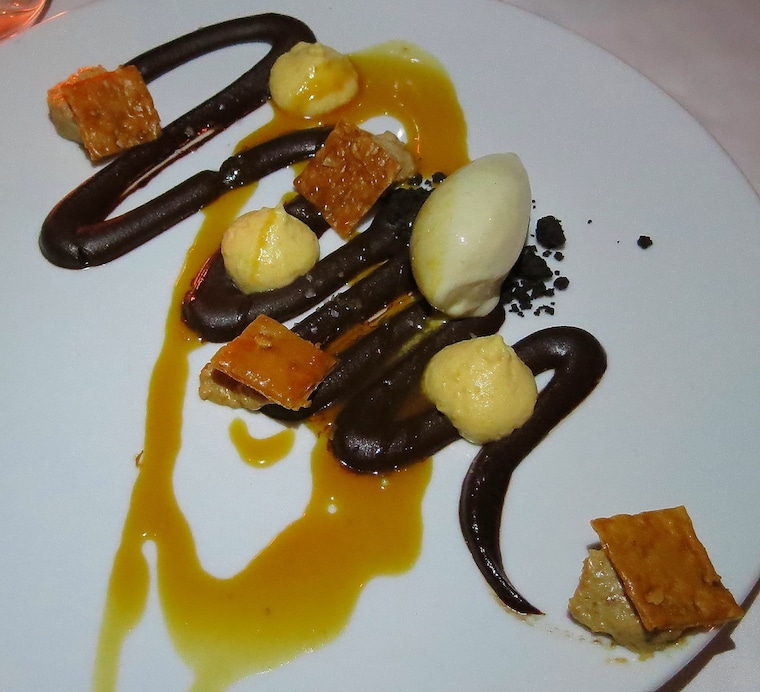 While I'm not one to go for chocolate, Victor won me over with this beautifully composed dessert.  The ganache was draped like satin across the plate, and the hazelnut butter and little crisps offered a touch of salty relief. Of course, being a banana fiend, I loved the light and fresh fruit flavour of the ice cream, which was particularly successful in tempering the assertively rich chocolate. My only quibble would have been that I found the orange in the caramel overwhelming, but that is quite likely because I'm just not a fan of the orange and chocolate combination.
Mulled Cranberry Macaron, Blood Orange Dark Chocolate Truffle, Lychee Marshmallows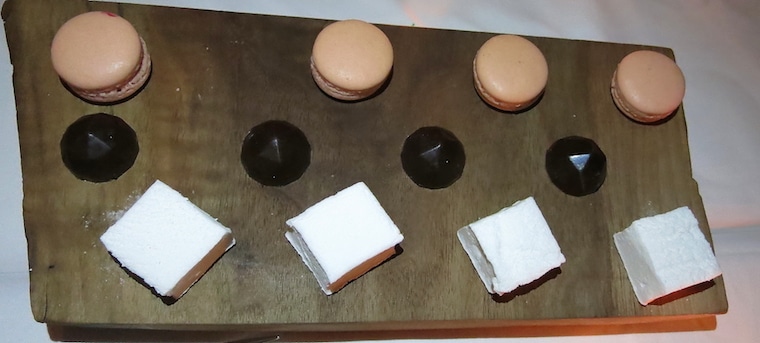 While I wasn't much for the orange and chocolate truffle (see above explanation), the macaron had a lovely balance of tart and sweet, and the lychee marshmallow melted like a dream. As a avid marshmallow maker myself, I think that lychee is a genius ingredient for this particular confection, it's floral and mildly sweet, and thus, does not distract from the delicate marshmallow texture.  Well done.
Shortbread Take-Aways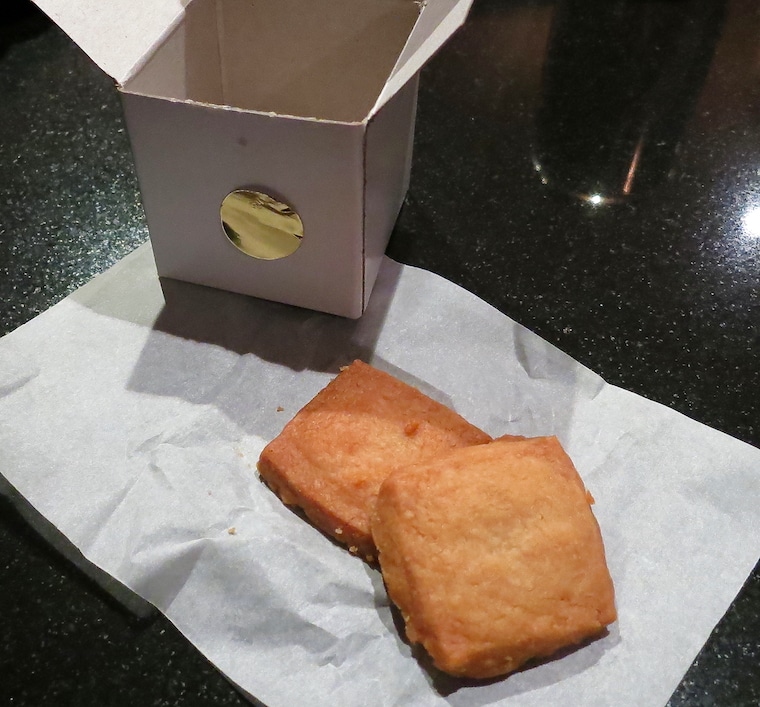 These were consumed at breakfast Sunday morning (before heading off to Slurp, where Victor also happened to be serving).  While I'm generally not a fan of shortbreads, Splendido's were buttery and luscious without tasting dry. I may or may not have smeared the second one with McEwan's bacon jam. Um yah, it was a doozy of a weekend for the old GI tract.
So for 5 tasting menus, 5 cocktails, 1 bottle of wine, 1 tea and 2 coffees, the bill came to about $1150 including tax and tip. Expensive? Of course it is! When is the last time I wrote a blog post that had a final tally with 4 digits? But, then again, we must consider that there were 5 diners, not the usual 2, and the booze was what added up. Actually, at $120 per person for 14 "dishes", I would say the tasting menu is an incredible steal, especially considering none of our dishes flopped! So a big congrats to Victor for upholding Splendido's reputation as one of Toronto's best. You've set the bar pretty high for our city's high-end dining scene, and I look forward to seeing what you will get up to next.
Updated on May 8th, 2019