It's Valentines Day this week, and that means celebrating everything cozy as a cushion, rich as a king and sweet as a pie. But I'm not just talking about dessert here, folks. There is definitely room for sparks of sweetness in savoury dishes as well, and one of my favourite places to play with the sweet-sav combo is with root vegetables. You can roast up beets and toss them with honey and walnuts, sprinkle a little brown sugar over your sweet potatoes, and boil your carrots with orange juice and butter. Mm! Root veg just love to cuddle close on the sweet side of the bed.
Well, I want to talk about one of my favourite root vegetables, the little known, seldom grown (not in my neighbourhood, anyways), the Sunchoke (aka. the Jerusalem Artichoke).  Now, believe it or not, these are not from Jerusalem and are not Artichokes at all. They're actually the root of the sunflower plant, making Sunchoke perhaps the most appropriate name.
But they're name is not their only misleading characteristic. You also don't wanna go judging them by their appearance, either. Honestly, they look pretty gnarly. They kind of resemble something between horseradish and ginger with lots of unappetizing little knobs going on. Apparently Sunchokes used to be thought to cause leprosy simply because they looked like the fingers of infected individuals. Oy!
Okay, so onto the good aspects of this root. Well, most importantly, they have a beautiful delicate nutty flavour and a mild sweetness, and can be cooked pretty much any way you would cook potatoes (pureed, sauteed, boiled, in soup etc).  They're also one of our native North American plants, and an amazing farmers market find for the colder winter months.
And finally, the questionable characteristics.  Unlike most root vegetables, sunchokes store their carbohydrates as an undigestible fibre called inulin, rather than as just starch.  This is an asset in one way because that undigestible factor makes Sunchokes a better choice than other root vegetables for individuals with diabetes, or those simply wanting to regulate their blood sugar levels. Inulin is also considered a prebiotic, so it can help with promoting GI health. But it's not so good in the sense that some people can get a bad case of gas after too big a helping. To combat some of that, I mixed the sunchokes with some delicious pears and tempered everything down with dairy.
Speaking of dairy, yes- I used a lot of it, and didn't skimp of the fat percentage. So this would definitely qualify as a special occasion or entertaining type of dish, especially after its been garnished with beautiful crunchy pistachios and a sexy red gastrique. And if you are going to do anything I suggest, do not skip the gastrique! I specifically made it using a secret canned short cut JUST to entice you to put in the extra effort because it adds so much contrasting flavour and colour to the dish. Mmm,  all that nutty richness from the creamy soup is graciously cut by the tangy and sweet swirl. Heaven.
So treat your partner (or a lucky group of pals) to this elegant and sassy starter. Even if you're single, you won't be after this.
Sunchoke and Pear Soup with Cranberry Gastrique and Spiced Pistachios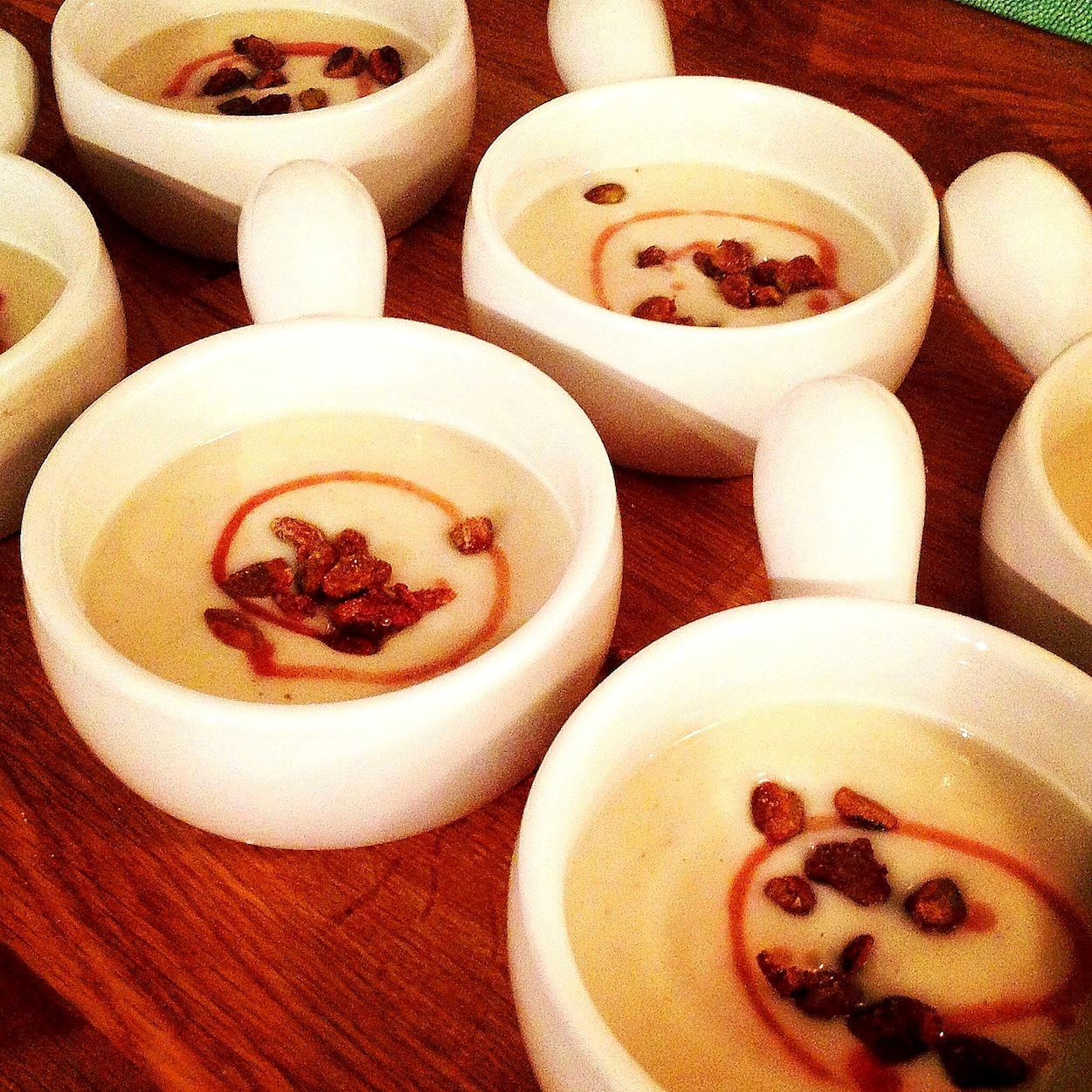 Updated on February 13th, 2016