Minestrone soup is a classic Italian bowl of comfort that is naturally high in fibre and low in fat. It was one of my go-to dishes while on my trip to Italy because it was a light alternative to another bowl of pasta after one too many scoops of gelato. Packed with hearty white beans, satisfying pasta, tonnes of vegetables and as much cheese as my little heart desires, it's food you just feel invigorated to eat.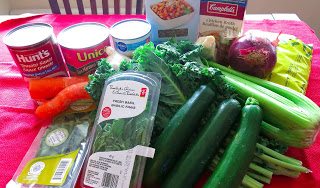 Ingredients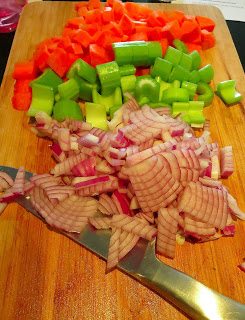 Dice that mirepoix
Well, seeing the dearth of veggies at you-know-who's lunch today (yep,  he had lasagna with Caesar salad AND a 4 cup container of some fried lo mein dish, just in case he needed a "snack") and the abundance of said vegetables in our fridge, I figured I'd load up my crock pot and call it dinner. Oh, and loading did I ever. Actually, I hope you're crock pot is bigger than mine because I ended up with a little spillage as I packed the last handful of kale in. It was totally worth it though because I ended up with not one, not two, but legit-three two-person meals full of delicious Italian love.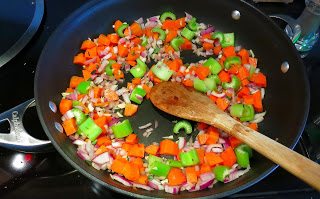 Saute them veggies!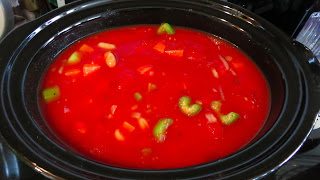 Into the pool
Now, as I'm sure you know, this girl is definitely not a vegetarian (nor is that boy), but I assure you that this is Vegetarian meal going to win over any meat-loving family. With all those high fibre veggies, beans and whole grain pasta, you can feel satisfied with a modest bowl, but totally justified if you go back for a second (or third).  This is actually a really balanced vegetarian meal, as well, because it features both beans and grains (pasta) together, which when combined yield a "complete vegetable protein". I don't want to get into too much " nutritionese" jargon here, but in lay terms, there are very few non-animal food products that contain all of the essential amino acids our bodies need to properly function. Thankfully, different vegetarian sources of protein are only missing a few amino acids each, and they don't all miss the same ones! That means if you "combine" vegetarian protein sources (like eating beans and grains together, for example), the overlap of amino acids basically covers you. So long story short, that's what minestrone does. It's got your back. And your quads, and your biceps, and all of the other protein-dependant muscles in your body.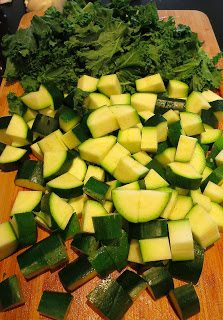 Chopping up the veggies
Almost doesn't fit!
 Now, off of the protein and back onto veg. I used kale as my dark leafy green in place of the more traditional spinach option but feel free to sub in your fave. Personally, I really like the heartier texture of kale, and since it's apparently become super culinary chic in the health-food world lately, I figured you'd appreciate the switch.  But if you're not a fan, you can try spinach, swiss chard, collard greens, arugula, mustard greens, or dandelion. All of these options are nutritional powerhouses, so no need to stress over which is "best".
So before you're going to want to get that crock pot going ASAP, this is what I did:
Superfood Slow Cooker Minestrone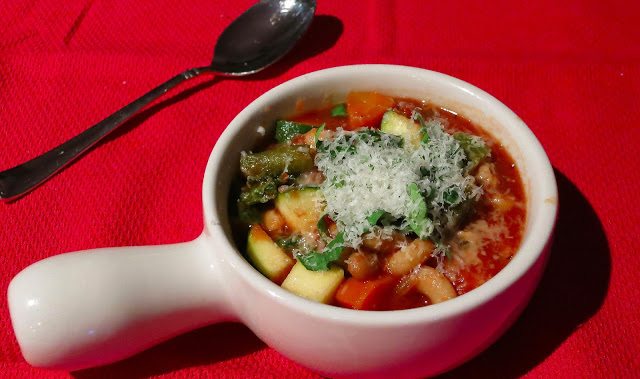 Updated on January 27th, 2020