This Veggie Noodle Lemon Pasta with Burrata, Hazelnuts & Dates is unquestionably beautiful and OMG food. It's gluten free, low in carbs and makes an impressive dinner party dish.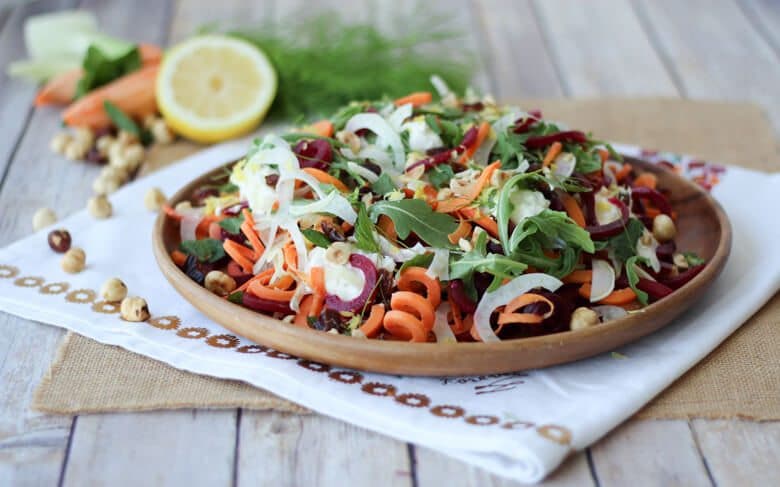 So I'm married!!! It's almost a week and boy am I exhausted. I may be technically on my honeymoon but I still wanted to share with you a recipe I came up with before the big day. A month before the wedding I had my bachelorette at my in laws cottage, and I hired two chefs to come up to cook for us girls for the day. I know, a bit over the top, but I always end up playing short order cook at the cottage and I figured on my weekend that I could splurge.  He made this incredibly burrata salad with dates, and since then I have been dreaming about the combination.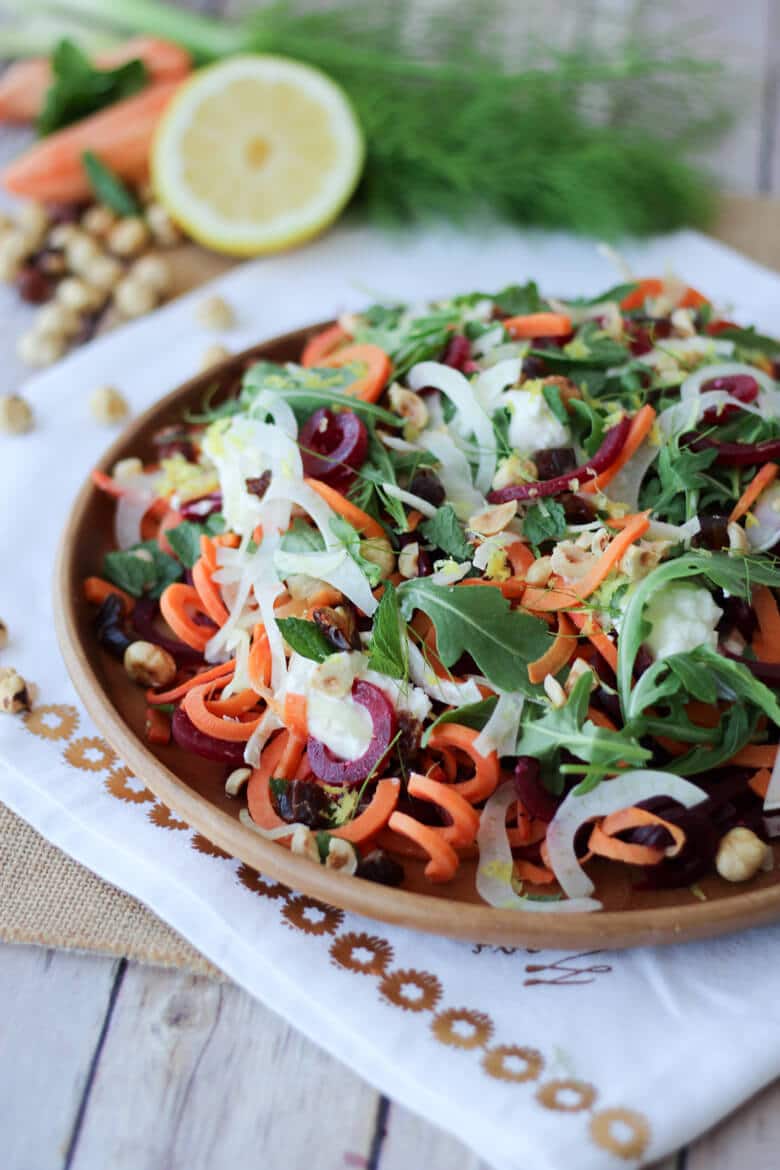 This month's #TheRecipeRedux challenge was all about vegetables and displaying them in beautiful new ways. I wanted to create a veggie noodle dish and I thought a lemon pasta would be a nice idea. I also knew it would pair amazing with some pulled burrata in the mix and adorned with crunchy hazelnuts and sweet chewy dates.
How to Make Gluten Free Veggie Noodle Lemon Pasta
I normally use a hand-held crank-style spiralizer, but for this recipe I decided to bust out my new attachment for my stand mixer. Let's just say it made making these veggie noodles an absolute breeze. I spiralized up my sweet potato and beets (separately, of course). Then I lightly steamed each vegetable separately in a bit of water until they reached a nice al dente texture. You don't want to let them get soggy because you are going to add them back to the pan. Since beets have a tendency to bleed, I added a touch of lemon juice to them as they cooked and then rinsed them lightly to remove a bit of the excess colour.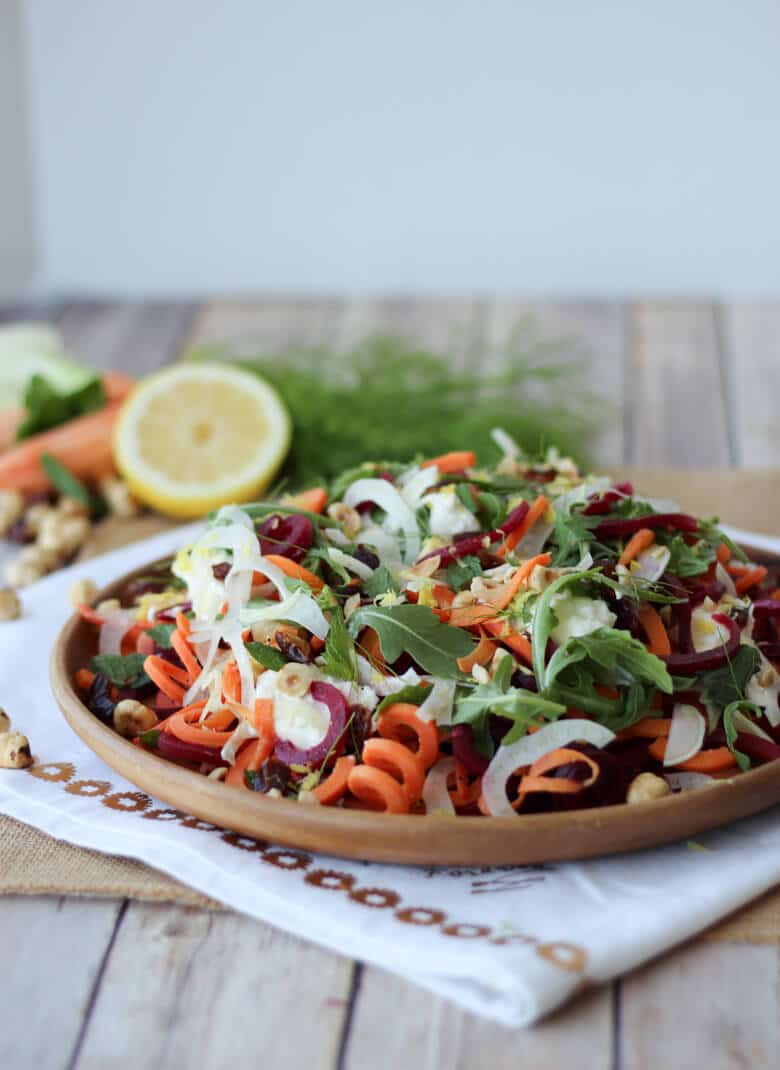 Once I had my veggie noodles all finished, I was ready to put everything together. A little quick saute on some sweet fennel yielded a delicious licorice aroma before I added back my sweet potatoes and hit it with some lemon juice, zest and parmesan. Toss in the beets just until they warm through and then we get to plate the veggie noodle lemon pasta.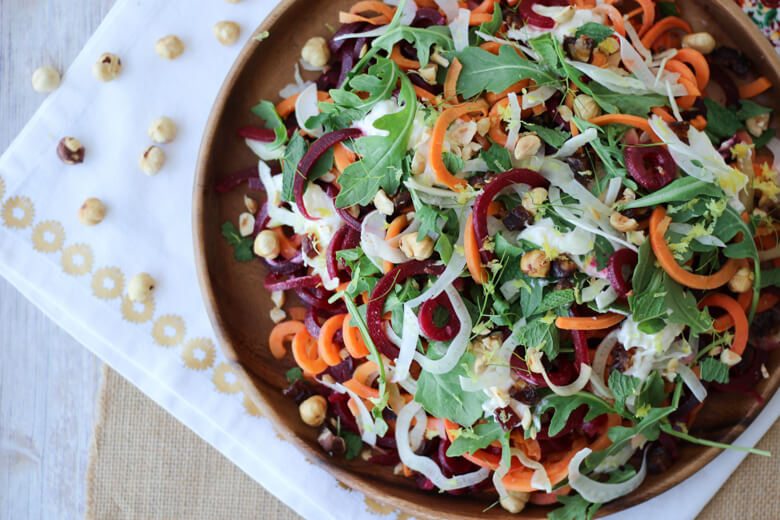 This is the best part but you do have to work quickly so make sure you have all your finishing ingredients ready for when this comes out of the pan. Each plate of veggie noodle lemon pasta gets a little arugula, fresh reserved fennel, hazelnuts, chopped dates and a little drizzle of lemon and oil. And we can't forget the whole reason I made this dish- the pulled burrata. OMG if you haven't had burrata, you are in for a treat and honestly, a little bit goes a really long way. I like to pull it by hand right on top of the pasta, but you can also gently cut it- just expect a bit of spillage on the cutting board. That's chef's treat.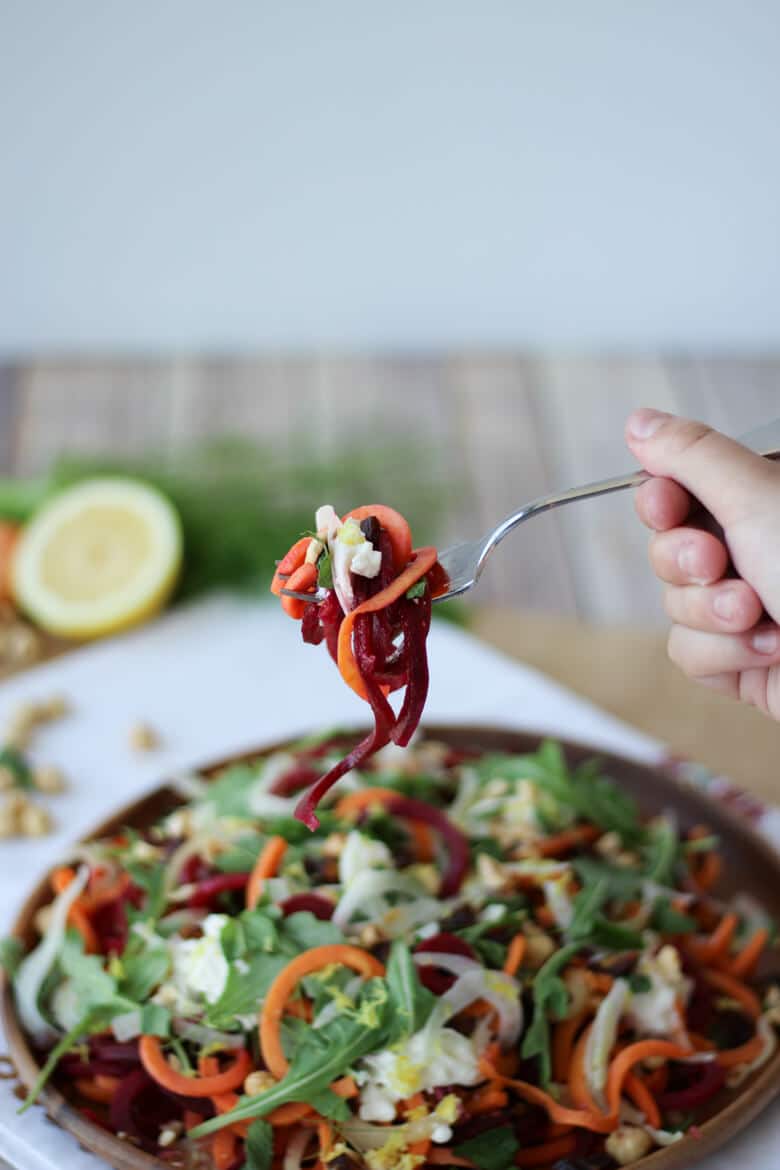 This veggie noodle lemon pasta is unbelievable warm, but it's super delicious as a salad the next day as well.
What's your favourite way to serve vegetables? Have you tried making veggie noodle lemon pasta?
Want to see more delicious veggie creations? Check out my fellow dietitians' #TheRecipeRedux recipes here!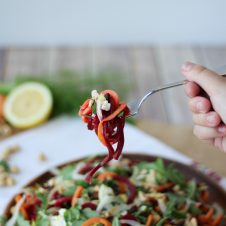 Print Recipe
Veggie Noodle Lemon Pasta with Burrata, Hazelnuts & Dates | Gluten Free
This Veggie Noodle Lemon Pasta with Burrata, Hazelnuts & Dates is unquestionably beautiful and OMG food. It's gluten free, low in carbs and makes an impressive dinner party dish.
Ingredients
Pasta:
2

large or 3 medium sweet potatoes

peeled

3

beets

peeled

5

tsp

lemon juice

divided

1

head fennel

thinly sliced on a mandoline

2

tbsp

Extra virgin olive oil

6

tbsp

parmesan cheese

1

tsp

lemon zest

Salt and pepper

to taste
Assembly:
1

cup

arugula

1/4

cup

hazelnuts

toasted

5

dates

finely minced

100

g

burrata

torn

1

tsp

extra virgin olive oil

1

tsp

lemon juice

1

tsp

lemon zest

Fennel fronds

reserved
Instructions
Spiralize the sweet potatoes and beets and keep them separate.

Add a few tablespoons of water to a large pan and add in the sweet potatoes. Cover and simmer until the sweet potatoes steam lightly until al dente, about 4-5 minutes. Drain and set aside.

Return the pan and do the same thing with the beets, this time adding a teaspoon of lemon juice. Drain and lightly rinse to remove some of the excess red colour.

Return the pan to the heat with two tablespoons of olive oil. Add all but 1/4 cup of the sliced fennel and the fennel fronds and saute on medium until golden. Add the sweet potatoes and toss until warmed through. Then add the beets, the remaining 4 teaspoons of lemon juice, lemon zest, parmesan and salt and pepper to taste. Toss until warmed through.

Transfer to a serving platter and top with the arugula, hazelnuts, dates, and burrata. Drizzle with a teaspoon each of oil and lemon juice, and garnish with a teaspoon of lemon zest, the reserved sliced fennel and fennel fronds. Enjoy!
Nutrition