These adorable Vegan Chocolate Dipped Banana Roll-Ups on a Stick are the ultimate after school or work snack for kids or kids at heart.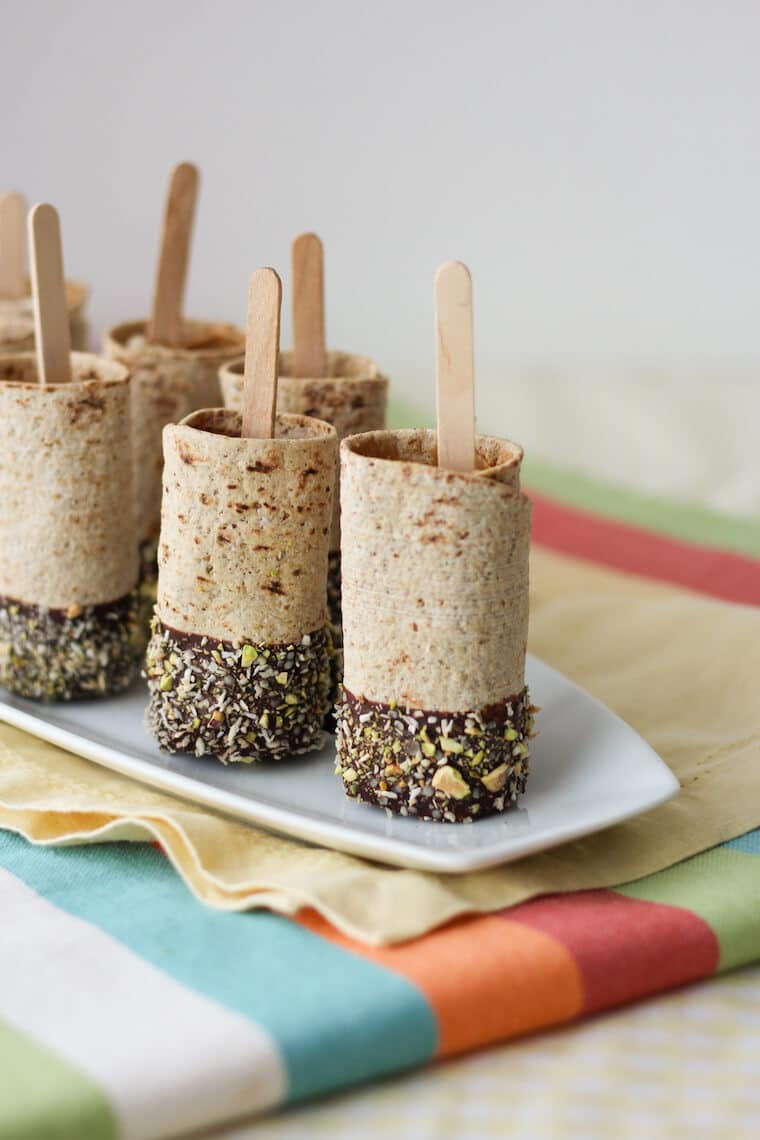 Food always tastes better on a stick. Unfortunately, stick foods are usually higher in calories, fat, sugar, and salt. Think about it, guys. Corn dogs, cotton candy, cake pops, s'mores (well, the marshmallow part at least). Stick food is fun food.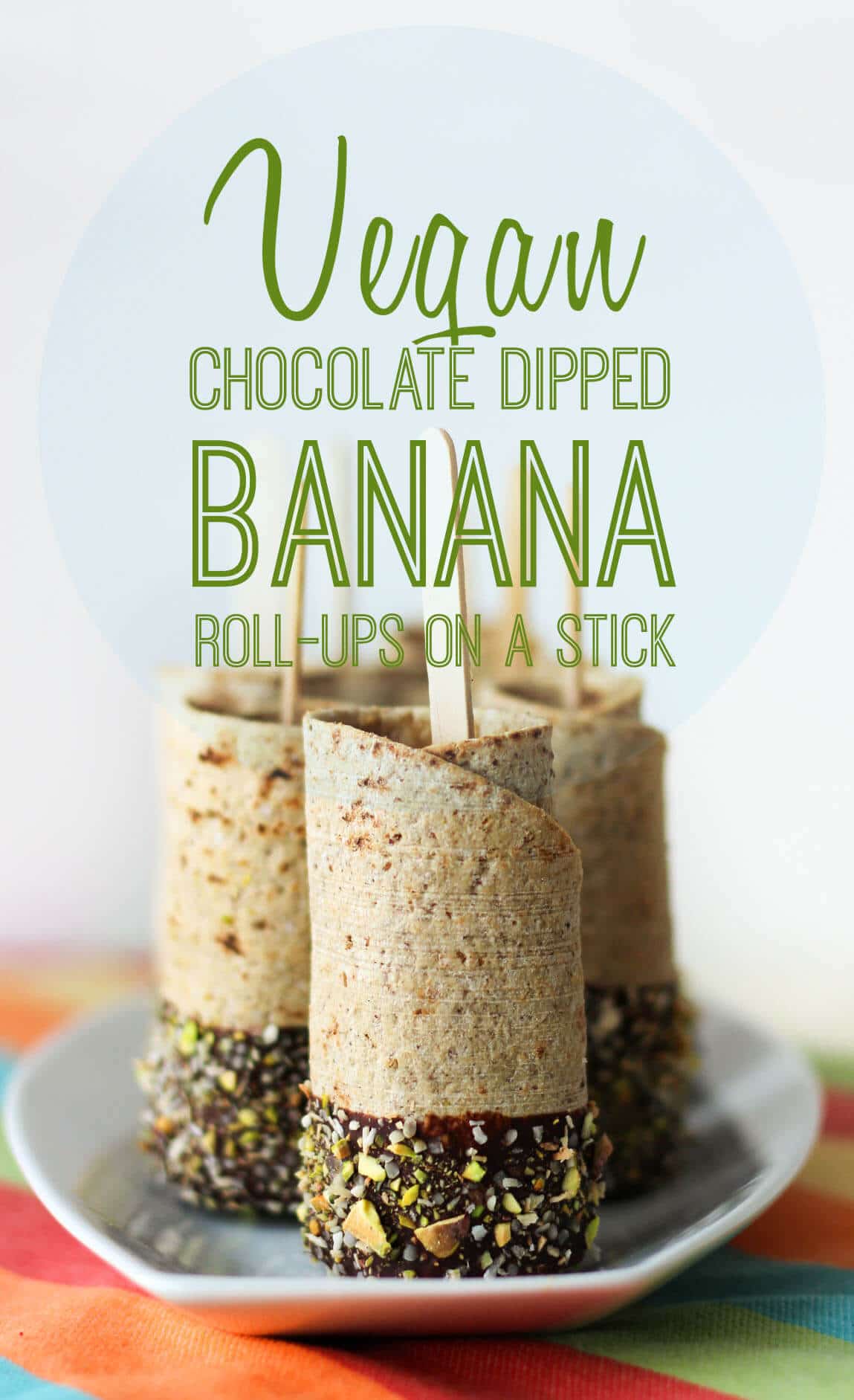 But what if food on a stick could also be healthy for you? In this case, it totally can. My "choose your own adventure" Vegan Chocolate Dipped Banana Roll-Ups start with a major high fibre staple in my house – Flatout flatbreads. I am kind of obsessed with these wrap breads. They're clearly super versatile considering I've used a variety of their flavours in my cheesecake stuffed crepes, healthy enchiladas, hummus quesadillas, and spicy sausage pizza.  In this recipe, I'm using the Multigrain with Flax which packs a whopping 8 grams of fibre and 7 grams of protein per 140 calorie wrap. That alone will ensure you've got a satisfying snack on board.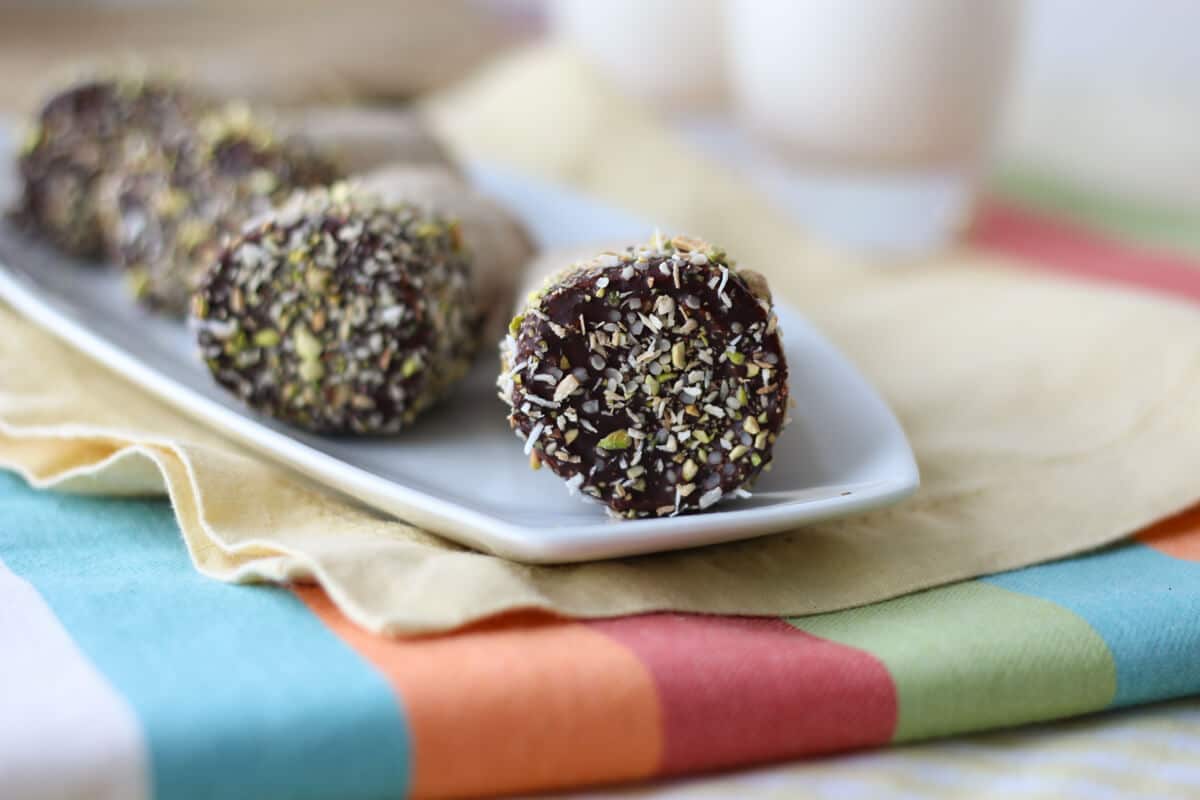 411 on Vegan Chocolate Dipped Banana Roll-Ups
So I lay my Flatout, well, flat out, and cover one side with all natural almond butter. It's pretty much the best "food safe" glue out there. I then add in a handful of dried cherries and some high fibre cereal, but feel free to just keep them "naked" without any extra crunchy bits if you'd like. Then I place my banana at the edge of the Flatout and wrap that bad boy up. One wrap will make two vegan chocolate dipped banana roll-ups, and trust me, one is more than enough to keep you satisfied. I then just insert a popsicle stick, pop it in the freezer for an hour and work on getting all of the fun toppings ready!
Once my banana roll-ups are frozen solid, I make a quick "magic shell" with vegan dark chocolate and coconut oil, dip it right in and it's time to decorate! It's like being a kid at a birthday party but hopefully, with a little less mess. Side note- where there is Abbey, there is always a mess. Regardless, I used a combination of pistachios, toasted coconut and hemp hearts on mine, but feel free to use whatever nuts, seeds and other tasty bits you have in your pantry. If I were to serve this to kids for a special occasion, I would ramp up the fun factor with some sprinkles and other little candy bits from the bulk store. These are your vegan chocolate dipped banana roll-ups, so you totally can make them your way!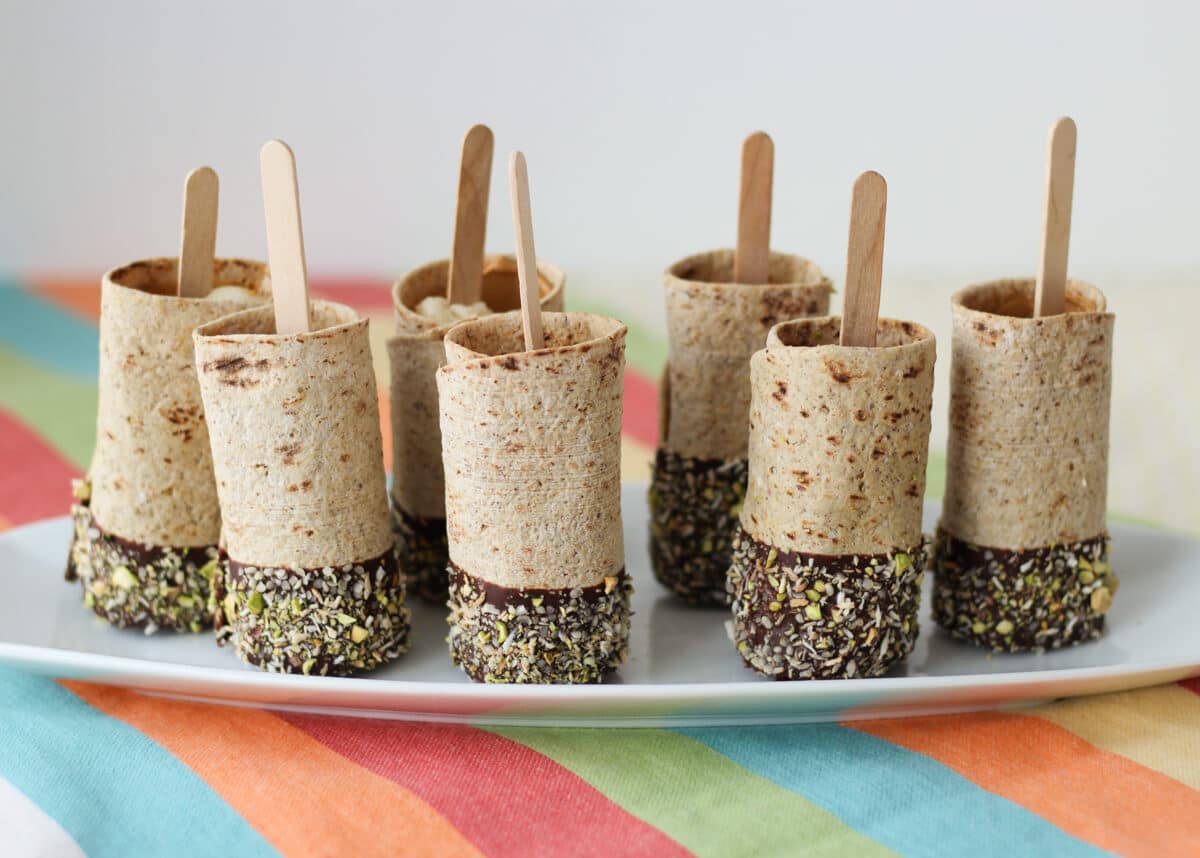 Have you tried making banana roll-ups with a vegan chocolate dipped shell? What fun toppings or fillings would you add in your roll-ups? Leave me a comment below with some of your favourites! I would love your ideas!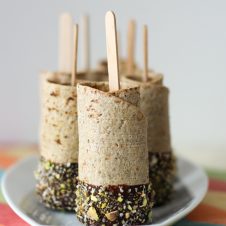 Print Recipe
Vegan Chocolate Dipped Banana Roll-Ups on a Stick
These adorable Vegan Chocolate Dipped Banana Roll-Ups on a Stick are the ultimate after school or work snack for kids or kids at heart.
Ingredients
Wrap
4

Multigrain with Flax Flatout Flatbreads

4

bananas

1/2

cup

natural almond butter

softened

1/4

cup

dried cherries

finely chopped

1/2

cup

high fibre cereal buds
Toppings
3

tbsp

pistachios

finely chopped

3

tbsp

toasted unsweetened coconut

finely chopped

3

tbsp

hemp hearts
Instructions
Lay your Flatouts out and cover one side of each with almond butter. Divide the dried cranberries and cereal between the four wraps, then place the banana at the edge of the Flatout laying across the width of the wrap. Starting at one end, wrap the banana up along the length of the Flatout. Continue with the remaining wraps.

Cut the wraps in half to yield two "pops", then insert a popsicle stick into the un-cut (the jagged open) end of the banana. Place the pops on a baking tray lined with a silpat or parchment paper and freeze for an hour.

Meanwhile, mix the chocolate and coconut oil in a microwave safe dish and microwave on 50% power in 30 second intervals until fully melted, stirring every 30 seconds.

Dip the pops into the chocolate cut side down and then without turning it up right (unless you like streaks) place it over another bowl to sprinkle the chocolate with hemp hearts, pistachios and cranberries.

Enjoy right away or put the roll-ups back into the freezer to pull out to eat throughout the week.
Nutrition
Disclaimer: This recipe was developed in paid-partnership with Flatout flatbread, however, all opinions are genuine. This post may also contain affiliate links, meaning, I may make a small commission if you purchase one of them.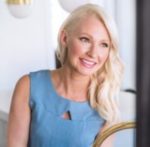 Abbey Sharp is a Registered Dietitian, an avid food writer and blogger, a cookbook author and the founder of Abbey's Kitchen Inc.