These healthy baked chicken nuggets are made with lean white meat and lightly seasoned with a sweet ginger garlic mix. 
Let's talk about our favourite childhood eats. One of mine was undoubtably chicken nuggets with plum sauce. Ask my momma, she had to make them for me every-single-day. But did we ever have healthy chicken nuggets? Um, not so much.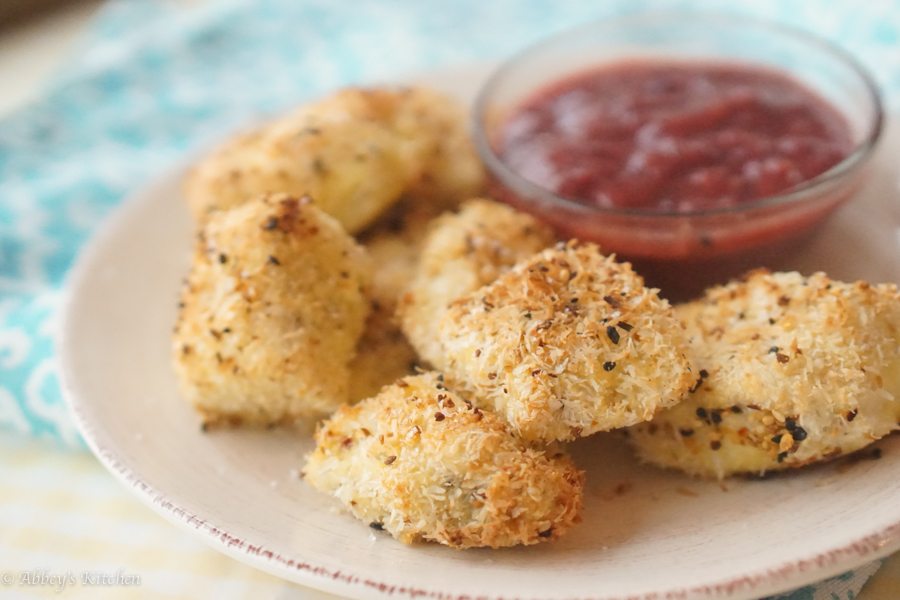 Well, as the weather cools down, I can't help but find myself constantly craving childhood comfort food. From Mac n' Cheese, to Pot Pies, to meatloaf, to my beloved chicken nuggets, my meal plans have certainly looked like a child wrote them over the past few weeks.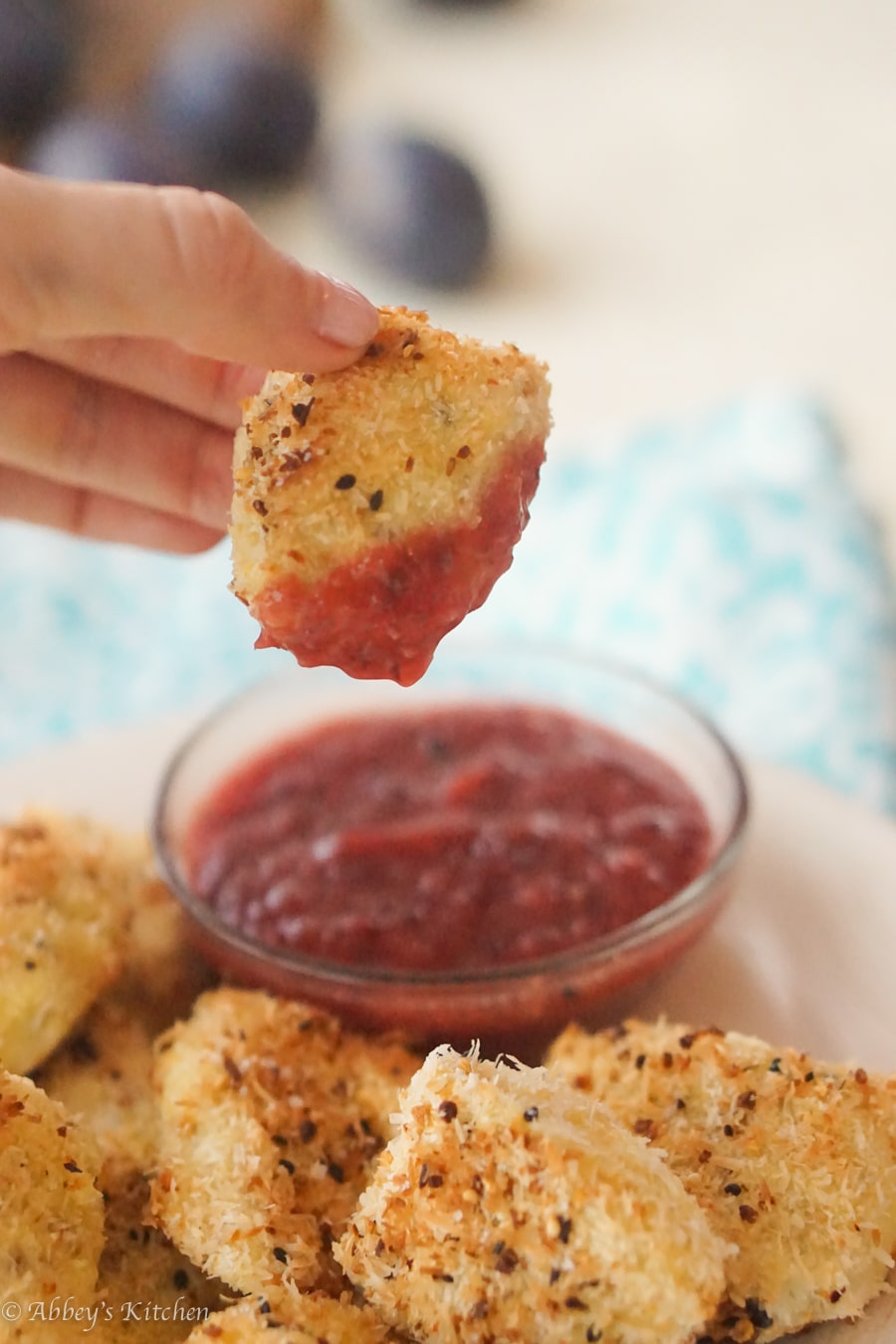 Are Healthy Chicken Nuggets a Real Thing?
And if there was ever something I managed to never get sick of as a child it was always a batch of crispy chicken nuggets. Homemade, frozen, drive-through or restaurant style, I'd never turn my nose up at a nugget.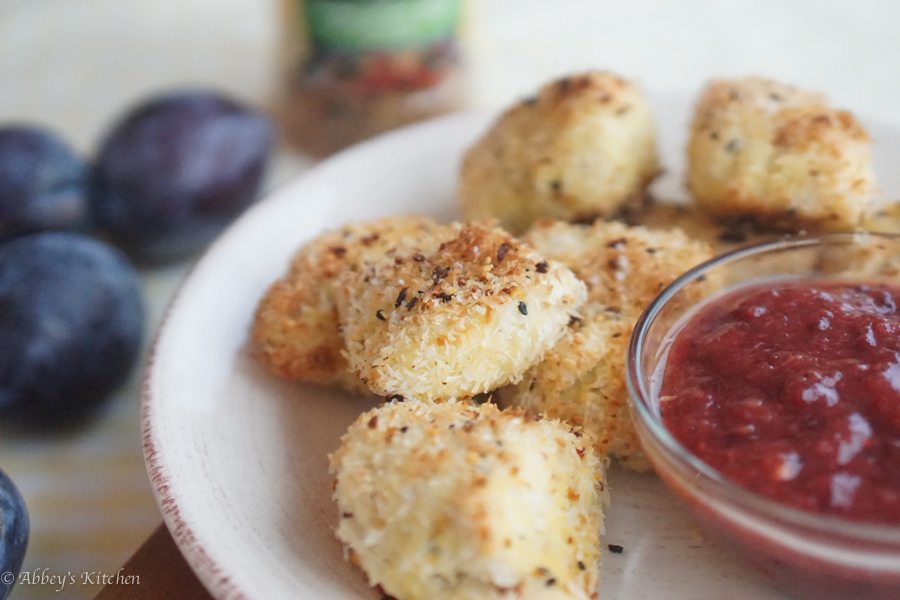 But as an adult (and a dietitian, at that), I've learned that not all chicken nuggets are created equal. In order for them to be approved by my adult palate and the nutrition professional within me, they need to: a) be made of lean white meat chicken, b) be baked, not fried, c) be dipped in something with minimal processing and sugar, and d) taste like something more than just batter and salt. They need to be pretty good tasting healthy chicken nuggets.
The first and second rules are no big deals and are pretty easy to accommodate in these healthy chicken nuggets. The third, I managed to pull off by making my own plum sauce using gorgeous ripe plums, a touch of honey and my favourite aromatics. And for the fourth I simply relied on my new go-to spice mix, Simply Asia Sweet Ginger Garlic Seasoning.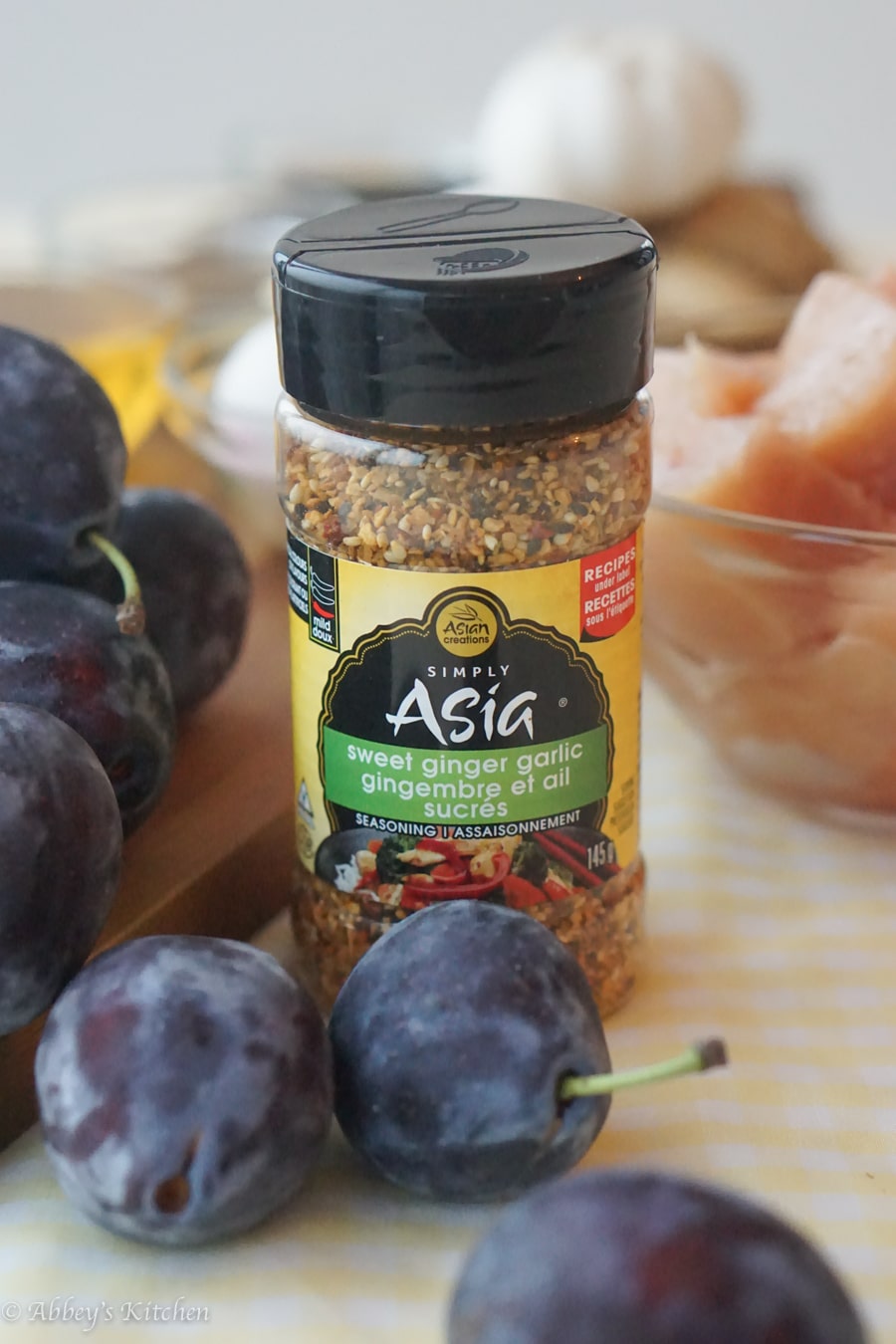 With the flavour of garlic, ginger, black sesame seeds, toasted coconut and soy sauce, this pantry staple adds mucho flavour to literally anything. In addition to my healthy chicken nuggets, I've been throwing it into stir-fries, rubbing it on grilled meat and using it to give a little life to steamed veggies or rice.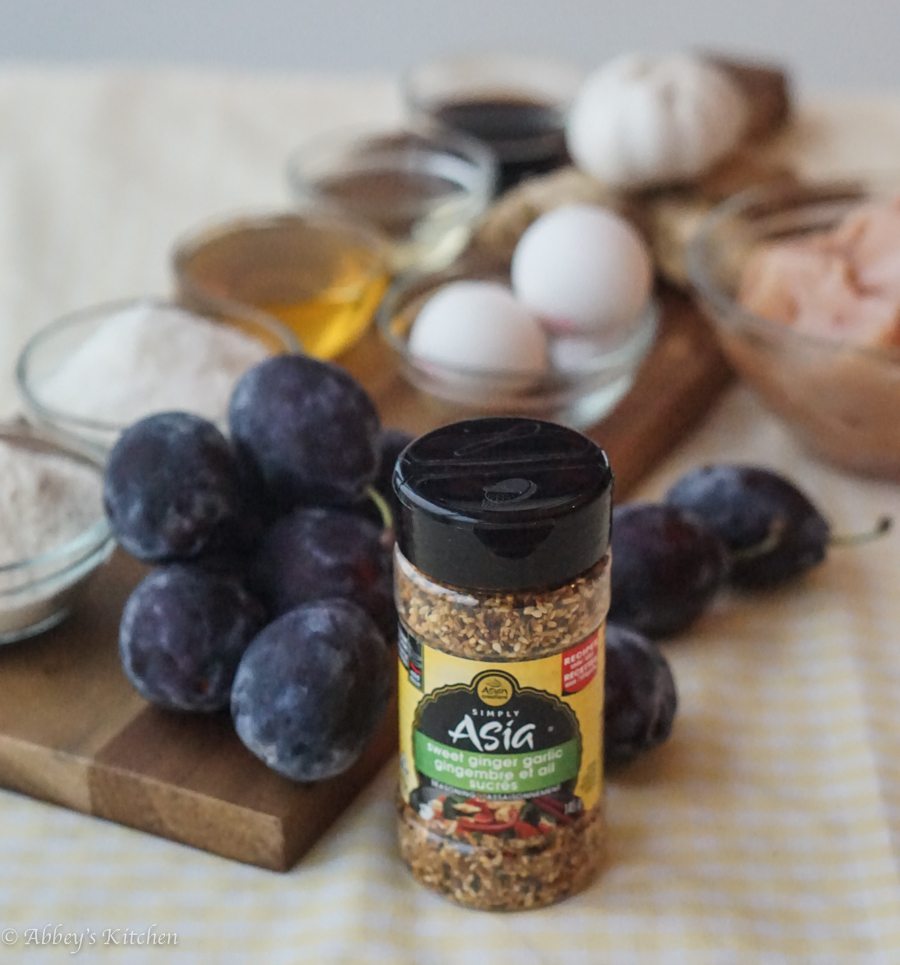 If you want more ideas and awesome video tutorials on how to use Simply Asia products to make, check out Flavour.ca or head to Simply Asia website for other great products!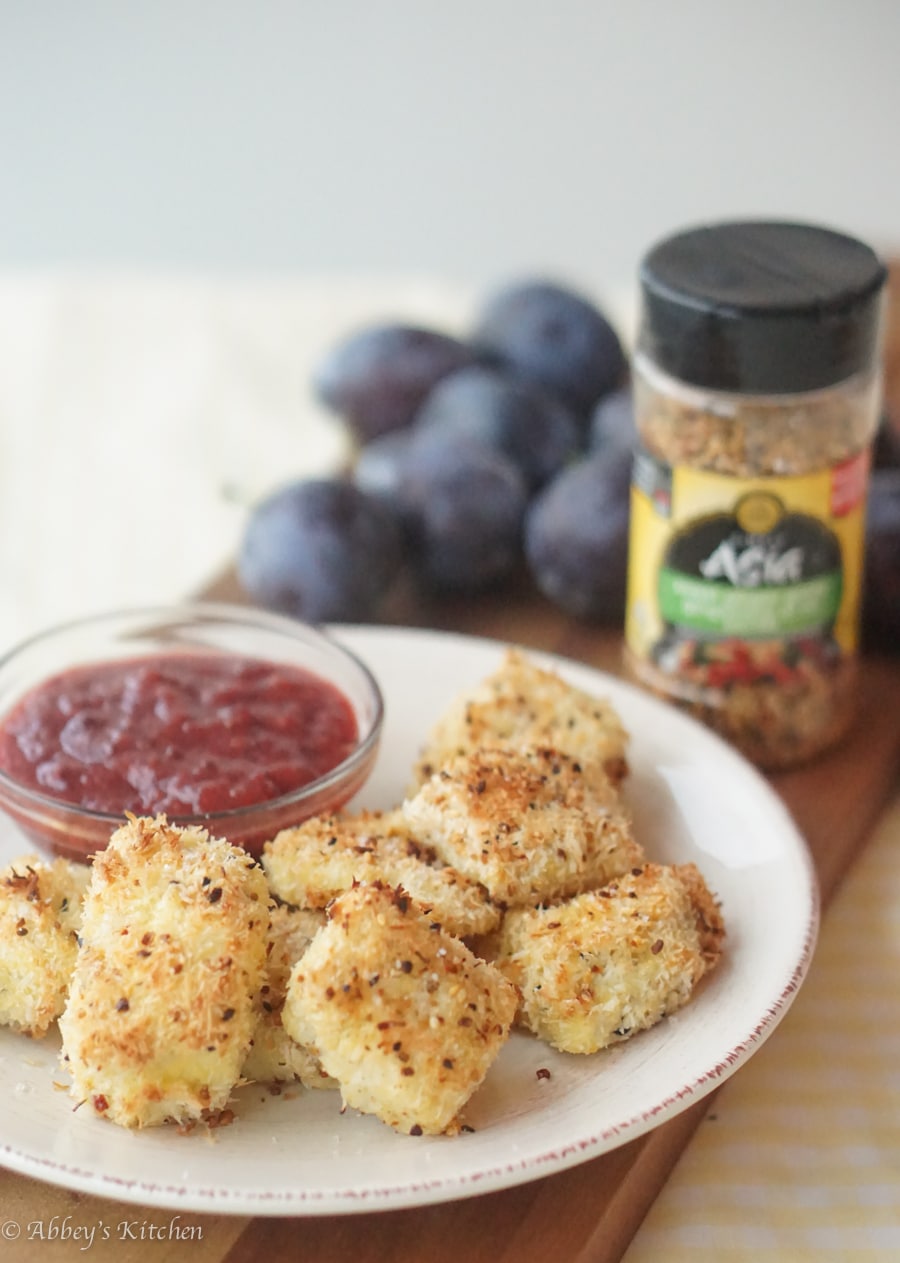 Have you ever tried making healthy chicken nuggets? How do you adult-i-fy your childhood favourite recipes? Leave me a comment below about some of your nostalgic dishes and I'll try to give them a healthy grown-up spin!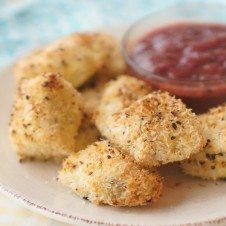 Print Recipe
Gluten Free Healthy Chicken Nuggets with Ginger, Coconut Crust & Low Sugar Plum Sauce
These healthy baked chicken nuggets are made with lean white meat and lightly seasoned with a sweet ginger garlic mix.
Ingredients
Chicken Nuggets
1/2

cup

coconut flour

2

eggs

beaten

2

tbsp

Simply Asia Sweet Ginger Garlic Seasoning

1

lb

Skinless, boneless chicken breasts

cut into cubes

Pinch

salt and pepper

pinch of each
Plum Sauce
2

cups

plums

chopped

1 1/2

tbsp

rice wine vinegar

1

tbsp

honey

1/2

tbsp

reduced sodium soy sauce

1

clove

garlic

finely minced

1

tbsp

fresh ginger

finely grated

1/2

cup

water

1

tsp

Simply Asia Sweet Ginger Garlic Seasoning
Instructions
Chicken Nuggets
Preheat oven to 400 F.

Place the coconut flour in one shallow bowl, the beaten eggs in another bowl, and the coconut and Simply Asia Sweet Ginger Garlic Seasoning in a third bowl. Season the chicken breast cubes with a pinch each of salt and pepper, then dunk each cube first in the coconut flour, then the eggs, and then the coconut-Sweet Ginger Garlic seasoning.

Lay on a baking sheet lined with parchment paper or a silpat and bake for 10-12 minutes, or until toasty brown and cooked to an internal temperature of 165 F.
Plum Sauce
Add all of the ingredients to a medium saucepan with a lid and bring to a boil. Reduce the heat to a medium-low heat, and simmer for 10 minutes until the plums are very soft and falling apart.

Transfer to a blender or food processor and process until smooth.
Assembly
Serve the chicken nuggets with the plum sauce and enjoy warm.
Nutrition
Disclaimer: This recipe was developed in paid partnership with Simply Asia, however, as always, all opinions are genuine.