These Mini Egg & Hot Cross Buns Trifle are the perfect way to indulge this Easter holiday.
When I say the words "hot cross buns" I immediately think of two things. First, Easter (which quickly makes me crave those addictive Cadbury mini eggs). Second, that ear worm of a recorder song we were all forced to play in preschool. Hot cross buns. Hot cross buns. One a penny, two a penny… ugh. As annoying as that is, it doesn't detract from how delicious fresh hot cross buns are, at Easter or really, any time of year.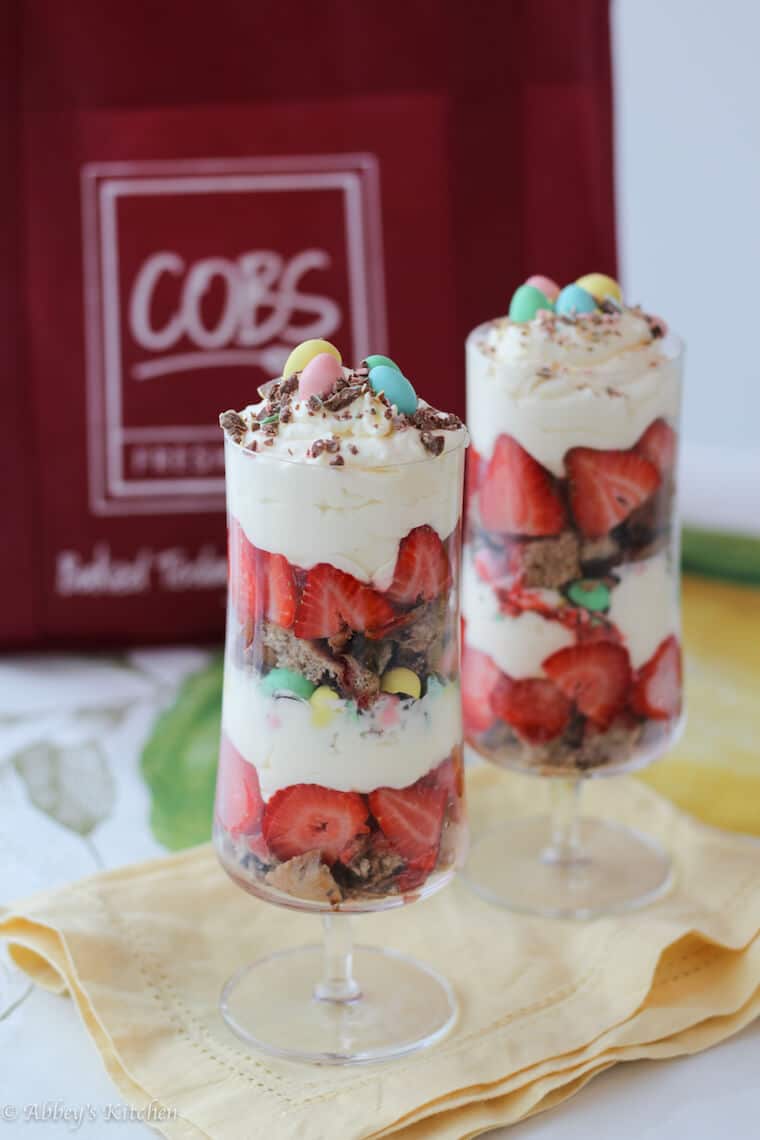 And while you could be a hero and bake your own, things tend to get far too hectic for that come holiday time. Easter is one of those major food holidays where your kitchen to-do list is already overwhelming, you might as well get some help from the store. My Easter tradition always involves a stop at my local COBS Bread to pick up some of their baked-from-scratch Hot Cross Buns.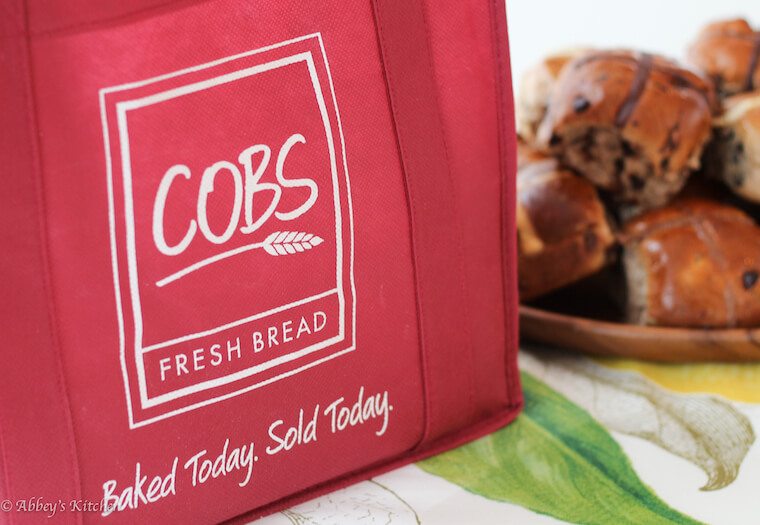 They actually have three varieties- the traditional with raisins, currants and spices, the Cranberry Orange, and the Chocolate Chip. I had the pleasure of trying them all the other week for their Hot Cross FUN Day, which is an annual event to celebrate their best selling bun.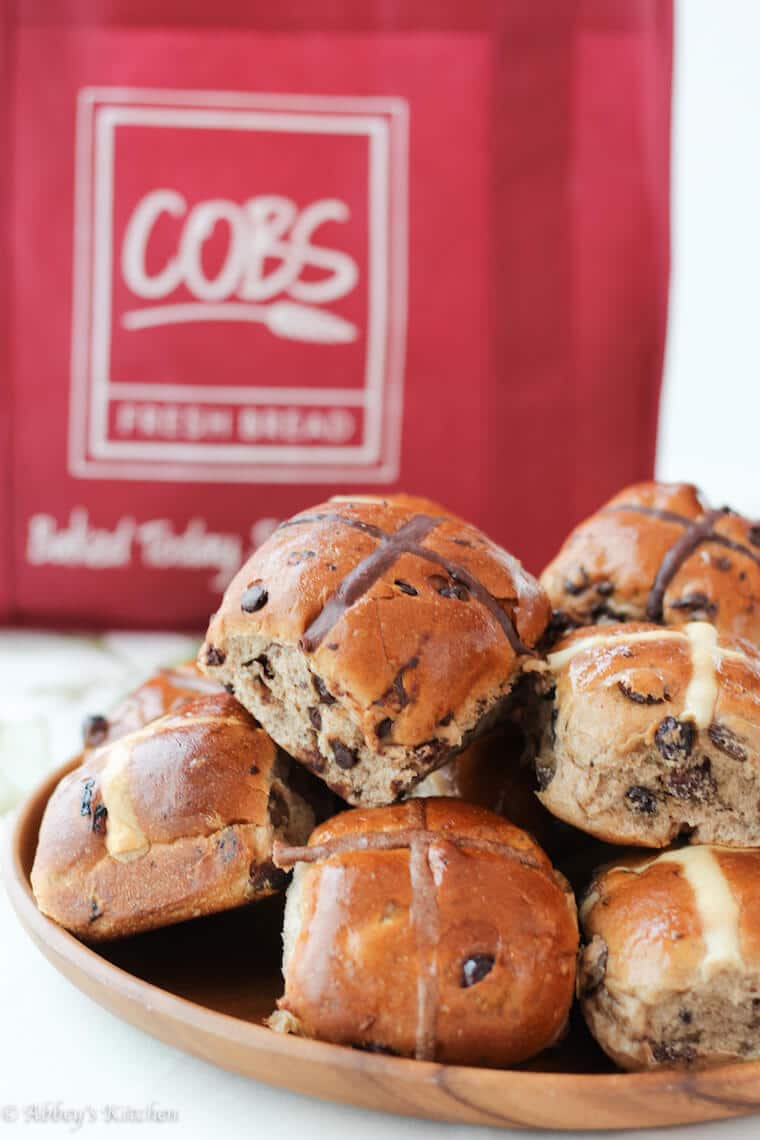 Honestly, I love them all, and they would all work well in this recipe, but I'm a sucker for the chocolate chips. And if you ask a child, I can guarantee you they'll say the same.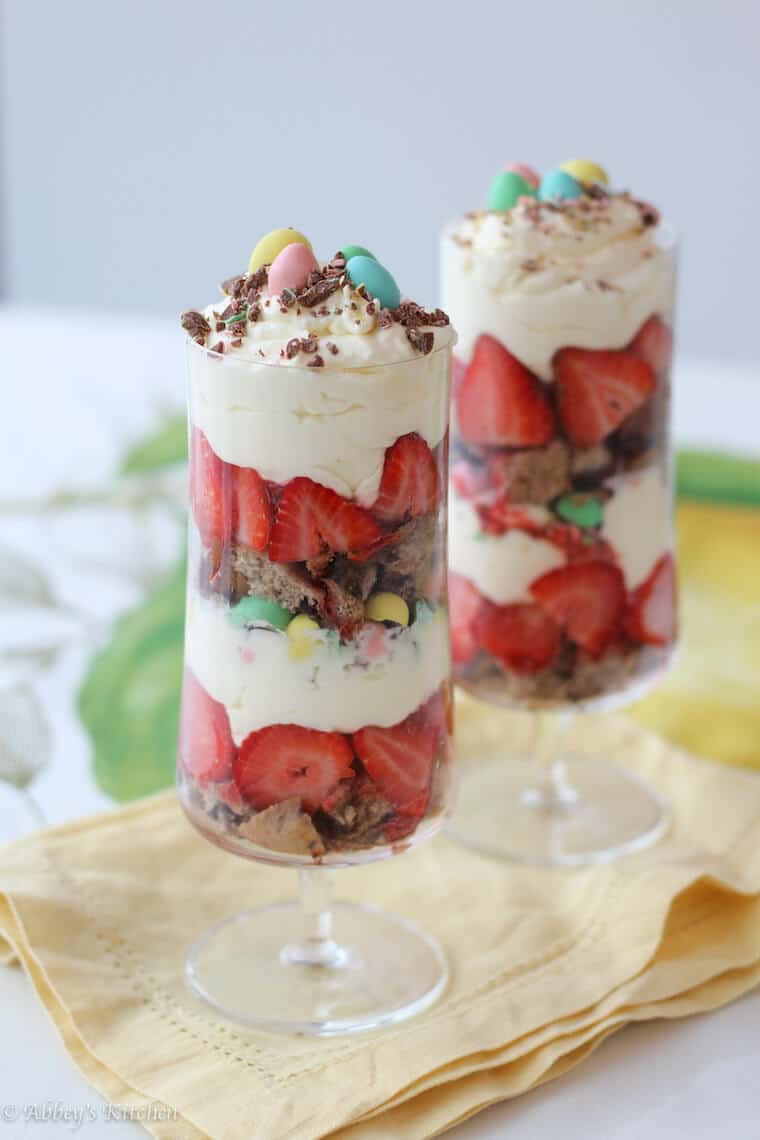 So this recipe was born because I admittedly bought too many delicious COBS Hot Cross Buns and being a family of two, we just couldn't eat them all before they went stale. Sure, I could have made bread pudding, or French toast, or even a crazy grilled cheese, but I had another fun idea. Why not a decadent, over the top Easter TRIFLE!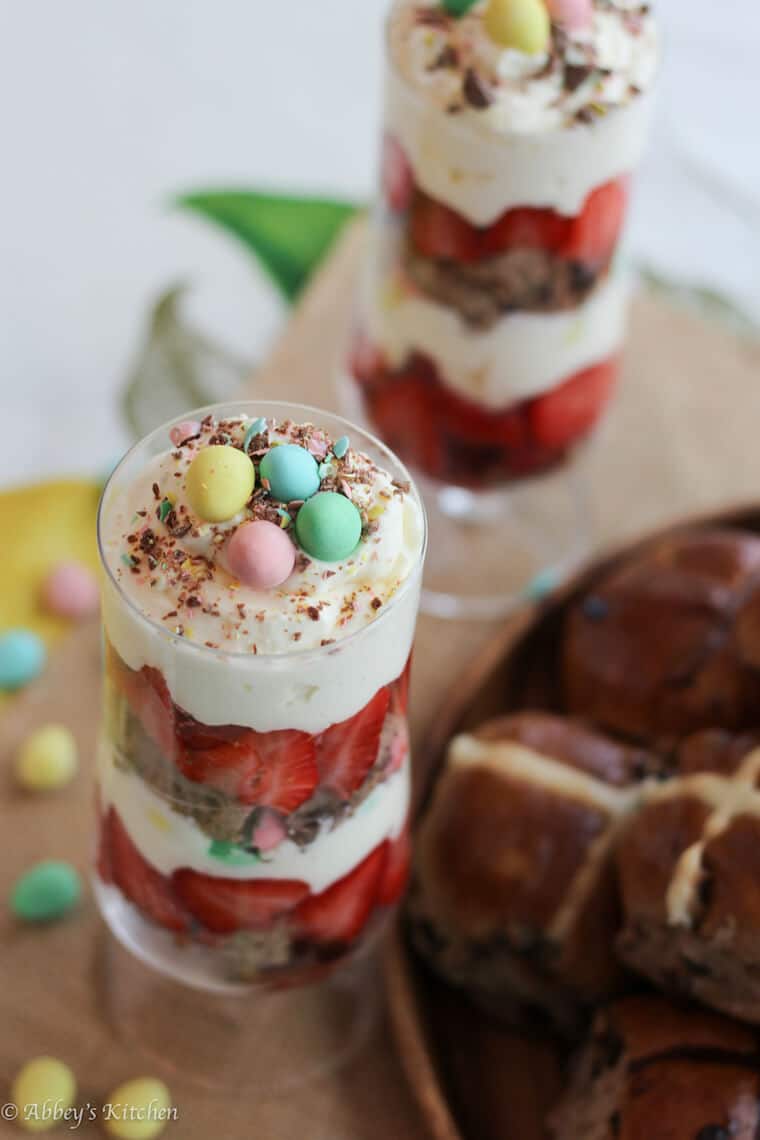 Total disclaimer here folks, this is not one of my typical Abbey's Kitchen low-cal recipes. This is a HOLIDAY recipe, and holidays deserve to be a bit sassy.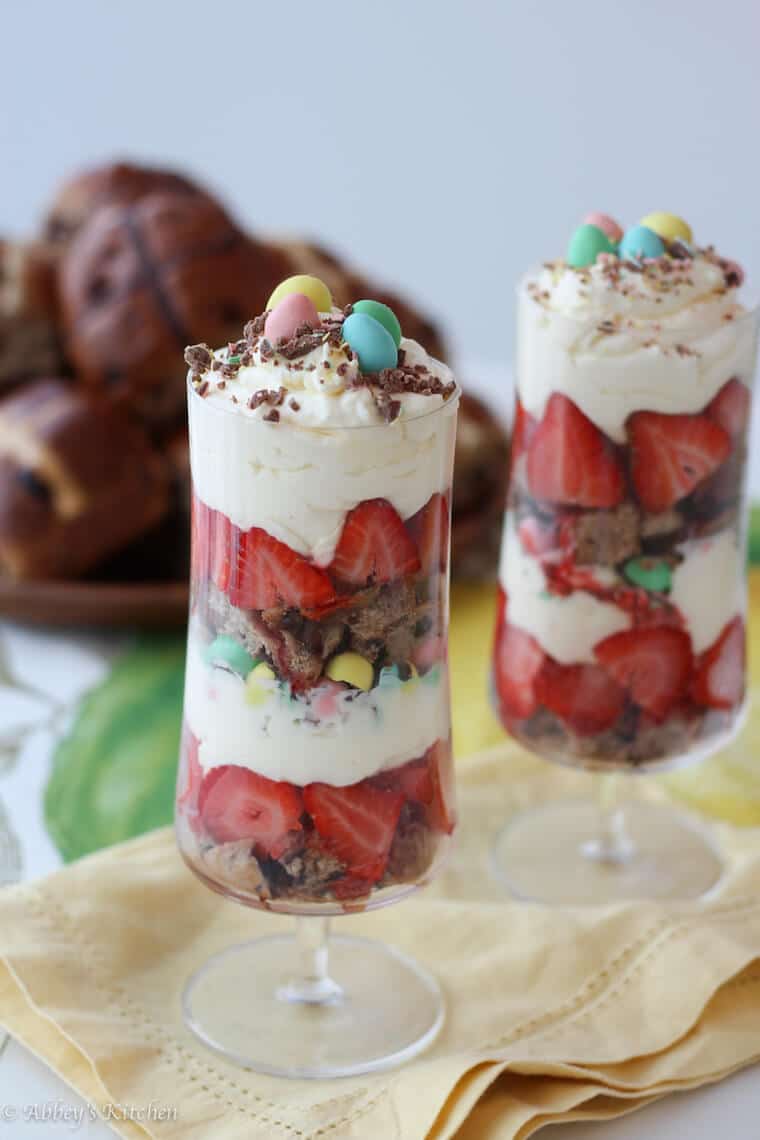 Speaking of holiday sass, obviously I couldn't resist working in some Cadbury mini eggs. I think these are everyone's guilty pleasure in life and are an iconic Easter staple.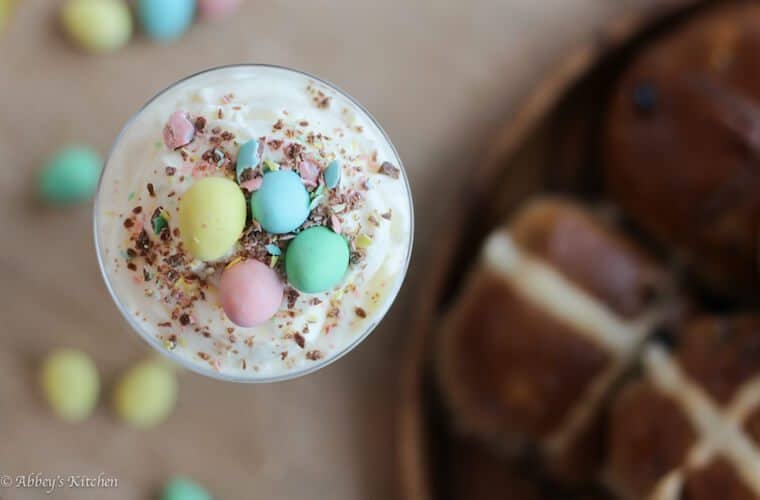 The result? Oh boy. Let's just say my hubby made a lot of friends bringing trifle to work. Can we pretend it's Easter and eat mini eggs every day?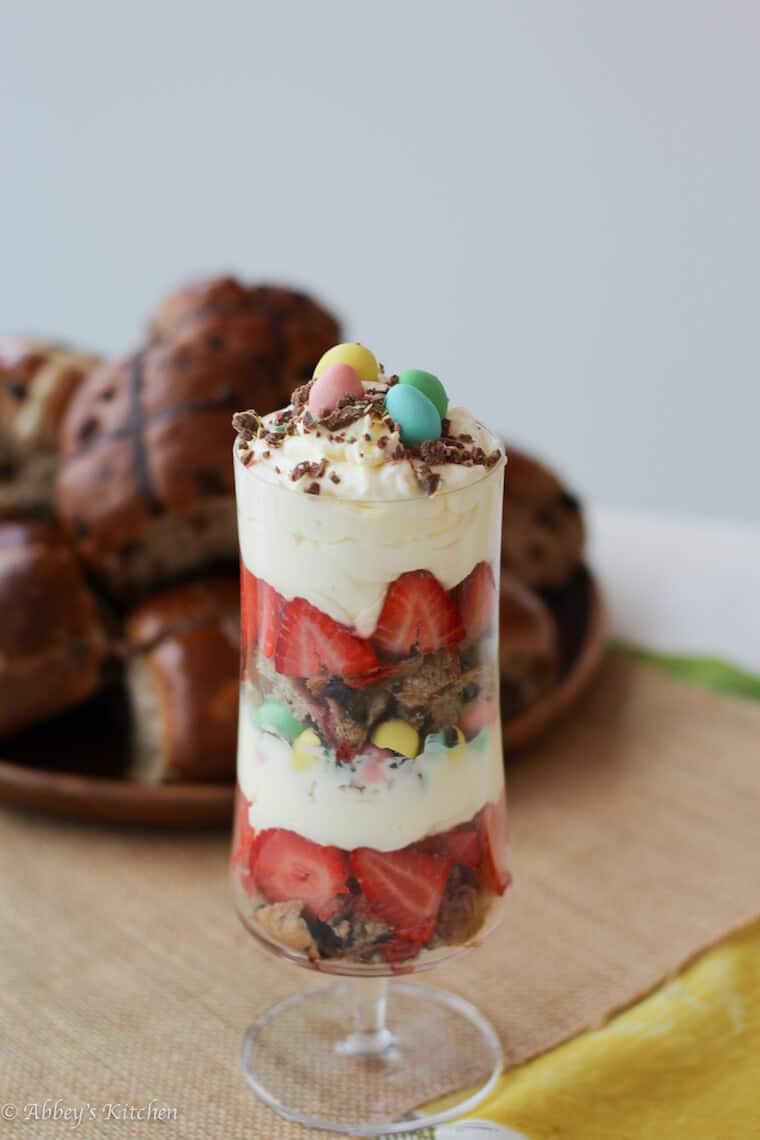 What are some of your favourite Easter recipes? Leave me a message below with some of your ideas!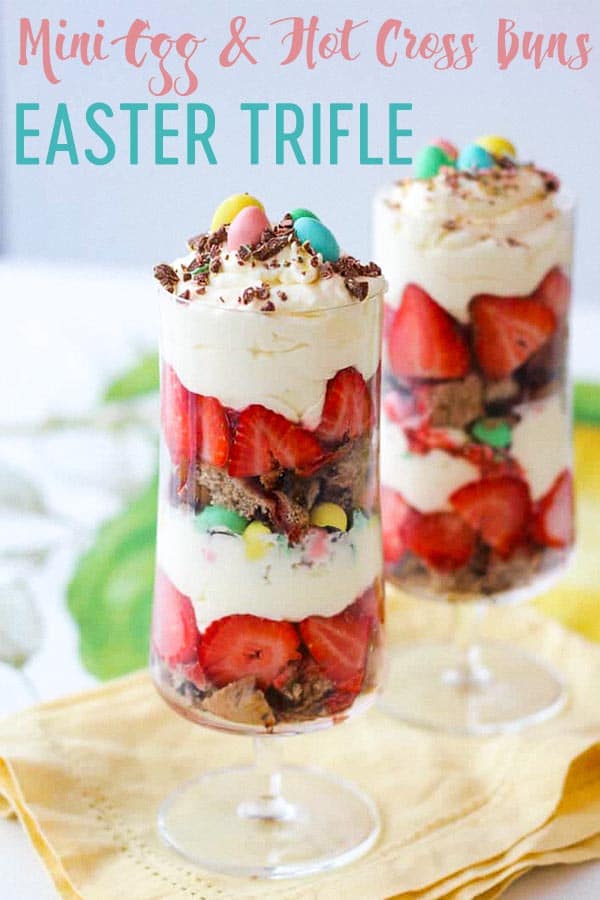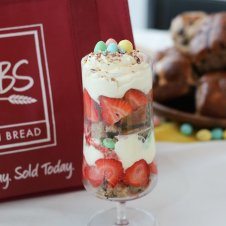 Print Recipe
Mini Egg & Hot Cross Buns Easter Trifle
These Hot Cross Buns Trifle are a perfect way to indulge during the Easter holiday.
Ingredients
6

cups

frozen strawberries

sliced

3

tbsp

sugar

3

tbsp

water

1 1/2

cup

heavy cream

8

oz

cream cheese

softened

1/4

cup

lemon curd

1/4

cup

icing sugar

6

COBS Bread Chocolate Chip Hot Cross Buns

cut into 1/2-inch cubes

2

cups

fresh strawberries

sliced

1/2

cup

Mini eggs

coarsely chopped

1/2

cup

mini eggs

whole
Instructions
In a saucepan, heat the strawberries, sugar and water over medium high heat. Reduce the heat to medium low and simmer for 10-15 minutes until strawberries are tender and the sugar dissolves completely. Set aside to cool completely.

In a large bowl, whip the cream to soft peaks.

In another bowl, whip the cream cheese, lemon curd, and icing sugar until combined.

Add a bit of the whipped cream to the cream cheese mixture to lighten it, then continue to mix in the remaining cream. Set aside.

You can serve this in 8 individual glasses or one large trifle dish. Layer 1/2 of the hot cross buns along the bottom of the glass(es). Then working around the edges, add a layer of sliced strawberries around the glass. Fill the interior of the sliced strawberry "ring" with half of the strawberry sauce. Add a 1/2 of the cheesecake filling and all of the chopped mini eggs. Repeat with another layer of hot cross buns, strawberries, strawberry sauce, cheesecake and garnish with the whole mini eggs. Indulge!
Nutrition
Disclaimer: This recipe was developed in paid partnership with COBS Bread, however, as always, all opinions are genuine.