These cute Greek Gluten Free Meatloaf Muffins are a super easy recipe made with pantry staples that will quickly become your family's go-to meal. They can also be made ahead as freezer meals to pull out throughout the week.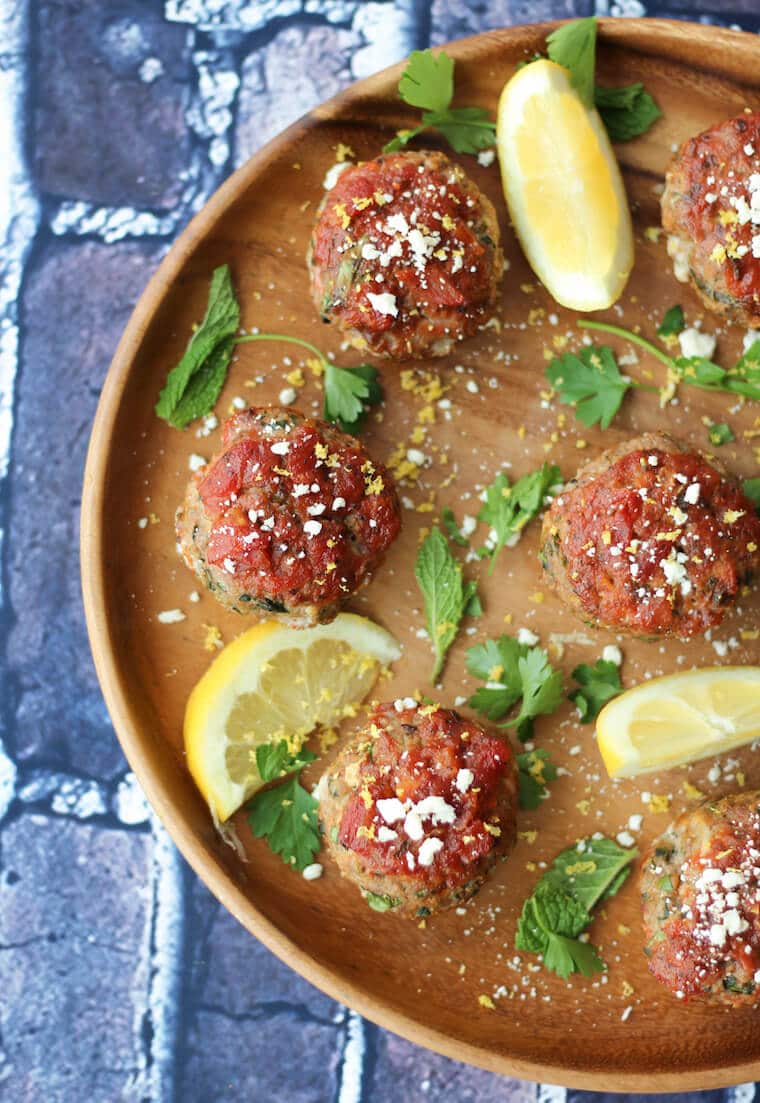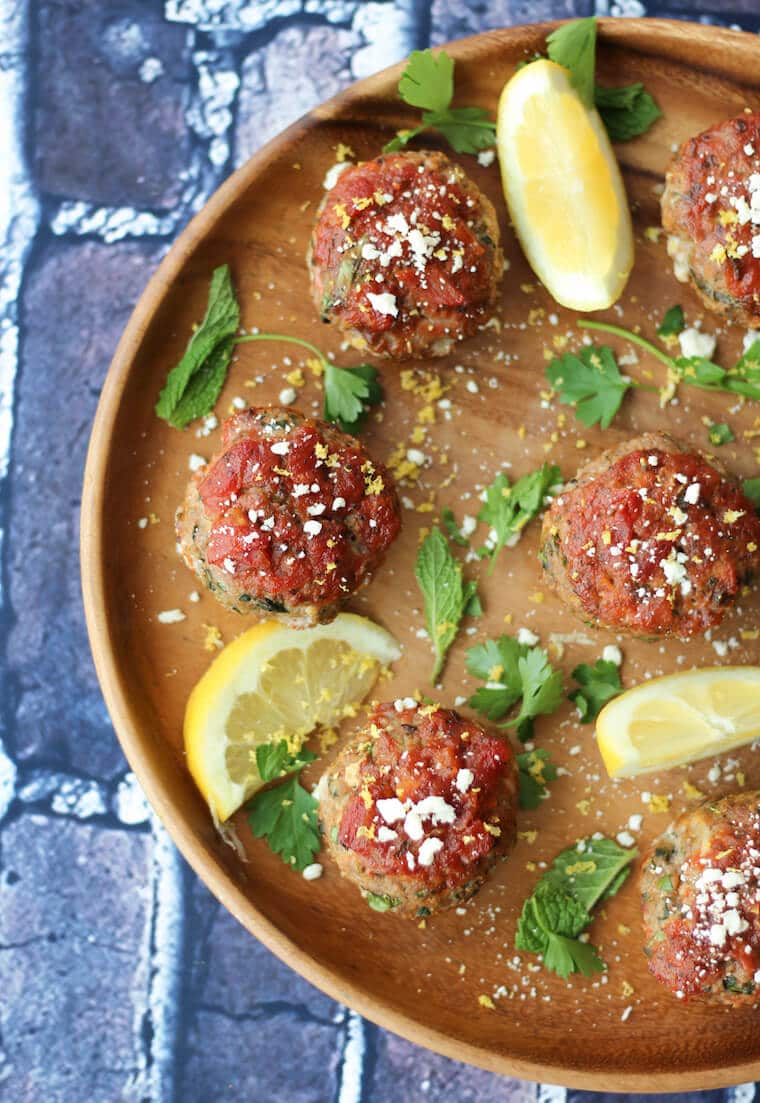 These days, I'm all about finding healthy easy recipes that can be made ahead, frozen as freezer meals, and then reheated throughout the week. After a full day of work, and the gym, I just don't always have time to make dinner from scratch. Sound familiar? I'm sure it does.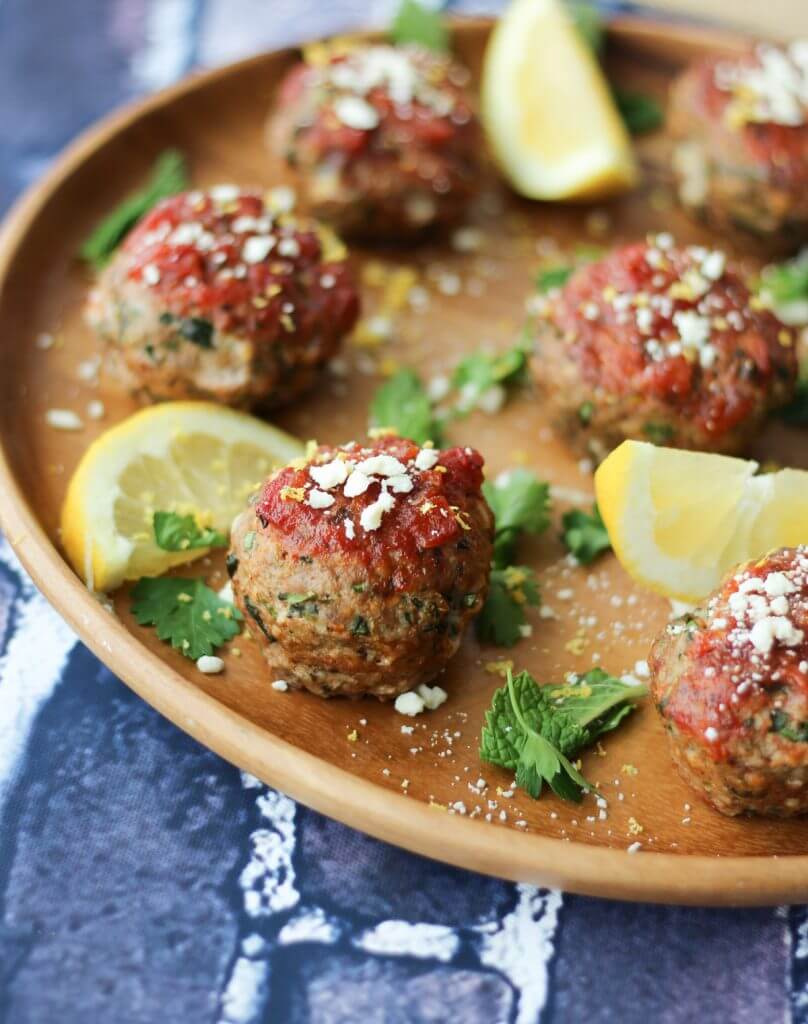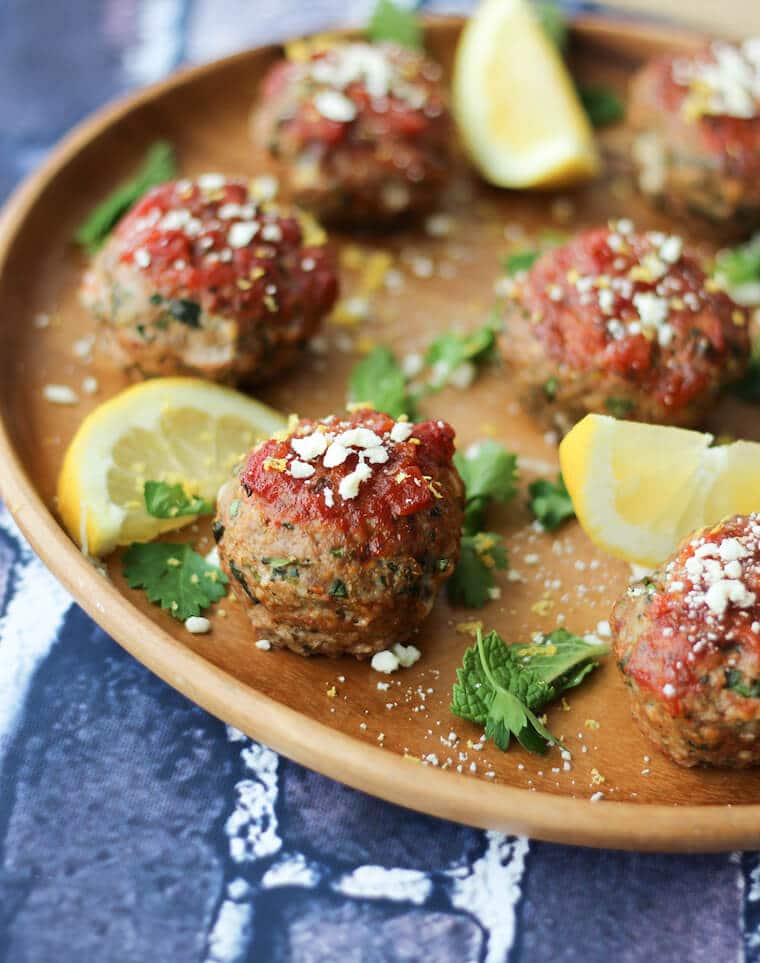 Meatloaf has always been a staple in my house. My mom used to make them when we were kids, so I still get cravings today. I prefer making mine into meatloaf muffins (like these Tex-Mex babies here) instead of a traditional full loaf because I like getting a little more caramelization action all around the edges of the muffin pans. More caramelization = more flavour = more smiles at the table.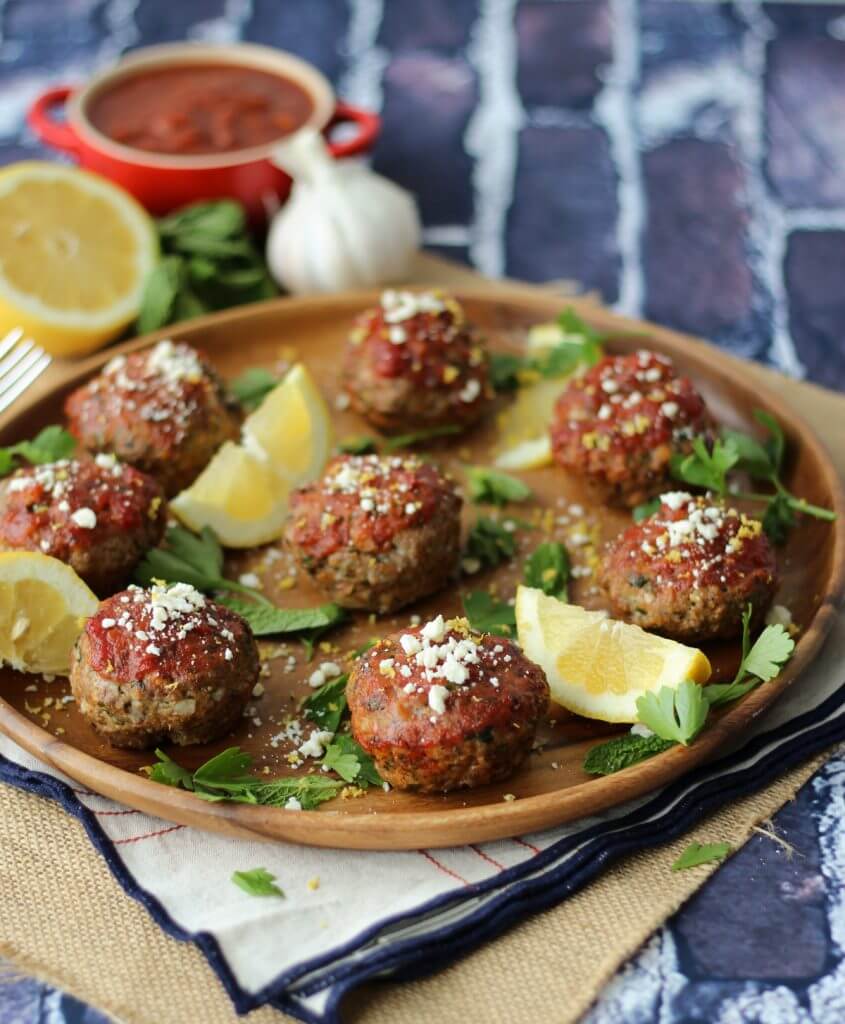 These Greek Gluten Free Meatloaf Muffins are definitely not traditional, but let's be honest, meatloaf screams 1950s. It was begging for a trendy little upgrade and the flavours of the Greek islands work perfectly.
KEY INGREDIENTS FOR THESE GREEK MEATLOAF MUFFINS
Lean Ground Beef
– For this recipe, I like to use grass fed extra lean ground beef. But thats my personal preference. You can, of course, use any type of ground meat that you prefer.
Oats – Instead of bread crumbs, I prefer to use gluten free oats as a binger to add a little more nutritional value.
Spinach – You can use fresh or frozen spinach to add some extra nutrition and Greek vibes.
Feta – Again, Greek vibes. Nothing screams Greek food like feta cheese so this ingredient is very important.
Tomato Sauce – I like to add tomato sauce to these meatloaf muffins to still give it that sauciness we love in a traditional meatloaf while changing up the flavour profile.
Herbs – I try to bring lots of Greek flavour to this recipe by using oregano, mint, and parsley.
Lemon – One lemon goes a long way here, as I use the juice and zest of one lemon to really bring out all the lovely Greek flavours.
How to Make Meatloaf Muffins
We start with good meat. I use a grass fed extra lean ground beef but you can easily substitute lamb, turkey, pork or chicken. I then add just a touch of gluten free oats as my binder, and lots of Greek flavour including oregano, spinach, tomatoes, lemon, mint, parsley and feta cheese. OMG. That feta really does these babies wonders.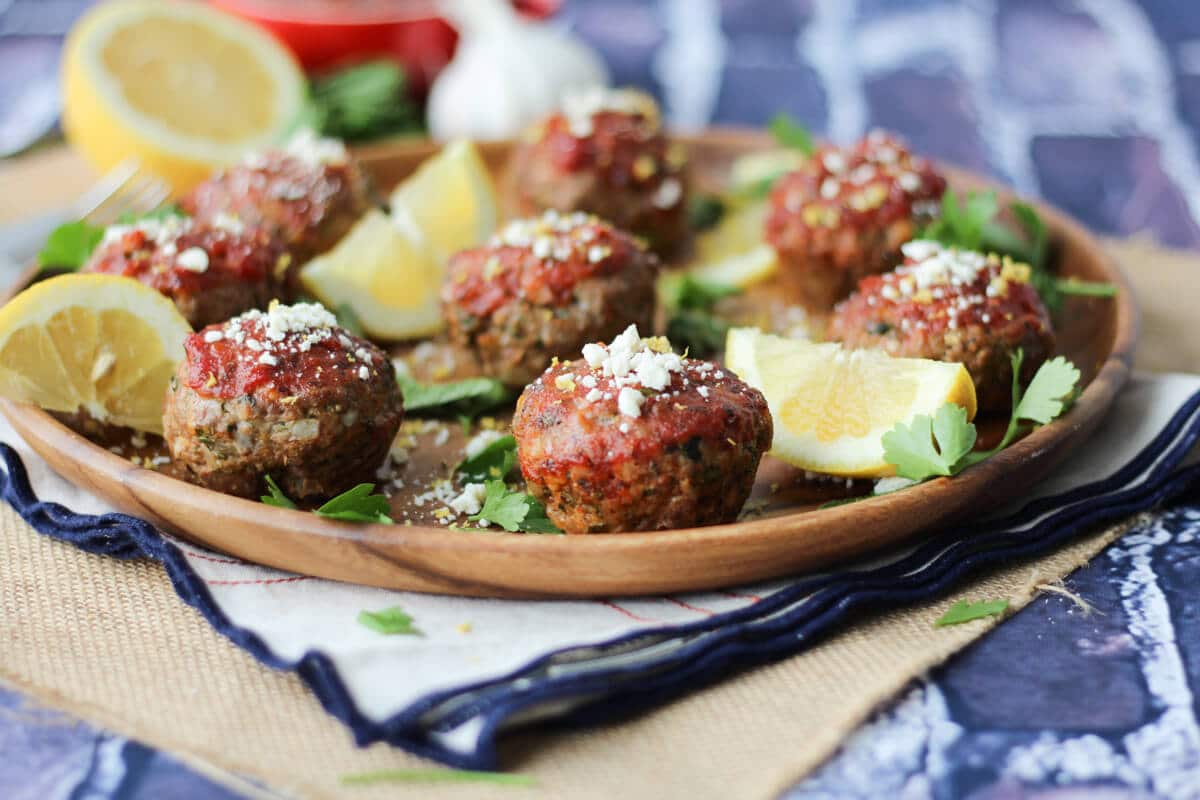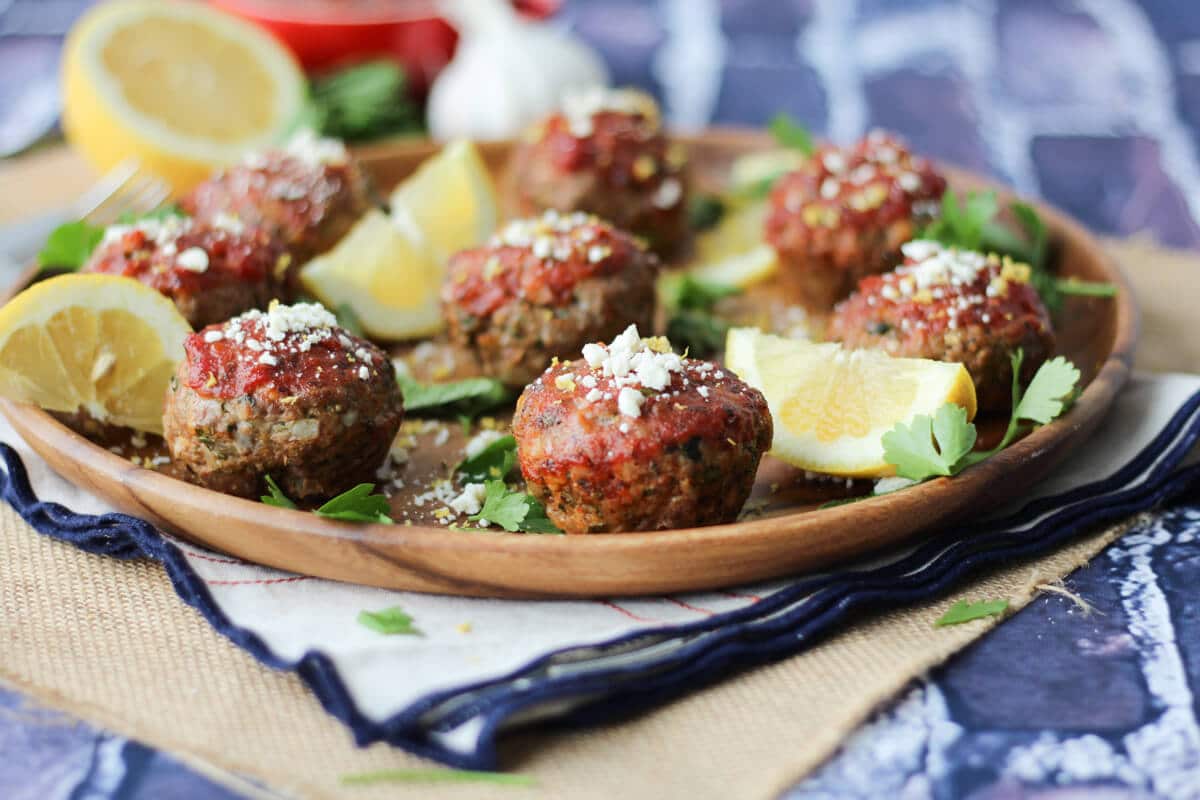 On top, I skip the sugary ketchup topping and make my own with tomato sauce, lemon zest and good quality honey. I then finish the whole thing off with a little extra feta cheese and weeeee- get in my mouth. I usually recommend two Greek gluten free meatloaf muffins per person, but let's be honest – it's really hard to not keep popping them back.
FAQ ABOUT THIS RECIPE
Here are some common questions I asked about these Greek Meatloaf Muffins.
CAN I FREEZE THESE MINI MEATLOAF MUFFINS?
This recipe freezes incredibly well so I suggest making a double batch and keeping them ready to go for crazy week nights. I love that my freezer has this awesome Spacewise removable basket that is just big enough for me to lay a baking tray flat inside. I line my baking tray with plastic wrap, sit all of the meatloaf muffins on top (sauce side up) and freeze them there until solid. Then I wrap each of them in tin foil, pop them into freezer bags, and put them in my chest freezer. These freezers have these amazing Arcticlock thick walls that prevent ice crystal formation and would keep my food frozen for over 2 days in the event of a power outage. I couldn't bare to see those Greek Gluten Free Meatloaf Muffins ever to to waste!! Then when it's time to eat, I just pop them (still wrapped up in foil) into the oven at 350 F until they're warmed through.
what is a good side dish to have with these savoury greek muffins?
I love to pair these muffins with lovely side salad like my roasted broccoli salad or my pesto pasta salad.
ARE THESE GREEK MUFFINS GLUTEN FREE?
Definitely. Just make sure you use gluten free oats.
IS THIS RECIPE KID FRIENDLY?
Yes very mush so. They are the perfect size and have a mild flavour.
how can you make these vegan?
I have never personally tried to make this recipe vegan but I do have a Vegan Lentil Meatloaf recipe which you can try here, and you can add in the Greek flavourings.
DO YOU HAVE ANY OTHER SAVOURY MUFFIN RECIPES?
Definitely. Here are some of my favs.
SPINACH CHICKEN PROTEIN MUFFINS
MEXICAN CAULIFLOWER MINI MUFFINS
Have you making meatloaf muffins before? What flavours would you like to see turned into a savoury muffin recipe? Leave me a comment below with your favourite combinations!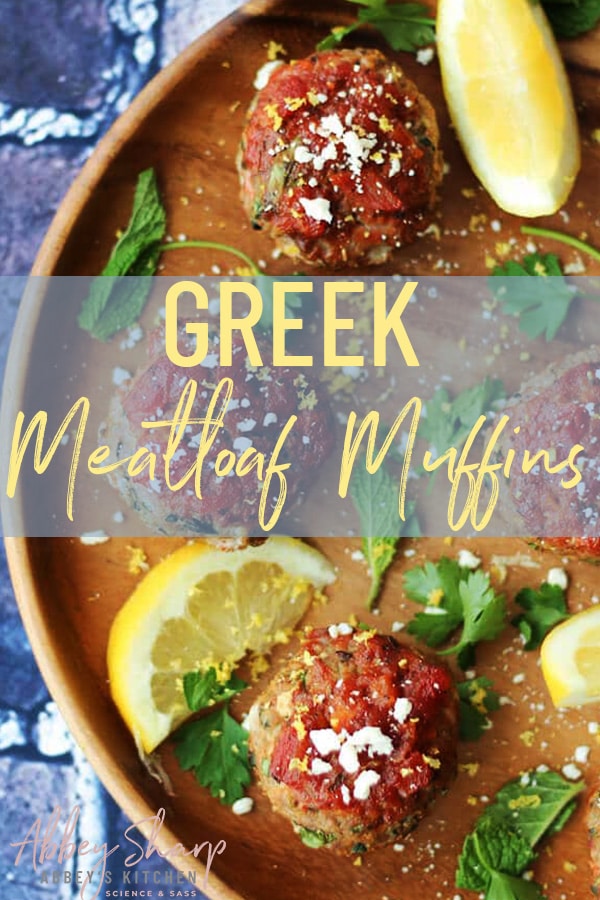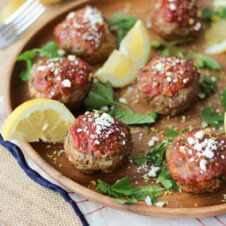 Print Recipe
Greek Gluten Free Meatloaf Muffins | Healthy & Easy Freezer Meals
These cute Greek Gluten Free Meatloaf Muffins will quickly become your family's go-to meal for crazy weeknights. They're easy to put together and can be made ahead as freezer meals to pull out throughout the week.
Ingredients
Meatloaf:
1

lb

grass-fed extra lean ground beef

1

clove

garlic

finely minced

2

Tbsp

onion

finely minced

1

Tbsp

plus 1 tsp oregano

1/4

cup

gluten free oats

1/4

cup

frozen spinach

finely minced

2

Tbsp

tomato sauce

2

Tbsp

mint

finely minced

2

Tbsp

parsley

finely minced

1

tsp

lemon juice

1

tsp

lemon zest

1

egg

1/4

cup

feta cheese

finely crumbled

1/2

tsp

pepper

1/4

tsp

salt
Glaze:
1/4

cup

tomato sauce

1

Tbsp

honey

1

tsp

lemon zest
Garnish:
Parsley

chopped

Mint

chopped

Lemon zest

Feta cheese

crumbled
Instructions
Preheat your oven to 350 F. Grease 8 muffin tin holes.

In a bowl, mix together all of the meatloaf ingredients until combined, being careful not to overwork.

Divide the mixture into 8 balls and press into the prepared muffin tin holes.

In a small bowl, mix together the glaze ingredients. Smear a spoonful of the sauce onto each muffin and bake for 25 minutes, or until the meatloaf muffins reach an internal temperature of 160 F.

Garnish with extra parsley, mint, lemon zest and feta cheese, if desired.