I love Easter leftovers almost as much as the original meal- especially if we're talking about ham. If you're going to spend the time making a big gorgeous Easter ham, you might as well make an extra big one and plan for tasty leftover ham recipes throughout the week. This recipe for Slow Cooker Ontario Ham & Lentil Soup is comfort food at its best and could not be easier to pull off.  It was originally featured on the Ontario Pork website so you can check out the original article here.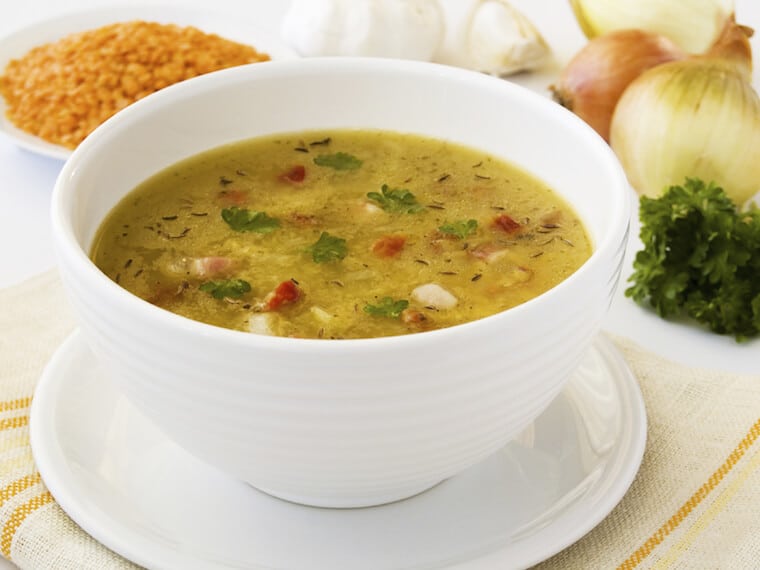 I love all Slow cooker recipes, especially ones for hearty soup because after a long day in the kitchen preparing a holiday feast, the last thing you want to do is strike up the oven again the next day. With a slow cooker recipe like this one, you don't have to! Simply throw all your ingredients into the pot and you have a delicious leftover ham supper by the time you get home.  This is one of my favourite leftover ham recipes!
Not only is it an easy post Easter dinner, but it also costs you pennies put together. You've already got the ham game down, you surely have some leftover mire poix in the fridge from your holiday recipes, and a cup of dried lentils is the cheapest pantry staple known to man. Actually, the United Nations named 2016 is the official International Year of Pulses, which came just in time with the rising price of groceries and our falling Canadian dollar! Pulses like lentils, beans and other legumes are super inexpensive, easy to prepare, high in vegetarian protein and fibre, and low in fat. They're nutritious little powerhouses that compliment the mild sweetness of Ontario ham perfectly.
Looking for more leftover ham recipes? Check out some of my favourites from the blogosphere!
Best Leftover Ham Recipes
 

 

 
 




 

What do you look forward to making with your leftover ham recipes from Easter? Leave me a comment below with some of your go-to favourite post Easter recipes?
Disclaimer: This post was developed in paid partnership with Ontario Pork, however, all opinions are genuine.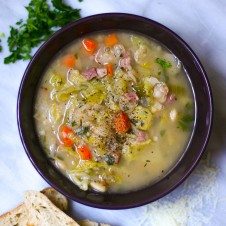 Print Recipe
Slow Cooker Ham & Lentil Soup
This is a super comforting recipe, perfect for leftover pork or ham from Easter!
Ingredients
1/3

lb

cooked Ontario ham

175 g, about 3/4 cup

1

cup

dried lentils

red or green, 250 mL

2

celery stalks

chopped

2

carrots

chopped or grated

1

medium onion

chopped

2

cloves

garlic

minced

1/2

tsp

dried basil

2 mL

1/2

tsp

dried oregano

2 mL

1/4

tsp

dried thyme

1 mL

1/4

tsp

black pepper

1 mL

32

oz

fl chicken broth

sodium-reduced, 1 L

1

cup

water

250 mL

1/4

cup

tomato sauce

50 mL
Instructions
Combine all ingredients in slow cooker and stir to mix. Cover and cook on LOW for 9 - 10 hours (or 4 -5 hours on HIGH).

Serve with cornmeal muffins or crusty bread.
Nutrition