On a cold February day much better suited for cuddling under warm blankets then for venturing outdoors, I was invited to Leslieville's Ruby Watchco for a grapefruit-themed meal featuring roasted salmon. Two quickie confessions: It really was tough to get out of my toasty house and into my cold car, and I've never been a huge grapefruit fan. The being-cold-thing, I could handle- this is Canada, it comes with the passport. But the grapefruit thing brought back memories of bad 80's fad diets and bitter facial expressions. Stay tuned to see how I fared.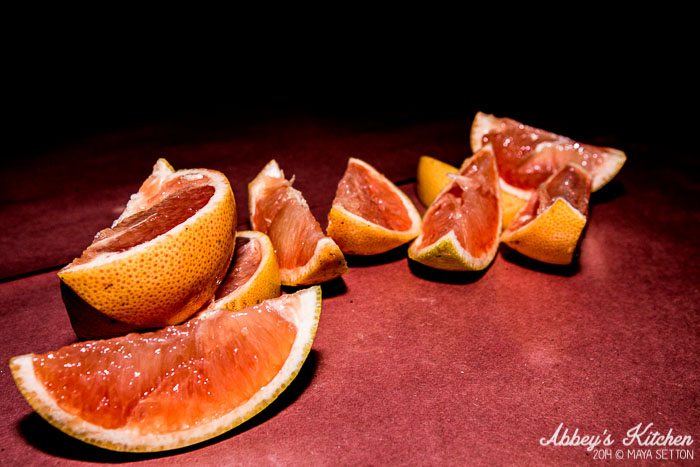 Ruby Watchco is long-standing favourite in our city, as its run by two of the city's hottest female chefs, Lynn Crawford, and Lora Kirk. While I have eaten at the east-end staple a few times now, I had never ventured into the private dining room upstairs. Like the main dining room, the decor is super country-chic, with fresh flowers and lace accents adorning the natural rustic farm tables. The light flooded the room, giving the (sad) illusion that winter wasn't actually a thing that was still going on outside. Brides with small families- this would make a stunning venue for an intimate wedding reception or rehearsal dinner!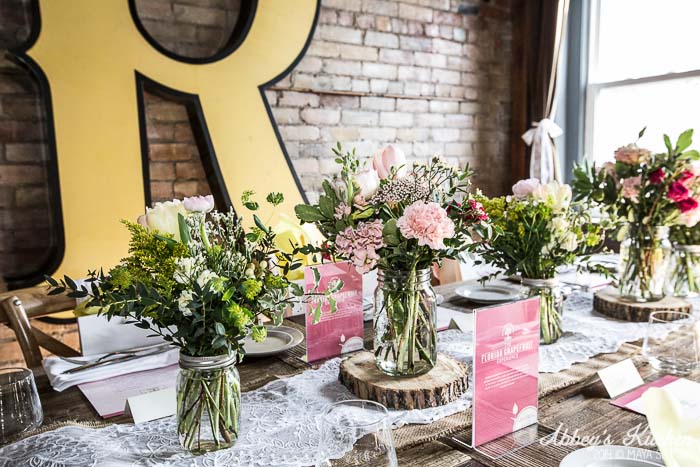 As people started to trickle in and we awaited the gorgeous roasted salmon lunch, I decided to kill some time by responsibly drinking alcohol. Okay, here goes, this drink definitely has grapefruit in it. I mean, it's a grapefruit event. There is a 100% chance that the orangey liquid stuff is grapefruit. But it also has Prosecco in it. I can do this.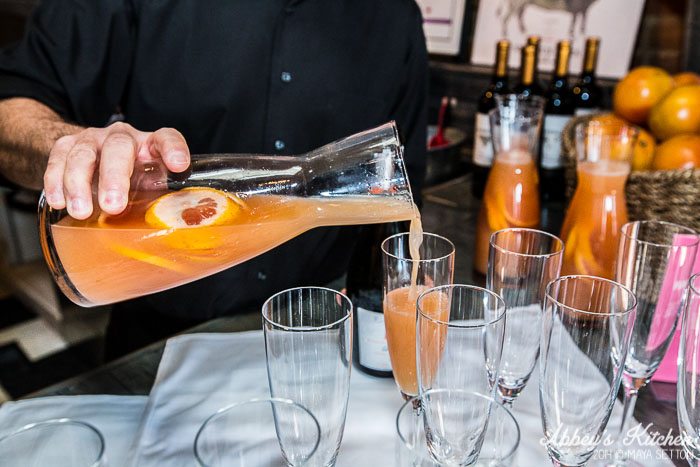 Wowza. It's… it's sweet! It's GOOD!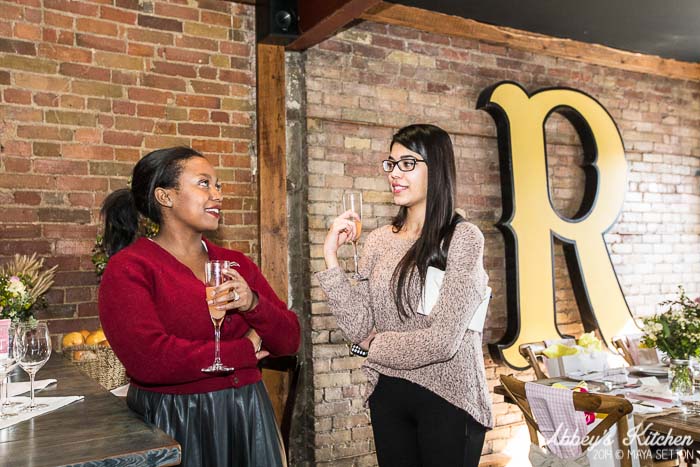 Apparently with grapefruit, it's all about the variety. I quickly learned that Florida Ruby Reds are definitely the way to go with roasted salmon. One half of a Florida grapefruit contains at least 100% of your vitamin C needs, as well as vitamin A, potassium and fibre. I should thank this Florida Grapefruit rep at some point for changing my grapefruit-hating world.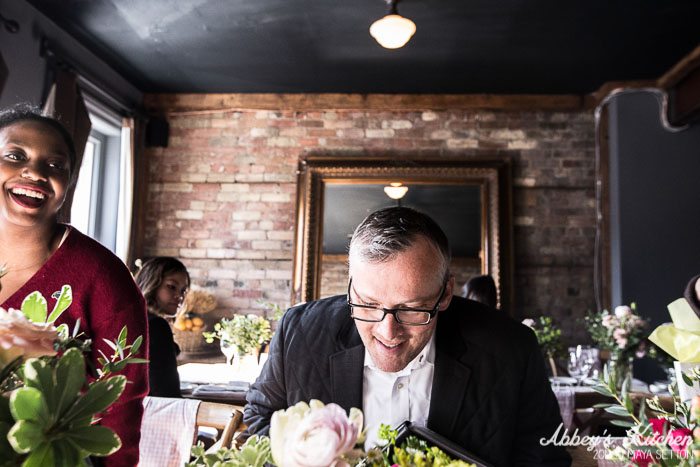 Oh yah, I'd be doing you readers out there a disservice if I didn't tell you how freaking badass Chef Lynn Crawford is. She's super chatty, and awesome loud. Like, an Italian family dinner kinda loud (aka. the best kind). Having a casual conversation with her felt like we were sitting on a porch with a cold beer (if only it was warm enough to be on a porch) getting ready for an amazing meal of roasted salmon.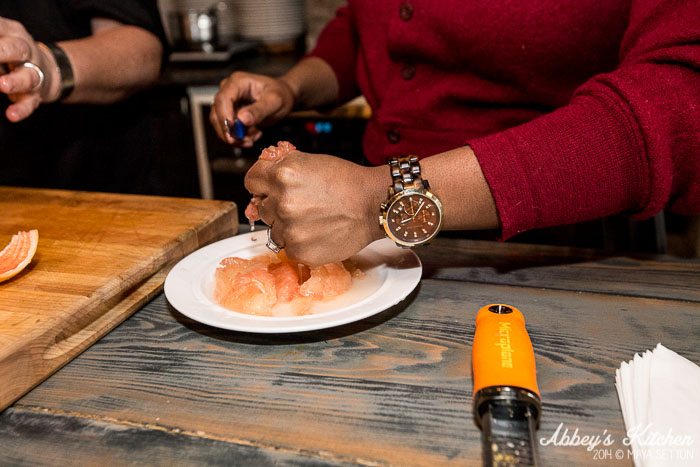 Anyway, she thought she'd be doing us a disservice by not letting us get our hands a little dirty before we got to enjoy the roasted salmon. So a couple of us went up and demonstrated how to properly section a grapefruit and how to gulp its juice right off of a plate. The key with sectioning, or slicing "supreme" as they say is to remove the top, bottom, and follow the natural curve of the fruit to remove the rind. Then use a pairing knife to cut out each individual section to yield a perfect ready-to-eat-section of grapefruit!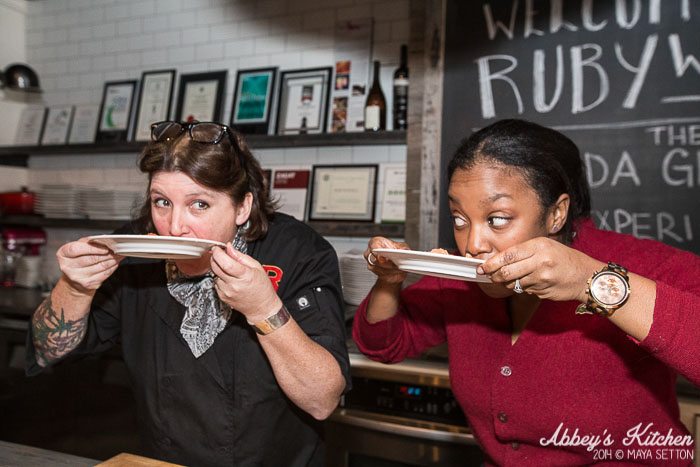 Check out some of the delicious appetizers to get us started before the roasted salmon, all of which were infused with Florida Ruby Red grapefruit!
Chicken with Grapefruit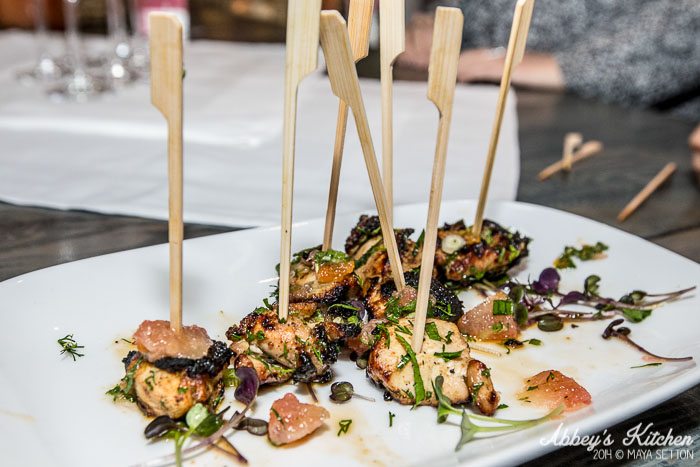 Crab Cakes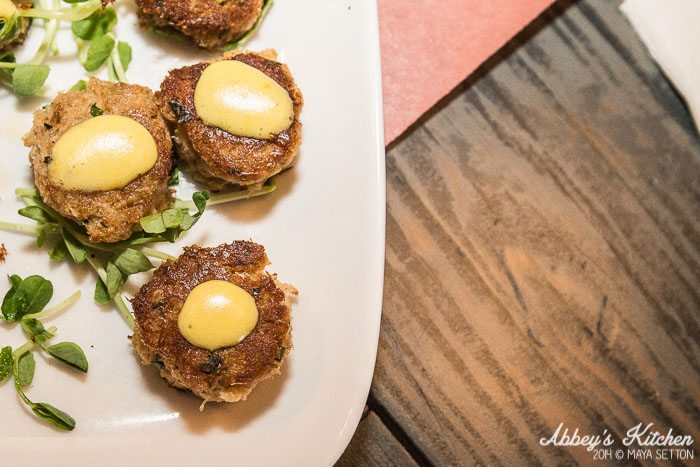 Scallop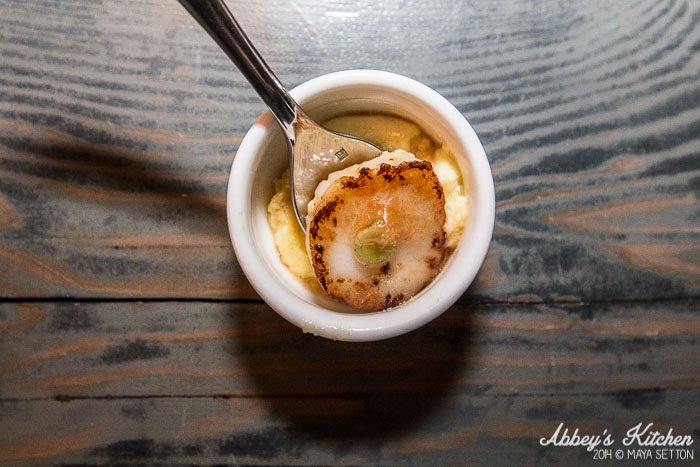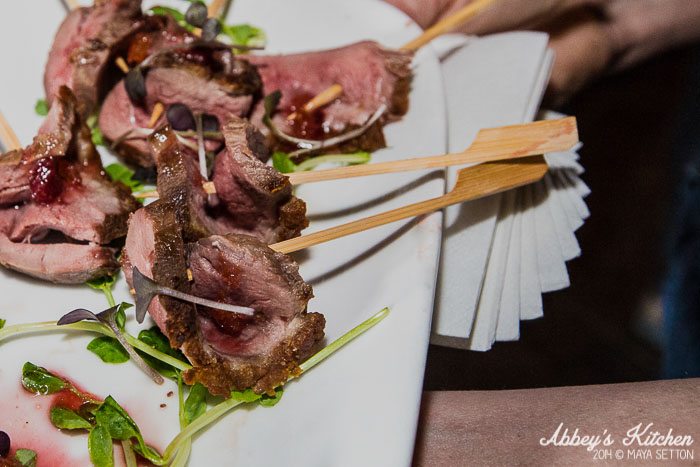 And now, for the generously portioned and absolutely delicious grapefruit dishes!
Calypso Shrimp with Florida Grapefruit and Avocado Salad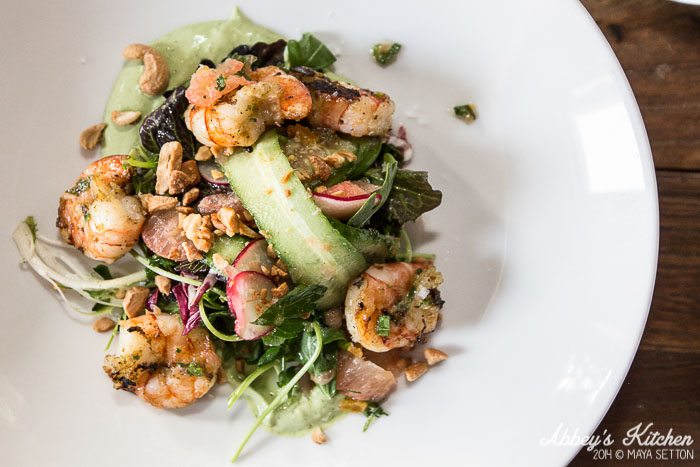 Roasted Salmon with Florida Grapefruit Quinoa Salad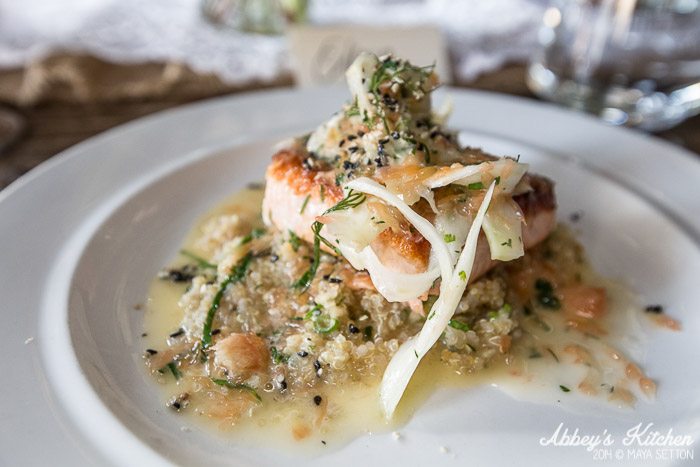 Cheese Platter featuring Florida Grapefruit Marmalade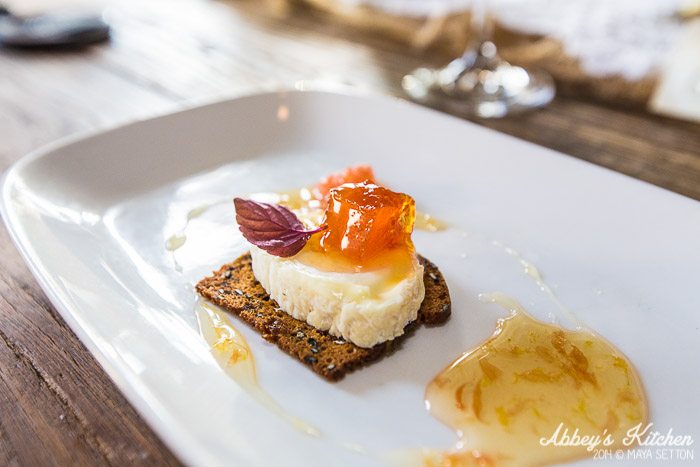 Florida Grapefruit Shortcake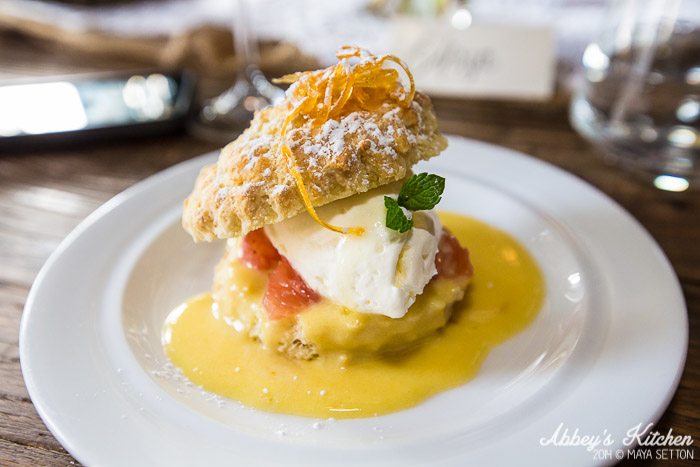 I'm sorry to even remotely take away from these fabulous grapefruit creations like the roasted salmon, but I'd just like to give a quick shout out to the MOST AMAZING BISCUITS IN THE WORLD.  You've done us proud, Chef Lynn.  I'll be back for another batch.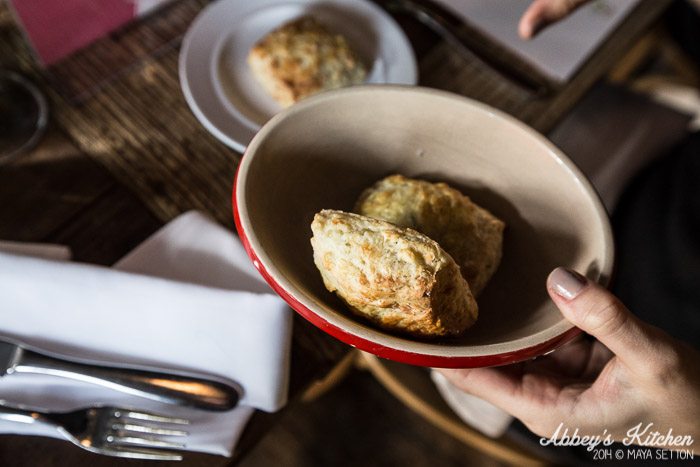 In conclusion, Chef Lynn and the beautiful Roasted Salmon with Florida Ruby Red Grapefruits officially made a grapefruit-lover out of me!
Disclaimer: The preceding meal was complimentary, however, as always, all opinions are genuine.
Contribution by AK Taster: Maya Setton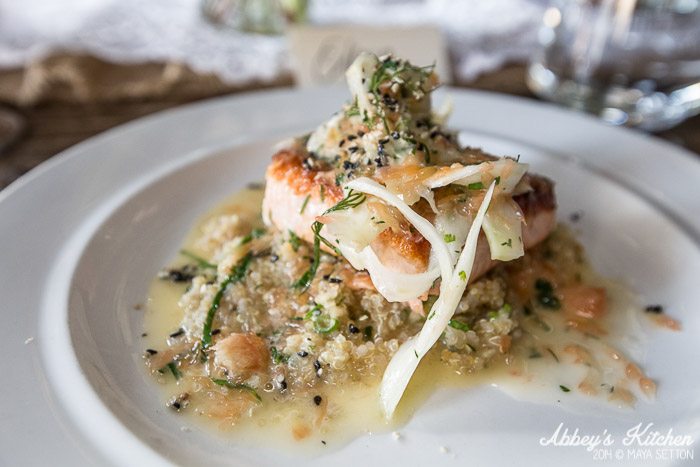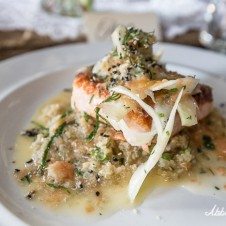 Print Recipe
Roast Salmon with Florida Grapefruit
This beautiful Roasted Salmon with Florida Ruby Red Grapefruits officially made a grapefruit-lover out of me!
Ingredients
Quinoa Salad
1

Florida ruby red grapefruit

scrubbed

1/4

cup

extra virgin olive oil

60 mL

8

slices

thin fresh ginger

3/4

cup

quinoa

rinsed, 175 mL

1 1/2

cups

water

375 mL

1/2

tsp

salt

2 mL

3

tbsp

grapefruit juice

45 mL

1

tbsp

white wine vinegar

15 mL

2

tsp

liquid honey

10 mL

2

cups

baby arugula

500 mL

2

carrots

finely diced

2

green onions

sliced

1

small jalapeno

seeded and finely diced

1/4

cup

fresh cilantro leaves

60 mL
Salmon
1

Florida ruby red grapefruit

halved and sliced

1

lemon

sliced

Half a fresh fennel

thinly sliced

1

jalapeno

thinly sliced

4

leaves

fresh basil

4

sprigs fresh cilantro

Kosher salt and fresh ground pepper

to taste

6

centre cut skinless salmon fillets
Instructions
Quinoa Salad
Using a vegetable peeler, remove outer peel from grapefruit and place in small saucepan. Remove outer pith and cut segments from grapefruit; set aside. Add oil and ginger to saucepan. Warm over medium heat until oil starts to bubble, about 2 minutes. Remove from heat and let stand for 30 minutes. Strain and reserve oil.

Combine quinoa, water and salt in saucepan and bring to boil. Reduce to simmer and cook, uncovered for 15 minutes or until water is absorbed. Let stand 5 minutes. Fluff with fork into a large bowl.
Salmon
Whisk together grapefruit juice, vinegar, honey and 3 tbsp (45 mL) of the reserved oil.

Add to quinoa and season with salt and pepper. Stir in arugula, carrots, onions, jalapeno and cilantro. Fold in reserved grapefruit segments; set aside.

Meanwhile, spread grapefruit, lemon, fennel, jalapeno, basil and cilantro onto parchment paper lined baking sheet. Top with fillets and season with salt and pepper. Roast in preheated 275 F (135 C) until tip of knife inserted in salmon slides easily through and fillet is slightly opaque, about 20 minutes.
Assembly
Spoon quinoa salad onto plate and top with salmon to serve. Drizzle with any remaining oil and serve.
Nutrition