With the influx of openings and events that I've been going to this summer, I haven't had a chance to sit down with my partner to relax over a date night out since our trip to Chicago.  So this weekend, I suppose we doubled up and went on two – one with another couple, and one just us. I wanted to keep it fun, casual, and preferably close to home (a rare occurrence for us who don't live in the West end), so I booked us a table at the semi-new THR & Co.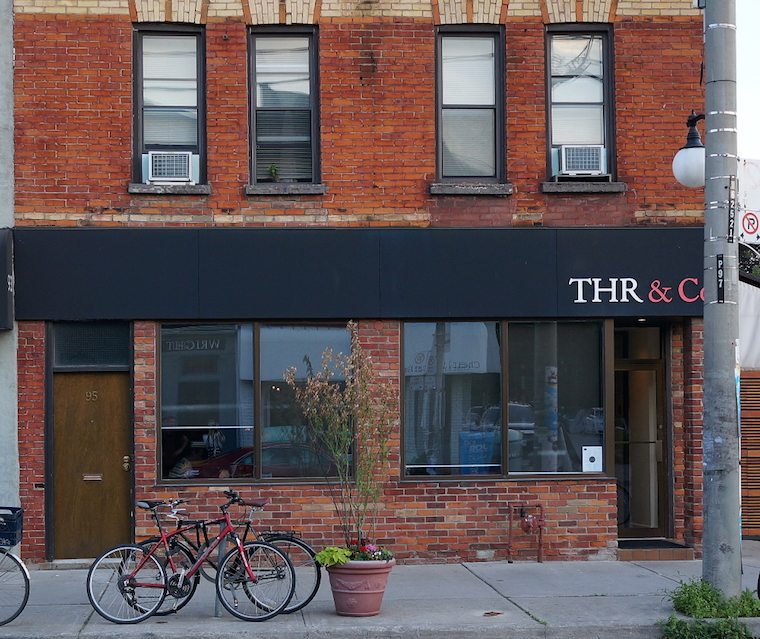 Opened up nearly 1 1/2 months ago, THR & Co. (read: The Harbord Room & Co.) is (appropriately) the sister restaurant of its neighbor, The Harbord Room.  It's the love baby of a number of proprietors and food professionals including David Mitton (The Harbord Room, Czehoski), Cory Vitiello (The Harbord Room, The Drake), Mike Logue (The Harbord Room, Czehoski) Liz Campbell (The Harbord Room, Czehoski), and Curt Martin (The Harbord Room).  I had had my eye on the space ever since Messis closed up shop at the start of the year, hoping that whatever went in there was going to be pretty good. Lucky for us, expanding The Harbord Room legend into a sister spot was incredible news for us, mainly because the original is just so small, it was a nightmare to get ourselves in.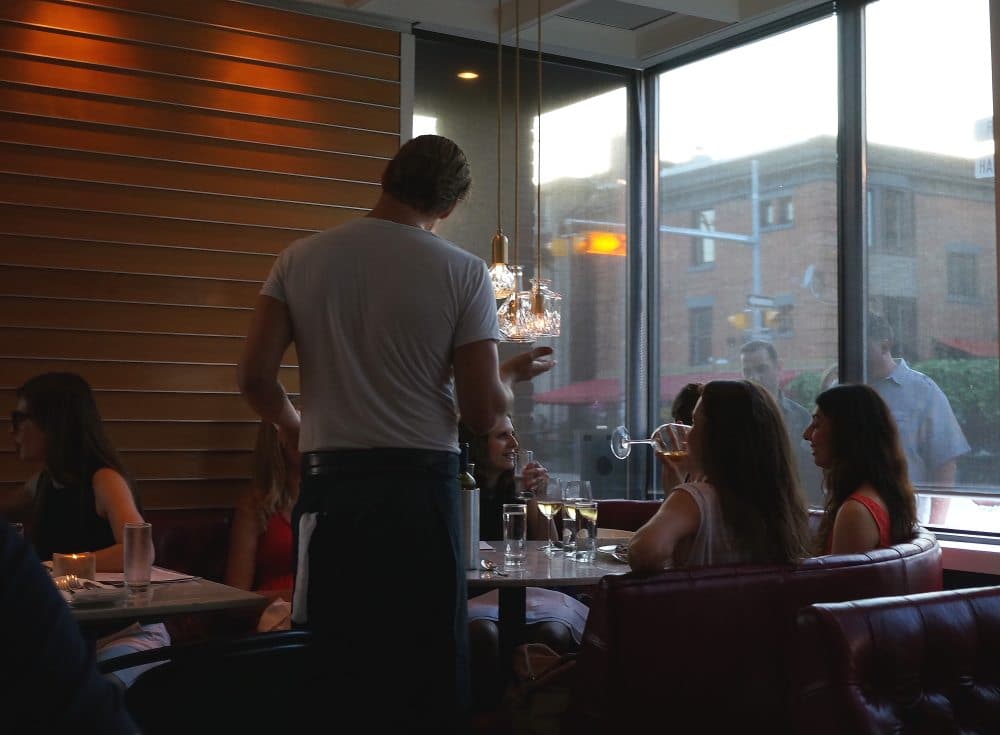 So we arrived for 8 pm and walked into a bright and light 60-seat dining room. While the set up is much the same as it was as Messis, the vibe is starkly different.  There are white marble tables, brightly coloured fushcia, green and mustard bankettes, a pink marble bar top with matching pink stools, and dining room chairs with weaved backs. Lots of contrasting colours and textures, but all of which feel warm, light hearted and inviting.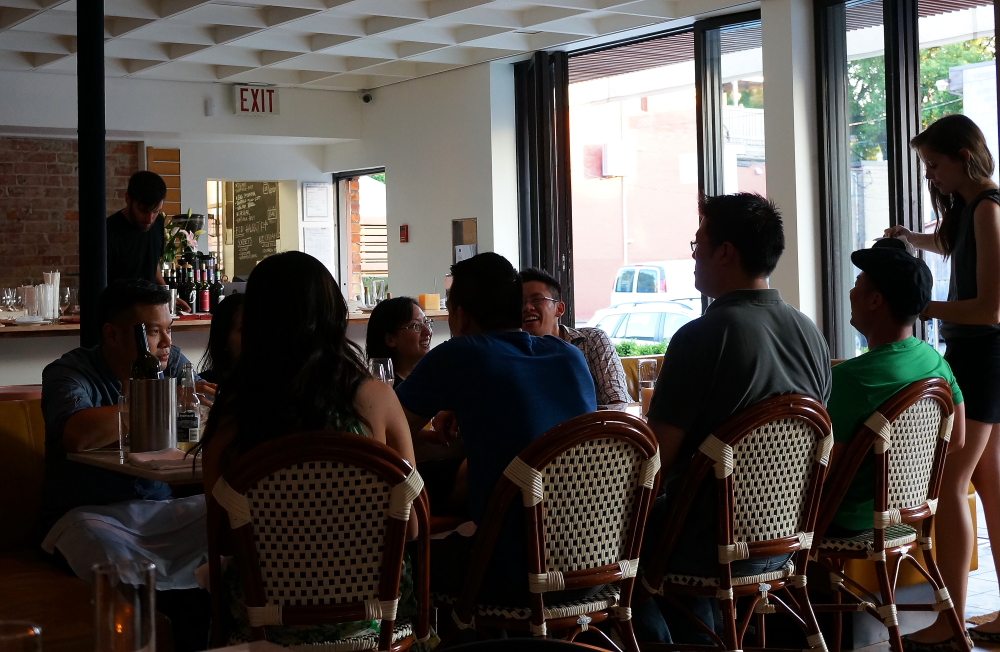 Speaking of warm, the night we went, we were promptly informed that the AC was on the fritz. Oy. On an already "feels-like-40" day, this was a bit of a hospitality nightmare. I really felt bad for the staff, much more so then me. At least I got to sit down and have a cold icy drink- not the reality of working a serving job or frying up goof in a bloody kitchen. So yah… we all ended up looking a wee-bit wilted and using the paper menus as our personal fans, but thankfully, this was no first date. Noise level in the room was far more comfortable. Had I been hot, and unable to speak with my partner, I would have been in a bad mood. But no, even by 10 PM, when the room was about 75% full, I didn't have to strain myself once.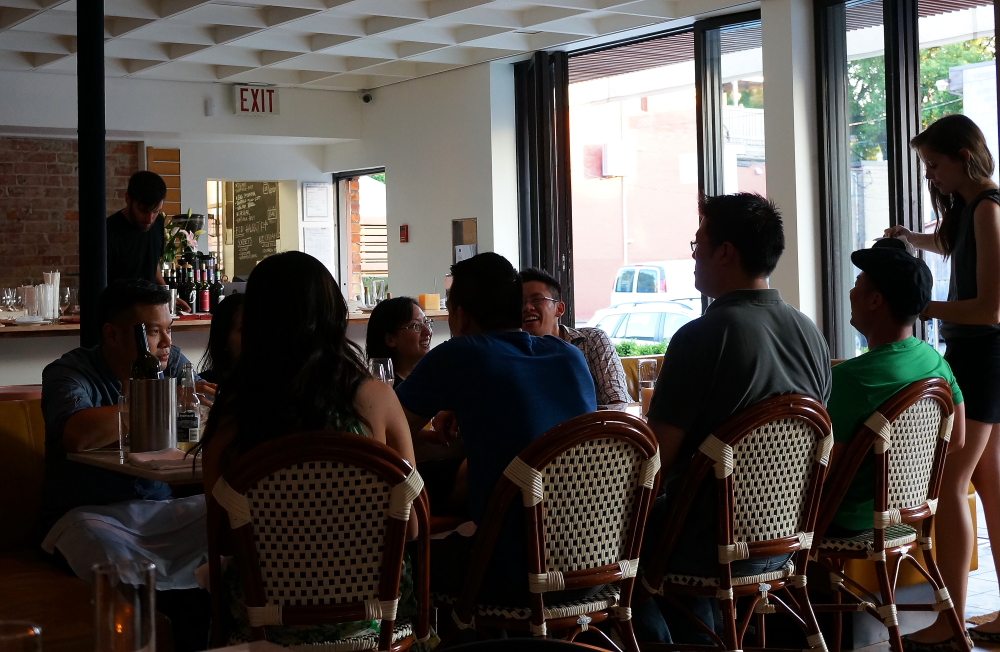 Service was also a pleasure. Despite the heat-wave going on inside, the servers, hostess, and food runners all remained in jolly spirits. At our request, all of our dishes were spaced out beautifully, so much so, I felt they must have read my mind for when I wanted the next dish to come.  In between courses, our plates and cutlery were cleared and replenished, and our water glasses were consistently refilled by a hostess whose job seemed to be just to float around and save us all from overheating.  Thank g-d for her.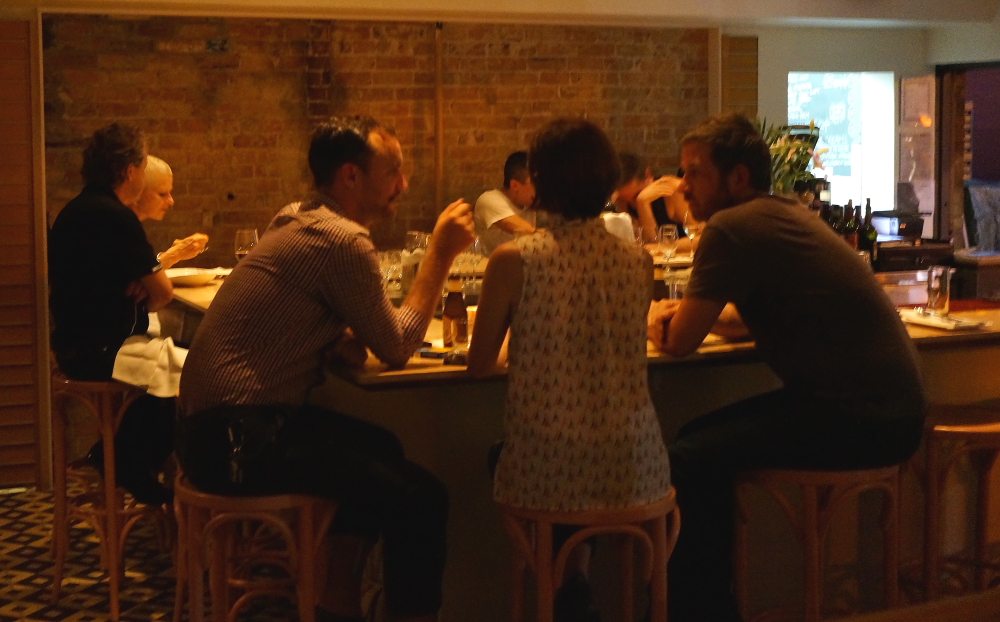 And maybe even more essential that night were the icy cold cocktails. As expected for a Dave Mitton establishment, the drink list at THR & Co. is pretty arousing. Like the original Harbord Room, there is a fairly extensive wine list (curated by sommelier Michael Logue), featuring a variety of local and international bottles, and about 16 wines available by the glass ($7-11). There are also about five affordable beers and ciders ($6-8) on offer, and a short selection of signature cocktails. The cocktails read a little simpler than the super-exotic and complex drinks next door, but sometimes, it's the simple things that truly blow your mind. We definitely weren't disappointed!  In addition to a 500 ml Weihenstephaner beer from Germany ($8), we opted for:
S.O.A. (Summer of Anton)- Tromba Tequila, Wild Berry, Balsamic Shrub, Fresh Lime and Ginger Beer ($12)
My favourite drink of the night. Very well balanced, with just enough sweetness from the balsamic and berry, acid from the lime and a little kick from the ginger, it left my tongue buzzing with every sip! For a hot summer day, this was incredibly refreshing.
A Tall Confession- Beefeater Gin, Fresh Lime, Blueberries, Mint Syrup, Dry Cucumber Soda ($12)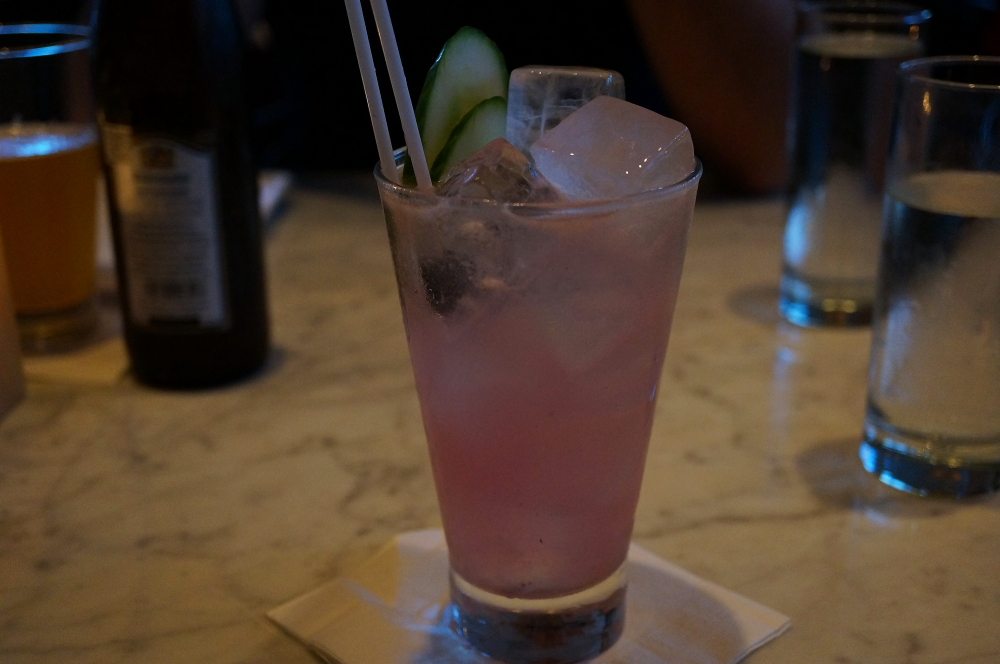 Also a good drink for summer because it was light, herbaceous and bright. I would love to get my hands on that cucumber soda, just think of the summer sipper possibilities!
T & T – Tromba Tequila, House Tonic, Agave Syrup and Wild Lime Soda ($12)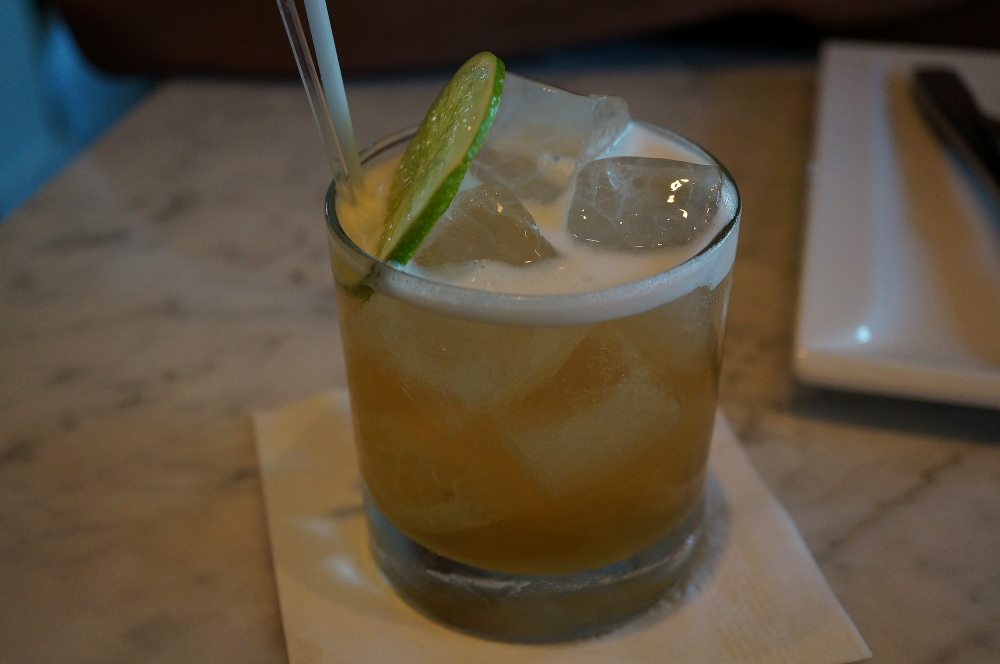 In contrast with the former Tequila drink, this one was definitely closer to the classic lime-driven preparation in that it was much more tart than both the other drinks. Also very tasty, but if you're not a fan of acidic flavours, it would be better to go with the S.O.A.
Like the cocktails, the food menu at THR & Co is approachable, and is reminiscent of its sister's. There are still the appropriate Mediterranean bar snacks on offer (think olives, charcuterie and breads), and menu descriptions read as remarkably sexy, but the subtle Harbord Room Italian theme is even more defined here. THR & Co's menu is divided into sharable plates, salads and raw items, pizzas (yep, using the old Messis wood burning oven), pastas, mains, vegetable sides, cheese and dessert.  They also offer a few nightly specials (as if decisions weren't hard enough.) Thankfully, because they offer two sizes for their pastas and charcuterie board, we could justify an extra course or two.  With a little help from our server (and some expert advice from fellow food blogger, @wherejessate), we decided to go with:
House Bread & Crackers with Butter and Bomba ($4)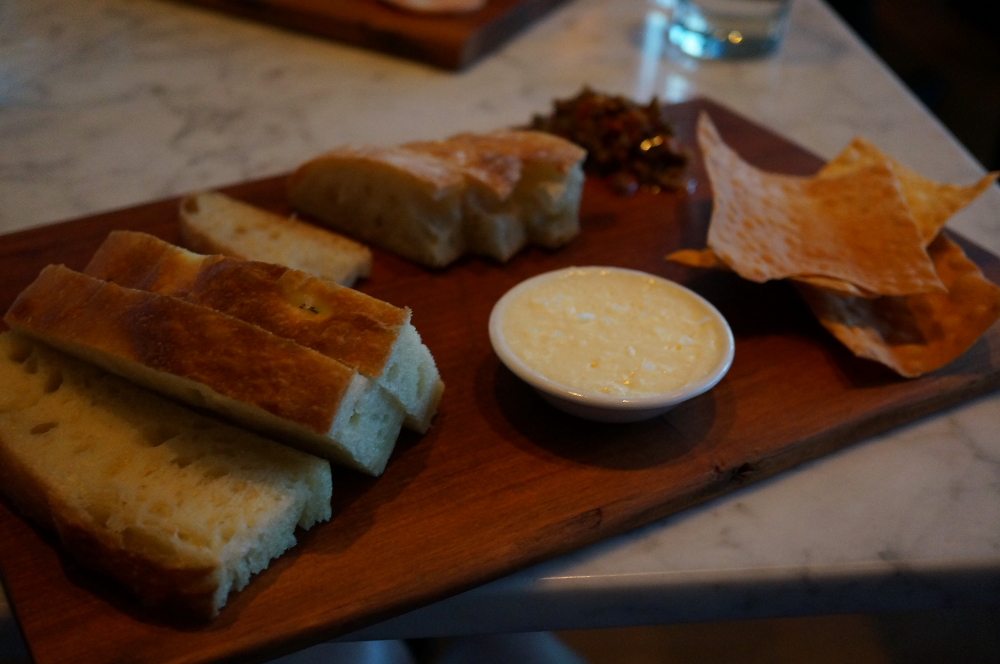 Deliciously warm supple bread, and addictively light and crispy crackers, both of which faired beautifully with the ethereal butter and the bright bomba spread. Bomba is apparently like an olive tapenade with roasted red peppers, olives and sundried tomatoes, which made for a really nice addition to a carby board for summer.
Cured Meats, Terrines and Pates with Mustards and Pickles ($14 for small size)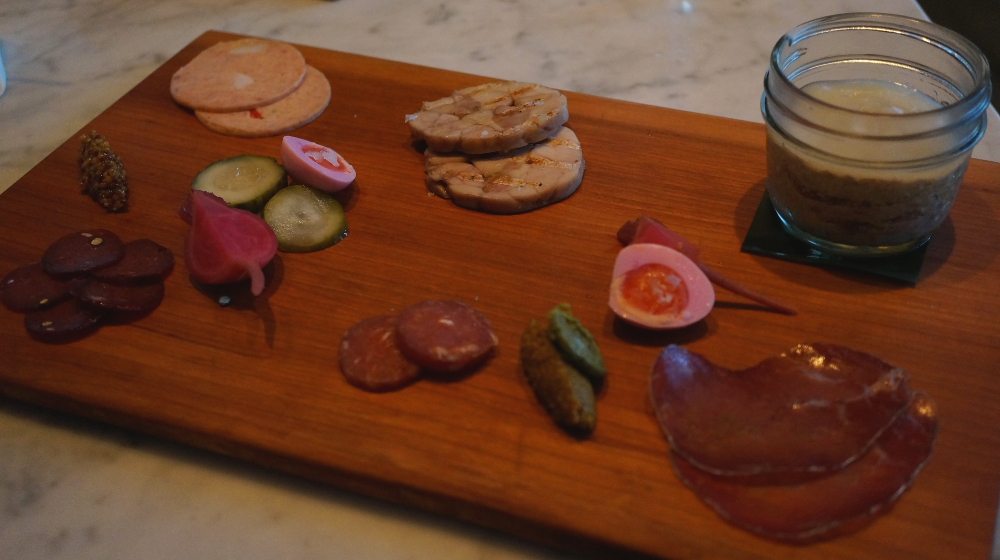 When I was a kid, whenever it was really hot out, my mom would make us what she called a "cold plate". Basically, it was a less sexy version of this.  So considering how hot it was inside last night, getting the plate of cold meat was straight at the top of my list. I particularly liked the foie gras and duck confit pate, which spread like a fatty dream onto the aforementioned bread. The sweetbread terrine, while a little greasy, was also really tasty, especially with a touch of grainy mustard to cut the overwhelming fat.
Fresh Burrata and Watermelon with Avocado, Pickled Watermelon Rind, Arugula Sprouts, Sunflower Seeds and Vincotto ($13)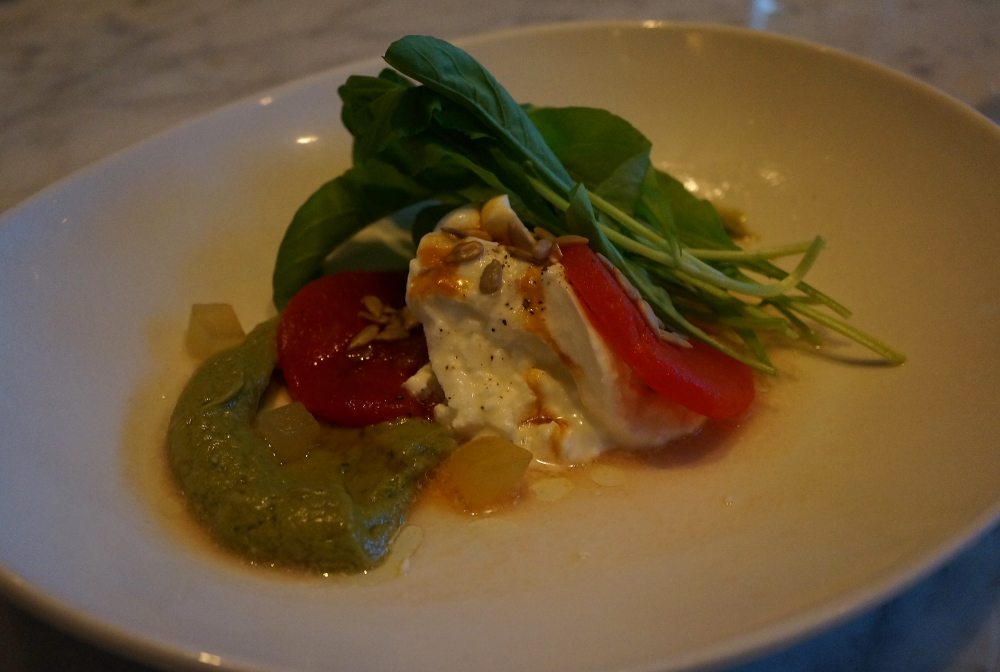 While a little pricy for the size, I was definitely happy we ordered this. It had great balance, both in flavour and texture, and was perfect for a hot summer night. The watermelon was sweet and crunchy, while the rind just burst with bright tangy flavour, To help temper down the big bold melon flavours, the burrata was milky and mild, and the avocado was smooth and herbaceous. I also really loved the little pop of the sunflower seeds. The only component that didn't work so well for me was the arugula, which I found a little too hard to eat without looking like a horse gnawing on hay.
Braised Oxtail Cavatelli with Broccoli Rabe, Tomato, Parsley Crumb and Queso Seco ($12 for the small size)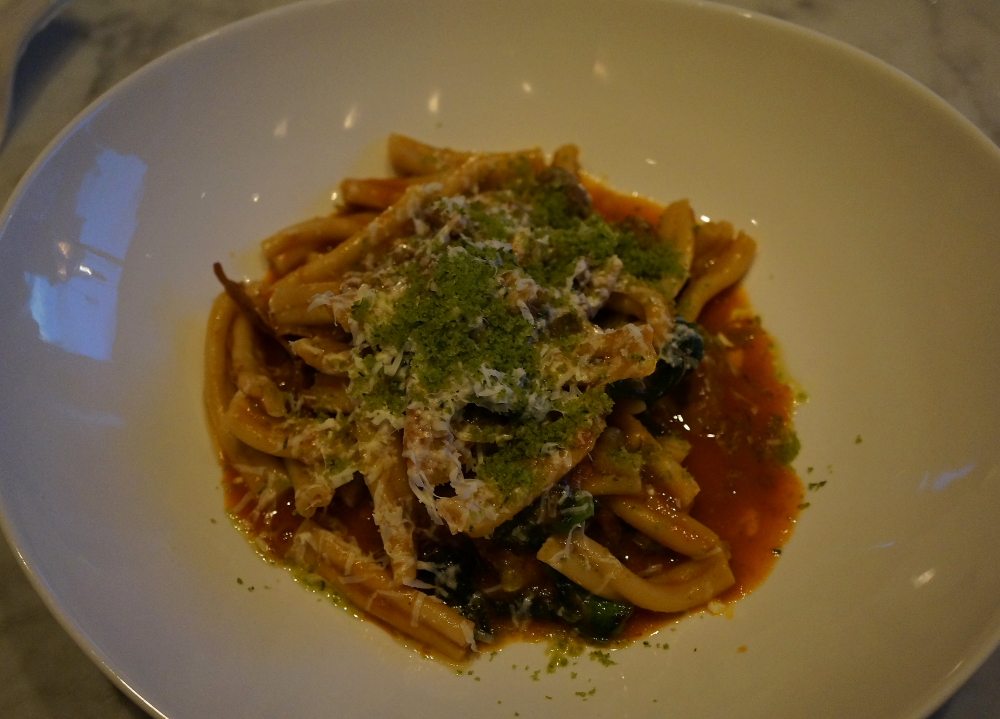 A perfect size for pasta (though it was quite good, I could have eaten much more), the cavatelli was cooked to a perfect al dente, and the oxtail was rich and well seasoned. I also loved the bright green flavour of the crumb and the salty cheese on top. Honestly, the experience of eating this pasta in that heat brought me right back to our mid-summer trip to Italy (where no where has AC!)
Pizza Pie Special- Confit Pork Shoulder with Tomatillo, Caramelized Pineapple, Shishito Peppers and Queso Fresco ($14)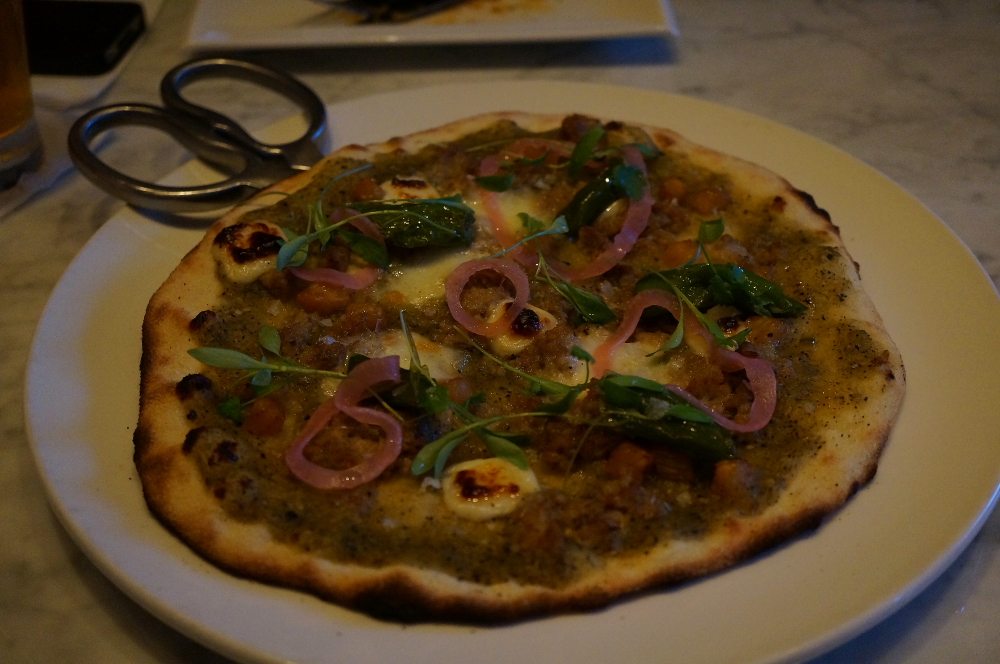 Again, not a large pizza when compared with some of the pizza-focused restaurants around the city, but I thought the size was perfect to enjoy as part of a meal. The tomatillos definitely added a bit of sour bitterness to the sauce that was balanced out by the fatty pork, the salty cheese and the wildly sweet caramelized pineapple. I think I could have done without the shishito peppers, though, mainly because they were pretty big pieces and unless simultaneously consumed with pineapple or pork, were a bit too bitter on their own.
BC Huckleberry and Rhubarb Crumble with Sweet Corn Ice Cream and Candied Rosemary ($9)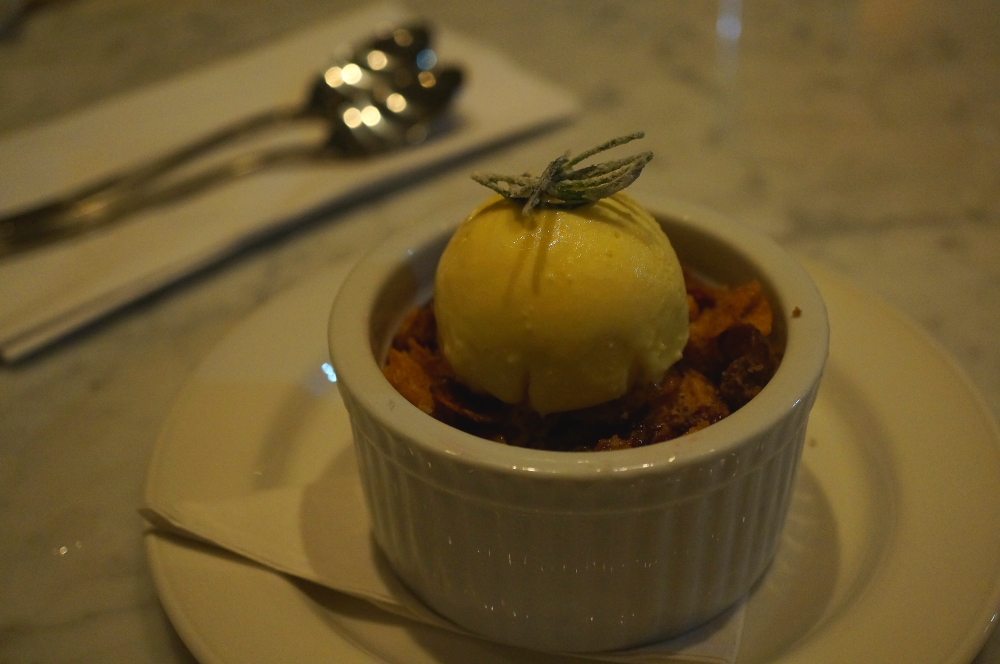 I loved the bright and tangy combination of the huckleberries with the rhubarb, especially when balanced out with the creamy sweet corn ice cream and crispy crumble topping. Note my choice of words here. It was a very interesting crumble, because it wasn't crunchy like an oat topping, but rather, was crispy almost like if you had a cereal flakes of topping. I'm not sure what they did, but it was damn good. The rosemary though was the real star of the show. Just that tiny little branch was deeply aromatic and sweet and crispy like a frosted flake. A very nice way to end a great meal.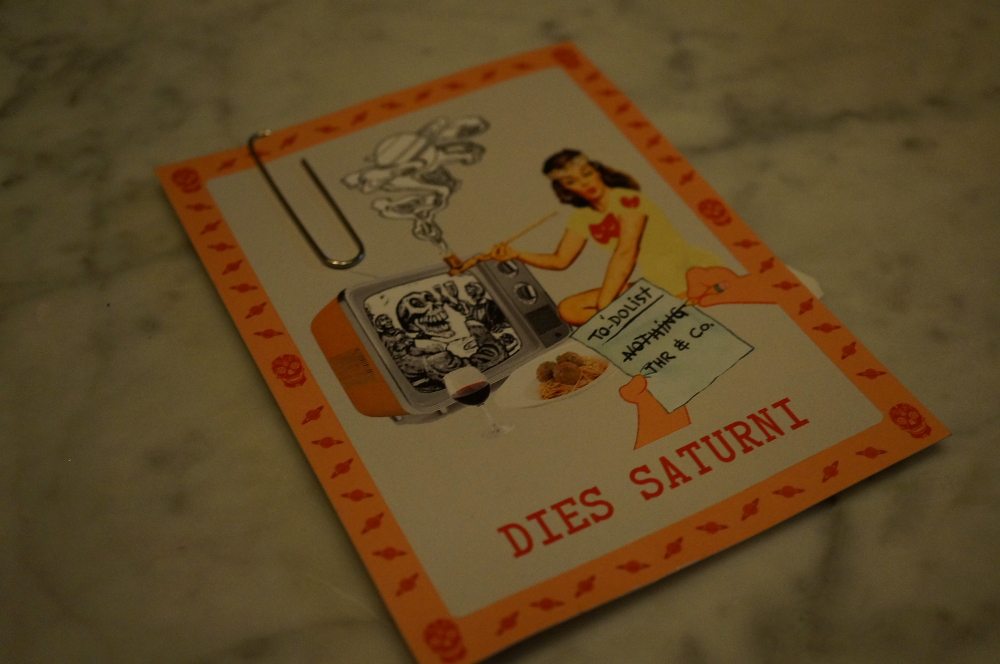 So for 3 cocktails, a beer, and 6 dishes, the bill came to $145 including tax and tip. Far more reasonable than I had expected, and we left more than satisfied with how much we ate. One could definitely order less and still leave full. I definitely felt that the overall experience at THR & Co was quite enjoyable- the food was tasty, the cocktails were spot on, the service was pleasant and the atmosphere was casual and (temperature aside) comfortable.   Thanks THC & Co for a tasty date night that definitely satisfied my need to unwind. Considering the way this crazy summer has been going and how close by you are to home, and that the side patio is on its way to opening, you can expect to see me there a lot. Start pouring the tequila!
Updated on May 8th, 2019