Day three dinner was at the King of Modern Mexican cuisine, Rick Bayless's One-Michelin star restaurant, Topolobampo.  If you haven't heard of Bayless, you don't deserve to enjoy tacos. Ha, just kidding. Sort of. He's a James Beard award-winner, has written countless cookbooks on Mexican cuisine, has competed on Top Chef Masters (Season 1), and owns five restaurants in the Chicago area, with Topolobampo being the most high end. Now do you feel out of the loop?  With the recent explosion of Mexican inspired restaurants in the GTA, I was determined to check out the birthplace and father and see how they all stack up.  Maybe a good way to ruin my appreciation of my own city's cuisine, but the sort of exercise a food blogger needs to partake in to best understand how food should be made.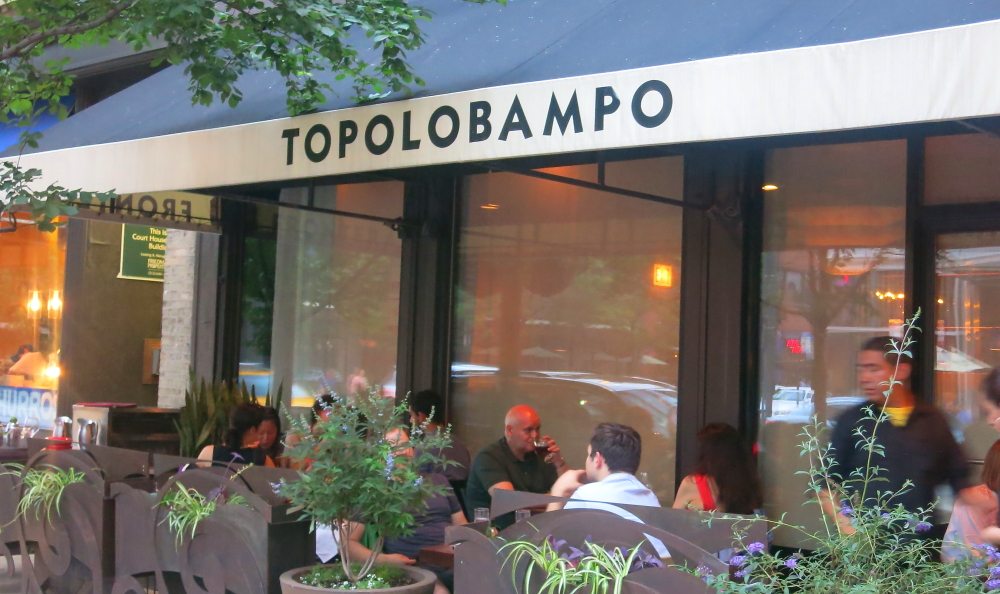 To get to Topolo, one needs to first walk through Frontera Grill, the sister restaurant with a much more casual dining room, buzzing atmosphere, and slightly lower prices.  As a first impression, I would say Frontera is likely a lot like our popular taco joints- loud, fun, tight, inexpensive (relatively), and primarily walk-in based. Topolo, in contrast, is more spacious, classy, chic and sophisticated.  It's a reservation-based restaurant that books up 8-10 weeks in advance, there's a tasting menu, and the staff are wearing formal attire. Translation? I knew early on it was not going to be anything like the Parkdale hipster taco joints I was so used to frequenting back home.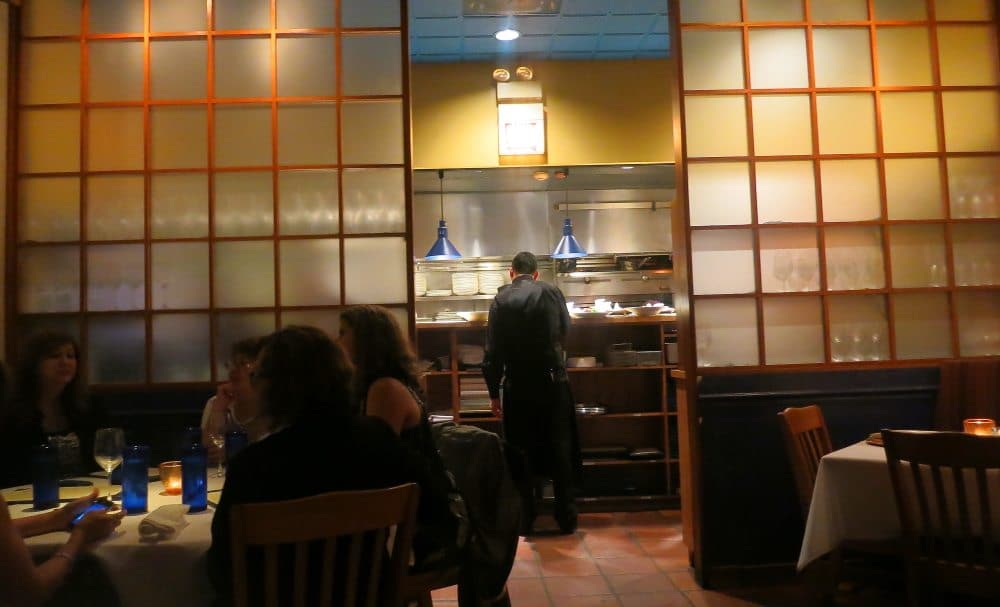 We were sat at a spacious square four-top in the center of the room with a good view of the bright kitchen at the back. The room was buzzing but definitely not loud, with enough privacy to have an intimate conversation, while not feeling as though you're eating in a stark stuffy restaurant at 5 PM.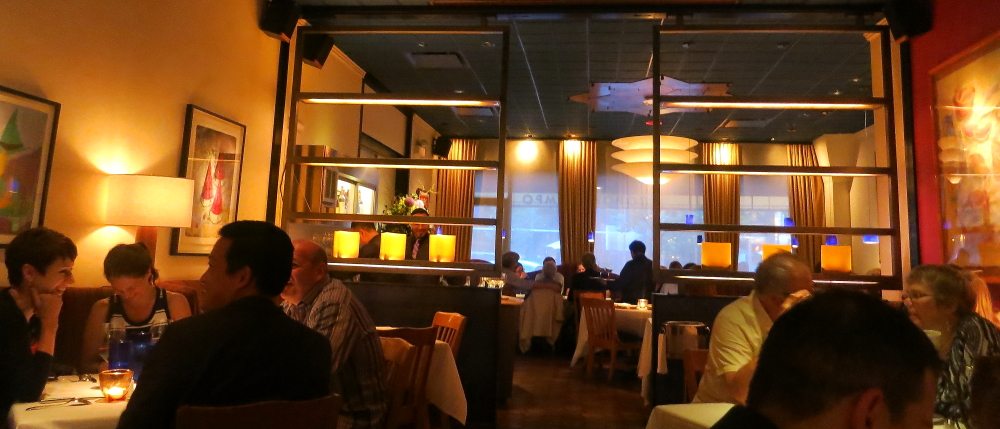 Service was exactly my style- professional, knowledgeable and well paced while still feeling personable and laid back. Our server provided an excellent description of the sommelier's wine choices, and the service staff all ensured that cutlery, plates and water were removed and replenished as necessary. I was also quite happy with the pace of the night- in and out with a tasting menu in about two hours.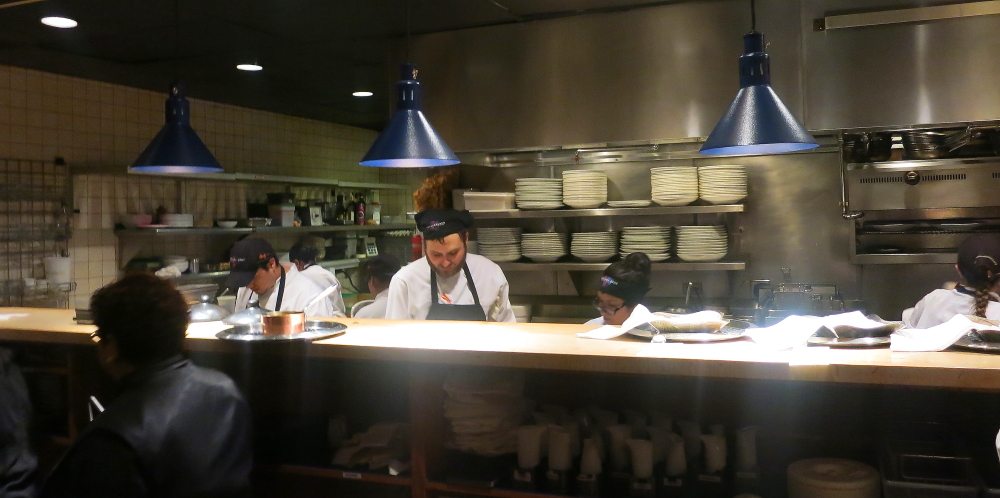 Cocktails are not surprisingly largely tequila and mescal based, featuring both Mexican classics (Margaritas and Sangrias) and a few Seasonal recipes using exotic fruits, unusual liqueurs, and even chilies for a kick. For the non-tequila drinkers, each alternative spirit is represented with a classic cocktail, while a number of Mexican and Local Craft Beers are available by bottle and tap.  Being a cocktail drinker myself, the first to catch my eye on the menu was the "Splurge Margarita", a combination of Riazaul añejo tequila (aged in Cognac barrels), Grand Marnier, Cognac-infused Pineau Des Charantes, fresh lime, and gold leaf.  Intriguing, but I'd rather have the gold on my body than in my mouth, we opted to start with the Oaxacan Gold (Wahaka Joven Espadin Mezcal, Wood-Grilled Pineapple, Mexican Vanilla and Fresh Lime, $11.50) and the Paloma Oaxaquena (Guero and Coriander Infused Wahaka Mezcal, Fresh Grapefruit, Fresh Lime, Honey, House Grapefruit Bitters, $12.50).  Both cocktails were impeccably balanced and very spicy- especially the Gold which had a chili dusted rim. A great way to wake up the palate before heading into a big meal and transitioning into wine.
Oaxacan Gold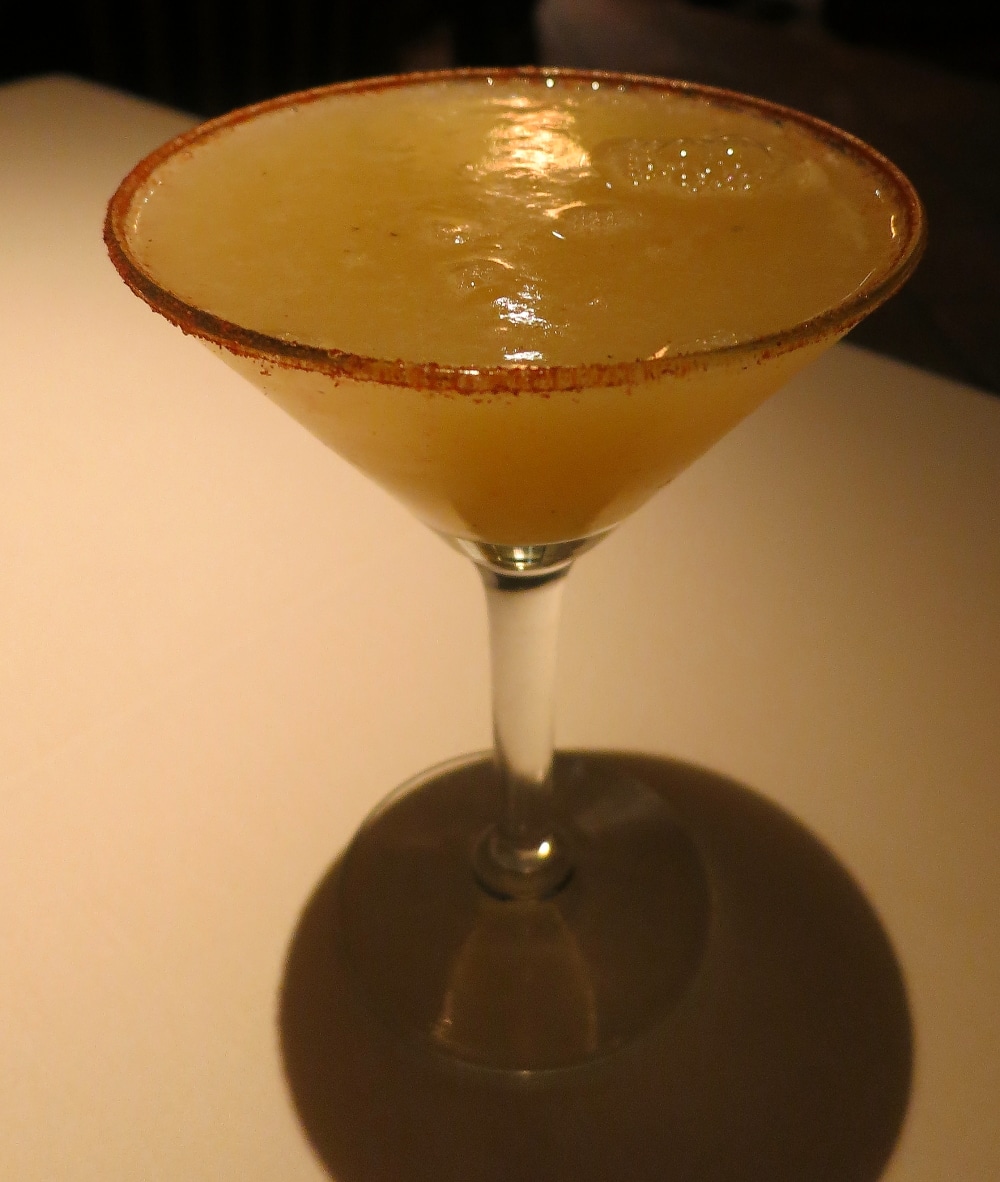 Paloma Oaxaquena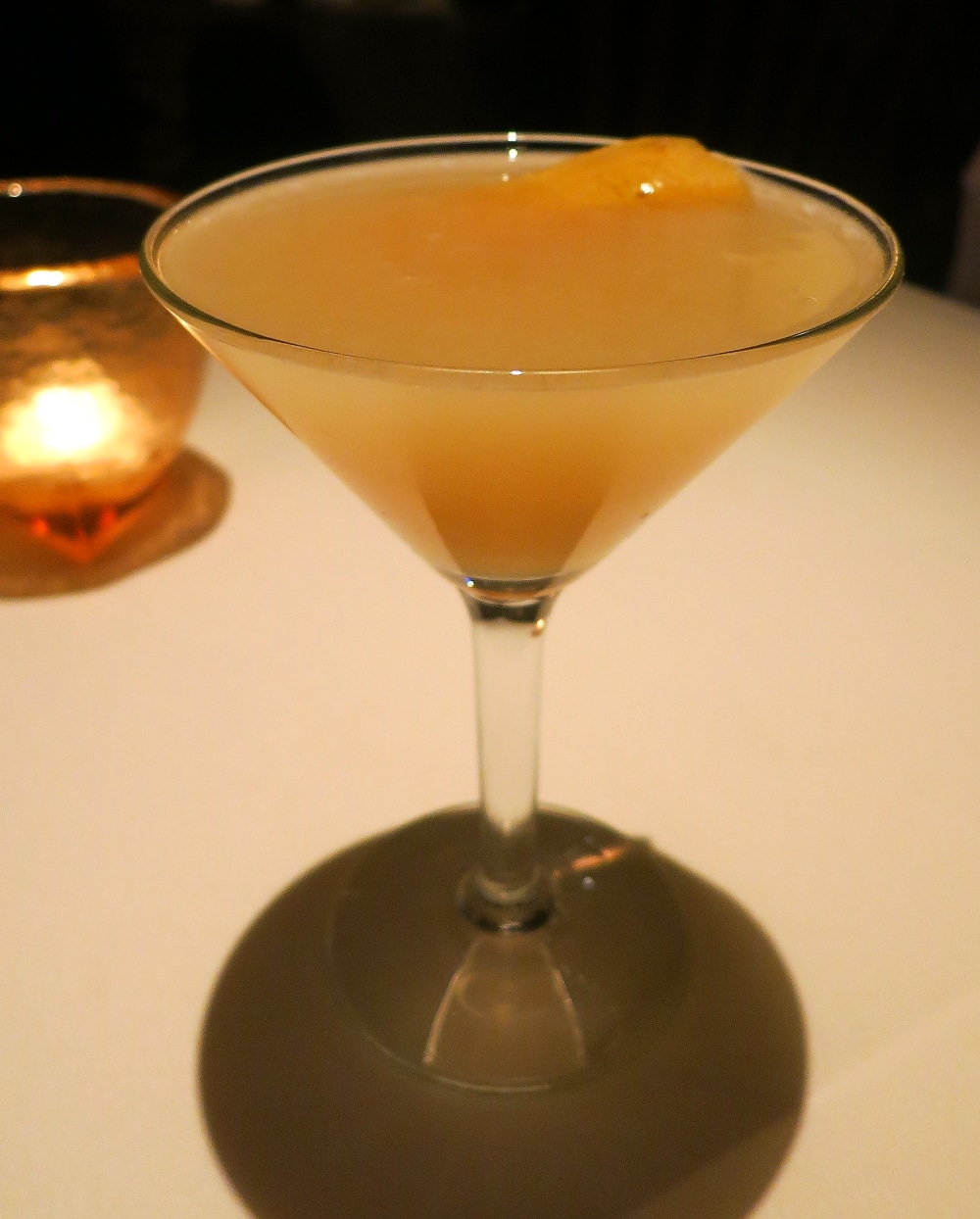 Speaking of a big meal, the food at Topolo is available a la carte or as one of three Chef's Tasting Menus, with the option of added wine pairings. We went with our servers recommendations and opted for the Topolo Classic and Street food Flavour menus with wine pairings rather than the 3rd choice, the Mole menu. The following demonstrates each course represented first as the classic offering, followed by the street food dish:
Amuse: Cold Pea Soup Shooter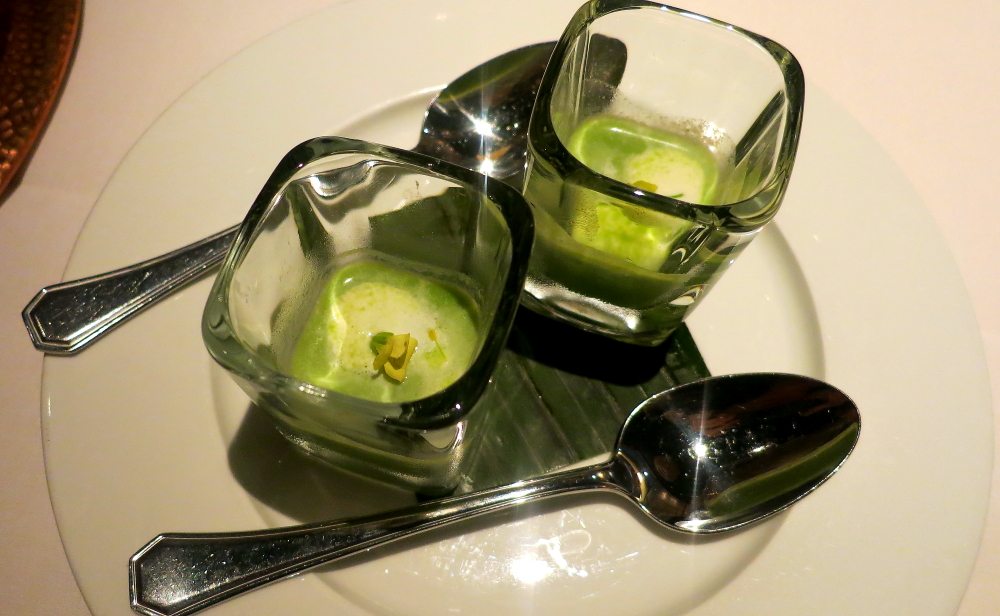 Nice refreshing start to the meal.
Ceviche of Ipswich Razor Clam & Baja Bay Scallop, Spicy Tamazula Hot Sauce, Garlic Chives & Flowers, Sorrel, Charales
2009 Heidi Weissburgender, Burgenland, Austria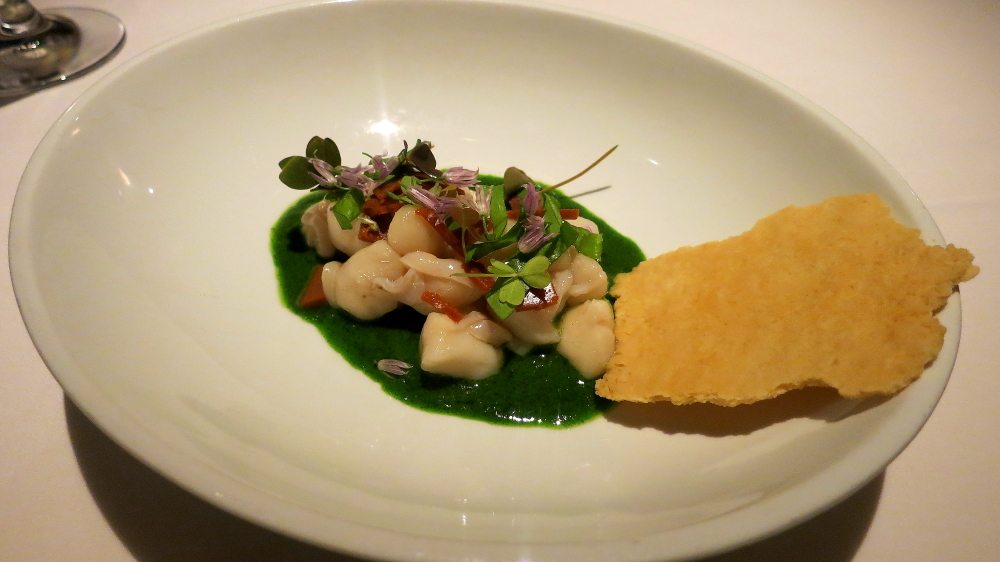 The best ceviche I've ever tasted- the clams and scallops were fresh, and mildly sweet, balanced out nicely by the herbaceous puree and touch of heat from the hot sauce. I wasn't crazy about the wine pairing though, mainly because I found it a little bland against the acidity of the ceviche.
Saffron-Infused Chicharron de Harina, Tangy Roulade of Pickled Pigs Feet, Homemade Arbol Hot Sauce, Dry Jack Cheese, Airy Avocado, Arugula Flowers
2009 Monte del Fra "Ca del Magro" Custoza Superiore, Veneto, Italy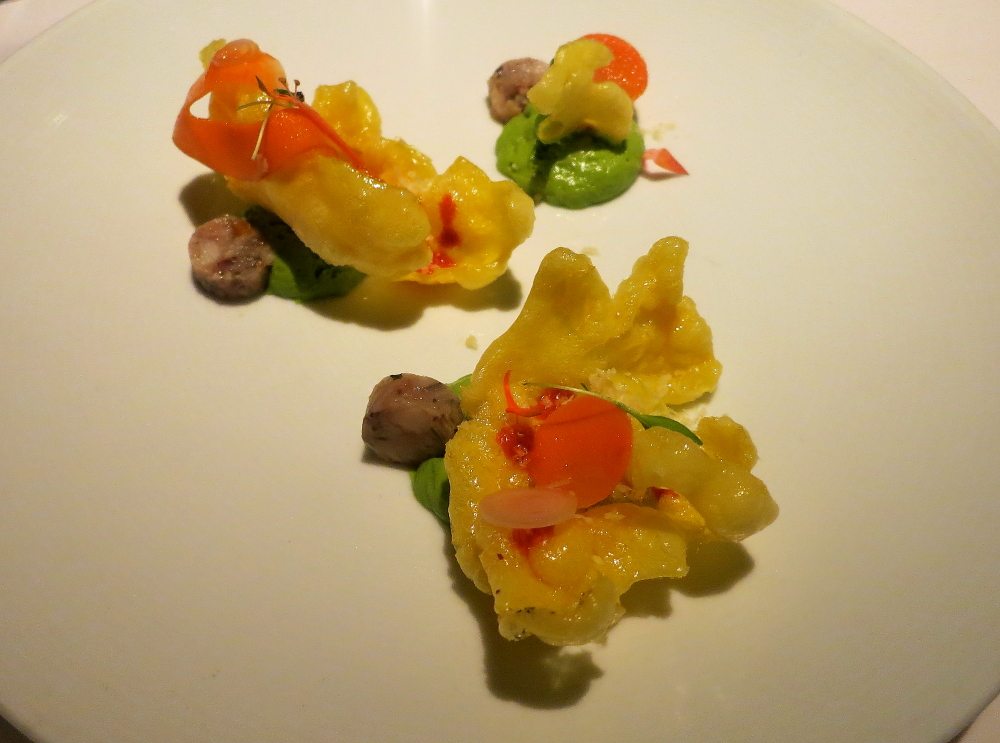 This was quite tasty, but not as good as the former. I thought the flavours were absolutely spot on and the pickled roulade was totally addictive against the creamy mild avocado, but I found the chicharron a little stale.
Aged Beef Tenderloin Tasajo (Black Beans); Classic Chorizo (Oaxacan Pasilla Salsa, Quail Egg); Red Chili Pork Loin Cecina (Avocado-Tomatillo Salsa, pickled Tomatillos) Served on Homemade Corn Tortillas
2009 Leopardi Brut Rose, Penedes, Spain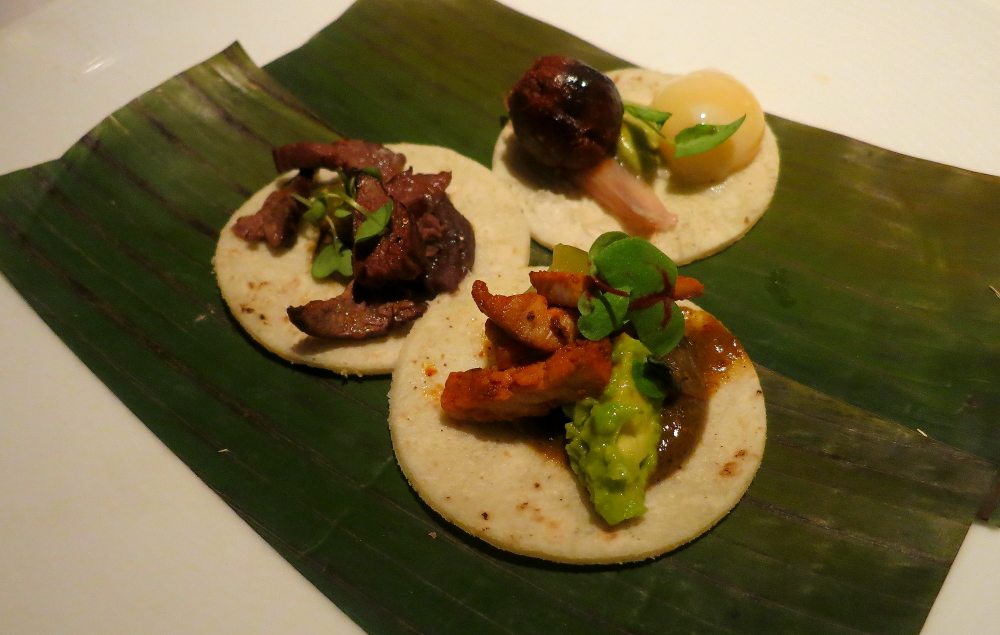 I thought some of the tacos we get in Toronto are "cute", but these were just adorable- three perfect tiny bites, each with their own classic flavour profile set on some of the best corn tortillas I've ever tasted. They were warm, fresh, sweet, with an irresistible chew that had me wishing I could take home a suitcase of them.
Tender Little Steamed Tortillas, Smoky Chipotle Sauce, Alubia Beans in Mexican Cincho Cheese, Bayless Garden Greens, Parsley Oil
2010 Vinicola Fraternidad "Nuvu" Valle de Guadalupe, Baja, Mexico
Again with the tasty tortillas, this dish was even better. The beans were cooked to a luscious tender consistency, swimming in a beautifully balanced sweet smoky sauce and held together by salty cheese. This literally felt like summer in my mouth- super refreshing and bursting with bright healthy flavour.
Pan-Roasted Wild Alaskan Halibut, Maine Lobster "Torchon", Green Pipian of Toasted Sesame & Three Herbs (Hoja Santa, Cilantro, Epazote), Snug Haven Spinach, Roasted Local Sweet Potato, Braised Black Sesame
2010 J. Palacios Menia "Petalos" Bierzo, Spain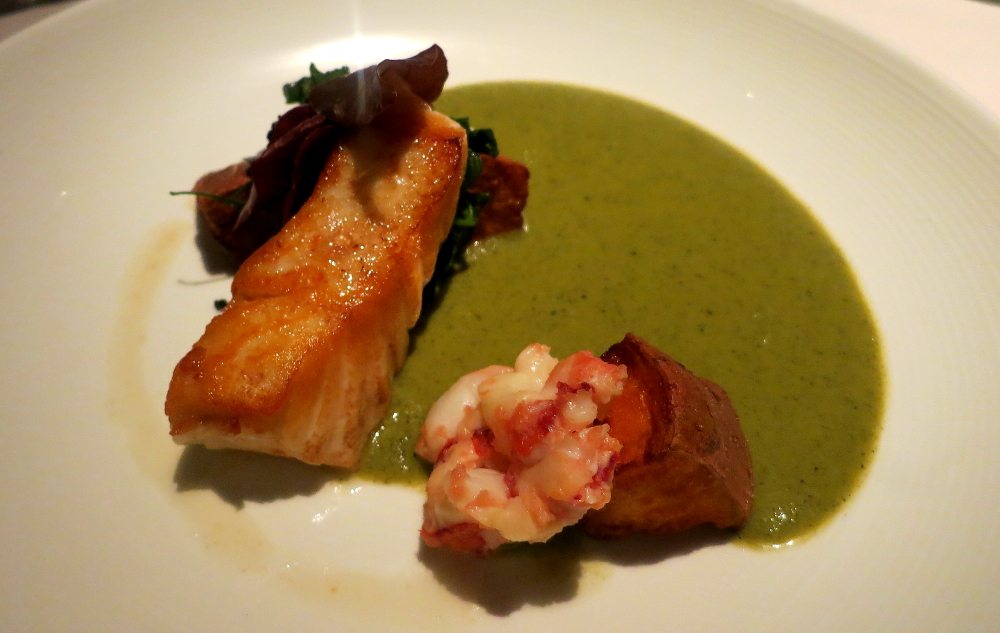 Lovely. Here, the halibut was seared to golden crispy perfection, paired with the most luxuriously sweet lobster and perfectly caramelized sweet potato. The highlights, however, were the two flawlessly balanced sauces which were both aromatic from the toasty nutty sesame and fresh from the greens and herbs.
Herb-Poached Alaskan Black Cod, Green Chiletole (Poblano & Serrano Chili, Three kinds of Corn, Epazote), Roasted Corn "Polenta", Grilled Nopal Cactus, "Fossilized" Epazote.
2010 J. Palacios Menia "Petalos" Bierzo, Spain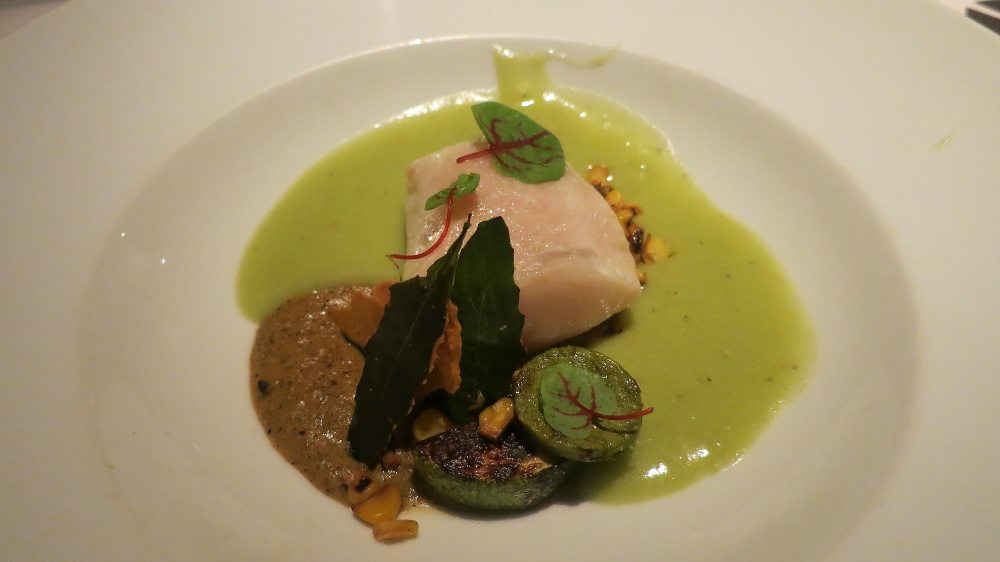 I didn't think it could get better, but I actually think I preferred the cod overall. I normally don't like anything to be poached as I feel it's a missed opportunity for "Maillard induced" flavour (woah, first year food science class). But honestly, the flavour that was packed into that flesh from the herb infused poaching liquid made up for the lack of crispy skin. Again, the gorgeous green sauce was packed with so much light, bright grassy flavour, but this time counterbalanced so nicely with the sweet juicy pop of the charred corn. I am a bit of a corn-freak, and having it woven into a single dish in so many ways definitely appealed to my addiction.
Wood-Grilled 28-Day-Aged Prime Ribeye & Seared Foie Gras in Classic Oaxacan Black Mole (Chillhuacle Chiles & 28 Other Ingredients), Corn Husk-Steamed Chipil Tamal, Unctuous Black Beans, Smoky Green Beans.
2006 Benegas Lynch Meritage "Libertad Vineyards" Mendoza, Argentina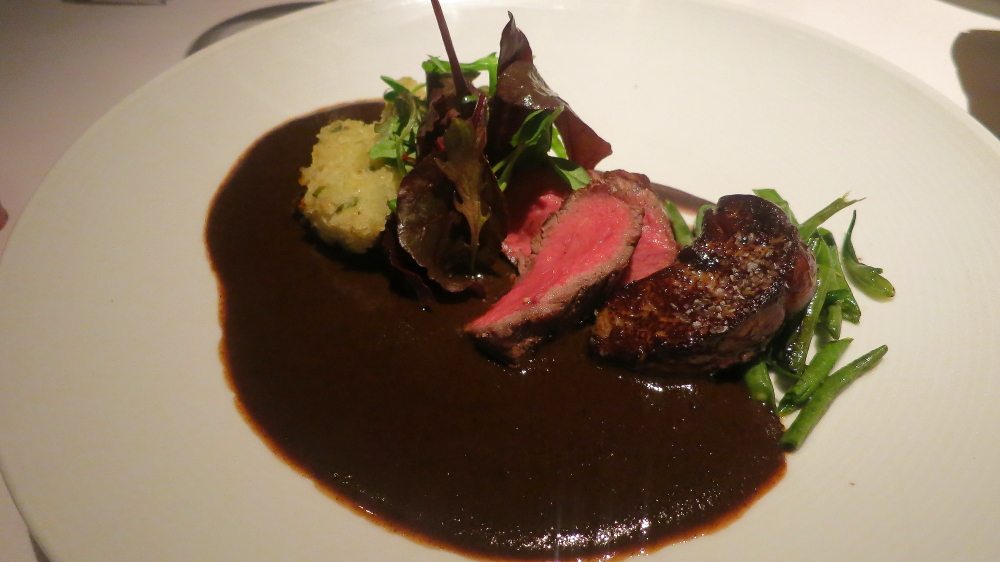 I'm not usually a mole fiend, simply because I tend not to love chocolate anything, never mind on my meat. But this was one hell of a well prepared mole- with a nice tingle on the tongue from the chili automatically tempered by the rich deep toasted cocoa flavour, and an arsenal of spices. Everything worked in harmony so well with one another that no one ingredient stood out and overpowered any other. Both the beef and the foie were expertly prepared, and the chipil tamal offered a much-needed starchy relief from all the heavy flavours on the plate.
"Drowned Torta" of Slow Cooked Carnitas, Artisan Bolillo, Two Heirloom Beans, Spicy Tomato Sauce, Mustard Microgreens
2010 Topolovino Syrah, Edna Valley, California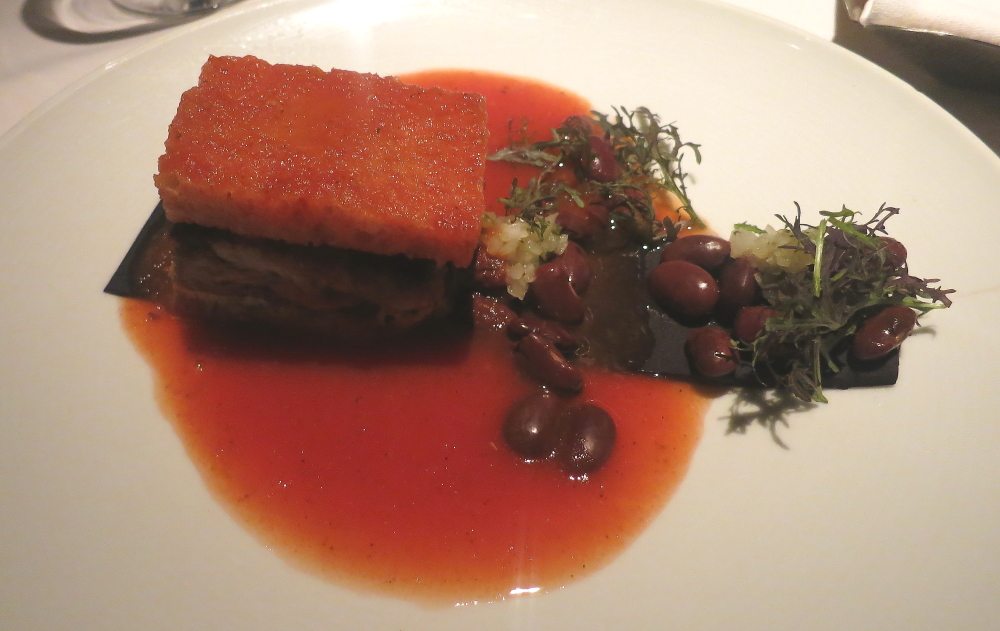 Probably my overall favourite dish of the night. Two spongy soft slices of bread were packed full of sweet tender pulled pork and smothered in a bright tomato gravy that offered just a hint of satisfying heat. I literally cleaned the plate (with the help of a few house made tortillas, of course).
Warm Chocolate Mesquite Cakes, Mexican Vanilla Bean Ice Cream (Infused with Aromatic Rosita de Cacao), Sweet Masa Pudding (Nicuatole), Toasted Almond, Cocoa Nibs, Masa Crisps
2010 Susana Balbo Late Harvest Torrontes, Mendoza, Argentina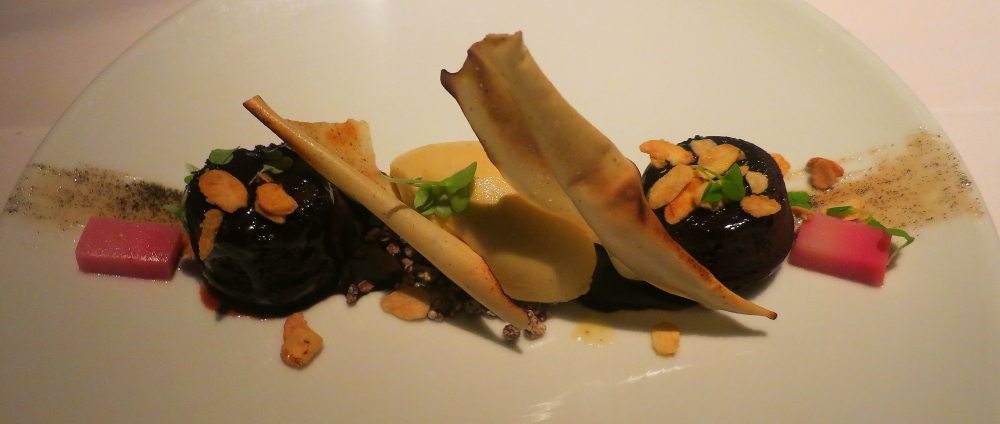 Like I said, I'm not usually a chocolate fan, but this was an incredibly well balanced dessert. The cakes had a very gentle smoky aroma to elevate the deep rich chocolate flavour and literally melted on the tongue as liquid chocolate.  I also loved how the chards of cocoa that anchored the bottom of the plate created a really nice textural counterpoint to the smooth creamy ice cream.
Tortita de Santa Clara (Shortbread with Pumpkinseed Jamoncillo), Beso de Angel Ice Cream (Three Berries, Walnuts), Poached Rhubarb
2003 Oremus Tokaji Asuzu, Tokaji, Hungary
Simple and very tasty. The rhubarb was tender and not at all stringy with a bright tart flavour to counterbalance the sweet fruity ice cream. I also loved the crunchy little pumpkinseeds throughout the bowl, bringing a bit of a savoury element to an otherwise fruit-forward dish.  I also must say that I can't think of a better wine pairing for rhubarb as the Tokaji has a really nice sweetness to balance out its inherent tangy flavour.
Mescal Sea Salt Truffle with Prickly Pear Gelee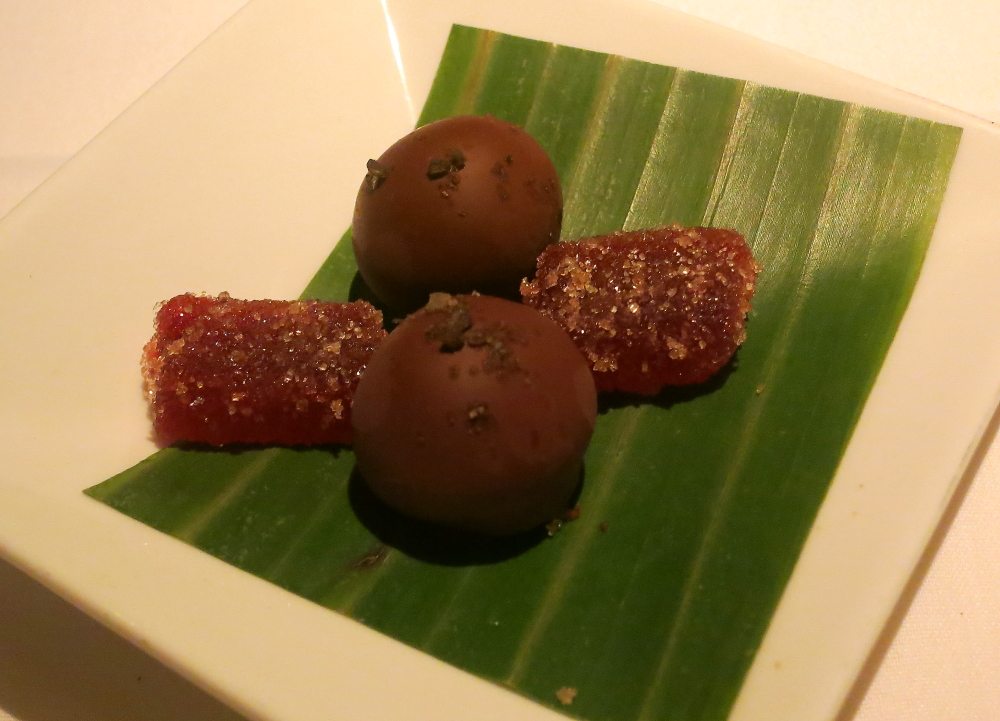 The truffle was lusciously creamy with a nice hit of salt to offset its richness, while the gelee was supple and sweet. A lovely way to end the meal.
So for two tasting menus with wine pairings, and two margaritas, the bill came to $450 including tax and tip- definitely not a cheap meal, but worth it nonetheless. This was one of my most enjoyable meals to date as the food was solid, the service was great and the atmosphere was just my style.  I would definitely return to Topolo and look forward to trying Bayless' other establishments in the future.