Popularized by pop-ups like La Carnita and Fidel Gastros, events like Toronto Underground Market, and food trucks like Gourmet Gringos, Toronto has recently developed an insatiable appetite for "street food cuisine".  While one the major advantages of this trend for the general population is great accessibility of tasty eats, to me it has sparked a love for a cuisine I used to know little about- the food of Latin America.  Recently, empanadas have become my comfort food, and tequila, my drink of choice.  So when I heard through the foodie grapevine that ex-Origin Chef de cuisine and Top Chef Canada contestant, Steve Gonzalez, was opening up a Latin American street food restaurant called Valdez, I was buzzing with excitement.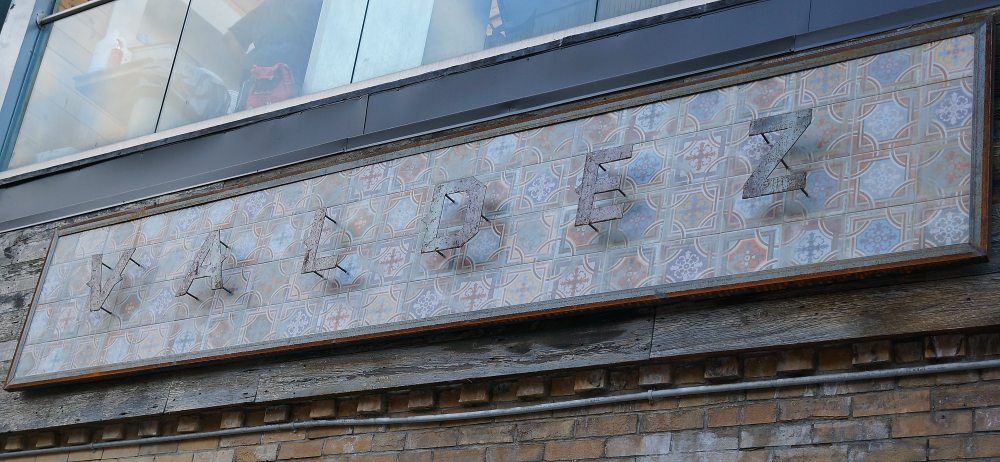 So before heading out to the three-week old King St hotspot, I pondered my best plan of attack. From what I had seen from early blog posts, the menu promised to be more shareable and playful, my preferred approach when dining out.  So fellow food blogger @wherejessate and I schemed up a plan for a double date dinner where more mouths and bellies to feed and fill would leave us better equipped to conquer the new Valdez menu.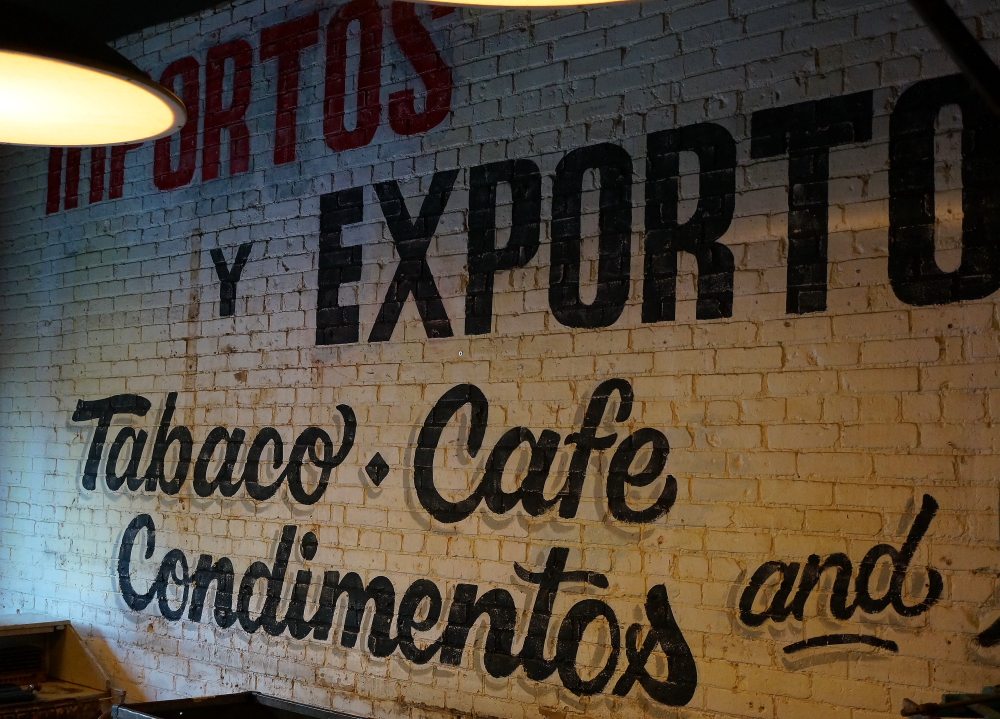 We arrived for our 8 pm dinner reservation through two wide glass doors into a "lobby" type space designed by Ian Rydberg (of La Carnita's hip graffiti).  Past the hostess stand and you're into a hopping dining room equipped with a lengthy open kitchen and a stunning marble bar.  In addition to ample seating overlooking the kitchen action, there are a number of deuces and high tops along the window and near the front, and a large dining room for larger parties towards the back.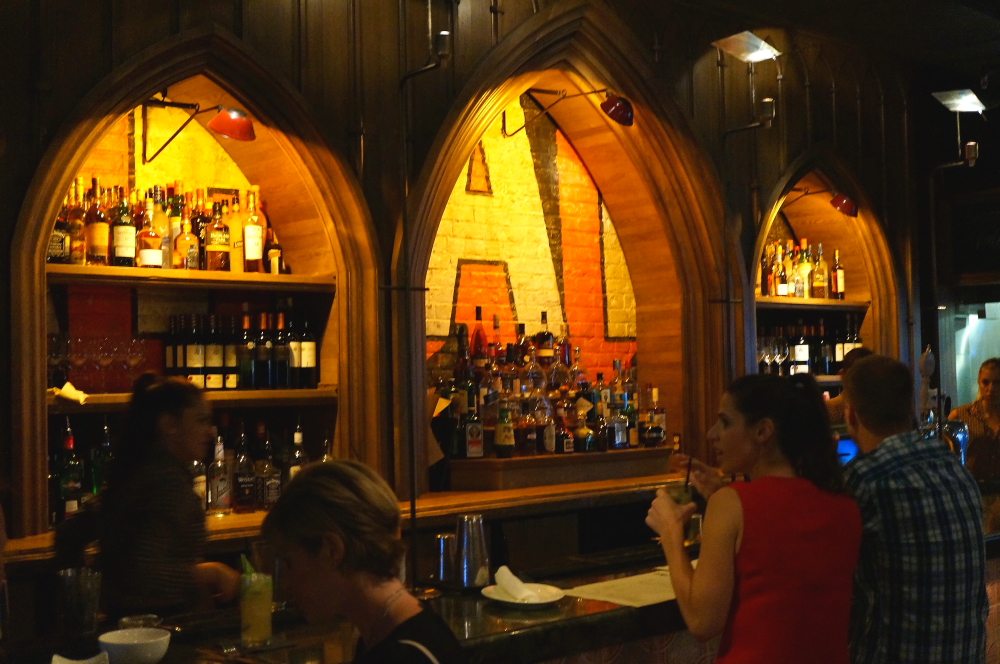 Unlike the bar, which looks somewhat regel and sexy with its brightly painted brick wall concealed partially by wooden arches, the vibe in the main dining room is significantly more playful.  Cloth sacks line the painted white brick walls, while wooden chairs alternate between the three primary colours. It's eclectic, the say the least, but young and casual, which I tend to like. There is also a rooftop patio, though, unfortunately, it's limited to bar service only.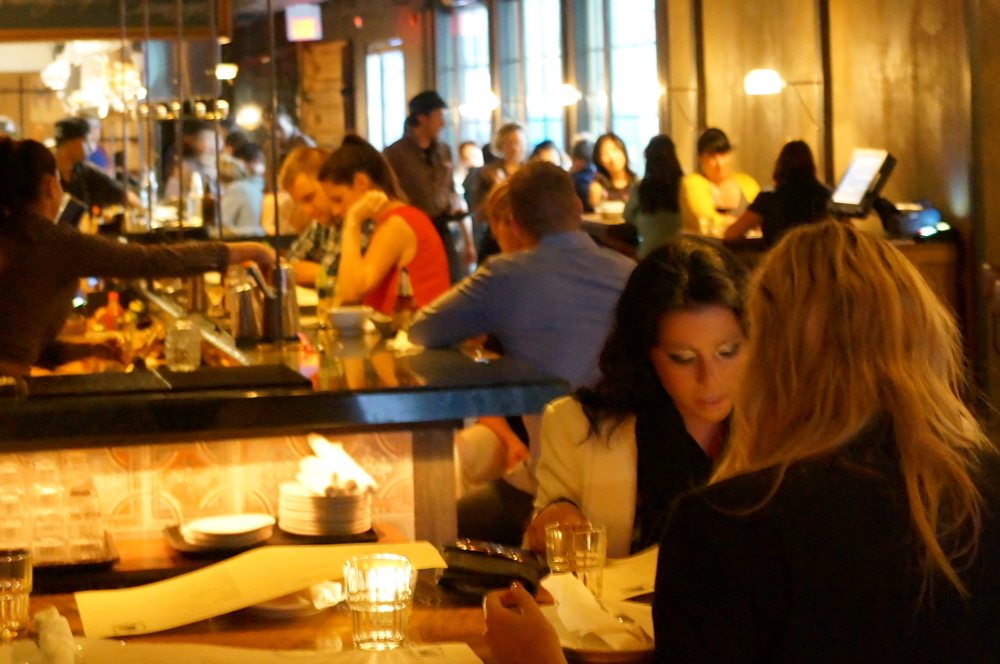 We sat at the back of the room, where I guess all the larger groups were situated. Unfortunately, it was crazy loud back there, and the noise only increased as we headed towards the 10 PM mark.  We all had a hard time hearing one another, so much so that about an hour in, my "lesser half" as I affectionately call him (we have both agreed on our respective worth lol) had to pretty much just stop being conversational. Sure, we were sat close by a few really rowdy parties, so perhaps sitting near the bar or kitchen may have been a quieter bet, but the music wasn't exactly tranquil or reserved either. Alas, what can I expect? This is the King West scene- people come to the strip specifically for that vibe, and I think they deliver what's expected.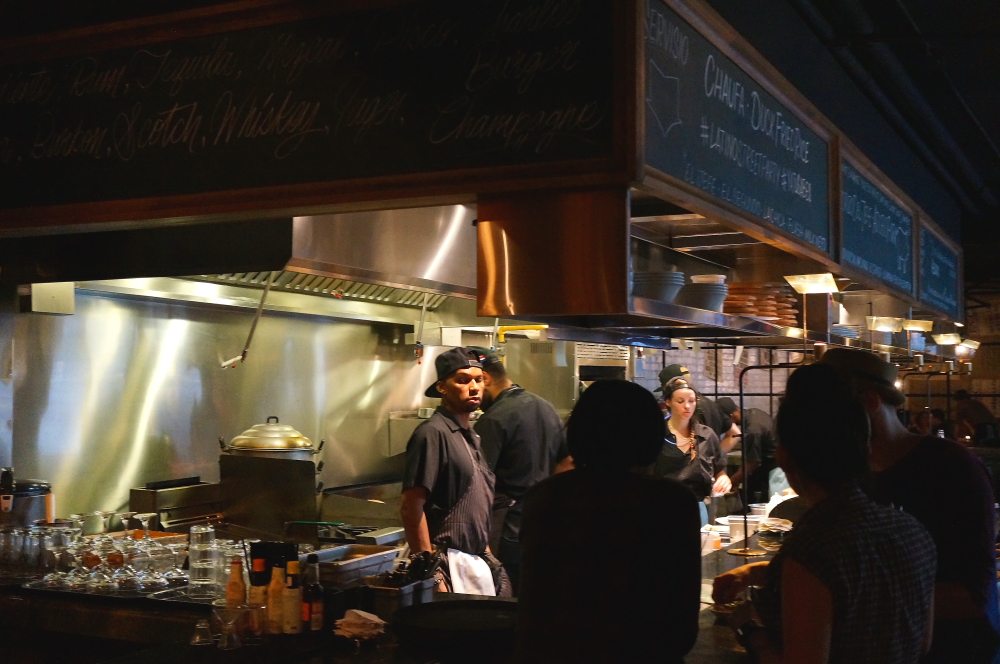 But let's not get ahead of ourselves- we didn't exactly end up in the back so easily or quick. When we arrived, we were told that the ladies at our table were lingering a bit too long, and that we could "hang out" in the lounge/bar area at the front until we were called. Okay, no problem, that happens all the time. As soon as our receive our drinks, we are told we have a table at the back, and the hostess helps us transport everything down. Not two minutes later and we are asked to move to another 4 top so they can alter our current table to accommodate a larger party. I guess at that point, I was just happy we hadn't start receiving food! The rest of the night's service was somewhat hit and miss. Our server was very charming, and having Latin roots himself was obviously very knowledgeable about the preparations and ingredients. Having said that, maybe there was a translation language barrier, but he was somewhat misleading in his descriptions. For example, he told us that the Helano de Salpicon was a lollipop, which it turns out, was actually a popsicle. Actually, that silly popsicle had a lot of servers in the dark. The young man who dropped it off, for example, couldn't tell us what flavour it was, and when he came back from the kitchen to follow up with an answer, he told me simply that it had "melon, salt and some other fruits in there." At least I don't have any allergies. Having said that, I thought the meal was fairly well paced, in and out in about 2 hours and 15 minutes. As a blogger, I would have liked a little more time between each small dish (for photography's sake), but the average person probably wouldn't mind receiving them one after the other.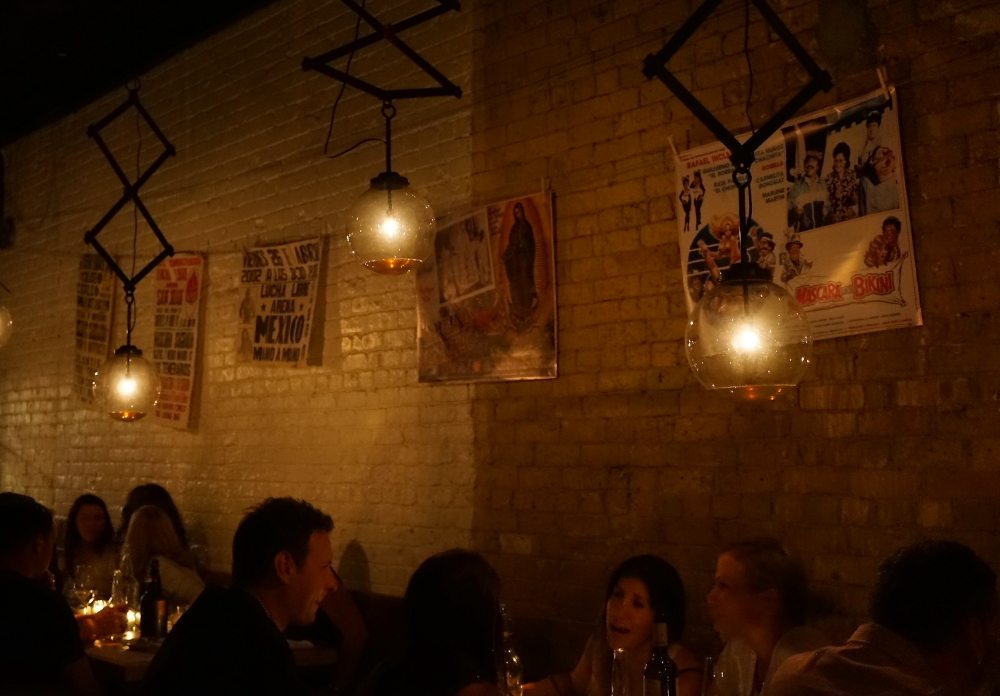 Also fairly speedy (and I'm always grateful for that) was the service from the bar. Drinks at Valdez are light, summery and of course, heavily rooted in Latin American tradition. The cocktail list reflects all the major spirits (though more weight is given to tequila, rum, and bourbon), and bartender Jorge Yarce uses the Latin inspiration to sass-up the classic cocktail recipes. Think about an Old Fashioned but with Mezcal, and a Mojito with cilantro thrown in the mix. And for those who are less enthusiastic about the cocktail scene, Valdez also features about 7 European wines ($8-12/glass, $42-58/bottle), 4 local beers on draft ($3.50-5.00), and another 4 Mexican bottles ($6).  All of us happen to be cocktail drinkers, so ordered a few rounds of those.
El Catrin (Rebel Yell Bourbon, Aperol, Amaro Lucano, $15)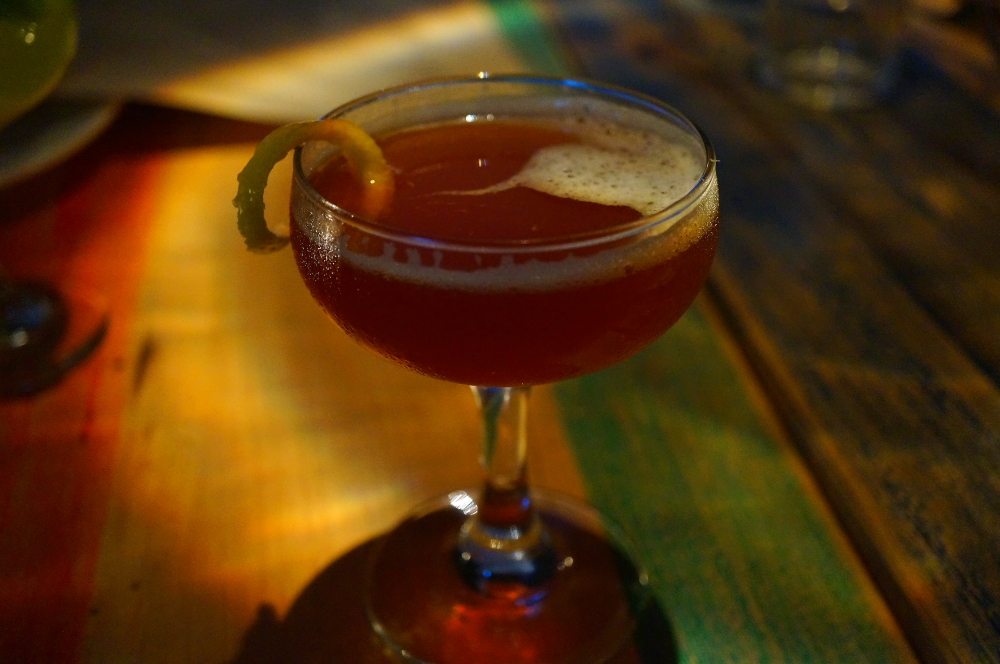 Nuevo Sour (Rebel Yell Bourbon, Lemoncella, Marashino Liqueur, $12)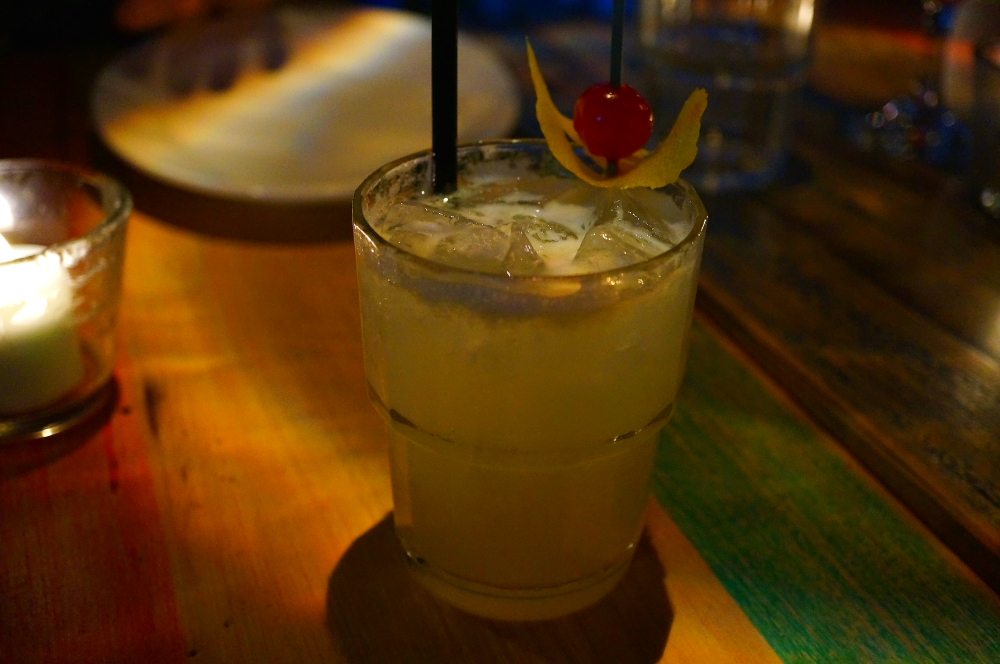 I don't like my cocktails too strong or bitter, so Sours are usually a good bet for me- and this was no exception. I liked the brightness from the lemoncella and the sweetness of the liqueur.  Arguably, some might find it a bit too sour or sweet, but it was agreeable with my preferences.
El Valiente (Tromba Blanco, Hill's Genuine Absinthe, Pineapple Juice, $12)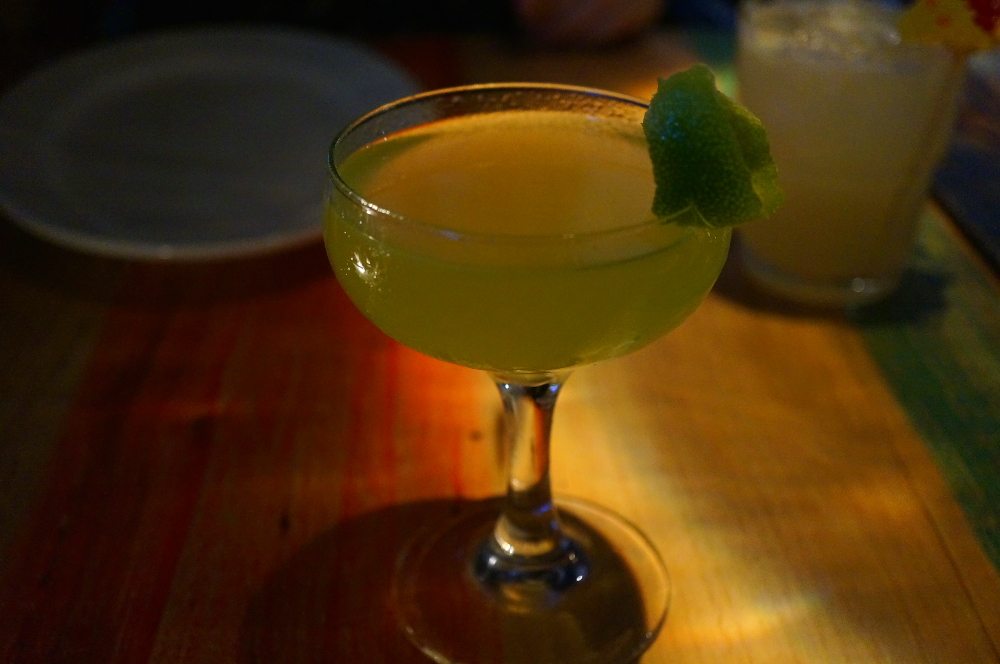 Marga'rica (Tromba Blanco, Aperol, Cointreau, $9)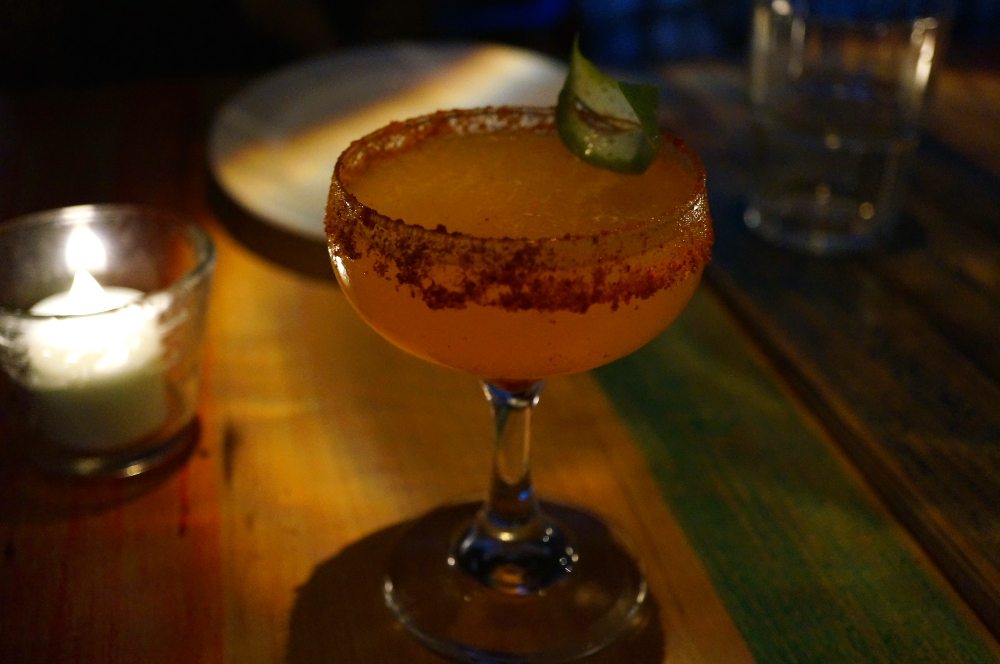 We all ended up with a round of these after we agreed that when dining in a Mexican or Latin themed restaurant, one should always go with the classic. I thought this was a pretty well balanced drink, since the heat from the chili powder along the rim served as a counterpoint to the citrus and subtle sweetness of the drink.  We all thought that in general the cocktails were slightly on the sweeter side of the overall flavour spectrum, so with that extra little kick of heat, the Marga'rica was likely the best and most balanced of what we tried.
Steve's food menu is equally lively and approachable, with an emphasis on sharable plates for the table. There were five different ceviches to choose from, a section for street food inspired tapas-type dishes, larger share-worthy platters and a few classic desserts. While the appetizers (called "Stuff" on the menu) stuck fairly closely to the Latin theme, I noticed a little bit of fusion going on with the mains (referred to as  "More") where Italian, Asian and American influences seemed to sneak their way in.  While we would have loved to had tried the famed Adobe Pork, we didn't come equipped with a party of 8, nor did we give the required 48 hour notice, so decided on a nice little spread of:
Chips & Guac- Plantain, Yucca, Taro, Potato Chips with Guacamole ($8)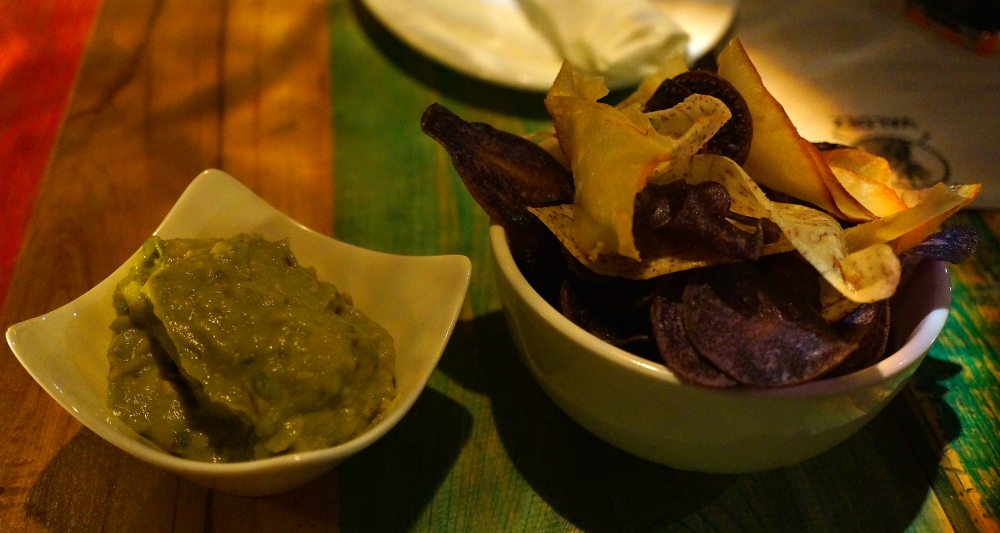 Simple but very good. Each of the root vegetable chips had their own unique flavour, but all retained a super crispy texture and were evenly salted for an addictive-cant-stop-myself effect. I also really liked the guacamole, which had a nice creamy texture and well seasoned. Kind of a small portion for the price, but a tasty starter to share regardless.
Croquetas- Rice, Chicken, Peppers, Saffron Stuffed Croquetas served with Chipotle Aioli ($6)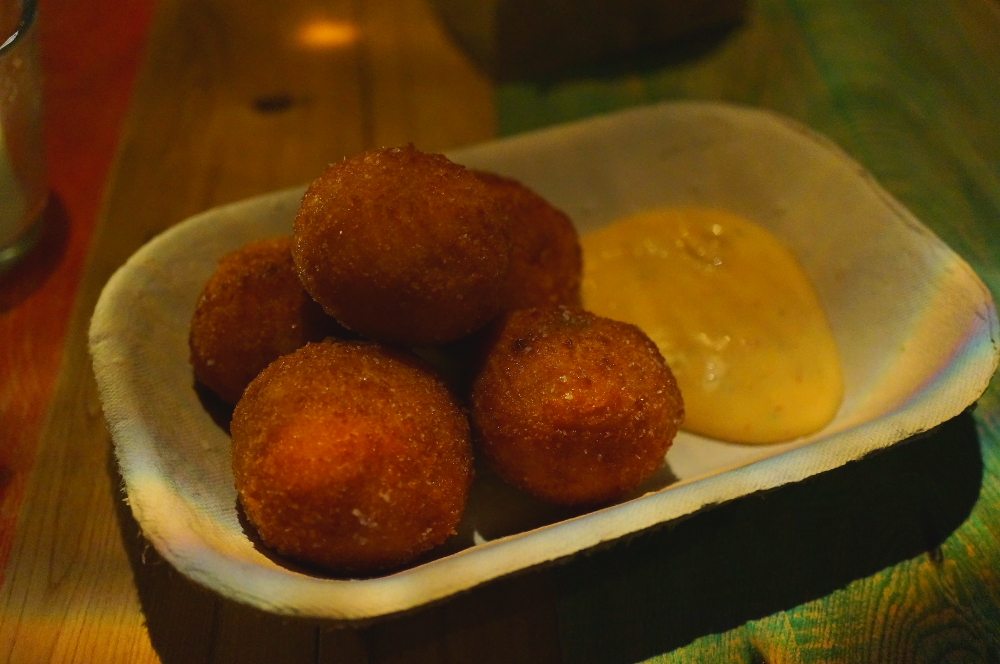 These were much like a Latin take on arancini served with aioli instead of tomato sauce. Admittedly, I couldn't really detect much of the promised chicken myself, but I don't think I really missed it. Now, had the menu promised juicy pulled pork or some spicy chorizo or maybe a little braised beef in there, then yes, I would have been upset. Protein aside, I liked how crispy they were on the outside, but found them a little dense and dry within. But thankfully with enough of the spicy creamy aioli (which was wickedly addictive by-the-way), it was still a tasty bite.
Fried Empanadas- Cornmeal Crust, stuffed with Pork, Potato, L5S with Aji Sauce ($9)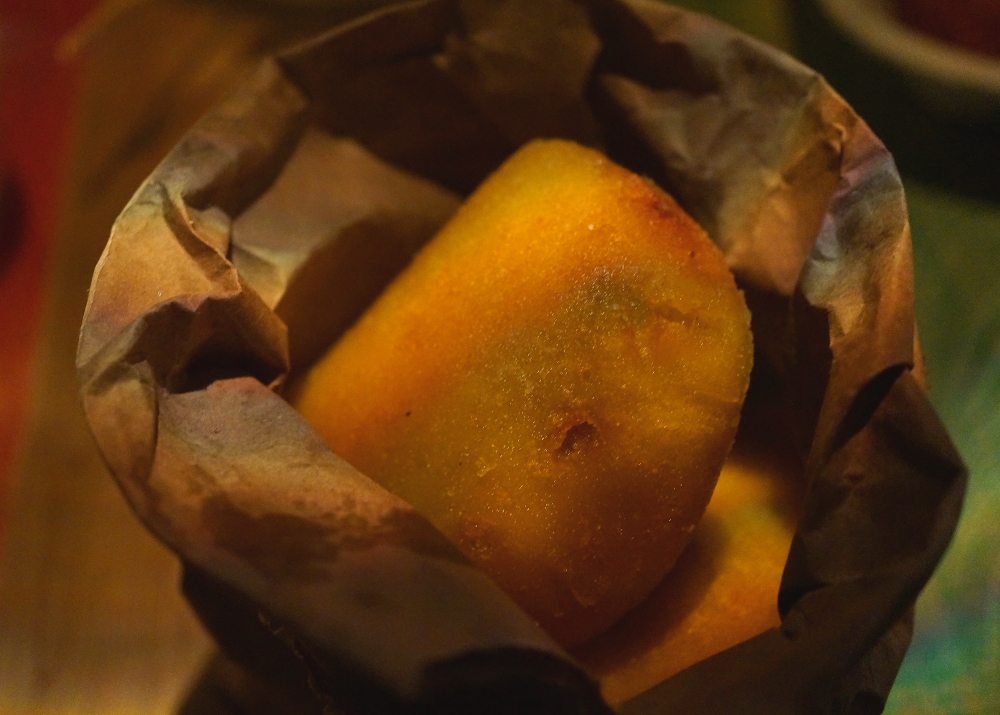 While unlike most empanadas I've had elsewhere (where sometimes the dough is too dense and thick), I really liked the light mildly sweet light cornmeal crust of these. My only quibble was that the filling may have been a touch underseasoned. Having said that, like the croquetas, the spicy hot pepper dip swooped in to save the day, and definitely added that hit of flavour I was looking for.
Pastel- Cream Cheese & Guava Paste stuffed in a Fried Wonton ($6)
Unusual, but surprisingly addictive, these little bites provided the ultimate sweet and savoury sensation. The wonton was light and very crispy, seasoned generously with coarse salt, and when you bit in you got the tangy bite of the cream cheese, sweetened by the fruity paste. If I were walking around and saw these sold on the streets, I would get a few bags and call it lunch (or breakfast or dinner or dessert).
Chuzos al Plancha- Beef Skewers with Chimichurri and Arepas ($7 x 2)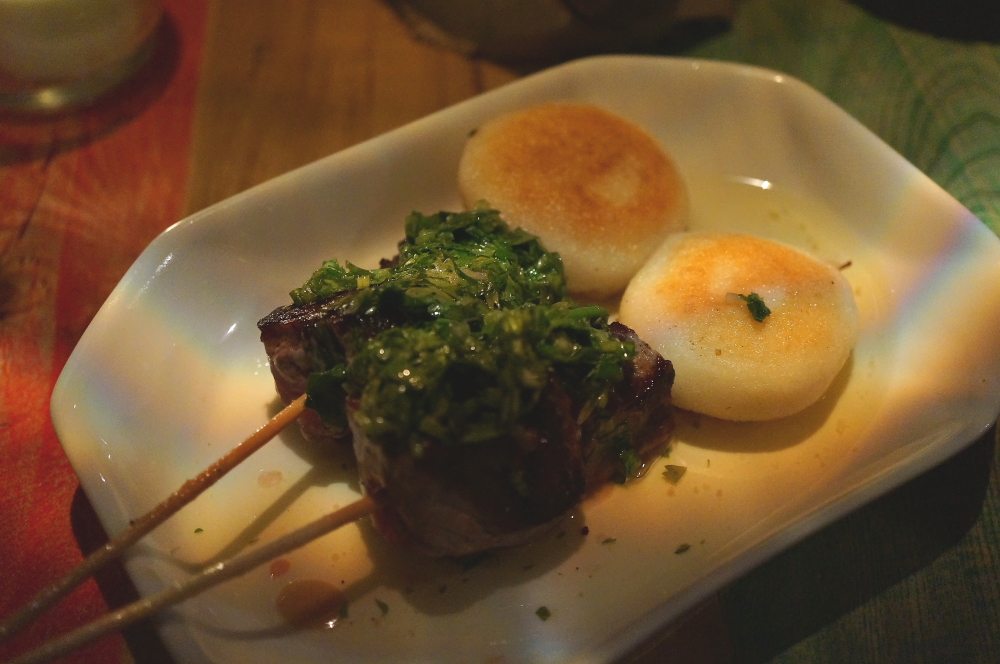 While I found the beef flavourful on its own, albeit a touch tough, I really liked the lively and fresh addition of the chimichurri. I also loved the texture of the pillowy arepa, but I found it could have used a little salt or spice. No biggie. A quick little rub-a-dub-dub in the chimichurri and voila, once again, I was good to go.
Atun Japones- Ahi Tuna, Watermelon, Radish, Ponzu, Pickled Ginger and Pear ($17)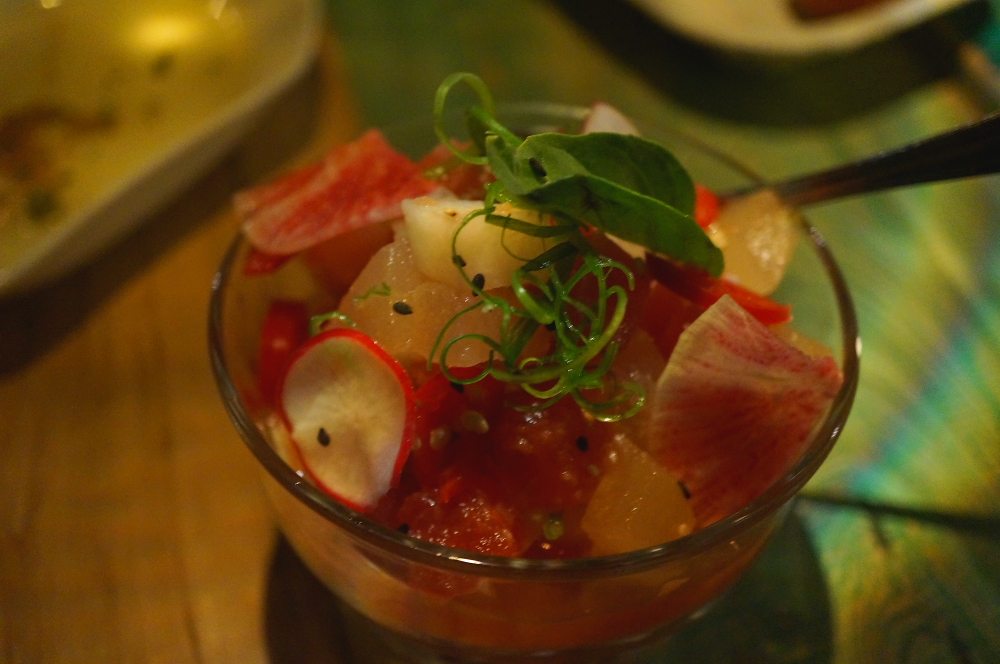 I really enjoyed this unique take on ceviche because it had a lot of big bold flavours that didn't rely so heavily on onions (which I don't always like). The watermelon and pear were sweet and refreshing, while the ginger was tangy and aromatic. I also liked the little bit of pungent radish in there to balance out the fruit flavours and keep the dish in the realm of savoury. Maybe a little pricy for the size, but if I were feeling like a big spender, I would actually like to return sometime to try more of the ceviches.
Giggy's Trout- Togarashi, Quinoa, Yuzu, Mango, Avocado & Fried Shallots ($17)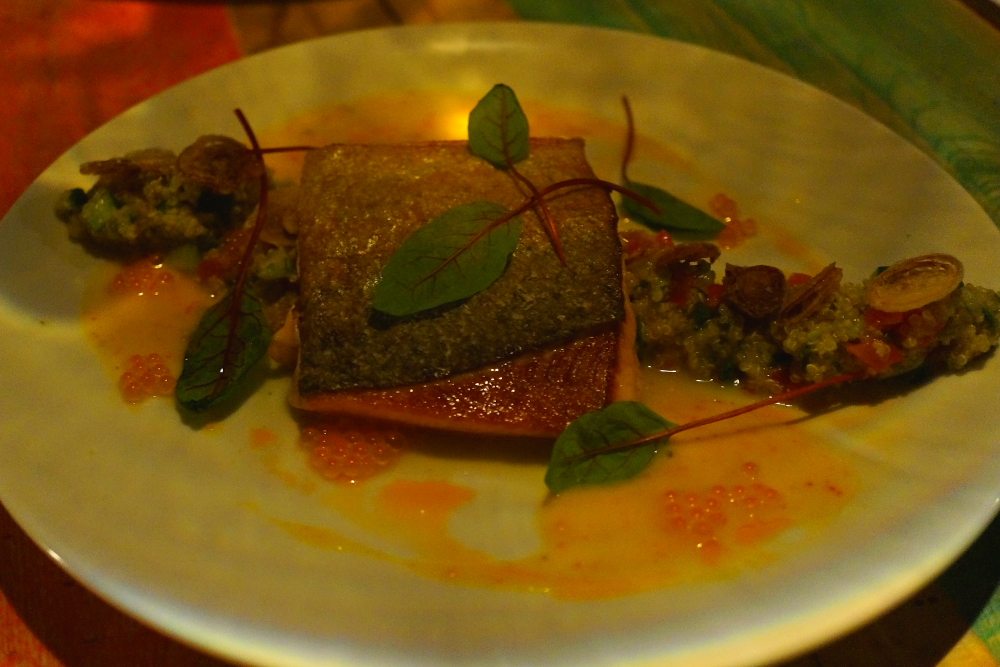 The trout was seasoned beautifully and cooked to yield a perfectly crispy skin, but I found the sweet, tart flavour of the yuzu and mango in the quinoa a little overwhelming. I also found it made the grain a little too wet on the plate. Having said that, fried shallots? Yum! I am going to start putting salty crispy slightly sweet shallots on everything I eat. Starting… NOW!
Pupusa- Cornflour Pupusa stuffed with Gruyere & Mushrooms topped with Cabbage Slaw and Sundried Tomato Sauce ($13)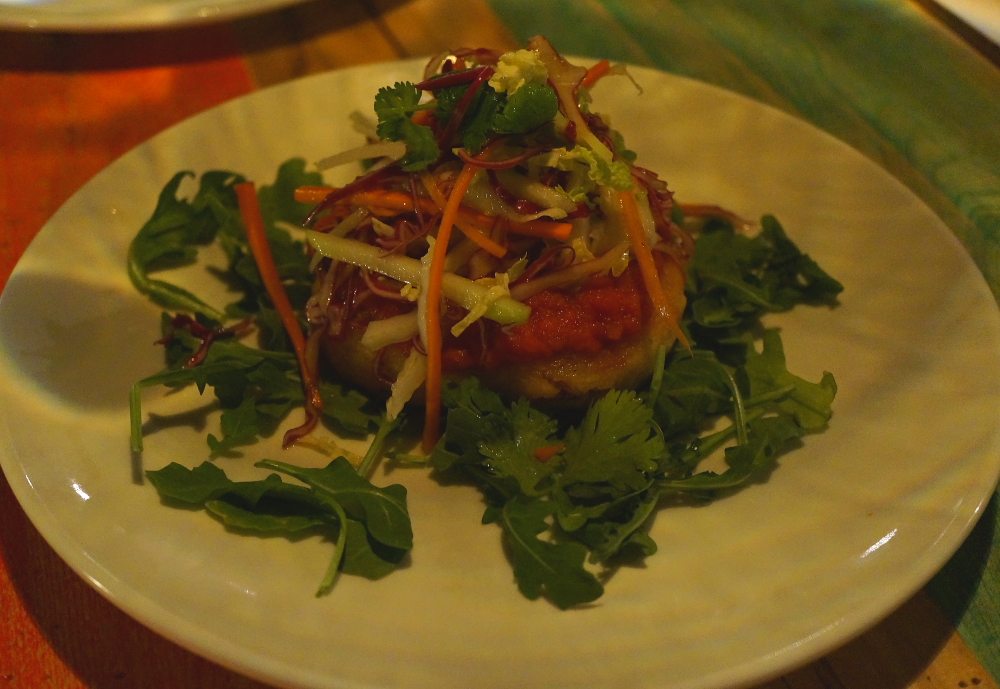 The pupusa itself had a nice flavour and I liked digging in to reveal the stringy salty cheese and savoury mushrooms, but the sundried tomato sauce just kind of threw me off.  I think using sundried tomatoes (that's had its sugars concentrated) made the sauce little too sweet for the already somewhat sweet corn-meal based pupusa. I think all the dish needed was more heat and a creamy element to balance it out- maybe that chipotle aioli we dried with the croquetas would have helped!
Chaufa- Fried Rice, Duck Confit, Edamame, Egg, Soy, Chili & Tobiko ($17)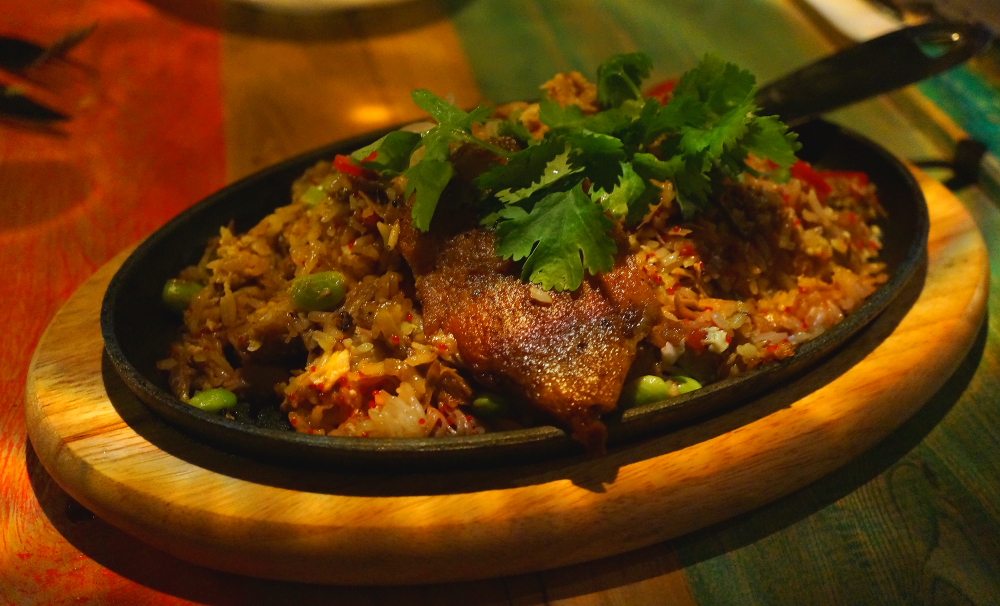 The whole table agreed- this was the star of the night. It was like Asian fried rice (which everyone knows and loves), except with the extra salty pop of fish roe, and the rich crispy goodness of fatty duck confit. I also loved the addition of the toothsome edamame that helped add a little natural sweetness to the otherwise savoury dish. Definitely the dish to order.
Helado de Salpicon ($2 x 4)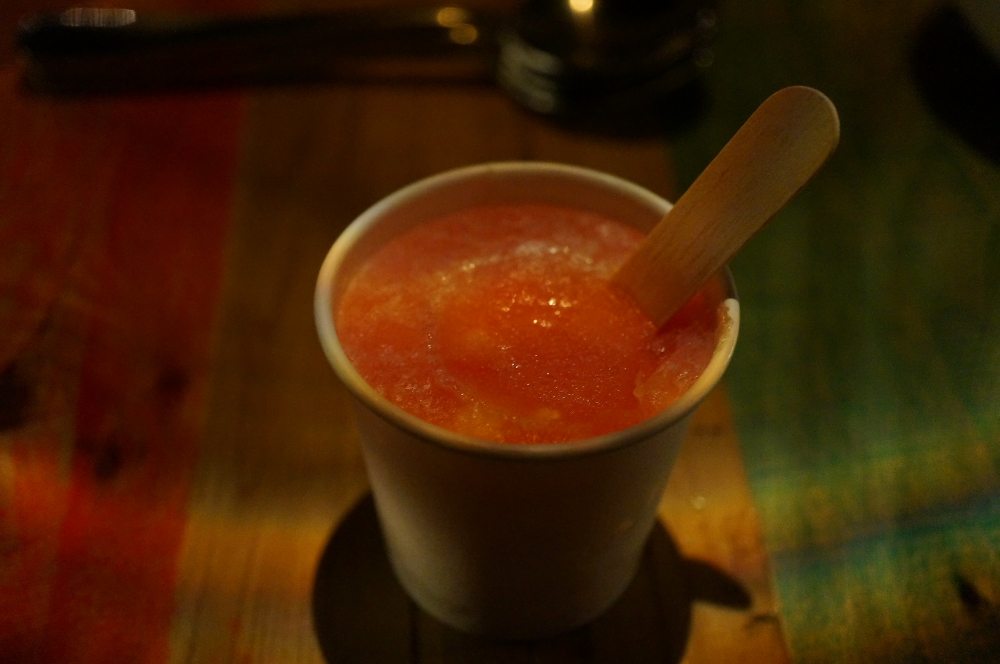 So, this was the dessert I was talking about that we were told was a lollipop. Our server told us that he used to buy them when he was a kid on the street for ten cents. We asked why we were paying more than that, but apparently, the times have changed. Well, just so you all know what we didn't- it's not a lollipop, it's a popsicle. I'm pretty sure it's just frozen juice with diced fruit and a little touch of salt, something my mom used to do for us to make us eat our fruit (but then she didn't have the culinary intuition to add the savoury touch). It was enjoyable, but I think I would have seen more value if the presentation was a little more refined. I don't usually get that excited when I see a popsicle stick in a paper cup, even if what's inside tastes good. Then again, though, it was only $2!
Tres Leches Pudding- Coconut, Whole Milk, Rice, Mango, Banana and Salsa Inglesa ($7)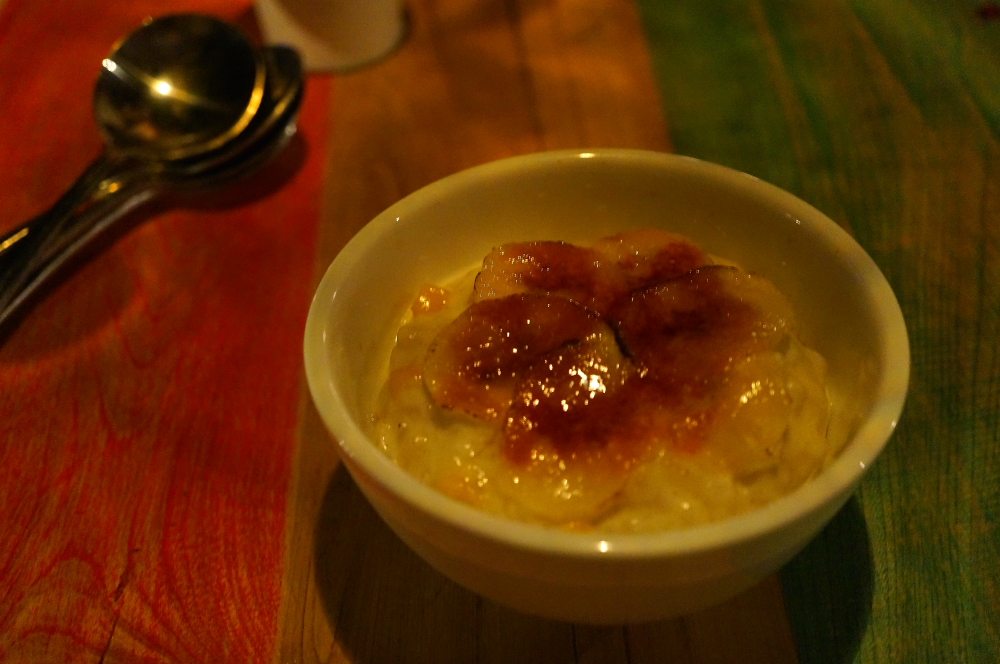 While it's not as craveworthy as my mammas, for a Latin inspired rice pudding, this was pretty good. It was creamy, but not stodgy, and unlike many tres leches I've had, it was just sweet enough to call it dessert.  I appreciated the subtle hint of bitterness from the bruleed banana, and the slightly savoury undertone from the (apparently) worchestershire-like Salsa Inglesa. It wasn't the type of dessert I would be tempted to eat too much of, but it was enjoyable to share.
So for 9 cocktails, still water, 1 large ceviche, 6 small plates, 3 mains, and 5 desserts, the bill came to somewhere around $290 including tax and tip- I thought the number was reasonable considering the meal fed four, and that it was less than our average $175 bill for two, but I found that some dishes were a little overpriced for the portion size or ingredients.  With regards to the service, sure, it was still a little shaky, but I do expect that for the first few months as restaurants hire, fire, and re-hire their way to a more permanent staff situation. The food concept definitely works and reflects my style of eating, I just think the kitchen needs to pay a little more attention to seasoning and flavour consistency. But these are things that can improve with time as the staff all work out the kinks. If I were to return, I might actually try to sit myself at the bar or grab a group and head to the rooftop patio for drinks, mainly because I suspect the rowdy parties for dinner are all relegated to the back but also because I particularly found the cocktails to my taste. So the closer I am to that bar, maybe the better experience all around!
So a big thanks to Valdez and my new pair of eating partners (@wherejessate & her man) for a fun double date out. It's always fun to get two die-hard foodies together and watch their partners console one another about the hardships of their role (like holding cameras, waiting to eat until the food is cold, paying the bill etc.) If any other hard-core foodies have a significant other they would like to join this budding support group, leave me a message and I'll schedule something tasty (preferably a little less loud so they can actually talk).  I'm definitely looking forward to our next food-filled night out!