This Vegan Chow Mein features delicious marinated tofu and gluten free low carb zucchini noodles. It's the perfect way to get your Chinese take-out fix without the calories, fat or carbs. This calls for a girls night in!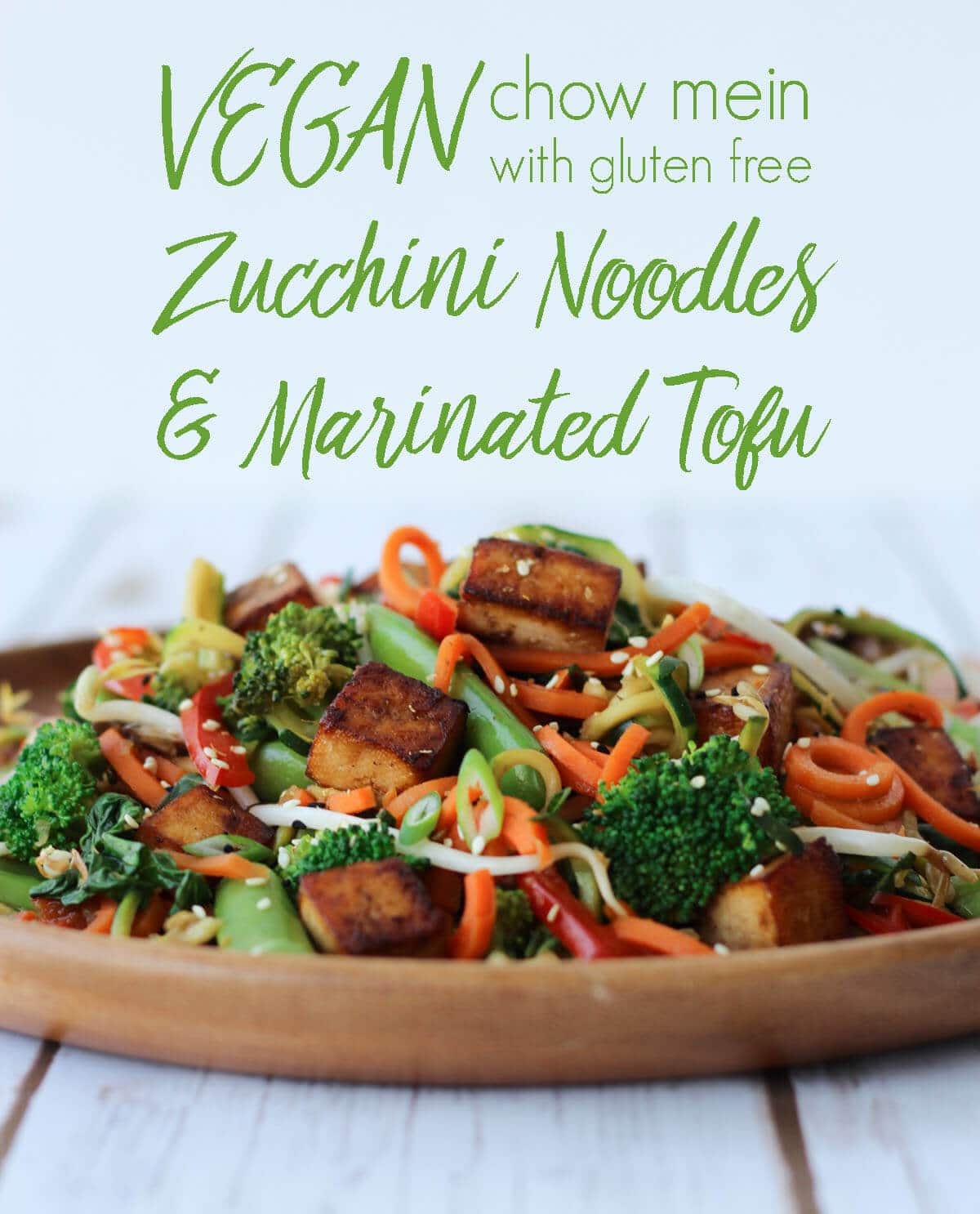 I'm just 2 1/2 months away from my wedding day, which means I'm a) a bit stressed, b) super busy and c) trying really, really hard to eat well. Part of my wedding dress eating routine includes incorporating more vegetables into my day and cutting back on starchy noodles or rice. It's tough, but I've found a way to get jazzed about it.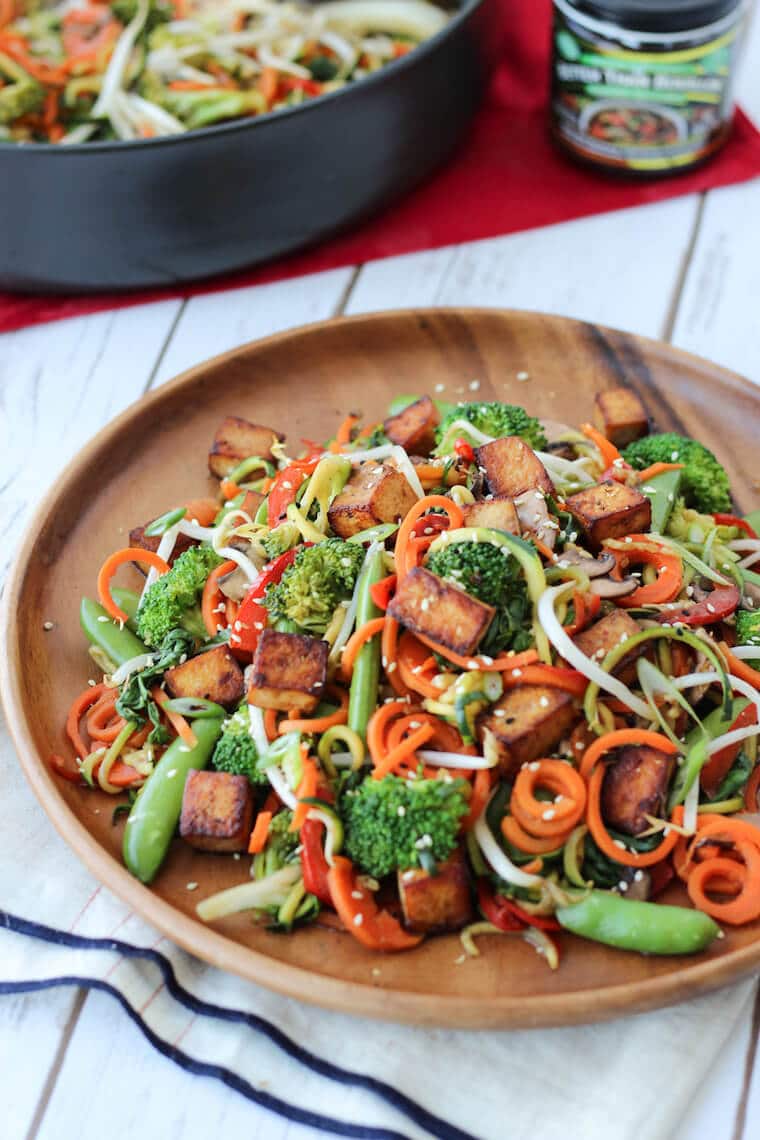 Case in point- these awe-some Vegan Chow Mein with Gluten Free Zucchini Noodles & Marinated Tofu. Now, I'm not vegan, but I do love finding ways to get in my protein on a budget, especially when I'm also bumping up the veg factor in my meals. Hey, I've got a wedding to pay for too, remember?
Adding Flavour to Vegan Chow Mein & Marinated Tofu
This vegan chow mein recipe starts with a really delicious gluten free marinade for my tofu made of tamari, rice vinegar, ginger, sesame oil, coconut sugar and my secret ingredient – Better than Bouillon. Rather than adding more liquid with chicken broth (or opening a whole can just to use a little bit), or using a full bouillon cube, this product is essentially a paste that you can add as much or as little as you need. It's vegan certified (for my plant-based friends) and with 41 servings per jar, it's a super cost-effective way to add flavour. This is also my secret to making amazing gravy at the holidays and whipping up tasty sauces on the fly.
When Your Gluten Free Zucchini Noodles Need a Boost
Now, you've got your tofu, and that's looking pretty damn tasty, but those little nuggets of Asian goodness totally need some friends. So once I have lightly pan-fried my tofu, I throw in a TON of veggies PLUS gluten free spiralized vegetable noodles along with another batch of my sauce and then….bam! You've got a low carb, Vegan Chow Mein dinner on the table. Bust out those chop sticks, lovelies!
Contest to Make Your Own Vegan Chow Mein
What if I told you that I could help you make your own girls night Chinese food fiesta? I'm giving away a tasty prize pack including 3 Better Than Bouillon jars (one vegetarian, one chicken, one beef) plus a $100 Sobeys gift card to get the party started! To enter, you must be a Canadian resident and do the following- the more you do (the more often you do them) the greater your chance of winning!
MANDATORY- Subscribe to my weekly mailing list at the top of the page (for all of our posts once/ week)
MANDATORY- Subscribe to my YouTube channel
MANDATORY- Leave a blog comment below
Follow me on Twitter
Like me on Instagram
Like me on Facebook
Follow me on Pinterest
Tweet about the giveaway
Giveaways not your jam? No worries- use the code abbeyskitchen15 to receive 15% off of your online purchase of Better Than Bouillon here! Check out their full line up of tasty products here, and let me know what your inspired to make!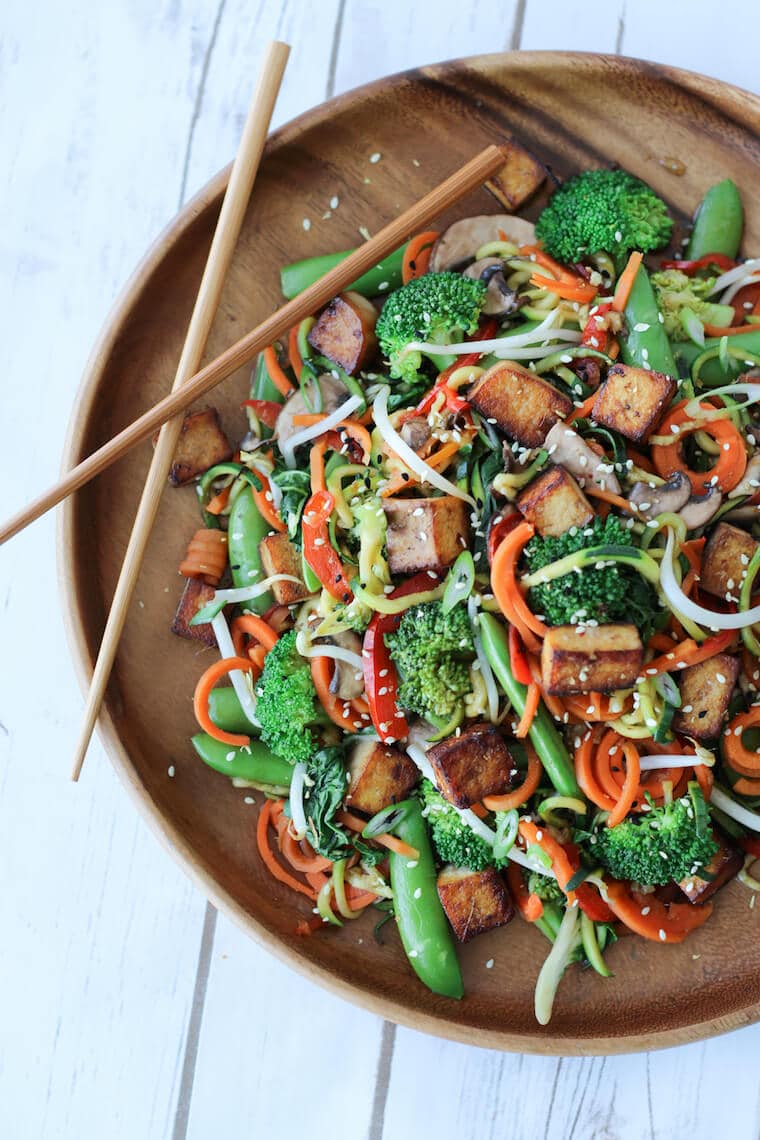 What are your favourite Chinese inspired recipes? Have you made vegan chow mein? Do you have a go-to take out dish that you always order and would love to see reimagined? Leave me a comment below and I'll take a crack at it!

Vegan Chow Mein with Gluten Free Zucchini Noodles & Marinated Tofu
This Vegan Chow Mein features delicious marinated tofu and gluten free low carb zucchini noodles.
Ingredients
Marinade:

360

g

extra firm tofu

drained, cut into cubes

2

Tbsp

gluten free tamari

1

Tbsp

rice wine vinegar

1

Tbsp

fresh grated ginger

1/2

tsp

sesame oil

1/2

tsp

Vegetable Better Than Bouillon

1 1/2

Tbsp

coconut sugar
Sauce:
1

tsp

Vegetable Better Than Bouillon

2

Tbsp

tamari gluten free tamari

1

Tbsp

rice wine vinegar

1

Tbsp

fresh grated ginger

1/2

tsp

sesame oil

1 1/2

tbsp

coconut sugar

1

Tbsp

gluten free hoisin sauce

1

Tbsp

cornstarch
Stir-Fry
2

tsp

coconut oil

divided

2

carrots

spiralized

1

cup

broccoli

cut into small florets

4

zucchini

spiralized

2

baby bok choy

sliced lengthwise

1

bell pepper

julienne

225

g

cremini mushrooms

thinly sliced

Pinch

salt and pepper

pinch of each

1

cup

bean sprouts

Salt and pepper

to taste

1

scallion

sliced thinly on a bias

White and black sesame seeds

for garnish
Instructions
Line a plate with paper towels, add the tofu pieces and top with another few layers of paper towels. Add a plate and something heavy (like a few cookbooks) and press the moisture out of the tofu.

Meanwhile, in a bowl, mix together the marinade ingredients and transfer to a sealable plastic bag. Add in the pressed tofu and allow the tofu to marinate in the fridge for 1-2 hours.

When ready to cook, mix together the sauce ingredients in a bowl and set aside.

Add 1 teaspoon of the coconut oil to a nonstick skillet and cook the tofu over medium high heat until golden brown on all sides, about 4-5 minutes. Remove from the pan and set aside.

Wipe out the pan (to prevent the marinade from burning), add in the remaining teaspoon of oil and heat to medium high. Add the carrots and broccoli and allow to cook for 2-3 minutes. Then add in the zucchini, bok choy, bell pepper, cremini mushrooms and a pinch each of salt and pepper. The salt will help to draw out the moisture so it can start to evaporate. Allow the veggies to cook for 5 minutes, making sure to toss everything frequently.

Add in the sauce, and again, toss to coat. Cook until the sauce thickens, and the vegetables reach a nice al dente stage.

Finally, add in the bean sprouts and the tofu to rewarm and mix everything together once more. Season with salt and pepper, if desired, to taste.

When ready to serve, pile the tofu on top of the vegetables and noodles, top with the scallion and sesame seeds and enjoy!
Nutrition Facts
Vegan Chow Mein with Gluten Free Zucchini Noodles & Marinated Tofu
Amount Per Serving
Calories 233
Calories from Fat 54
% Daily Value*
Fat 6g9%
Cholesterol 1mg0%
Sodium 1076mg47%
Potassium 1202mg34%
Carbohydrates 34g11%
Protein 14g28%
Vitamin A 9105IU182%
Vitamin C 125mg152%
Calcium 156mg16%
Iron 3mg17%
* Percent Daily Values are based on a 2000 calorie diet.
Only Eats
Disclosure: This recipe was made in paid partnership with Better Than Bouillon, however, all opinions are genuine. This post may contain affiliate links, which means I may receive compensation if you purchase one of these products.

Updated on May 12th, 2020