This elegant vol au vent recipe with shrimp and broccoli will make a stunning holiday appetizer for your Thanksgiving or Christmas dinner.
With the holidays around the corner, I know a lot of us are trying to come up with beautiful crowd-pleasing menus to feed our guests. When I'm hosting, I generally like to play by the rule of 50% traditional dishes, and 50% new recipes to keep everyone both happy and on their toes. This beautiful vol au vent recipe fits the bill.
What's Vol au Vent? (Other Than a Fancy Word)
Pop quiz! What the heck is a vol au vont? Well friends, it's a small hollow case of puff pastry that is usually filled with savory ingredients. Sometimes it has sweets inside, but that's more of an exception to the rule. In any case, it's always super delish.
I wanted to make a vol au vent recipe that felt familiar, yet new. And while shrimp wasn't traditional in my home, this vol au vent recipe still reminds me of my mother because growing up she pretty much put anything into a puff pastry shell. Extra chicken pot pie filling? Into a shell. Leftover turkey and gravy? Into a shell. Beef stew? Into a shell. These frozen pastry shells were a great way to transform one meal into something elegant and seemingly brand new.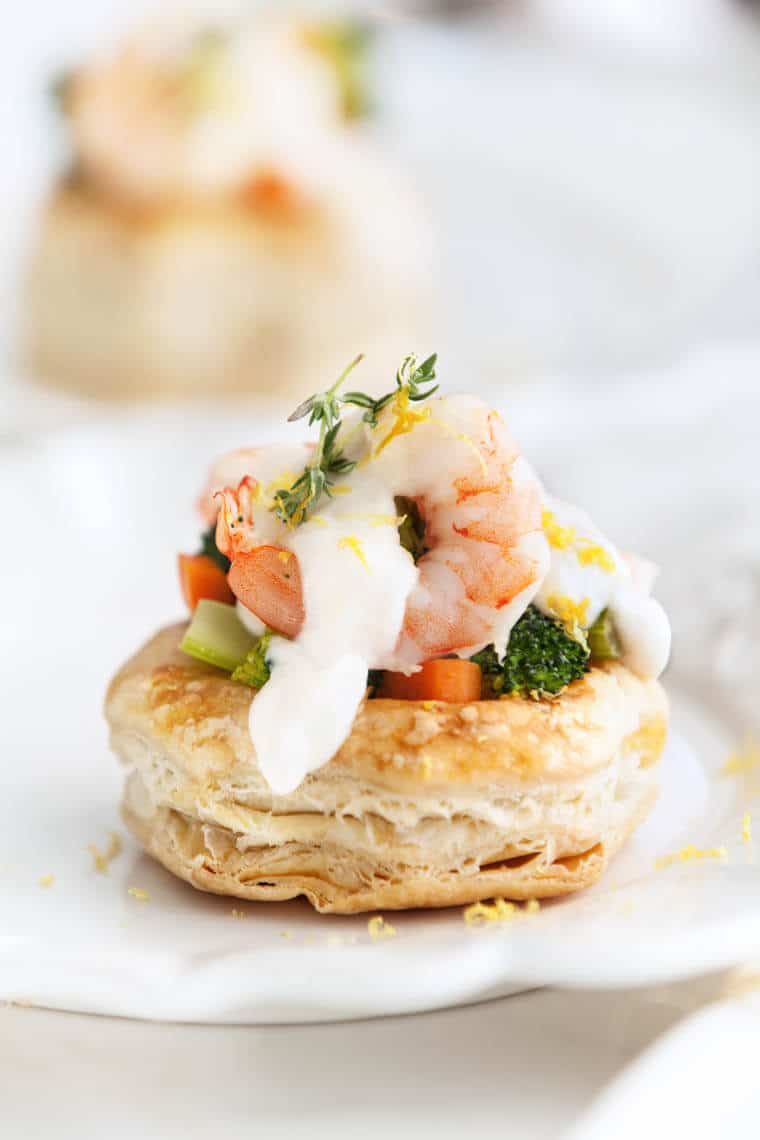 It also reminds me of mom because it's a bit more indulgent (and my mom was never a calorie counter), but hey, it's the holidays! I like these vol au vent as a first course because they are a nice petite size and look beautiful on a plate. You can also control how much of the béchamel you add to each pastry shell, while the shrimp and broccoli filling is incredibly lean. In the grand scheme of the holiday meal, these are relatively balanced.

As part of the Choice Harvest Holiday Program, I'm using Choice Harvest premium shrimp because they contain no chemicals, additives, or antibiotics and are sustainably farmed and harvested. You could also totally get away with using cooked shrimp (we all tend to have bits of shrimp rings hanging about during the holidays), and just throwing them in with the broccoli at the last second.
Have you tried making  holiday vol au vent? What is your family's favourite holiday appetizer?
Photo credit: Kyla Zanardi
Vol au Vent Recipe with Shrimp and Broccoli
This elegant vol au vent recipe with shrimp and broccoli will make a stunning holiday appetizer for your Thanksgiving or Christmas dinner.
Ingredients
Pastry Shells
12

frozen puff-pastry shells

3-inch shells

1

tbsp

egg

beaten with 1/2 water
Sauce
2

tbsp

butter

2

tbsp

all purpose flour

1

cup

seafood stock

1

cup

2% milk

Pinch of nutmeg

Salt and pepper

to taste
Shrimp Mixture
2

tbsp

butter

1

tbsp

vegetable oil

1/2

leek

sliced into thin julienne

1

small carrot

finely diced

2

stalk celery

finely diced

1

head broccoli

cut into small florets

1/2

cup

dry white wine

1

lb

Harvest Choice shrimp

shelled and deveined

Zest of 1/2 lemon

2

leaves

sprigs of thyme

only, finely minced

Salt and pepper

to taste
Instructions
Preheat oven to 400 F. Brush the tops with the beaten egg/water mixture and bake on a baking sheet for about 25 minutes, or until golden brown. Remove the cut out middle and discard.

In a medium saucepot, melt the butter along with the flour and stir until no more lumps appear. Add in the shrimp stock and whisk until lump-free and thickened, about 5 minutes. Add in the milk, and season with nutmeg, salt and pepper. Stir until thickened over medium heat. Remove from the heat but keep warm.

Melt the butter for the shrimp mixture with the oil in a medium pan over medium low heat. Add in the leek, carrot and celery and sauté until softened, about 6 minutes.

Add in the broccoli, and white wine and bring to a boil for 6 minutes. Add in the shrimp and cook over medium heat until the shrimp turn pink, about 5 minutes.

To assemble, divide the shrimp between the pastry shells, top with the béchamel sauce and garnish with lemon zest and thyme.
Nutrition Facts
Vol au Vent Recipe with Shrimp and Broccoli
Amount Per Serving
Calories 420
* Percent Daily Values are based on a 2000 calorie diet.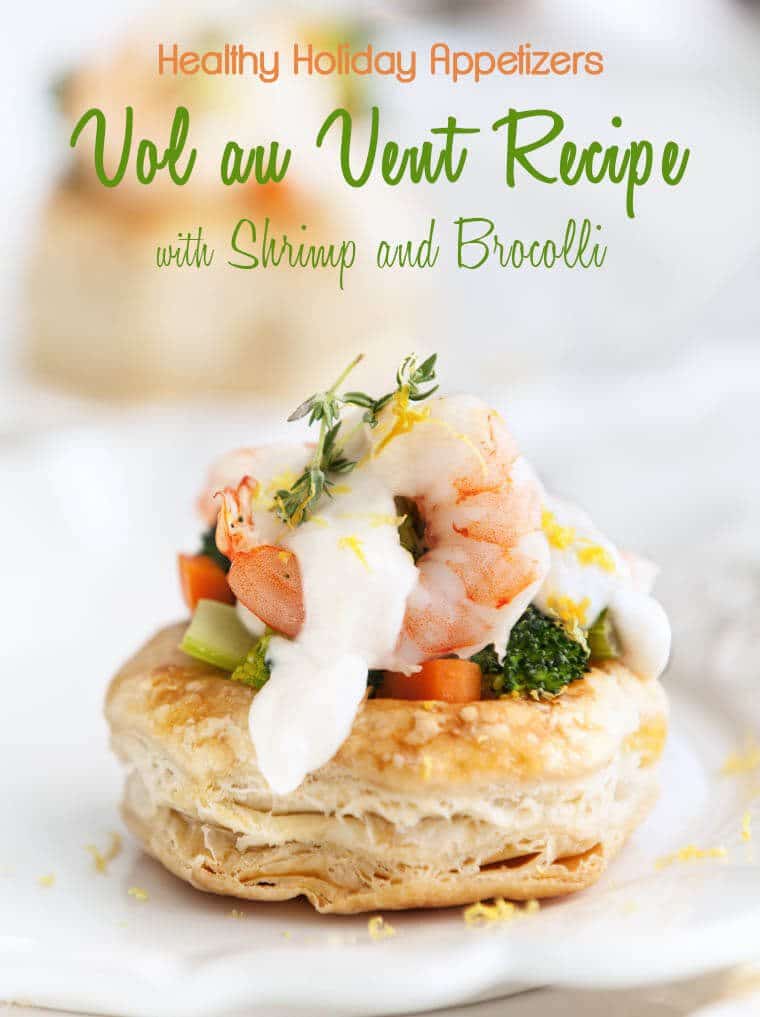 Disclaimer: This recipe was developed in paid partnership with Harvest Choice Shrimp, however, as always, all opinions are genuine.
Updated on May 10th, 2019